---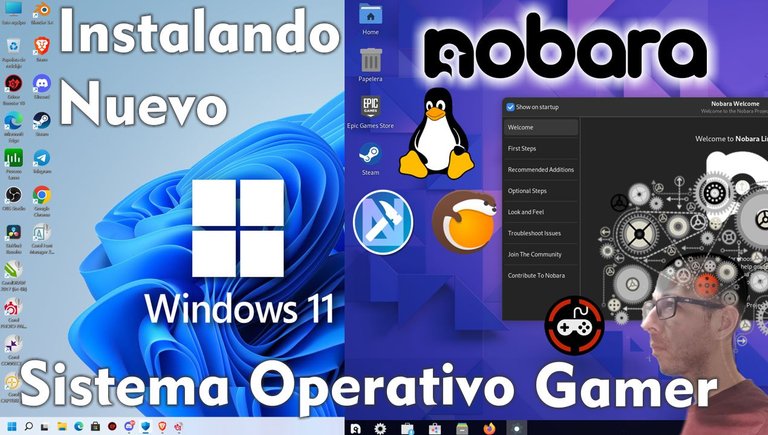 Como todo buen Geek me encanta probar las novedades y por aquí les traigo un nuevo sistema operativo que merece la pena tener, se trata de Nobara Project es un sistema operativo basado en Linux específicamente en la distribución de Fedora Linux como deben saber Linux es un Sistema Operativo de código abierto y es totalmente gratuito esta nueva versión la puedes descargar desde su página oficial
Like all good Geeks, I love to try new things and here I bring you a new operating system that is worth having, it is the Nobara Project, it is an operating system based on Linux, specifically on the Fedora Linux distribution, as you should know, Linux is an Open System source operating and this new version is completely free, you can download it from its official page

Nobara es un Proyecto que aun esta en desarrollo y que creo que puede revolucionar el tema de la compatibilidad con Linux esta desarrollado por el Ingeniero Thomas Crider que además forma parte del equipo encargado del programa Lutris solventando miles de problemas de compatibilidad de los juego, personalmente probé este programa que viene preinstalado con su última actualización en este Sistema Operativo es una locura la cantidad de juegos que te deja instalar tanto de PC como de Consolas es increíble pronto les traeré más detalles.
Nobara is a project still in development and I think can revolutionize the compatibility issue with Linux. It is developed by the engineer Thomas Crider who is also part of the team in charge of the Lutris program, solving thousands of game compatibility problems, personally. I tried this program that comes pre-installed with its latest update on this Operating System. It's crazy the number of games it lets you install on PC and Consoles. It's incredible. I'll bring you more details soon.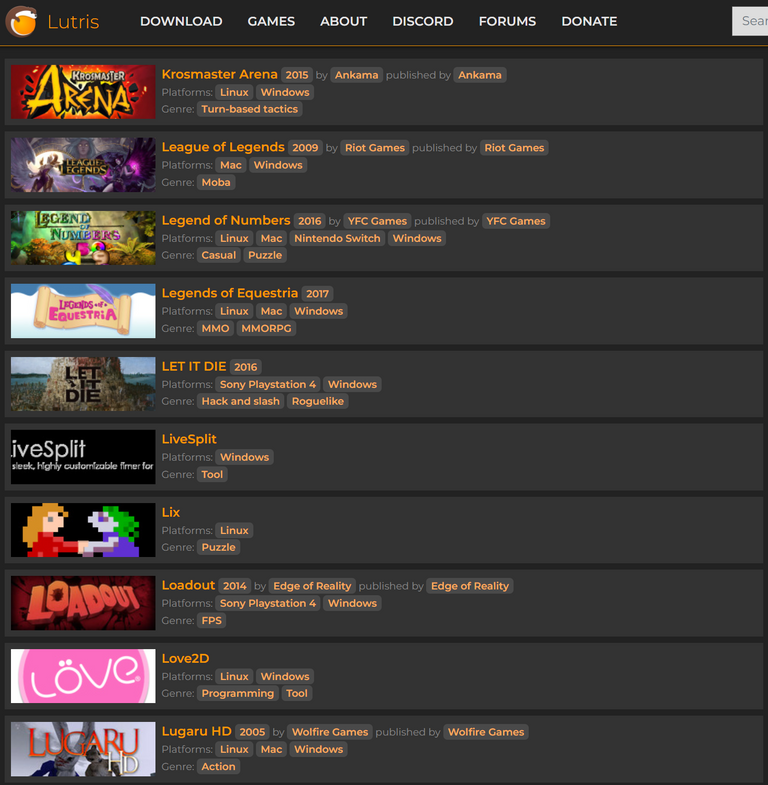 sources
Por el momento quiero mostrarles como se instala este sistema operativo, debo mencionar que lo instale en un disco teniendo ya preinstalado Windows 11 si se hace de forma viceversa no funciona porque Windows no reconoce a Linux y el motor de arranque no te lo va a mostrar. También otro tic que te puedo dar es que es mucho más fácil instalar en un disco totalmente vacío o en su defecto, que tenga una partición en blanco de al menos 30GB tampoco puede tener demasiadas particiones como puedes ver en el video da error lo mas remendable es que tenga 3 particiones contando la partición que estará en blanco cuando digo en blanco es libre sin ningún formato tiene que estar vacía, disponible para el nobara de esta manera no te dará error.
For the moment I want to show you how to install this operating system, I must mention that I installed it on a disk with Windows 11 already pre-installed, if it is done vice versa it does not work because Windows does not recognize Linux and the boot engine will not show it to you. Also, another tic that I can give you is that it is much easier to install on an empty disk or, failing that, that has a blank partition of at least 30GB, it cannot have too many sections, as you can see in the video, it gives the most recommendable error. It is that it has 3 partitions counting the partition that will be blank when I say blank is free without any format it has to be empty, available to the nobara in this way it will not give you an error.

En la pagina oficial puedes encontrar 3 versiones cada una es diferente de instalar yo instale la primera versión que es la que dice Nobara Oficial, creo que es la que vi más fácil de instalar y la que me dio menos errores para instalar con los dos sistemas operativos de manera simultánea, como dije si es mucho más fácil instalar en un disco en blanco pero si quieres tener ambos en un solo disco esta es la mejor opción, te lo menciono porque realice varias pruebas con las diferentes versiones y el asistente de instalación es diferente, clara la forma más fácil es usar el asistente pero si te sientes en la capacidad de hacer una instalación manual también es perfectamente válido pero mucho más complejo, debes estar muy seguro de lo que haces.
On the official page, you can find 3 versions, each one is different to install. I installed the first version, which is the one that Nobara Official says, I think it is the one that I found easiest to install and the one that gave me fewer errors to install with the two systems operating simultaneously, as I said, it is much easier to install on a blank disk, but if you want to have both on a single disk, this is the best option. I mention it to you because I have carried out several tests with the different versions and the installation wizard is other, clear the easiest way is to use the wizard but if you feel able to do a manual installation it is also perfectly valid but much more complex, you must be very sure of what you do.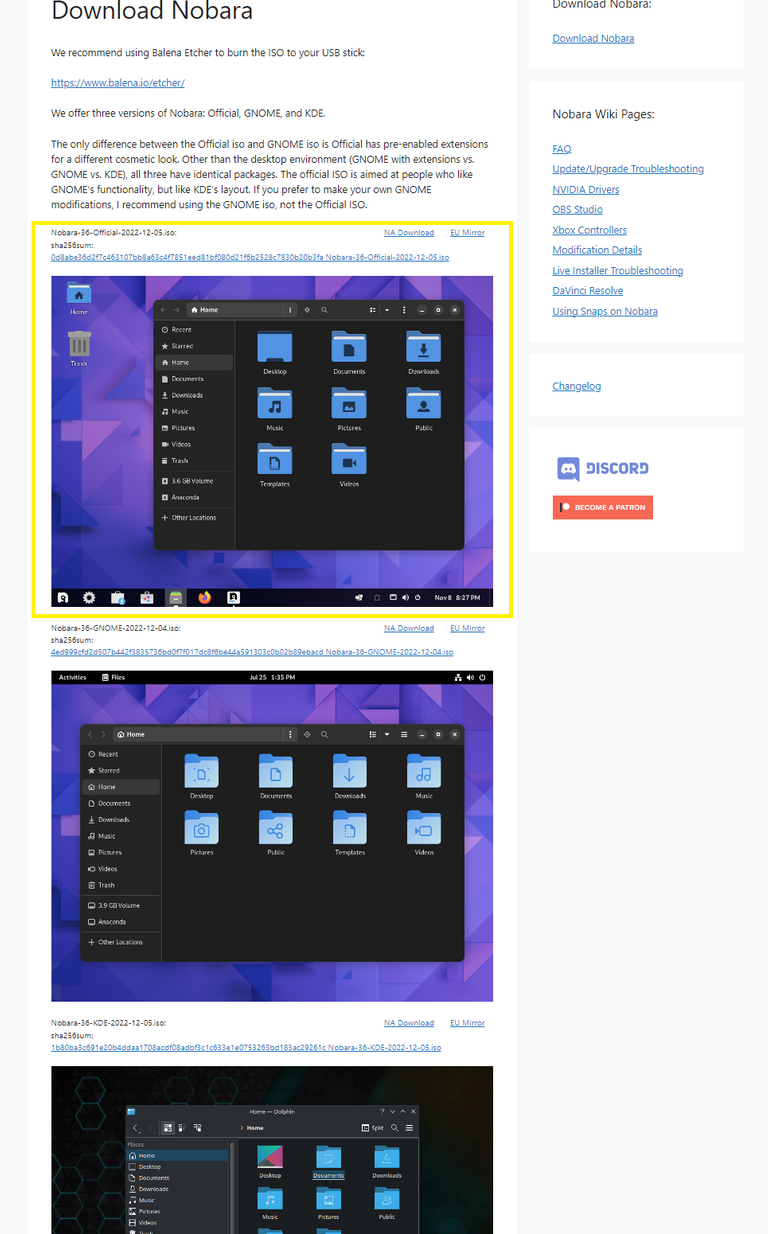 sources
Bueno esto creo que son los posibles inconvenientes que puedes tener al momento de instalar espero toda esta información te sea útil y puedas instalarlo con el video, esta todo paso a paso claro no te mostré como instalar el Windows porque se supone ya debes saberlo o por lo menos tenerlo ya preinstalado como base y en caso de que necesites de ayuda para crear un pendrive bootable, te dejo este video tutorial para instalar Ventoy creo que es el más útil de todo yo lo instale en mi pendriver hace tiempo y me permite usarlo como un USB normal y para instalar un Sistema Operativo solo copio la ISO y listo sin necesidad de formatear el USB y además si tienes espacio suficiente puedes colocar varios Sistemas Operativos en un solo pendrive una gran ventaja para los que trabajamos reparando equipos de computación.
Well, I think this is the possible inconvenience you may have when installing I hope all this information is useful to you and you can install it with the video, everything is clear step by step I did not show you how to install Windows because you are supposed to already know it or At least have it already pre-installed as a base and in case you need help to create a bootable flash drive, I leave you this video tutorial to install Ventoy. I think it's the most useful of all. I installed it on my flash drive a long time ago and it allows me to use it as a normal USB to install an Operating System I just copy the ISO and that's it without having to format the USB also if you have enough space you can put several Operating Systems on a single flash drive, a great advantage for those of us who work repairing computer equipment.
Por ultimo debo agregar que el Nobara me ha parecido genial tiene muchas aplicaciones para crear contenido aunque tengo que tener más tiempo para ir comparando con Windows a ver realmente cual es mejor, por el momento solo te puedo decir que la única desventaja que le vi es que no pude instalar juegos nuevos como el Warzone 2, bueno aun no me aparece en el Lutris supongo porque aún está muy resiente pero pronto les estaré informando y probando más de este nuevo Sistema Operativo los leo en los comentarios a ver quien se anima a instalarlo.
Lastly, I must add that I found Nobara great, it has many applications to create content, although I have to have more time to compare it with Windows to see which one is better. For now, I can only tell you that the only disadvantage that I saw is I couldn't install new games like Warzone 2, well it still doesn't appear in Lutris I suppose because it's still very recent but soon I'll be informing you and testing more of this new Operating System I'll read them in the comments to see who is encouraged to install it.

La imagen principal la hice en Corel Photo Paint con la captura de pantallas de ambos sistemas operativos y con recursos de pngwing.
The main image was made in Corel Photo Paint with screenshots of both operating systems and pngwing resources.

My social networks
Hive: @elfino28
https://twitter.com/ElFinoNFT
https://www.instagram.com/ElFinoNFT
---
▶️ 3Speak