---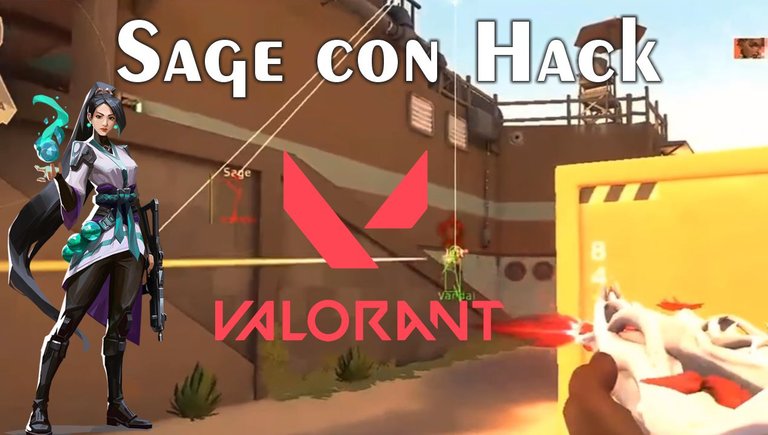 Saludos y bienvenidos a un nuevo post de Valorant, aún continuo mi camino para llegar a ascendente y en esta ocasión les traigo una de las batallas más difíciles que he tenido jugando en equipo porque nos topamos en una partida contra un jugador que claramente se nota qué tiene un hack, esta fue la batalla en la que todo el equipo estamos compitiendo solamente contra una persona, al final de la batalla logro obtener 58 asesinatos el puntaje Más alto que he visto en todo lo que llevo jugando en Valorant y sus de compañeros ninguno llego a superar los 10 asesinatos claramente todo el equipo estaba compitiendo contra este personaje y no digo que pueda ser que solo era bueno pero es que notablemente este personaje, sabía dónde estábamos ubicados eso es imposible de saber así seas un verdadero pro en este juego.
Greetings and welcome to a new Valorant post, I am continuing my path to reach ascendant and this time I bring you one of the most difficult battles I have had playing as a team because we ran into a game against a player who clearly shows what It has a hack, this was the battle in which the entire team is competing against only one person, at the end of the battle I managed to get 58 kills, the highest score I've seen in everything I've been playing in Valorant and none of its companions I got to exceed 10 kills, clearly the whole team was competing against this character and I'm not saying that it could be that he was only good but it is that remarkably this character knew where we were located that is impossible to know even if you are a true pro in this game.

nunca antes en todo lo que tengo jugando Valorant incluso algunos otros juegos me había topado con un Hack de esta manera, realmente lo que más me dejó sorprendido es que ciertamente podía saber exactamente dónde Estábamos cada uno de los jugadores eso creo que fue lo más impactante de este hack, en una de las partes del video se nota claramente como todos nos organizamos para tratar de ir por una zona y Justamente estaba este personaje y nos liquidó a 4 de nosotros precisamente con 4 tiros perfectos en la cabeza es algo que denota claramente que si es un hack porque en este juego ciertamente es difícil saber exactamente dónde van a estar los enemigos y también es difícil acertar 4 tiros perfectos en un solo momento es algo que claramente es imposible pero con este hack Supongo que es muchísimo más fácil.
never before in all that I have been playing Valorant even some other games had I come across a Hack in this way, really what surprised me the most is that I could certainly know exactly where each of the players was I think was the most shocking of this hack, in one of the parts of the video it is noticeable how we all organized ourselves to try to go through an area and this character was precisely there and he killed 4 of us precisely with 4 perfect shots to the head, it is something that denotes that if it is a hack because in this game it is certainly difficult to know exactly where the enemies are going to be and it is also difficult to hit 4 perfect shots in a single moment it is impossible but with this hack, I guess it is much easier.
Cómo puedes ver en el video todo el equipo estábamos con muy buena comunicación y nuestra estrategia para combatir a este personaje era dividirnos en varios lugares, también note, luego de que terminó y cuando estaba editando el video es que la Sage iba únicamente a los lugares donde habían más personas es decir nosotros normalmente íbamos 2 por un lado y 3 por el otro, la Sage siempre estaba cuándo estaban los 3 personajes de nuestro equipo juntos, claramente se nota que ciertamente si sabía dónde nos podía ubicar, claro eso lo note fue cuando estaba editando el video durante el juego no conocía de este hack.
As you can see in the video, the whole team was in very good communication and our strategy to fight this character was to divide ourselves into several places, I also noticed, after it was over and when I was editing the video, the Sage only went to the places where there were more people, that is to say, we normally went 2 on one side and 3 on the other, Sage was always there when the 3 characters of our team were together, it is noticeable that she certainly knew where she could locate us, of course, I noticed that when I was editing the video during the game I didn't know about this hack.
luego de que terminamos esta batalla comencé a investigar de este hack en el juego y me sorprendió bastante lo sencillo qué es inyectar un Spirit en el juego de hecho lo pude Descargar y probarlo en mi máquina Pero eso me costó un formateo a mi equipo porque soy un poco paranoico con la seguridad de mi equipo y Noté que se estaba comportando un poco extraño y por eso decidí formatearlo y eliminar este programa de mi sistema, realmente no lo recomiendo para nada porque a la final te van a banear la cuenta y vas a perder todo el tiempo invertido en ella, sinceramente lo que más recomiendo es practicar en AimLab qué es algo completamente legal para mejorar tu AIM y es lo que actualmente estoy haciendo, tengo un entrenamiento bastante intenso en este juego, para poder mejorar y realmente ser bueno y competitivo pero de una manera completamente sana y legal.
After we finished this battle I began to investigate this hack in the game and I was quite surprised by how easy it is to inject a Spirit into the game, in fact, I was able to Download it and try it on my machine But that cost me a format on my computer because I am a little paranoid with the security of my computer and I noticed that it was behaving a little strange and that's why I decided to format it and delete this program from my system, I really do not recommend it at all because in the end they will ban your account and you will lose all the time invested in it, honestly what I recommend the most is to practice in AimLab which is something completely legal to improve your AIM and that is what I am currently doing, I have quite intense training in this game, to be able to improve and really be good and competitive but in a completely sane and legal way.

Gracias por ver mi contenido todas las imágenes y gif fueron sacadas directamente del Gameplay, espero puedan disfrutarlo.
Thanks for viewing my content, all the images and gifs were taken directly from the Gameplay, I hope you enjoy it.