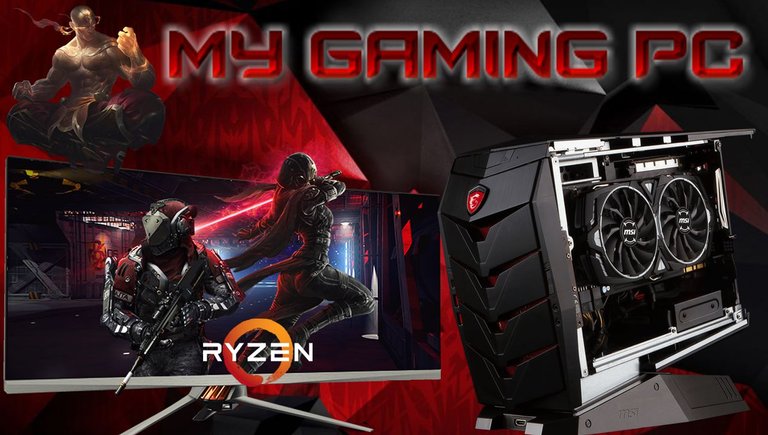 Saludo comunidad Geek, estoy seguro que como amantes de la tecnología nuestro mayor orgullo es tener un excelente equipo, quizás aún no sea el más avanzado o más novedoso pero el lograr adquirirlo, nos tomó un gran esfuerzo y tiempo y para nosotros representa un gran tesoro. Este es el caso de mi ordenador que en mi humilde opinión es un computador gama media, el cual les presentaré a continuación.
Greetings Geek community, I am sure that as technology lovers our greatest pride is to have an excellent team, perhaps it is not yet the most advanced or newest but to acquire it, it took us a great effort and time and for us it represents a great treasure. . This is the case of my computer, which in my humble opinion is a mid-range computer, which I will present below.

Mi tarjeta madre es una MSI B450 Tomahawk Max no voy a entrar en detalles técnicos si quieres estos detalles puedes ir a este link de la tienda de Amazon donde también puede ver su precio actual. Nota: en ese link te dejo la 2da versión que solo tiene como diferencia el bios actualizado, pero es completamente igual a la primera versión de hecho esta también se puede actualizar solo que lo tienes que hacer tu mismo por medio de un pendrive, yo no lo he hecho porque mi procesador es de 1 generación y aún no necesito de esa actualización.
My motherboard is an MSI B450 Tomahawk Max I am not going to go into technical details if you want these details you can go to this link from the Amazon store where you can also see its current price. Note: in that link I leave you the 2nd version that only has the updated bios as a difference, but it is completely the same as the first version, in fact this can also be updated, only you have to do it yourself through a pendrive, I don't I have done it because my processor is 1 generation and I still don't need that update.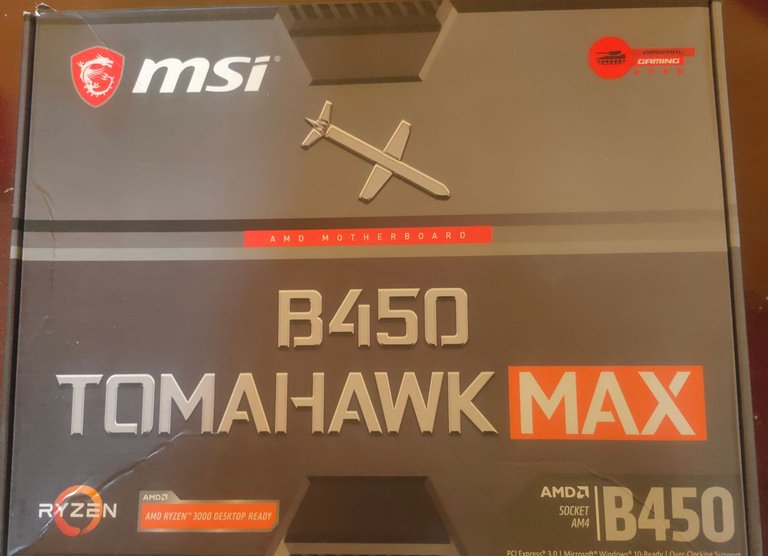 Lo que si te puedo contar es que esta placa es una gran adquisición sin dudas es de gama alta solo que aún me falta explotar todo su potencial. Poco apoco la iré mejorado. Actualmente de 4 espacios para memoria solo uso 2 con memorias DDR4 con frecuencia 2666 y 8Gb cada una, sumando los 16gb que tengo actualmente, estas memorias son sencillas, espero en algún momento colocarles unas RGB de mayor Capacidad lo bueno es que mi tarjeta madre puede soportar hasta 128Gb y altas frecuencias, así que aún tengo un largo camino por recorrer.
What I can tell you is that this board is a great acquisition, without a doubt it is high-end, only that I still have to exploit its full potential. Little by little I will improve it. Currently, out of 4 memory spaces, I only use 2 with DDR4 memories with a frequency of 2666 and 8Gb each, adding the 16GB that I currently have, these memories are simple, I hope at some point to put some RGB ones with a higher capacity, the good thing is that my motherboard can support up to 128Gb and high frequencies, so I still have a long way to go.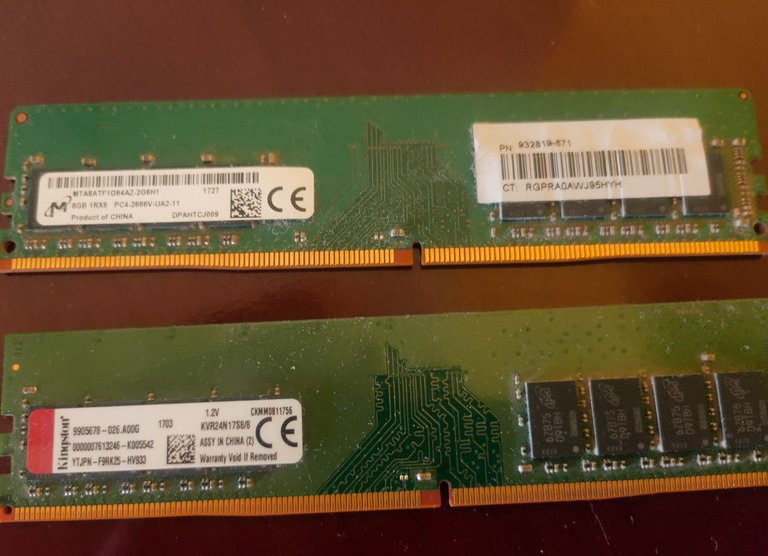 La placa cuenta con sokert AM4 le tengo un procesador AMD Ryzen 5 1600 un procesador 6 Núcleos 12 Hilos para más detalles visita la página del fabricante aquí. En mi opinión un gran procesador un mostro que derroto a Intel durante un largo periodo de tiempo con su salida al mercado, al ser uno de los primeros procesadores que innovo por completo la industria, actualmente lo han mejorado un montón sin embargo su mayor ventaja es el bajo consumo de energía tan solo consume 65W y ninguno de sus predecesores ha superado esto.
The board has an AM4 socket, I have an AMD Ryzen 5 1600 processor, a 6 Core 12 Thread processor, for more details visit the manufacturer's page here. In my opinion, a great processor, a show that defeated Intel for a long period of time with its release to the market, being one of the first processors that completely innovated the industry, currently they have improved it a lot, however, its greatest advantage is low power consumption draws just 65W and none of its predecessors have surpassed this.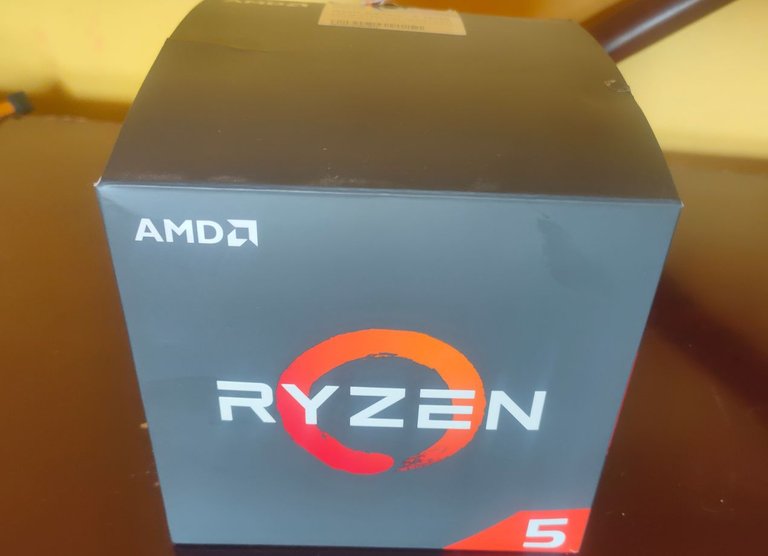 Por otro lado es un procesador que no cuenta con tarjeta de video incorporada, por lo que es obligatorio usarlo con una tarjeta de video adicional. En mi opinión personal lo prefiero así porque recuerdo antes sobre todo con los AMD de la serie "A" que contaban con video integrado, al momento de colocarle una tarjeta de video extra esto generaba como un conflicto y creaba el tan famoso cuello de botella generando una gran caída de los FPS en los juego, ahora no se si ya está solucionado ese error, yo por mi parte no he comprado procesadores con video integrado desde que tuve un AMD A10 hace un par de años. De hecho luego compre una Intel i5 de 9na Generación que tampoco tenía video integrado y ese mismo lo cambie por el Ryzen 5 que tengo actualmente.
On the other hand, it is a processor that does not have a built-in video card, so it is mandatory to use it with an additional video card. In my personal opinion I prefer it this way because I remember before especially with the AMD series "A" that had integrated video, when placing an extra video card this generated a conflict and created the famous bottleneck generating a big drop in FPS in games, now I don't know if that bug is fixed, for my part I haven't bought processors with integrated video since I had an AMD A10 a couple of years ago. In fact, then I bought a 9th Generation Intel i5 that also did not have integrated video and I changed that same one for the Ryzen 5 that I currently have.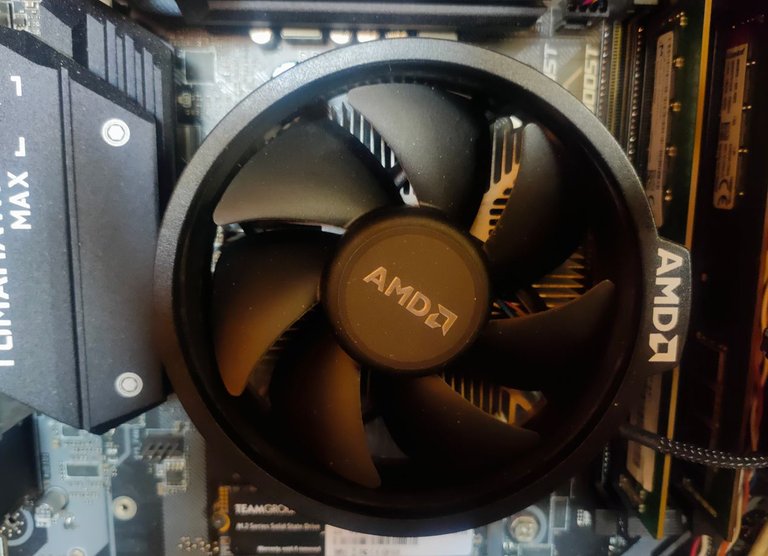 Continuamos con la tarjeta de video, esta placa cuanta con dos ranuras STEEL ARMOR PCI-E. Para multi Gpu, ambas Certificadas para soportar GPU de gran capacidad, actualmente solo uso la principal con una tarjeta GTX 1050 Ti de 4Gb de la marca Gigabyte para mayor información te delo el Link del Fabricante aquí.
We continue with the video card, this board has two STEEL ARMOR PCI-E slots. For multi Gpu, both Certified to support high capacity GPU, currently I only use the main one with a Gigabyte brand GTX 1050 Ti 4Gb card for more information I give you the Manufacturer Link here.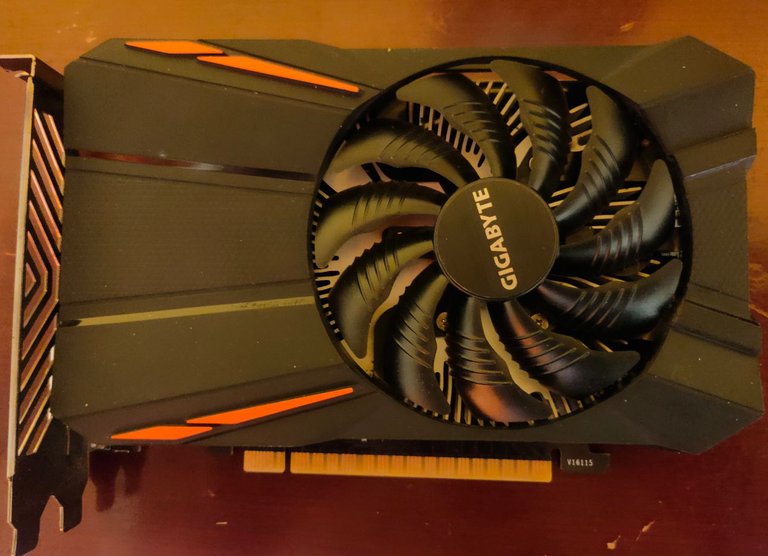 Realmente esta es una tarjeta modesta con grandes prestaciones muy bajo consumo de energía de echo no trae para colocarle fuente de alimentación y a pesar que cuenta con un diseño bastante compacto y un solo ventilador nunca calienta su temperatura siempre se mantiene por debajo de los 65° de echo muy por debajo.
This is really a modest card with great features, very low power consumption, in fact, it does not come with a power supply and, despite its fairly compact design and a single fan, its temperature never heats up, it always stays below 65 ° C. I miss far below.

Actualmente como estoy editando constantemente imágenes y videos le tengo instalado un monitor de 22" y como ya no necesito ver televisión jejeje. Este lo uso como segundo monitor un televisor de 32" ambos funcionan de manera simultánea. Esto me ha facilitado muchísimo el trabajo ambos conectados a esa pequeña tarjeta que realmente me es bastante útil.
Currently, since I am constantly editing images and videos, I have installed a 22" monitor and since I no longer need to watch television, lol. I use this as a second monitor, a 32" television, both work simultaneously. This has made my work a lot easier, both connected to that small card that is really quite useful to me.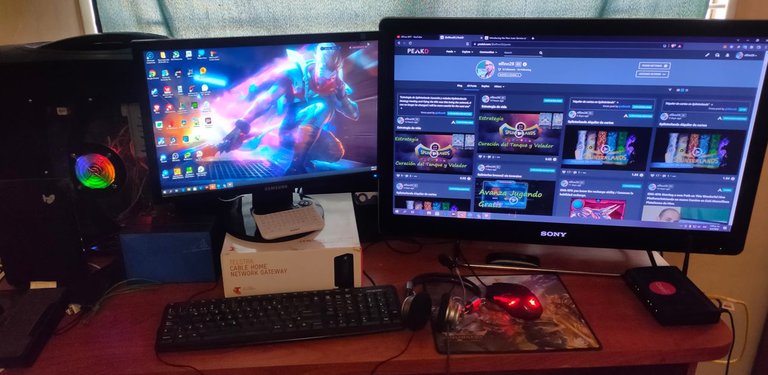 En Disco duro tengo un SSD M2 NVMe de 512Gb de la marca Team Group, la verdad que la marca no es tan buena actualmente está en poco menos del 50% de vida y esto es por la marca, la verdad es que lo estoy aprendiendo ahora. Por eso es bueno a veces no guiarnos por lo más económico sobre todo en estos caso de disco de estado sólido estos cuanta con una vida útil predeterminada o condicionada al tiempo de escritura que le demos y entre mejor sean los componentes de esta unidad mayor será el tiempo de escritura que este tenga.
In Hard Disk I have a 512Gb M2 NVMe SSD from the Team Group brand, the truth is that the brand is not that good, it is currently at just under 50% of life and this is because of the brand, the truth is that I am learning it now . That is why it is good sometimes not to be guided by the most economical, especially in these cases of solid state disks, these have a predetermined useful life or are conditioned by the writing time that we give it and the better the components of this unit, the greater the writing time that this has.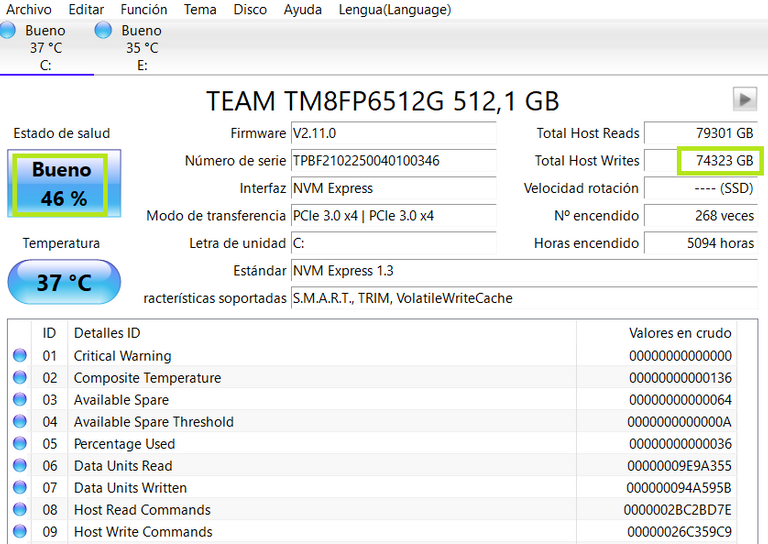 Actualmente me funciona bien pero sé que en cualquier momento dejara de funcionar es por eso que solo tengo en ese disco el sistema operativo que le acabo de instalar Windows 11 y los programas que utilizo normalmente para trabajar y jugar. Pero todas las imágenes documentos videos etcétera las almaceno en un disco externo de 5TB que conecto a uno de los puertos USB 3.0 del equipo. Este disco es mi respaldo a la hora de que deje de funcionar el M2.
Currently it works fine for me but I know that at any moment it will stop working that is why I only have on that disk the operating system that I just installed Windows 11 and the programs that I normally use to work and play. But all the images, documents, videos, etc., I store on a 5TB external drive that I connect to one of the USB 3.0 ports on the computer. This disk is my backup when the M2 stops working.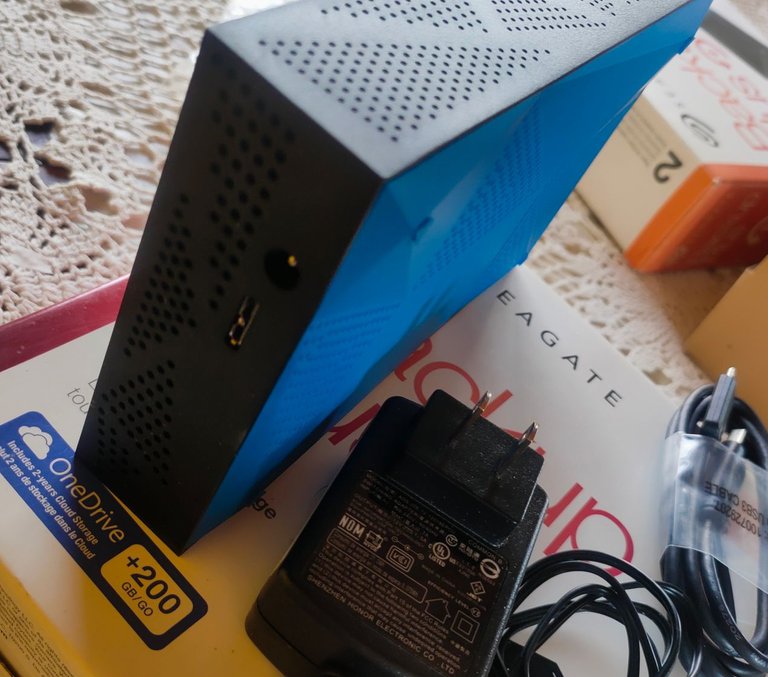 Ahora hablemos de la fuente de poder tengo una Sentey modelo BRP600 una fuente realmente muy vieja tiene muchísimos años con migo la compro como en el 2010 creo. Y la compre de segunda mano y como ven me ha salido muy buena la tengo hasta el momento fusionando en mi equipo como pueden ver.
Now let's talk about the power supply. I have a Sentey model BRP600, a really very old power supply. It is many years old. I bought it with me in 2010, I think. And I bought it second-hand and as you can see it has turned out very well so far I have it merging in my team as you can see.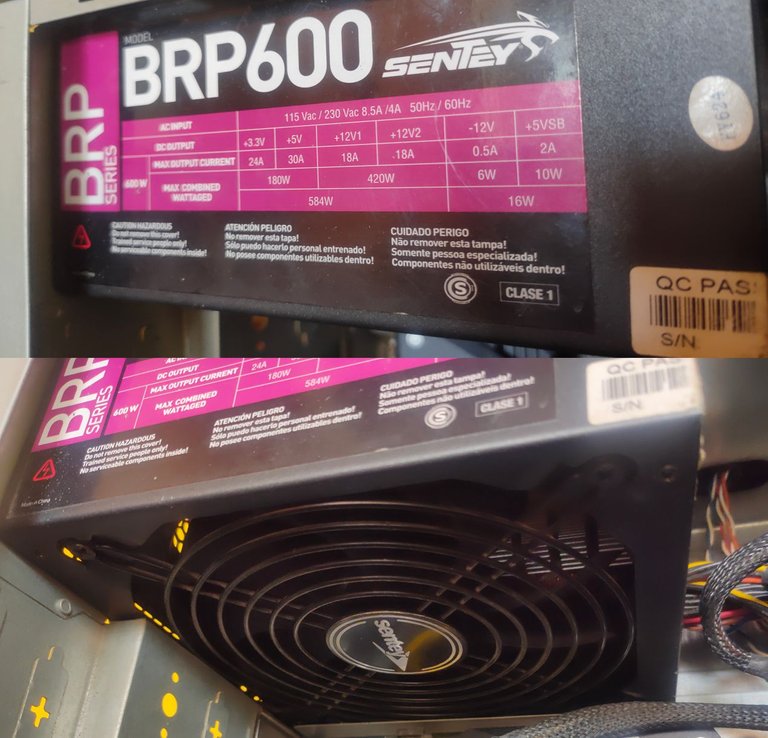 Ahora esta fuente no tiene la certificación, pero según mi teoría y opinión personal esta fuente salió al mercado mucho antes de que la certificación 80Plus saliera al mercado, porque la verdad que esta fuente cumple con todos los requisitos para ser una fuente certificada. Cuenta con todos sus cables Sata y Periféricos que algunos se me han dañado con el tiempo claro. También tiene su cable de alimentación para placas 20+4 y el cabe CPU 4+4 a demás también cuenta con un cable de alimentación VGA x2 6+2. La verdad es una fuente muy completa.
Now this font does not have the certification, but according to my theory and personal opinion this font was released long before the 80Plus certification was released, because the truth is that this font meets all the requirements to be a certified font. It has all its Sata and Peripheral cables that some have been damaged over time of course. It also has its power cable for 20+4 plates and the 4+4 CPU cable, as well as a VGA x2 6+2 power cable. The truth is a very complete source.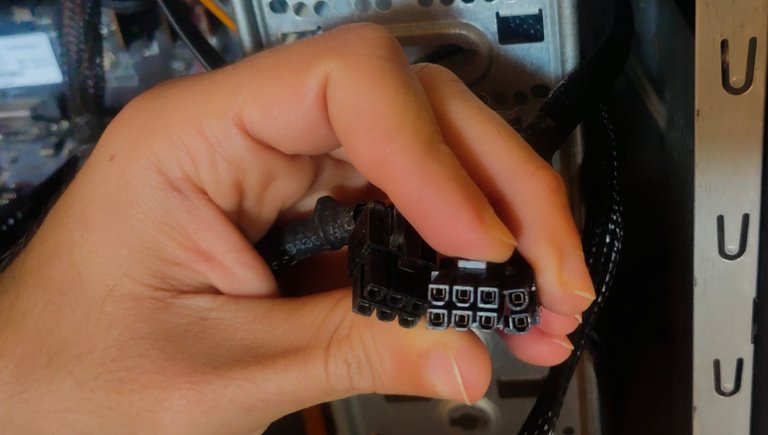 Por último el case que la verdad es más antigua que la fuente jejeje. Y bueno son cosas que poco a poco debo ir cambiando y mejorando por el momento esa es toda mi PC es mi mayor tesoro que con mucho esfuerzo he ido mejorando.
Finally the case that the truth is older than the source hehehe. And well, these are things that little by little I have to change and improve for the moment, that is my whole PC, it is my greatest treasure that I have been improving with a lot of effort.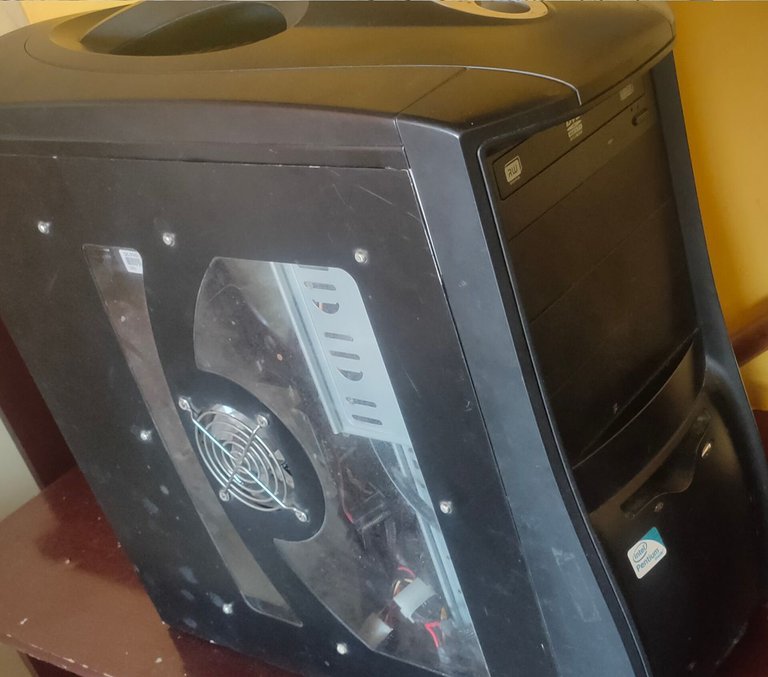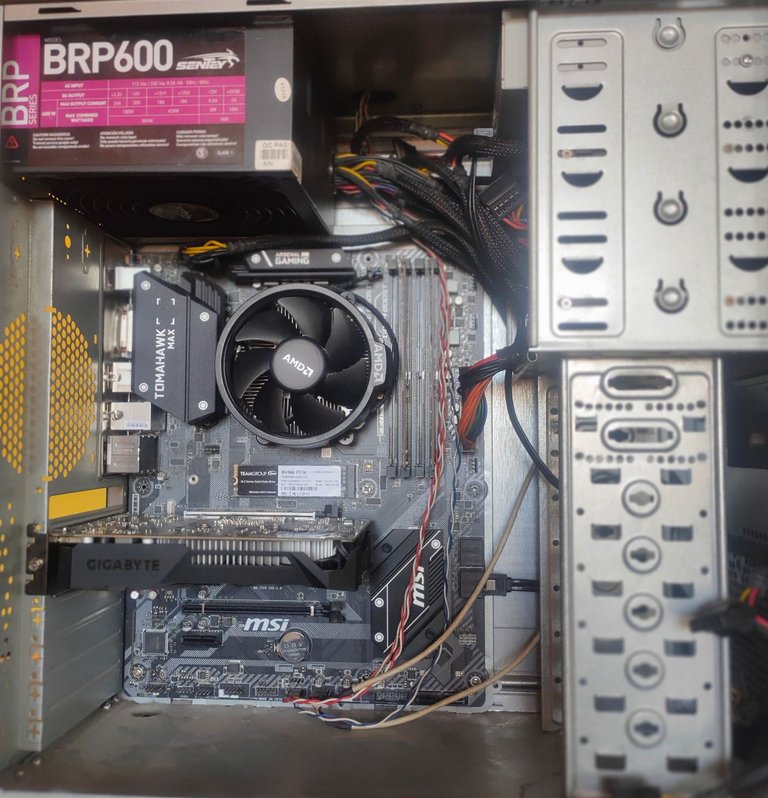 Actualmente mi computador es mi mayor herramienta de trabajo gracias a Hive que me incentivo a crear contenido ahora también estoy en Youtube y bueno poco a poco estoy emprendiendo en este nuevo camino como creador de contenido, Ahora más que nunca creo que estoy Exigiendo al máximo del rendimiento de este ordenador, es mu mayor fuente de ingreso y mi mejor inversión.
Currently my computer is my greatest work tool thanks to Hive that encourages me to create content now I am also on YouTube and well little by little I am embarking on this new path as a content creator, now more than ever I think I am Demanding the maximum of the performance of this computer, it is my greatest source of income and my best investment.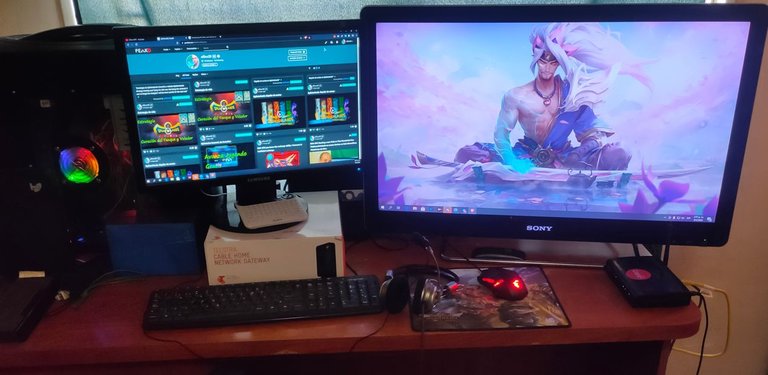 Las Imágenes son tomadas por mí desde mi teléfono y editadas con Corel Photo Pait.
Los separadores y la imagen principal hechos en Corel Photo Pait con algunos recursos de www.pngwing.com
Images are taken by me from my phone and edited with Corel Photo Pait.
The dividers and the main image made in Corel Photo Pait with some resources from www.pngwing.com
My social networks
Hive: @elfino28
https://twitter.com/ElFinoNFT
https://www.instagram.com/ElFinoNFT
https://www.youtube.com/user/KBI93X
telegram https://t.me/ElFinoNFT