Hola Hivers un saludo a todos
Hace ya unas semanas atrás me sentía un poco incómodo con relación al teléfono que tenía para mí uso personal, pues sentía que me quedaba atrás con el tema de actualización a nivel de inteligencia telefónica, o lo que llamamos normalmente tecnología Android, pues tenía un teléfono (Samsung j7 Neo), dicho teléfono hasta cierto punto cubrió mis expectativas, pues era relativamente bueno hasta cierto punto.
Hello Hivers, greetings to all
A few weeks ago I felt a little uncomfortable about the phone I had for my personal use, because I felt that I was lagging behind with the issue of updating the phone intelligence level, or what we usually call Android technology, because I had a phone (Samsung j7 Neo), that phone to some extent met my expectations, it was relatively good to some extent.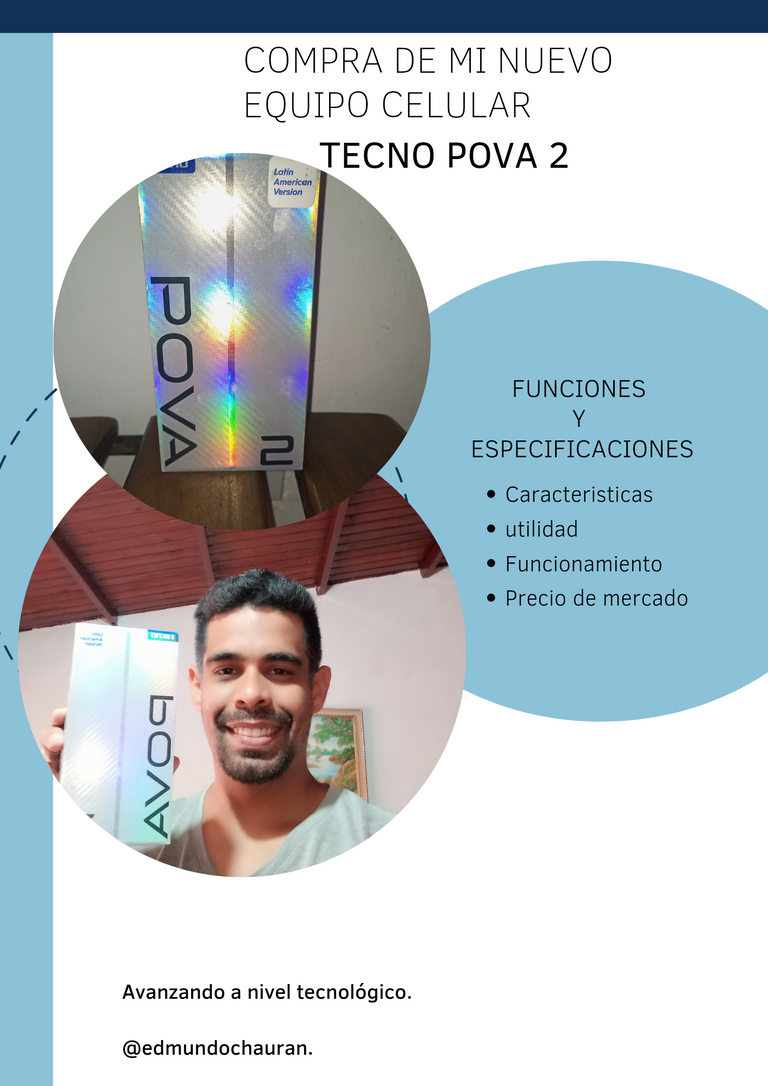 Así que hice unos power down, y me traze como meta principal el comprar un teléfono de quizás de media a alta gama. Mi teléfono Samsung J7 Neo, el teléfono empezó a tener fallas y esto venía con un problema aún mayor para mí, la pila no le duraba mucho y era por qué se estaba dañando pues acá se los muestro también, no obstante a eso compré una pila para dicho teléfono pero está como saben todos, cuando la pila no es original sino genérica se daña rápido y se infla mandando una señal de que ya no sirve y no es prudente usarla.
So I did some power down, and my main goal was to buy a mid to high end phone. My Samsung J7 Neo phone, the phone began to have failures and this came with an even bigger problem for me, the battery did not last long and it was because it was getting damaged because here I show them too, however I bought a battery for that phone but it is as you all know, when the battery is not original but generic it gets damaged fast and inflates sending a signal that no longer serves and it is not wise to use it.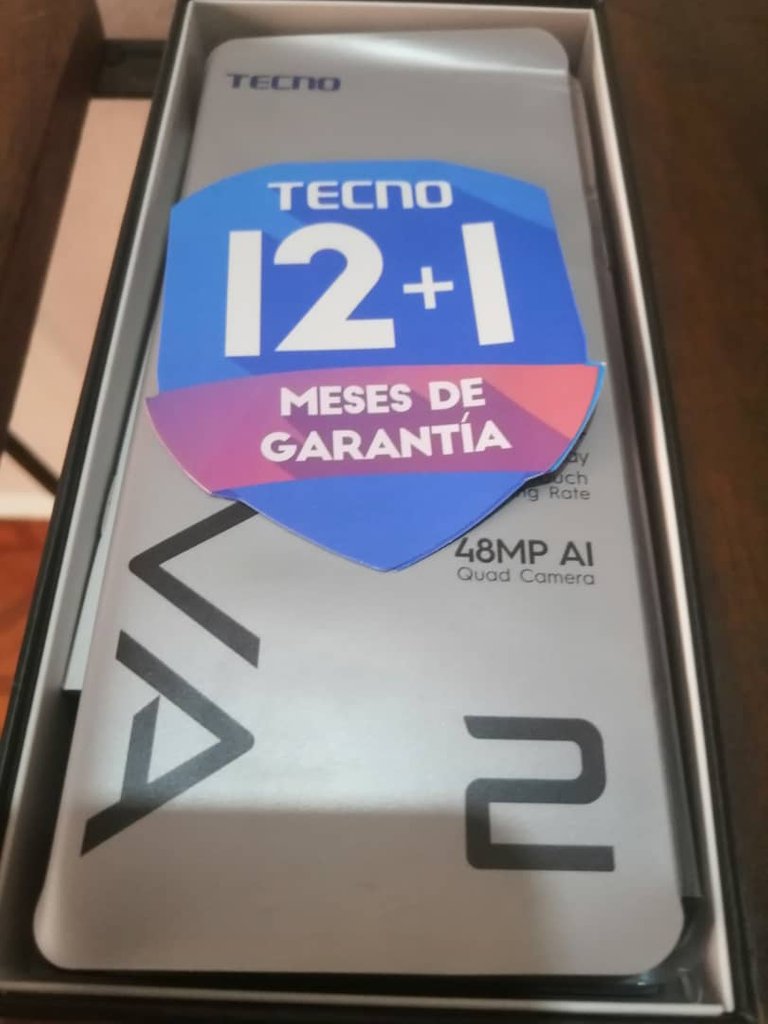 Lo que me invitó aún más a comprar un teléfono bueno, dónde la capacidad de de gigas sea más grande, dónde la cámara sea mucho mejor pues normalmente grabó videos para la plataforma de #Hive, dónde muestro mis rutinas de ejercicios, la de mi esposa y mis talentos de doblaje de voces, esto me hacía pensar ¿que teléfono puedo comprar? y la respuesta a todo me llevaba a la compra de teléfonos que pasaban la barrera de los 200$, pero mi presupuesto era para ese momento de 200$ exactos ni más ni menos mis estimados amigos. Lo que me llevo a revisar exaustivamente muchas tiendas, pero los teléfonos no cubrían mis necesidades, pero de tanto caminar di con un teléfono que valia 200$ y tenía todo lo que deseaba a pesar de no ser una marca muy reconocida que digamos en el mercado interno venezolano en lo que se refiere a teléfonos móviles, pues siempre dominan el mercado las marcas reconocidas.
Which invited me even more to buy a good phone, where the capacity of gigabytes is bigger, where the camera is much better because I usually record videos for the #Hive platform, where I show my exercise routines, my wife's and my voice dubbing talents, this made me think what phone can I buy? and the answer to everything led me to the purchase of phones that passed the barrier of $ 200, but my budget was for that time of $ 200 exactly no more and no less my dear friends. What led me to check many stores exhaustively, but the phones did not meet my needs, but so much walking I found a phone that was worth $ 200 and had everything I wanted despite not being a very recognized brand to say in the Venezuelan domestic market as far as cell phones are concerned, as they always dominate the market recognized brands.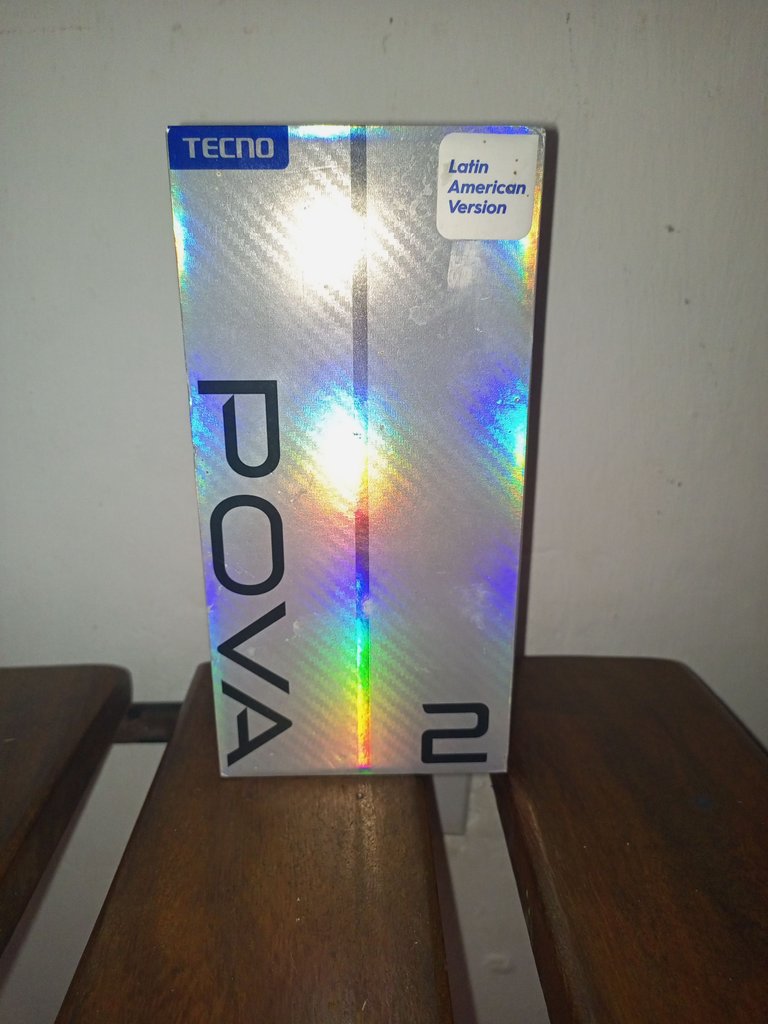 El teléfono tiene una serie de características las cuales puedo mostrarse las a continuación, dónde les explicaré que fue lo que me llamo la atención como tal y el por qué me incline aún más a comprarlo sin pensar mucho.
(Descripción inicial del teléfono Tecno Pova 2).
The phone has a number of features which I can show you below, where I will explain what caught my attention as such and why I was even more inclined to buy it without thinking much.
(Initial description of the Tecno Pova 2 phone)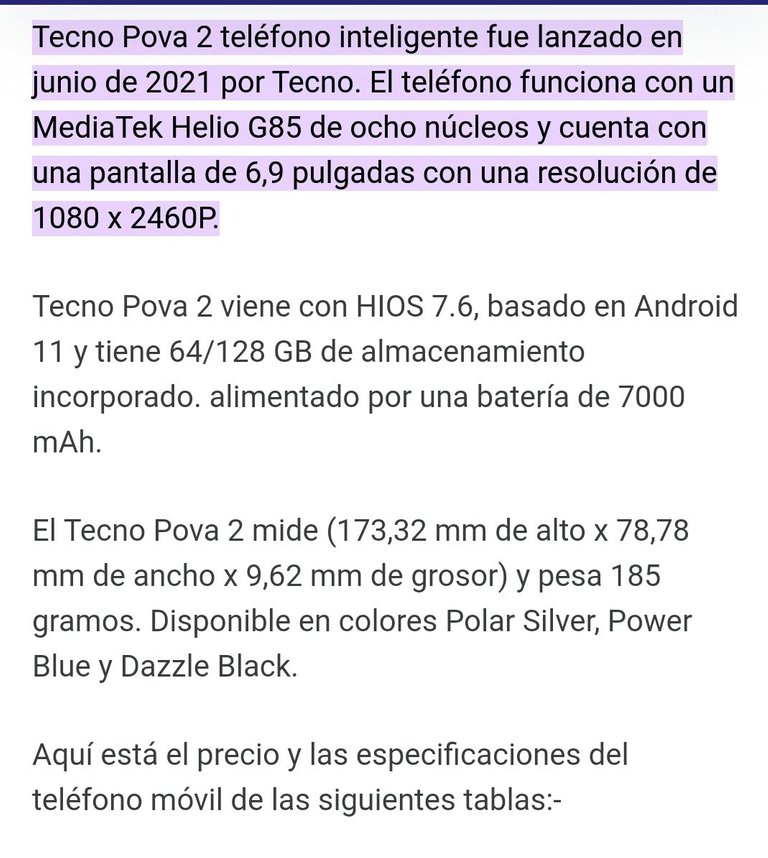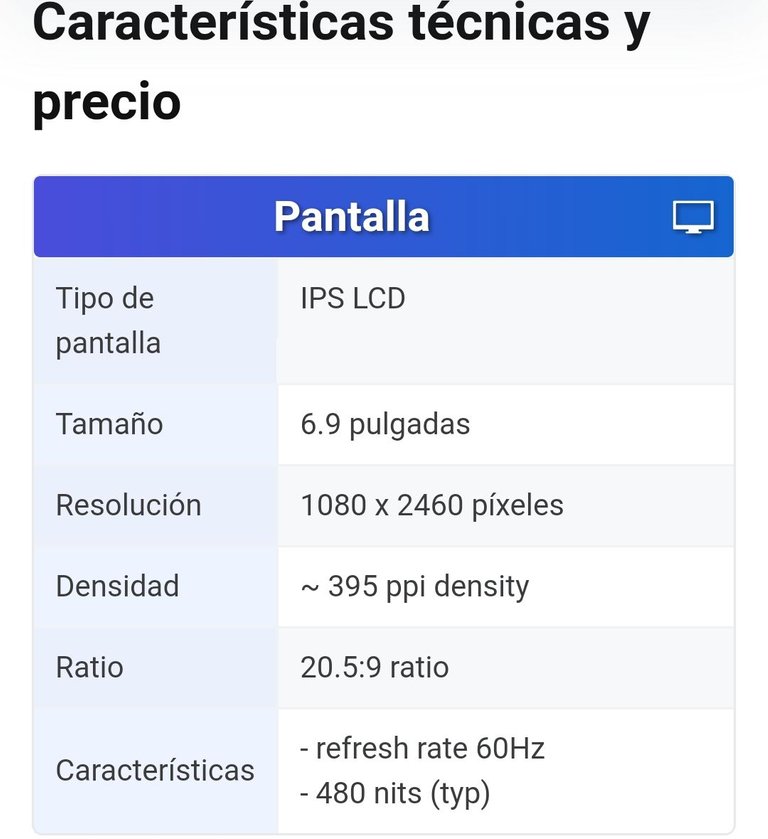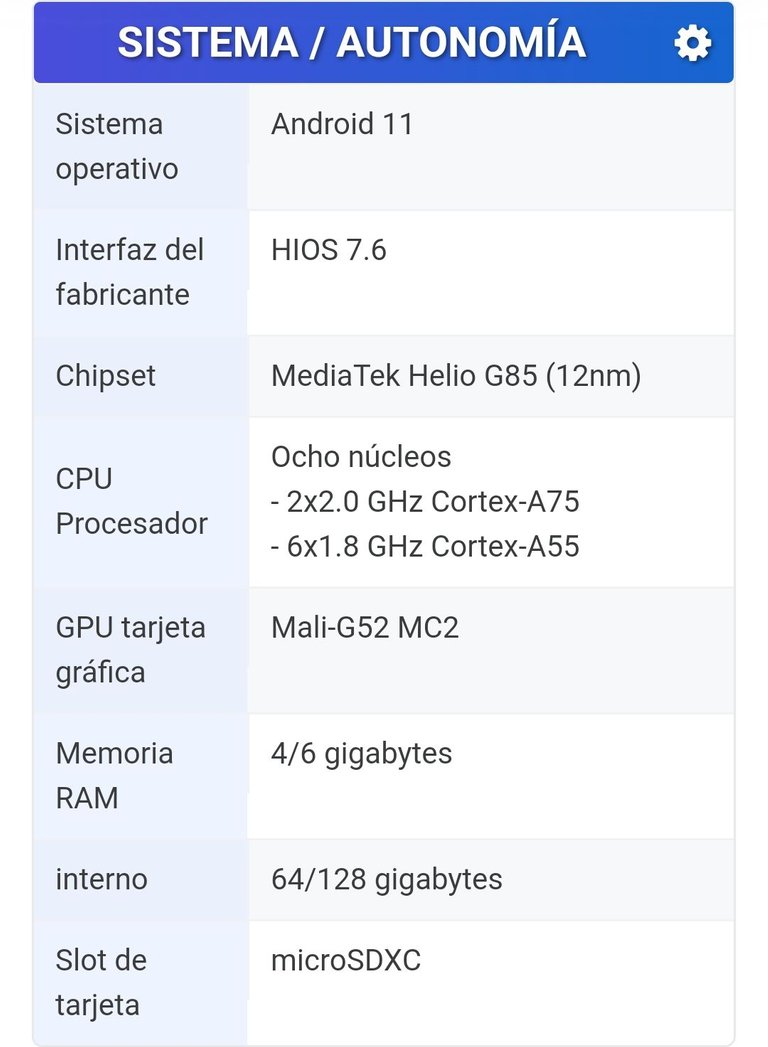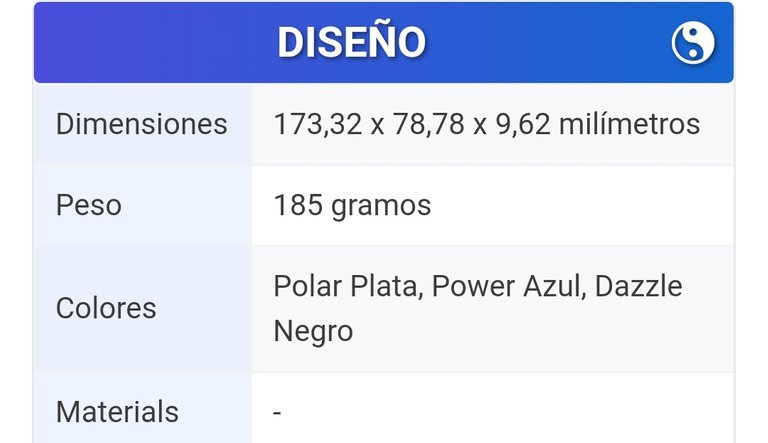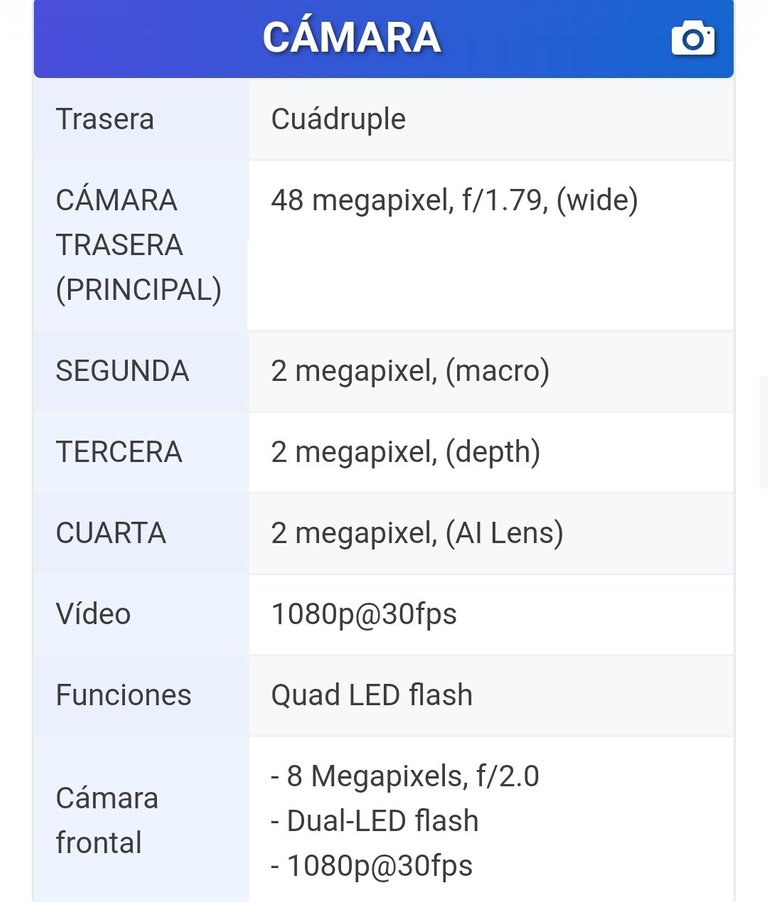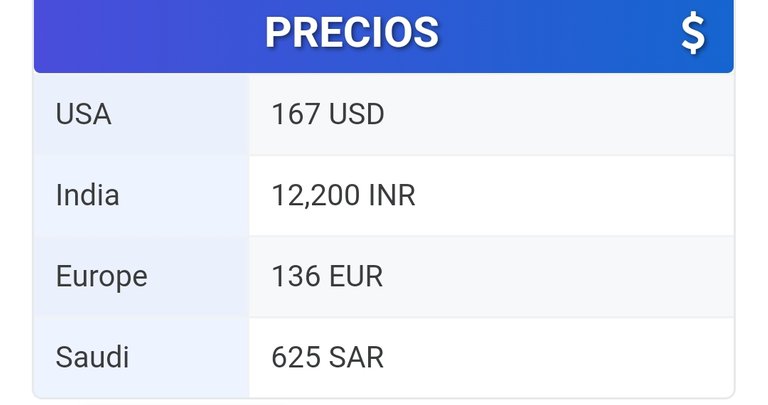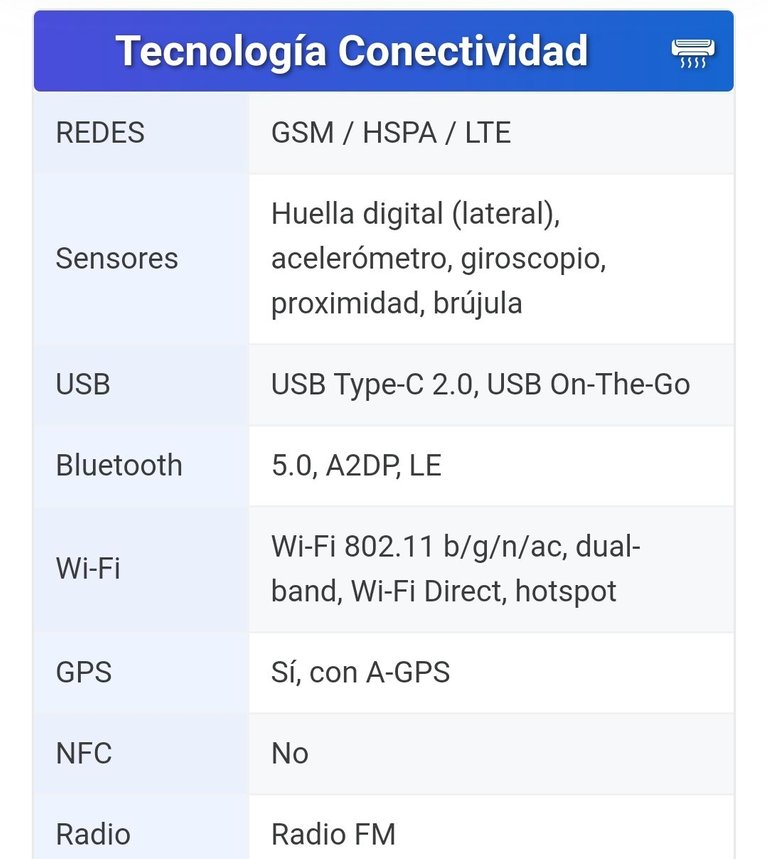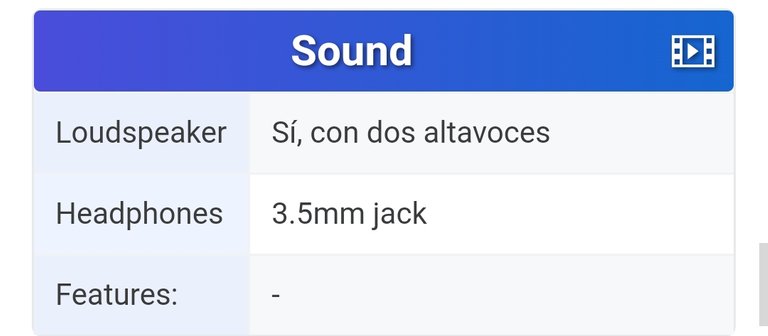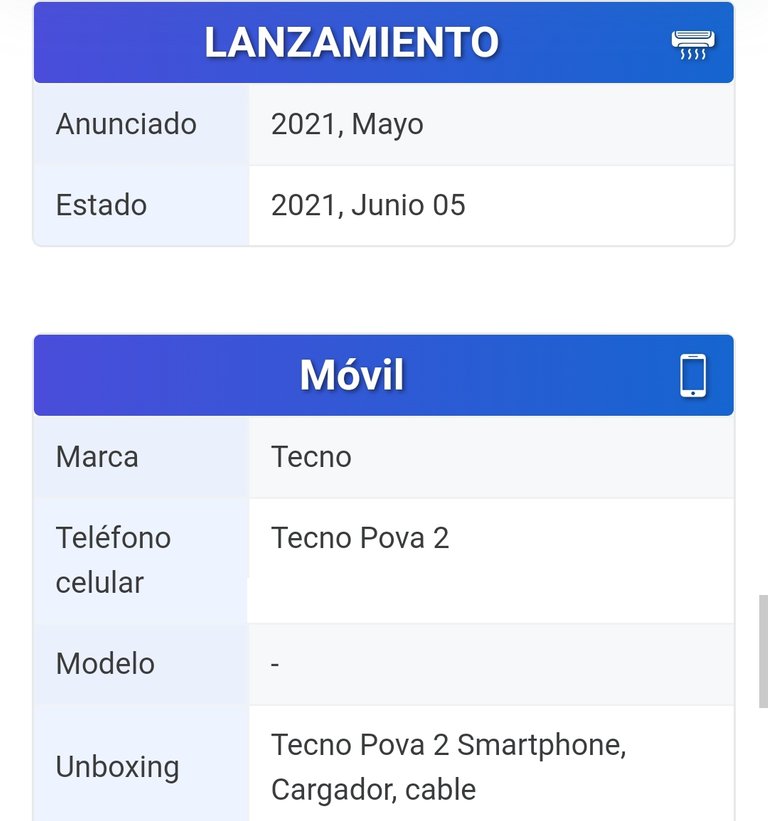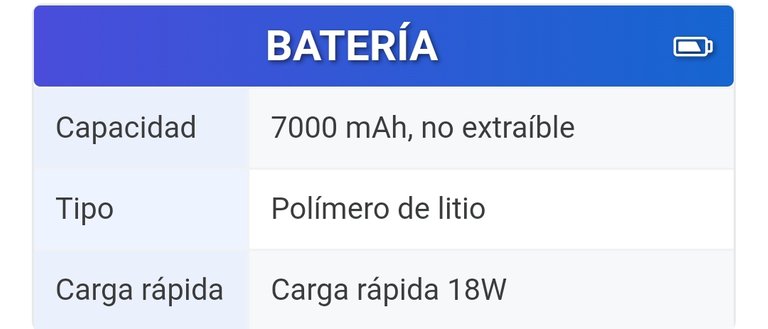 Fuente de todos los captures de las imágenes tomadas para las características del teléfono.
Acá les mostré sus especificaciones, características y costo del mismo pero en Estados Unidos, ya que estamos hablado que acá sale un poco más caro con un aproximado de 33 dólares por encima de su valor comercial, este teléfono es nuevo pues fue lanzado al mercado en 2020 cuando transcurría plena pandemia, pero llegó hasta mis manos dos años después jajaj (risas).
Acá en sus características lo principal que me gustó de el fue la cámara frontal pues tiene unos megapíxeles que son excelentes para ser una cámara frontal, ya que de esta manera suelo grabarme, además de ello consta con un LED frontal el cual da mucha iluminación siendo casi tan efectivo como un aro de luz.
Here I showed you its specifications, features and cost of the same but in the United States, since we are talking that here it comes out a little more expensive with an approximate $ 33 above its commercial value, this phone is new because it was released in 2020 when the pandemic was in full pandemic, but came to my hands two years later hahah (laughs).
Here in its features the main thing I liked about it was the front camera because it has a few megapixels that are excellent for a front camera, as this way I usually record myself, besides it has a front LED which gives a lot of light being almost as effective as a ring of light.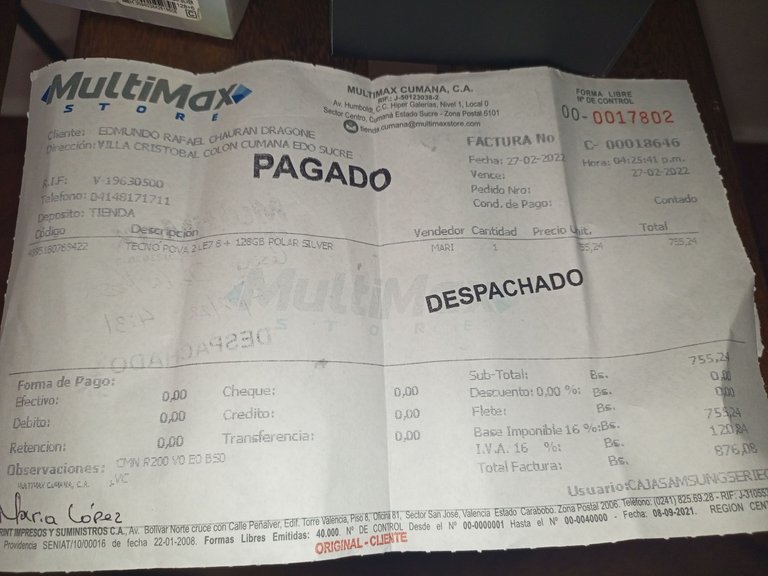 Otra de las cosas que me encantó de este dispositivo fue que la batería consta de 7000 mAh, la cual la hace muy potente y que la durabilidad de la misma es muy grande, la batería duele durarme hasta 33 horas en pleno uso para serles sincero, es muy buena, además de ello es de carga rápida ya que en una hora y media tiene la carga de su capacidad al 100%, así que por ese lado también es muy bueno.
El sistema Andorid hablamos que es 11, haciéndolo aún mucho mejor de que lo que ya es, el teléfono es grande con una dimensión de 6.9 pulgadas dónde la pantallas es LCD, el peso es de 167 gramos lo cual lo hace un poco medio incómodo a la hora de sujetarlo y escribir mis post jaja (risas).
Another thing that I loved about this device was that the battery consists of 7000 mAh, which makes it very powerful and that the durability of it is very large, the battery hurts last me up to 33 hours in full use to be honest with you, it is very good, besides it is fast charging because in an hour and a half has the charge of its capacity to 100%, so on that side it is also very good.
The Andorid system we talk about is 11, making it even better than it already is, the phone is large with a dimension of 6.9 inches where the screen is LCD, the weight is 167 grams which makes it a little uncomfortable when holding it and writing my posts haha (laughs).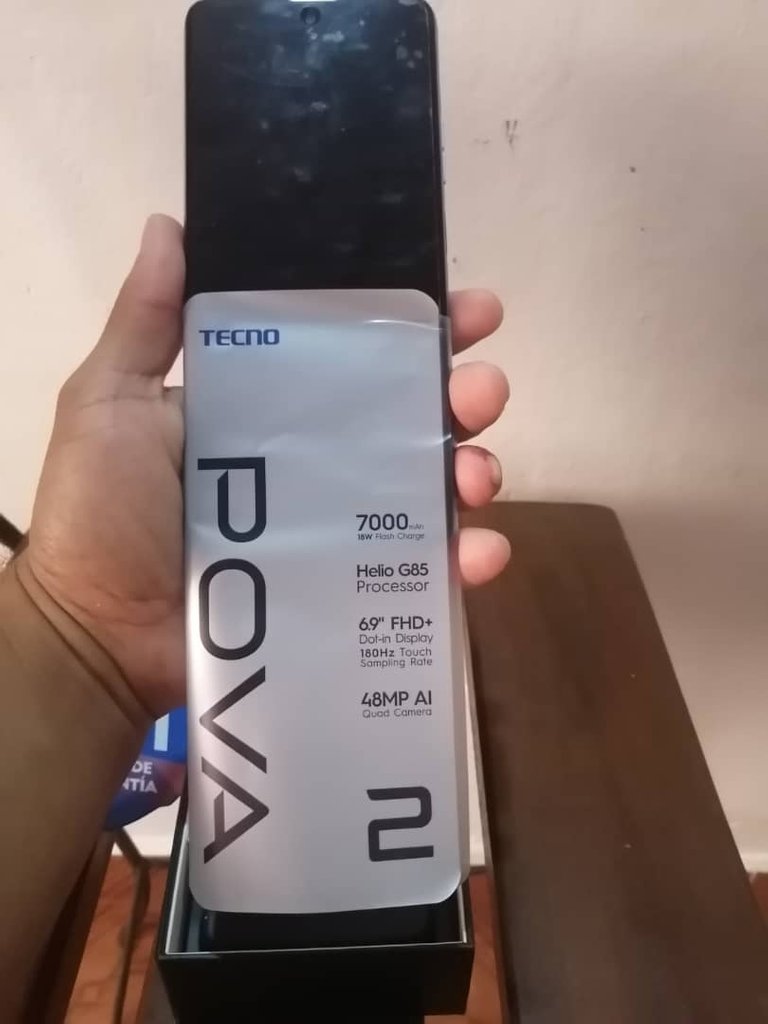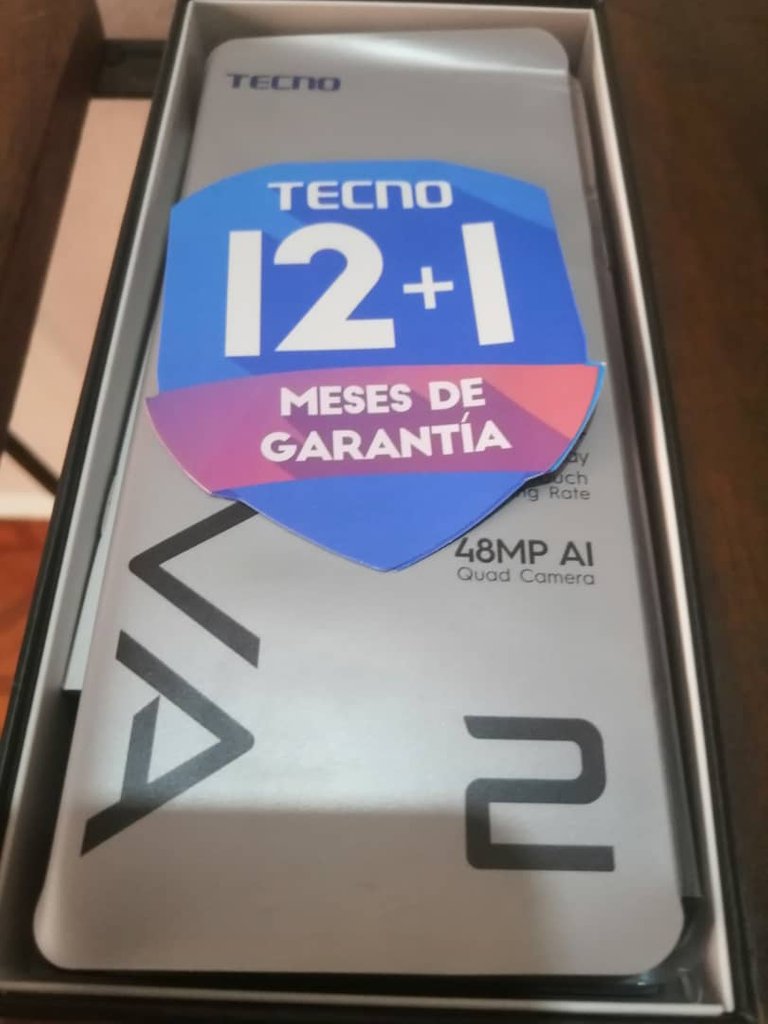 El teléfono me ha dejado enamorado, pues hasta el sol de hoy su desempeño es excelente, además de ello consta con reconocimiento facial y de huella cosas que en realidad no suelo usar. Dicho teléfono se ha convertido en mi mejor aliado a la hora de crear contenido para #Hive, he mejorado la calidad de mis videos y de edición gracias a la compra de el teléfono Tecno Pova 2.
La vida para mí ahora es más fácil con esto, pues además de usarlo para la parte laboral, lo uso para la distracción de mi hija pues descargo muchos juegos divertidos para ella, mira sus películas también entre otras cosas de utilidad las cuales le doy a diario, sin duda alguna se los recomendaría comprarlo pues es una máquina de teléfono, no falla en absolutamente en nada, además se me olvidó decirles trae sus respectivos auriculares que suenan muy bien y un acrílico para protegerlo que dicho sea de paso es de alta calidad.
The phone has left me in love, because until today its performance is excellent, besides it has facial recognition and fingerprint recognition, things that I don't really use. This phone has become my best ally when creating content for #Hive, I have improved the quality of my videos and editing thanks to the purchase of the Tecno Pova 2 phone.
Life for me now is easier with this, because in addition to using it for the work part, I use it for the distraction of my daughter because I download many fun games for her, watch her movies also among other useful things which I give her daily, without a doubt I would recommend you to buy it because it is a phone machine, it does not fail in absolutely nothing, plus I forgot to tell you it brings their respective headphones that sound great and an acrylic to protect it that by the way is of high quality.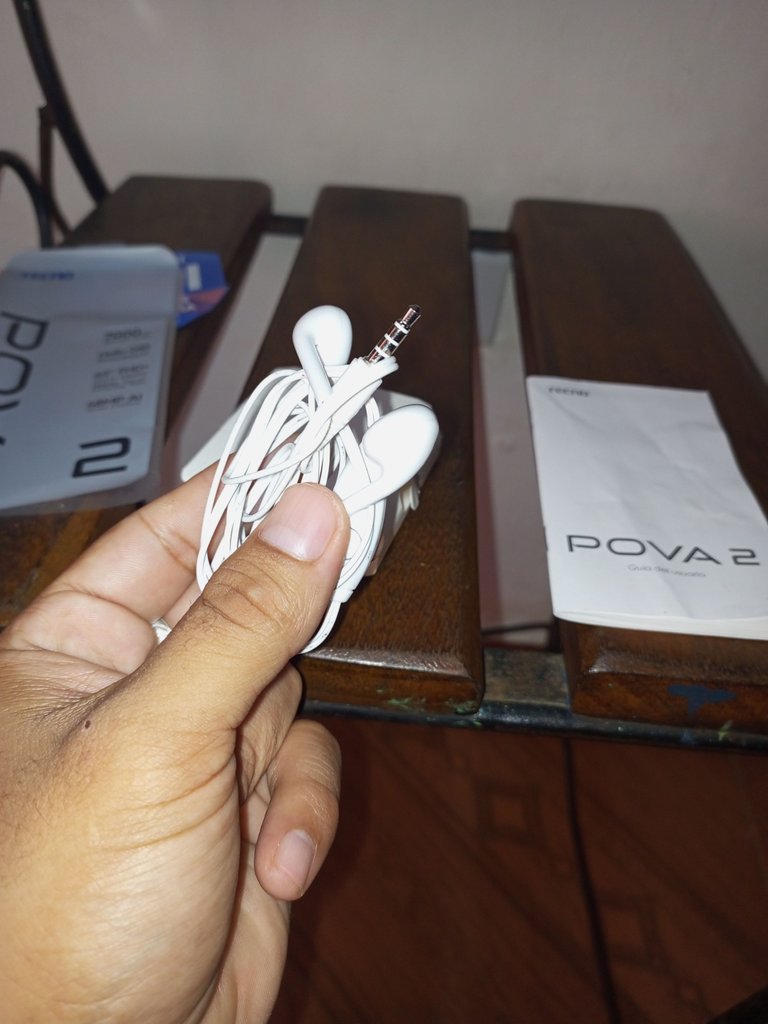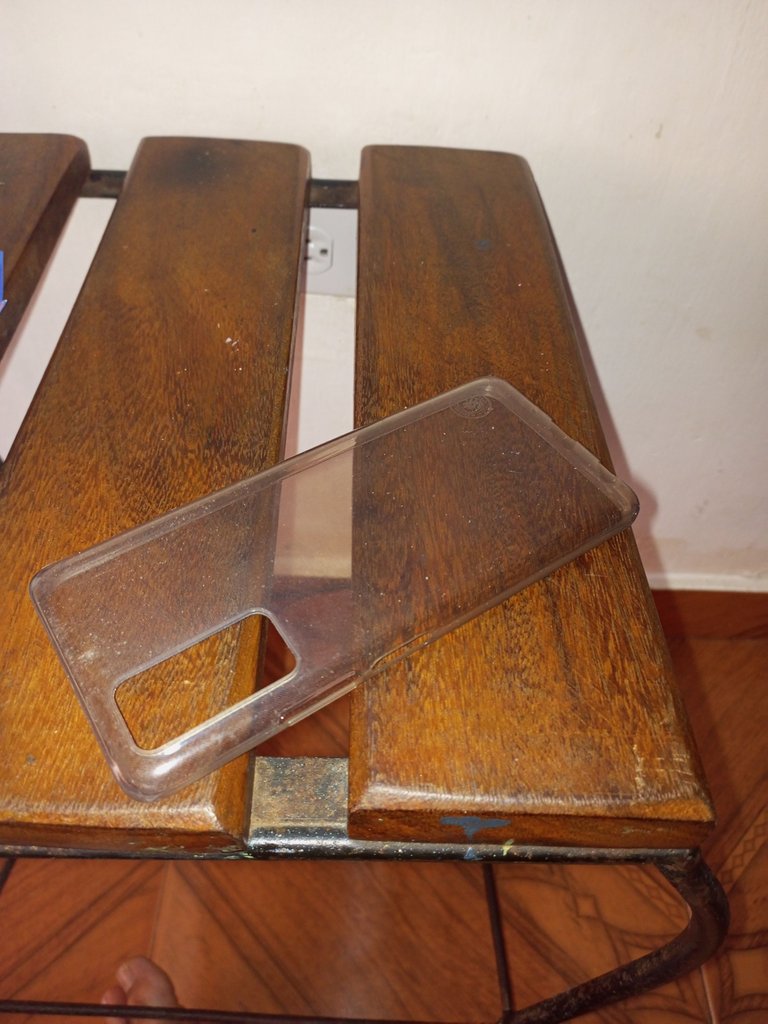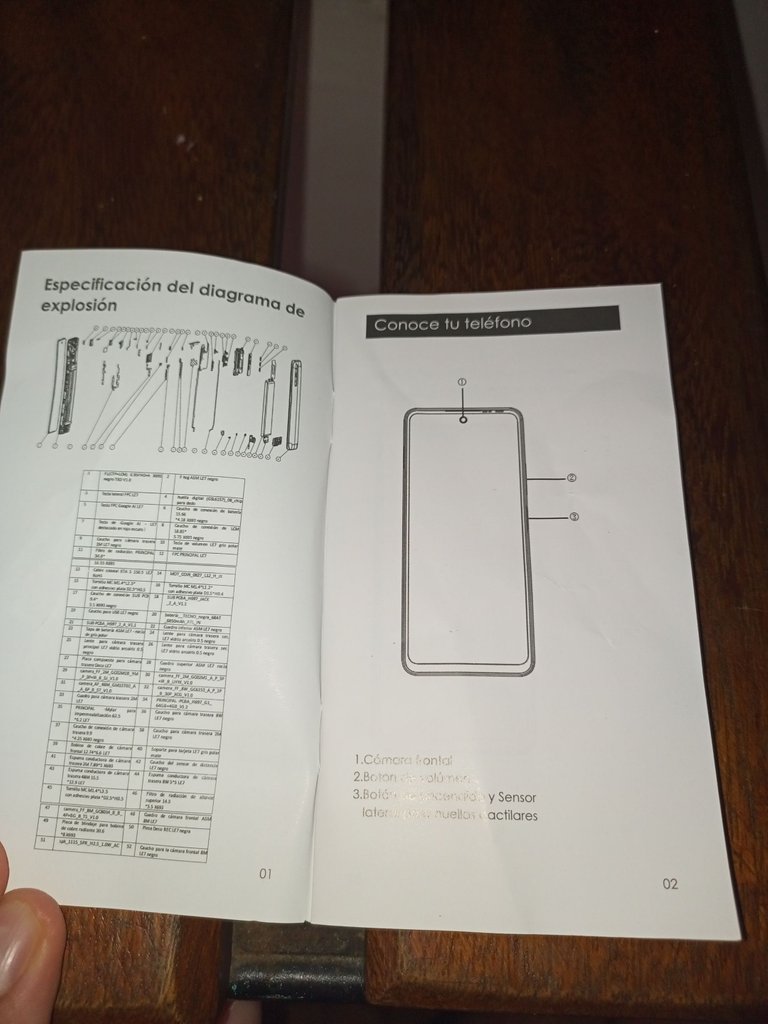 Espero allá sido de su agrado está publicación, siendo está la primera para mi en esta comunidad donde el avance tecnológico por parte de cada uno de nosotros puede ser mostrado acá, así como también compartir las experiencias y opiniones de las compras tecnológicas que hagamos en nuestra vida, bien sea para nosotros, amigos o familiares, así de esta manera me despido deseando un excelente fin de semana a cada uno de ustedes mis apreciados lectores hasta pronto.
I hope you enjoyed this publication, being this the first one for me in this community where the technological advance of each one of us can be shown here, as well as sharing the experiences and opinions of the technological purchases that we make in our life, either for ourselves, friends or family, so I say goodbye wishing an excellent weekend to each one of you my dear readers, see you soon.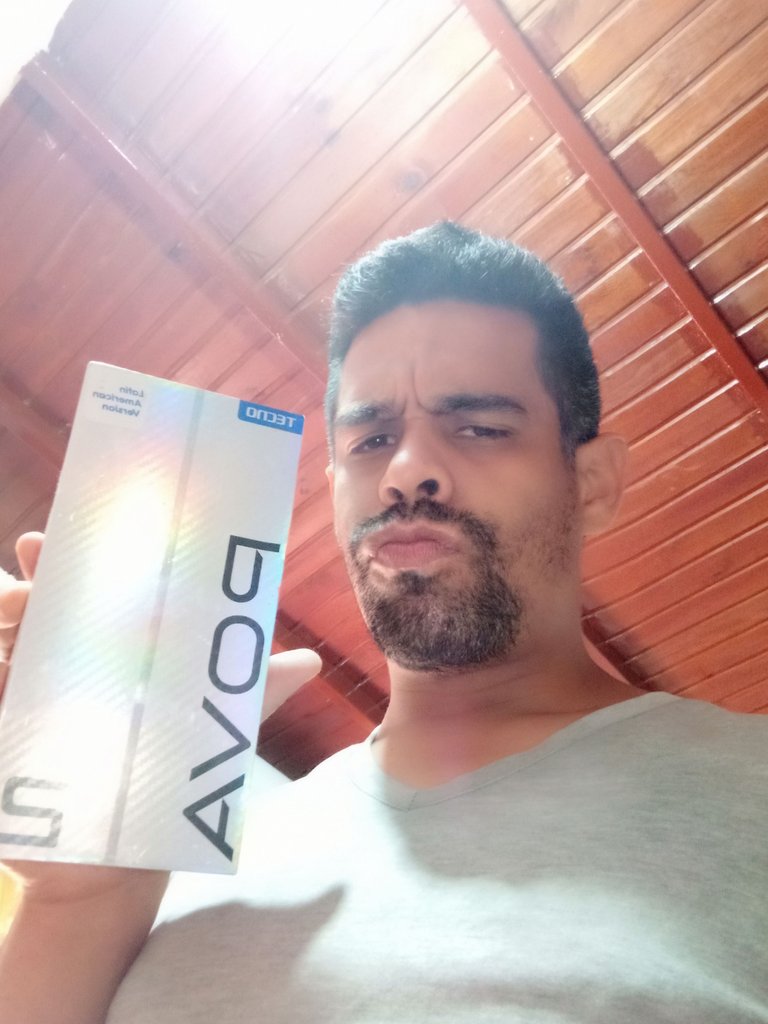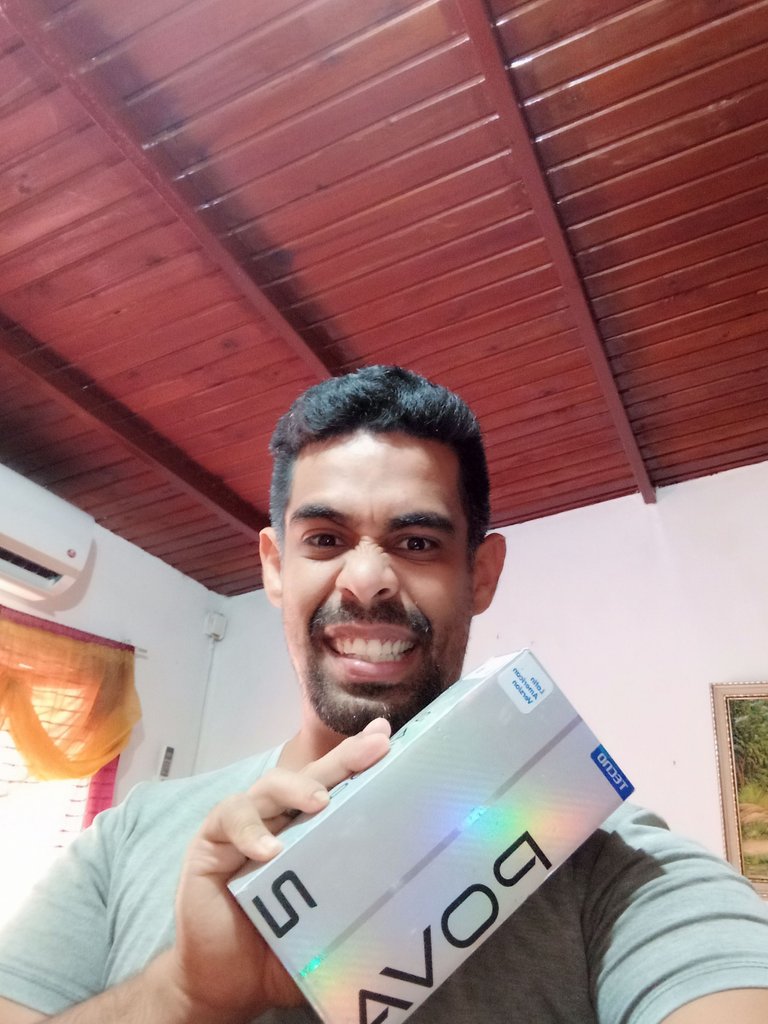 Todo el contenido que se encuentra en esta publicación es ampliamente original del autor, cualquier duda y recopilación del mismo, deben hacer mención de mi persona.
El texto es original de: @edmundochauran.

Todos los Derechos Reservados / @edmundochauran.

Fotografías tomadas de mi telefono Huawei p30 lite y editadas con picArts.
Fotografía tomada por mi papá Luis Chauran.
All content found in this publication is largely original to the author, any questions and compilation of the same, should make mention of my person.
Pictures taken from my Huawei p30 lite phone and edited with picarts.
Photograph taken by my father Luis Chauran.