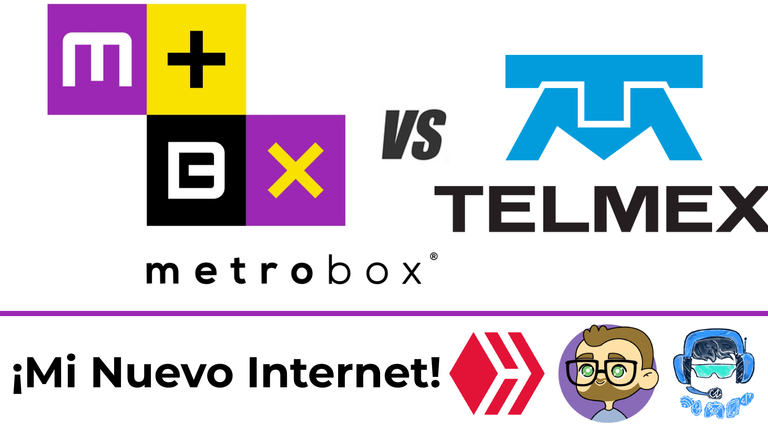 Para esta ocasión, no se si sea mejor la frase, "La vida es un riesgo carnal..." o "...Sin miedo al éxito", les platico. El viernes pasado @grisvisa y yo nos enconrábamos limpiando la cochera del condominio donde vivimos, fue ese mismo día cuando tomamos estas fotos y el mismo día que casi le vuelo el espejo a mi carro y nos estresamos mucho. Mientras limpábamos vimos que llegó un carro blanco con una persona que llevaba un traje de obrero. Nos pidió permiso para estacionarse y empezó a sacar su changarro.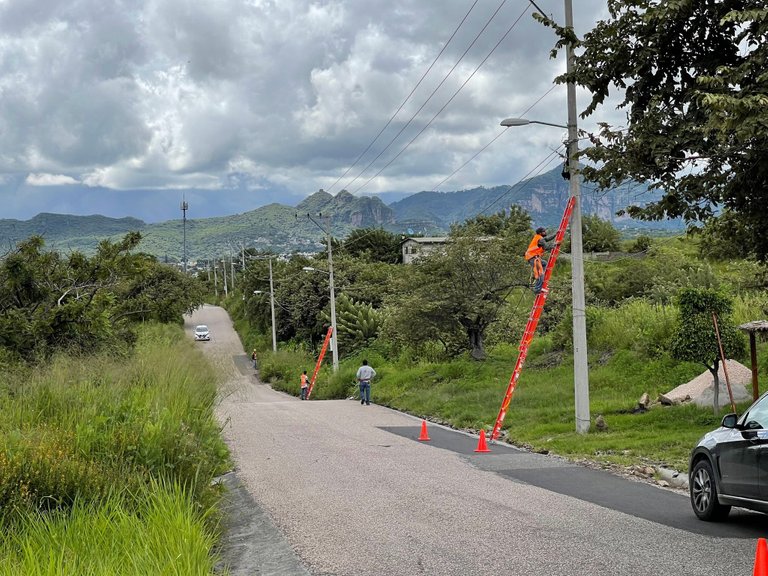 Fuente - Source
El obrero era un instalador de internet, puso una mesita y bajó su bocina, la cual tenía un anuncio promocional que decía algo así:
"¿Necesitas Internet en tu casa? Metrobox te ofrece puro, puro internet. Contamos con varios paquetes deacurdo a tus necesidades. Desde 20 Megas hasta 1,000 Megas. 100% fibra óptica, si contratas en el mes de agosto, llevate 12 meses el doble de velocidad. ¡Sí! El dobre de velovidad. Metrobox internet puro, puro internet!"
Fuente - Source
Me llamó mucho la atención y decidí preguntarle algunos detalles sobre el servicio que estaban ofreciendo. Me platicó que es un nuevo internet que está llegando a la colonia donde vivo y que es de fibra óptica, eso ya lo sabía porque había escuchado el anuncio unas 33 veces. Lo que más me llamó la atención es que es un internet simétrico, es decir, misma velocidad de bajada y subida, había escuchado las leyendas de ese internet, pero nunca había tenido uno disponible.
For this occasion, I don't know if it's better to use the phrase, "Life is a risk bro..." or "...Without fear of success", I'll explain it to you. Last Friday, @grisvisa and I were cleaning the garage of our condo. It was that same day when we took these pictures and the same day that I almost blew the mirror off my car, and we got stressed out. While we were cleaning up, we saw a white car pull up with a person wearing a workman's outfit. He asked us for permission to park and started to take out his little shop.
The worker was an internet installer. He set up a small table and lowered his speaker, which had a promotional ad that went something like this:
"Need Internet in your home? Metrobox offers you pure, pure Internet. We have several packages according to your needs. From 20 Megas to 1,000 Megas. 100% fiber optic. If you sign up in the month of August, get 12 months double the speed. Yes! Double the speed. Metrobox pure internet, pure Internet!
It caught my attention, and I decided to ask him for some details about the service they were offering. He told me that a new internet is coming to the neighborhood where I live and that it is fiber optic. I already knew that because I had heard the announcement about 33 times. What caught my attention the most is that it is a symmetric internet, that is, the same download and upload speed, I had heard the legends of that Internet, but I had never had one available.
---
Les platico un poco de mi experiencia con los servicios de internet. Cuando nos mudamos a Cuautla, Morelos mis papás decidieron comprar en una zona muy, pero muy alejada del centro de la ciudad. Esto causó que los servicios de internet tardaran mucho en llegar. De hecho nuestro primer servicio de teléfono en casa fue a través de un teléfono celular que era muy viejito y que se tenía que mantener conectado todo el tiempo, también era necesario poner una clave para hacer una llamada.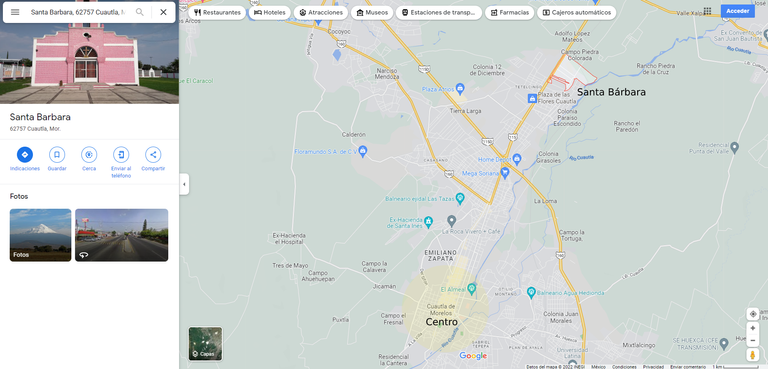 Google Maps
Después tuvimos un servicio de teléfono satelital, funcionaba bien como teléfono y era posible conectarse a internet. La velocidad era de 16 Kbps (Kilobits por segundo) o algo así, es decir, era super lento. En esa época empezaba el internet de banda ancha y lo más guay eran velocidades de 1.3 Mbps (Megabits por segundo). Tuvieron que pasar muchos años para que por fin Telmex instalara internet y telefonía en mi zona, recuerdo que tuve que ir a las oficinas varias veces para solicitar el servicio. Fue hasta 2005 o 2006 que por fin lo instalaron.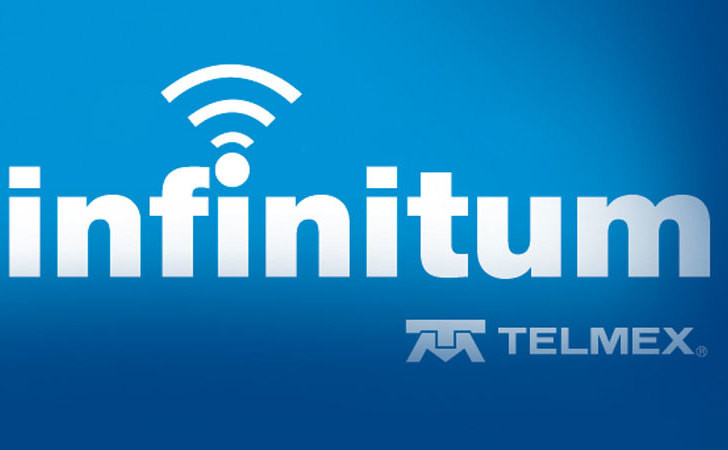 Fuente - Source
I'll tell you a little about my experience with internet services. When we moved to Cuautla, Morelos, my parents decided to buy in an area very, very far from downtown. This caused internet services to take a long time to arrive. Our first telephone service at home was through a cell phone that was very old and had to be kept connected all the time. It was also necessary to put in a password to make a call.
Then we had a satellite phone service, it worked fine as a phone, and it was possible to connect to the Internet. The speed was 16 Kbps (Kilobits per second) or something like that. That is, it was super slow. At that time, broadband internet was just starting, and the coolest thing was speeds of 1.3 Mbps (Megabits per second). It took many years for Telmex to finally install Internet and telephony in my area. I remember I had to go to the offices several times to request the service. It wasn't until 2005 or 2006 that they finally installed it.
---
Ni soñando era internet de fibra óptica, inculso casi 20 años después sigue siendo con cable de cobre. En donde vivía yo y actualmente viven mis papás sigue fallando mucho. La velocidad nunca pasó los 10Mbps por segundo y a pesar de las quejas nunca hicieron nada para mejorar el servicio, su escusa es que estábamos muy lejos del concentrador... Mis papás siguen teniendo Telmex porque no tienen muchas opciones, hace como dos años contratamos otro servicio llamado Lander Network, pero también falla mucho.
Cuando me mudé a donde vivo actualmente la única opción era Telmex, que para que se den una idea es lo equivalente al CanTV de Venezuela en México. Quise contratar otro servicio que se llama IZZI, me iban a dar una velocidad bastante atractiva, creo que 80 o 100 Mbps, pero como mi casa es la que está hasta el fondo no me lo pudieron instalar, ya había pagado la primera mensialidad y me tuvieron que regresar el dinero. Entonces ocmo comenté la opción era quedarme con Telmex...
Ya estaba desilucionado porque me imaginaba que iba a ser la misma situación que con mis padres. Fallas, tras fallas y además baja velocidad. Para mi sorpresa el internet de Telmex ha estado bastante decente en estos años, solamente ha fallado como dos o tres veces por año y una vez fue porque el modem se quemó gracias a una descarga de energía ocasionada por un rayo.
Not even dreaming it was fiber optic internet. Almost 20 years later, it is still with copper cable. Where I used to live and where my parents currently live, it continues to fail a lot. The speed never exceeded 10Mbps per second, and despite the complaints, they never did anything to improve the service. Their excuse is that we were too far away from the hub... My parents still have Telmex because they don't have many options. About two years ago we contracted another service called Lander Network, which also fails a lot.
When I moved to where I live now, the only option was Telmex, which, to give you an idea, is the equivalent of Venezuela's CanTV in Mexico. I wanted to contract another service called IZZI. They were going to give me a very attractive speed, I think 80 or 100 Mbps, but as my house is at the bottom, they could not install it. I had already paid the first monthly fee and they had to return the money. Then, as I said, the option was to stay with Telmex...
I was already disappointed because I imagined it would be the same situation as with my parents. Failures, after failures, and also low speed. To my surprise, Telmex internet has been pretty decent over the years. It has only failed about two or three times a year, once because the modem burned out due to a lightning strike.
---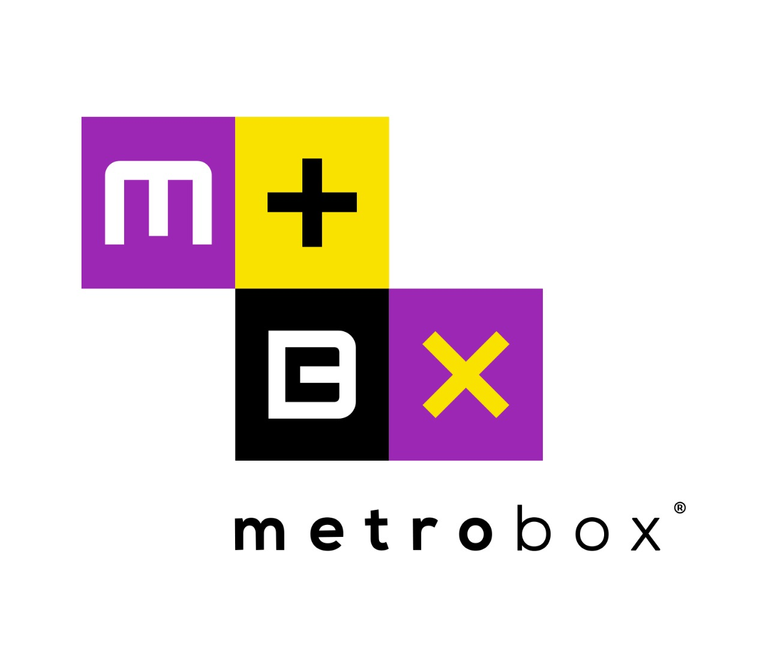 https://www.metrobox.com.mx/
Decidí probar el servicio de Metrobox porque me ganó la curiosidad y se me hicieron muy atractivos tanto la velocidad simétrica como los precios que manejan. Además es un servicio nuevo y están buscando aclientarse y por lo mismo me ofrecieron dos promociones. La primera fue el aumento (al doble) de Megas (Mb) por 12 meses. Esto quiere decir que si contrataba un paquete de 100 Megas me daban 200. Esta promoción solo estaba vigente durante el mes de agosto así que me tenía que decidir rápido.
El segundo beneficio fue que la instalación iba a ser gratis. En este caso me ahorré 500 Pesos Mexicano o lo equivalente a 25 Dólares. Entonces fue otro incentivo. En el paquete que tengo de Telmex tengo una velocidad de 40 Mbps de bajada y solo 10 de subida, así que para que realmente valiera la pena y pudiera obtener una velocidad mucho mayor en Metrobox decidí contratar el de 100 Megas para que me dieran 200, recuerden que la ventaja es que es simétrico.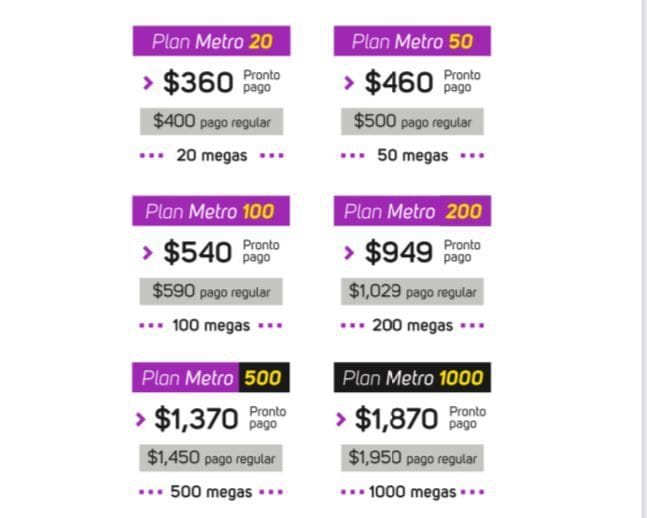 Fuente - Source - $20 (MXN) = $1.00 (USD)
Por este paquete estaré pagando 540 pesos al mes, unos 26.75 Dólares. Me respetarpan este precio por un año y después va a aumentar a unos 47 o 48 dólares aproximadamente. Ya veré si para cuando llegue esa fecha ajusto la velocidad o buscao alguna promoción.
I decided to try Metrobox's service because I was curious and found the symmetrical speed and the prices very attractive. Besides, it is a new service, and they are looking for orientation, so they offered me two promotions. The first was the increase (to double) of Megas (Mb) for 12 months. If I signed up for a 100 Megas package, I would get 200 Megas. This promotion was only valid during the month of August, so I had to decide quickly.
The second benefit was that the installation was going to be free. In this case, I saved 500 Mexican Pesos or the equivalent of 25 Dollars. So that was another incentive. In the package I have from Telmex, I have a speed of 40 Mbps downstream and only 10 upstream, so to make it worth it and I could get a much higher speed in Metrobox, I decided to hire the 100 Megas so they would give me 200, remember that the advantage is that it is symmetrical.
For this package, I will be paying 540 pesos per month, about 26.75 dollars. I will respect this price for one year, which will increase to approximately about 47 or 48 dollars. I will see if I can adjust the speed or look for promotion by that time.
---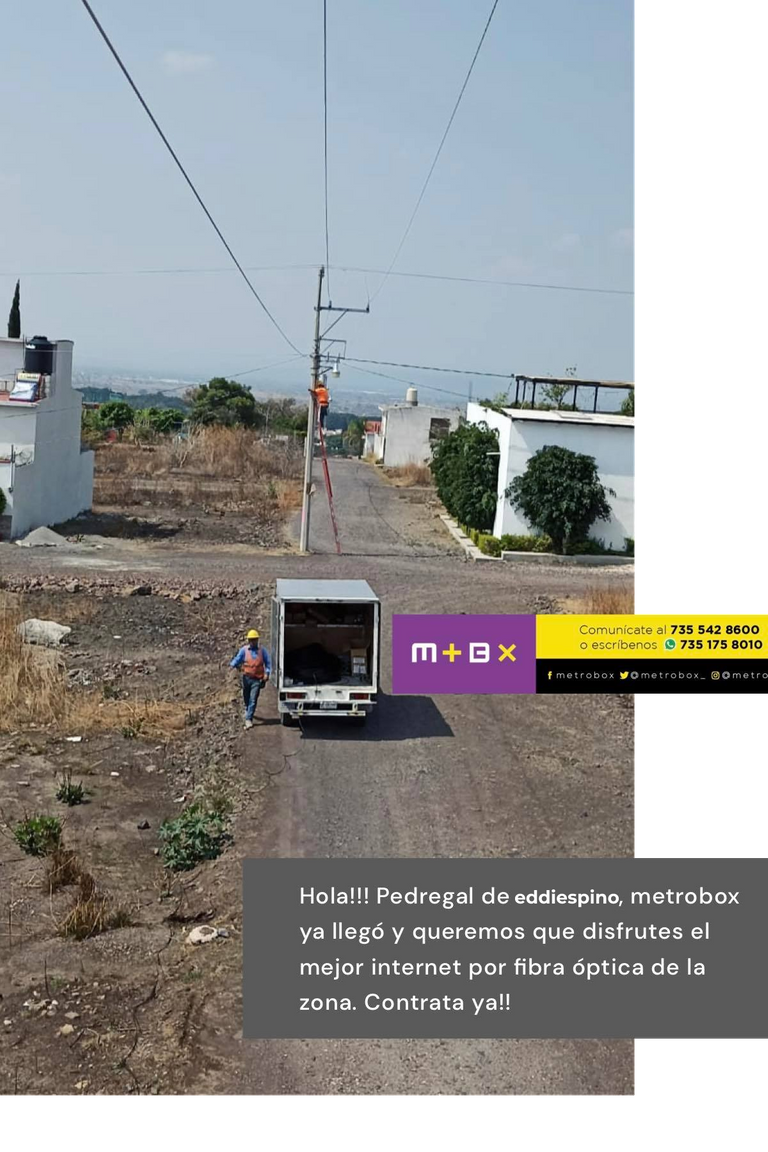 Fuente - Source
---
Decidí que quería este servicio el martes y ayer jueves me lo instalaron. No se tardaron mucho y pude comprobar que efectivamente todo el cableado hasta el modem es de fibra óptica. Aún tengo Telmex y pienso conservarlo al menos por un par de meses hasta que pueda probar bien el servicio de Metrobox y comprbar que sí funciona y funciona bien.
I decided I wanted this service on Tuesday, and yesterday, Thursday, they installed it for me. It didn't take long, and I was able to verify that all the wiring to the modem is fiber optic. I still have Telmex and plan to keep it for at least a couple of months until I can properly test the Metrobox service and verify that it works and works well.
Aquí les comparto la comparación entre Telmex y Metrobox:
Here is a comparison between Telmex and Metrobox:
Metrobox: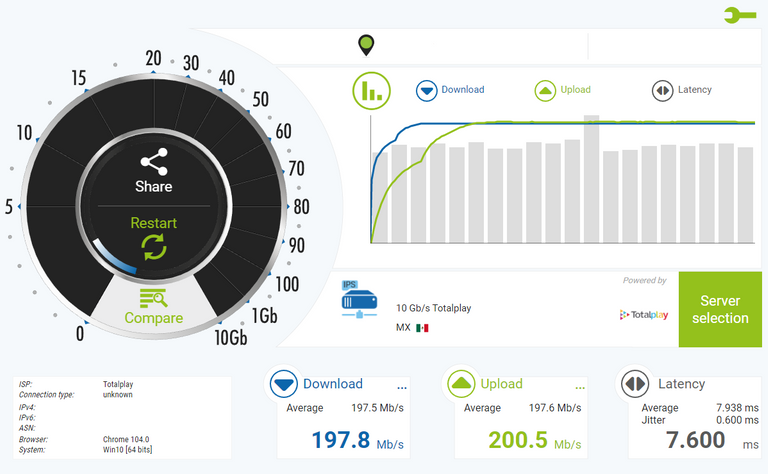 Telmex: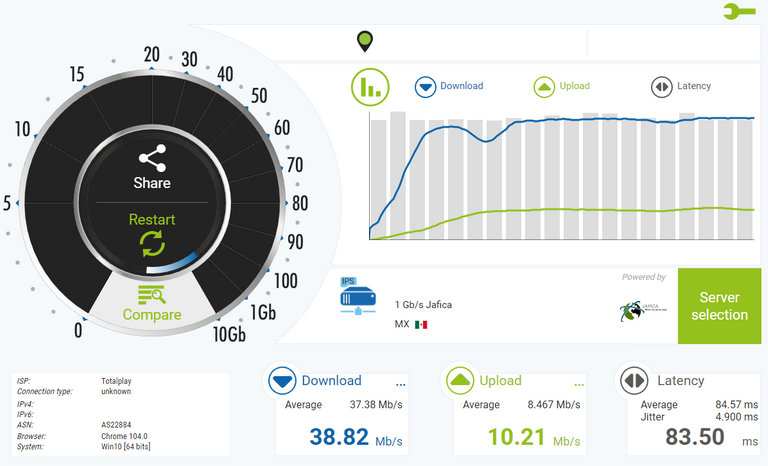 Speed test: https://www.nperf.com/en/
Como pueden ver la diferencia es abismal, no solo en las velocidades de bajada y de subida también en la latencia o también conocido como ping que es lo que a veces provoca tener mucho lag enlos videojuegos cuando está muy alto.
Muchas gracias por leer mi post. Agradezco todos los comentarios de antemano, me gustaría saber su opinión que si gustan puedan platicarme un poco sobre su experiencia con los servicios de internet que han tenido. Saludos a todos.
As you can see, the difference is abysmal, not only in download and upload speeds but also in latency or also known as ping, which is what sometimes causes lag in video games when it is very high.
Thank you very much for reading my post. I appreciate all the comments in advance, I would like to know your opinion, and if you like, you can tell me a little about your experience with the internet services you have had. Greetings to all.
Main image sources: Metrobox logo - VS - Telmex Logo