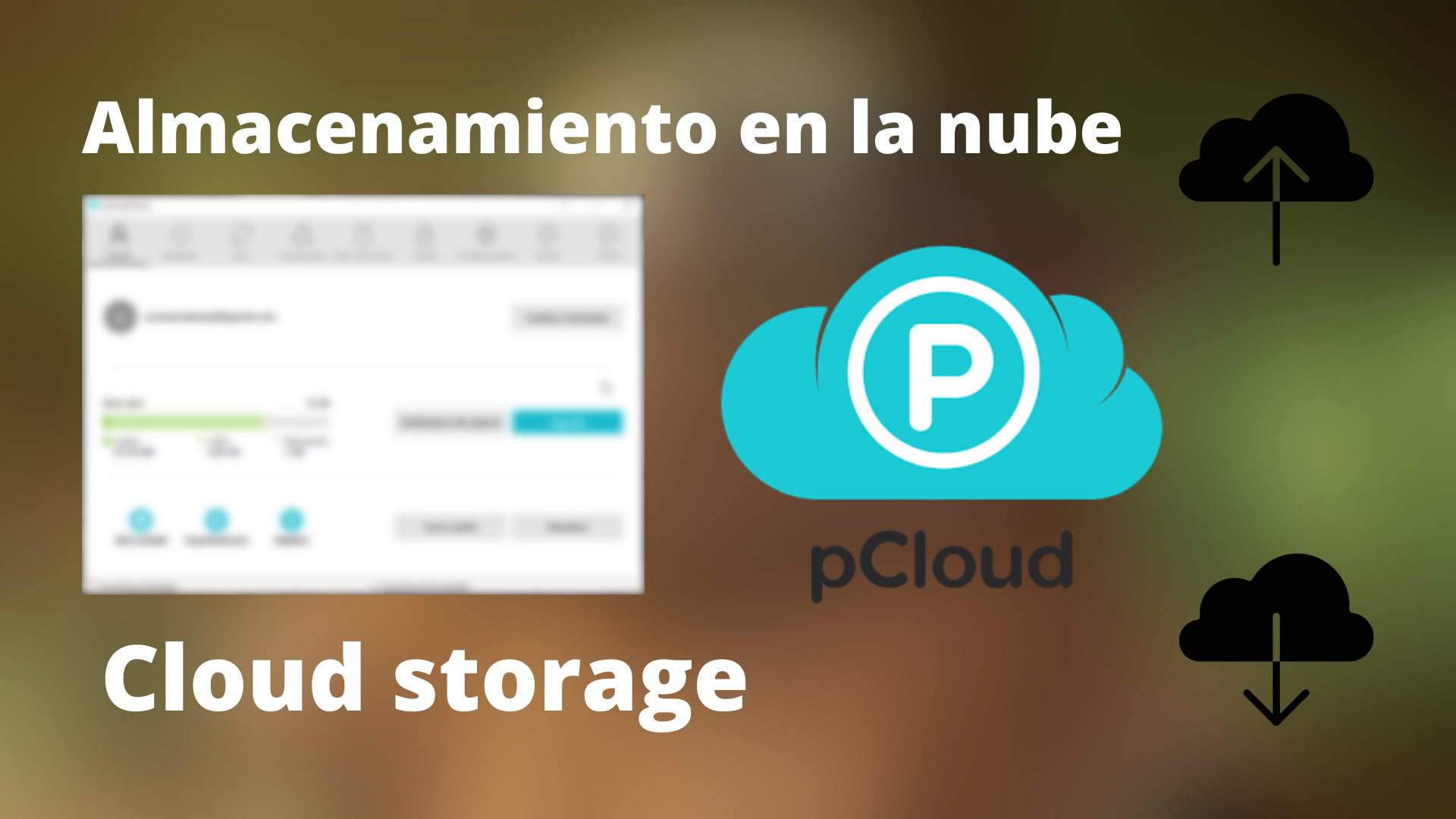 El almacenamiento en la nube ha tomado muchas fuerzas los últimos años, en especial para guardar nuestros documentos e imágenes, seguramente que muchos han podido observar aplicaciones en el teléfono como Google Drive o Google Fotos, que alguna vez les han pedido permisos para sincronizar las fotos y videos de la Galería y si tienes Windows 10 cuando empezaste a usarlo te pedía iniciar sesión en OneDrive, siempre hemos tenido cerca a estos servicios y estos últimos años ha revolucionado, existen una cantidad de empresas que te ofrecen servicio de almacenamiento seguramente la más reconocida como Dropbox, Google Drive, OneDrive, iCloud e incluso Mega, SI!! Esa aplicación que todos hemos usado alguna vez para descargar también nos permite almacenar nuestros archivos, en esta oportunidad les hablaré de pCloud fundando en 2013 y que a día de hoy cuenta con más de 16 millones de usuarios, luego de buscar muchos servicios me incline por usarlo y en este post te contaré el porqué.
Cloud storage has taken many forces in recent years, especially to save our documents and images, surely many have been able to observe applications on the phone like Google Drive or Google Photos, which have ever asked permissions to synchronize photos and videos Gallery and if you have Windows 10 when you started using it asked you to log in to OneDrive, we have always had close to these services and in recent years has revolutionized, there are a number of companies that offer storage service surely the most recognized as Dropbox, Google Drive, OneDrive, iCloud and even Mega, YES! That application that we have all used at some point to download also allows us to store our files, this time I will talk about pCloud founded in 2013 and today has more than 16 million users, after searching many services I was inclined to use it and in this post I will tell you why.
Almacenamiento en la nube. / Cloud storage.
Hoy en día ya es muy común que tengamos nuestros documentos que no queremos perder, o imágenes guardadas en servicio de almacenamiento sin darnos cuenta y vuelvo a repetir lo que mencione hace poco cuando tenemos un teléfono nuevo seguramente nos pide sincronizar la galería con Google Fotos para tener almacenados nuestras fotos y videos, en caso de que le pase algo a nuestro celular, tan solo con volver a iniciar sesión en tu cuenta de Google ya sea en otro dispositivo o si lo formateaste ya podremos tener nuevamente nuestras fotos sin preocuparnos de que las hemos perdido, claro no todo es tan bueno aunque hoy en día casi todos solemos tener en nuestras casas o trabajo wifi, siempre encontraremos algunas excepciones que no tienen y esto puede ser un problema si quieres almacenar, ya que te consumaría muchos datos móviles, es por eso que primero debemos analizar si nos conviene usar el almacenamiento en la nube, supongamos que SI tienes wifi y te interesa usar este servicio.
Today it is very common that we have our documents that we do not want to lose, or images stored in storage service without realizing and I repeat again what I mentioned recently when we have a new phone surely asks us to synchronize the gallery with Google Photos to have stored our photos and videos, in case something happens to our phone, just by logging back into your Google account either on another device or if you formatted it and we can have our photos again without worrying that we have lost, Of course not everything is so good although today almost everyone usually have in our homes or work wifi, we will always find some exceptions that do not have and this can be a problem if you want to store, as it would consume a lot of mobile data, which is why we must first analyze whether we should use the cloud storage, let's say you do have wifi and you are interested in using this service.
En el caso de una computadora, si tenemos dos discos duro, como en mi caso suelo usar mi Disco SSD para mi sistema operativo y mi Disco HDD para guardar mis archivos o instalar juegos. Suelo guardar en mi disco HDD archivos que pesan bastante como Instalación de juegos, Videos, e Imágenes, básicamente lo uso para eso y aunque he hablado mucho de las imágenes, la verdad es que no suelo tener muchas imágenes en mi computadora para ser sincero, solo tengo imágenes de fondos de Pantalla o alguna que otra imagen, ya que la mayoría de las fotos están en mi teléfono y están sincronizadas con Google Fotos.
In the case of a computer, if we have two hard drives, as in my case I usually use my SSD Disk for my operating system and my HDD Disk to save my files or install games. I usually save in my HDD disk files that weigh quite a lot like Installing games, Videos, and Images, basically I use it for that and although I have talked a lot about the images, the truth is that I do not usually have many images on my computer to be honest, I only have images of wallpapers or some other image, since most of the photos are on my phone and are synchronized with Google Photos.
Acá viene lo importante. / Here comes the important part.
Los Documentos, acá está lo más importante y aunque en total solo pesan 152 MB, son muchos documentos donde básicamente tengo almacenado lo que voy estudiando y mis proyectos que voy realizando, y acá fue donde entro Pcloud solía usar Dropbox, ya que al ser muy reconocido era de las mejores opciones, pero el problema fue que en mi instancia en Linux no me funcionaba de la mejor manera Dropbox y fue cuando decidí buscar otro servicio y encontré pCloud a diferencia de Dropbox me ofrece de manera gratuita 10 GB y Dropbox tan solo 2 GB, y aunque no suelo ocupar mucho porque tan solo mis documentos ocupan menos de 200 MB seguramente en algún futuro si necesito guardar algo más, y esos 10 GB serán de mucha ayuda, pCloud también cuenta con aplicación móvil y puedo sincronizar lo que quiero guardar desde mi teléfono, los pasos para registrarte son muy sencillos solo debes hacer lo que te indican y tendrás 7 GB, los otros 3 GB te contaré más adelante como se consiguen si te interesa este servicio de almacenamiento esta es su página oficial Link.
Documents, here is the most important and although in total only weigh 152 MB, there are many documents where I basically have stored what I'm studying and my projects that I'm doing, and here was where Pcloud came in I used to use Dropbox, as being very recognized was the best options, but the problem was that in my instance in Linux Dropbox did not work in the best way and that's when I decided to look for another service and found pCloud unlike Dropbox offers me 10 GB for free and Dropbox only 2 GB, and although I do not usually occupy much because only my documents occupy less than 200 MB surely in the future if I need to save something more, and those 10 GB will be very helpful, pCloud also has mobile application and I can synchronize what I want to save from my phone, the steps to register are very simple just do what they tell you and you will have 7 GB, the other 3 GB I will tell you later how to get if you are interested in this storage service this is its official website Link.
Primeros pasos. / First steps
En primer lugar, ingresaremos al sitio web oficial y nos registraremos e ingresaremos.
First, we will go to the official website and register and log in.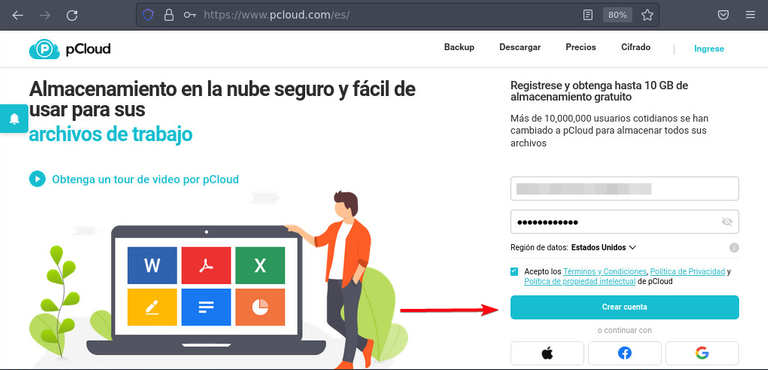 Seguiremos una serie de pasos que nos estará indicando, esto lo hacemos con el propósito de que cada paso nos desbloquea 1 GB.
We will follow a series of steps that it will be indicating to us, this we do it with the purpose that each step unlocks 1 GB to us.
Si les aparece un mensaje para descargar la aplicación la descargan, ya que es lo más ideal para sincronizar los archivos de la computadora y en los próximos pasos, de igual manera nos pedirá descargar la aplicación.
If you get a message to download the application, download it, as it is the most ideal way to synchronize the files on the computer and in the next steps, it will also ask you to download the application.
Verificamos nuestra cuenta de email.
We verify our email account.
Cargamos cualquier archivo puede ser lo que queramos.
We load any file, it can be anything we want.
Si ya descargamos la aplicación en nuestra computadora iremos al siguiente paso.
If we have already downloaded the application on our computer we will go to the next step.
Instalamos la aplicación siguiendo los pasos e iniciamos sesión.
Install the application following the steps and log in.
Acá me quiero detener un poco para explicarles un poco la interfaz encontremos varias opciones en este caso la parte principal nos indica cuando tenemos disponible y cuanto tenemos usado tenemos 3 opciones en la parte de abajo las cuales la de abrir unidad es para observar los archivos que tenemos subidos en la aplicación, la opción de my.pCloud es para abrir el sitio web y te lleva a tu perfil y por último la opción de papelera y algo muy importante si borramos un archivo en pCloud y lo mandamos a la papelera tenemos 15 días para recuperarlo antes que se borre.
Here I want to stop a little to explain a bit the interface we find several options in this case the main part tells us when we have available and how much we have used we have 3 options at the bottom which the open drive is to observe the files we have uploaded in the application, the option of my.pCloud is to open the website and takes you to your profile and finally the trash option and something very important if we delete a file in pCloud and send it to the trash we have 15 days to recover it before it is deleted.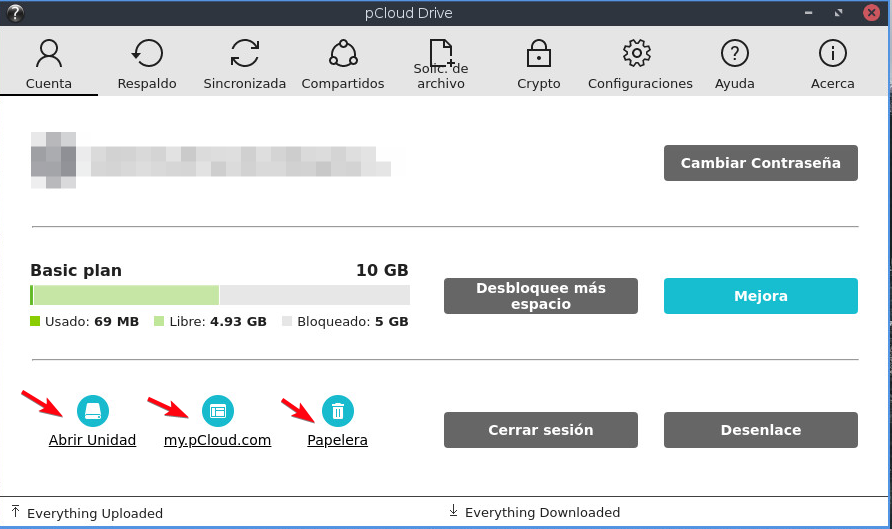 El siguiente paso es descargar la aplicación para el teléfono, la podemos está disponible para Android y Apple, seguidamente iniciamos sesión.
The next step is to download the application for the phone, which is available for Android and Apple, then log in.
Nos pedirá que activemos, la carga automática la activamos, yo en este caso una vez activa la fui a desactivar, ya que no es obligatorio y tampoco quiero que se me sincronizan todas las fotos y videos, puesto que tardaría mucho así que fui a configuración > Fotos y videos > Carga automática > y desactive la opción.
It will ask us to activate the automatic upload, I in this case once activated I went to deactivate it, since it is not mandatory and I do not want to synchronize all the photos and videos, since it would take a long time so I went to settings > Photos and videos > Automatic upload > and deactivate the option.
Así luce el apartado del sitio web donde tenemos varias carpetas y opciones, la opción de cargar es que la normalmente se usa para buscar un archivo y almacenarlo.
This is what the website section looks like where we have several folders and options, the upload option is the one normally used to find a file and store it.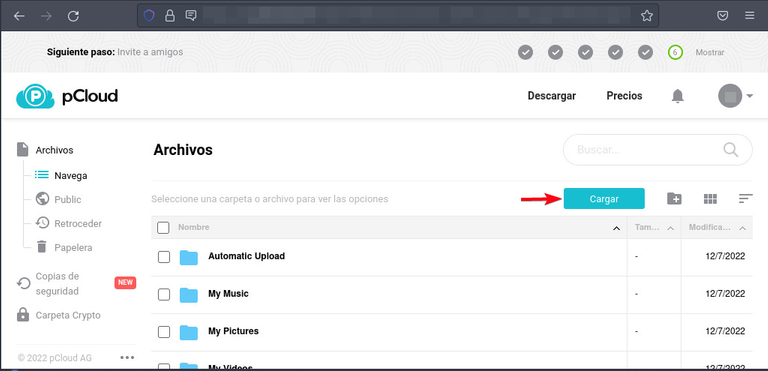 Si nos vamos a la aplicación de la computadora podemos notar que en la opción de respaldo nos indica que queremos sincronizar yo suelo, solamente sincronizar lo que está en documento, así que desmarcaría las demás opciones y solo dejo documentos, también les recomiendo verificar en ajustes que tenga la opción activa de iniciar la aplicación cuando se inicie el sistema.
If we go to the computer application we can notice that in the backup option it tells us that we want to synchronize I floor, only synchronize what is in document, so I would uncheck the other options and only leave documents, I also recommend you to verify in settings that you have the active option to start the application when the system starts.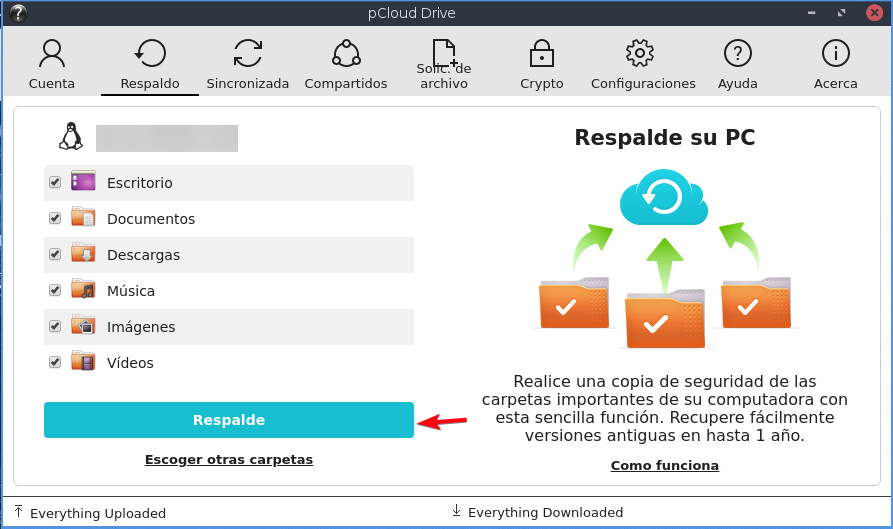 En este caso en esta foto estoy usando Linux en la notebook, pero si tú usas Windows te debería aparecer un disco llamado pCloudDrive acá podremos observar todo lo que se está almacenando, podremos pasar una imagen a este disco y esta se guardara atómicamente en la nube.
In this case in this picture I am using Linux on the notebook, but if you use Windows you should see a disk called pCloudDrive here we can see everything that is being stored, we can pass an image to this disk and this will be saved atomically in the cloud.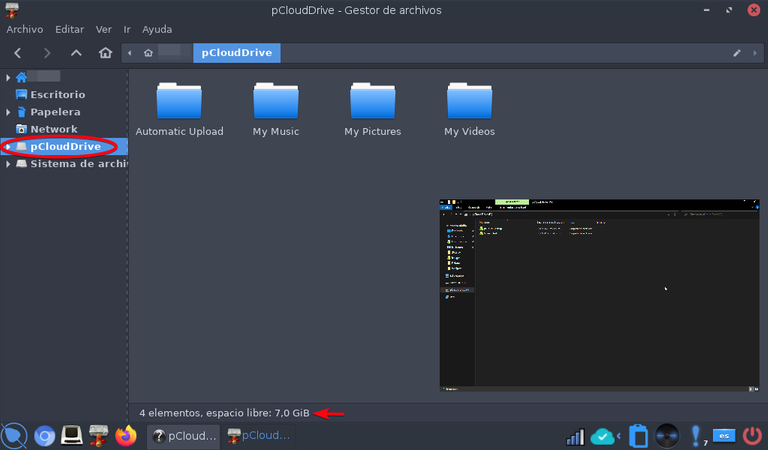 Y por último acá ya podemos ver que tenemos 6.96 GB disponible, es decir que nos dieron los 7 GB, si queremos el resto que serian 3 GB debemos compartir el referido a otra persona y por cada uno te regalan 1 GB hasta que llegas a 10 GB.
And finally here we can see that we have 6.96 GB available, that is to say that they gave us the 7 GB, if we want the rest that would be 3 GB we must share the referral to another person and for each one they give you 1 GB until you reach 10 GB.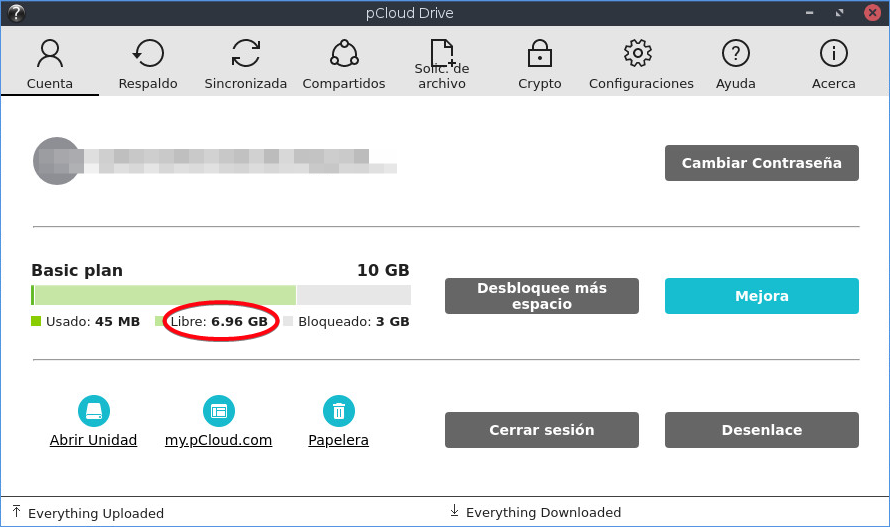 Merece la oportunidad. / It deserves the opportunity.
pCloud es una alternativa muy prometedora, tiene una buena seguridad, usa protección TLS/SSL que es una buena seguridad cuando se transfiere desde un dispositivo a un servidor y tiene un cifrado AES de 256 bits para proteger los archivos, garantizando una gran seguridad, no digo que nadie pueda vulnerarlo, pero es muy difícil que lo hagan, ya que cuenta con una alta seguridad que protege nuestros archivos, cuenta con una diversidad de planes, cuenta con planes anuales que te ofrecen 500 GB y planes de por vida de hasta 10 TB una completa locura. Lo único que me gustaría y esto ya es tema mío, me gustaría que pusieran el modo oscuro en la web como en la aplicación, el modo oscuro es un plus más, al menos para mí, ya que me relaja mucho la vista, pero como he dicho es un tema mío. A ustedes que les ha parecido pCloud cualquier comentario pueden escribirlo y con gusto les estaré respondiendo, gracias por llegar hasta el final.
pCloud is a very promising alternative, it has a good security, it uses TLS/SSL protection which is a good security when transferring from a device to a server and has a 256-bit AES encryption to protect files, ensuring great security, I'm not saying that no one can break it, but it is very difficult to do so, since it has a high security that protects our files, it has a variety of plans, it has annual plans that offer 500 GB and lifetime plans up to 10 TB a complete madness. The only thing I would like, and this is already my issue, I would like to put the dark mode on the web as in the application, the dark mode is a plus, at least for me, because it relaxes my eyes, but as I said it is an issue of mine. To you that you have found pCloud any comments you can write it and I will gladly be responding, thank you for reaching the end.
Recursos. / Resources.
Links imagen portada / Links cover image