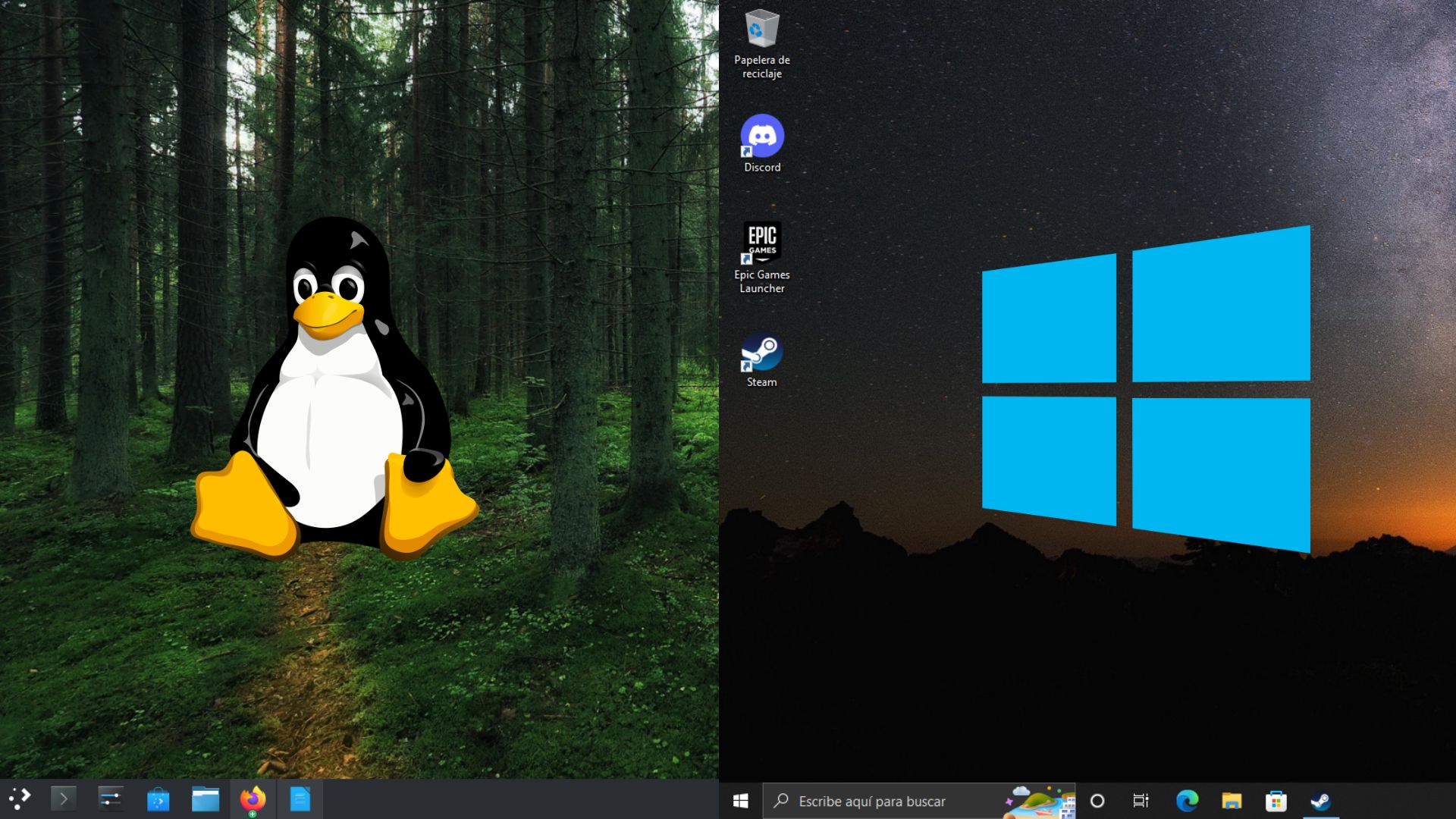 Hola comunidad hace algunas semanas les, comente acerca de mi experiencia usando una distribución GNU/Linux específicamente de Fedora, después de volver a Windows 10 y analizar un poco decidí hacer un dual boot que en pocas palabras es tener dos sistemas operativos en el mismo disco, esta vez no instale Fedora como distribución de GNU/Linux de hecho estuve cuatro días buscando e instalando hasta que encontré una distribución que a mi parecer es la que usaré por un largo tiempo y con la que más cómodo me estoy sintiendo de hecho ahora les comentaré un poco el uso que le daré tanto a esta distribución al igual que a Windows 10.
Hello community some weeks ago, I commented about my experience using a GNU/Linux distribution specifically Fedora, after returning to Windows 10 and analyzing a little I decided to make a dual boot that in a few words is to have two operating systems on the same disk, this time I did not install Fedora as GNU/Linux distribution in fact I spent four days searching and installing until I found a distribution that in my opinion is the one I will use for a long time and with which I am feeling more comfortable in fact now I will comment a little the use I will give both to this distribution as well as Windows 10.
Kubuntu llego para quedarse en mi PC.
No ha sido fácil encontrar una distribución, de hecho es lo más me ha costado desde que entre al mundo de Linux, dicen que debemos encontrar esa distribución con la que realmente nos sintamos cómodos y a gusto y vaya que tienen razón para hacer un resumen acerca de Kubuntu es una distribución que estaba basada en Ubuntu la diferencia es que Kubuntu está hecha con el escritorio KDE Plasma y con Ubuntu encontramos el escritorio GNOME a simple vista el escritorio KDE tiene una similitud con Windows y con más funciones y el escritorio GNOME está pensando en incluir menos opciones o al menos eso es lo que he visto, GNOME tiene un diseño más a laptop o tablet aunque esto no quita que podamos usarlo en computadora de mesa, depende de los gustos a mí me gusta más para computadora de escritorio KDE Plasma por el hecho de que me siento más cómodo seguramente en una laptop me llevaría más por el escritorio GNOME, volviendo un poco al Kubuntu está desarrollado por una empresa alemana de informática que se encargan de numerosas distribuciones con entorno gráfico KDE.
It has not been easy to find a distribution, in fact it has been the hardest thing for me since I entered the world of Linux, they say that we must find that distribution with which we really feel comfortable and at ease and wow they are right to make a summary about Kubuntu is a distribution that was based on Ubuntu the difference is that Kubuntu is made with the KDE Plasma desktop and with Ubuntu we find the GNOME desktop at first glance the KDE desktop has a similarity to Windows and with more features and the GNOME desktop is thinking of including fewer options or at least that's what I've seen, GNOME has a design more to laptop or tablet although this does not take away that we can use it on desktop computer, it depends on tastes I like more for desktop computer KDE Plasma by the fact that I feel more comfortable surely on a laptop I would take more for the GNOME desktop, returning a little to the Kubuntu is developed by a German computer company that are responsible for numerous distributions with KDE graphical environment.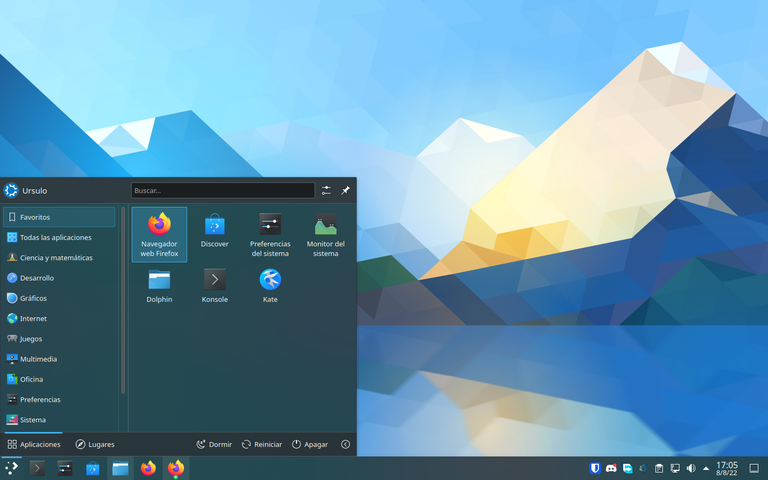 Existen más entornos de escritorios, en este caso como lo dije me gusta mucho más KDE, GNOME no digo que he tenido problemas al usarlo, simplemente no me siento tan cómodo al usarlo en computadora de escritorio, me gusta tener más espacio un estilo Windows, hay muchas distribuciones con entorno gráfico KDE elegí Kubuntu por encima de Manjaro y de KDE Neon que eran mis alternativas, Kubuntu al estar basada en Ubuntu tiene un buen soporte y una comunidad dispuesta ayudar con lo que necesites, en KDE encuentre ciertas aplicaciones que tal vez en distribuciones con GNOME no sabía donde estaban o simplemente debía instalarlas por lo que acá ya vienen incluidas y esto es un plus positivo que me gusto mucho.
There are more desktop environments, in this case as I said I like much more KDE, GNOME I do not say that I have had problems using it, I just do not feel so comfortable using it on desktop computer, I like to have more space a Windows style, there are many distributions with KDE graphical environment I chose Kubuntu over Manjaro and KDE Neon that were my alternatives, Kubuntu being based on Ubuntu has a good support and a community willing to help with whatever you need, in KDE I found certain applications that perhaps in distributions with GNOME I did not know where they were or simply had to install them so here they are already included and this is a positive plus that I liked a lot.
Lo que me gusta de Kubuntu.
No necesariamente debe ser Kubuntu, ya que en las distribuciones KDE suelen traer las mismas configuraciones, pero cada una con su estilo que lo caracteriza.
It does not necessarily have to be Kubuntu, since KDE distributions usually come with the same configurations, but each one with its own style that characterizes it.
Tienda para descargar aplicaciones, incluye una tienda para que descarguemos los programas que necesitamos, con esta tienda descargue aplicaciones como, Visual Studio Code, Spotify, Discord, Bitwarden, Shutter, OBS Studio, Kdenlive, las que solía tener en Windows acá también las tengo.

Store to download applications, includes a store for us to download the programs we need, with this store download applications such as Visual Studio Code, Spotify, Discord, Bitwarden, Shutter, OBS Studio, Kdenlive, the ones I used to have in Windows here I also have them.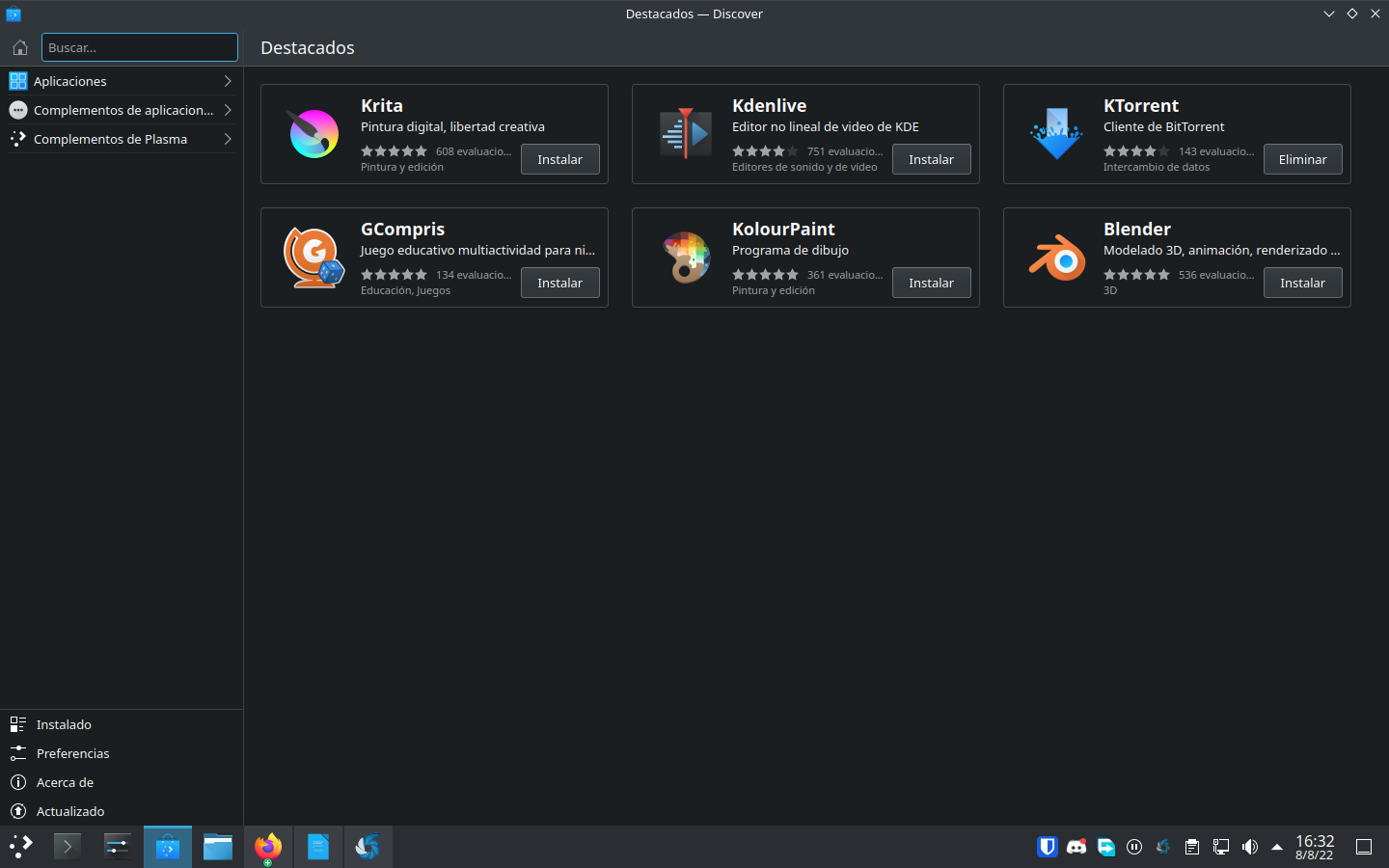 Es muy fácil de usar desde que la instale y la inicie por primera vez no he tenido algún problema, esto no quiere decir que no me vaya a encontrar con alguno por supuesto que si, y para eso tenemos muchos videos y foros que nos pueden ayudar con algún error y eso lo hace muy bonito, me ha parecido tan fácil como Windows 10.
It is very easy to use since I installed and started it for the first time I have not had any problems, this does not mean that I will not encounter any of course if, and for that we have many videos and forums that can help us with any error and that makes it very nice, I found it as easy as Windows 10.
Incluye un par de aplicaciones o mini aplicaciones que nos permiten ver el rendimiento de computadora, cuanto está consumiendo de procesador y de memoria RAM, y una de mis favoritas también incluye en la barra de tareas una aplicación que me permite observar con un clic la velocidad del internet, así puedo ver cuanto está consumiendo.

It includes a couple of applications or mini applications that allow us to see the computer performance, how much is consuming processor and RAM memory, and one of my favorites also includes in the taskbar an application that allows me to observe with a click the speed of the internet, so I can see how much is consuming.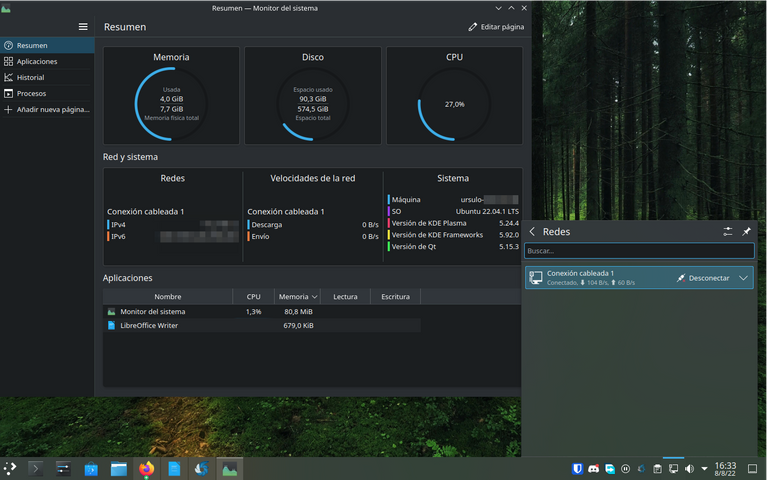 Aplicaciones como LibreOffice viene también y esto es muy interesante, ya que la estuve probando y la verdad se merece hablar acerca de este paquete de ofimática que me pareció muy bueno, otro que se merece un post es KDE Connect, una aplicación que conecta el teléfono y la computadora no quiero darles muchos detalles, puesto que quiero hablar de una manera correcta y más profunda acerca de esta joya.
Applications like LibreOffice comes too and this is very interesting, since I was testing it and the truth deserves to talk about this office suite that I found very good, another that deserves a post is KDE Connect, an application that connects the phone and the computer I do not want to give you many details, since I want to talk in a correct and deeper way about this jewel.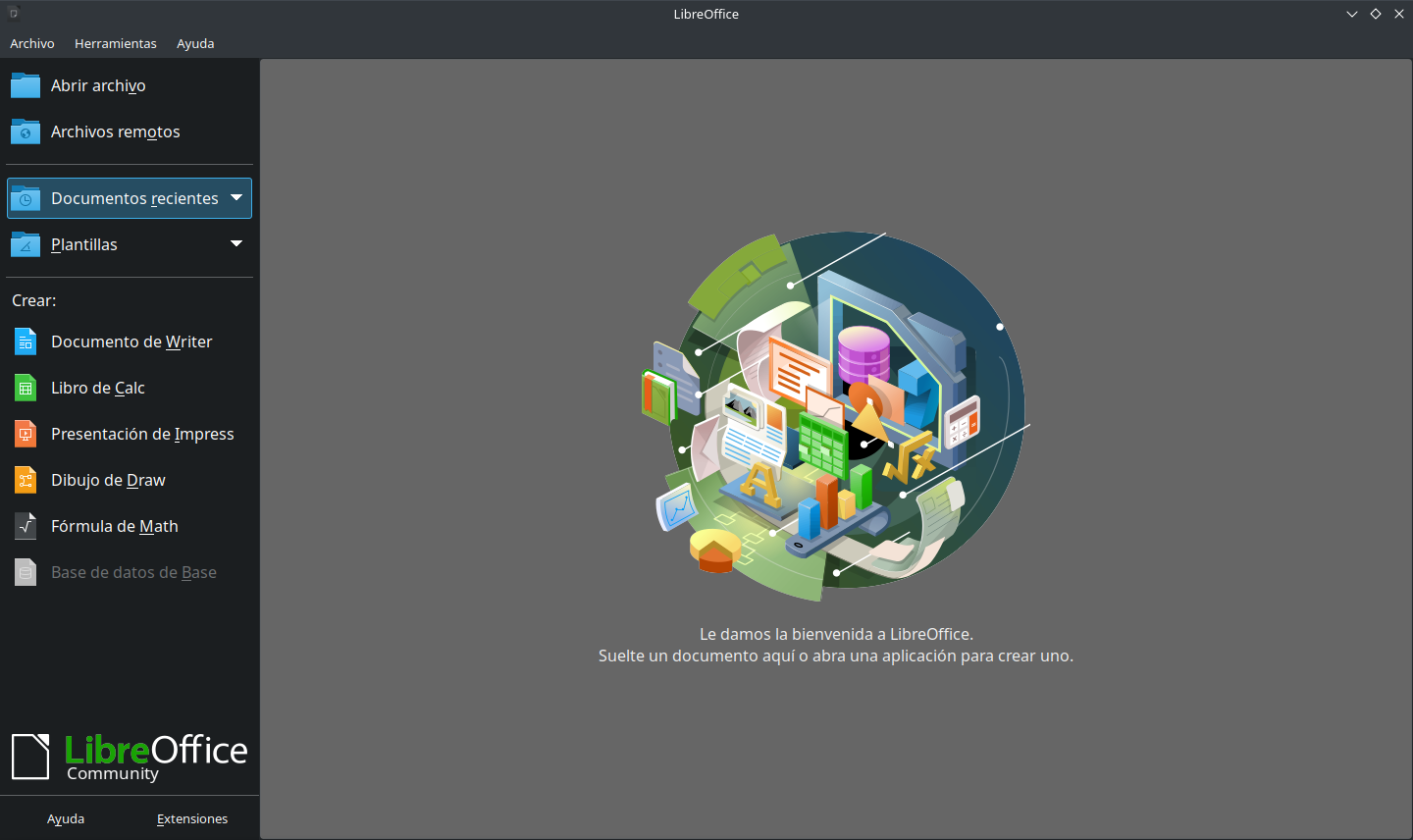 Muy bien desde el principio también les comenté que tengo instalado Windows 10 con dual boot, esto es lo que haré en Windows lo usaré más que todo para jugar algunos juegos la razón es que en las distribuciones de GNU/Linux el proceso para instalar los juegos es un poco emborroso no es imposible, sin embargo, debemos dedicarle tiempo y en la distribución que estoy usando quiero usarla sobre todo para estudiar, grabar videos para hive, es por eso que decidí instalar dos sistemas operativos uno exclusivo para juegos y otro para temas más de estudio y trabajo así no mezclo todo.
Very well from the beginning I also commented that I have installed Windows 10 with dual boot, this is what I will do in Windows I will use it mostly to play some games the reason is that in the GNU/Linux distributions the process to install the games is a little emborroso it is not impossible, however, we must dedicate time and in the distribution that I am using I want to use it mostly to study, record videos for hive, that is why I decided to install two operating systems one exclusively for games and another for more study and work issues so I do not mix everything.
Siento que es una buena distribución, me parece muy bien hecha y está muy cuidada, la interfaz es muy simple y no tenemos por donde perdernos, siempre habrá pros y contras con el tiempo de uso, no puedo decir mucho acerca de eso, con el pasar del tiempo iré descubriendo un poco más y seguramente se los haré saber, espero que les haya gustado este post y no olviden comentar cualquiera duda o inquietud y con gusto los estaré leyendo.
I feel it is a good distribution, I think it is very well done and is very well maintained, the interface is very simple and we have nowhere to get lost, there will always be pros and cons with time of use, I can not say much about that, as time goes by I will discover a little more and surely I will let you know, I hope you liked this post and do not forget to comment any questions or concerns and I will be happy to read them.
Recursos. / Resources.
Deepl
Canva
Shutter
LanguageTool
Links imagen portada / Links cover image