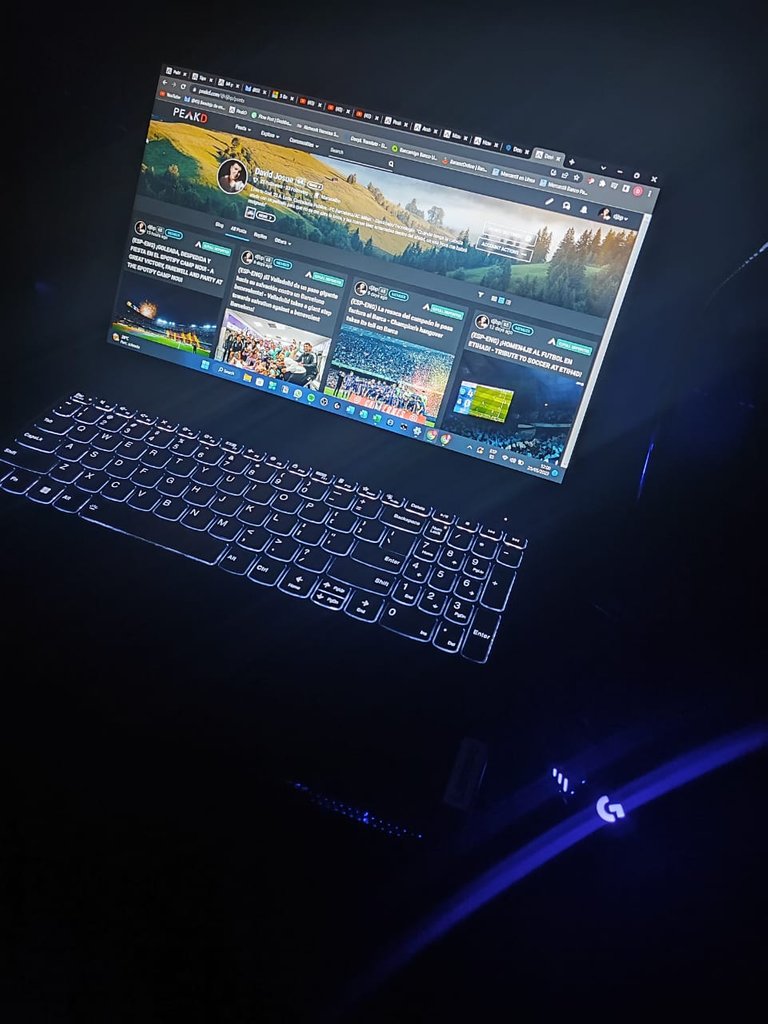 ¡Buenas tardes a todos! comenzare con una icónica frase al mejor estilo pseudo-gurús que abundan en redes sociales: Todo lo que puedas imaginar lo puedes lograr, la pobreza es mental. ¿Eso que tiene que ver? bueno, déjenme les desgloso mis ideas a medida que, también les voy contando sobre mi nueva adquisición, una laptop idónea para mis demandas diarias y que no se traba abriendo excel y el correo electrónico. ¡Acompáñenme!
Good afternoon everyone! I'll start with an iconic phrase in the best pseudo-guru style that abound in social networks: Everything you can imagine you can achieve, poverty is mental. What's that got to do with it? Well, let me break down my ideas as I also tell you about my new acquisition, a laptop suitable for my daily demands and that does not get stuck opening excel and email. Join me!

---
No sé en qué momento nació en mí el gusto excesivo por las Notebook o Laptop, en mí siempre ha pregonado que me decante por los computadores portátiles antes que las de escritorio. Soy plenamente consciente que, en cuanto a gamming se refiere, las computadoras de escritorio son las más adecuadas y flexibles para un rendimiento optimo derivado de las horas de ocio y disfrute -aunque haya en el mercado Laptops gamming altamente potentes- no obstante, ante eso he ido estructurando mis dispositivos para ciertos fines únicos: Mi Tablet es exclusiva para leer PDF, mi Play es única para juegos, y mi laptop seria única para trabajo.
Recuerdo que mi primera Laptop fue una Vit M2400; en el año 2018 la compre por un monto cercano a los 100 USD, con un dinero que obtuve por concepto de liquidación laboral, pensaba, por aquel entonces, que estaba tocando la gloria con mis manos, y que ese equipo me ayudaría a organizarme para emprender mi camino como emprendedor -valga la cacofonía- con poco menos de 21 años.
No habían pasado 2 dias de haberla comprado y solo la estaba utilizando para jugar; Need For Speed Mostwanted recuerdo era el titulo, a medias con los gráficos bajos (era una i3 de baja gama y poco mas de 4GB de ram) y con el rendimiento máximo, aun así, era feliz con eso.
Ya que nunca emprendi nada, decidi volver al mundo empresarial, y fui dejando la Laptop en el olvido, solo la sacaba para escuchar musica y nada mas. Pasado el tiempo fui pensando en que era necesario tener una Laptop com mayores capacidades y rendimiento a tal punto de no generarme estres por que se quedase congelada o algo por el estilo (como me solia suceder con la que tenia).
A Dios gracias fui obteniendo equipos tecnológicos óptimos para mis necesidades, dejando de ultimo la Laptop por muchos factores, siendo el precio uno de los mayores condicionantes. No quería un equipo básico, quería algo mucho mas, y fui trabajando hasta poder conseguirlo. Durante un par de semanas buscaba Laptops en Internet, y cuando di con la que compre, inmediatamente no dude un segundo, me contacte con la empresa distribuidora y solicite no se vendiera el equipo a otra persona que no fuese yo (ya que solo quedaba un equipo en Stock), aun sin tener el dinero en liquido, me comprometí de palabra que yo la compraría y así fue. El día llego, ya con el dinero en mano fui hasta el local, en compañía de mi novia, quien cumplía años ese día -imposible olvidar la fecha en la que compre la Laptop 😆- y fuimos hasta el local, vimos el equipo, lo pude ver, tocar, manejar, y sentí una satisfacción enorme cuando ejecute la compra. No me olvide de la Vit M2400.
I don't know at what moment the excessive taste for Notebook or Laptop was born in me, in me it has always proclaimed that I prefer laptops to desktops. I am fully aware that, as far as gamming is concerned, desktop computers are the most suitable and flexible for optimal performance derived from the hours of leisure and enjoyment -although there are in the market highly powerful gamming Laptops- however, before that I have been structuring my devices for certain unique purposes: My Tablet is exclusive for reading PDF, my Play is unique for games, and my laptop would be unique for work.

I remember that my first laptop was a Vit M2400; in the year 2018 I bought it for an amount close to 100 USD, with money I got as a labor liquidation, I thought, at that time, that I was touching the glory with my hands, and that this equipment would help me to organize myself to start my way as an entrepreneur -cacophony - with little less than 21 years old.

It hadn't been 2 days since I bought it and I was only using it to play games; Need For Speed Mostwanted I remember was the title, half with low graphics (it was a low end i3 and little more than 4GB of ram) and with maximum performance, even so, I was happy with it.

Since I never undertook anything, I decided to return to the business world, and I was leaving the laptop in oblivion, I only took it out to listen to music and nothing else. After some time I was thinking that it was necessary to have a Laptop with greater capabilities and performance to the point of not generating me stress for freezing or something like that (as used to happen to me with the one I had).

Thank God I was getting optimal technological equipment for my needs, leaving last the Laptop for many factors, being the price one of the biggest determining factors. I didn't want a basic equipment, I wanted something much more, and I was working until I could get it. For a couple of weeks I was looking for Laptops on the Internet, and when I found the one I bought, I immediately did not hesitate a second, I contacted the distributor and asked not to sell the equipment to someone other than me (since there was only one computer in stock), even without having the money in liquid, I promised myself that I would buy it and so it was. The day came, and with the money in hand I went to the store, accompanied by my girlfriend, who had her birthday that day -impossible to forget the date on which I bought the laptop 😆 - and we went to the store, we saw the equipment, I could see it, touch, handle, and I felt a huge satisfaction when I executed the purchase. I did not forget the Vit M2400.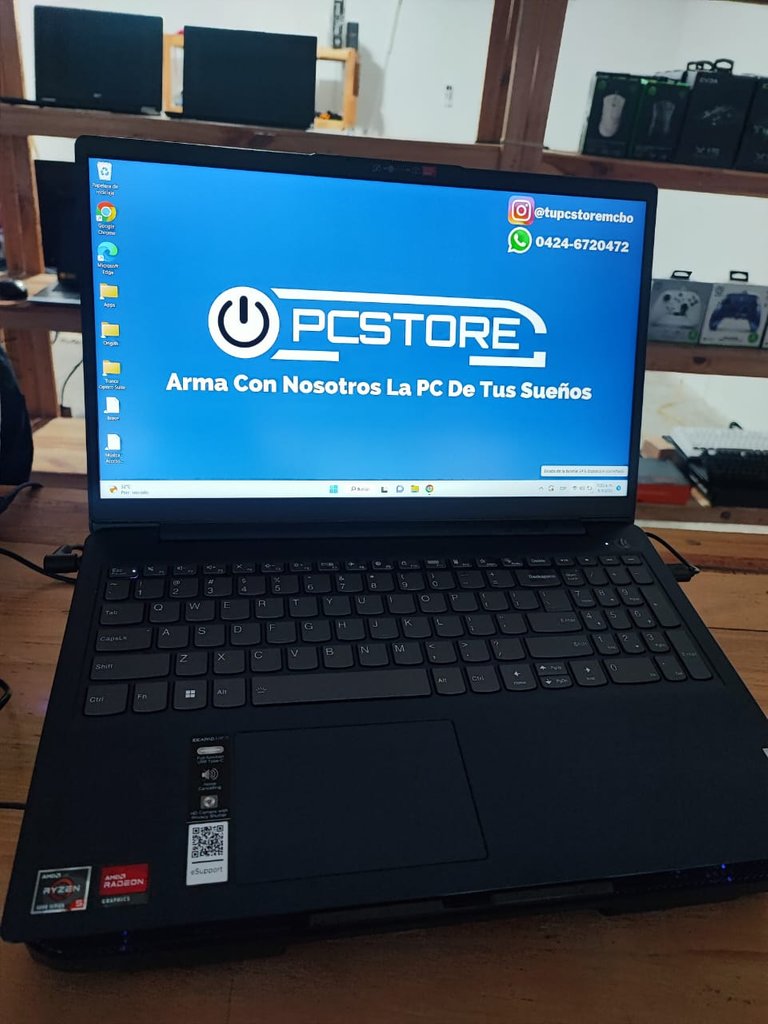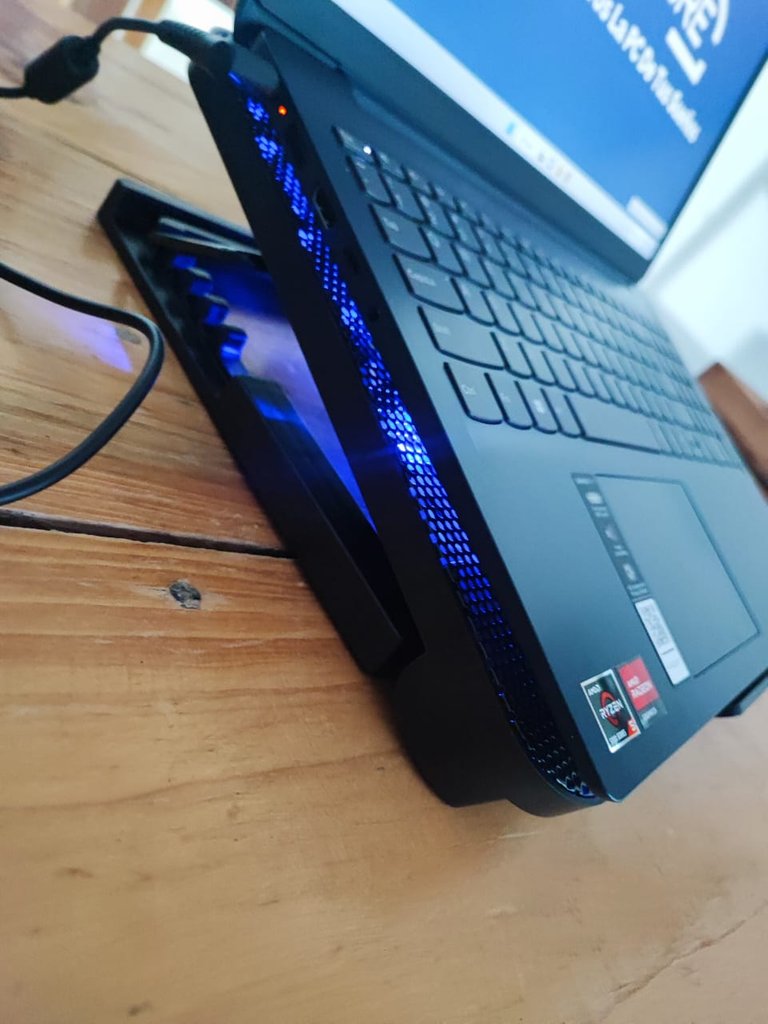 ---
Ahí mismo, el vendedor me ofreció una base enfriadora, y en principio no me convencía ya que yo no le veía suficiente utilidad, sin embargo cuando me dijo el precio (15 USD) y cuando vi que el color de encendido combinaba con el del teclado retroiluminado, no dude tampoco y también la compre.
Right there, the seller offered me a cooler base, and at first I was not convinced because I did not see enough use for it, however when he told me the price (15 USD) and when I saw that the power color matched the backlit keyboard, I did not hesitate and bought it too.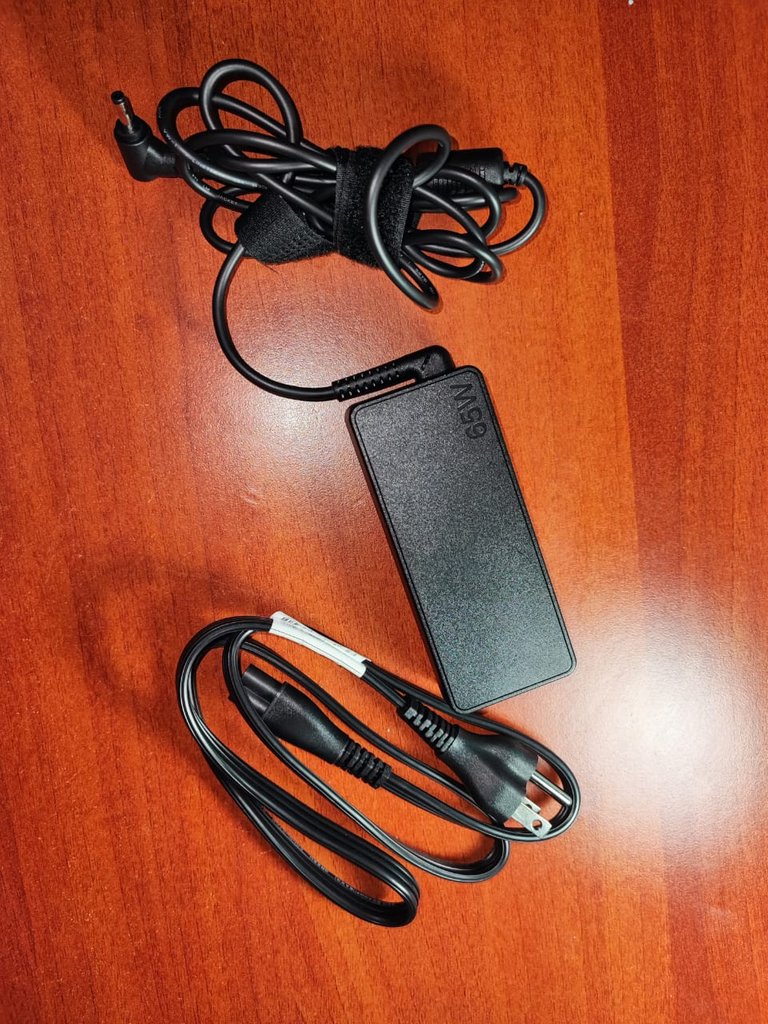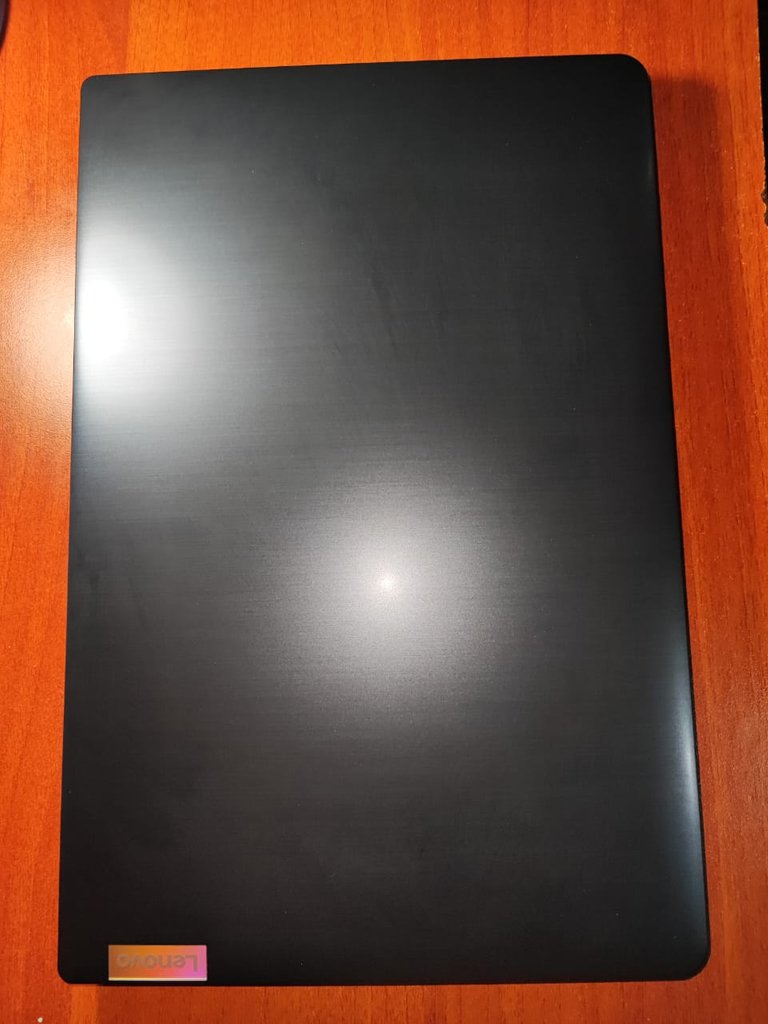 ---
---
El modelo de la Laptop es una Lenovo Ideapad 3 15ABA 7. Su precio fue de 550 USD.
Sus caracteristicas:
Procesador AMD Ryzen 5 5625U with Radeon Graphics 2.30 GHz
Ram 16 GB DDR4 (usable 13,8)
Graficos VEGA 7 2GB
Disco SSD 512 GB
SO Windows 11 Home 64-bit
Cuenta con una pantalla de 15.6" táctil a 1920 x 1080 a 60Hz, teclado retroiluminado, detector de huellas en el botón de encendido, cámara HD, todos los programas de office actualizados.
He de decir que el modelo es Refurbished Grado A, no obstante el equipo estaba prácticamente nuevo, con sus etiquetas y pegatinas aun colocadas lo cual a pesar de ser detalles estéticos daban la sensación de ser un equipo nuevo.
The Laptop model is a Lenovo Ideapad 3 15ABA 7. Its price was 550 USD.

Its features: 

Processor AMD Ryzen 5 5625U with Radeon Graphics 2.30 GHz
Ram 16 GB DDR4 (usable 13.8)
Graphics VEGA 7 2GB
SSD 512 GB
OS Windows 11 Home 64-bit

It has a 15.6" touch screen at 1920 x 1080 at 60Hz, backlit keyboard, fingerprint detector on the power button, HD camera, all updated office programs.

I have to say that the model is Refurbished Grade A, however the equipment was practically new, with their labels and stickers still in place which despite being aesthetic details gave the feeling of being a new computer.

---
---
Hasta la fecha, he comprado dos componentes necesarios para optimizar y cuidar el equipo, sin embargo de ellos hablare en un post aparte para su respectivo review.
En cuanto a rendimiento, 0 quejas, el equipo se ha comportado a la altura de lo esperado. Veloz, fluido y sin problemas. A continuacion les dejo una imagen de la velocidad del internet que suele admitir, y el estado basico del equipo.
To date, I have purchased two components necessary to optimize and take care of the equipment, however I will talk about them in a separate post for their respective review. 

In terms of performance, 0 complaints, the team has behaved up to expectations. Fast, fluid and smooth. Below I leave a picture of the speed of the internet that usually supports, and the basic state of the team.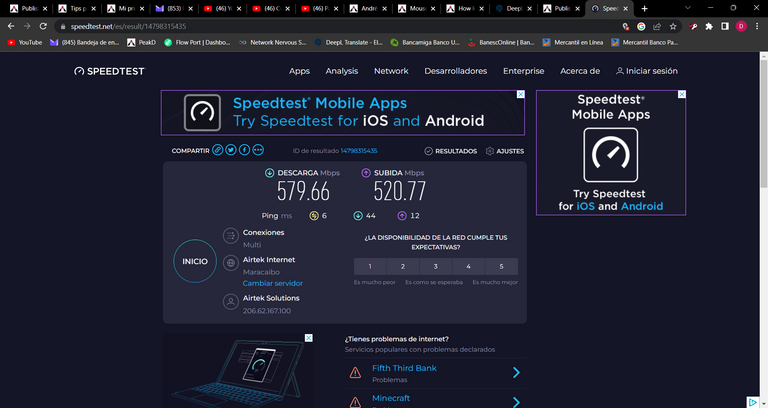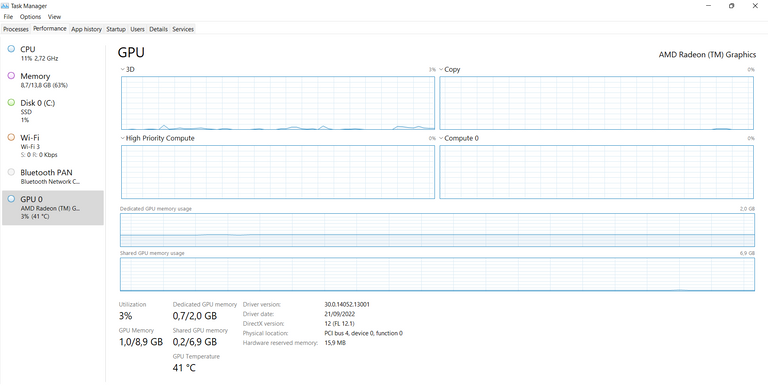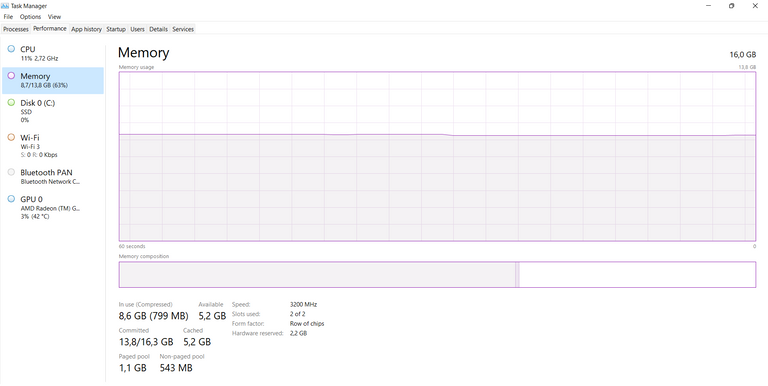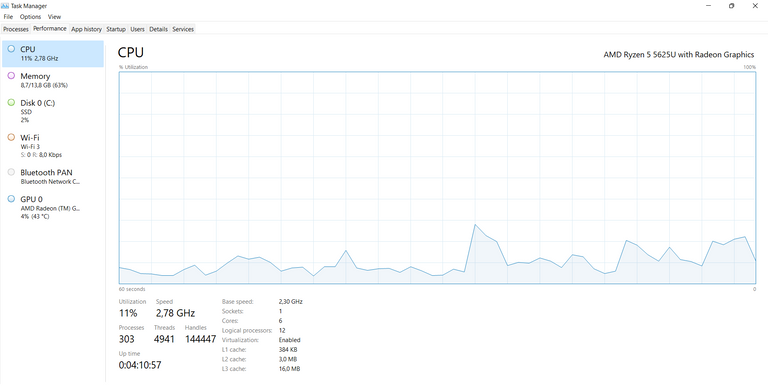 ---
---
Ha medida que he ido manejando el equipo he aprendido cosas nuevas, aparte que yo pocas veces había manejado Windows 10, pegar un salto inmediato a Windows 11 ha sido un poco turbulento, sin embargo me he sentido cómodo con ese SO, tanto así que no quiero volver al 10 0 al 7.
El equipo reúne ciertas características que me hacen quererlo, el color me parece muy relajante y eso hace que mi rendimiento en el trabajo a la hora de usarlo sea positivo. Ha sido un ganar ganar.
As I have been handling the computer I have learned new things, apart from the fact that I had rarely handled Windows 10, making an immediate jump to Windows 11 has been a bit turbulent, however I have felt comfortable with that OS, so much so that I do not want to go back to 10 or 7.

The computer has certain features that make me want it, I find the color very soothing and that makes my performance at work when using it positive. It has been a win win.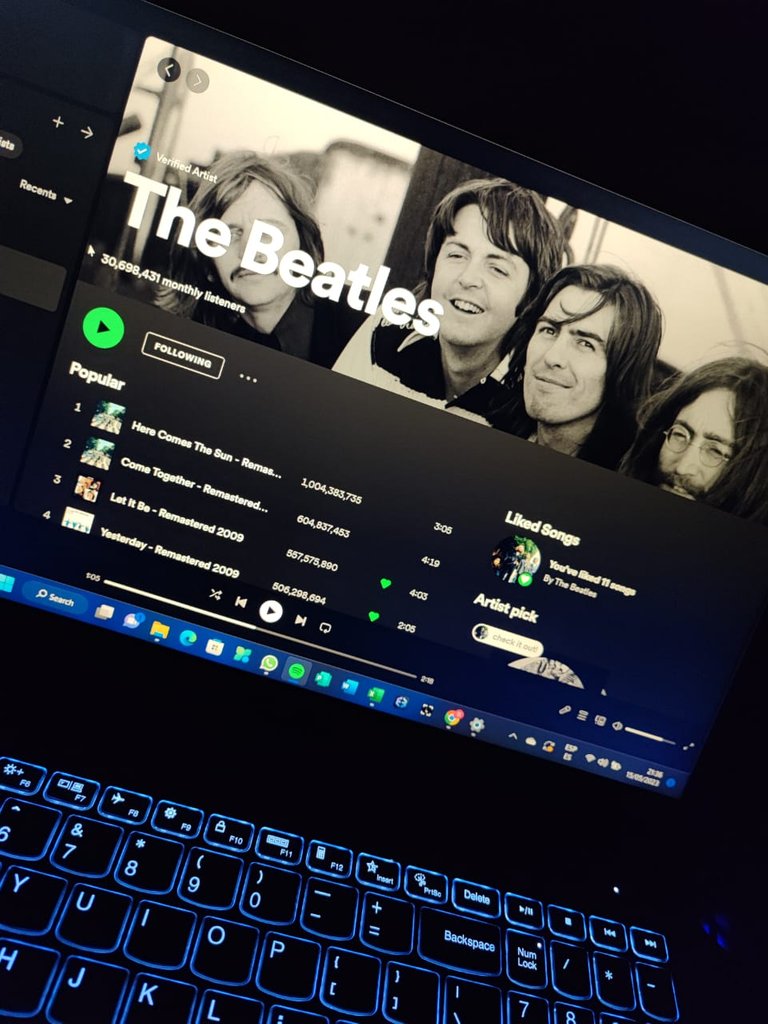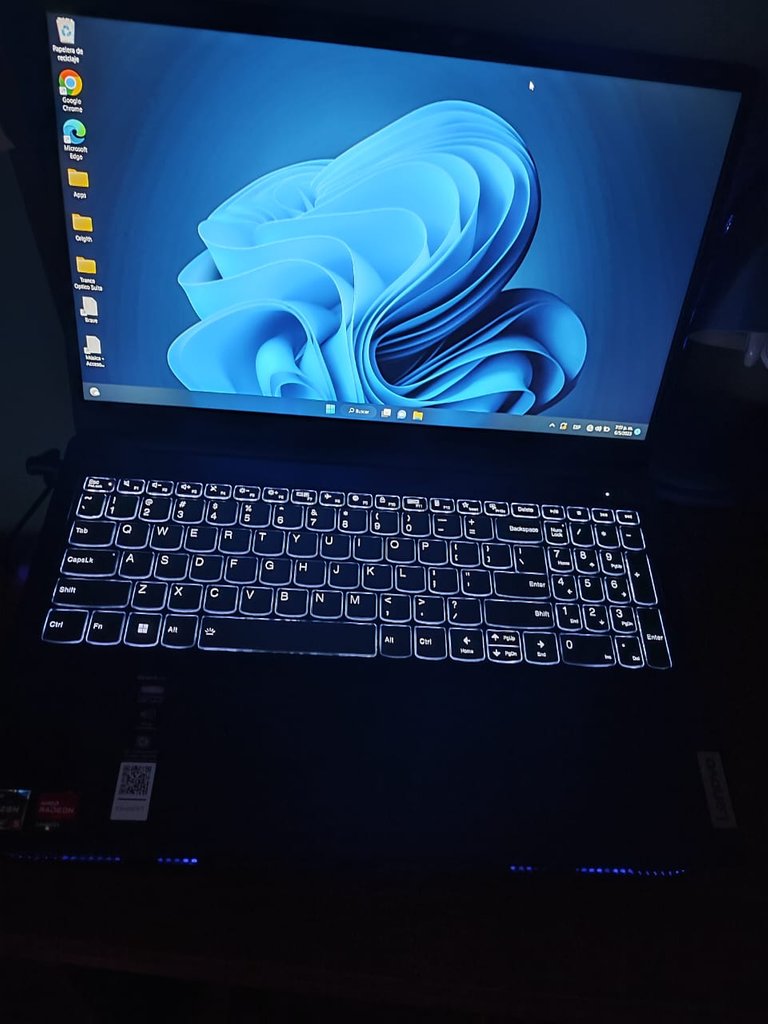 ---
---
En cuanto a juegos, como les comentaba mas arriba, para ello ya tengo mi Play, sin embargo quise probar el rendimiento de la Laptop jugando un clásico como CS Global Offensive. Corre perfectamente el juego con los gráficos máximos sacrificando algunos FPS. Prefiero jugar con mayores FPS y un poco menos de calidad visual. En un futuro espero traerles algunos gameplays referentes al CS y otros mas.
As for games, as I mentioned above, for that I already have my Play, however I wanted to test the performance of the Laptop playing a classic like CS Global Offensive. It runs the game perfectly with maximum graphics sacrificing some FPS. I prefer to play with higher FPS and a little less visual quality. In the future I hope to bring you some gameplays concerning CS and others.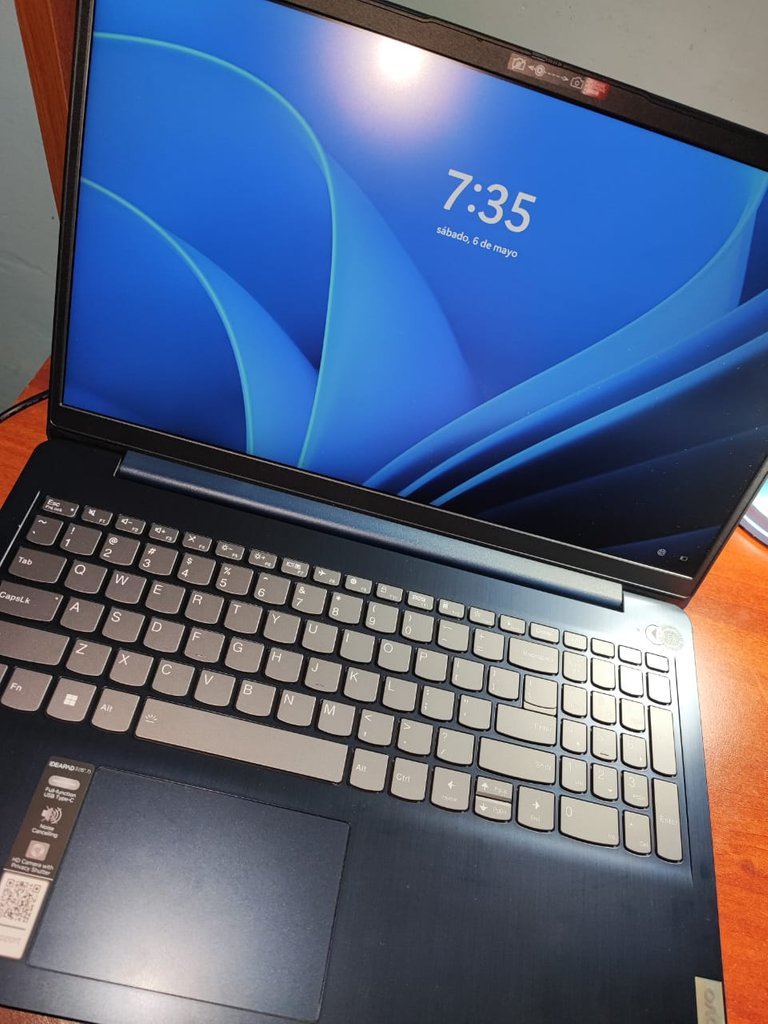 ---
---
Mas allá del mensaje del principio acerca de que las cosas se pueden cumplir, hay factores que afectan de manera positiva y negativa nuestras capacidades para obtener algo, sin embargo les puedo asegurar que con trabajo duro todo es posible. Nunca dejen de creer.
Llegando así al final de este post. ¡Muchas gracias por acompañar y nos seguiremos leyendo!
Beyond the message at the beginning that things can be accomplished, there are factors that positively and negatively affect our ability to achieve something, however I can assure you that with hard work anything is possible. Never stop believing.

So, at the end of this post, thank you very much for joining us and we will keep reading!

---
---
Todas las imagenes fueron tomadas con mi dispositivo Xiaomi 11T Pro.
All images were taken with my Xiaomi 11T Pro device.
Otros post ligados a tecnología:
Other posts related to technology:
Ingles no es mi idioma nativo. Todos los textos traducidos con:
English is not my native language. All the texts translated with:

Diseño editado y realizado en Canva, libre de uso
Logo de Hive