El comienzo de otra aventura.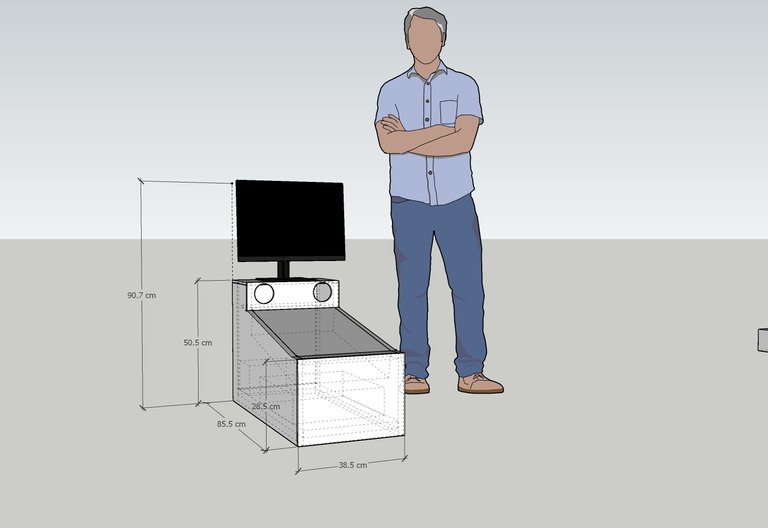 Hoy estoy muy emocionado pues hace días empecé a dar los pasos para armar un proyecto que se me metió en la cabeza después de terminar mi gabinete arcade, primer proyecto que me dio muchas satisfacciones y emociones durante su construcción.
Tener proyectos, trabajar en ellos y verlos culminados después de tanto esfuerzo y cariño es algo muy reconfortante y en mi primera experiencia lo viví como una aventura. Una vez terminado mi gabinete arcade empecé a soñar en otro tipo de juegos vintage que recuerdo con mucha nostalgia, los pinball.
Y al principio pensé que era una locura pretender crear o tener una máquina de pinball mecánico, primero son máquinas muy costosas, segundo son muy grandes para tener en un espacio como el hogar, y tercero el nivel de maestría en electromecánica que hay que tener para crear y mantener una máquina de esas es muy alto.
Pero como san google tiene todas las respuestas encontra una pagina con una comunidad que tienen por hobby recrear maquinas pinball pero en versión virtual. Y ahí encontré la respuesta a lo que quería hacer.
Virtual Pinball.
Today I am very excited because a few days ago I started to take the steps to put together a project that got into my head after finishing my arcade cabinet, my first project that gave me a lot of satisfaction and emotions during its construction.

Having projects, working on them and seeing them finished after so much effort and love is something very comforting and in my first experience I lived it as an adventure. Once I finished my arcade cabinet I started to dream in another type of vintage games that I remember with great nostalgia, the pinball.

And at first I thought it was crazy to pretend to create or have a mechanical pinball machine, first they are very expensive machines, second they are too big to have in a space like home, and third the level of mastery in electromechanics that you have to have to create and maintain a machine like that is very high.

But as google has all the answers I found a page with a community whose hobby is to recreate pinball machines but in virtual version. And there I found the answer to what I wanted to do.

Virtual Pinball.
---
En terminos generales consta de dos pantallas, una de juego y otra de marquesina con la puntuación del juego. Una computadora medianamente potente con tarjeta gráfica que pueda correr las especificaciones mínimas a dos pantallas, un set de botones arcades, madera y cariño por el hobby.
Hoy estoy muy contento de poder mostrarles las primeras imágenes del diseño 3d realizado a medida por este servidor.
La gran ventaja de un virtual pinball es que puedes hacer uno a medida, el mío tendrá una pantalla de 24" como pantalla de juego y una de 19" para el backglass o marquesina de puntuación. Lo mejor es que a pesar de que requiere una inversión, muchas de las piezas son de segunda mano o recicladas, por ejemplo los dos monitores los compré de segunda mano a muy buen precio, entre 20 y 25 Euros. La computadora también la compré de segunda mano. Hay quienes usan una mini computadora cosa que les permite hacer gabinetes más compactos.
In general terms it consists of two screens, a game screen and a marquee screen with the game score. A fairly powerful computer with a graphics card that can run the minimum specifications on two screens, a set of arcade buttons, wood and love for the hobby.

Today I am very happy to show you the first images of the 3d design custom made by this server.

The great advantage of a virtual pinball is that you can make a custom one, mine will have a 24" screen as a game screen and a 19" screen for the backglass or scoring marquee. The best thing is that although it requires an investment, many of the parts are second hand or recycled, for example the two monitors I bought second hand at a very good price, between 20 and 25 Euros. I also bought the computer second hand. Some people use a mini computer which allows them to make more compact cabinets.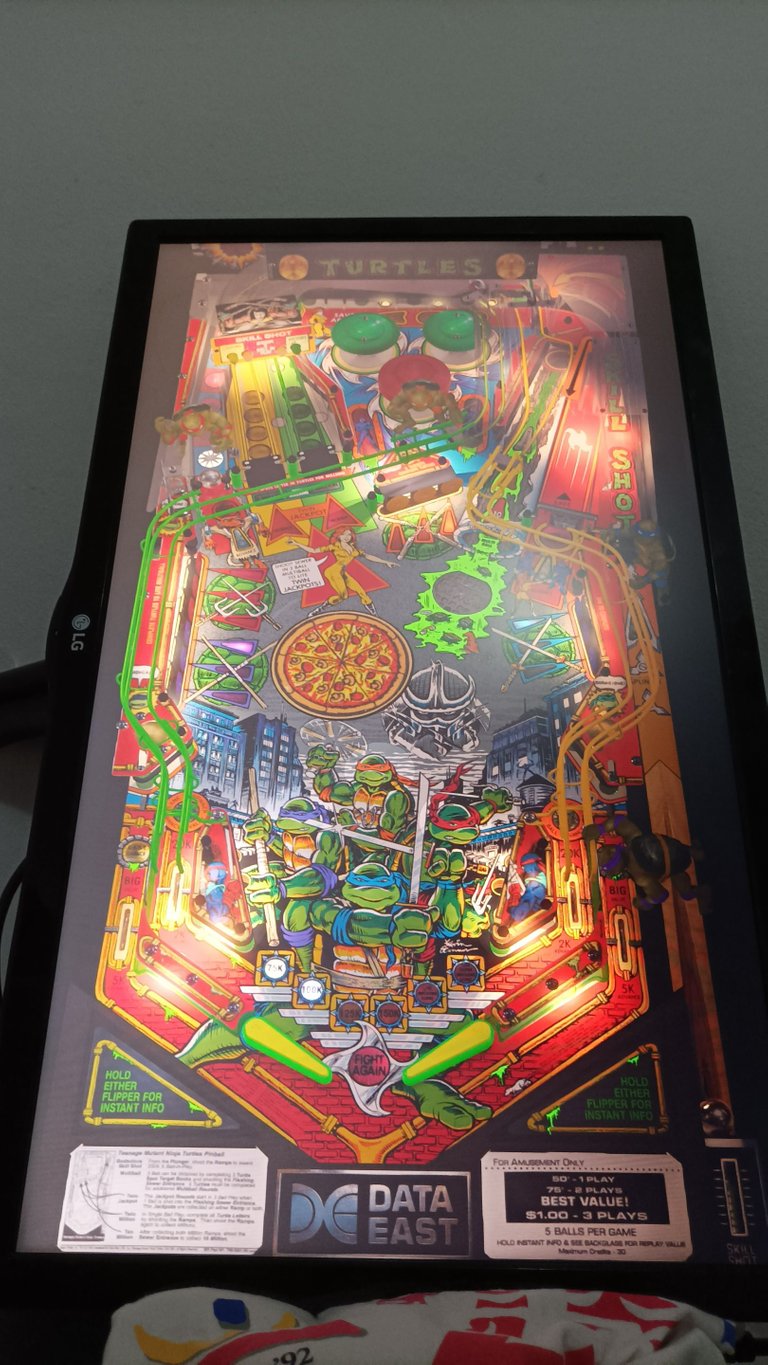 Pero antes de hacer el diseño 3d les comento que pase varios días descargando el software Visual Pinball y aprendiendo tutoriales de como instalar correctamente todo y que funcione correctamente. Como todo el software ha sido desarrollado por una comunidad sin fines de lucro es un poco robusto y requiere de múltiples pasos y conocimiento de informática básica, aunque no es nada que varios tutoriales y horas de aprendizaje te permitan manejar.
Por Cierto salió un instalador llamado Baller Installer que tiene automatizado casi todo para instalar y correr rápidamente todos los programas del virtual pinball, Gracias a dios la comunidad decidió facilitar todo el proceso con este instalador.
Le instalé 113 mesas de juego que están estupendas todas, además de configurar las pantallas y el contenido del menú front end donde se escogen las mesas a jugar. Además de la configuración de inicio para que al encender la computadora arranque directamente el emulador de pinball y no se tenga que usar ningún teclado para ejecutarlo.
Una vez terminado todo esto y después de varias pruebas ahora estoy en la fase del diseño, es ese momento en donde puedo visualizar de antemano las medidas, el tamaño y el ensamblaje del gabinete, además de tomar en cuenta la colocación de dispositivos electrónicos como botones y pantallas, pero también accesorios como portavasos, esquineros de protección, cinta led de luces y ángulos de PVC (Los uso porque son muy fáciles de manipular pues no tengo experiencia en cortar perfiles de aluminio).
But before making the 3d design I spent several days downloading the Visual Pinball software and learning tutorials on how to properly install everything and get it to work correctly. As all the software has been developed by a non-profit community it is a bit robust and requires multiple steps and basic computer knowledge, although it is nothing that several tutorials and hours of learning will allow you to handle.

By the way an installer called Baller Installer came out that has automated almost everything to quickly install and run all the virtual pinball programs, thank goodness the community decided to make the whole process easier with this installer.

I installed 113 game tables that are all great, in addition to configuring the screens and the content of the front end menu where you choose the tables to play. In addition to the startup configuration so that when you turn on the computer starts directly the pinball emulator and you do not have to use any keyboard to run it.

Once finished all this and after several tests I am now in the design phase, is that moment where I can visualize in advance the measures, size and assembly of the cabinet, besides taking into account the placement of electronic devices such as buttons and screens, but also accessories such as cup holders, protection corners, led strip lights and PVC angles (I use them because they are very easy to manipulate because I have no experience in cutting aluminum profiles).
---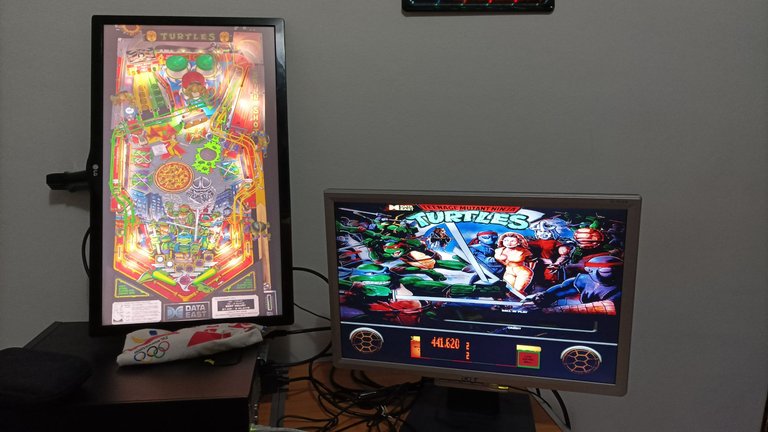 En fin con mucha emoción les comparto imágenes del proyecto y espero ir avanzando rápidamente para luego poder explicar de forma detallada todo el proceso por si alguien se entusiasma y tiene dudas a la hidra de emprender un proyecto como este, además de que me gustaría hacer un video para que vean la máquina terminada en acción.
Pero si les soy sincero creo que lo más emocionante de este tipo de proyectos no es el final, no es la máquina ya lista para jugar, es el proceso. Como dicen los filósofos, lo mas bello del viaje es el camino, y eso precisamente es lo que estoy disfrutando, es emocionante toparse con dificultades y "Problemas" que uno sortea y resuelve con resultados satisfactorios y el orgullo de poder decir que el resultado final fue hecho por ti mismo desde cero es algo muy grande, y como dijo Roberto Gomez Bolaños, "Se es joven mientras se tengan proyectos"
Anyway, I am very excited to share with you images of the project and I hope to be advancing quickly so I can explain in detail the whole process in case someone gets excited and has doubts about undertaking a project like this, besides I would like to make a video so you can see the finished machine in action.

But if I'm honest I think the most exciting thing about this kind of project is not the end, it's not the machine ready to play, it's the process. As philosophers say, the most beautiful part of the journey is the way, and that is precisely what I am enjoying, it is exciting to run into difficulties and "Problems" that you overcome and solve with satisfactory results and the pride of being able to say that the final result was made by yourself from scratch is something great, as Roberto Gomez Bolaños said, "You are young as long as you have projects".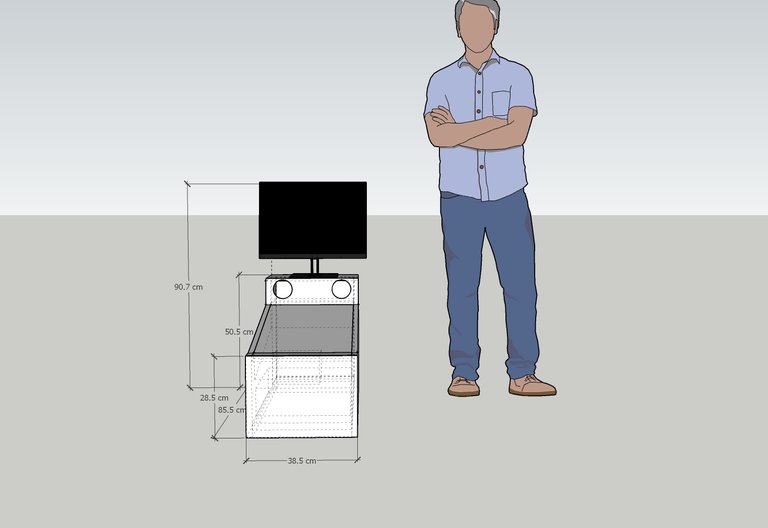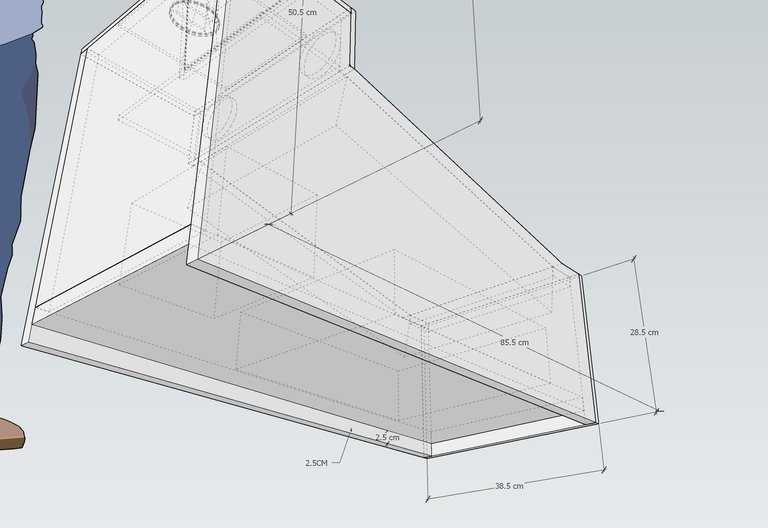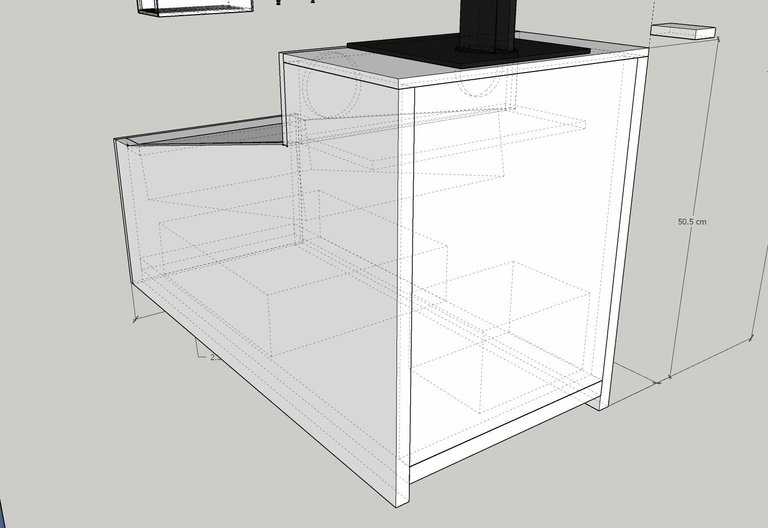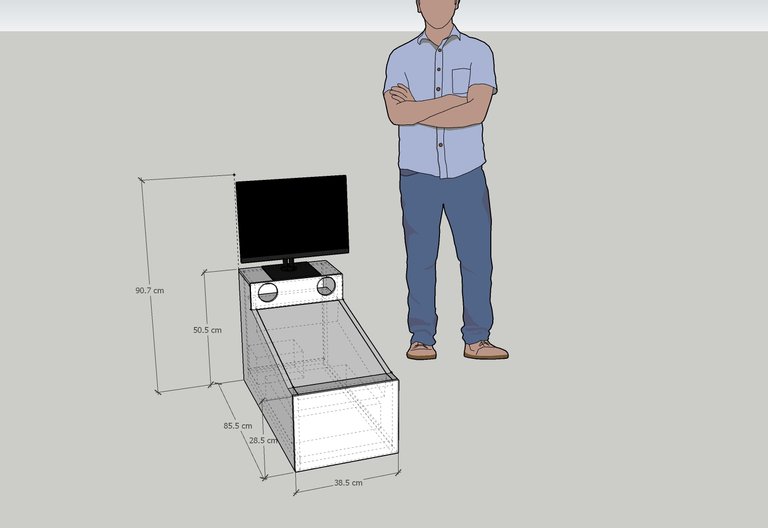 ---
El diseño en 3D fue realizado y generado con Google Sketchup y las fotos fueron tomadas con mi teléfono celular, debo confesar que las compartí en mis redes sociales también.
The 3D design was made and generated with Google Sketchup and the photos were taken with my cell phone, I must confess that I shared them on my social networks as well.