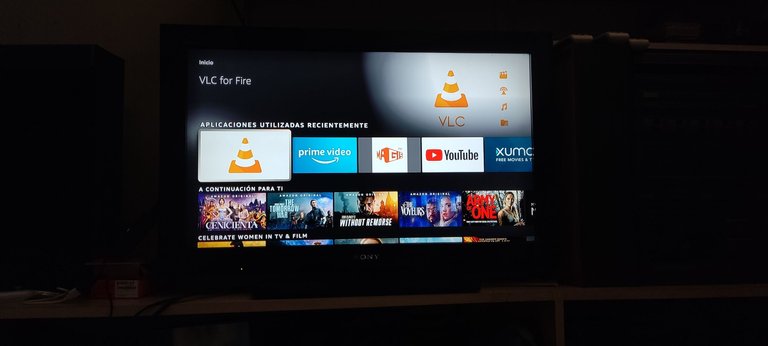 Hace un par de semanas añadimos un Fire TV Stick 4K a la tele normal con el fin de facilitar el consumo de contenidos de entretenimiento y reducir el desgaste de la laptop, que es donde más películas y series veía hasta ahora. Compramos la versión 4K a pesar de que no tenemos un televisor 4K simplemente porque era una de las versiones más recientes y probablemente tendrá más durabilidad.
A couple of weeks ago we added a Fire TV Stick 4K to the normal TV in order to make it easier to consume entertainment content and reduce the wear and tear of the laptop, which is where I watched most films and series until now. We bought the 4K version even though we don't have a 4K TV simply because it was one of the most recent versions and it will probably have more durability.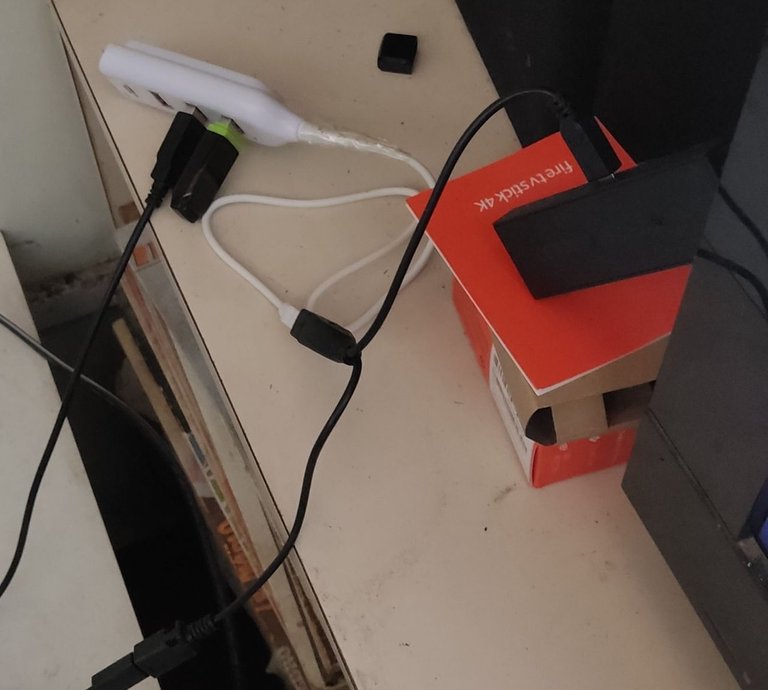 Puedes ver el firestick conectado al televisor en la imagen de arriba, y agregué un cable OTG (el cable negro con forma de Y) y luego un USB hub (en color blanco) para conectar no solo un pendrive sino también un teclado. Lo que hace el cable OTG es simplemente agregar un puerto USB a la conexión normal de Fire TV Stick, y si necesitas más de 1 USB, puedes conectarle un USB hub, que es lo que hice yo. Más tarde, me di cuenta de que hay una aplicación que puede servir como control remoto, por lo que ahora no es necesario conectar un teclado USB. Pero el cable OTG es necesario para conectar una memoria externa y correr archivos locales a través de ella. La aplicación VLC es genial para eso.
No me gusta usar el control remoto normal del Firestick porque se siente muy frágil, y no me gustaría que eventualmente se dañe como le pasa a muchos controles, y también carece de un teclado, por lo que buscar el nombre de un programa específico también requiere de mucho tiempo. La app tiene la opción de mostrar un teclado por lo que te lo pone todo muy fácil. Puedes ver en las imágenes a continuación el control remoto normal, así como mi captura de pantalla de la aplicación.
You can see the firestick connected to the TV in the picture above, and I added an OTG cable (the black cable with a Y form) and then a USB hub (in white color) to connect not only a pendrive but also a keyboard. What the OTG cable does, is simply add a USB port to the normal Fire TV Stick connection, and if you need more than 1 USB, you can connect a USB hub to it, which is what I did. Later on, I realized there is an app that can serve as a remote control, so connecting a USB keyboard isn't really necessary now. But the OTG cable is necessary in order to connect an external memory and run local files through it. The VLC app is great for that.
I don't like to use the normal Firestick remote because it feels very fragile, and I wouldn't want for it to eventually break down like many remotes, and it also lacks a keyboard so looking for the name of a specific show takes too much time with it. The app has the option of showing a keyboard so it makes everything very easy. You can see in the pictures below the normal remote as well as my screenshot of the app.
---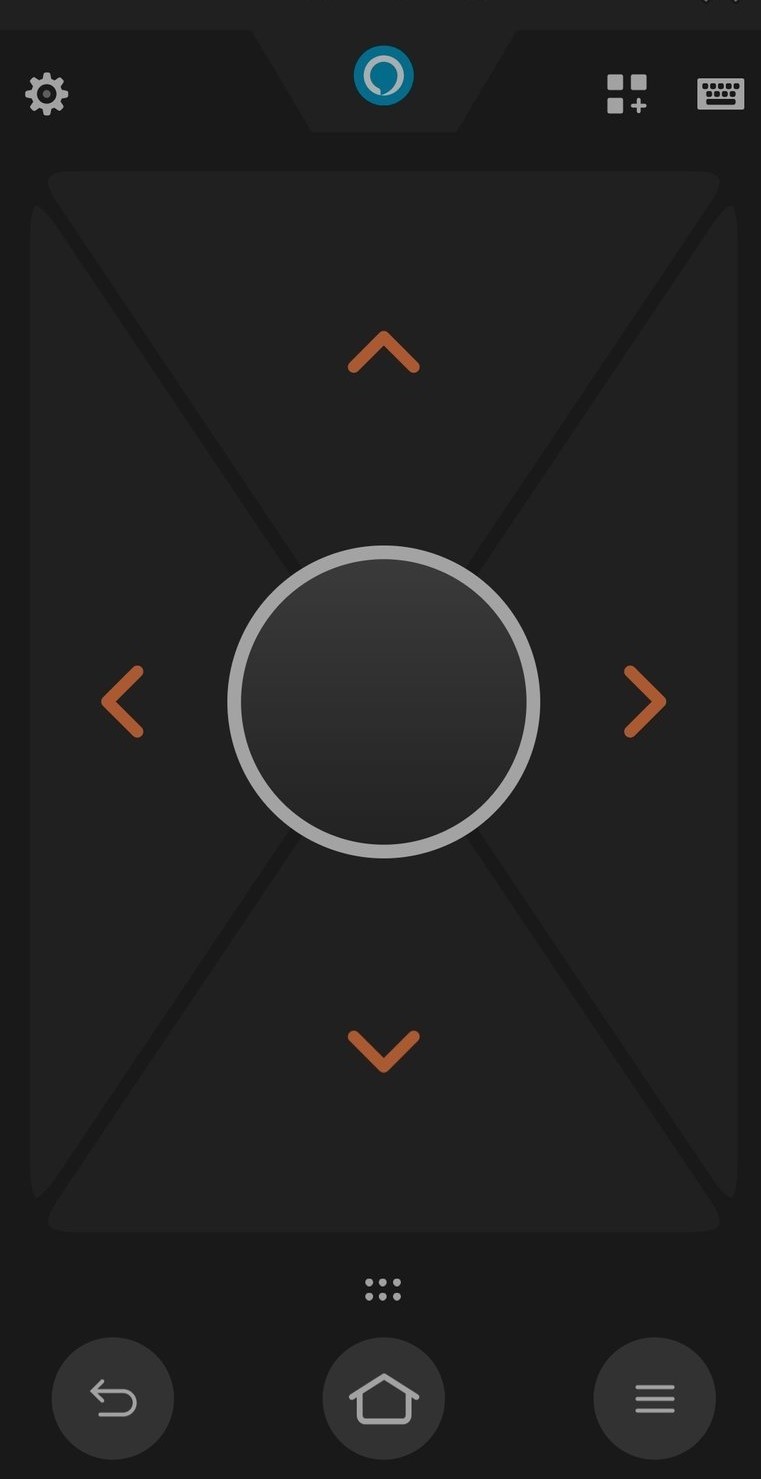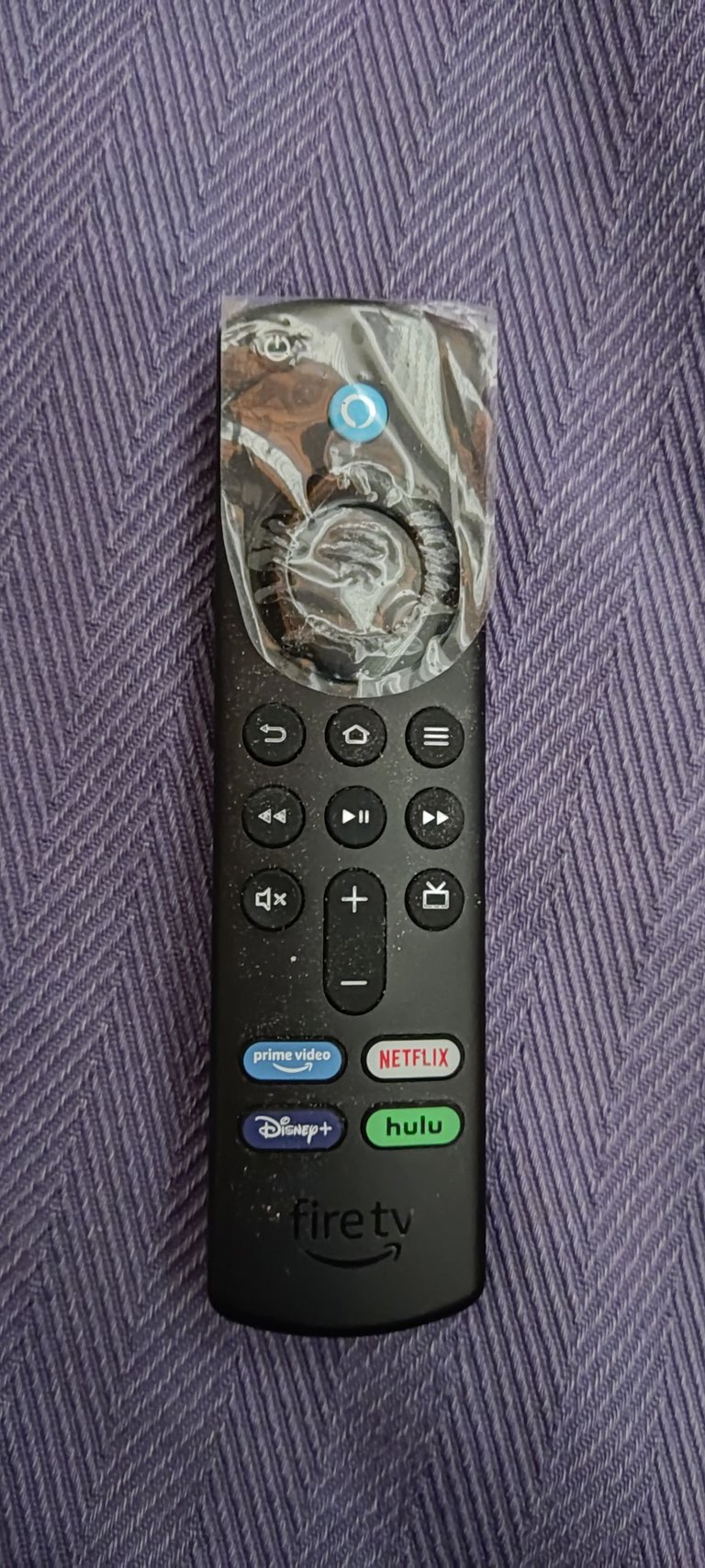 ---
Por esos mismos días, me hablaron de un servicio de streaming llamado MagisTV que aparentemente tiene la mejor relación precio/calidad de contenido de todo el mercado de streaming. Nunca antes había oído hablar de este servicio de streaming, pero decidí revisarlo y ver de qué se trataba.
Es una aplicación de Android y solo funciona en ciertos dispositivos de streaming de Android y, según tengo entendido, solo funciona en algunos países de América Central y del Sur. Tiene un sitio web general para toda la región, y también hay sitios web para cada país donde está disponible. Puedes ver su icono a continuación:
Around those same days, I was told about a streaming service called MagisTV that apparently has the best price/quality-of-content ratio in the entire streaming market. I had never heard about this streaming service before but I decided to check it out and see what it was all about.
It is an android app and it only works on certain Android streaming devices, and from what I understand, it only operates in some Central and South American countries. It has a general website for the entire region, and there are also websites for each country where it is available. You can see its icon below: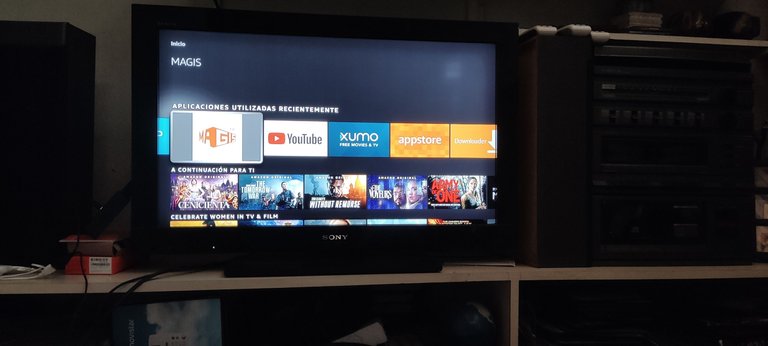 La instalación es gratuita, por supuesto, y si están interesados, puedo explicar cómo se realiza este proceso en una publicación futura, pero sus sitios web tienen instrucciones muy simples para seguirlas, por lo que no es muy complicado.
La razón que me convenció de probarlo es que me dijeron que tiene producciones de todas las plataformas populares de streaming, como Netflix, HBO, Apple Tv, Amazon y otras. También incluye cientos de canales de televisión en vivo, incluidos los premium, así como todo tipo de deportes que quieras ver, incluidos, una vez más, eventos premium. Su precio es de 10 $ por 3 pantallas, y si me preguntas, creo que es la mejor opción de cualquier plataforma de streaming que haya visto.


Cuando abres la aplicación, esto es lo que ves:
The installation is free of course, and if you guys are interested I can explain how this process is done in a future post, but their websites have very simple instructions to follow so it isn't a big deal.
The reason that convinced me to check it out is that I was told it has productions from all the popular streaming platforms, such as Netflix, HBO, Apple Tv, Amazon, and others. It also includes hundreds of live TV channels, including premium ones, as well as all types of sports you might want to watch, including, once again, premium events. Their price is 10$ for 3 screens, and if you ask me, I believe that's the best bang for your buck from any streaming platform I have ever seen.


When you open the app, this is what you see: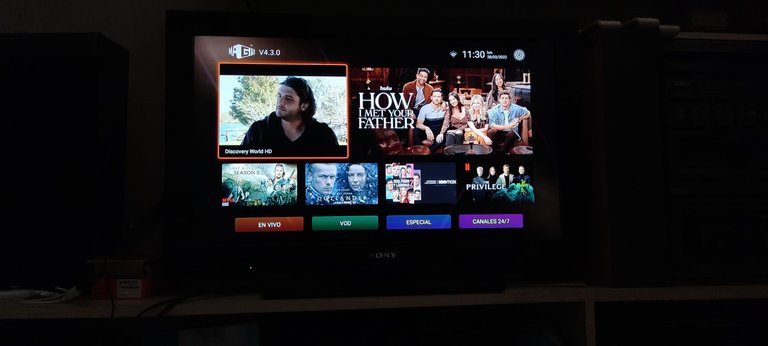 La parte más importante de esta interfaz es la parte inferior, donde aparecen 4 opciones diferentes. La primera es simplemente ver el canal de TV en vivo que se seleccionó la última vez. Si haces clic en la opción que dice VOD, verás lo siguiente:
The most important part of this interface is the bottom, where 4 different options appear. The first one is to simply see the live TV channel that was selected the last time. If you click the option that says VOD, you will see the following: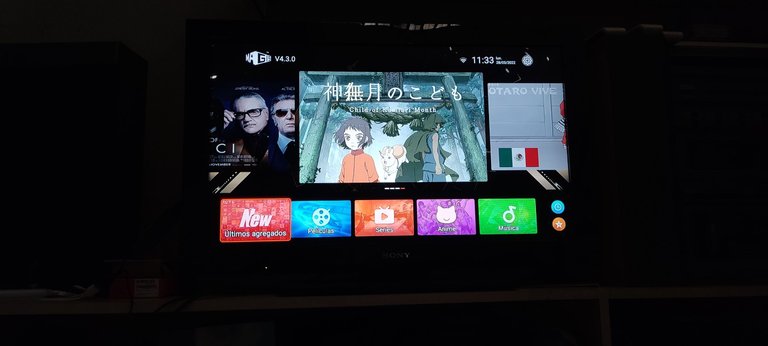 Puede elegir el tipo de contenido que desea ver de las opciones en la parte inferior, y apuesto a que la mayoría de las personas se sorprenderán mucho al darse cuenta de la cantidad de contenido que tiene este servicio. No solo tiene todas las producciones populares que puedas imaginar, sino también animes poco conocidos de los que la mayoría de la gente nunca ha oído hablar antes. Voy a mostrar algunos ejemplos en unos pocos párrafos a continuación.
La siguiente galería es lo que verás al elegir películas, series o animes, en todos estos casos la interfaz es prácticamente la misma con la única diferencia del contenido en sí. La última imagen muestra las amplias opciones de filtrado que nos permiten obtener resultados más precisos.
You can choose the type of content you want to see from the options at the bottom, and I would bet most people will be very surprised when realizing how much content this service has. It has not only all of the popular productions you can think of but also little-known animes that most people have never heard of before. I will show some examples in a few paragraphs below.
The gallery below is what you will see when choosing movies, series, or anime, in all these cases the interface is pretty much the same with the only thing different being the content itself. The last picture shows the vast filtering options that allow us to obtain more precise results.
---


Diferentes secciones - Different sections
Si haces clic en la opción "especial" de la interfaz principal de la aplicación, te encontrarás con este menú:
If you click the "special" option from the main interface of the app, you will then find yourself in this menu: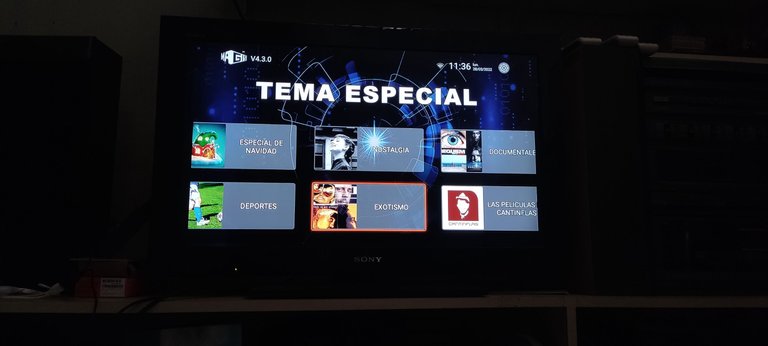 Solo clasifica ciertas producciones según su género o tema, y ​​dadas las opciones de filtrado más complejas que se pueden encontrar en otros lugares, encontré esta parte de la aplicación un poco redundante, pero supongo que puede ayudar a algunos usuarios a encontrar el contenido deseado.
Cubrir el vasto contenido incluido en MagisTV es casi imposible, así que me tomé el tiempo de buscar programas muy específicos, para ver si estaban disponibles en este servicio, y compartiré los resultados a continuación.


Si echas un vistazo a la galería, verás contenido de alta calidad de muchos productores diferentes, todos incluidos en esta plataforma. Algunas búsquedas que hice fueron Weathering with You, Parasyte, Black Mirror, Severance (una nueva serie), Mare of Easttown, Vikings, Another (una excelente serie de anime poco conocida del género de suspenso), Servant, Devs (una serie imprescindible de ciencia ficción), El Internado las Cumbres, y muchos más. De todas mis búsquedas, la única que no pude encontrar fue Serial Experiments Lain, que es una serie de anime de los años 90 con ideas similares a Matrix pero con un enfoque completamente diferente.
It only categorizes certain productions according to their genre or theme, and given the more complex filtering options that can be found elsewhere, I found this part of the app a bit redundant, but I guess it can help some users in finding their desired content.
Covering the vast content included in MagisTV is almost impossible, so I took the time to search for very specific shows, to see if they were available in this service, and I will share the results below.


If you take a look at the gallery, you will see high-quality content from many different producers, all included in this platform. Some searches I did were for Weathering with You, Parasyte, Black Mirror, Severance (a new series), Mare of Easttown, Vikings, Another (an excellent little-known anime series from the suspense genre), Servant, Devs (a must watch scifi series), El Internado las Cumbres, and many more. Of all my searches, the only one I couldn't find was Serial Experiments Lain, which is an anime series from the 90s with ideas similar to Matrix but with a completely different approach.
---


Ejemplos de búsquedas - Searches examples
Tiene casi todo lo que puedas imaginar. Sin embargo, algo que aumenta mis sospechas sobre este servicio es que el episodio especial de Black Mirror llamado Bandersnatch, que es un episodio interactivo de Netflix, solo está disponible con audio en portugués, y el archivo tiene una duración de más de 5 horas.
Esto significa que no es interactivo como Netflix pretendía que fuera, además, no está disponible en el audio original en inglés. Como dura 5 horas, supongo que la gente de MagisTV simplemente unió todas las diferentes ramificaciones de la historia y subió el archivo completo a sus servidores, pero lo bueno de este episodio es que te permite interactuar en ciertos momentos de la historia. y tomar decisiones importantes en nombre del personaje principal. Realmente me encantó cuando se lanzó hace varios años en Netflix, y el elemento interactivo lo convirtió en una experiencia memorable. Las personas que decidan ver Bandersnatch en MagisTV tendrán una experiencia mediocre en mi opinión debido al audio deficiente y la falta de interacción.


Esto es solo lo último que descubrí que me hizo sospechar de este servicio, pero mencionaré más a medida que avanza este artículo.


Cuando se trata de canales de TV en vivo, el contenido de MagisTV es tan sorprendente como su contenido VOD. Tiene más de 800 canales según su web, y no todos son canales malos, tienen HBO, canales Premium de deportes, eventos Premium de todo tipo, y también canales de todo el mundo. Si me preguntas, es una locura porque nunca había visto una plataforma que ofreciera una variedad tan amplia de contenido a un precio tan económico. Todo esto me hace pensar en la clásica frase que dice "si es demasiado bueno para ser verdad, probablemente no lo sea". Sin embargo, hasta ahora la plataforma ha funcionado muy bien, y aunque he buscado, no he encontrado a ninguna persona que critique la plataforma, al menos no todavía. Incluso creo que soy una de las primeras personas en levantar sospechas sobre esto.


En la galería a continuación, puedes ver algunos ejemplos de la lista masiva de canales de TV en vivo disponibles en MagisTV. Es alucinante, canales de Europa, Estados Unidos, países centroamericanos, de todo el mundo... échale un vistazo:
It has pretty much everything you can imagine. However, something that increases my suspicion about this service is that the Black Mirror special episode called Bandersnatch, which is an interactive episode from Netflix, is only available with Portuguese audio, and the file has a duration of more than 5 hours.
This means it isn't interactive as Netflix intended it to be, plus, it isn't available in the original English audio. Since it lasts 5 hours I guess the people at MagisTV simply joined together all the different ramifications of the story and uploaded the entire file to their servers, but the cool thing about this episode is that it allows you to interact in certain moments of the story, and make important decisions on behalf of the main character. I really loved it when it was released several years ago on Netflix, and the interactive element made it a very memorable experience. The people who decide to watch Bandersnatch on MagisTV will have a mediocre experience in my opinion due to the crappy audio and the lack of interaction.


This is just the last thing that made me feel suspicious about this service, but I will mention more about this at the end of the article.


When it comes to live TV channels, MagisTV's content is just as surprising as their VOD content. It has more than 800 channels according to its website, and these aren't all crappy channels, they have HBO, Premium sports channels, Premium events of all types, and also channels from all over the world. It is really crazy if you ask me because I have never seen a platform providing such a vast variety of content for such a cheap price. All of this makes me think of the classic phrase that goes like this "if it is too good to be true, it probably isn't". However, so far the platform has worked nicely, and even though I have looked, I haven't found any person criticizing the platform, at least not yet. I even think I am one of the first people to raise suspicion about this.


In the gallery below, you can see some examples of the massive list of live TV channels available at MagisTV. It is mindblowing, channels from Europe, the US, Central American countries, from all over the world... take a look:
---


Canales de TV en vivo - Live TV channels
¿Se ha profesionalizado la piratería en los países hispanos? Porque eso es lo que esta plataforma me está haciendo pensar. No creo que haya una forma legal de ofrecer un contenido tan amplio a un precio tan bajo. Creo que Netflix cobra alrededor de $10.99 y eso es por solo 2 pantallas. MagisTV solo cobra $10 por 3 pantallas y tienes acceso a contenido exclusivo de Netflix, Amazon, HBO, Apple, Hulu y muchos más servicios de streaming y canales de TV en vivo, incluidos los Premiun con eventos Premium. Todo eso por 10$ es imposible, la única forma es que lo estén haciendo ilegalmente y como la piratería no es un problema en esta región, pueden seguir operando sin problemas.
Tengo dudas sobre la sostenibilidad de esta plataforma, pero no se puede negar que ofrece más por el dinero que cobran y se presenta como un servicio de streaming legal y confiable. Personalmente, creo que están infringiendo algún tipo de ley relacionada con la piratería.
Has piracy become professionalized in Hispanic countries? Because that is what this platform is making me think. I don't think there is a legal way to offer such vast content, for such a cheap price. I think Netflix charges around $10.99, and that's for only 2 screens. MagisTV only charges $10 for 3 screens, and you have access to exclusive content from Netflix, Amazon, HBO, Apple, Hulu, and many more streaming services, and live TV channels including Premium ones with Premium events. All of that for 10$ is impossible, the only way is that they are doing it illegally and since piracy is not an issue in this region, they can continue to operate with no problems.
I have doubts regarding the sustainability of this platform, but it cannot be denied it offers more bang for your buck, and it poses as a legal and trustworthy streaming service. Personally, I believe they are breaking some type of law related to piracy.
---
The Best about MagisTV
Lo Mejor de MagisTV
It offers a vast amount of content from all the popular streaming platforms at a very affordable price
The same happens with live TV channels, excellent content about pretty much everything.
Ofrece una gran cantidad de contenido de todas las plataformas de streaming populares a un precio muy asequible
Lo mismo sucede con los canales de TV en vivo, excelente contenido sobre casi todo.
---
The Worst about MagisTV
Lo Peor de MagisTV
---
I don't think there is a legal way to offer such content for the price they are charging. I suspect they are an illegal company using piracy to gain money.
Alexa's global search function doesn't include MagisTV results, in order to search for something inside MagisTV, you need to do the manual search inside the app.
Some productions, such as Black Mirror: Bandersnatch, don't even have the original audio, which increases the chances of this being an illegal platform charging money while pretending to be a regular streaming service.
No creo que haya una forma legal de ofrecer dicho contenido por el precio que están cobrando. Sospecho que es una empresa ilegal que utiliza la piratería para ganar dinero.
La función de búsqueda global de Alexa no incluye los resultados de MagisTV, para buscar algo dentro de MagisTV, debes realizar la búsqueda manual dentro de la aplicación.
Algunas producciones, como Black Mirror: Bandersnatch, ni siquiera tienen el audio original, lo que aumenta las posibilidades de que se trate de una plataforma ilegal que cobra dinero mientras posan como un servicio de streaming normal.
---
Cuéntame si has utilizado este servicio y tu opinión sobre ellos.
¡Gracias por leer!
Let me know if you have used this service and your opinion about them.
Thanks for reading!
---
All images were taken by me with my Poco X3 Pro.
Todas las imágenes fueron tomadas por mí con mi Poco X3 Pro.