Hi Geeks, what a pleasure to be able to participate in your community, thanks for creating this space in Hive, it's great to be able to share with others our fascination with technology and its advances.
Coinciding with the creation of its community, I was in search of some good headphones to improve my gamer experience, because I have a PS4 and it is much better to be able to play with headphones that isolate you from the environment and give you the maximum experience when it comes to play.
Hola Geeks que gusto poder participar de su comunidad, les agradezco de antemano la creación de espacio dentro de Hive, es genial poder compartir con otros nuestra fascinación por la tecnología y sus avances.
Coincidiendo con la creación de su comunidad, estuve en la búsqueda de unos buenos audífonos para mejorar mi experiencia Gamer, porque cuento con un PS4 y resulta mucho mejor poder jugar con audífono que te aíslen del entorno y te brinden la máxima experiencia a la hora de jugar.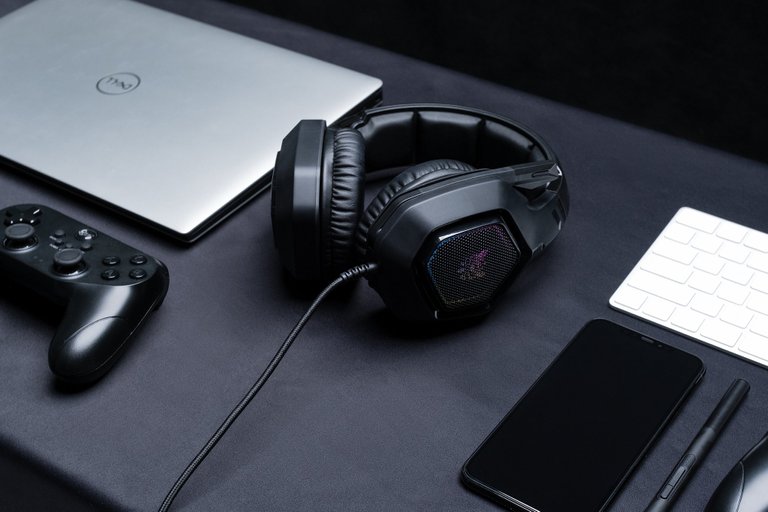 Soucer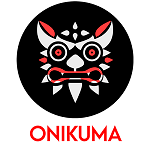 Every fan of the PlayStation console will know that this brand has original headphones that provide incredible sound and comfort, but that are also quite expensive, therefore, I started my search for headphones with a good price-quality ratio, and I found it in the famous brand Onikuma. This company is located in Shenzhen, China, and was founded in 2016. They have a catalog of gaming products, among which their headphones stand out, but they also have mice and keyboards.
Todo fan de la consola PlayStation sabrá que esta marca cuenta con audífonos originales que proporcionan un increíble sonido y comodidad, pero que también son bastante costosos, por lo tanto, inicié mi búsqueda de audífonos con una buena relación precio calidad, y la encontré en la famosa marca Onikuma. Esta empresa se encuentra ubicada en Shenzhen, China, y fue fundada en el año 2016. Cuentan con un catálogo de productos gaming, entre los que destacan sus audífonos, pero cuentan también con mouse y teclados.
After knowing several of its models, the one that best suited my requirements is the K10, from the point of view of size and durability, because I'm a big person, and not just any hearing aid fits my head well.
Después de conocer varios de sus modelos, el que mas se ajustaba a mis requerimientos es el K10, desde el punto de vista de tamaño y durabilidad, porque soy una persona grande, y no cualquier audífono se ajusta bien a mi cabeza.
---
Technical specifications / Especificaciones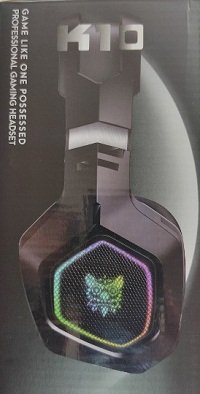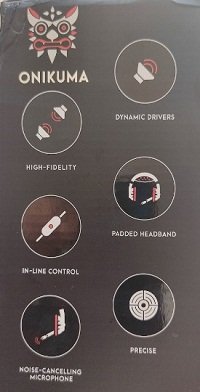 Speaker diameter: 50mm
Impedance: 16-20 ohms ±15%
Sensitivity: 105, ±3dB
Frequency: 20-20,000Hz
Mic dimensions: 6.0 * 2.7mm
Mic sensitivity: -42±1dB
Mic impedance: 2.2K ohms
Directivity: Omnidirectional
Working current: Below 100mA
Cable length: Approx 2.2m/7.22ft
Headphone size: Approx 22 * 9 * 20cm/8.66* 3.54 * 7.87 inches
Headphone weight: 380g/13.4oz
RGB LED working voltage: DC 5V+/-5%
---
Unboxing / Desembalaje / Especificaciones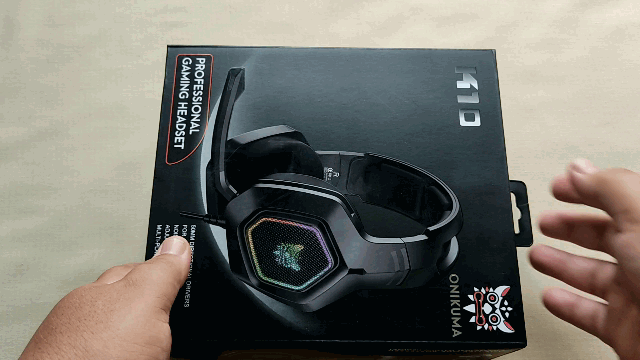 The first thing was to check with the manual the description of all the contents of the box, to make sure it was complete, it is important to note that the manual comes in several languages: English, Spanish, German, French, Italian, Russian, Chinese and Korean.
Lo primero fue verificar con el manual la descripción de todo el contenido de la caja, para asegurarme que estuviera completo, es importante resaltar que el manual viene en varios idiomas: inglés, español, alemán, francés, italiano, ruso, chino y coreano.
The first thing to note is that the sound unit is quite robust as I saw in the photos when comparing with others, the ear pads are quite comfortable, and made of a semi-leather material that is very resistant. Also the support for the upper part of the head has pads.
Lo primero a resaltar es que la unidad de sonido es bastante robusta tal cual veía en las fotos al momento de comparar con otros, las almohadillas de las orejeras con bastante cómodas, y de un material de semi-cuero que se muy resistente. También el soporte para la parte superior de la cabeza cuenta con almohadillas.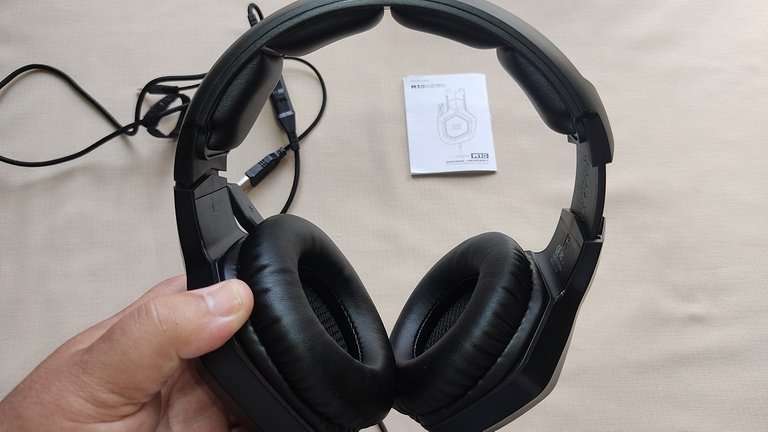 The headband is quite resistant, it's adjustable and it's made with a kind of plastic and metal composition, which is perfect for me, since I have to open it quite a bit across the width of my head.
El cintillo es bastante resistente, es ajustable y está elaborado con una especie de composición de plástico con metal, lo cual es perfecto para mí, ya que debo abrilo bastante por lo ancho de mi cabeza.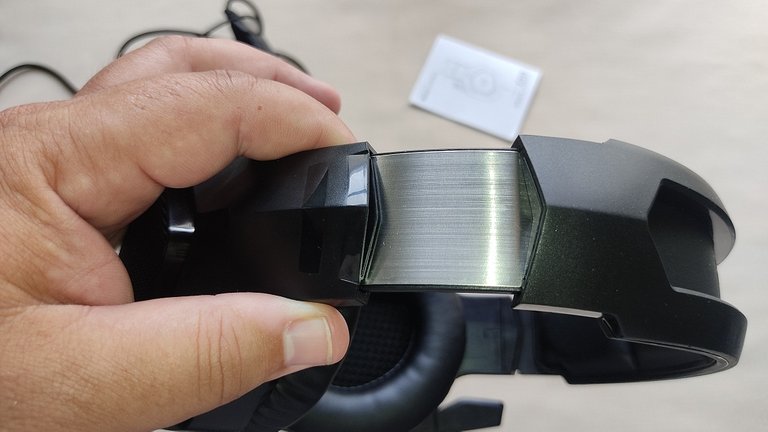 The microphone is undoubtedly the shape I was looking for, it's quite short and adjustable, but with the variant that it's hidden in a small slit inside one of the speakers, and is almost imperceptible. Also his sensitivity is very good.
El micrófono tiene sin duda la forma que buscaba, es bastante corto y ajustable, pero con la variante de que este se esconde en una pequeña rendija dentro de una de las bocinas, y queda casi imperceptible. También su sensibilidad es muy buena.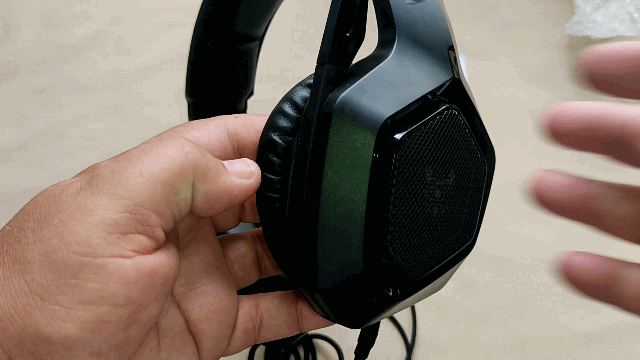 Regarding the connections, it has a 3.5 mm TRRS Jack (tip-ring-ring-sleeve) which is perfect to use with the PS4 control, but if you want to use it on the PC, it has the adapter to separate speaker and microphone connection. It also has the USB connection to power the lights.
En cuento a las conexiones, cuenta con un Jack de 3.5 mm TRRS (tip-ring-ring-sleeve, punta-anillo-anillo-cuerpo) lo que es perfecto para utilizar con el control de PS4, pero si uno desea utilizarlo en la PC, cuenta con el adaptador para separar la conexión de las bocinas y el micrófono. También cuenta con la conexión USB para energizar las luces.
Speaking of the lights, personally I didn't want them, but it's difficult today to find it without them, I mean my city. That is why I liked this model a lot because they are not so bright, and not very scandalous.
Hablando de las luces, en lo personal no las quería, pero es difícil hoy en día encontrarlo sin ellas, me refiero a mi ciudad. Por eso este modelo me gusto bastante porque no son tan brillantes, y poco escandalosas.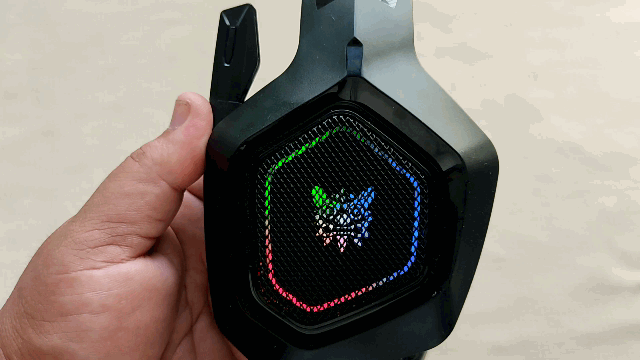 Also as usual in this model of headphones, it has an in-line volume control, as well as a switch to turn the microphone on and off.
También como de costumbre en este modelo de audífonos, cuenta con un control de volumen en línea, además de un interruptor para apagar y encender el micrófono.
---
Definitely, I must say that I'm very pleased with my new headphones, the price-value ratio is very good, they cost $ 30 USD, and the sound quality is excellent. The most important thing is that they are comfortable for me, as you can see in these last photos, and thus you will understand why. Without a doubt, the Gamer experience is now much better.
Definitivamente, debo decir que me encuentro muy complacido con mis nuevos audífonos, la relación precio valor es muy buena, tuvieron un costo de 30$ USD, y la calidad de sonido es excelente. Lo mas importante es que son cómodos para mí, como podrán notar en estas ultimas fotos, y así entenderán porque. Sin duda la experiencia Gamer ahora es mucho mejor.
Photos taken with Xiaomi Redmi Note 9s
Gif made with Wondershare Filmora