Que tal geeks, como les conté hace algún tiempo, me he dado a la tarea de poco a poco renovar los dispositivos electrónicos de la casa, ya que con lo rápido que esta avanzado la tecnología, cada vez más rápido quedamos en obsolescencia, pues es por eso que recientemente hice la compra de un nuevo dispositivo, un streaming stick de la marca onn. para convertir un viejo televisor a Smart.
What's up geeks, as I told you some time ago, I have given myself the task of gradually renewing the electronic devices in the house, because with how fast technology is advancing, faster and faster we become obsolescent, that's why I recently made the purchase of a new device, a streaming stick of the brand onn. to convert an old TV to Smart.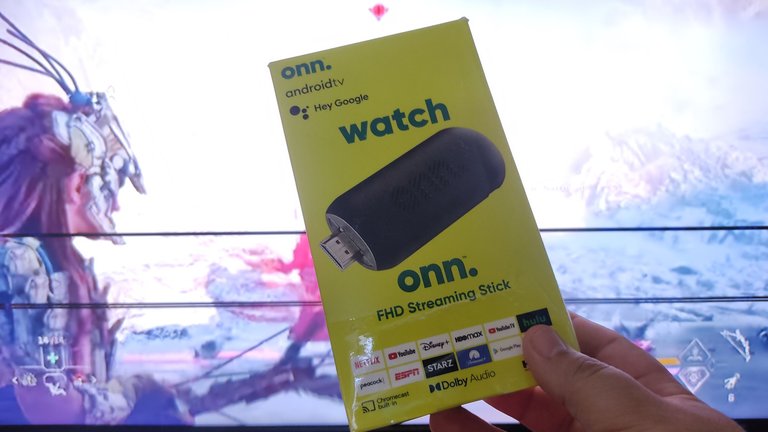 En esta ocasión deseo renovar un televisor de la marca Upstar, una marca no muy conocida pero que no posee ninguna característica de televisor inteligente, y a medida que nos adentramos mas en la era del streaming, cada miembro de la familia desea ver sus programas, de acuerdo a sus gustos, en este caso, los niños siempre desean ver su programación, películas y series animadas, pero al tener un solo dispositivo de streaming, se hizo necesario colocar uno nuevo en este Tv que es el que ellos utilizan.
This time I want to renew an Upstar brand TV, a brand not very well known but does not have any smart TV features, and as we go deeper into the era of streaming, each family member wants to watch their programs, according to their tastes, in this case, children always want to watch their programming, movies and animated series, but having only one streaming device, it became necessary to place a new one in this TV that is the one they use.
Mi primera opción fue comprar un dispositivo de la marca Xiaomi, porque es el primero que compre, y las verdad no tengo ninguna queja, las opciones y características son realmente buenas, si desean conocerlo a detalles pueden revisar mi reseña. Al ser un buen dispositivo y con muy buenas características, su existencia se agota rápidamente, por ejemplo, en Amazon no hay disponible, y quienes aun lo tiene disponible, especulan alcanzando precios entre 80 y 100 USD.
My first choice was to buy a Xiaomi device, because it is the first one I bought, and the truth is that I have no complaints, the options and features are really good, if you want to know it in detail you can check my review. Being a good device and with very good features, its existence is quickly exhausted, for example, in Amazon there is not available, and those who still have it available, speculate reaching prices between 80 and 100 USD.
---
onn. FHD Streaming
Al no ubicar un dispositivo conocido como los de Xiaomi, pensé inmediatamente en comprar un Roku, todos sabemos lo bueno que son, sin embargo, al visitar un centro comercial de varias tiendas de tecnología, me llamo la atención este dispositivo de la marca onn. Que no es desconocida para mí porque hace algún tiempo adquirimos una pequeña Tablet para mi hija menor de esta marca.
Not locating a known device like those of Xiaomi, I immediately thought of buying a Roku, we all know how good they are, however, visiting a mall of several technology stores, I was struck by this device of the brand onn. Which is not unknown to me because some time ago we acquired a small Tablet for my youngest daughter of this brand.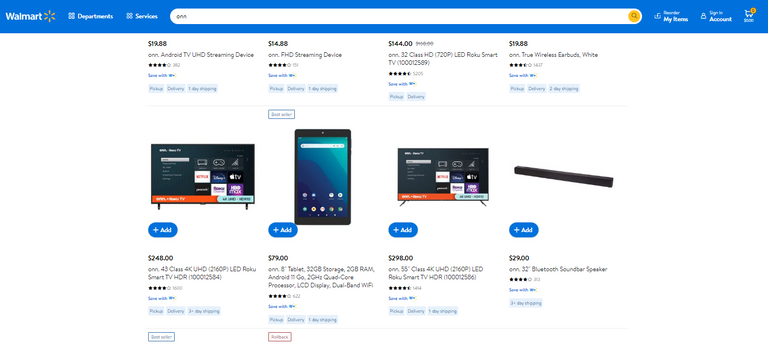 Fuente
No tengo mayores detalles sobre el fabricante, al parecer es una marca que inicialmente ensamblaba electrodomésticos y televisores para la cadena de tiendas Walmart, sin embargo, ya es posible encontrar artefactos de esta marca en muchos otros comerciantes y sitios de venta en línea, donde es posible encontrar tablets, televisores, audífonos, soundbar, cargadores inalámbricos, altavoces con batería, memorias SSD, monitores, etc. Es sorprendente la cantidad de artefactos que fabrican, si desean conocer el catálogo completo aquí se los dejo.
I do not have further details about the manufacturer, apparently it is a brand that initially assembled appliances and televisions for the Walmart chain stores, however, it is already possible to find devices of this brand in many other retailers and online sales sites, where you can find tablets, televisions, headphones, soundbar, wireless chargers, speakers with battery, SSD memory, monitors, etc.. It is surprising the amount of devices they manufacture, if you want to know the full catalog here I leave them.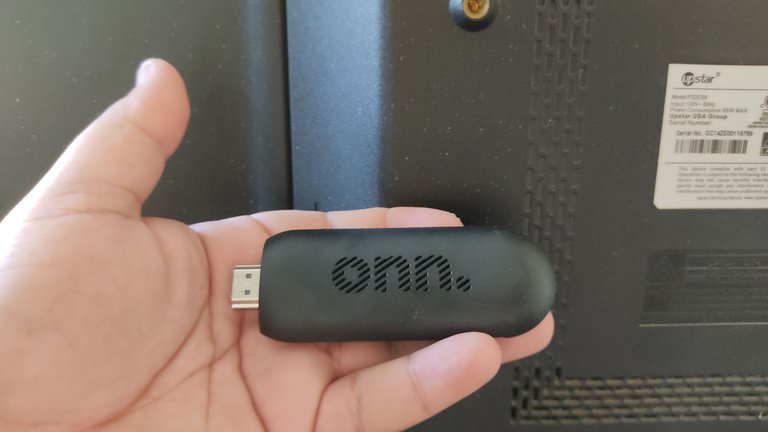 A pesar de que su precio en Walmart es de solo 15 USD, yo pagué acá 35 USD, claro que se le debe sumar los costos de envío más la ganancia de revendedor, pero me pareció relativamente económico, 5 dólares menos que el Roku Stick que era el otro dispositivo más sencillo que encontré a la venta, así que quise darle una oportunidad a la marca, además no necesitaba gran cosas porque se trataba del televisor de los niños y las app que ellos utilizan son YouTube y Disney+.
Although its price at Walmart is only 15 USD, I paid here 35 USD, of course you must add shipping costs plus reseller profit, but it seemed relatively inexpensive, 5 dollars less than the Roku Stick which was the other simplest device I found on sale, so I wanted to give the brand a chance, plus I did not need big things because it was the children's TV and the apps they use are YouTube and Disney+.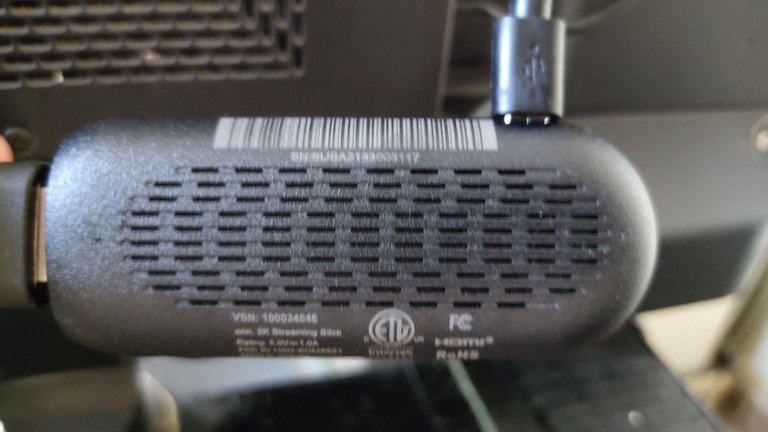 En cuanto al material se ve poco estético, asumo que, por el tema de el recorte de gastos en su fabricación, para que pueda costar los 15 USD, sin embargo, no es que sea malo, solo que no tiene los acabados estéticos que vemos en otros dispositivos para embellecerlos, este se ve robusto de plástico resistente, además no es algo que necesitas ver porque está detrás del televisor. El control remoto si no me gusto que fuera de color blanco, al estar en manos de los niños se ensuciara rápido, es por eso que debo cubrirlo pronto.
As for the material it looks not very aesthetic, I assume that, by the issue of cutting costs in its manufacture, so that it can cost the 15 USD, however, it is not that it is bad, it just does not have the aesthetic finishes that we see in other devices to beautify them, this looks robust resistant plastic, plus it is not something you need to see because it is behind the TV. The remote control if I did not like that it was white, being in the hands of children it will get dirty fast, that's why I should cover it soon.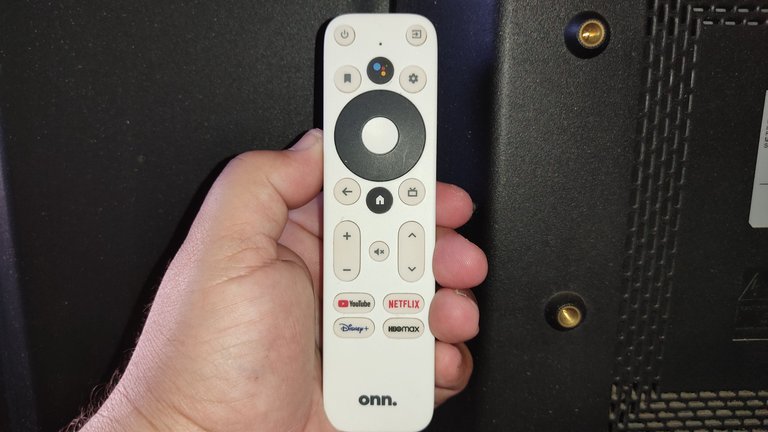 Me gusto que al igual que otros stick ofrezca también la opción del pequeño cable HDMI que posibilite su conexión, debido a que, por la posición de muchos de estos puertos en los televisores, el espacio no es lo suficientemente ancho para que calce por si solo el stick, pero con la ayuda del cable es fácil conectarlo.
I liked that, like other sticks, it also offers the option of a small HDMI cable to enable its connection, because, due to the position of many of these ports on TVs, the space is not wide enough to fit the stick by itself, but with the help of the cable it is easy to connect it.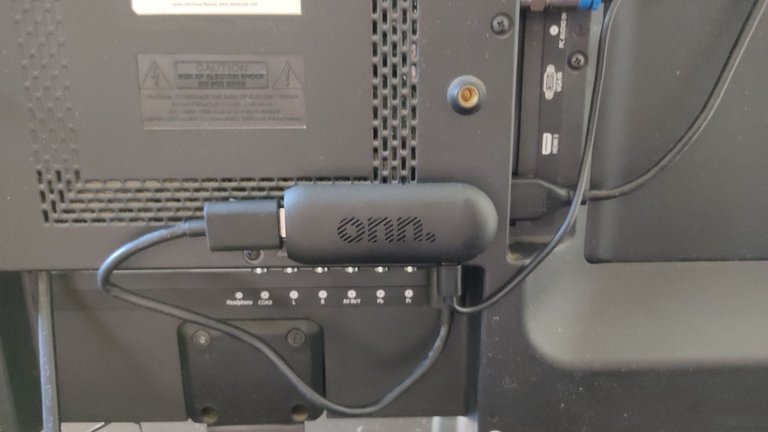 En cuanto a conectividad no ofrece mucho, solo el HDMI y la coneccion UBS tipo B para la alimentación de energía eléctrica, todo lo demás se debe conectar por Bluetooth, lo cual es suficiente para utilizar unos audífonos o unos altavoces, como es nuestro caso para cuando los niños quieren escuchar su música o ver una película con mejor sonido, porque el del televisor no es muy bueno.
In terms of connectivity it does not offer much, only the HDMI and the UBS type B connection for power supply, everything else must be connected via Bluetooth, which is enough to use headphones or speakers, as in our case for when the kids want to listen to their music or watch a movie with better sound, because the TV sound is not very good.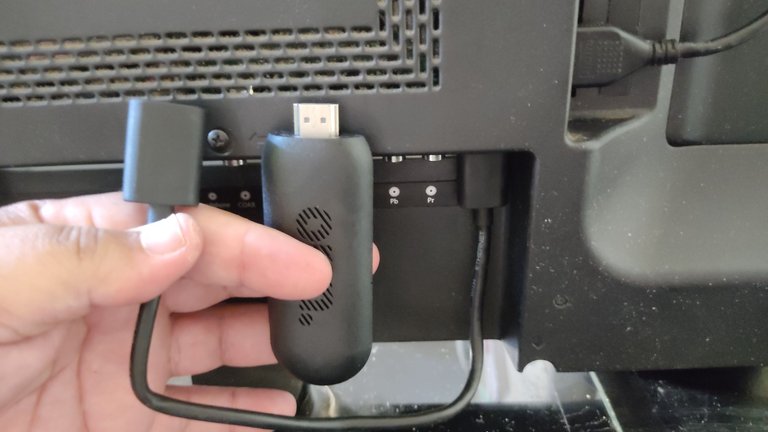 Para la mas pequeña de la casa, que literalmente se apodero del televisor ahora, el control resulto una maravilla, porque cuenta con los botones que directamente la llevan a sus aplicaciones favoritas, sin embargo, también tiene la búsqueda por voz, que fue la opción que ella siempre utilizo con el Mi box.
For the youngest of the house, who literally took over the TV now, the control turned out to be a marvel, because it has the buttons that directly take her to her favorite applications, however, it also has voice search, which was the option she always used with the Mi box.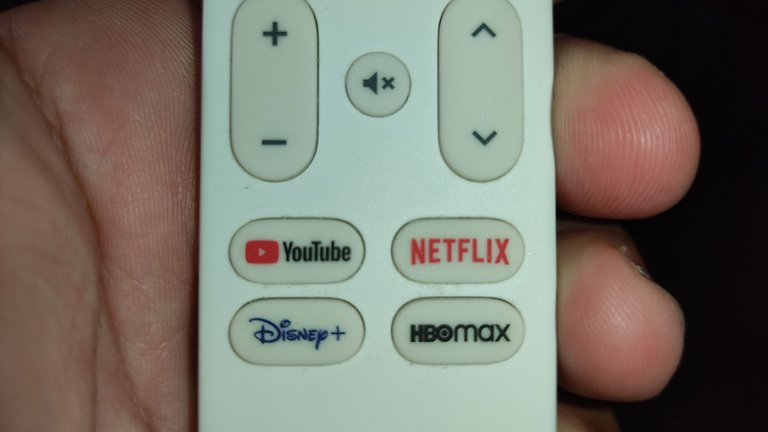 Otros de los detalles, un tanto más técnico, es su capacidad de almacenamiento de solo 5 GB con la desventaja de no poder expandirse con una memoria micro SSD, para poder colocar videos o películas en caso de fallar el internet. Su memoria RAM es solo de 1 GB, pero no ha sido una limitante hasta ahora para poder ejecutar las aplicaciones.
Another detail, a bit more technical, is its storage capacity of only 5 GB with the disadvantage of not being able to expand with a micro SSD memory, to be able to place videos or movies in case the internet fails. Its RAM memory is only 1 GB, but it has not been a limitation so far to run applications.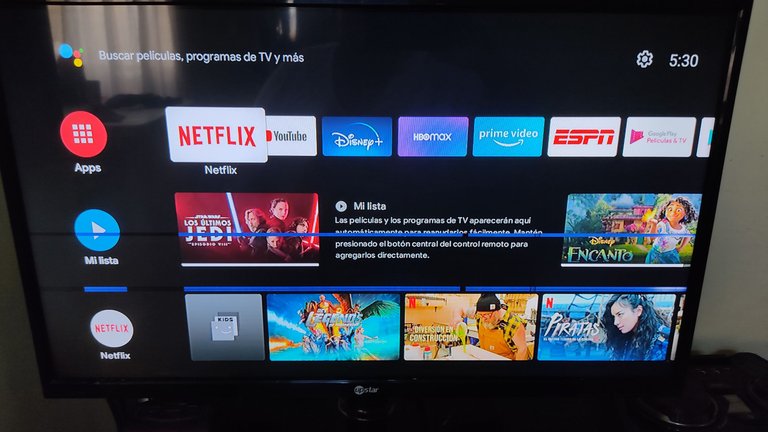 Cuenta con Android 9 Pie, lo que permite que aun mantenga compatibilidad con las apps que se desarrollan y se actualiza, y también cuenta con la opción de Chrome Cast, que personalmente es la que más utilizo, cuando tengo la oportunidad de utilizar el televisor. Debo decir que funciona muy bien, pensé que por solo contar con 1 Gb de Ram tendría algo de delay, pero funciono muy bien.
It has Android 9 Pie, which allows it to still maintain compatibility with the apps that are developed and updated, and also has the Chrome Cast option, which personally is the one I use the most, when I have the opportunity to use the TV. I must say that it works very well, I thought that by only having 1 Gb of Ram would have some delay, but it worked very well.
En términos Generales es un Stick de los mas sencillos del mercado, pero perfectamente funcional, no tendrá toda la programación que ofrece Roku, pero no es algo que no se puede resolver instalando alguna aplicación. Es una opción económica para dar vida a un viejo televisor, para nuestros hijos resulta muy práctico, sin embargo, sigo prefiriendo el Mi box X de Xiaomi.
In general terms it is one of the simplest sticks on the market, but perfectly functional, it will not have all the programming that Roku offers, but it is not something that can not be solved by installing an application. It is an economical option to give life to an old TV, for our children it is very practical, however, I still prefer the Mi box X from Xiaomi.