---
Muchos sabrán que estos son días de compras navideñas, los comercios y tiendas hacen todo tipo de promoción y estrategias de mercadeo para llamar clientes y que estos compren lo que ofrecen. Una de esas grandes estrategias de mercadeo es el llamada black Friday, y para el que no sebe de que se trata, es el último viernes del mes de noviembre en los estados unidos, toda mercancía, servicios, etc es rebajada en precios. Se cree que originalmente este día surgió para la renovación de inventarios, pero es una estrategia de mercado que se extendió por todo el mundo, ya muchos países la imitan, algunos ofrecen verdaderas ofertar y otros se valen de ello para engañar.
Many will know that these are days of Christmas shopping, stores and stores do all kinds of promotions and marketing strategies to call customers and that they buy what they offer. One of these great marketing strategies is called Black Friday, and for those who do not know what it is, it is the last Friday of November in the United States, all merchandise, services, etc. is reduced in prices. It is believed that originally this day arose for the renewal of inventories, but it is a market strategy that spread around the world, and many countries imitate it, some offer real bargains and others use it to cheat.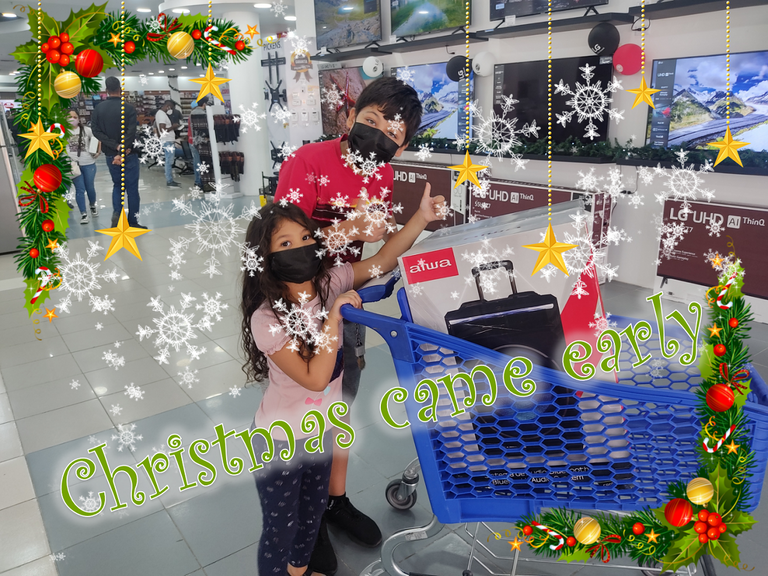 El caso es que durante todo el año observo y estoy atento a precios para comparar con este día, y saber si es una verdadera oferta, y algo a lo que le venia siguiendo la pista es a un sistema de sonido recargable, porque mi hijo mayor me lo había pedido para navidad, así que cuando llego el black Friday estuve muy atento a las ofertas y pude encontrar una muy buena, así que decidí adelantar el regalo de navidad, porque era el ultimo que quedaba en stock, resultando ser un muy buena compra, de un equipo de excelente calidad a un muy buen precio.
The thing is that throughout the year I watch and am attentive to prices to compare with this day, and know if it is a real offer, and something that I had been following the track is a rechargeable sound system, because my oldest son had asked me for Christmas, so when Black Friday came I was very attentive to the offers and I could find a very good one, so I decided to advance the Christmas gift, because it was the last one left in stock, turning out to be a very good buy, a team of excellent quality at a very good price.
Cuando mi hijo pidió un sistema de sonido me hablo de varias marcas, y a través de sitios de venta en línea me mostro muchos modelos. Le dije que si quería sonido hay varias marcas confiables, pero por experiencia personal se que Aiwa es una de las mejores, por eso al encontrar este equipo en oferta no dudamos en comprarlo. Es un altavoz bluetooth Trolley modelo AWPOK8T de 500W PMPO, sus otras especificaciones técnicas son:
When my son asked for a sound system he told me about several brands, and through online sales sites he showed me many models. I told him that if he wanted sound there are several reliable brands, but from personal experience I know that Aiwa is one of the best, so when we found this equipment on sale we did not hesitate to buy it. It is a Trolley bluetooth speaker model AWPOK8T 500W PMPO, its other technical specifications are:
| | |
| --- | --- |
| | |
Altavoz de 12″ con tweeter incluido.
Potencia 500W PMPO o 50W RMS aprox.
2 Jacks para micrófono de 6.3 mm monoaural
1 Jack de 3.5 mm estéreo
Modo de función: USB / BLUETOOTH / AUX
Bluetooth V5.0 con un alcance de 10 m
Dimensiones: 60 cm (altura) x 40 cm (profundidad) 38.5 cm (ancho)
Orificio para soporte diámetro 36mm
Puerto USB 3.0 soporta dispositivos hasta 32 GB de capacidad de almacenamiento.
5 modos de selección de luces led: colores azul, roja y verde en encendido fijo, en modo intermitente los colores se alternan.
Ecualizador incorporado para estilos de música: FLAT, POP, CLASSIC, JAZZ y ROCK.
Opción para ajuste de SUPER BASS.
Batería recargable de plomo-acido cuya capacidad es de 4000 mAh. - - Alcanza una carga máxima en 1 hora y a máximo volumen tiene un tiempo de duración de 2 horas.
Función de ECHO solo cuando el micrófono está conectado.
Alimentación eléctrica de 120V-240V ~ 60 / 50Hz Consumo de energía 35W.
12″ speaker with tweeter included.
Power 500W PMPO or 50W RMS approx.
2 6.3 mm monaural microphone jacks
1 3.5 mm stereo jack
Function mode: USB / BLUETOOTH / AUX
Bluetooth V5.0 with a range of 10 m (33 ft.)
Dimensions: 60 cm (height) x 40 cm (depth) 38.5 cm (width)
Support hole diameter 36mm
USB 3.0 port supports devices up to 32 GB storage capacity.
5 modes of LED light selection: blue, red and green colors in steady on, in flashing mode the colors alternate.
Built-in equalizer for music styles: FLAT, POP, CLASSIC, JAZZ and ROCK.
SUPER BASS setting option.
Rechargeable lead-acid battery with a capacity of 4000 mAh. Reaches a maximum charge in 1 hour and at maximum volume has a battery life of 2 hours.
ECHO function only when microphone is connected.
Power supply 120V-240V ~ 60 / 50Hz Power consumption 35W.
Como podrán notar tiene muy buenas funciones que lo hacen un equipo bastante completo, perfecto para el hogar y disfrutar de la música a un buen volumen. En el video que comparto mas arriba, no se puede apreciar la calidad del sonido, pero les garantizo que los sonidos agudos y graves están muy bien definidos, a diferencia de los altavoces chinos que han invadido el mercado, que la calidad del sonido no es muy limpia, y muchos de los graves no se aprecian.
As you may notice it has very good features that make it a very complete equipment, perfect for home and enjoy music at a good volume. In the video I share above, you can not appreciate the sound quality, but I guarantee that the treble and bass sounds are very well defined, unlike the Chinese speakers that have invaded the market, the sound quality is not very clean, and many of the bass is not appreciated.
| | |
| --- | --- |
| | |
Por esa razón personalmente recomiendo hacer un poco mas de esfuerzo y reunir para un equipo de sonido de marcas reconocidas, aunque muchas en el mercado no son tan buenas, tuve la oportunidad de probar altavoces Daewo, Toshiba y Sankey, y su desempeño también deja mucho que desear, en cambio pude probar equipos Sony, JBL, Samsung, Bose, LG y AIWA y todos son muy bueno, uno tendrá características superiores sobre los demás como el caso del Bose, pero en cuanto a relación precio calidad el AIWA sin duda es de lo mejor, lo importante es saber buscar entre estas marcas las ofertar, porque es posible encontrar muy buenos precios.
For that reason I personally recommend making a little more effort and gather for a sound equipment of recognized brands, although many on the market are not so good, I had the opportunity to try Daewo, Toshiba and Sankey speakers, and their performance also leaves much to be desired, instead I could try Sony equipment, JBL, Samsung, Bose, LG and AIWA and all are very good, one will have superior features over the others as the case of Bose, but in terms of value for money AIWA is certainly the best, the important thing is to know how to search among these brands to offer, because it is possible to find very good prices.
En definitiva tanto mis hijos como yo estamos muy contentos, especialmente mi hijo mayor que es amante de la música y siempre quiere tener oportunidad para escucharla, y mas aun cuando se trata de video juegos, lo conecta a su PS4 y tiene calidad de sonido muy superior a la que le brinda los altavoces del televisor, adicionalmente lo enlaza a el dispositivo de streaming al momento de ver películas y series, en verdad esta disfrutando mucho sus navidades adelantadas.
In short, both my children and I are very happy, especially my eldest son who is a music lover and always wants to have the opportunity to listen to it, and even more when it comes to video games, connect it to his PS4 and has sound quality far superior to that provided by the TV speakers, additionally links it to the streaming device when watching movies and series, he is really enjoying his early Christmas.
Images are of my property taken with my phone
Xiaomi Redmi note 9s
Video made with Wondershare Filmora

---
▶️ 3Speak