---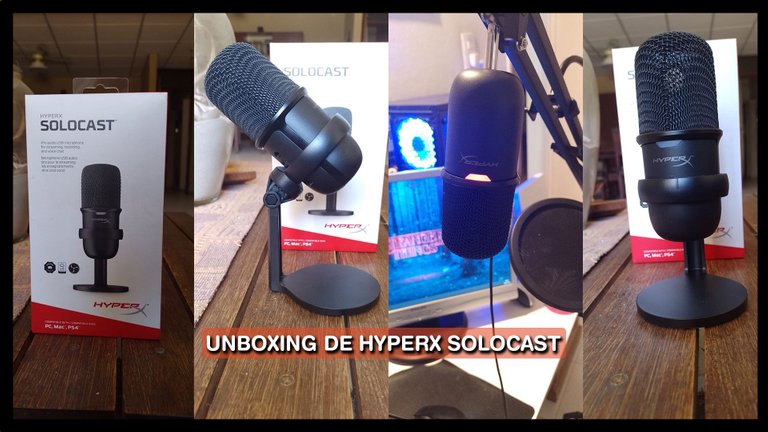 Introducción
En mi mente siempre tengo el pensamiento de "los millonarios no inflan su estilo de vida, es por eso que son millonarios", lo cual para mi es muy cierto y trato de evitar esto para lograr mantener una buena capacidad de ahorro, pero luego viene otro pensamiento a mi cabeza que dice "che, hay que mejorar el set-up, hay que ofrecer la mejor calidad del producto que estamos vendiendo" y eso me lleva a siempre comprar cosas que mejoren tanto mi comodidad como la calidad a la hora de grabar, porque como muchos saben, mi blog trata sobre videojuegos. Es por eso que hace 1 semana, más precisamente el miércoles 31 de Agosto, decidí adquirir éste asombroso micrófono y producto, su nombre es HyperX Solocast y este es su unboxing.
Decirles que no todo fue color de rosas, tuve un problema con la gente de Mercado Libre y terminé pagando más de lo que valía el micrófono en su momento, más adelante en este post seguro les cuento mi experiencia con ellos.
Si te interesa ver más review y/o unboxing de productos altamente recomendados, te voy a dejar acá abajo los que ya he realizado en este canal. Simplemente con hacerle click sobre el título del video que te interese te va a redireccionar automáticamente al mismo.
Listado de Capítulos

HyperX Solocast
Presentación del producto
El diseño de la caja es rectangular con colores rojos y blancos, siendo éste último el más predominante en la caja, eso hace que el texto en color negro destaque muchísimo por sobre lo demás. Podemos ver en la parte delantera de la caja el modelo y la marca del micrófono como a su vez una pequeña descripción que dice algo así como "Micrófono pro audio USB, está preparado para streamear, grabar y para chat de voz. Debajo, al lado de la foto del transductor podemos observar el logo de Discord y el de OBS (programa de grabación) y por último nos indica que es compatible con PC, MAC y PS4, esto le da un plus espectacular a este producto pienso yo.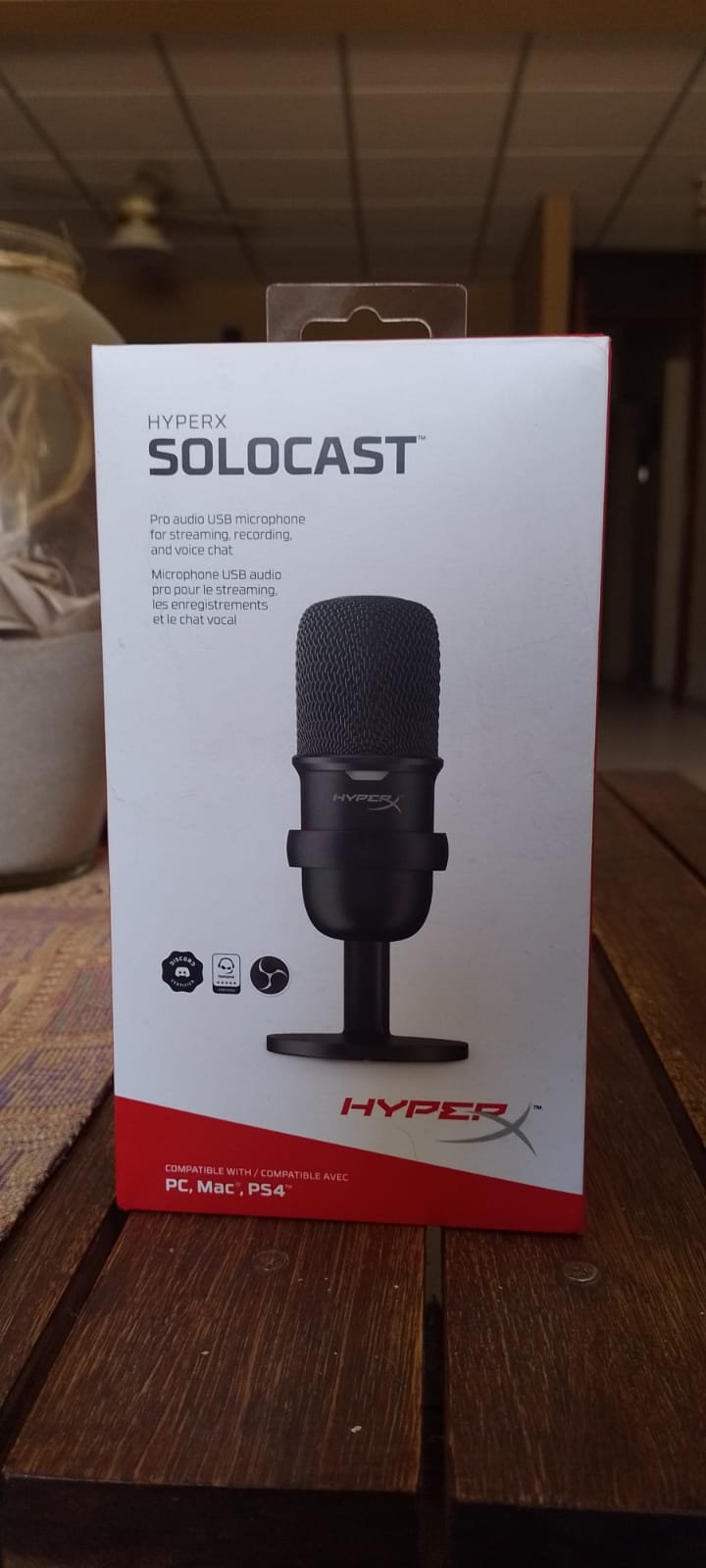 En la parte trasera de la caja podemos encontrar otra vez la marca y modelo del producto, además indica, en múltiples idiomas, que el micrófono tiene un sensor para silenciar el micrófono y que la rosca que se encuentra en la parte de abajo es de 3/8" 5/8". Por último nos muestra que el producto ofrece 2 años de garantía por defectos de fábrica.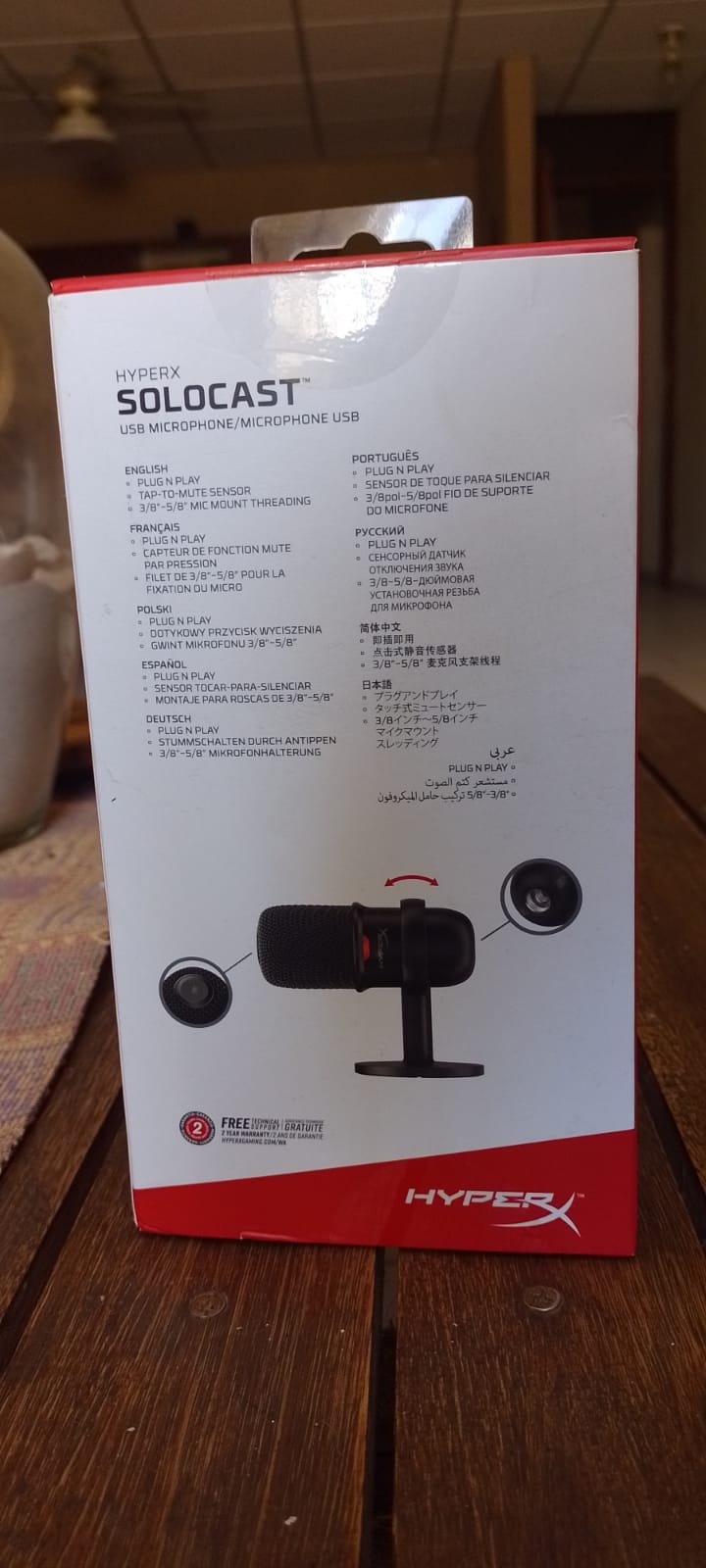 Presentación del producto: 10/10
¿Qué hay dentro de la caja?
Abriendo ya el producto, podemos observar que él mismo está protegido por una caja plástica anti golpes, muy bien de parte de la empresa por colocarla. Además está cerrada para evitar que el micrófono golpee o se caiga. Encontramos también un cable USB que es el que la va a dar energía al micrófono para su funcionamiento, el mismo mide 2 METROS, extremadamente cómodo y bien pensado otra vez por la empresa darle longitud al cable.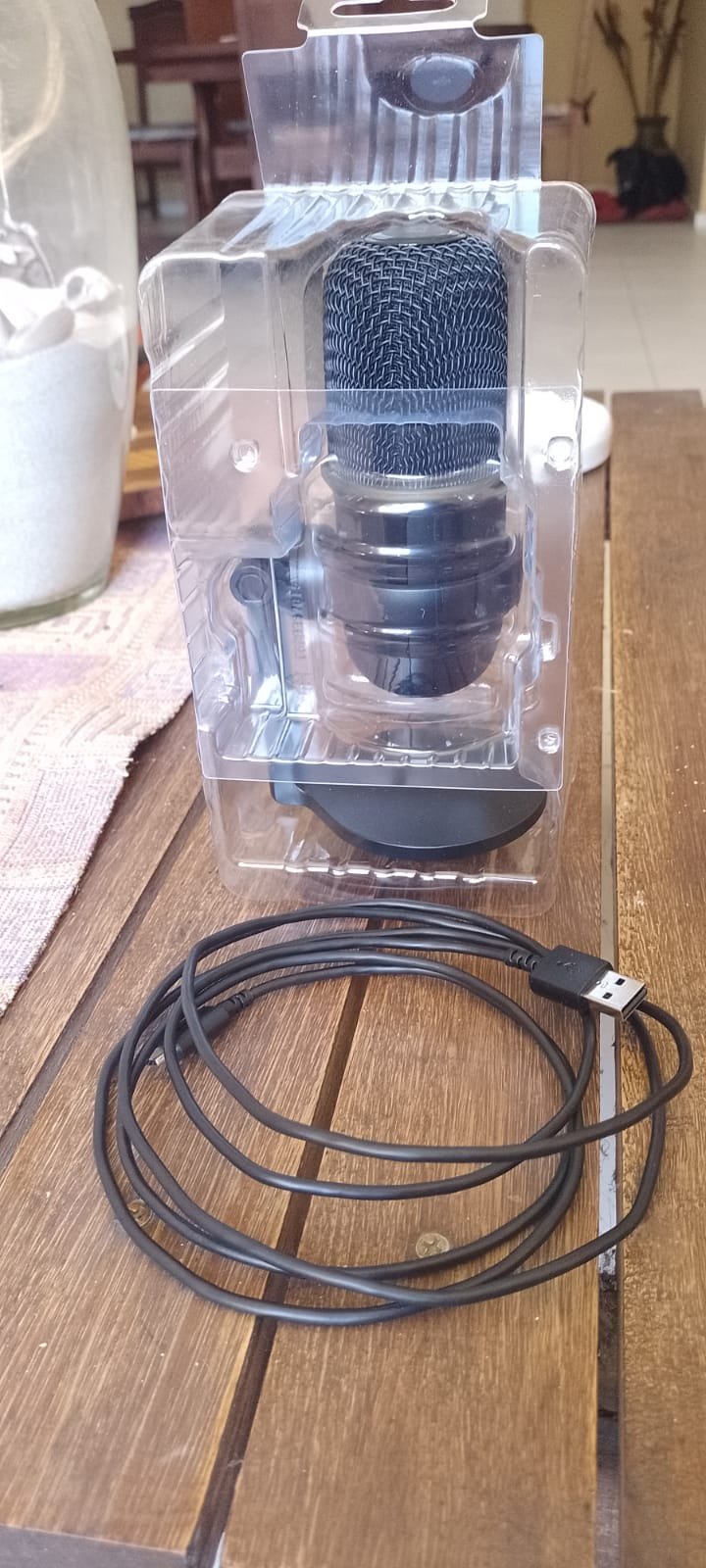 También encontraremos el manual de instrucciones del micrófono, en el mismo especifica cuestiones técnicas del micrófono (ignoren al perrito de fondo). El manual he de decir que es medio incómodo y grande, esperaba mas un estilo "libro" que esto.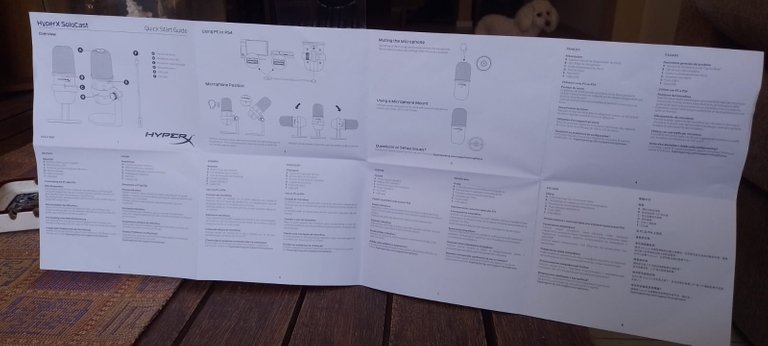 Especificaciones técnicas
En el manual nos indica que el micrófono se puede colocar en varias posiciones con el soporte que trae de fábrica, nos enseña además como utilizar el boton de Mute que trae incorporado, el mismo es táctil y es sencillo de usar, no hay que realizar ningún tipo de presión, simplemente apoyar el dedo. Además nos vuelve a indicar el tema de la rosca 3/8" 5/8" que es prácticamente una universal que funciona en casi todos los montajes donde queramos colocarlo, punto a favor para la empresa. Si quieren saber más especificaciones técnicas del producto pueden ingresar a este link.
Posición lateral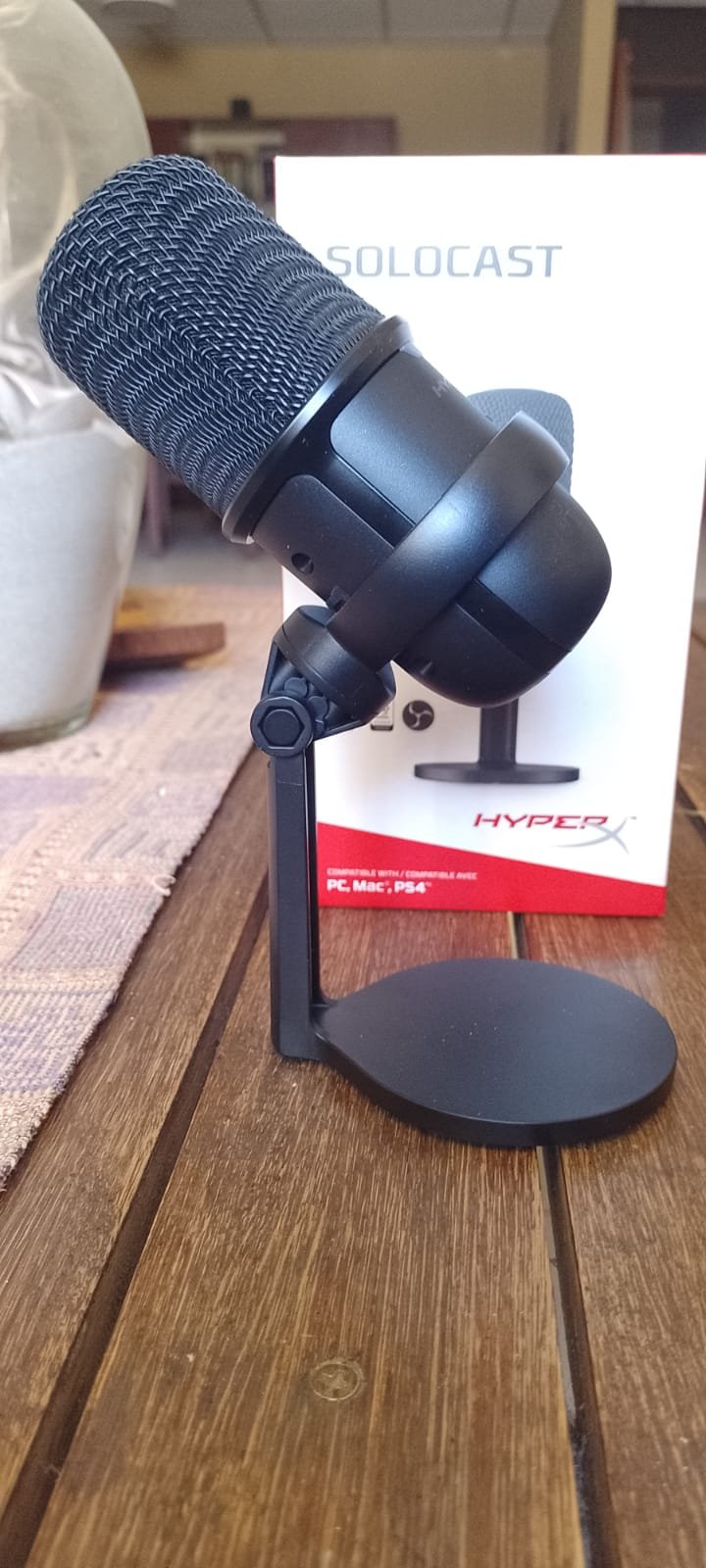 Botón táctil de mute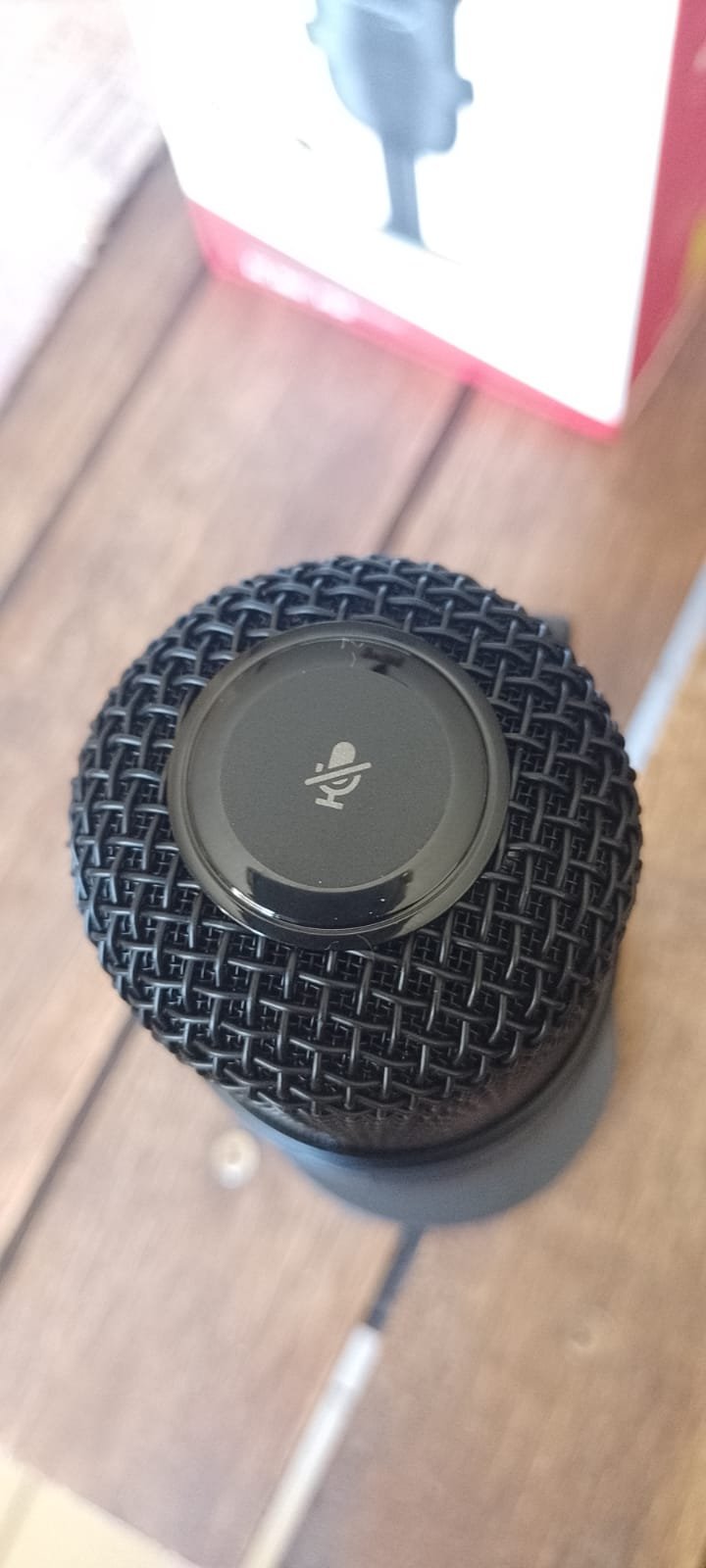 Rosca universal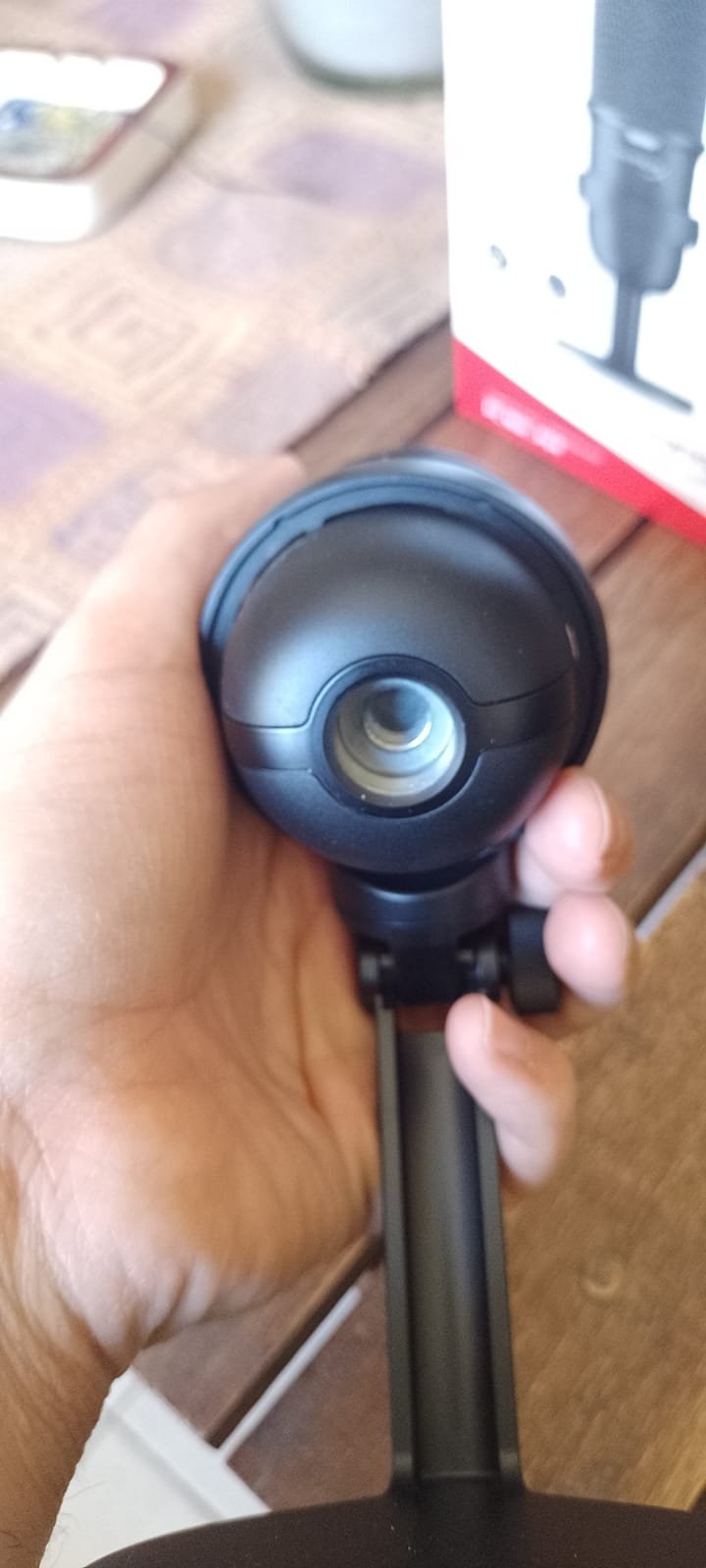 Montando el micrófono
Luego de sacarlo de su caja fui directamente a colocarlo en mi brazo mecánico, estuve averiguando y claramente se podía utilizar, agradecido con mi yo del pasado por haber comprado éste brazo mecánico a un buen precio hace bastante tiempo.
Simplemente le di rosca, ajuste y lo coloqué en una posición donde no me tape la segunda pantalla y me quede cómodo para hablar. Y acá está el micrófono funcionando a la perfección.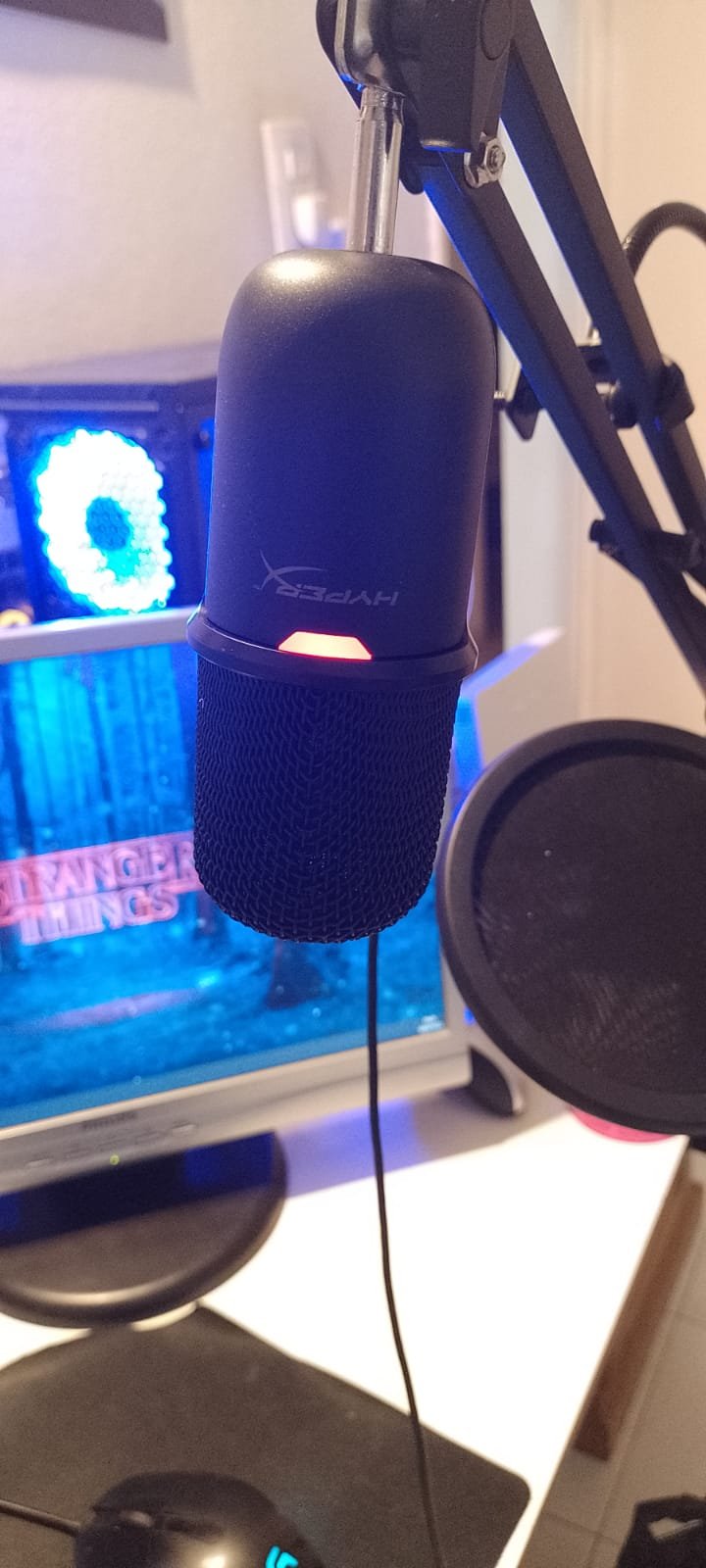 Mi experiencia con Mercado Libre
Sé que esto no debería darle mucha importancia, pero quiero dejarlo asentado por acá para que tengan cuidado con estas multinacionales y su abuso con los clientes. Decirles que yo nunca he tenido problemas concretamente con ellos, sí a veces con las empresas de correo o con los vendedores.
Como les comentaba, el miércoles 31 de Agosto compré el micrófono al precio de $10.699 pesos argentinos, el equivalente a 40 dólares, me iba a llegar el día Viernes 2 de Setiembre a mi domicilio ya que el servicio contratado era FULL. Ya había planeado mi contenido y mi semana en base a esto. En estos días ocurrió el trágico intento de homicidio a la Vicepresidente de Argentina, con lo que a nuestro "querido" Presidente se le ocurre decretar un feriado para "pensar lo que hemos hecho mal" 🙄. El caso es que el envío se me pospuso y en la página de Mercado Libre me decía que me iban a estar informando la nueva fecha de entrega. Yo supuse que el Lunes, como mucho, iba a estar llegando el micrófono o me iban a estar avisando la fecha de entrega. Llegó el Lunes y nada de nada, al otro día tampoco tenía noticias, entonces decidí llamar a atención al cliente de Mercado Libre. Ellos me confirman que mi producto estaba teniendo demoras (aunque nunca me dijeron la razón) y me ayudaron a crear un reclamo para que sea resuelto pronto, aunque de pronto no tenía nada ya que tenía que esperar un máximo de hasta 3 días para recibir una respuesta. A todo esto, si yo adquiría de nuevo el micrófono en ese momento mismo me iba a llegar el jueves de esa semana, una estupidez, el tema es que él mismo había aumentado de precio a $12.489 pesos argentinos... así es. Se imaginaran lo que paso luego, no? Me levanto al otro día, miércoles, bien temprano porque tenía que hacer unos trámites y me encuentro con un mensaje de Mercado Libre diciendo que me habían devuelto el dinero y que el micrófono no se iba a poder entregar... me devolvieron el monto total de $10.699 pesos, tuve que pagar la diferencia porque llamé y su solución era "podes adquirir otro producto similar", gente les juro que no tenía ganas de hacer lío, quería el micrófono y ya, así que bueno no me quedó de otra.

Conclusiones
El micrófono me viene muy bien para crear contenido y es una inversión necesaria, como les decía no hay que inflar nuestro estilo de vida pero esto es una inversión para mejorar mi contenido, es por eso que decidí adquirirlo "¿Vale la pena por su precio?" Todavía no lo he probado lo suficiente como para confirmarlo, más adelante seguro que traigo una review del mic así que estén atentos a ella.
La presentación es hermosa, exquisita. A mi me gustó mucho el diseño de la caja y del micrófono en sí, además la longitud del cable es espléndida, me viene muy bien ya que teniendo esa longitud puedo pasarlo por debajo del escritorio y esconderlo, parece que fuera un micro inalámbrico.

Palabras finales
Quiero agradecer a todos y cada uno de ustedes por siempre apoyar mi contenido, ya que ésta compra fue realizada con mis ganancias en Hive, estoy muy contento por eso, jamás pensé que en mi vida fuera a pasarme algo así.
Les deseo a todos un bonito día y espero que hayan disfrutado el blog y el video.

Créditos
La imágen principal del post es una foto mía tomada en mis MOTOG20 y editada en Photoshop.
Las fotos del post fueron realizadas con mi MOTOG20.
Los separadores que dicen "CRYPTO ALVIRIN" fueron realiados por mí en Photoshop e Illustrator.
El logo del canal fue realizado por mí en Illustrator.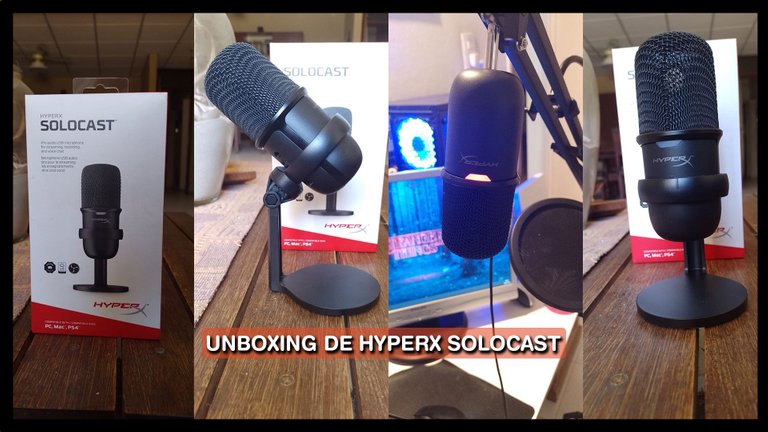 Introduction
In my mind I always have the thought of "millionaires do not inflate their lifestyle, that is why they are millionaires", which for me is very true and I try to avoid this in order to maintain a good saving capacity, but then comes another thought in my head that says "hey, we have to improve the set-up, we have to offer the best quality of the product we are selling" and that leads me to always buy things that improve both my comfort and quality when it comes to record, because as many know, my blog is about video games. That's why 1 week ago, more precisely on Wednesday August 31st, I decided to purchase this amazing microphone and product, its name is HyperX Solocast and this is its unboxing.
Tell them that not everything was rosy, I had a problem with the people from Mercado Libre and I ended up paying more than what the microphone was worth at the time, later in this post I will surely tell you about my experience with them.
If you are interested in seeing more reviews and/or unboxing of highly recommended products, I am going to leave you below the ones that I have already made on this channel. Simply by clicking on the title of the video that interests you, you will be automatically redirected to it.
List of Chapters

HyperX Solocast
Presentation of the product
The design of the box is rectangular with red and white colors, the latter being the most predominant in the box, that makes the black text stand out a lot above the rest. We can see on the front of the box the model and brand of the microphone as well as a small description that says something like "USB pro audio microphone, it is ready to stream, record and voice chat. Below, next to From the photo of the transducer we can see the Discord logo and the OBS logo (recording program) and finally it indicates that it is compatible with PC, MAC and PS4, this gives this product a spectacular plus, I think.
On the back of the box we can again find the brand and model of the product, it also indicates, in multiple languages, that the microphone has a sensor to mute the microphone and that the thread at the bottom is 3 /8" 5/8". Finally, it shows us that the product offers a 2-year warranty against manufacturing defects.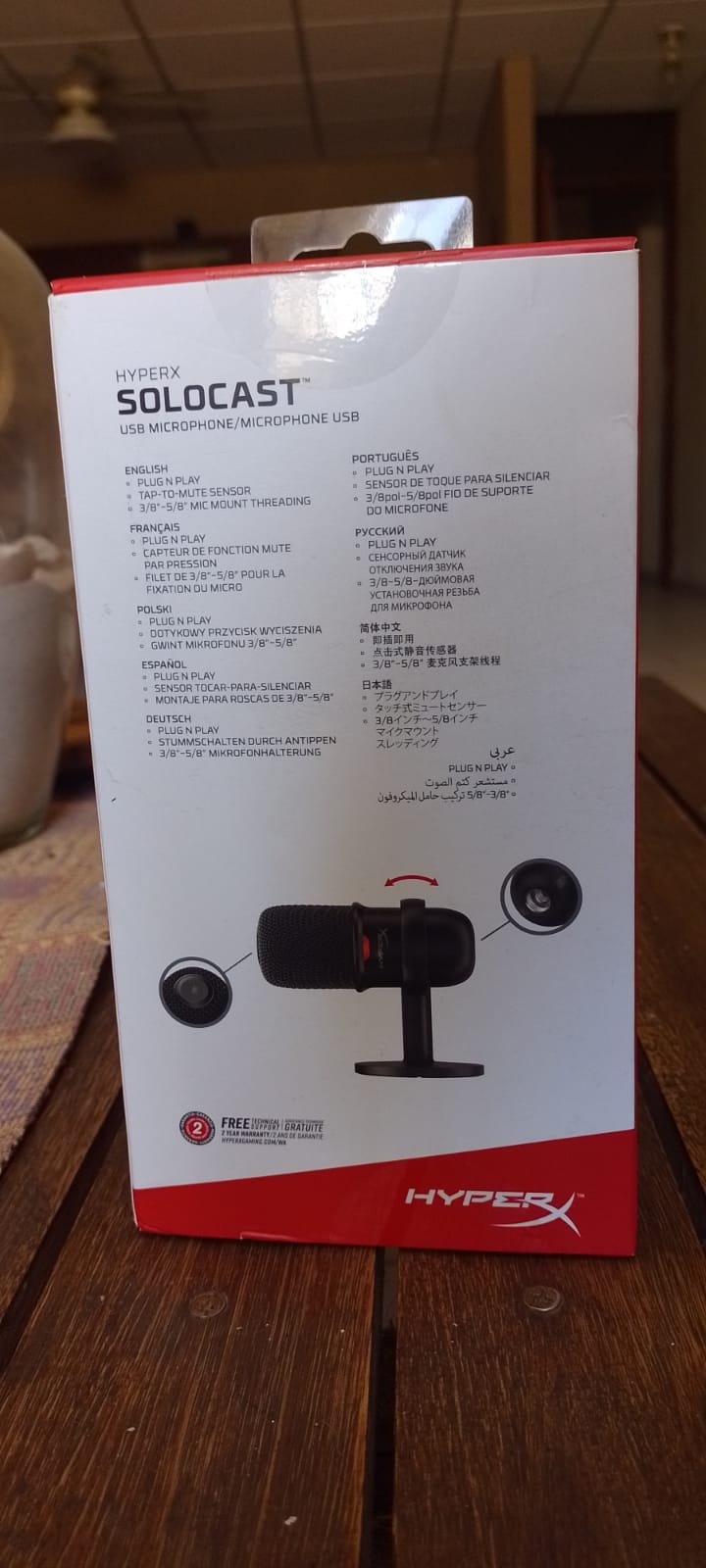 Product presentation: 10/10
What is inside the box?
Opening the product, we can see that it is protected by an anti-shock plastic box, very good on the part of the company for placing it. It is also closed to prevent the microphone from hitting or falling. We also found a USB cable that is the one that will power the microphone for its operation, it measures 2 METERS, extremely comfortable and well thought out again by the company to give the cable length.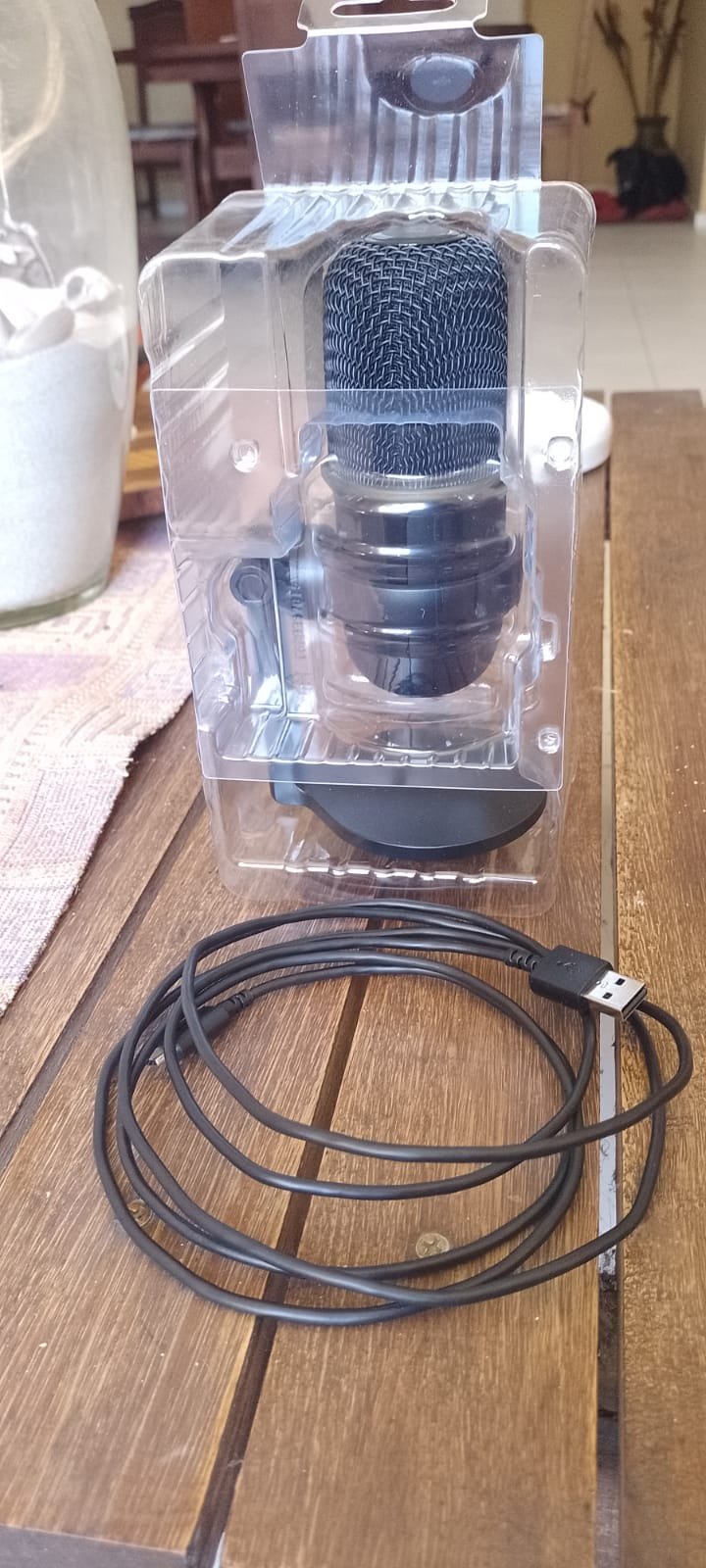 We will also find the microphone's instruction manual, in which it specifies technical issues of the microphone (ignore the puppy in the background). I have to say that the manual is a bit uncomfortable and big, I expected more of a "book" style than this.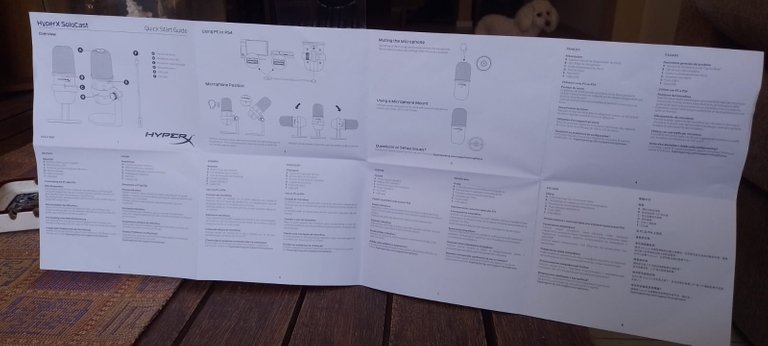 Technical specifications
In the manual it tells us that the microphone can be placed in various positions with the support that comes from the factory, it also teaches us how to use the built-in Mute button, it is tactile and easy to use, you do not have to do anything type of pressure, just support the finger. In addition, it indicates again the subject of the 3/8" 5/8" thread, which is practically a universal one that works in almost all the assemblies where we want to place it, a point in favor for the company.
Lateral position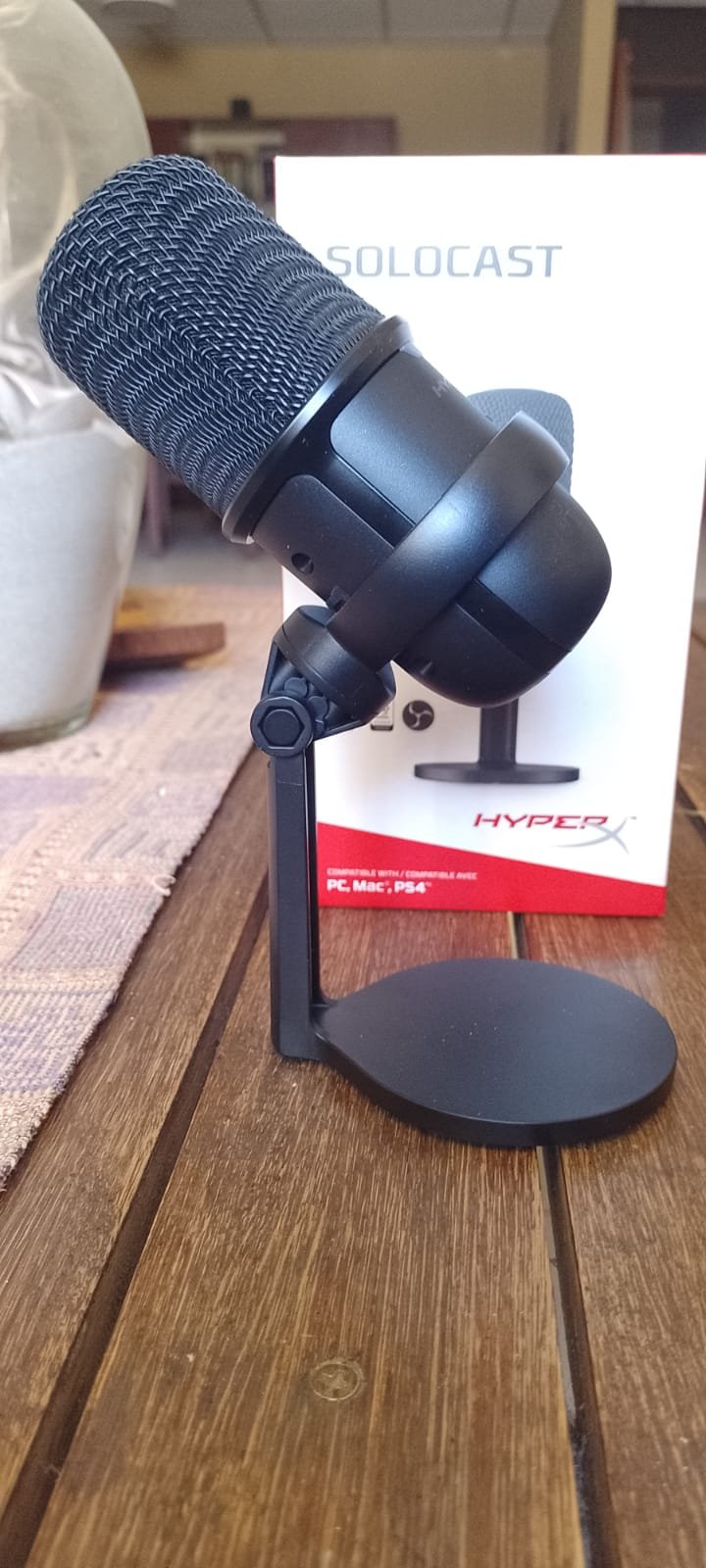 Touch mute button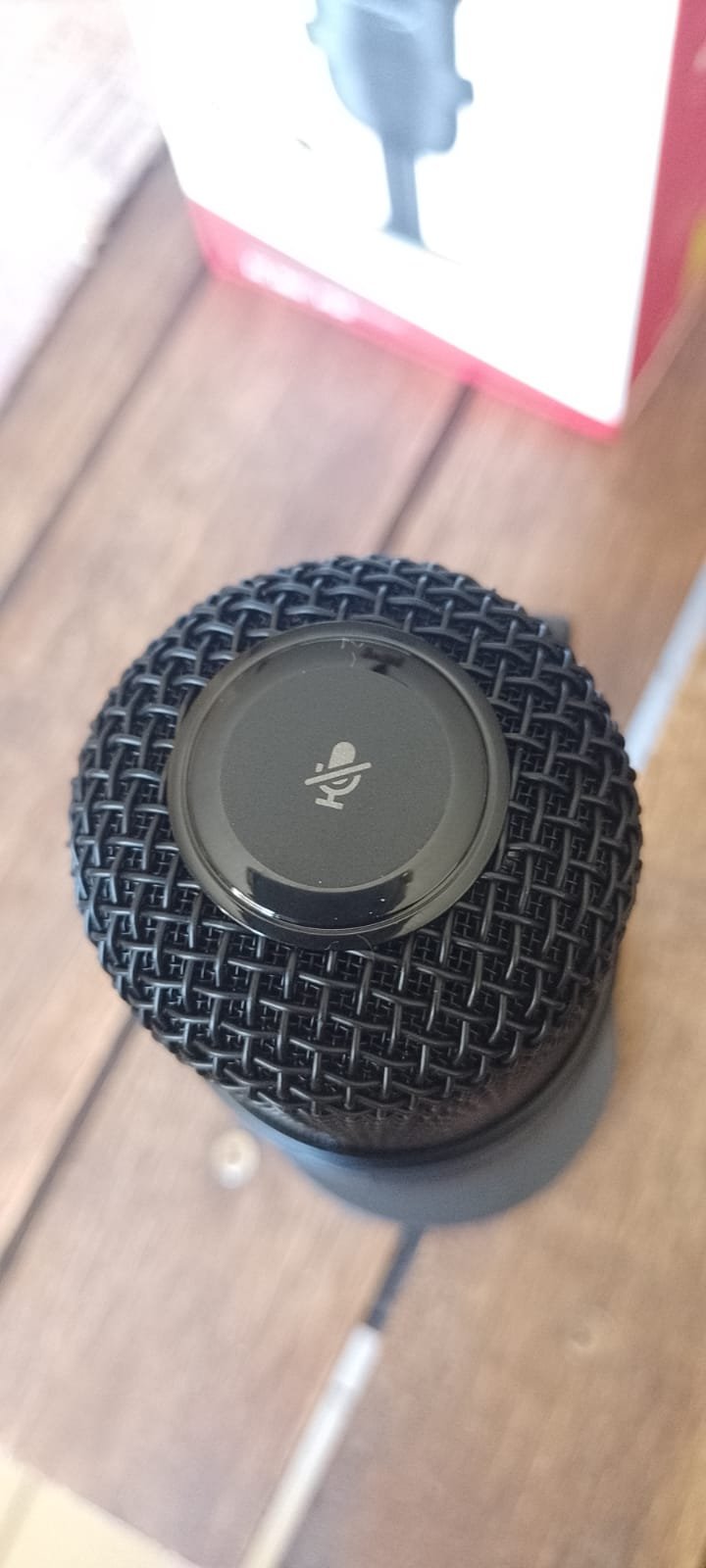 Universal Thread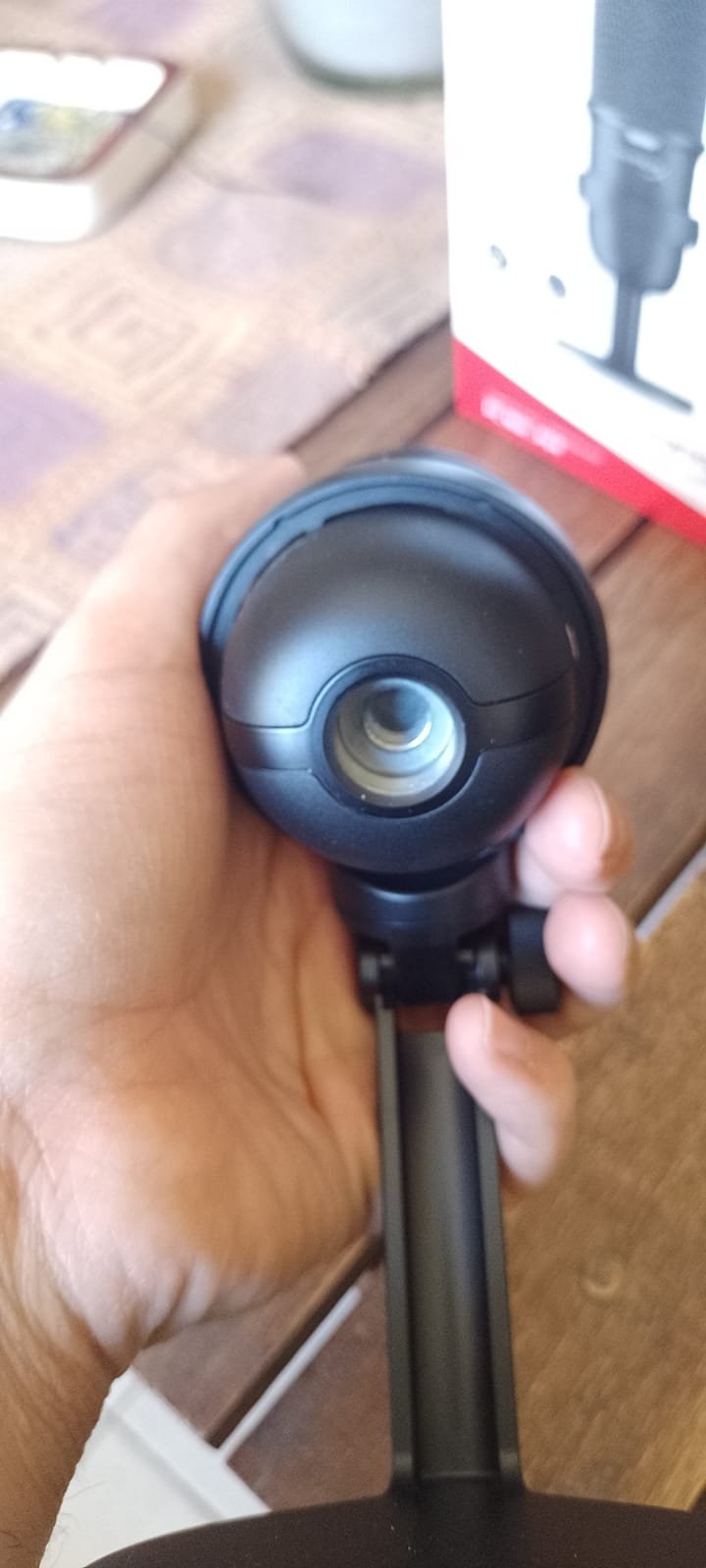 Mounting the microphone
After taking it out of its box I went directly to place it on my mechanical arm, I did some research and clearly it could be used, grateful to my past self for having bought this mechanical arm at a good price a long time ago.
I simply screwed it on, adjusted it and placed it in a position where the second screen would not cover me and it would be comfortable for me to talk. And here is the microphone working perfectly.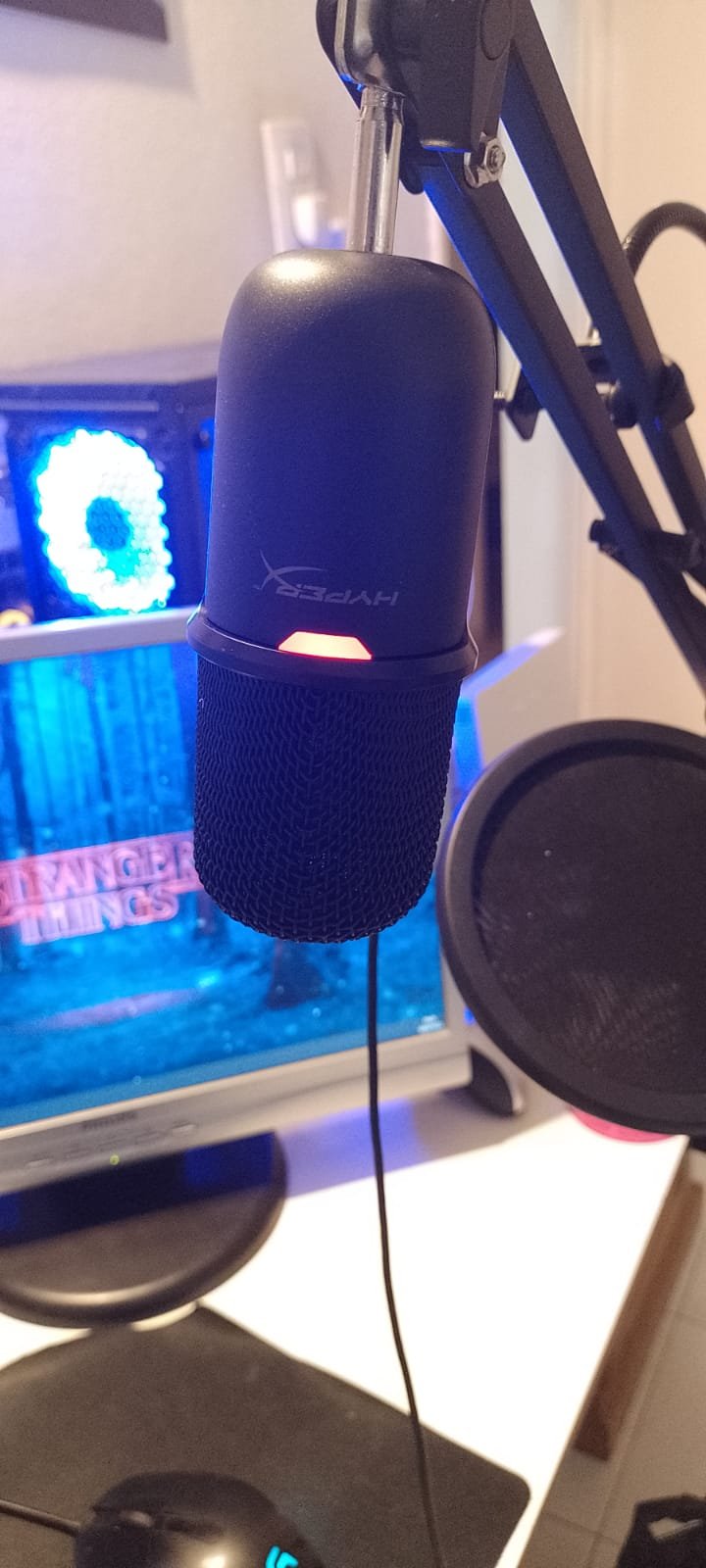 My experience with Mercado Libre
I know that this shouldn't give you much importance, but I want to leave it settled here so that you are careful with these multinationals and their abuse with customers. Tell them that I have never had problems specifically with them, yes sometimes with the companiesmail queries or with vendors.
As I was telling you, on Wednesday, August 31, I bought the microphone at the price of $10,699 Argentine pesos, the equivalent of 40 dollars, it was going to arrive at my home on Friday, September 2, since the contracted service was FULL. I had already planned my content and my week based on this. In these days the tragic attempted murder of the Vice President of Argentina occurred, with which our "dear" President decides to decree a holiday to "think about what we have done wrong" 🙄. The fact is that the shipment was postponed and on the Mercado Libre page it told me that they would be informing me of the new delivery date. I assumed that on Monday, at most, the microphone would be arriving or they would be telling me the delivery date. Monday came and nothing at all, the next day I had no news either, so I decided to call Mercado Libre's customer service. They confirmed that my product was experiencing delays (although they never told me the reason) and they helped me create a claim so that it would be resolved soon, although suddenly I had nothing since I had to wait up to 3 days to receive a claim. response. To all this, if I purchased the microphone again at that very moment, it would arrive on Thursday of that week, stupid, the thing is that he himself had increased the price to $12,489 Argentine pesos... that's right. You can imagine what happened next, right? I get up the next day, Wednesday, very early because I had to do some paperwork and I find a message from Mercado Libre saying that they had returned my money and that the microphone was not going to be delivered... they returned the total amount of $10,699 pesos, I had to pay the difference because I called and their solution was "you can buy another similar product", people I swear I didn't feel like making a mess, I wanted the microphone and that's it, so good I had no choice.

Conclusions
The microphone is very good for me to create content and it is a necessary investment, as I was saying, we should not inflate our lifestyle but this is an investment to improve my content, that is why I decided to acquire it "Is it worth it for its price ?" I haven't tried it enough to confirm it yet, I'm sure I'll have a review of the mic later so stay tuned for it.
The presentation is beautiful, exquisite. I really liked the design of the box and the microphone itself, also the length of the cable is splendid, it comes in handy because having that length I can pass it under the desk and hide it, it seems that it was a wireless microphone.

Final Words
I want to thank each and every one of you for always supporting my content, since this purchase was made with my earnings on Hive, I am very happy about that, I never thought that something like this would happen to me in my life.
I wish you all a nice day and I hope you enjoyed the blog and the video.

Credits
The main image of the post is a photo of me taken on my MOTOG20 and edited in Photoshop.
The photos in the post were taken with my MOTOG20.
The dividers that say "CRYPTO ALVIRIN" were made by me in Photoshop and Illustrator.
The channel logo was made by me in Illustrator.

▶️ 3Speak