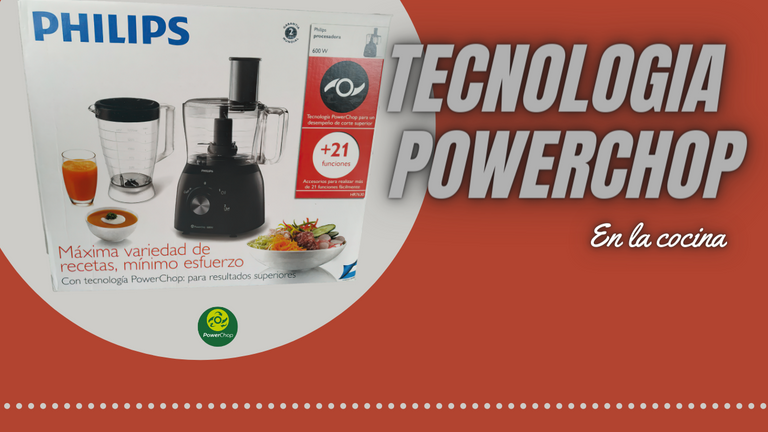 Un dato que me llamó la atención con respecto a la forma en que tenían nuestras generaciones anteriores, era que para mezclar alimentos se utilizaban dos antiguos artefactos: el metate, que era una plancha de piedra acompañada de un cilindro del mismo material, y el molcajete, un mortero de piedra volcánica también acompañado de un pequeño cilindro llamado tejolote.
Y si ! todo esto sucedía antes de que el señor Poplawski allá en Polonia inventara la licuadora moderna que bien se vendían como pan caliente en los anuncios publicitarios de las revistas y periódicos de los años 20 ya para ese entonces.
Pero es que cuando emigras te das cuenta de que estas invenciones son necesarias para el día a día e indispensables en cierta medida para algunos y quizás no tanto para otros. En mi opinión particular, se necesita para elaborar muchas de las comidas que mi mama o mis abuelos preparaban y claro, que si hablamos en términos de tiempos de preparación, esta maravilla llegó para resolver la vida de las personas.
Ya hoy en día podemos verlas en diferentes funciones que integran en este caso 2 tecnologías como la licuadora y la procesadora, que si bien pueden ser iguales en cuanto a función, estas vienen siendo muy diferente en cuanto a su resultado final.
A fact that caught my attention with respect to the way our previous generations had, was that two ancient artifacts were used to mix food: the metate, which was a stone plate accompanied by a cylinder of the same material, and the molcajete, a mortar of volcanic stone also accompanied by a small cylinder called tejolote.

And yes, all this happened before Mr. Poplawski, back in Poland, invented the modern blender that sold like hot cakes in the advertisements of the magazines and newspapers of the 20's back then.

But it is when you emigrate that you realize that these inventions are necessary for everyday life and indispensable to some extent for some and perhaps not so much for others. In my particular opinion, it is needed to prepare many of the meals that my mother or my grandparents used to prepare and of course, if we talk in terms of preparation time, this marvel came to solve people's lives.

Nowadays we can already see them in different functions that integrate in this case 2 technologies such as the blender and the food processor, which although they may be the same in terms of function, they are very different in terms of their final result.

En primer lugar me aseguré de comprar algo que no hiciera el trabajo por hacerlo, por que realmente he visto electrodomésticos que por un bajo costo hacen todas las funciones, pero resulta que la vida útil de ese electrodoméstico no llega a ser tan duradero precisamente por los costos de elaboración y materiales, por ende se dañan al poco tiempo.
First of all I made sure to buy something that would not do the job for the sake of doing it, because I have seen appliances that for a low cost do all the functions, but it turns out that the useful life of that appliance does not last as long precisely because of the cost of manufacturing and materials, therefore they are damaged after a short time.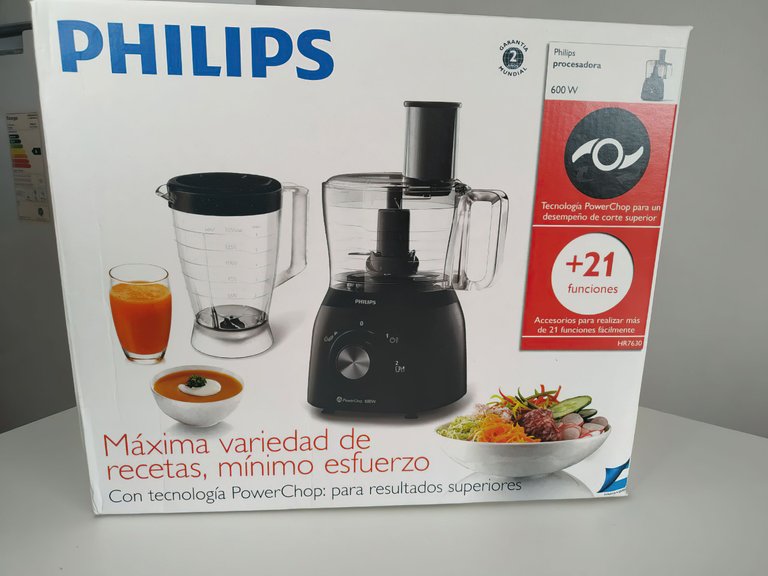 Decidí comprar uno que por 2 funciones me podía ofrecer un mejor resultado y es ahí cuando entre a un Fravega (Tienda de electrodomésticos) acá en B. Aires y de alguna manera pude extraer toda la información que me suministró el vendedor antes de comprarlo en Mercado Libre un poco mas económico. Debo confesar que esa es mi especie de modus operandi para comprar algo que no se dañe al poco tiempo 🙂
I decided to buy one that for 2 functions could offer me a better result and that's when I went to a Fravega (appliance store) here in B. Aires and somehow I was able to extract all the information that the seller provided me before buying it in Mercado Libre a little cheaper. I must confess that this is my kind of modus operandi to buy something that does not get damaged in a short time. 🙂

Recuerdo que a los 3 meses de haber estado en el país, compré una licuadora que a duras penas aguanto tan solo un año, marca WINCO, intenté asegurar de comprar todo aquello que se necesitaba para preparar la salsa de ajo de los tequeños (comida Venezolana), por que déjenme decirles que me dedicaba a vender conos de tequeños en el subte (metro) en la estación Pueyrredón y la 9 de Julio 😅 por lo que tenia que llevar la respectiva salsa de ajo.
I remember that after 3 months of being in the country, I bought a blender that barely lasted only a year, WINCO brand I remember, I tried to make sure to buy everything that was needed to prepare the garlic sauce for the tequeños (Venezuelan food), because let me tell you that I was selling tequeño cones in the subway at the Pueyrredón and 9 de Julio stations 😅 so I had to carry the respective garlic sauce.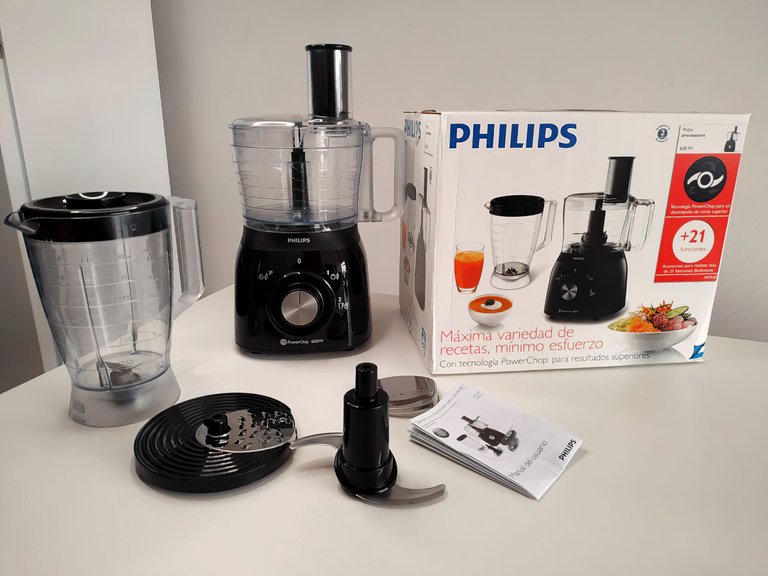 Evidentemente con el uso diario se fue astillando el vaso de la licuadora y realmente conseguir uno de vidrio para ese modelo era más complicado de lo que esperaba. Luego de haber pasado casi 2 años y pico de pandemia entre Hive y otros trabajos pude comprarme una procesadora Phillips - HR7630 con 600w de potencia, una especie de 2 en 1 que incluye un recipiente de la picadora grande, una jarra de la licuadora de 1,5L y dos inserciones de disco de acero inoxidable.
Lo que más me llamó la atención, es su función de procesadora powerchop, que es una combinación de las dimensiones de la cuchilla, ángulo de corte y el recipiente interno que proporciona un picado superior tanto en los ingredientes blandos como también los duros. No hay nada que me diera más ilusión que hacer cremas de garbanzo, mantequilla de maní, hamburguesas de lentejas, Falafel, incluso llegue a preparar unas salchichas de pollo que me encanta comer cuando estoy en dieta y tritura todo muy de forma prolija por llamarlo de alguna manera.
Evidently with daily use the blender glass was chipping and actually getting a glass one for that model was more complicated than I expected. After spending almost 2 and a bit years of pandemic between Hive and other jobs I was able to buy a Phillips - HR7630 processor a sort of 2 in 1 that includes a large chopper bowl, a 1.5 L blender jug and two stainless steel disc inserts.

What caught my attention the most is its powerchop function, which is a combination of the blade dimensions, cutting angle and internal bowl that provides superior chopping of both soft and hard ingredients. There is nothing I was more excited about than making chickpea creams, peanut butter, lentil burgers, Falafel, I even got to make some chicken sausages that I love to eat when I'm on a diet and it grinds everything very neatly so to speak.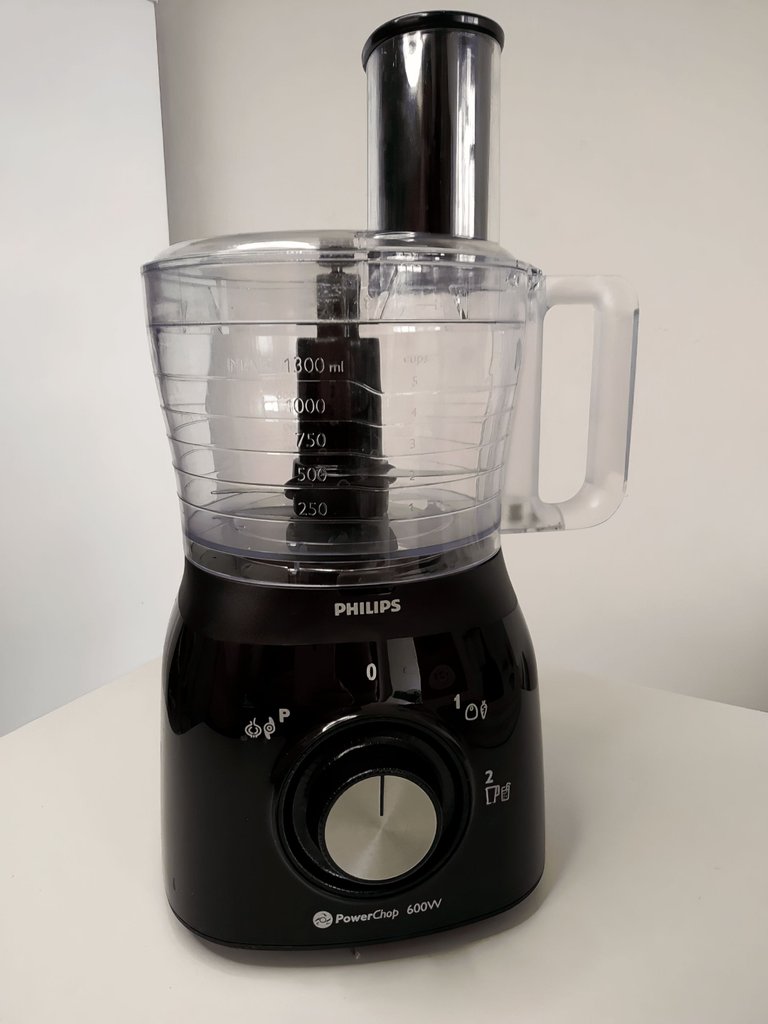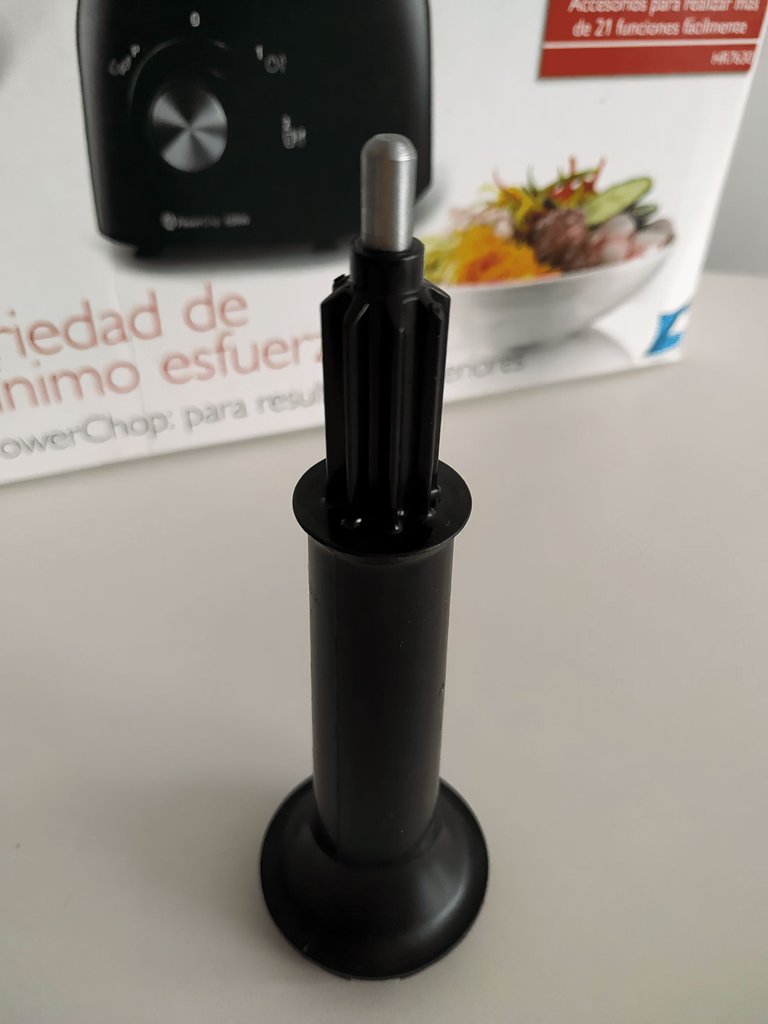 En conjunto con las piezas anteriores esta pieza viene siendo el eje central de esta tecnología llamada "PowerChop" esto se ancla al eje del motor y el vaso de la procesadora.
In conjunction with the previous pieces, this piece is the central axis of this technology called "PowerChop", which is anchored to the motor shaft and the processor vessel.
También este mismo eje se puede usar para rallar y rebanar ambas con sus piezas por separada. Honestamente todavía no he podido utilizarlas por que tampoco lo he necesitado, pero en cualquier momento lo haré 😋
Also this same shaft can be used to grate and slice both with their separate pieces. Honestly I haven't been able to use them yet because I haven't needed to either, but I will any time 😋.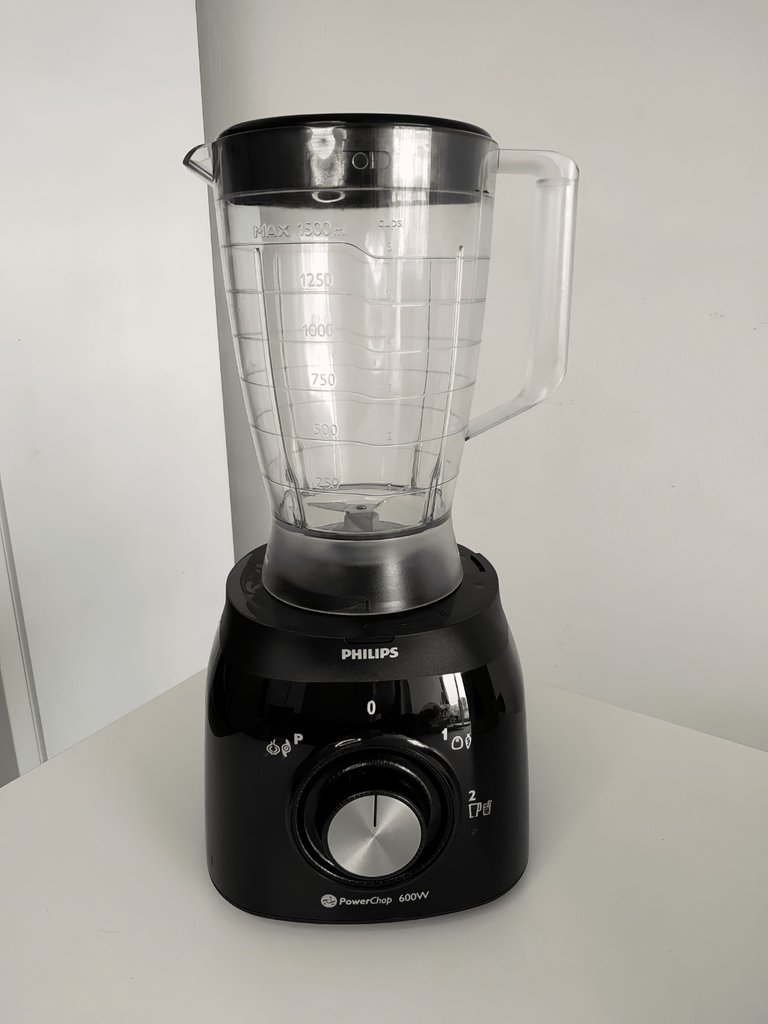 La licuadora es bastante buena, y es que realmente siempre he deseado tener la clásica Oster que tiene mi abuela y mi mamá pero realmente llega a ser muy costosa hoy en día y a mi parecer es la mejor licuadora de todas. Esta licuadora Phillips dentro de los parámetros hace algunas cosas más pero bueno claro ahí esta un tema entre calidad-precio, sin embargo he quedado bastante conforme con el resultado.
The blender is quite good, and I have always wanted to have the classic Oster that my grandmother and my mom have but it is really very expensive nowadays and in my opinion it is the best blender of all. This Phillips blender within the parameters does some things more but of course there is an issue between quality-price, however I have been quite satisfied with the result.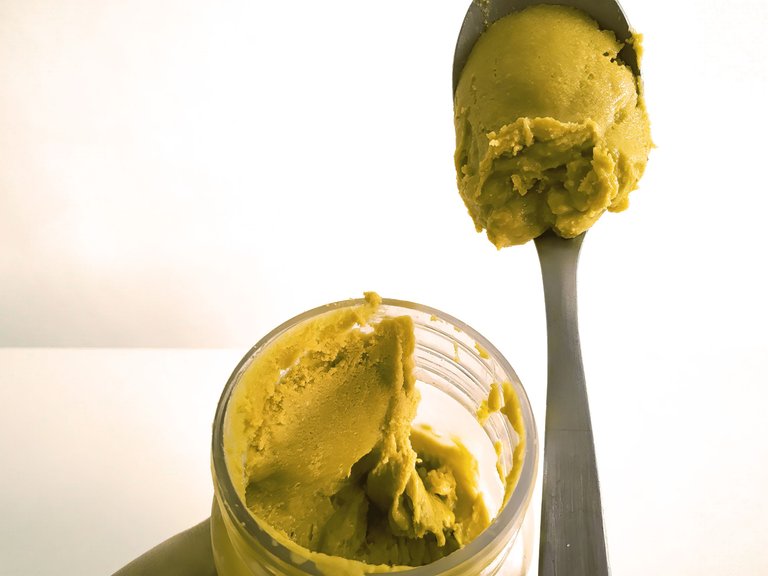 Me encantó poder hacer la mantequilla de maní para poder hacer mis meriendas y ahorrarme tiempo de trabajo en la cocina. Solo tuve que meter 500gr de Maní y me salió un tarro grande 😋
I loved being able to make the peanut butter so I could make my snacks and save myself time working in the kitchen. I only had to put in 500gr of Peanuts and I came out with a big jar 😋

Todas las imágenes de esta publicación fueron capturadas en un Xiaomi Mi Lite 8
Diseño de portada y edición en canva.com