---
✨Mi Primer Teléfono Samsung A13✨
💙Estoy Muy Feliz por este Logro 💙
---
Hola amigos de hive y de la comunidad de geekzone, hoy estoy muy feliz porque vengo a hablarles de mi nuevo teléfono. Así es leyeron bien, tengo un nuevo teléfono y hoy les diré que tan bueno es.
Hello friends of hive and the geekzone community, today I am very happy because I come to tell you about my new phone. That's right you read that right, I have a new phone and today I will tell you how good it is.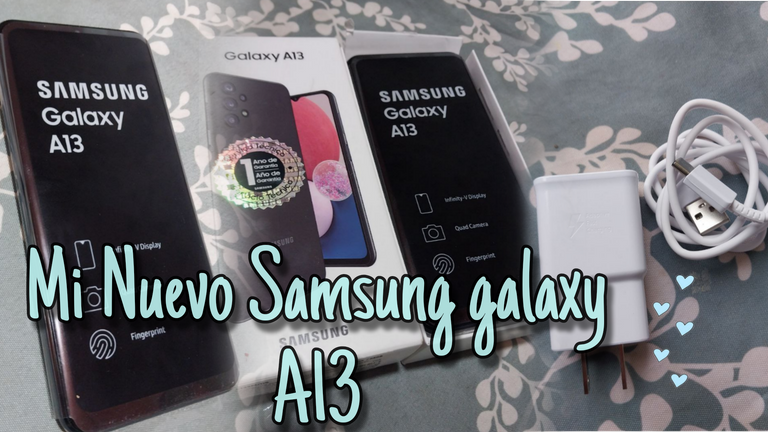 Les hablaré desde mi experiencia ya que no soy un experto en tecnología y además tampoco en teléfonos. La ultima vez que publiqué en esta comunidad fue de mi tableta gráfica que compré con mi propio dinero y hoy estoy muy feliz porque les voy a contar sobre mi nuevo teléfono.
Tal vez suene raro pero en realidad yo en mis 16 años de vida no había tenido teléfono, para crear contenido mi mamá me prestaba el suyo que tiene buena cámara y con el de mi papá veía mis redes sociales. En diciembre del año pasado me propuse tener mi propio teléfono y empecé a reunir mis recompensas de hive.
I will speak from my experience since I am not an expert in technology and also not an expert in phones. The last time I posted in this community was about my graphics tablet that I bought with my own money and today I am very happy because I am going to tell you about my new phone.

Maybe it sounds strange but actually in my 16 years of life I had not had a phone, to create content my mom lent me hers which has a good camera and with my dad's I used to see my social networks. In December last year I decided to get my own phone and I started to collect my hive rewards.
Lo del teléfono fue imprevisto, porque a pesar de que llevaba tiempo reuniendo aun no tenía la cantidad necesaria para comprarme un teléfono bueno, pero mi mamá me dijo de un día para otro que me iba a completar lo que me faltaba y así fue que compré el teléfono.
Para mi lo más importante en un teléfono es la cámara sobre todo y también la memoria. Como creador de contenido que soy me encanta tomarle foto a absolutamente todo y por eso también necesito bastante espacio de almacenamiento.
The phone was unexpected, because although I had been collecting money for some time I still didn't have the necessary amount to buy a good phone, but my mom told me from one day to the next that she was going to complete what I lacked and so I bought the phone.

For me the most important thing in a phone is the camera above all and also the memory. As a content creator I love to take pictures of absolutely everything and that's why I also need a lot of storage space.
Yo quería era el mismo teléfono de mi mamá, el Samsung A23 ya que es el que he venido usando para crear contenido y me gusta mucho, ese ella lo compró en 190 dólares pero como mi presupuesto era un poco menor terminé comprando el A12 que costó 170 dólares
El teléfono tiene una cámara frontal de 8 megapíxeles y la trasera principal es de 50 megapíxeles. Cuenta con un lector de huella digital del lado lateral y el sistema es de android 12. El almacenamiento interno es de 64.00 GB y 4 GB de memoria RAM.
I wanted was the same phone as my mom, the Samsung A23 since it is the one I have been using to create content and I like it a lot, she bought it at $190 but since my budget was a little lower I ended up buying the A12 which cost $170.

The phone has an 8 megapixel front camera and the main rear is 50 megapixels. It has a fingerprint reader on the side and the system is android 12. The internal storage is 64.00 GB and 4 GB of RAM.
El teléfono solo trajo el cargador, pero estoy agradecido porque trajo el adaptador o cabeza del cargador porque a una amiga que se compró un samsung solo le trajo el cable, por ahora me falta comprarme unos audífonos, un forro, la línea y el vidrio templado. Se que aun me falta pero aun así el paso más grande ya lo di y además las cosas que me faltan son más económicas y además vamos paso a paso.
Tuve la oportunidad de probar la cámara el día del bitcoin pizza day que asistí a un evento de pizza en mi estado Monagas, digamos que ese día lo estrené y tomé fotos espectaculares, la cámara me encanto y para mi es lo más importante como creador de contenido.
The phone only brought the charger, but I am grateful because it brought the adapter or charger head because a friend who bought a samsung only brought the cable, for now I have to buy a headset, a liner, the line and tempered glass. I know that I still have a lot to do but even so I have already taken the biggest step and the things I still need are cheaper and we are taking it step by step.

I had the opportunity to test the camera the day of the bitcoin pizza day that I attended a pizza event in my state Monagas, let's say that day I premiered it and took spectacular photos, the camera I love and for me is the most important thing as a content creator.
| | |
| --- | --- |
Les estaré contando cada cosa que le compre al teléfono, espero que sea pronto ya que tenerlo sin forro y sin vidrio templado me da pánico, me da mucho miedo por eso tengo salir a conseguir uno que pueda comprarme. Muchas gracias por leer, quiero decir que estoy muy feliz porque no había tenido teléfono y ahora voy a poder crear mucho más contenido de manera más fácil y sin molestar a nadie.
Gracias por leer y hasta pronto!
I will be telling you every single thing I buy for the phone, I hope it will be soon because having it without lining and without tempered glass makes me panic, it scares me a lot so I have to go out and get one that I can afford. Thank you very much for reading, I want to say that I am very happy because I had not had a phone and now I will be able to create much more content more easily and without bothering anyone.

Thanks for reading and see you soon!