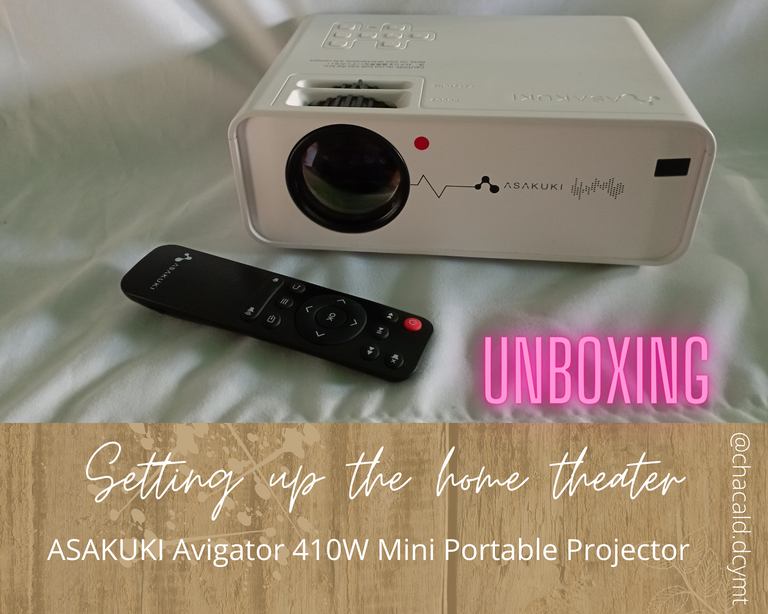 ---
Greetings to all technology lovers! It's been a while since I opened a box so today I come with everything to share the latest acquisition to share with the family, this is a portable mini projector ASAKUKI model Avigator 410W. Join me in this Unboxing.
Armando el cine en casa | Unboxing del miniproyector portátil ASAKUKI Avigator 410W

Saludos a todos los amantes de la tecnología! Hace rato que no abría una caja así que hoy vengo con todo a compartir la última adquisición para compartir en familia, se trata de un miniproyector portátil marca ASAKUKI modelo Avigator 410W. Acompáñenme en este Unboxing.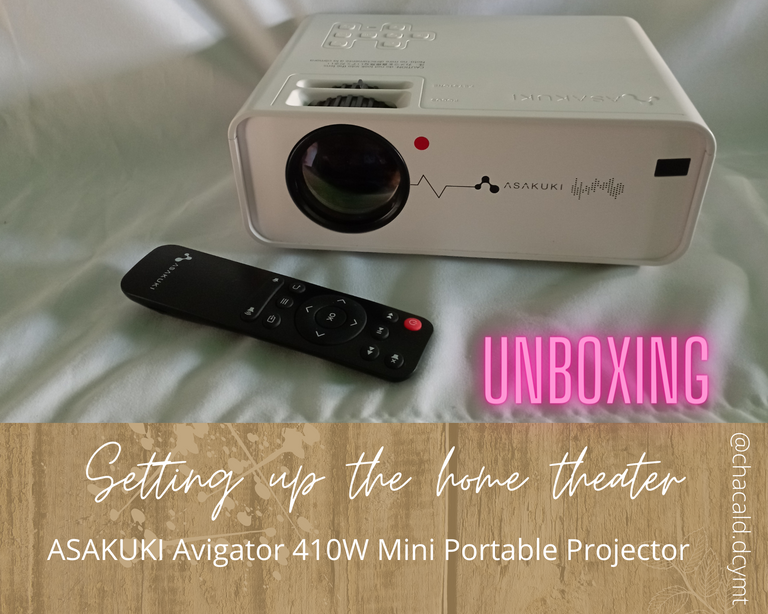 It all started because we needed a TV for the bedroom, since the living room tv is hogged by my daughter and my mom and my husband and I wanted to have our space, more intimate, to enjoy our movies and thinking that the soccer world cup is coming up which we love to share together, we put a TV on the priority list (that blessed list that seems to have no end 😅) as we have to attend the list and we wanted a good quality TV and we never had enough money. My husband got this mini projector on Amazon and because of its features and amazing price we didn't hesitate to buy it.
Todo comenzó porque necesitábamos un televisor para la habitación, ya que el tv de la sala es acaparado por mi hija y mi mamá y mi esposo y yo queríamos tener nuestro espacio, más íntimo, para disfrutar nuestras películas y pensando que se acerca el mundial de fútbol que nos encanta compartir juntos, pusimos un televisor en la lista de prioridades (esa bendita lista que parece no tener fin 😅) como tenemos que atender la lista y queríamos un TV de buena calidad y nunca nos alcanzó el dinero. Mi esposo consiguió este miniproyector en Amazon y por sus características y su precio asombroso no dudamos en comprarlo.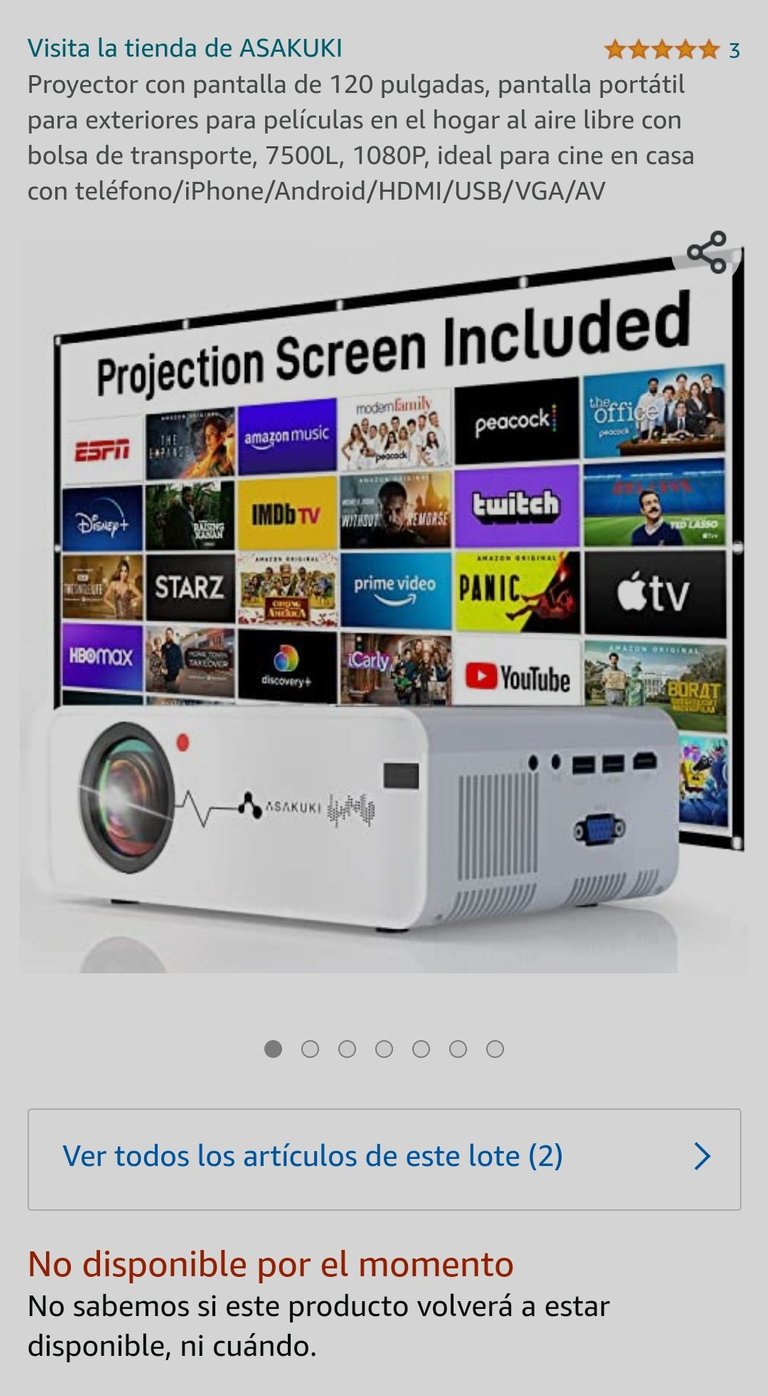 Shortly after we purchased it, it was sold out of Amazon's catalog and has not been available again.
Poco después de que lo compramos se agotó del catálogo de Amazon y no han vuelto a tenerlo disponible.
Quality at an excellent price
When we buy equipment we look for the best, we have another mini projector at home but it is very old (year 2015) and the image quality is very poor, it looks a little pixelated. We wanted something that looked sharp and with the ASAKUKI Avigator 410W we found it, perfect picture, wide and for only $70. For an additional $10 I bought a much larger screen than the one that came with the mini projector, as you can extend the projection to a maximum of 200 inches (and I had to try it 🤭).
Calidad a un excelente precio

Cuando compramos un equipo buscamos que sea lo mejor, tenemos otro miniproyecto en casa pero es muy antiguo (año 2015) y la calidad de la imágen es muy pobre, se ve un poco pixelado. Queríamos algo que se viera nítido y con el ASAKUKI Avigator 410W lo encontramos, una imagen perfecta, amplia y por tan solo 70$. Por un adicional de 10 dólares compré una pantalla mucho más grande que la que venía junto con el miniproyector, ya que se puede ampliar la proyección a un máximo de 200 pulgadas (y tenía que probarlo 🤭).
Equipment accessories
Inside the box came a canvas bag where the mini projector and its accessories fit perfectly. The bag is light gray so I think it is discreet and nice. It comes with a standard AC power cord, so in case it needs to be replaced it will be easy.
Accesorios del equipo

Dentro de la caja venía un bolso de lona donde cabe perfectamente el miniproyector con sus accesorios. El bolso es de color gris claro por lo que me parece que es discreto y bonito. Trae un cable de alimentación AC estándar, así que en caso de tener que reemplazarlo será fácil.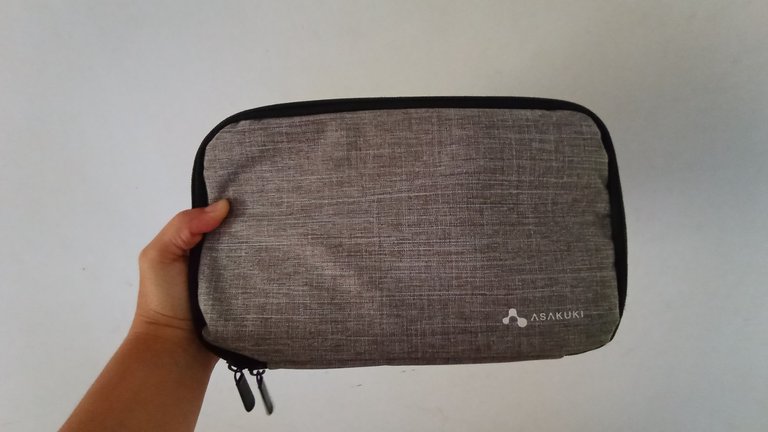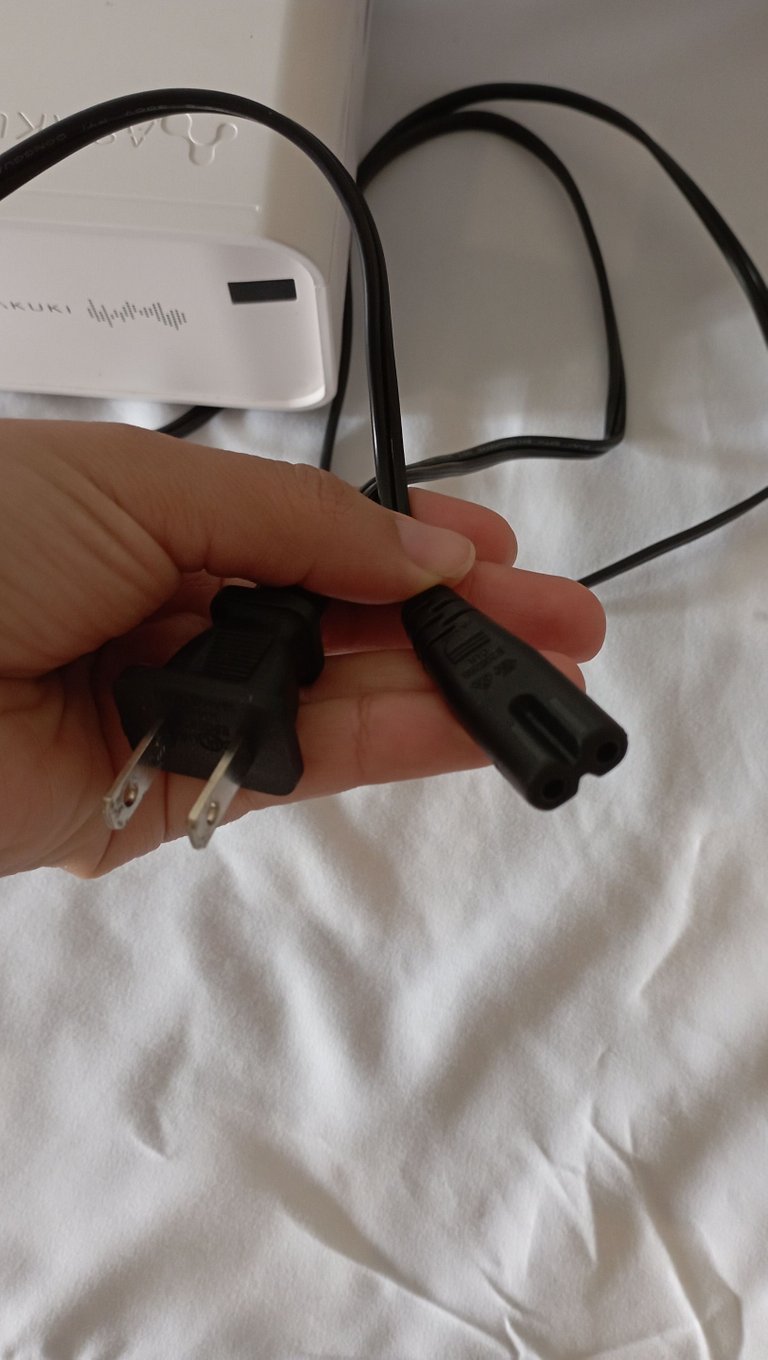 We also find inside the box an HDMI cable and a small RCA connector cable.
También encontramos en el interior de la caja un cable HDMI y un pequeño cable conector RCA.
Both screens, both the one that came with the mini-projector (which is 120 inches), and the one I bought as an extra, have clips all around and self-adhesive hooks to easily attach it to the wall. It also comes with long and resistant cords for outdoor installation where we do not have a wall to reflect.
Ambas pantallas, tanto la que traía el miniproyector (que es de 120 pulgadas) como la que compré adicional, traen broches en todo el contorno y unos ganchos autoadhesivos para poder pegarla con facilidad en la pared. También trae unos largos y resistentes cordones para la instalación en exteriores donde no tenemos pared para reflejar.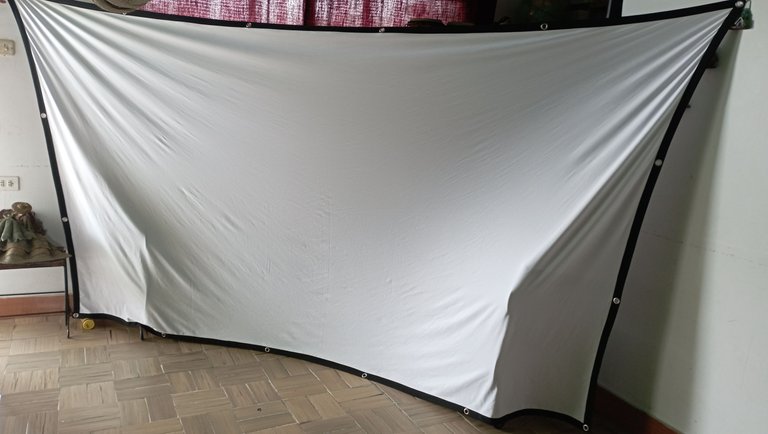 Additional screen: cost $10. White fabric 200 inches with snaps on the contour.
Pantalla adicional: costo 10$. Tela blanca de 200 pulgadas con broches en el contorno.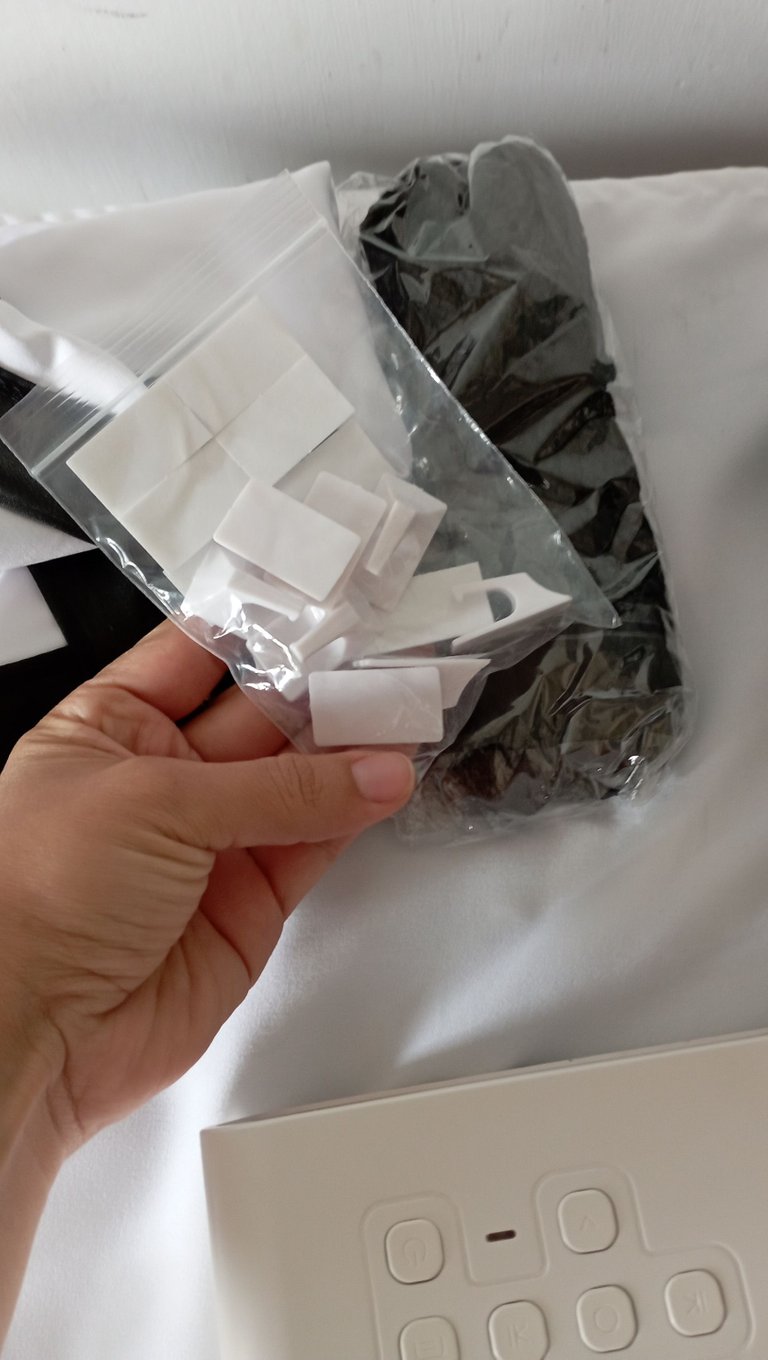 The equipment is light, white in color. At the top it has the control panel but it also has a small control to navigate through the options remotely. It can be installed on a shelf or placed on the ceiling, the image is adjustable upside down and right side up.
El equipo es liviano, de color blanco. En la parte superior tiene el panel de control pero trae también un pequeño control para navegar por las opciones a distancia. Se puede instalar tanto en una repisa como colocarlo en el techo, la imagen es ajustable al derecho y al revés.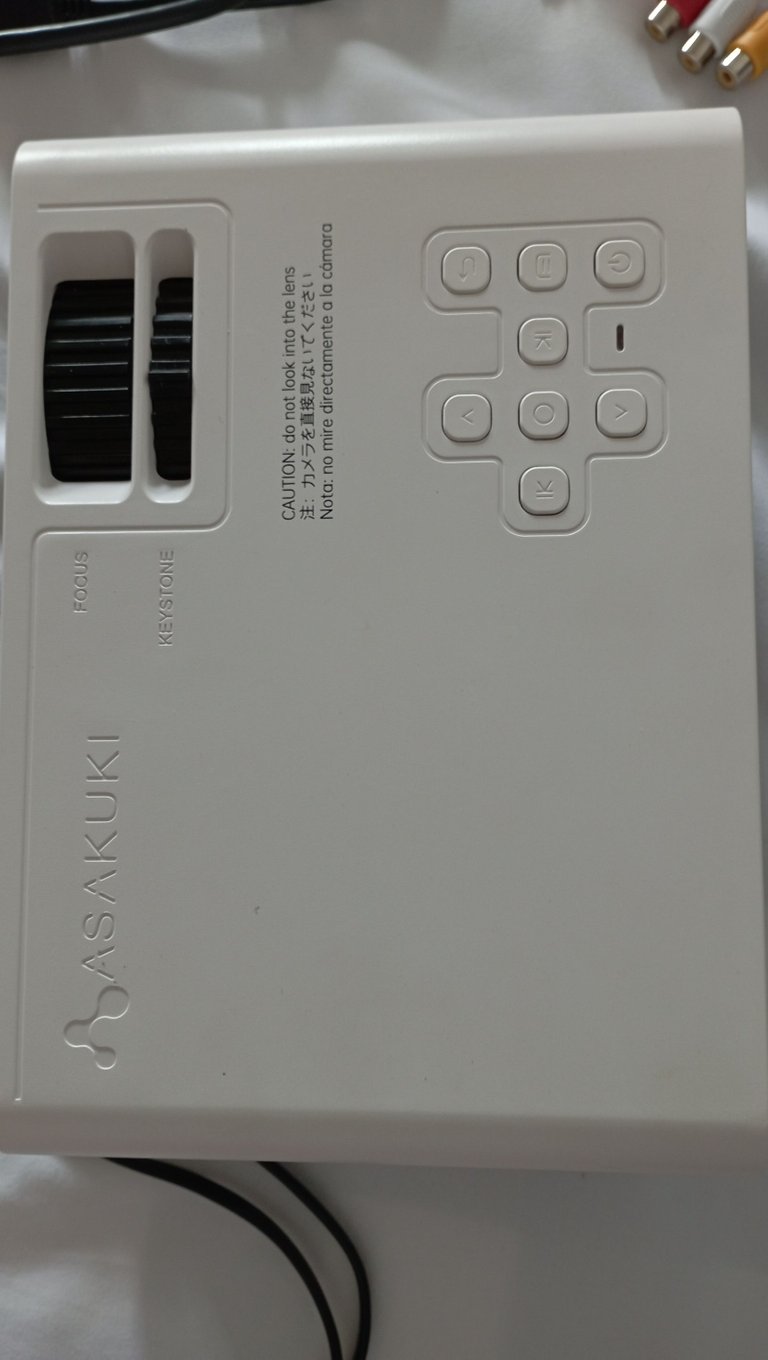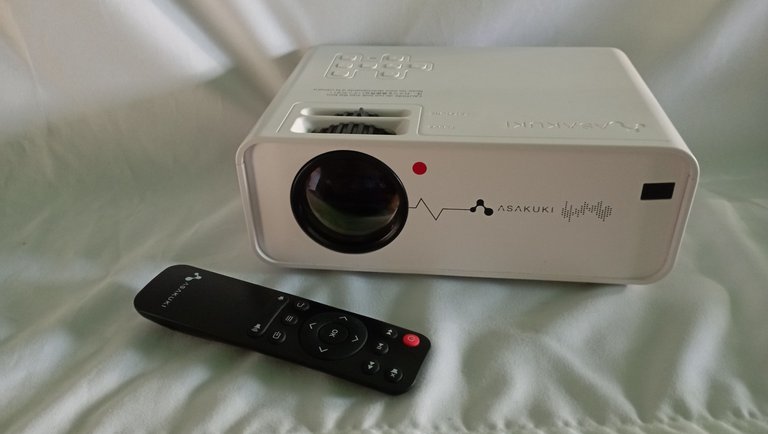 The connectivity of the ASAKUKI Avigator 410W*** mini-projector can be via HDMI port, RCA port, VGA, USB or wi-fi.
La conectividad del miniproyector ASAKUKI modelo Avigator 410W puede ser mediante el puerto HDMI, el puerto RCA, VGA, USB o wi-fi.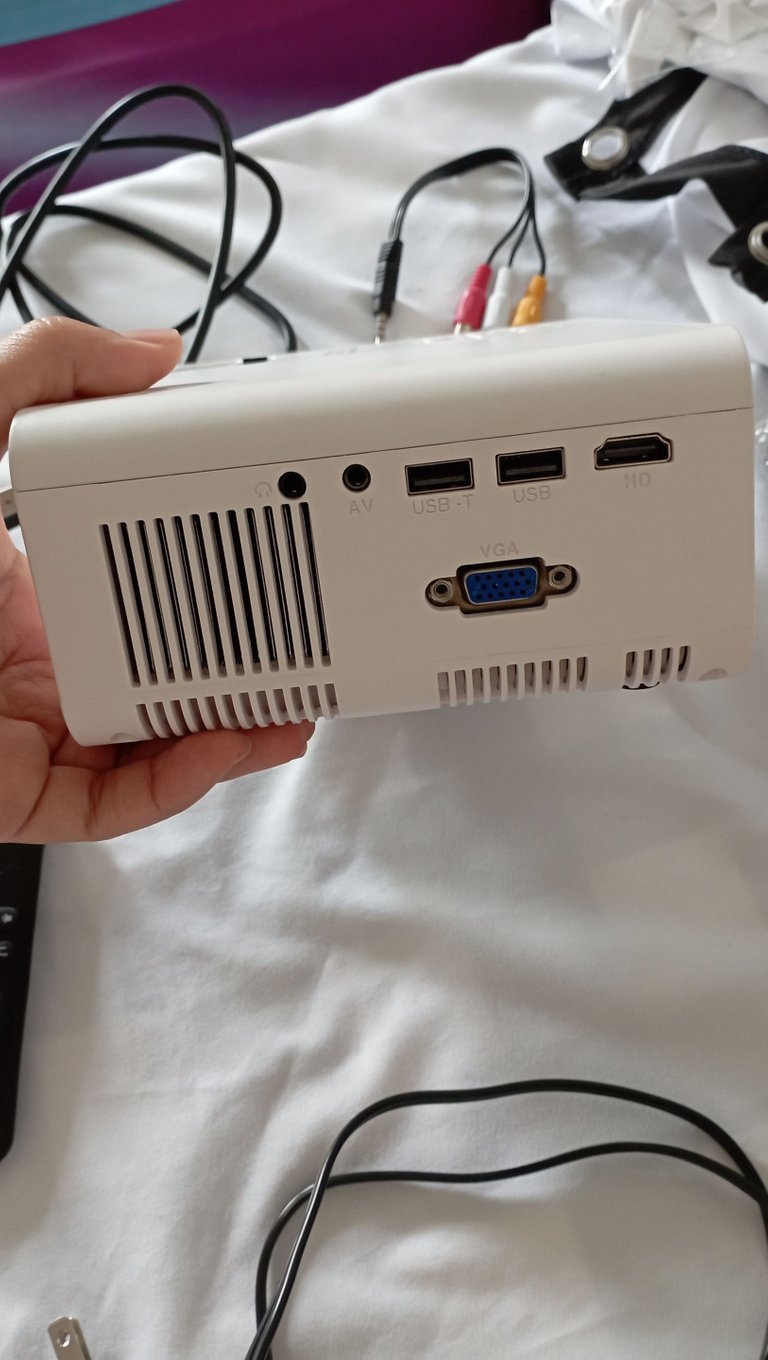 Once insulting I was very surprised by the quality of the image. I did not use the screen since the wall of my room is totally white.
The native resolution is 720p is perfectly suited to my needs and the truth is that for that price it seems fair. It has a capacity of 7,500 lumens for a bright image and it is not necessary to have the room in total darkness as it projects very well even with the light on.
Una vez insultando me sorprendió mucho la calidad de la imagen. No utilicé la pantalla ya que la pared de mi habitación es totalmente blanca.
La resolución nativa es de 720p se adapta perfectamente a mis necesidades y la verdad es que por ese precio me parece justo. Tiene una capacidad de 7.500 lúmenes para una imágen brillante y no es necesario tener la habitación en total oscuridad ya que proyecta muy bien incluso con la luz encendida.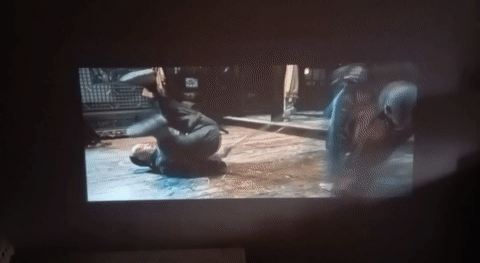 What I didn't like
As in this life not everything can be perfect 😕.... What I didn't like about the ASAKUKI Avigator 410W portable mini projector, is its small speaker, it has a very low volume and to enjoy the full home theater experience it will be necessary to install an additional audio amplification device.
Lo que no me gustó

Como en esta vida no todo puede ser perfecto 😕... Lo que no me gustó del miniproyector portátil ASAKUKI Avigator 410W, es su pequeña bocina, tiene un volúmen muy bajo y para disfrutar de toda la experiencia del cine en casa será necesario instalar un dispositivo de amplificación de audio adicional.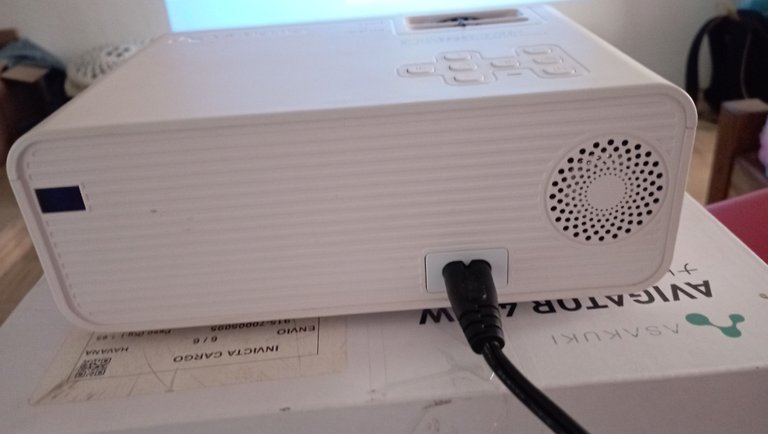 Otherwise, it is a piece of equipment that I loved and that has me totally satisfied. I can say that I have put together, with a much lower budget than what I had available, the home theater. Thank you very much for visiting my publication and see you next time. Best regards!
Por lo demás, es un equipo que me encantó y que me tiene totalmente satisfecha. Puedo decir que he armado, con un presupuesto mucho más bajo de lo que tenía disponible, el cine en casa. Muchas gracias por visitar mi publicación y nos vemos en una próxima oportunidad. Saludos!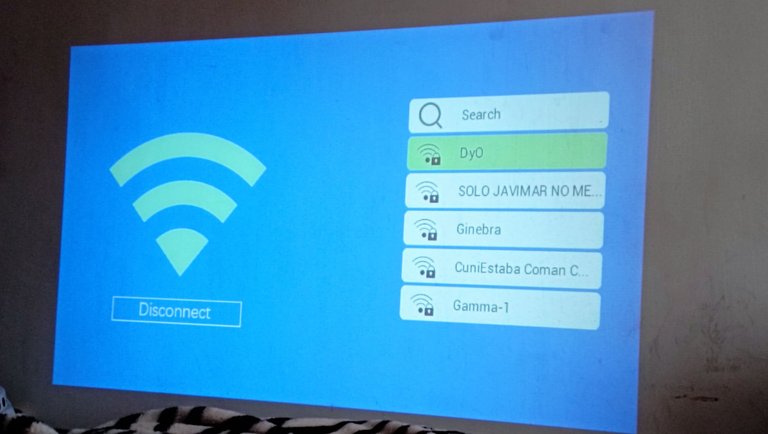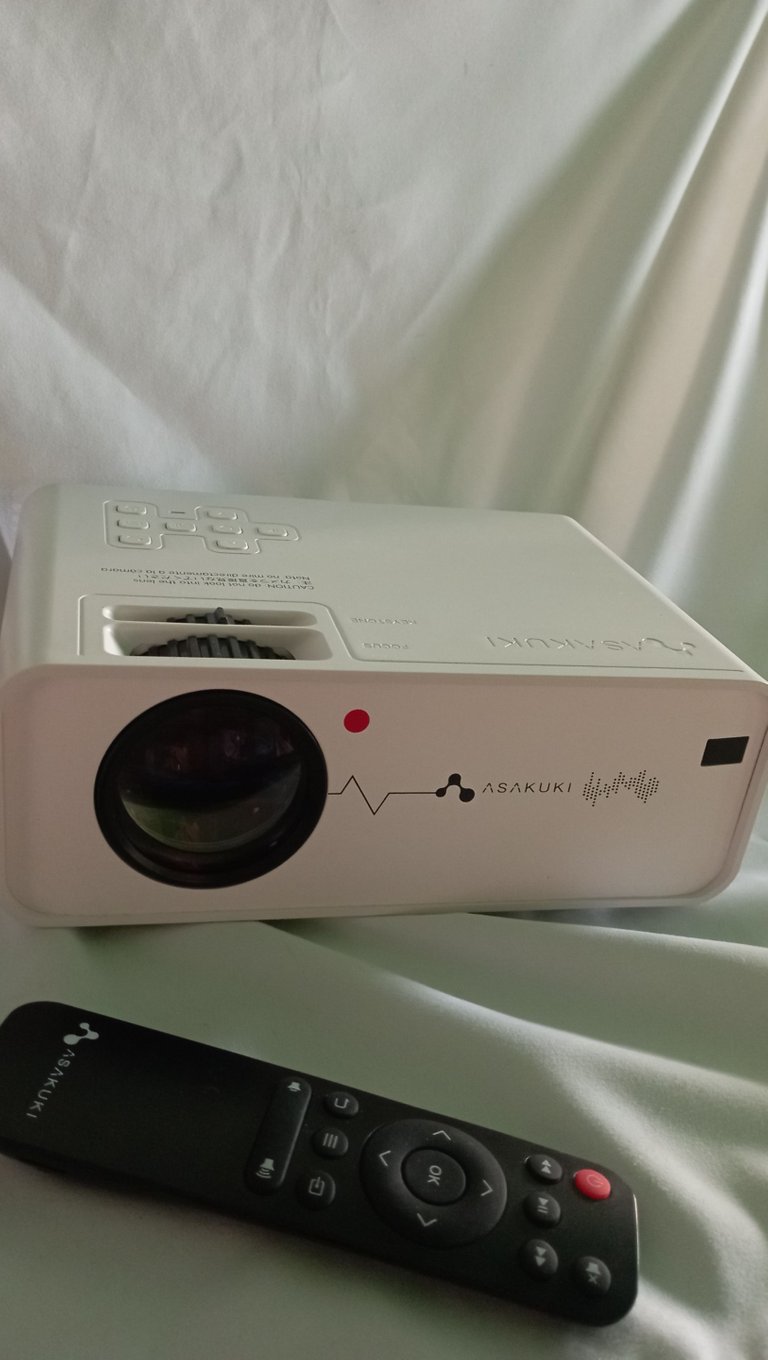 ---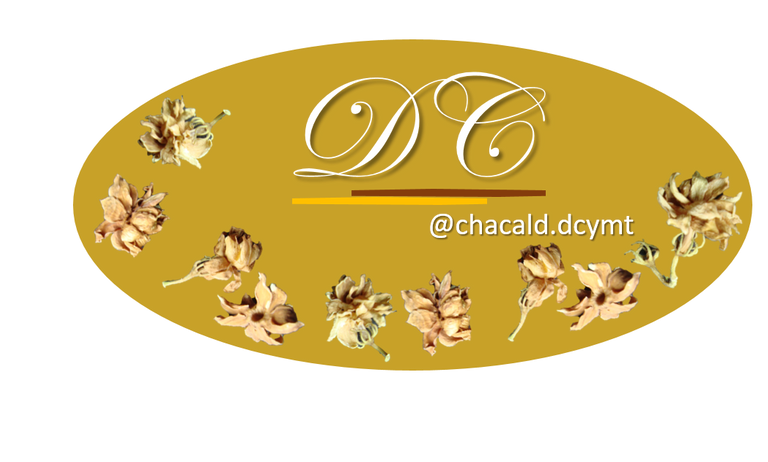 Original content by the author.
Resources: App: Canva / Giphy / Inshot
Source Amazon
📷 Redmi 10 Smartphone
Translation done with Deepl.com
✿ All Rights Reserved || © @chacald.dcymt // 2020-2022 ✿
💌 Discord: chacald.dcymt#3549
_
Contenido original del autor.
Recursos: App: Canva / Giphy / Inshot
Fuente de Amazon
📷 Redmi 10 Smartphone
Traducido con Deepl.com
✿ Todos los Derechos Reservados || © @chacald.dcymt // 2020-2022 ✿
💌 Discord: chacald.dcymt#3549
---
▶️ 3Speak