Saludos amigos de Hive, hoy voy a compartir con ustedes una actividad que realicé en mi trabajo de mantenimiento preventivo y correctivo en un aula de computación que se encuentran en las escuelas de mi comunidad en Venezuela.
Greetings friends from Hive, today I am going to share with you an activity that I carried out in my preventive and corrective maintenance work in a computer room that is found in the schools of my community in Venezuela.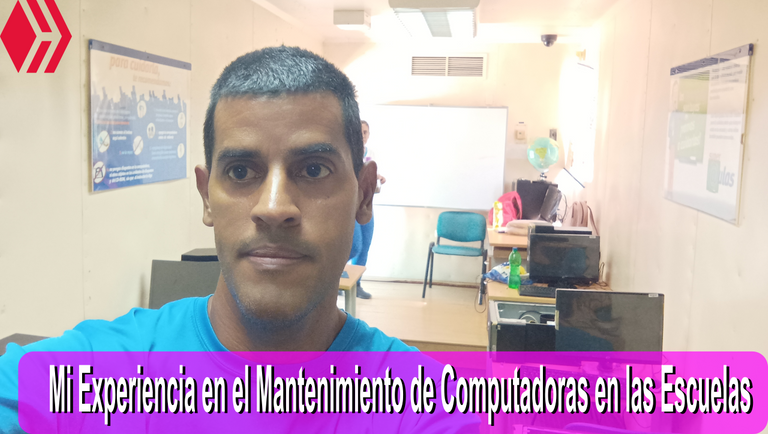 Estos espacios educativos están dentro de las escuelas, son aula de computación que tiene como objetivo reforzar contenidos dictados por el maestro de aula a través del computador. Nuestro trabajo en estas aulas de computación es garantizar el acceso de la tecnología para que los niños interactúen a través de la computadora, somos un grupo de personal docente especialistas en informática que se encuentran en diferentes municipios, de cada estado en Venezuela.
These educational spaces are within the schools, they are a computer room that aims to reinforce content dictated by the classroom teacher through the computer. Our job in these computer classrooms is to guarantee access to technology for children to interact through the computer. We are a group of computer specialist teachers who are located in different municipalities of each state in Venezuela.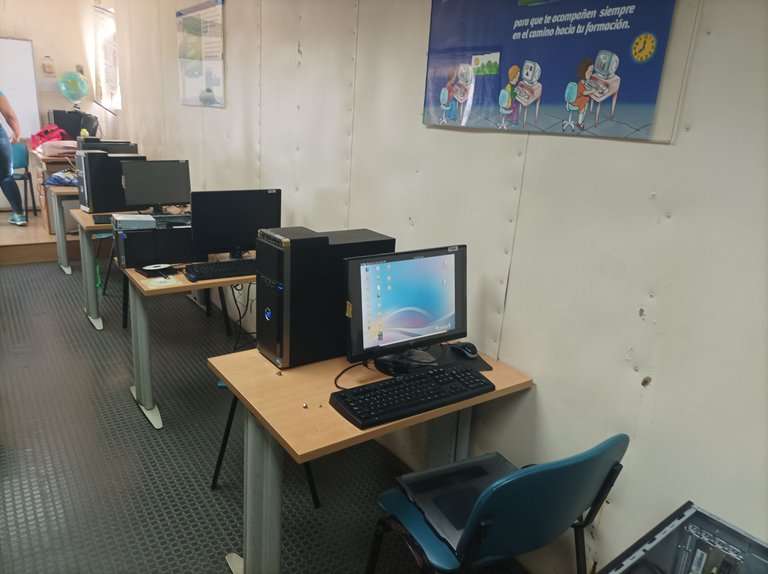 Cabe destacar que en cada municipio, contamos con compañero que es enlace municipal, quien se encarga de bajar los lineamientos de la coordinación de informática educativa de la respectiva zona educativa del estado. Debido a que este espacio llamado Super Aula presentaba fallas con algunos equipos de computación, entonces se planificó una visita para hacer un mantenimiento preventivo y correctivo de las computadoras y de esta manera garantizar el acceso de las tecnologías a los estudiantes de esa institución educativa.
It should be noted that in each municipality, we have a colleague who is a municipal liaison, who is in charge of downloading the guidelines for the coordination of educational informatics in the respective educational area of the state. Due to the fact that this space called Super Aula presented failures with some computer equipment, then a visit was planned to carry out preventive and corrective maintenance of the computers and in this way guarantee the access of the technologies to the students of that educational institution.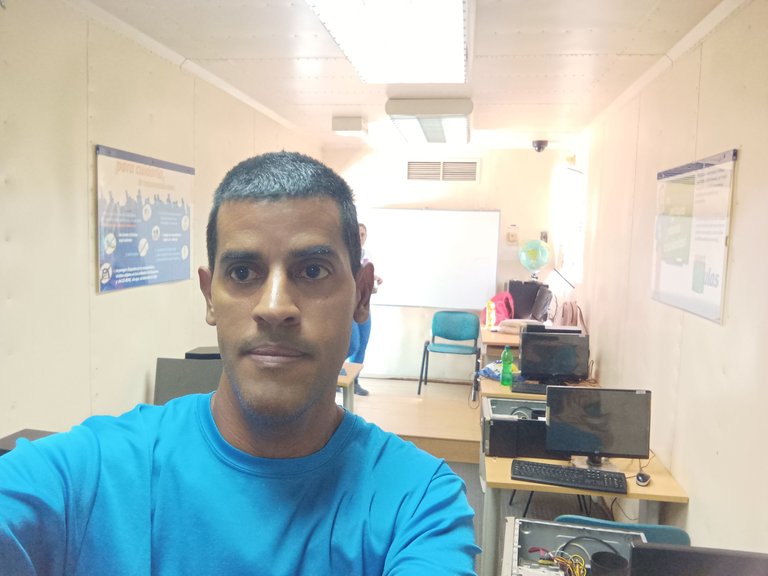 El día martes me traslade a la Super Aula que se encuentra en otra parroquia más alejada de donde yo vivo, tenía más de dos años que no visitaba este espacio educativo, una vez que llegue me recibieron mi colegas, y comenzamos a realizar la revisión, donde se pudo detectar que cinco computadoras encendía pero la pantalla se quedaban en negro, es decir no daba vídeo para la carga del sistema operativo.
On Tuesday I moved to the Super Classroom which is located in another parish further away from where I live, it had been more than two years since I had visited this educational space, once my classmates arrived, and we began to carry out the review, where it was possible to detect that five computers turned on but the screen remained black, that is, it did not give video to load the operating system.
Una de los primeros pasos con ayuda de mis compañeras, fue extraer la memoria Ram de la computadora que son de 1GB, con ayuda de un borrador limpie la memoria en los contacto, y con pincel limpie los Slot donde va la memoria, porque el equipo tenía por dentro un poco de polvo, y esto causa error en los contactos con la tarjeta madre. Después de limpiar coloque nuevamente la memorias en su posición, reinicié y la computadora se visualizó la imagen del sistema operativo que cargo sin ningún tipo de problema.
One of the first steps with the help of my colleagues, was to extract the Ram memory from the computer, which is 1GB, with the help of an eraser, clean the memory in the contacts, and with a brush, clean the Slots where the memory goes, because the equipment It had a bit of dust inside, and this causes an error in the contacts with the motherboard. After cleaning, put the memories back in their position, I restarted and the computer displayed the image of the operating system that I loaded without any problem.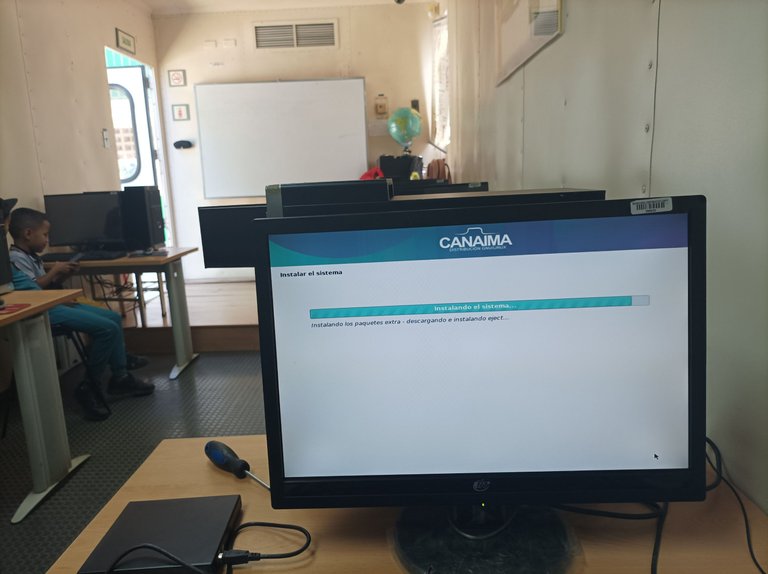 Así mismo hice este mismo diagnostico a tres equipos más, solventando el problema presentado en estos equipos. El sistema operativo que utilizamos es software libre, la versión que tienen es Canaima 4.0, es una versión un poco vieja, porque no permite la actualización del navegador Firefox. En estas aulas utilizamos software libre debido a que son los lineamientos que fija el ministerio de educación, porque si utilizan software propietario el estado debe cancelar el uso de la licencia
Likewise, I made this same diagnosis to three more computers, solving the problem presented in these computers. The operating system we use is free software, the version they have is Canaima 4.0, it's a bit old version, because it doesn't allow the update of the Firefox browser. In these classrooms we use free software because they are the guidelines set by the Ministry of Education, because if they use proprietary software, the state must cancel the use of the license.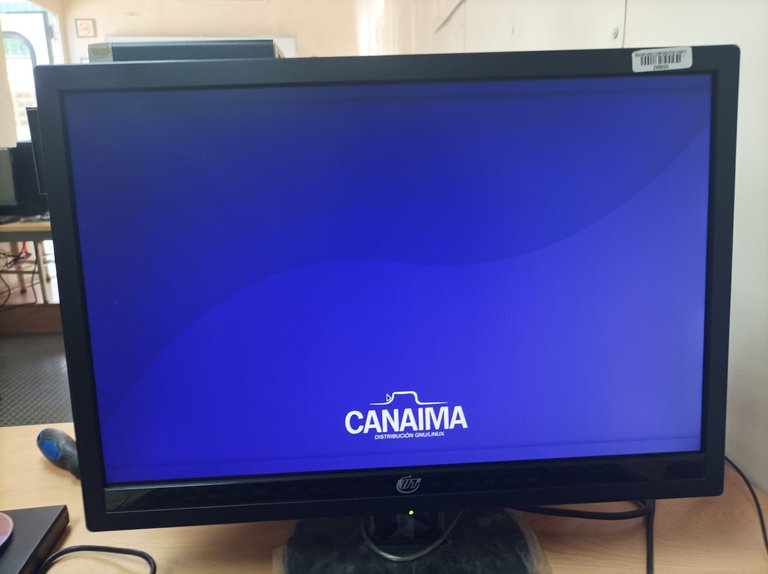 Otro de los equipos tenía un problema que no cargaba el sistema operativo, entonces trate de instalar la nueva versión de Canaima 7.0, pero presentaba problemas para la instalación, de esta forma pude detectar una falla del disco duro, debido a esto hice un cambio de disco duro para otro equipo que no encendía, que presentaba problemas con la fuente de poder. Una vez que cambie el disco realice la instalación del nuevo sistema operativo sin ningún problema.
Another of the computers had a problem that the operating system did not load, so I tried to install the new version of Canaima 7.0, but it had problems for the installation, in this way I was able to detect a hard disk failure, due to this I made a change of hard drive for another computer that would not turn on, that had problems with the power source. Once you change the disk, install the new operating system without any problem.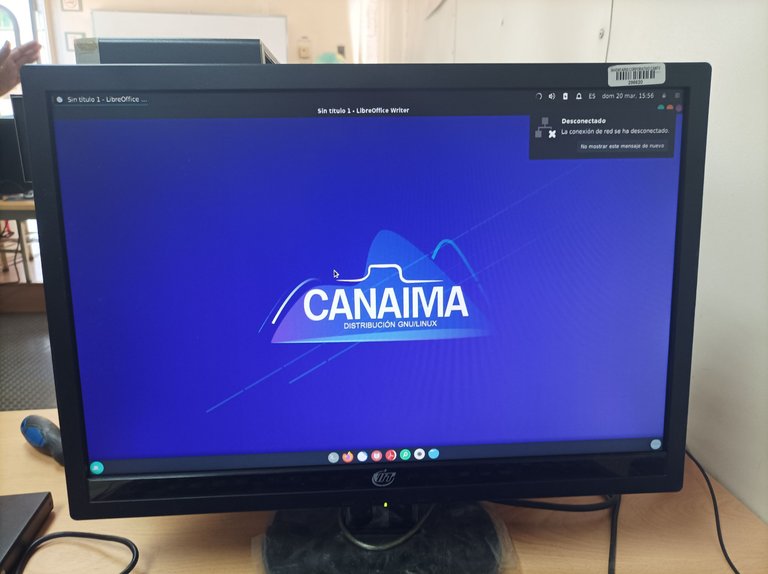 Esta nueva versión de Canaima 7.0, esta reciente tiene poco meses que se publico en la comunidad de Canaima, se puede instalar con equipo con 1 GB de memoria, es bastante compacta y rápida, presenta una interfaz interactiva y un navegador actualizado para acceder a Internet.
Para finalizar se hizo la revisión de cinco computadoras, donde 4 se lograron activar y una presentó problemas de fuente de poder, espero que le haya gustado esta publicación.
This new version of Canaima 7.0, this recent one has been published in the Canaima community for a few months, it can be installed with a computer with 1 GB of memory, it is quite compact and fast, it presents an interactive interface and an updated browser to access the Internet .
Finally, five computers were reviewed, where 4 were able to activate and one presented power supply problems, I hope you liked this publication.
Aquí te dejo el enlace, si desea descargar este sistema operativo [source]((https://canaima.softwarelibre.gob.ve/descargas/)
https://canaima.softwarelibre.gob.ve/descargas/
Here is the link, if you want to download this operating system source
Fotografías: Teléfono Redmi Note 10
Photographs: Redmi Note 10 Phone