¡Hola, Comunidad de Hive!
Hello, Hive Commnunity!
---
---
Hacer vídeos implica varios aspectos que son necesarios pensar, en la calidad del vídeo, del sonido, la edición y todo ello, hace un tiempo les hable de mi herramienta para editar los videos con cap cut, y en estos días una hiver me pregunto consejos para comprar un microfono, así que se me ocurrió comparitir un post sobre la importancia de un microfono con la finalidad de grabar video, mi experiencia y algunos consejos para comprar microfonos.
Lo primero, es aclarar, que desde mi punto de vista es importante tener un microfono, ustedes no saben como ayuda con la calidad del sonido, esa calidad se nota bastante cuando grabas sin microfono y cuando tienes uso de él, en mi caso desde el primer video adquirí mi microfono, ya les voy a hablar sobre el mio, pero quería aclarar que también depende del tipo de vídeo que quieras hacer, si quieres hacer videos de reacción dónde muchas veces solo estarás tú, pues ya ahí recomiendo comprar un microfono de balita, pero si por el contrario quieres hacer podcast y tener invitados presenciales, ahí la cosa se pone más costosa porque sería mejor inversión comprar uno que se adapte a ese formato.
Making videos involves several aspects that are necessary to think about, video quality, sound quality, editing and all that, some time ago I told you about my tool for editing videos with cap cut, and these days a hiver asked me tips for buying a microphone, so I thought I would share a post about the importance of a microphone for the purpose of recording video, my experience and some tips for buying microphones.
The first thing, is to clarify, that from my point of view is important to have a microphone, you do not know how it helps with sound quality, that quality is quite noticeable when you record without microphone and when you have use of it, in my case from the first video I acquired my microphone, I'll talk about mine, but I wanted to clarify that it also depends on the type of video you want to do, if you want to make reaction videos where many times you will only be you, then I recommend buying a bullet microphone, but if on the contrary you want to make podcasts and have guests in person, then the thing gets more expensive because it would be better investment to buy one that suits that format.
---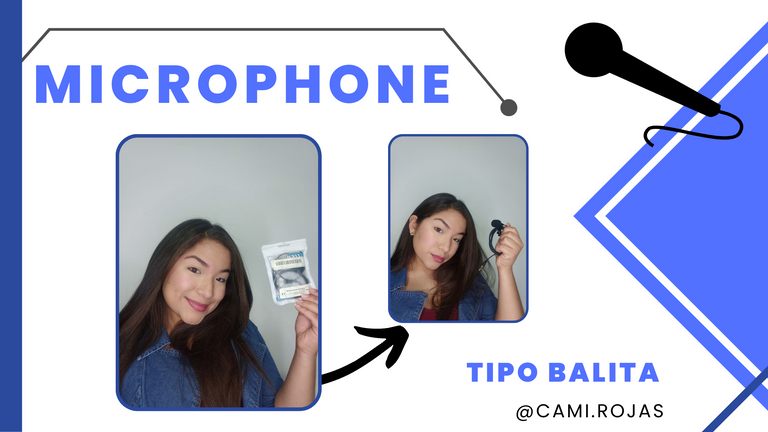 ---
Hablando desde mi experiencia, para mi los microfonos de balita estan buenísimos para el estilo de videos con voz en off que pueden ser tutoriales, vlogs, realmente depende de cada creador; por eso yo cuando adquirí microfono, me incline por uno de balita y lo recomiendo si quieren hacer ese tipo de contenido porque logra resaltar mucho lo que hablamos.
Hablando de mi microfono, realmente es muy básico, costo tan solo 5$ es tipo balita, así le digo yo a los que tienen las siguientes características: el microfono como tal es pequeño y se encuentra recubierto de esta tela medio porosa que es común en microfonos, tiene un cable que es más o menos largo, lo que permite que si tengo el teléfono en el aro puedo alejarme considerablemente y no va a haber problema, además tiene el conector tipo auxiliar, parecido al de los audifonos o esos microfonos de karaoke.
Este microfono que compre en el centro de mi ciudad ha sido mi compañero en cada video que he realizado y sinceramente por su precio es una super compra, la manera en que además se ha conservado y sigue funcionado a la perfección es espectacular, incluso hice un video en estos días en la playa, y a pesar del ruido externo, la voz en el video fue perfecta.
Speaking from my experience, for me the bullet microphones are great for the style of videos with voiceover that can be tutorials, vlogs, it really depends on each creator; so when I acquired microphone, I leaned towards one of bullet and I recommend it if you want to do that kind of content because it manages to highlight much of what we talk about.
Talking about my microphone, it is really very basic, it cost only 5$, it is bullet type, so I say to those who have the following characteristics: the microphone as such is small and is covered with this half porous fabric that is common in microphones, has a cable that is more or less long, which allows that if I have the phone in the ring I can move away considerably and there will be no problem, also has the auxiliary type connector, similar to the headphones or those karaoke microphones.
This microphone that I bought in the center of my city has been my companion in every video I have made and sincerely for its price is a super purchase, the way it has been preserved and continues to work perfectly is spectacular, I even made a video these days on the beach, and despite the external noise, the voice in the video was perfect.
---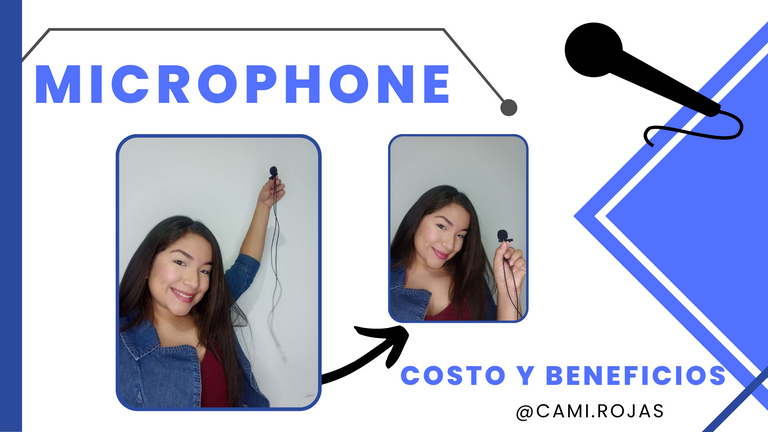 ---
Ahora si, vamos con los tips, el primero ya se los dije en la parte de arribar, indentificar que tipo de microfono necesitamos en base a los video pensados; el segundo, es que, compremos primero un tipo de microfono económico y luego de ver si nos adaptamos podemos ir invertiendo más, esto quiere decir, que si quieres un microfono de balita, compra uno económico primero y si funciona, ya puedes comprar uno más costoso (esa era mi idea, pero me gusto tanto el mio, que ya no lo suelto).
Otros tip que puedo mencionar, es buscar varias opciones, la verdad es que al menos en Cumaná no hay muchas opciones en Instagram para comprar microfono, así que yo me tuve que ir de tienda en tienda en el centro viendo los microfonos que habían y las marcas que habían, y principalmente tenía un presupuesto de 10$ y termine comprando en 5$, así que buscar siempre es una buena opción para conseguir la mejor calidad y por supuesto economía.
Now yes, let's go with the tips, the first one I already told you in the arrival part, identify what type of microphone we need based on the video thought; the second, is that, first buy a type of economic microphone and then see if we adapt we can go investing more, this means that if you want a bullet microphone, buy an economic one first and if it works, you can buy a more expensive one (that was my idea, but I liked mine so much, that I do not let it go).
Other tips I can mention, is to look for several options, the truth is that at least in Cumana there are not many options on Instagram to buy microphone, so I had to go from store to store in the center seeing the microphones that had and the brands that had, and mainly I had a budget of $ 10 and ended up buying in $ 5, so search is always a good option to get the best quality and of course economy.
---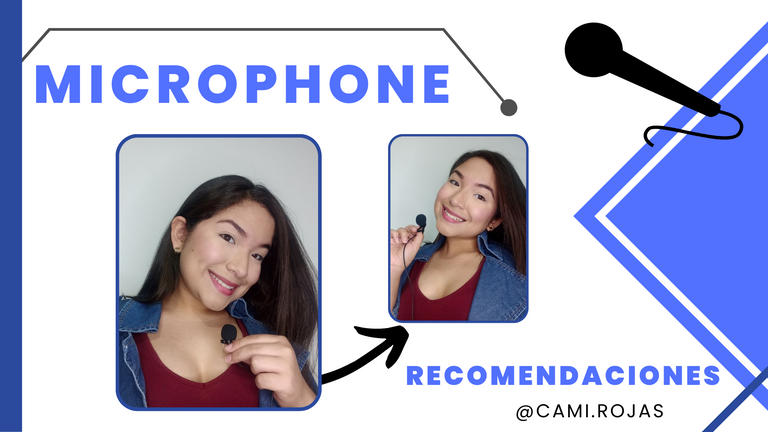 ---
---
Sinceramente yo amo mi microfono, y creo que es una de las herramientas que no le puede faltar a ninguna persona que quiera o se dedique a crear videos.
Espero que les haya gustado este post.
Nos leemos pronto.
Sincerely I love my microphone, and I think it is one of the tools that can not be missing to anyone who wants or is dedicated to create videos. I hope you liked this post. See you soon.
---
---

---