¡Hola, Comunidad de Hive!
Hello, Hive Commnunity!
---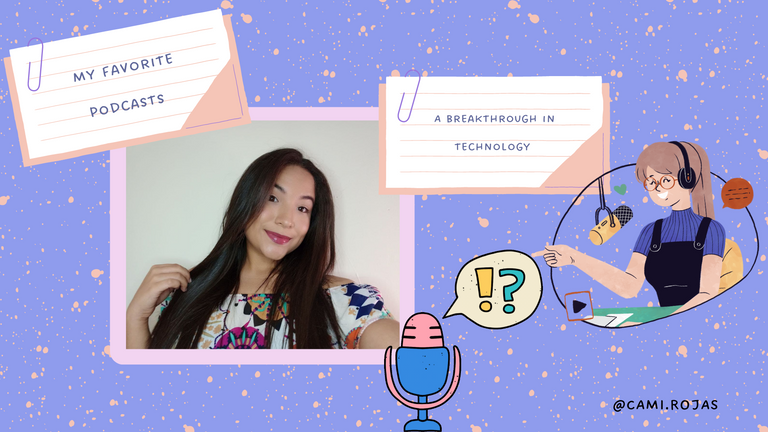 ---
La verdad es que he amado desde hace un tiempo la forma en que la tecnología nos ha permitido alcanzar información de manera diferente, ejemplo de ello es el formato de podcast, el mismo consiste en un formato de información que se graba normalmente en audio y esta destinado a internet. Hace unos años muchas personas del medio comunicativo comenzaron a realizar este nuevo formato; en diferentes plataformas, de mi parte me quede super pegada en YouTube y de eso quiero hablarles en este post cuales son aquellos podcast que disfruto mucho.
He decidido hacer este post en la comunidad de Geek Zone, porque sin duda alguna los podcast son el claro ejemplo de que la tecnología avanza cada día más.
The truth is that I have loved for some time the way in which technology has allowed us to reach information in a different way, an example of this is the podcast format, it consists of a format of information that is usually recorded in audio and is intended for the Internet. A few years ago many people in the media began to make this new format; in different platforms, for my part I got super stuck on YouTube and that's why I want to talk in this post which are those podcasts that I enjoy a lot.
I decided to make this post in the Geek Zone community, because without a doubt, podcasts are a clear example that technology is advancing every day.
---
1| Porque ajá
---
---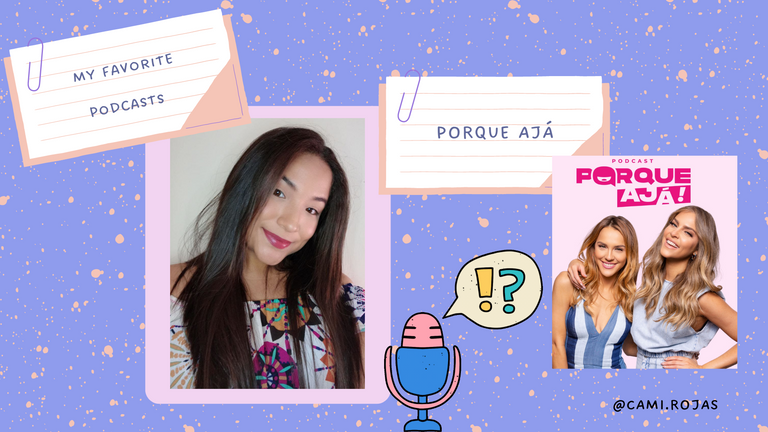 ---
Este podcast yo lo comencé a ver desde el capítulo 1, ya que se subía en el Canal de Dany Di Giacomo, una de las personas que más me gustan en Youtube. El podcast era dirigido por ella y Mariela Irala; en este momento el podcast se encuentra en pausa, pero lo que ambas han manifestado es de organizarse en sus nuevas modalidades de vida para volver a arrancar con el proyecto.
Lo que más me gusta de Porque aja es que tenía temas muy variados, un día podían hablar de música, cine, teatro o televisión; un poco mezclada con la comedia, cuando tenían invitados se hacía más una conversación de todo un poco; además de la química tan buena que Dany y Mari tenían. Porque aja tenía la particularidad de hacerme reí y al mismo tiempo poner a pensar sobre diversos temas.
Podcast AQUÍ
I started watching this podcast from chapter 1, since it was uploaded on Dany Di Giacomo's channel, one of the people I like the most on Youtube. The podcast was directed by her and Mariela Irala; at the moment the podcast is on pause, but what both have said is to organize in their new ways of life to restart the project.
What I like most about Porque aja is that it had very varied topics, one day they could talk about music, movies, theater or television; a little bit mixed with comedy, when they had guests it was more of a conversation about everything a little bit; besides the great chemistry that Dany and Mari had. Because aja had the particularity to make me laugh and at the same time make me think about different topics.
Podcast HERE
---
2| Entregrados Show
---
---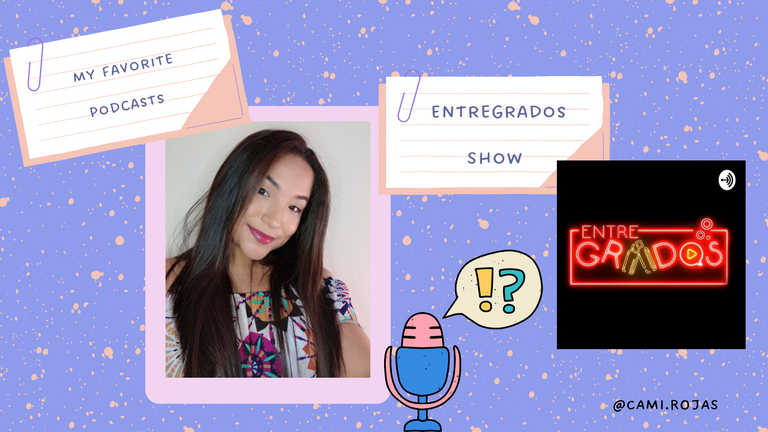 ---
Entregados Show es quizá el podcast más diferente, esta dirigido por Manuel Ángel Rondón, quien tuvo la idea de hacer un podcast con alcohol; la verdad es que este no es un podcast que vea todo el tiempo pero me parece un joya la verdad; muy divertido y controversial la mismo tiempo. Lo que me hace no verlo tan seguido es que los programas son muy largos y a veces no me da chance de verlos completo.
En este podcast siempre hay un invitado, cada invitado aporta un tema de conversación diferente dependiendo de su profesión, su vida, pero todo ello se hace mucho más divertido con unos cuantos tragos de bebidas alcohólicas. Yo veo y escucho este podcast en YouTube pero están presente en otras muchas plataformas.
Podcast AQUÍ
Entregados Show is perhaps the most different podcast, it is directed by Manuel Angel Rondon, who had the idea of making a podcast with alcohol; the truth is that this is not a podcast that I watch all the time but I find it a jewel the truth; very funny and controversial at the same time. What makes me not watch it so often is that the programs are very long and sometimes I don't get a chance to watch them all.
In this podcast there is always a guest, each guest brings a different topic of conversation depending on their profession, their life, but all this is made much more fun with a few drinks of alcoholic beverages. I watch and listen to this podcast on YouTube but they are present on many other platforms.
Podcast HERE
---
3| Deja el Chou
---
---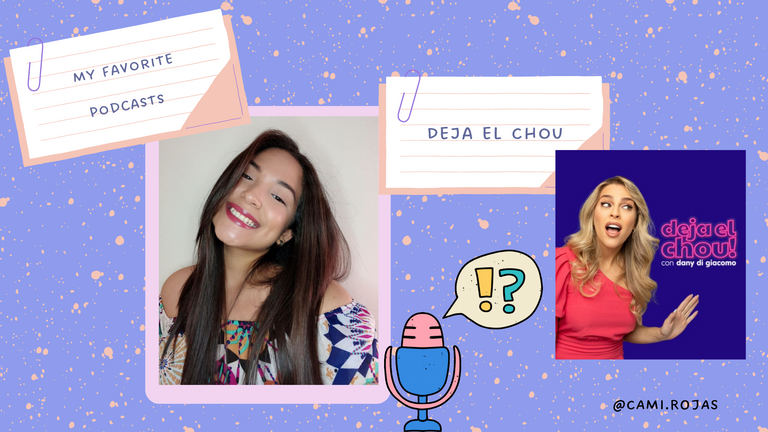 ---
Volvemos nuevamente al canal de Dany Di Giacomo y es que como les comente tras la pausa de Porque Aja, ella se dio cuenta que necesitaba seguir haciendo podcast, pero tampoco quería hacerlo para remplazar a Mari; entonces comenzó este nuevo formato en donde tiene invitado pero también tiene la participación de todo el equipo de producción.
Es muy interesante este nuevo formato porque es mucho más ligera la conversación, pero al mismo tiempo es muy rica; cada persona da un punto de vista diferente. Deja el Chou es actualmente uno de esos podcast que no me puedo perder de ninguna manera, la verdad es que la forma de llevar la comunicación Dany me encanta.
Podcast AQUÍ
We return again to Dany Di Giacomo's channel and as I told you after the break of Porque Aja, she realized that she needed to continue doing podcast, but she didn't want to do it to replace Mari; so she started this new format where she has a guest but also has the participation of the entire production team.
This new format is very interesting because the conversation is much lighter, but at the same time it is very rich; each person gives a different point of view. Deja el Chou is currently one of those podcasts that I can't miss in any way, the truth is that I love the way Dany communicates.
Podcast HERE
---
4| La Nave Podcast
---
---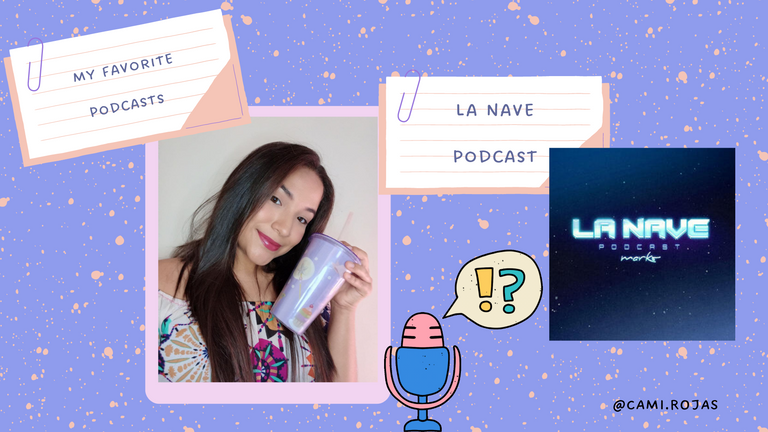 ---
Dirigido por uno de los personajes más controversiales de las redes sociales: Marko, la verdad es que su podcast me encanta porque tiene un concepto bastante original, es algo así como que el mundo se acabara, se va a repoblar y es el invitado quien pondrá las reglas y decidirá quien va a ese nuevo mundo.
La verdad todo el concepto hace que el invitado ponga ejemplos de su vida y eso se meten en la vida personal y algunas reflexiones de la vida misma que son muy hermosas y la verdad muchas veces con un trasfondo que sirve para el día a día.
Podcast AQUÍ
Directed by one of the most controversial characters of social networks: Marko, the truth is that I love his podcast because it has a very original concept, it is something like the world will end, it will be repopulated and it is the guest who will set the rules and decide who goes to that new world.
The truth is that the whole concept makes the guest put examples of his life and that get into the personal life and some reflections of life itself that are very beautiful and the truth often with a background that serves for the day to day.
Podcast HERE
---
Amo los podcast, me encanta como se puede informar a través de un formato muy parecido a la radio pero en internet, la verdad un formato muy rico y que se disfruta mucho en todos los aspectos. Una verdadera forma de hacer valer la comunicación de una forma diferente.
Espero que les haya gustado este post, si escuchan alguno de estos podcast, les aseguro que no van a arrepentirse.
Nos leemos pronto.
I love podcasts, I love how you can inform through a format very similar to the radio but on the internet, the truth is a very rich format and that is very enjoyable in all aspects. A real way to assert communication in a different way.
I hope you liked this post, if you listen to any of these podcasts, I assure you that you will not regret it.
See you soon.
---
---

---