¡Hola, Comunidad de Hive!
Hello, Hive Commnunity!
---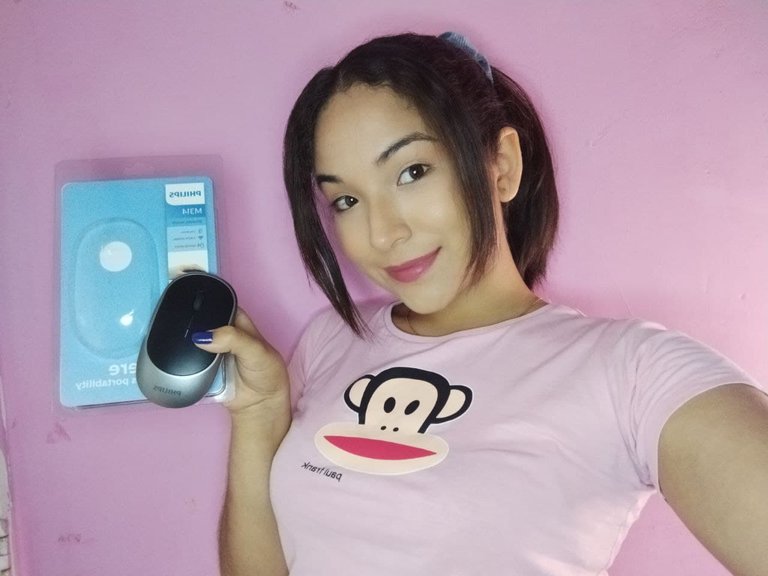 ---
El mes pasado adquirí mi laptop, de la cual pronto vengo a hablarles, pero con esta nueva herramienta necesitaba un mouse, ya que aunque la laptop tiene uno, tengo un problema tremendo con usar ese, quizá sea la costumbre a siempre tener un mouse. También tenía claro que quería algo que aunque me saliera un poco más costoso fuera realmente bueno, así que recordé que una pequeña tienda de mi ciudad, llamada ElectroPlaza había publicado hace un tiempo unos Mouses inalámbricos marca Philips, ellos son distribuidores oficiales de la marca así que sabía que era seguro comprar ahí.
Un día que andaba por el centro comercial donde esta la tienda decidí entrar y preguntar, me mostraron varios modelos, unos con un diseño más tradicional y otros más llamativos; los precios recuerdo que eran 12$, 17$ y 22$, el dueño de la tienda fue el que me atendió y fue muy amable al mostrar los modelos. Desde que vi el M314 me gusto mucho, su forma un poco plana no me molesto porque realmente yo quería uno así, entonces le dije que quería ese y me informo que costaba 12$, procedí a cancelar, que por cierto, pude cancelar por P2P de Binance y fue demasiado practico. Lo elegí en color negro y detalles gris porque me pareció que combinaría bien con mi laptop. Allá mismo en la tienda lo prueban y te muestran que funciona a la perfección.
Last month I acquired my laptop, which I will soon come to tell you about, but with this new tool I needed a mouse, because although the laptop has one, I have a tremendous problem with using it, maybe it is the habit of always having a mouse. I also had clear that I wanted something that even if it was a little more expensive was really good, so I remembered that a small store in my city, called ElectroPlaza had published some time ago some Philips wireless mice, they are official distributors of the brand so I knew it was safe to buy there.
One day I was walking around the mall where the store is I decided to go in and ask, they showed me several models, some with a more traditional design and others more flashy; I remember the prices were 12$, 17$ and 22$, the owner of the store was the one who attended me and was very kind to show me the models. Since I saw the M314 I liked it a lot, its shape a little flat did not bother me because I really wanted one like that, so I told him that I wanted that one and he informed me that it cost 12$, I proceeded to cancel, which by the way, I could cancel by Binance P2P and it was too practical. I chose it in black with gray details because I thought it would go well with my laptop. Right there in the store they test it and show you that it works perfectly.
---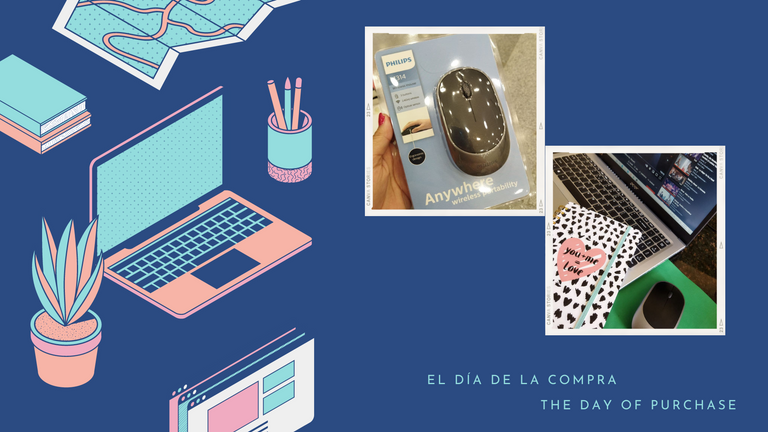 ---
En cuestión de como viene, tiene un plástico, bastante resistente, en la parte delantera venía el mouse con las especificaciones más resaltantes, y en la parte de atrás en un pequeña cajita que resalta venían las pilas, con más información en diferentes idiomas. Este mouse usa batería AA, las pilas van en la parte de atrás donde tiene una tapa que al quitarla vemos el espacio de las pilas y del conector usb. Así que coloque las pilas y el usb a mi computadora y desde ese día lo he utilizado todos los días. Decidí presentarles este mouse tiempo después porque así puedo hablar de una experiencia a mediano plazo.
Hablando del diseño, el cual es ergonómico, eso quiete decir que ofrece un diseño en el que la anatomía de las personas se adapta perfectamente a él y además se vuelve muy cómodo. La verdad es que los primeros días me costo adaptarme porque estaba acostumbrada a los mouses más anchos, pero después de que el proceso de adaptación paso, puedo decir que me encanta la forma, de hecho cuando uso otro modelo me siento incomoda e incluso llega a dolerme. No se si esta experiencia sea para todos los usuarios pero en mi caso se volvió así.
El mouse no pesa absolutamente nada por lo que es muy cómodo de usar, los botones funcionan a la perfección, además cuando pasa ciertos minutos se apaga, esto para ahorrar energía, simplemente para prenderlo hay que dar clic en el botón izquierdo.
In question of how it comes, it has a plastic, quite resistant, in the front part came the mouse with the most outstanding specifications, and in the back part in a small box that stands out came the batteries, with more information in different languages. This mouse uses AA batteries, the batteries go in the back where it has a cover that when removed we see the space for the batteries and the usb connector. So I put the batteries and the usb to my computer and since that day I have used it every day. I decided to introduce you to this mouse some time later because I can talk about a medium term experience.
Talking about the design, which is ergonomic, that means that it offers a design in which the anatomy of the people adapts perfectly to it and also becomes very comfortable. The truth is that the first few days it was hard for me to adapt because I was used to wider mouses, but after the adaptation process passed, I can say that I love the shape, in fact when I use another model I feel uncomfortable and it even hurts. I don't know if this experience is for all users but in my case it became so.
The mouse weighs absolutely nothing so it is very comfortable to use, the buttons work perfectly, also when it passes certain minutes it turns off, this to save energy, simply to turn it on you have to click the left button.
---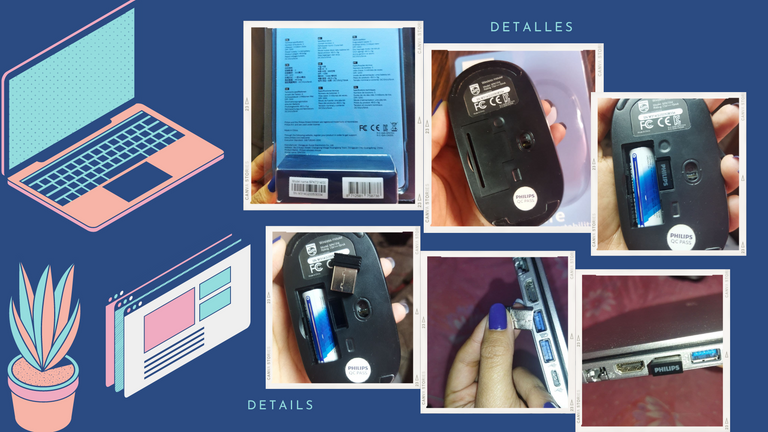 ---
La verdad es que anteriormente cuando pasaba mucho tiempo en la computadora no podía soportar el dolor en la mano derecha por el mouse y eso ha disminuido significativamente desde que adquirí este.
Esta es una de las compras más inteligentes que he hecho, no sabría decir cuanto tiempo van a durarme, pero son económicas entonces creo que el mantenimiento de este mouse será muy rentable a largo plazo. La verdad es que es muy bueno, me hace mucho más fácil las actividades en la computadora.
The truth is that previously when I spent a lot of time at the computer I couldn't stand the pain in my right hand from the mouse and that has decreased significantly since I purchased this one.
This is one of the smartest purchases I have made, I can't say how long they will last, but they are inexpensive so I think the maintenance of this mouse will be very profitable in the long run. The truth is that it is very good, it makes my computer activities much easier.
---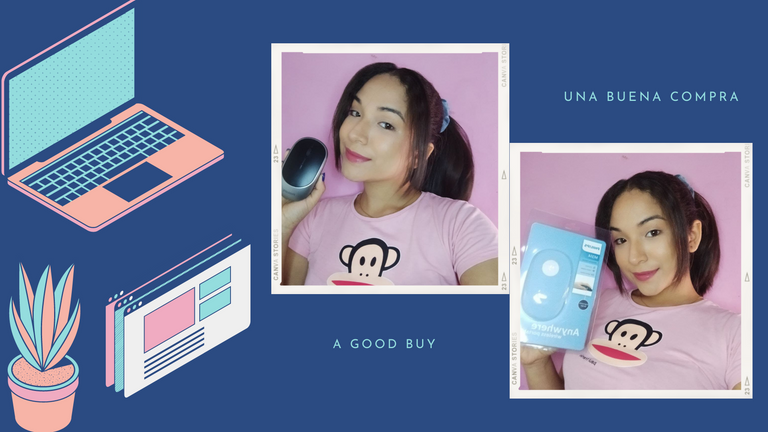 ---
---
Espero que les haya gustado este post. Nos leemos pronto.
I hope you liked this post. See you soon.
---
---

---