Keychron K2 Mechanical Keyboard Review
I've been going through a little desk maintenance and tech upgrade lately. Reducing clutter around where I work and game is important, and going wireless at my workstation has been long overdue. A big part of being efficient with desk space lies within keyboard choice. They come in different shapes, sizes and sounds.
Searching for a new keyboard
The realm of mechanical keyboards is vast and wide and the amount of knowledge and builds out there are seriously impressive. Without dipping into DIY PCB design and custom builds, I wanted something good enough out the box with some room for customization down the line. My search finally led me to the Keychron K2.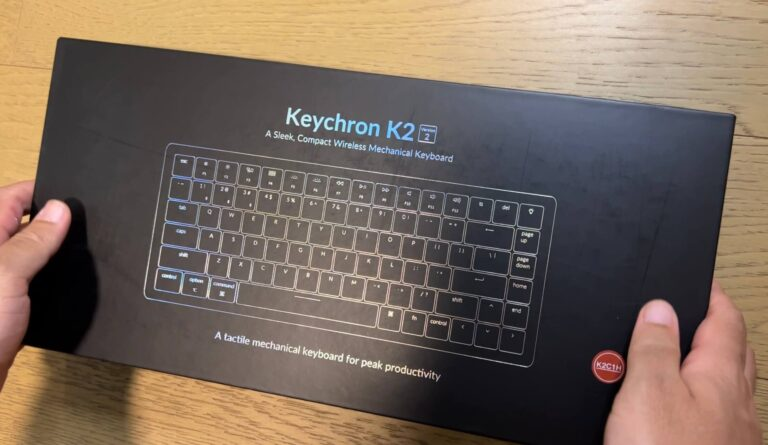 Size Choice
I've been a long-time user of a full-sized Razer BlackWidow Ultimate, it was time to downsize. My next keyboard would be a swappable mechanical board, but just how much smaller would I want to go? After some thinking and considering that I would I still like to play RTS games now and then, it would be best to retain the use of F-Keys without having to resort to using a function key. I settled on going for a 75% keyboard, not the most compact but considerably smaller with all the functionality I wanted out of it.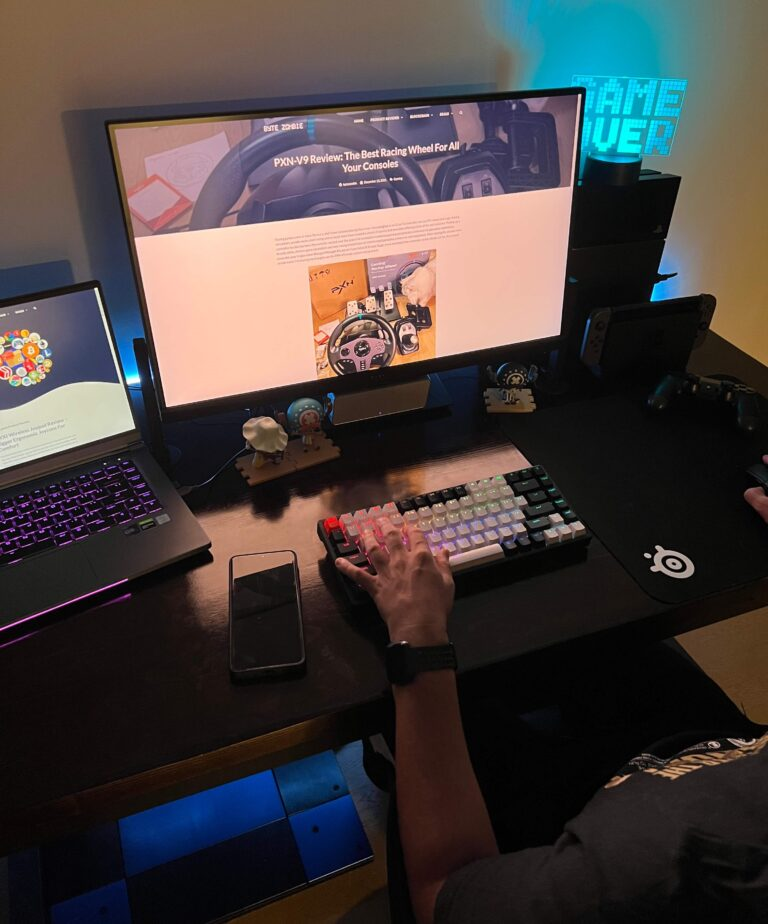 Keychron K2 Features
I bought the Keychron K2 (Hot-swappable) Wireless Mechanical Keyboard (Version 2), exact model on mine is K2C1H. Keychron allow you to pick your lighting configuration and mechanical switch choice on their store page.
75% formfactor – 84-keys are just the right size for me without sacrificing functions, essentially just cutting off the numpad.
Hot-swappable – I wanted the ability to change out the key caps/switches later down the line.
Bluetooth 5.1 – and Bluetooth connectivity was a must for me on this upgrade. There is multi-device support for up to 3 devices but I was mainly focused on using this with my main work station.
RGB Backlight – There is a standard lighting configuration but I thought the different RGB effects were cool. RGB gaming all day, every day.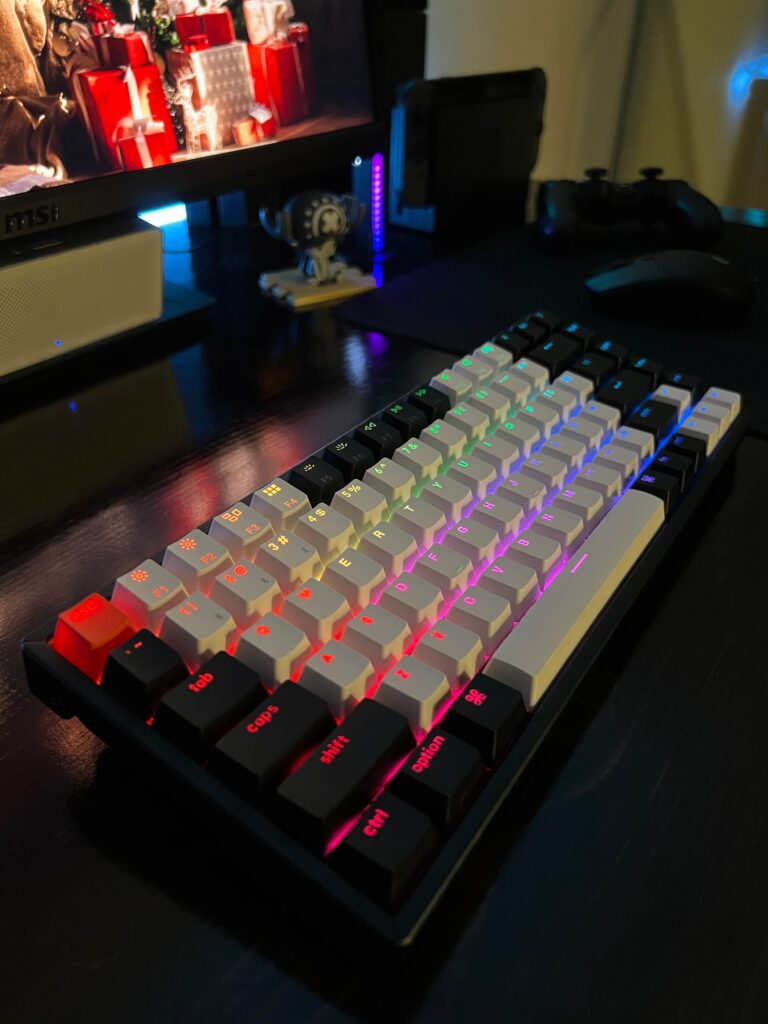 4,000 mAh Battery – Decent battery life estimated for about 10 days of use. I'm a heavy user so the bigger battery serves me well.
Gateron Switches – Red, brown or blue Gateron switches are available. I decided to try red switches and experiences linear for the first time.
Keychron K2 Unboxed
The K2 comes in a compact black box and it's a simple affair to get it open. The K2 is well protected. There's a USB-C cable for connectivity and charging, manual, keycap puller and a couple of keys to change depending on the OS you're using.
Setup
Connecting the Keychron K2 to the PC was straightforward, setting the keyboard to Bluetooth/Windows mode and pairing was done in a matter of seconds. I played around with the RGB lighting modes until I was happy and decided to get on with some typing.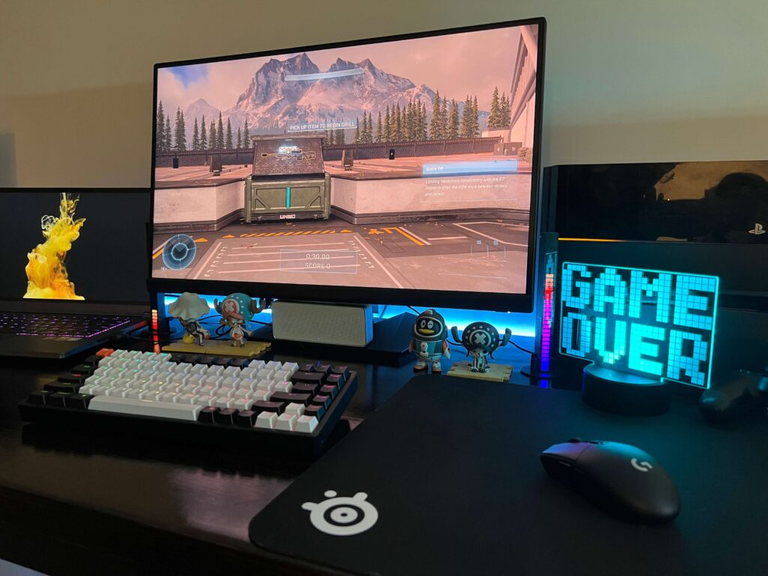 Using New Gateron Switches
I've mostly used the equivalent of blue switches in my keyboard for a while and have been used to the clicky feeling that gives feedback when bottoming out. But after some mild RSI, I wanted to try something a little gentler and quieter. A few friends recommended trying out reds because they offer a softer linear experience and generally a smooth typing experience.
When the Keychron K2 arrived, I have to say I was a little wary of switching to reds. I felt as if the keys felt mushy and the lack of feedback was alien to me. Now this isn't to say red switches are bad, My initial typing experience with the Keychron K2 was a little underwhelming. I found the absence of the tactile feedback and mushy feeling to be alien to me.
To be clear, red switches are not bad by any means, they just offer a different experience with their linear design. I was aware there would need to be an adjustment period and I stuck with it. After using the K2's red switches for a few days, my muscle memory seemed to adjust and I now find my K2 to be one of the most comfortable typing experiences I've had in recent years. The linear switches require little force and travel to register and I can flow across the keys with minimal typing errors.
For those unsure about whether they would enjoy using a different type of switch, it's hard to say. Going out and trying them for yourself is important but keep in mind that an adjustment period is often needed to really discern whether you enjoy the typing experience that each respective switch offers. Perhaps I was lucky with my choice and personal preferences matching, borrowing a keyboard from a friend for a few days would be a good solution.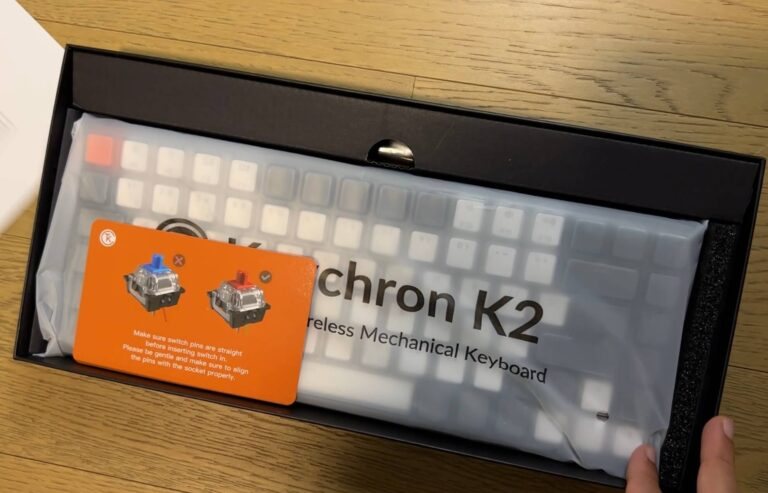 Overall Comments
I use my Keychron K2 on a daily basis for working and gaming. After using the device for a few weeks, I have noticed a couple of random connection issues. There was no indication of battery running low but the issue resolved itself after pairing the device again and letting it charge for a while. Under heavy use and blasting the RGB lights every day, I seem to clock in at about a week of battery life. A decent performance and the ability to quickly plug in a cable for connectivity and charging is fine for me.
The Keychron K2 Version 2 is an entry level keyboard at a very affordable price. I wanted something that worked out the box, offering a smooth and easy typing device. It has delivered this for the most part. I would recommend the K2 for people who like me, want a decent out of box experience and to gradually learn and tailor their own board along the journey.
Keychron are currently selling K2 Keyboard for $84.99. Buy it from the Official Amazon Store.
---




Follow me 🕹️



Read More at Bytezombie.com
---