Hello beautiful community, happy to be here again sharing valuable information that can help us at any time. Today I will tell you my experience of how I discovered to free up more space on my Samsung J1 cell phone, it can also serve for other devices with low memory.
Hola bella comunidad, feliz de estar por aquí de nuevo compartiendo información valiosa que nos pueden ayudar en cualquier momento. Hoy les contare mi experiencia de como descubrí para liberar más espacio en mi celular Samsung J1, también puede servir para otros dispositivos con poca memoria.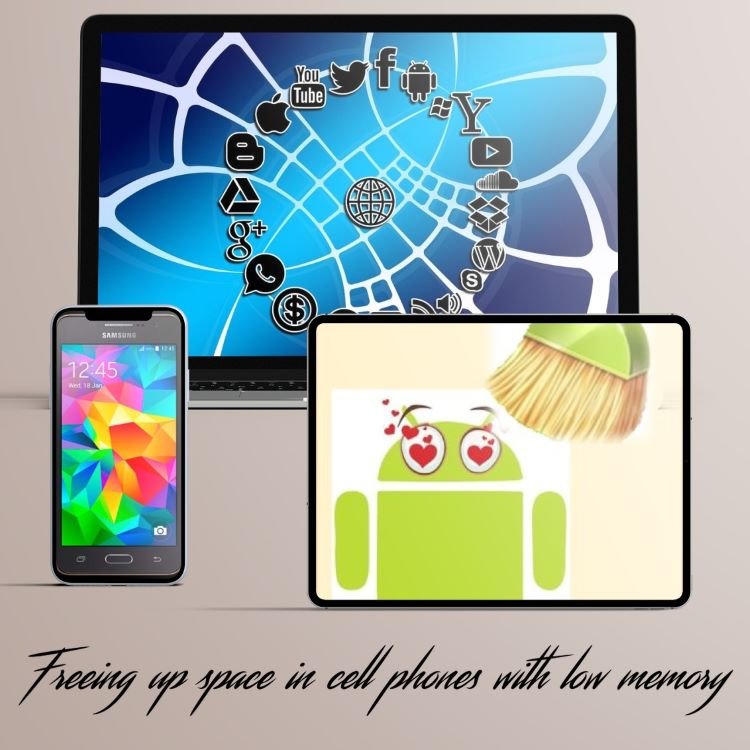 In my case I have a slightly old cell phone is a Samsung J1 Ace, which has 8gb internal memory and external memory can be placed a microSD card of greater capacity, which I have is 4gb. I tell you this because maybe some of you at some point it has happened that you are chatting on WhatsApp, or downloading an application and you get a window that says "insufficient space" that certainly bothers us 😒 and we start doing everything to delete and delete until it works 😅.
En mi caso tengo un celular un poco viejo es un Samsung J1 Ace, el cual tiene de memoria interna 8gb y externa puede colocarse una tarjeta microSD de mayor capacidad, la que le tengo es de 4gb. Les cuento esto porque quizás a algunos en algún momento les ha pasado que están chateado por WhatsApp, o descargando una aplicación y les sale una ventana que dice "espacio insuficiente" eso sin duda que nos molesta 😒 y empezamos hacer de todo a borrar y borrar hasta que funcione 😅.
---
Days ago that happened to me as I was reinstalling the Discord application on my cell phone, I had to delete photos, files, conversations to free up space, until I discovered something that said cache data, when I hit delete I could install the application.
Hace días me paso eso ya que estaba reinstalando la aplicación de Discord en mi celular, tuve que borrar fotos, archivos, conversaciones para poder liberar espacio, hasta que descubrí algo que decía datos de caché, cuando le di eliminar pude instalar la aplicación.
---
The cache storage is like a hidden memory of the phone, which stores temporary files of the applications we use such as WhatsApp, Discord among others, which when opened will save files that help the APP to work faster, they are useful information for some, but not for others, as they fill the internal memory of the phone and sometimes cause errors.
El almacenamiento caché es como una memoria oculta del teléfono, el cual almacena archivos temporales de las aplicaciones que utilizamos como WhatsApp, Discord entre otros , que al abrirlo va guardando archivos que ayudan a que las APP funcione más rápido, son informaciones útiles para algunos, pero para otros no, ya que llenan la memoria interna del celular y ocasionan errores algunas veces.
---
In the case of the J1 ACE cell phone, if we want to delete the cache, we access to settings, then to storage, it will display another window and we select where it says cache data, we press it and give it delete, there will be deleted all the cache data of the applications that we have installed. If we want to delete the cache of another cell phone, maybe the steps are different or are located in another place, you should check.
En el caso del celular J1 ACE, si queremos borrar el caché, accedemos a ajustes, luego a almacenamiento, nos va desplegar otra ventana y seleccionamos donde dice datos caché , lo pulsamos y le damos eliminar, allí se van a eliminar todos los datos caché de las aplicaciones que tengamos instaladas. Si deseamos eliminar el caché de otro celular quizás los pasos sean diferentes o estén ubicados en otro sitio, tendrían que revisar.
---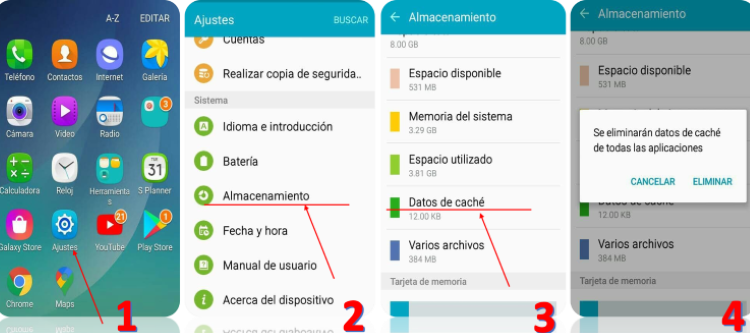 It is worth mentioning that when we delete the cache data, no conversations, photos, personal data or accounts are deleted. It will only delete data or temporary files that the app needs at some point to open or locate more quickly some information that is used frequently, it is like a restart that is done to the applications to start as new without any error.
Cabe mencionar que cuando eliminamos los datos caché, no se eliminan conversaciones, ni fotos, ni datos personales o cuentas. Solo borrara los datos o archivos temporales que la app necesita en algún momento para abrir o ubicar con más rapidez alguna información que se utiliza con frecuencia, es como un reinicio que se le hace a las aplicaciones para que empiecen como nuevas sin ningún error.
---
Also to free up space on my phone when I download an application is always saved in the internal storage, what I do is that I move it to the memory card to free up space and to download other things. I select setting a window is thrown I select applications, I press where it says application manager and here I locate the application that I want to move to the microSD memory and we press it and ready and it is already recorded in the memory. In this window we can also delete the application cache data individually.
También para liberar espacio en mi celular cuando descargo alguna aplicación siempre se guarda en el almacenamiento interno, lo que hago es que lo muevo a la tarjeta de memoria para así liberar espacio y poder descargar otras cosas. Selecciono ajuste se arroja una ventana selecciono aplicaciones, pulso donde dice administrador de aplicaciones y aquí ubico la aplicación que deseo pasar a la memoria microSD y la pulsamos y listo ya queda grabado en la memoria. En esta ventana también podemos eliminar los datos caché de la aplicación de manera individual.
---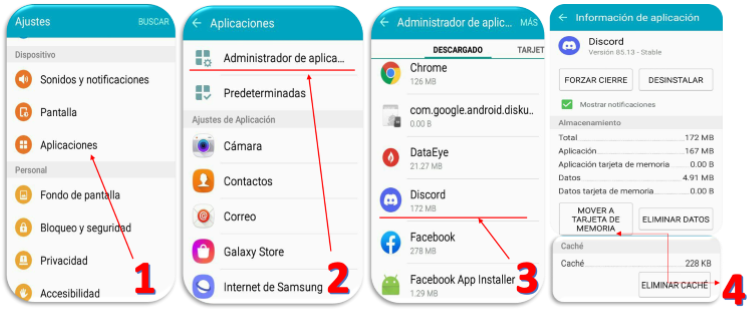 The vast majority of people today have high-end cell phones with good internal memory of either 64gb or 128gb and RAM of 4 or 6. Do not worry in your case it is not necessary to delete the cache for the capacity that have their phones, only if someday you want to do maintenance to free up space or have a fault in WhatsApp may apply the cache data deletion. This is more than all for cell phones with little space.
La gran mayoría de las personas hoy día tienen celulares de alta gama con buena memoria interna ya sea de 64gb o 128gb y de RAM de 4 o 6 . No se preocupen en su caso no es necesario que eliminen la caché por la capacidad que tienen sus teléfonos, solo si algún día desean hacerle un mantenimiento para liberar espacio o tengan una falla en el WhatsApp podrán aplicar la eliminación de datos del caché. Esto es más que todos para celulares con poco espacio.

Well friends of Hive I hope you liked this very useful information that helps us to know a little what our cell phones contain. Also to be able to enjoy it if we have one of low range with little memory. No doubt that applying these tips helps us to lead a more comfortable life with our low-end devices. A big hug 🤗.
Bueno amigos de Hive espero les haya gustado esta información muy útil que nos ayuda a conocer un poco lo que contienen nuestros celulares. También el poder disfrutarlo si tenemos uno de baja gama con poca memoria. Sin duda que aplicar estos consejos nos ayuda a llevar una vida más cómoda con nuestros dispositivos de baja gama. Un gran abrazo 🤗.
---
The first image is a pixiz collage, edited with several pixabay photos.
La primera imagen es un collage de pixiz, editado con varias fotos de pixabay.
The others are photos taken from my Samsung J1 ACE cell phone.
Las demás son fotos tomadas de mi celular Samsung J1 ACE.