Hola a todos nuevamente! El día de hoy, les traigo algo un poco peculiar en mi canal, mi primer Unboxing. Estoy realmente muy emocionado por el post de hoy. Es para mí algo realmente especial.
Daré un poco de contexto a la historia. La realidad, es que desde que ingresé en Hive, decidí que mi primer objetivo, sería armar un CPU, que pudiera realmente correr los juegos y programas de manera correcta para las grabaciones y el contenido que genero. No es que tenga nada malo mi pc actualmente, pero, por ejemplo, dejé de grabar Elden ring, porque no éra sencillo jugar y grabar a la vez para mi placa de video actual. (Una 1060 de 6 GB). Entonces, decidí que el primer componente para adquirir, sería la placa de video.
Quiero darles a todos las gracias, pero de corazón. A todos y cada uno, a quienes me siguen diariamente o inclusive a quienes quizás, dejaron un voto a modo de apoyo de manera totalmente aleatoria o una vista en mis videos, ya que, la realidad es que todo ésto ha sido posible gracias a ese apoyo. Muchas gracias.
Aunque puede ser algo obvio con lo que acabo de decir, ésta nueva adquisición, salió en su 100% de Hive. Así que estoy realmente muy contento de tener la oportunidad de generar contenido aquí. Para quienes me conozcan un poco más, yo vengo de Twitch y si bien, éste no es un espacio para criticar. Si puedo decir, que de haber seguido allí, "No tendría ni la culpa" cómo bien dice un amigo JAJAJA.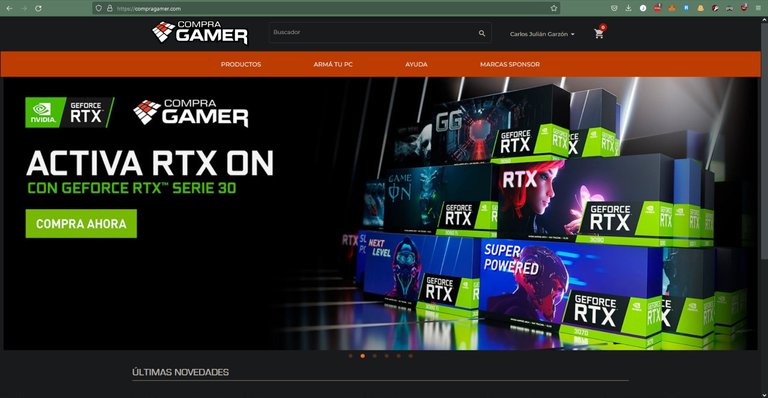 Efectué la compra en "Compragamer" Una página que vende productos electrónicos aquí en Argentina, pedí derechos de autos para subir fotos de la página y demás en el apartado de preguntas, así que no se asusten por el copyright 🤠.
Por cierto, compré una 3080 de 12GB marca GALAX. Si bien no conozco la marca, dudo que pueda fallar comprando algo de semejante nivel.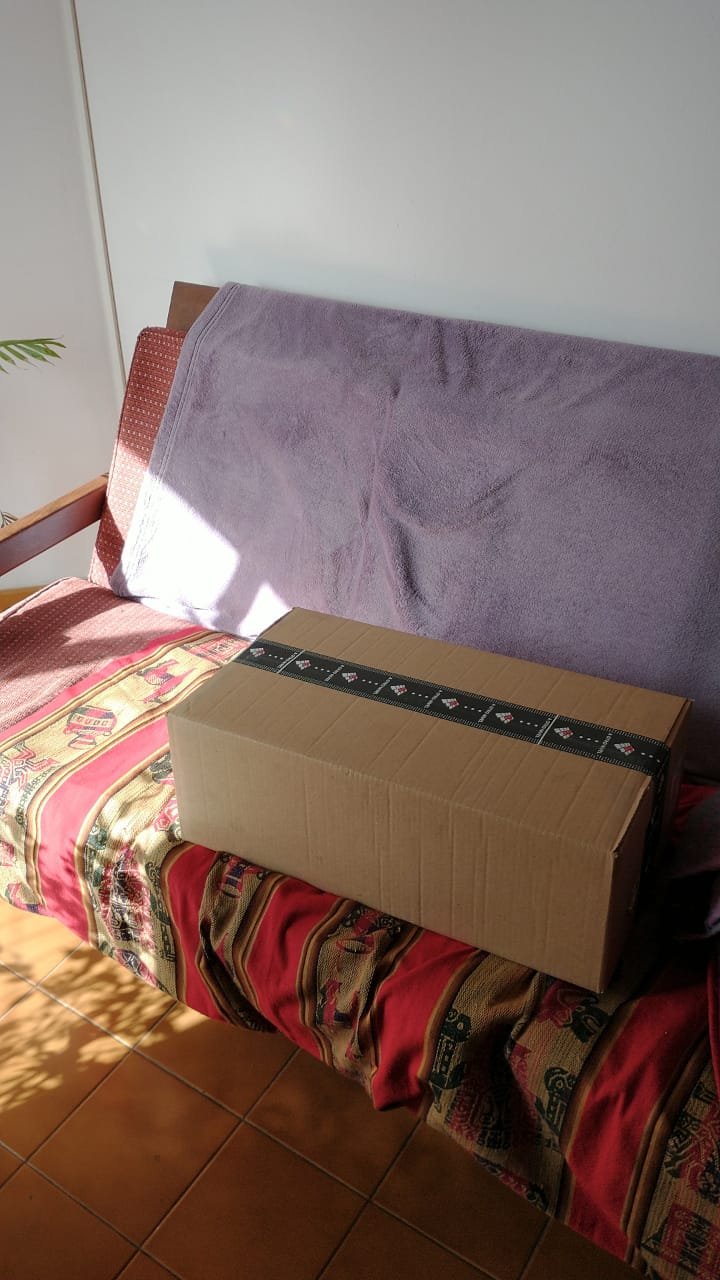 El producto llegó al correo local a unos 2 KM de la ubicación de mi departamento. Por lo que me puse mis mejores zapatillas y me fuí caminando hasta el lugar. Para mí sorpresa, venía en una caja gigante. De hecho, debe medir al menos un metro, aunque en la foto quizás no se aprecie del todo.
Debo admitir que me asusté con el tema de que algo tan grande pudiera ingresar en mi CPU Jajaja.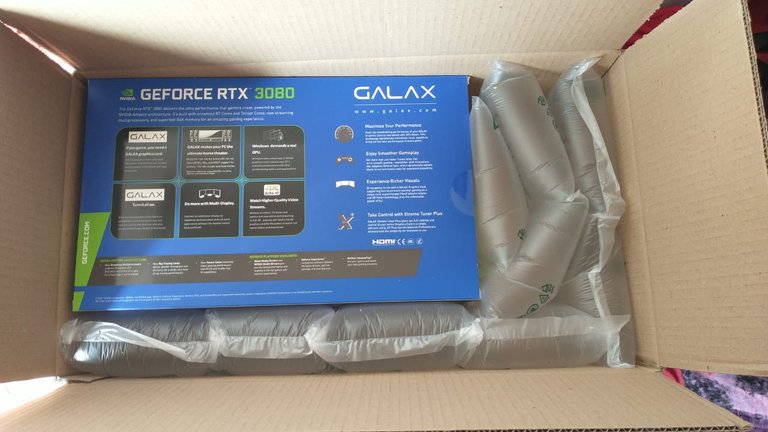 Al final, cómo unas buenas papa fritas Lays, resultó ser que éra puro aire. Literalmente dentro de la caja, venía la caja original y muchas bolsas de aire para amortiguar cualquier golpe. Excelente servicio la verdad.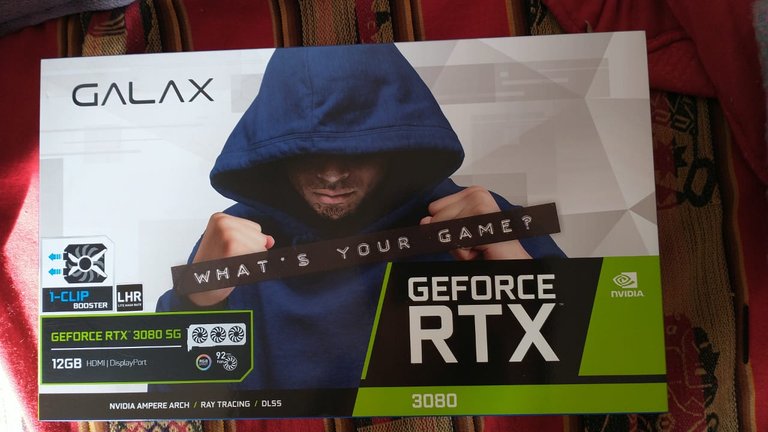 Aquí podrán apreciar una foto del frente de la caja. Está muy bueno el diseño, produce placer solo con el contacto visual ya.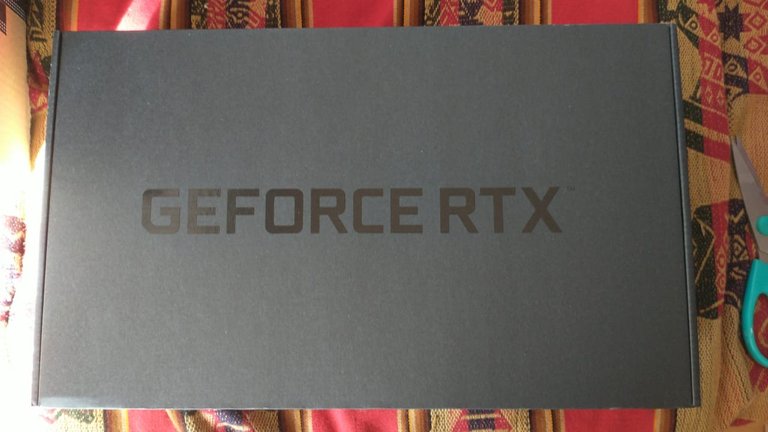 Y dentro de la segunda caja, claramente que habría una tercer caja. Todo se resuelve así en el mundo de los envios a largas distancias, mejor llenar todo de cajas para asegurar la integridad del producto.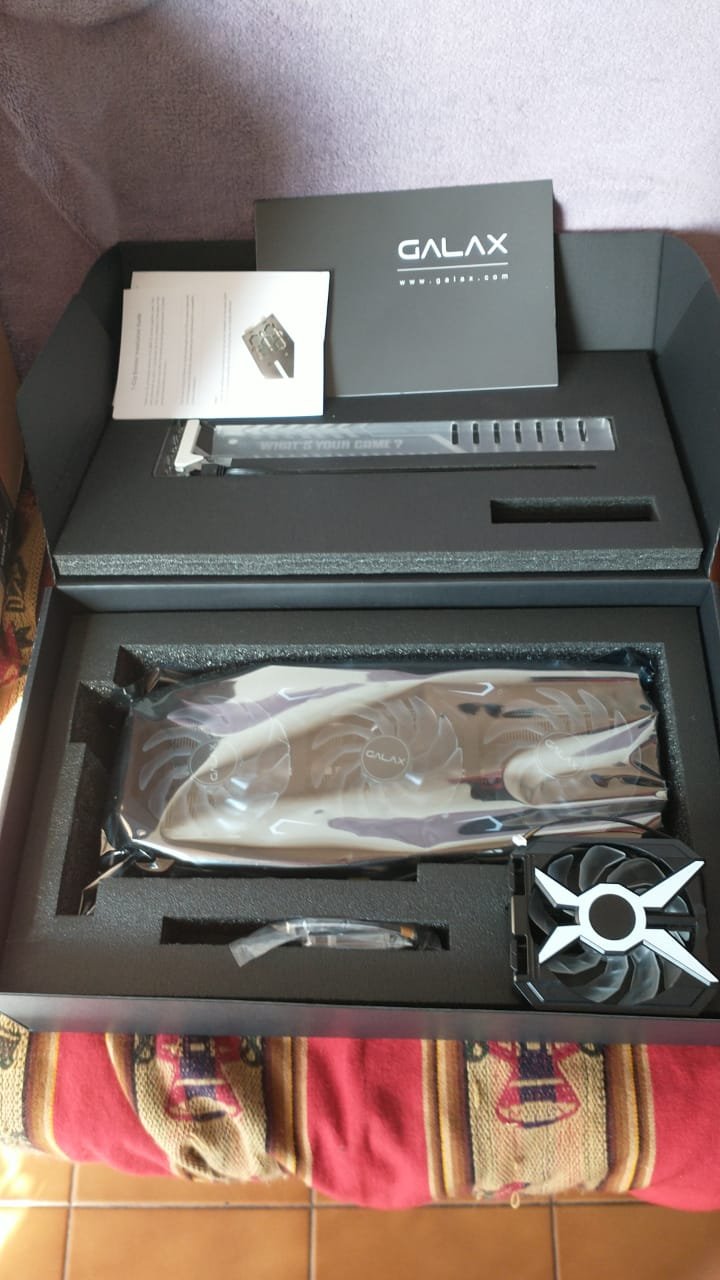 Ya que soy un miedoso e ignorante con respecto a la tecnologia, decidí no sacar de su envoltorio, a la placa de video hasta llevarla a un amigo. Que es quien siempre ha armado y actualizado mi CPU. De igual manera, se puede apreciar que cuenta con 3 coolers principales y uno cuarto, que va cómo encima de los demás. Un sistema que me llamó bastante la atención, debe ser la primera vez que véo una tarjeta gráfica con 4 coolers.
Es bastante grande y pesada, así que pide a gritos ser usada a máxima potencia. Tengo un poco de "Mucha ansiedad" con respecto a poder hacerlo, de hecho. Apenas esté ya lista para usarse, lo primero que haré será poner algún juego super pesado en mega ultra y ver si explota JAJAJA.
Lamentablemente, me faltó comprar una fuente para poder darle la energia que necesita a la placa de video, así que demorará una semana más en tiempo de espera. Pero de igual manera me siento muy feliz, aquí en Argentina y me imagino que en el mundo, éste tipo de artículos varían de manera abismal sus precios de un momento para otro, por lo que ya tenerla en mi poder es realmente tranquilizante.
No quiero ser repetitivo pero....
MUCHAS GRACIAS
Las imágenes utilizadas en el post, fueron sacadas con mi celular.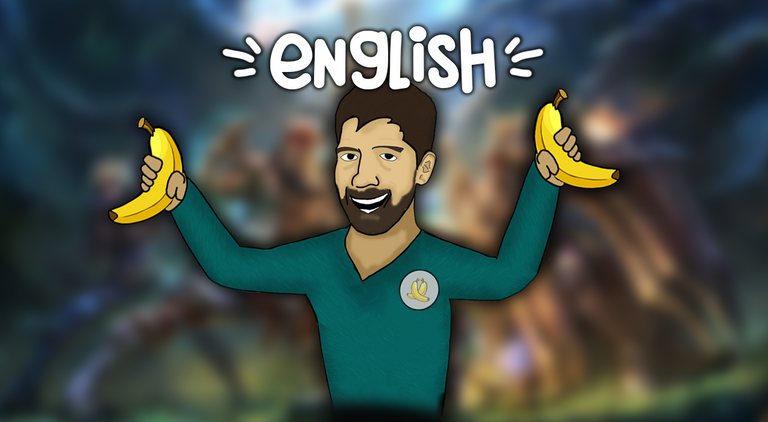 Hi everyone again! Today, I bring you something a bit peculiar on my channel, my first Unboxing. I'm really very excited about today's post. It is something really special for me.
I'll give a bit of context to the story. The reality is that since I joined Hive, I decided that my first goal would be to build a CPU that could actually run the games and programs correctly for the recordings and the content that I generate. It's not that there's anything wrong with my PC at the moment, but, for example, I stopped recording Elden Ring, because it wasn't easy to play and record at the same time for my current video card. (A 6 GB 1060). So, I decided that the first component to purchase would be the video card.
I want to thank everyone, but from the bottom of my heart. To each and every one, to those who follow me daily or even to those who, perhaps, left a vote in support in a totally random way or a view in my videos, since the reality is that all this has been possible thanks to that support for. Thank you very much.
Although it may be somewhat obvious with what I just said, this new acquisition came out 100% from Hive. So I'm really very happy to have the opportunity to generate content here. For those who know me a little more, I come from Twitch and although this is not a space to criticize. If I can say, that if I had continued there, "I wouldn't even be to blame" how well a friend says HAHAHA.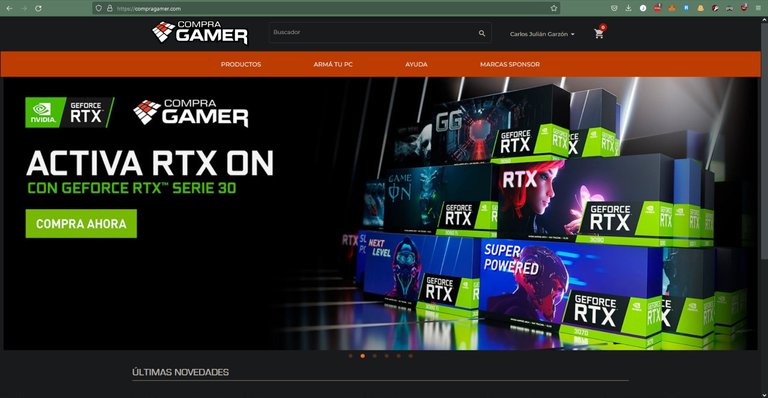 I made the purchase in "Compragamer" A page that sells electronic products here in Argentina, I asked for car rights to upload photos of the page and others in the questions section, so don't be scared by copyright 🤠.
By the way, I bought a GALAX brand 12GB 3080. Although I do not know the brand, I doubt that I can fail buying something of such a level.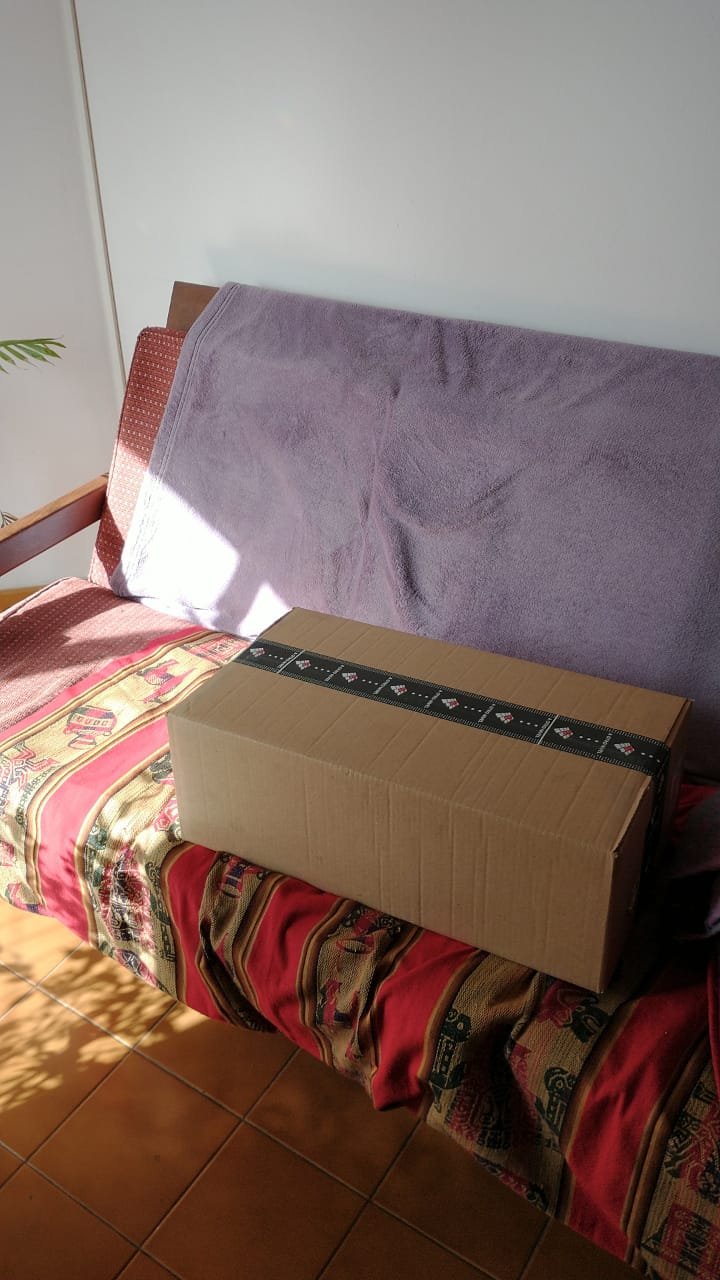 The product arrived at the local post about 2 KM from the location of my apartment. So I put on my best sneakers and walked to the place. To my surprise, it came in a giant box. In fact, it must measure at least one meter, although in the photo it may not be fully appreciated.
I must admit I freaked out that something that big could get into my CPU lol.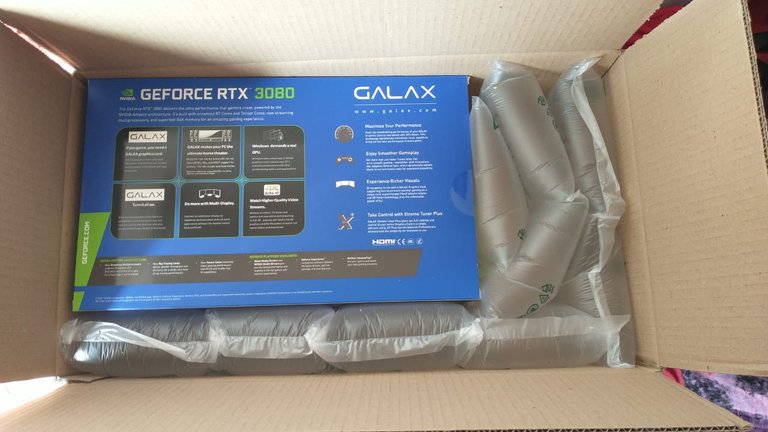 In the end, like some good Lays fries, it turned out to be pure air. Literally inside the box came the original box and plenty of air pockets to cushion any bumps. Excellent service indeed.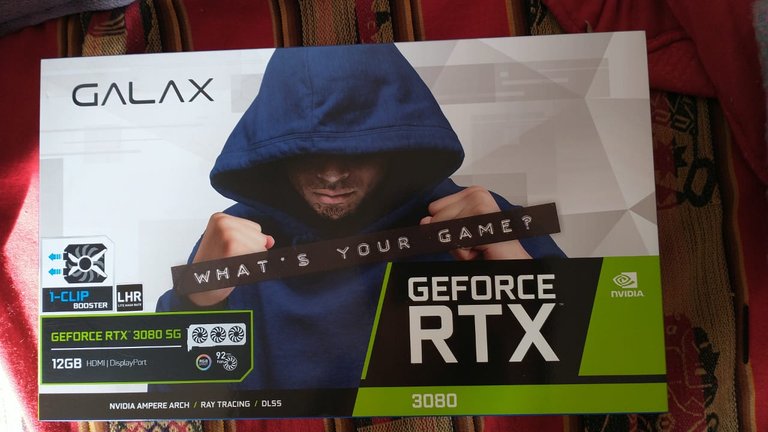 Here you can see a photo of the front of the box. The design is very good, it produces pleasure only with eye contact.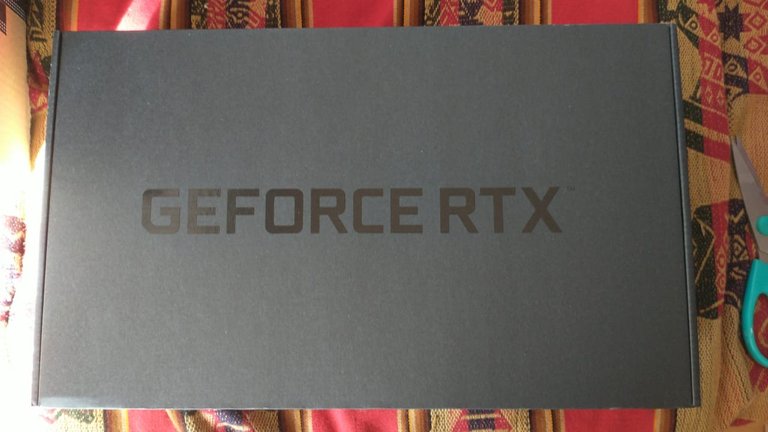 And inside the second box, clearly there would be a third box. Everything is solved like this in the world of long-distance shipments, it is better to fill everything with boxes to ensure the integrity of the product.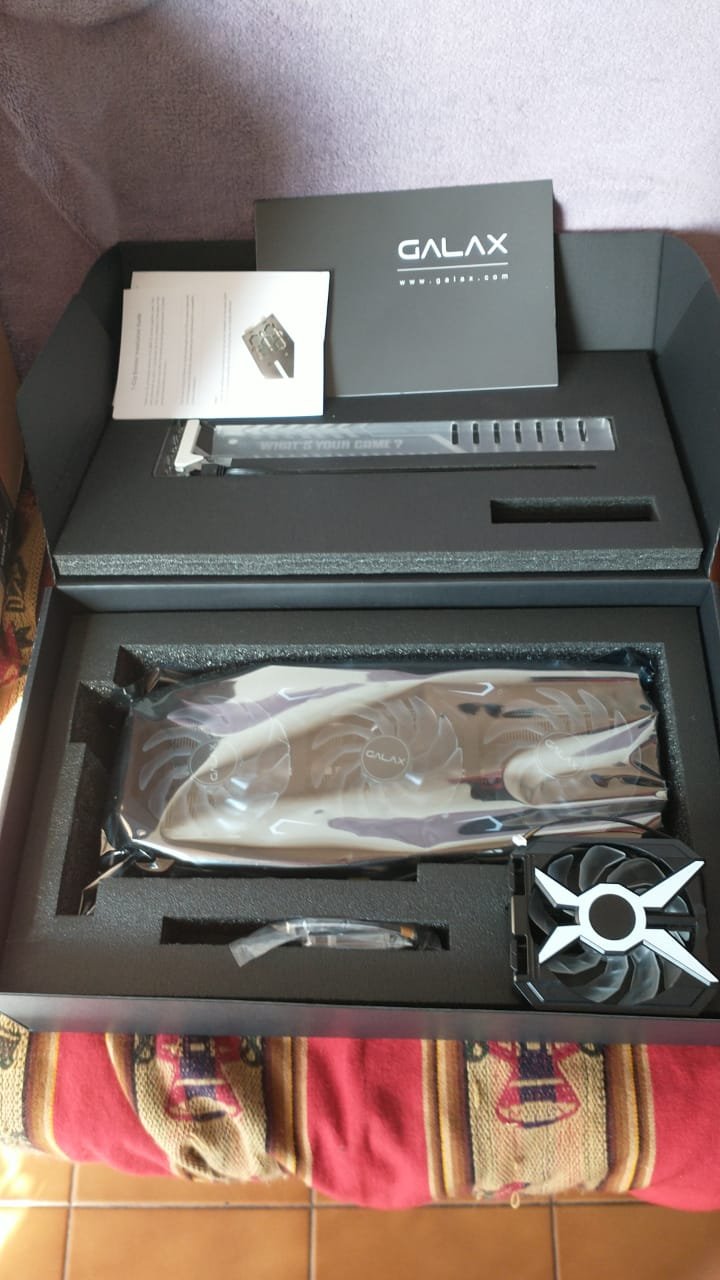 Since I am a fearful and ignorant with respect to technology, I decided not to remove the video card from its packaging until I took it to a friend. Who is the one who has always assembled and updated my CPU. In the same way, it can be seen that it has 3 main coolers and a fourth one, which goes on top of the others. A system that caught my attention, it must be the first time I see a graphics card with 4 coolers.
It's quite large and heavy, so it begs to be used at full power. I'm a bit "very anxious" about being able to actually do it. As soon as it's ready to go, the first thing I'm going to do is put some super heavy game on mega ultra and see if it blows up HAHAHA.
Unfortunately, I had to buy a power supply to be able to give the video card the energy it needs, so it will take another week in waiting time. But in the same way I feel very happy, here in Argentina and I imagine that in the world, this type of article varies abysmal in its prices from one moment to another, so having it in my possession is really reassuring.
I don't want to be repetitive but....
THANKS A LOT
The images used in the post were taken with my cell phone.