Hola a todos nuevamente!
Primero que nada, debo disculparme un poco por mi ausencia parcial. Ya que con todo el tema de actualizar la computadora sumado a rendir materias estas dos semanas, han estado bastante cargadas en términos de tiempo. Así que bueno, sin miedo al éxito vamos allá:
UNBOXING Y ARMADO DE LA PC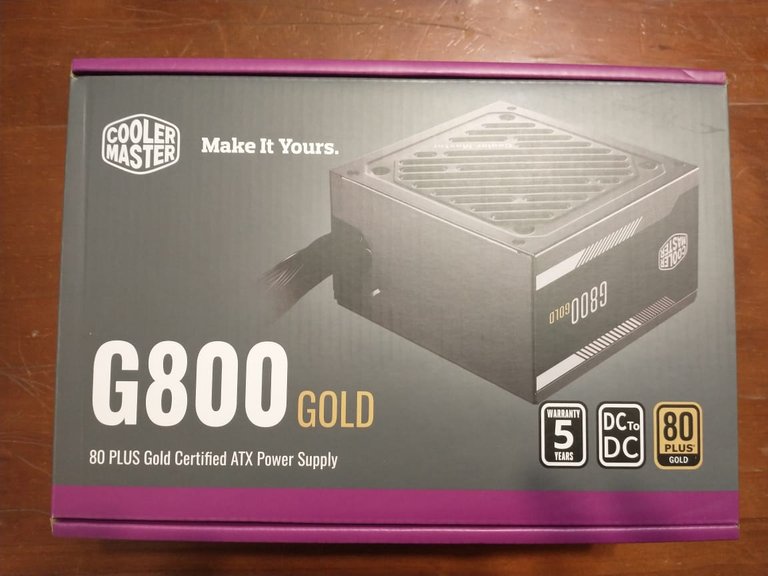 Estuve un largo tiempo pensado que fuente comprar para poder utilizarla con mi reciente 3080 de 12GB marca GALAX. Porque estuve buscando en internet y resulta, que recomiendan para su uso una fuente mínima de 750W.
Encontré varios precios y opciones en compragamer, donde normalmente compro todos mis productos electrónicos. La cosa es que, los precios rondaban aproximadamente entre 19.000 y 20.000 ARS, o pesos argentinos mejor dicho. Siendo fuentes de 750W y con el certificado de bronce.
No tenía sentido para mí comprar esas fuentes, ya que tan solo a 22.000 Ars, es decir 2.000 extras, encontré ésta de Coolermaster de 800W con certificado GOLD. Aprovechando que uno normalmente no actualiza los componentes por largos periodos de tiempo, decidí que mi mejor jugada sería apuntar un poco más alto y opté por ésta misma.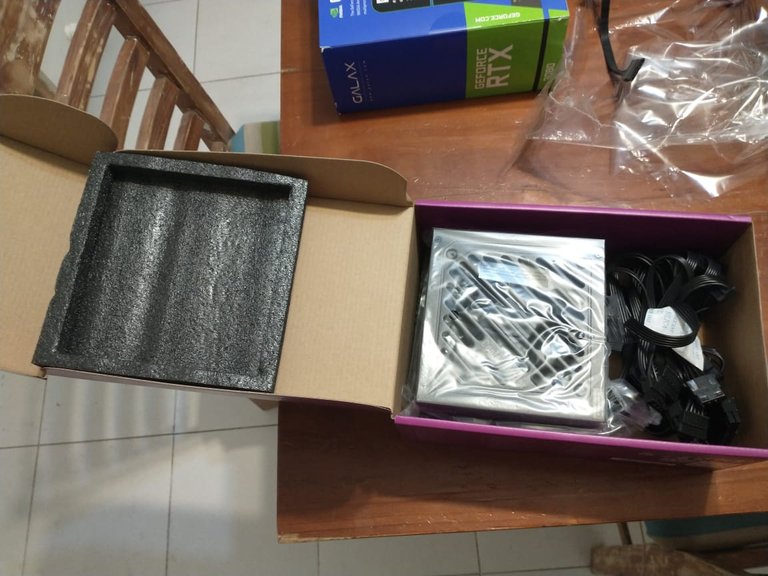 Me gustó la super protección que tenía la fuente, por todos lados goma espuma y plasticos para evitar que se raye o que algún golpe pueda llegar a dañarla en el transporte.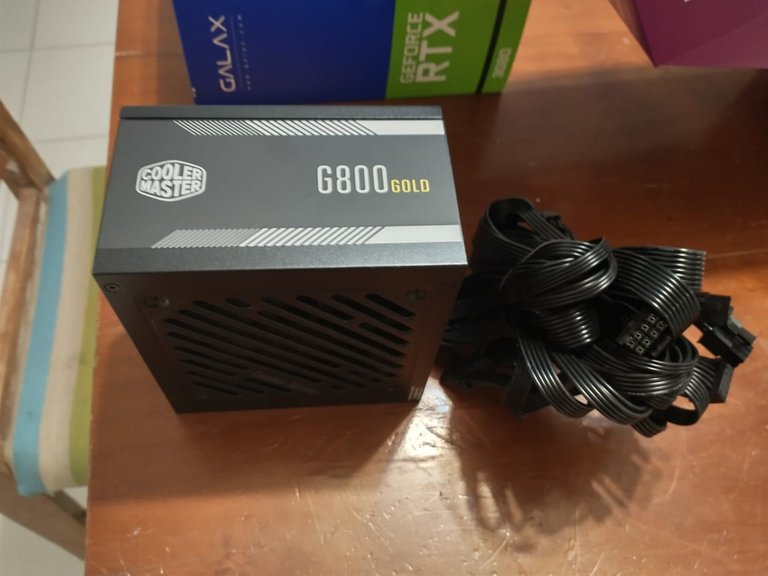 La presentación de la fuente, es tal cual cómo se la mostraba en la caja. Me gusta cuando hay congruencia entre lo que "te venden" y lo que realmente és. 10 puntos para Coolermaster,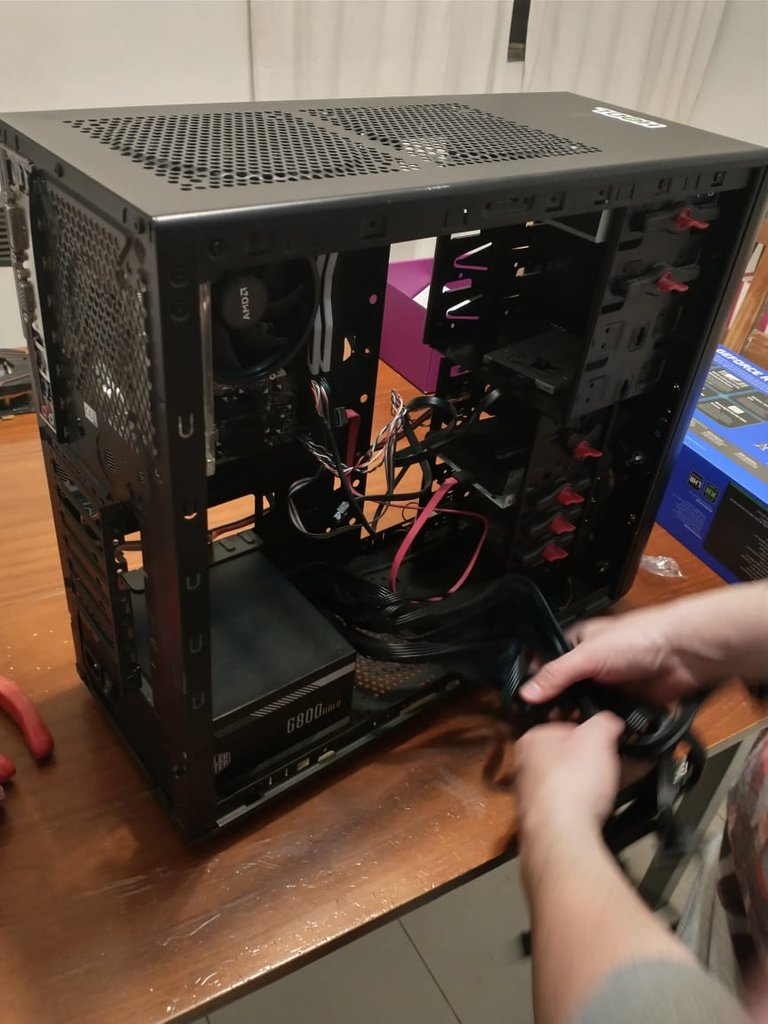 Ya que yo no tengo ni la más mínima idea de cómo armar una computadora ni tampoco estoy dispuesto a aprender, decidí llevarla a un amigo que es técnico y si sabe lo que está haciendo. Lo único malo de todo ésto, es que él no quiso cobrarme más que fotos y videos para publicitar su negocio de informática. Así que me ví obligado a pedir unas hamburgesas para que por lo menos tuviera una buena comida mientras trabajaba 🤠.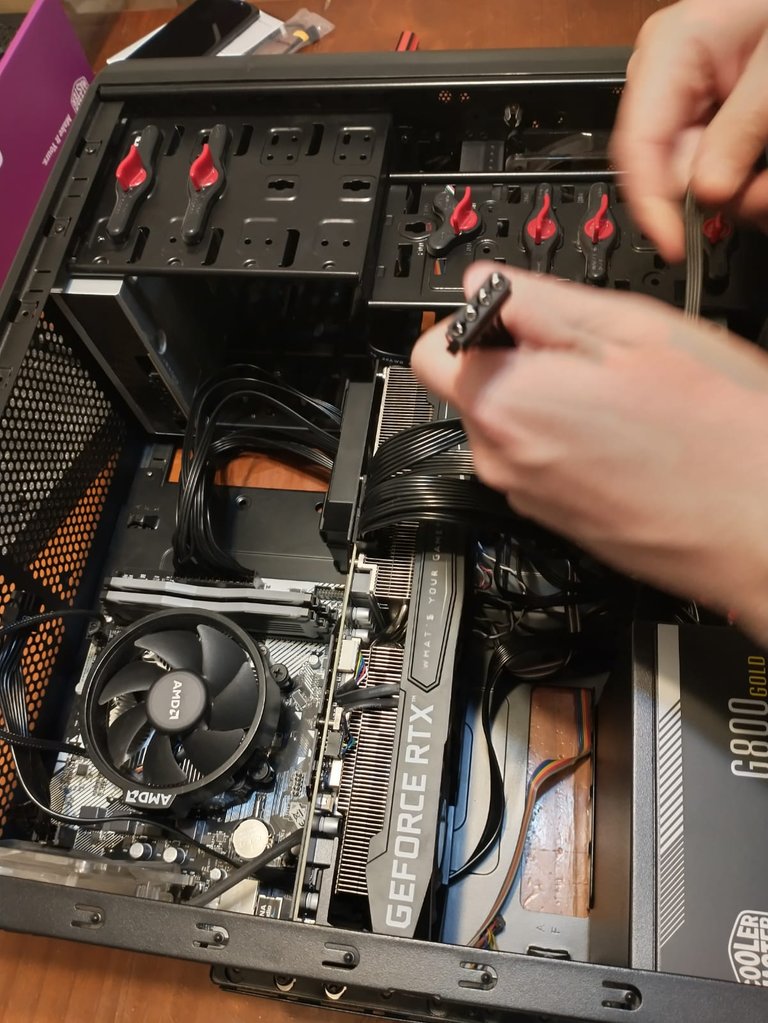 A medida que íbamos avanzando, empezó a reinar el miedo. Ya que la placa de video, es realmente GIGANTE. Así que parecía que no iba a entrar. De hecho, fué necesario remover los discos SSD y todas las demás cosas, para poner primero la placa y que de ésa manera, finalmente quedara justito encajada.
Una preocupación de mi amigo que sí me hizo saber. Es que lo antes posible deberé cambiar la motherboard, ya que existe la posiblidad de que la placa de video que és tan pesada, a la larga la termine doblando o partiendo con el propio peso de su existencia. NI hablar de movilizar el cpu, hay que tratar de dejarlo bien quieto en su lugar Jajaja.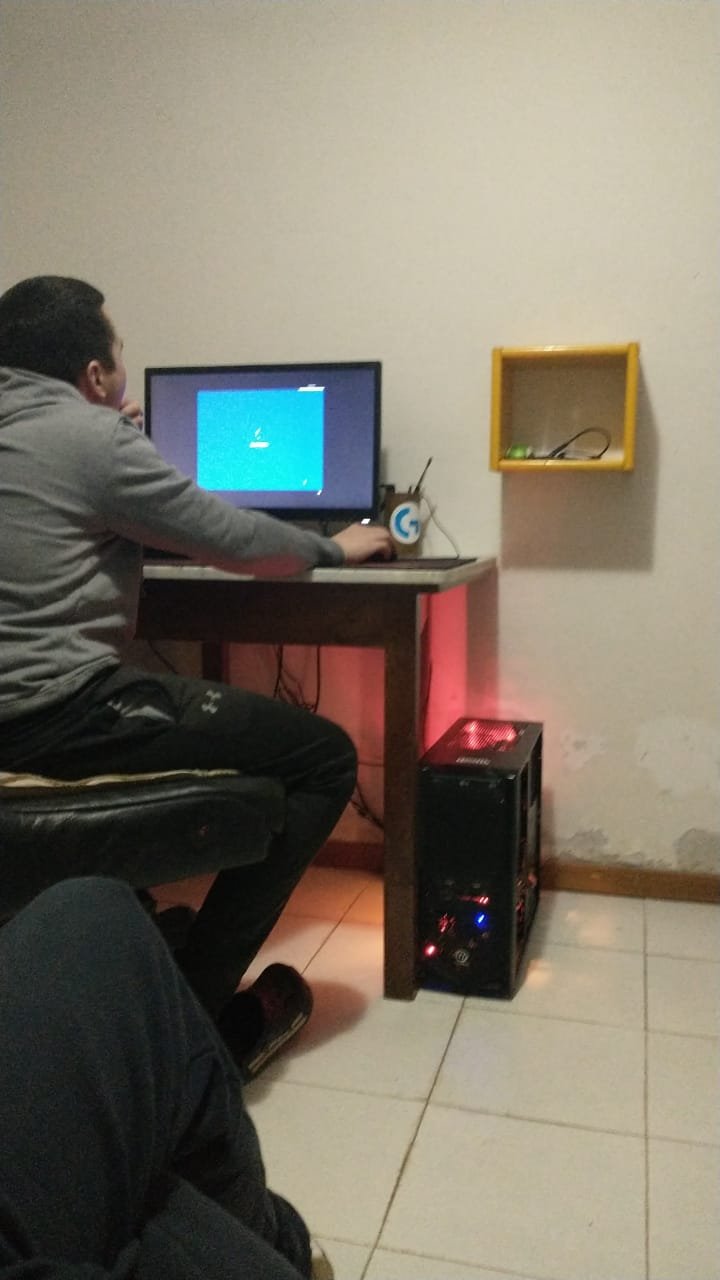 En principio, tuvímos varios problemas técnicos para instalar todos los programas necesarios y el windows en la computadora, ya que por algún motivo que jamás terminé de definir, mi computadora no puede ser reiniciada. Es cómo que queda en estado de hibernación o decide simplemente quedarse encendida en el "vacio". No es una novedad, de hecho creo que es algún defecto que trae la motherboard, el procesador o vaya a saber qué.
Así, que cómo buena persona que no sabe nada de computación, aporté todo mi apoyo logístico y moral sacando buenas fotos. JAJAJA.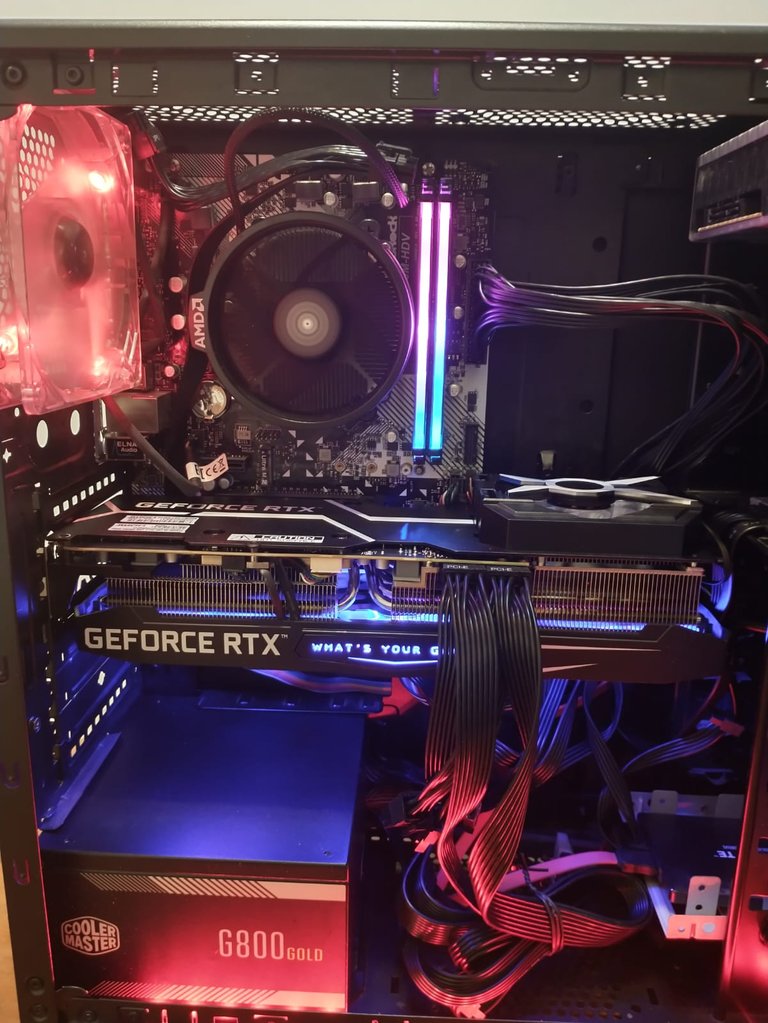 El producto final, és una locura. Cómo bien dijo mi amigo @ilazramusic es porno a los ojos de un gamer JAJAJAJA. Que risa JAJAJA. Pero la realidad, es que no se equivoca. Es realmente muy placentero y siento la necesidad de nuevamente agradecerle a todos por hacer ésto posible, ya que la tarjeta gráfica y la fuente, fueron resultados del apoyo de las personas en Hive, al 100%. Literalmente. Gracias ❤️.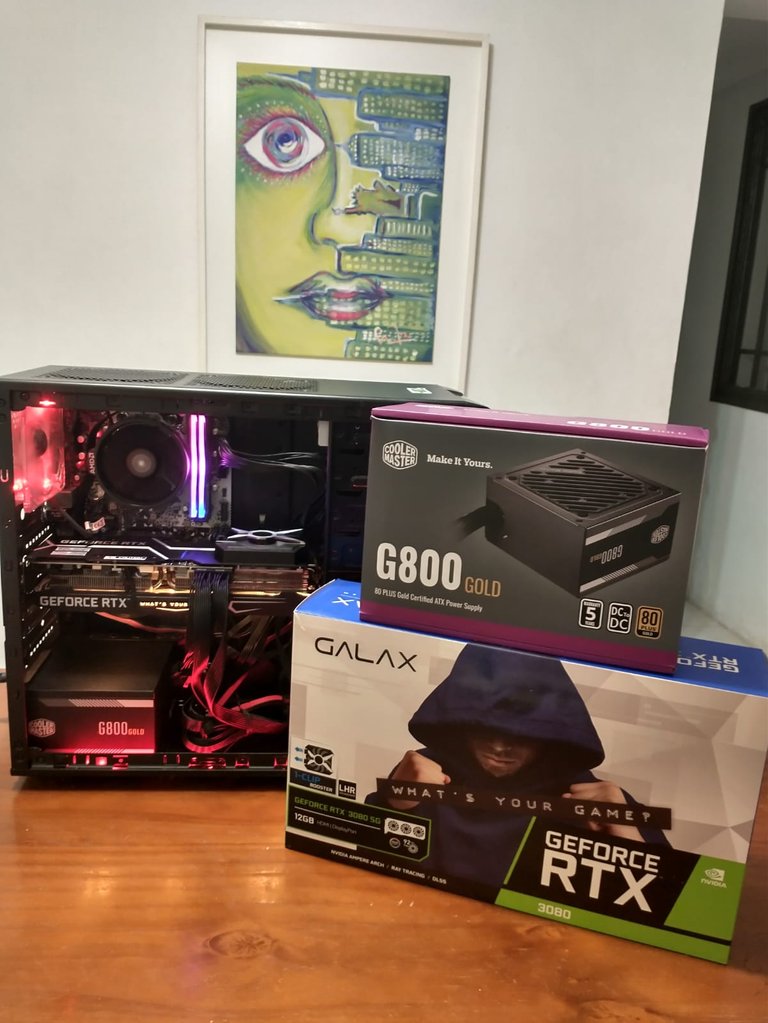 Y finalmente, quedó todo ya armado y listo para usarse. En la misma foto podrán comprobar lo que decía de la placa de video, logró entrar al gabinete de pura casualidad. De hecho hasta rompímos un poquito de una de las plaquitas de metal para poder hacerlo, pero cómo siempre digo. Hay que avanzar sin miedo al éxito.
Aunque no se pueda apreciar del todo en un Gif, no había mejor manera de terminar el post que, con un ataque giro mortal de la muerte a full mega ultra HD 4k real no fake 360. Podrán apreciarlo realmente en algún video próximo que haga de Monster Hunter World 😏.
Créditos
Las imágenes utilizadas en el post, fueron tomadas desde mi celular, Moto G8 Play.
Las imágenes separadoras y de final de post, fueron creadas por un diseñador gráfico para darle más personalidad al canal.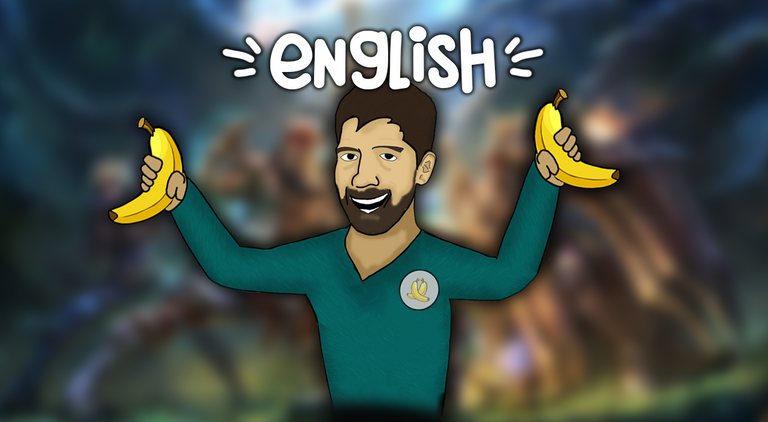 Hi everyone again!
First of all, I must apologize a little for my partial absence. Since with all the topic of updating the computer added to taking subjects these two weeks have been quite busy in terms of time. So good, without fear of success let's go there:
UNBOXING AND ASSEMBLING THE PC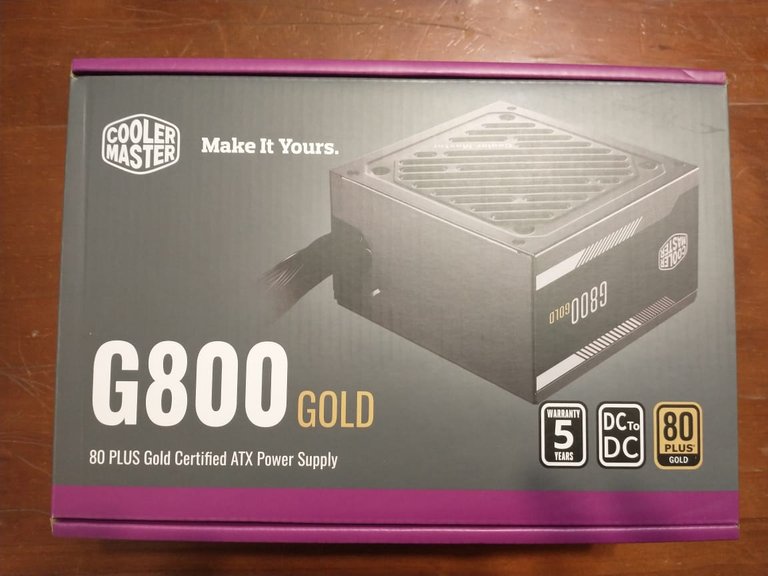 I spent a long time thinking about which source to buy to be able to use it with my recent GALAX brand 12GB 3080. Because I was searching the internet and it turns out that they recommend a minimum source of 750W for use.
I found various prices and options on Compragamer, where I normally buy all my electronics. The thing is, the prices were approximately between 19,000 and 20,000 ARS, or rather Argentine pesos. Being sources of 750W and with the bronze certificate.
It didn't make sense for me to buy those sources, since for only 22,000 Ars, that is, 2,000 extra, I found this 800W Coolermaster with a GOLD certificate. Taking advantage of the fact that one does not normally update the components for long periods of time, I decided that my best move would be to aim a little higher and I opted for this one.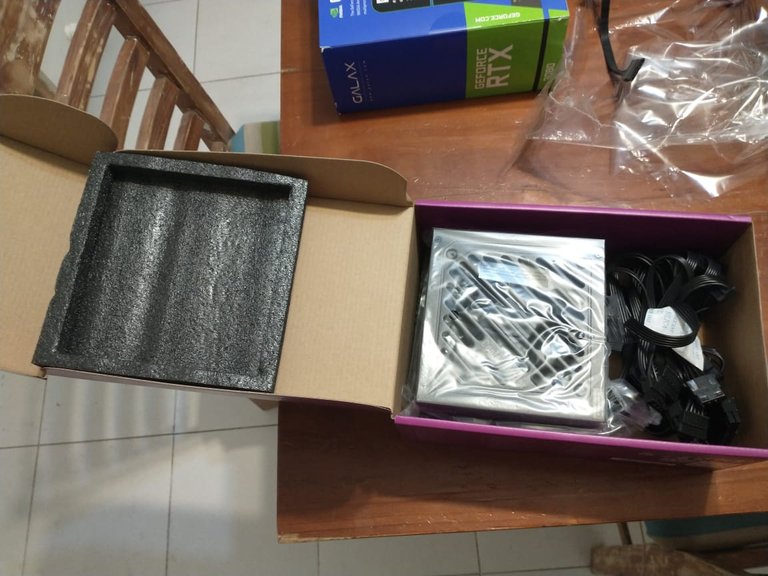 I liked the super protection that the fountain had, foam rubber and plastic everywhere to prevent it from being scratched or that a blow could damage it during transport.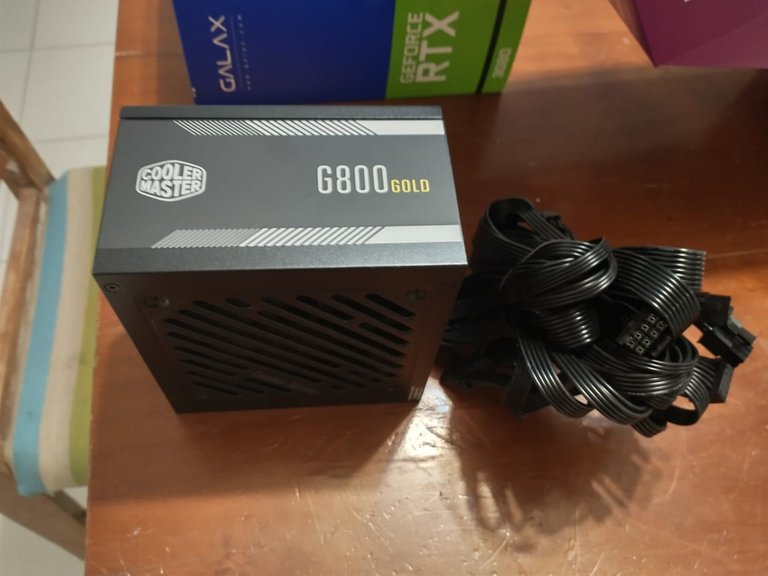 The presentation of the source is as it was shown in the box. I like it when there is congruence between what they "sell you" and what it really is. 10 points for Coolermaster,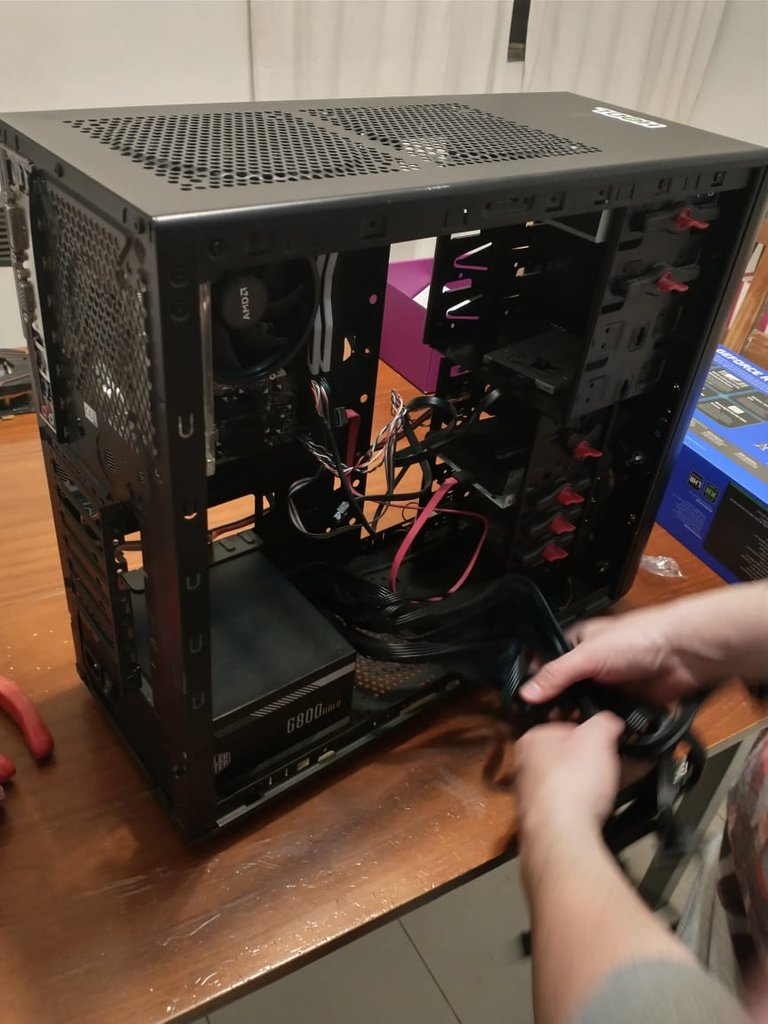 Since I don't have the slightest idea of ​​how to build a computer nor am I willing to learn, I decided to take it to a friend who is a technician and if he knows what he is doing. The only bad thing about all this is that he didn't want to charge me more than photos and videos to advertise his computer business. So I was forced to order some burgers so that I could at least have a good meal while I was working 🤠.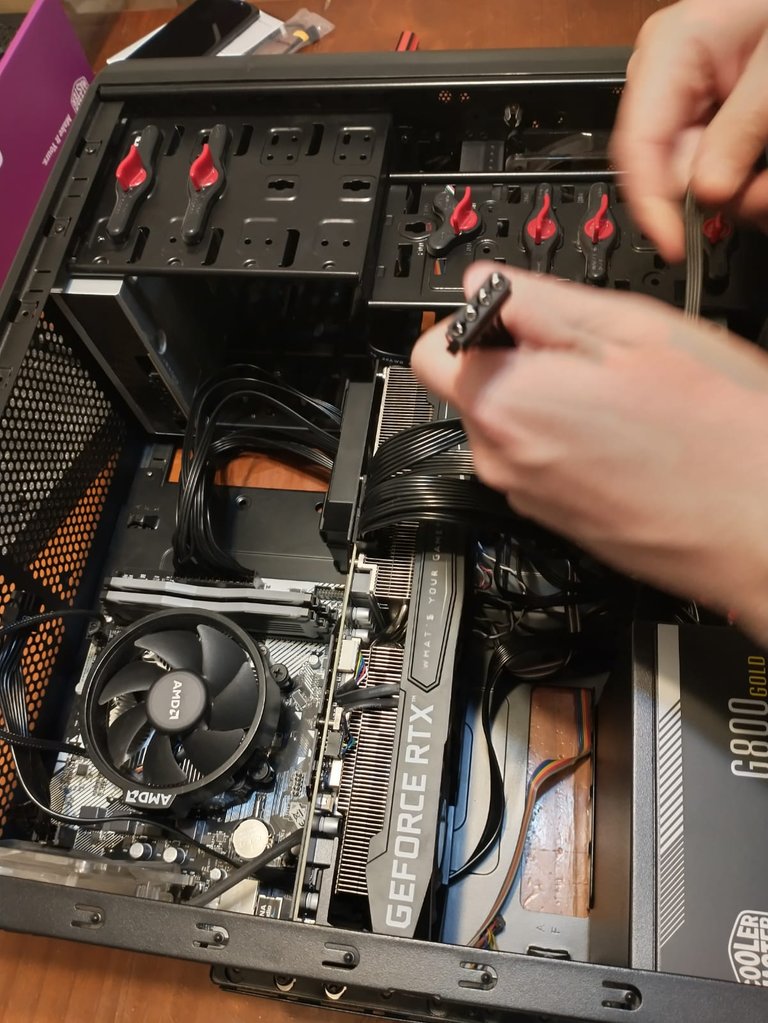 As we progressed, fear began to reign. Since the video card is really GIANT. So it looked like he wasn't going to get in. In fact, it was necessary to remove the SSD drives and all the other things, to put the plate first and that way, it would finally fit just right.
A concern of my friend who did let me know. It is that as soon as possible I will have to change the motherboard, since there is the possibility that the video card that is so heavy, in the long run, ends up bending or splitting with the weight of its existence. Not to mention mobilizing the cpu, you have to try to leave it very still in its place hahaha.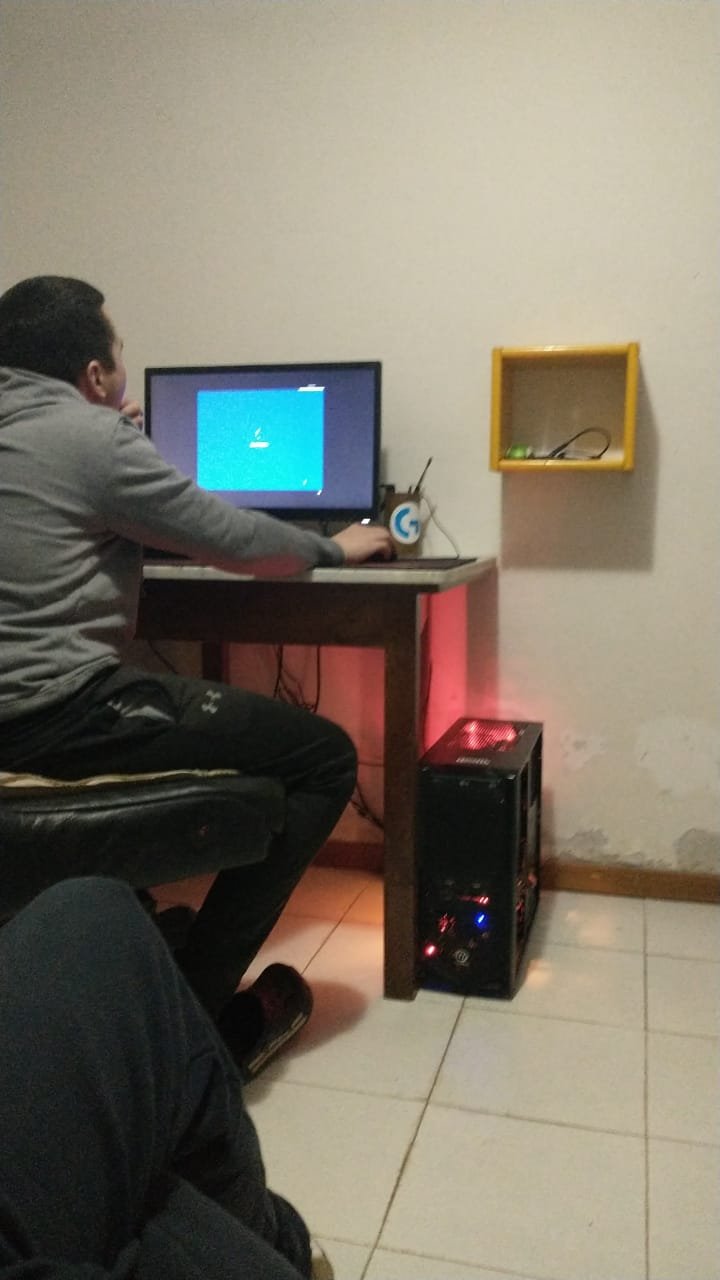 In the beginning, we had several technical problems to install all the necessary programs and windows on the computer, since for some reason that I have never finished defining, my computer cannot be restarted. It's like it remains in a state of hibernation or decides to simply stay on in the "vacuum". It is not a novelty, in fact I think it is some defect that brings the motherboard, the processor or who knows what.
So, as a good person who knows nothing about computers, I provided all my logistical and moral support by taking good photos. LOL.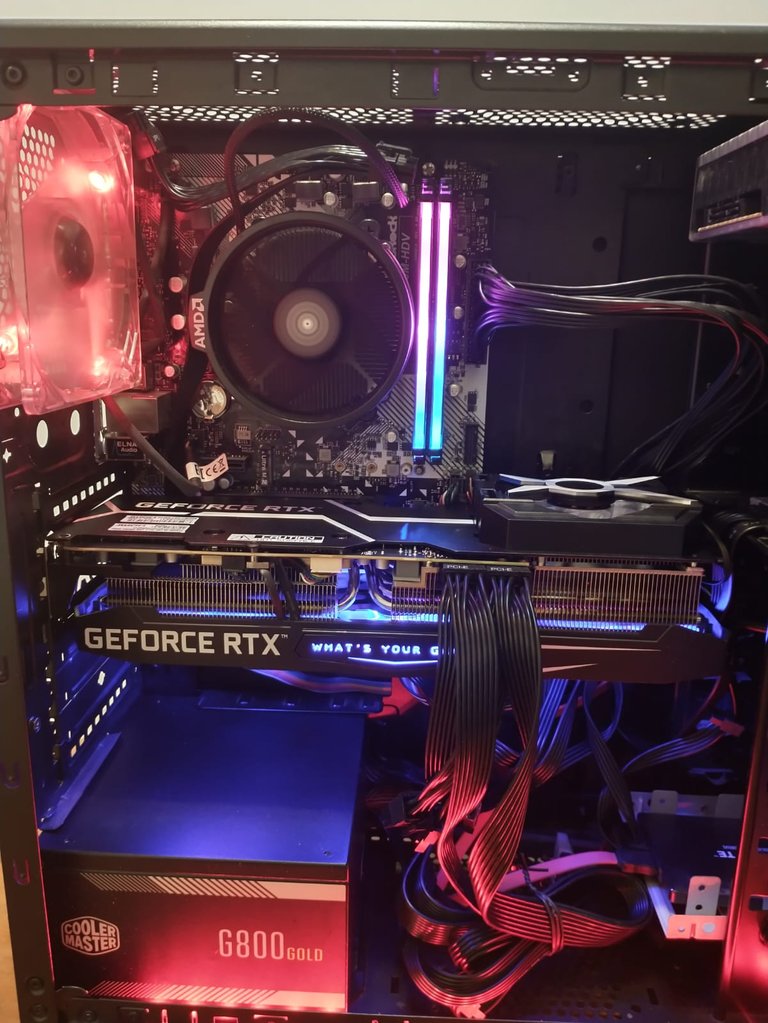 The final product is crazy. How well my friend @ilazramusic said it is porn in the eyes of a gamer HAHAHAHA. What a laugh lol. But the reality is that he is not wrong. It is really very pleasant and I feel the need to thank everyone again for making this possible, since the graphics card and the source were a result of the support of the people in Hive, 100%. Literally. Thank you ❤️.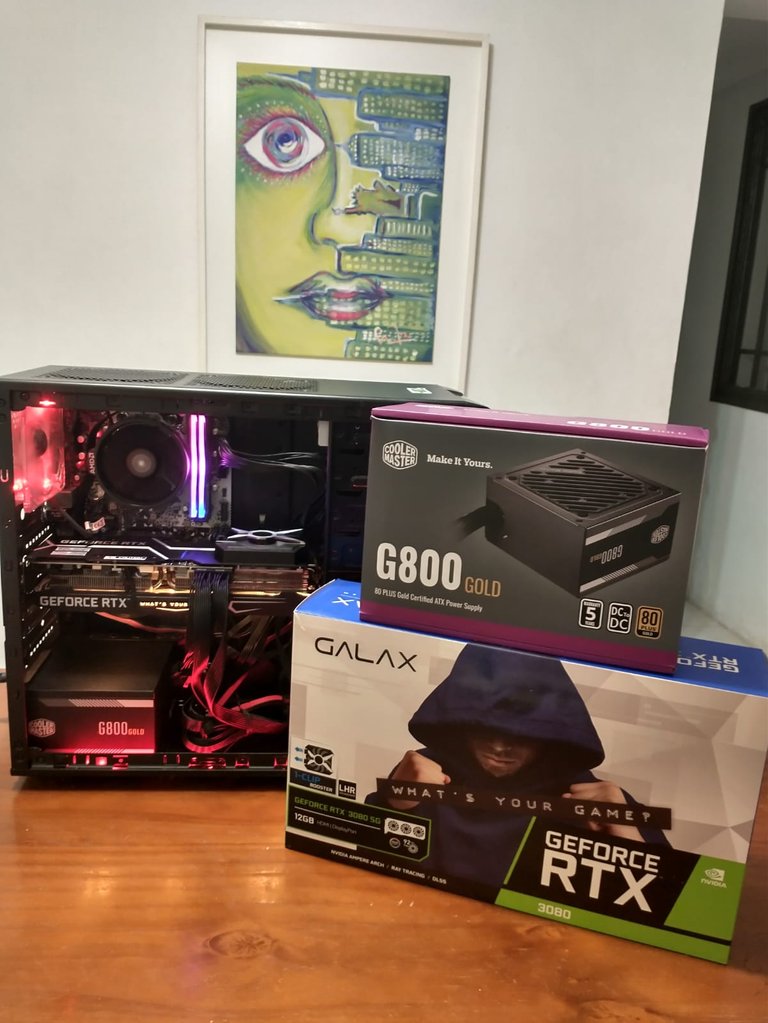 And finally, everything was already assembled and ready to be used. In the same photo you can see what he said about the video card, he managed to enter the cabinet by chance. In fact, we even broke a little bit of one of the plates of metal to be able to do it, but how I always say. You have to move forward without fear of success.
Although you can't fully appreciate it in a Gif, there was no better way to end the post than with a deadly twist of death attack in full mega ultra HD 4k real, not fake 360. Monster Hunter World 😏.
Credits
The images used in the post were taken from my cell phone, Moto G8 Play.
The separator images and the end of the post were created by a graphic designer to give the channel more personality.