---
---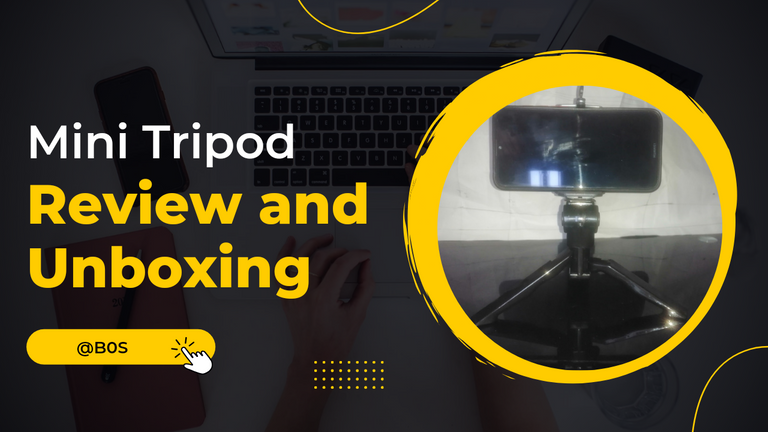 Photo created using canva
---
A couple days ago [Sunday] I was just messing around, and I felt like doing a short vlog as a joke. I didn't do it because I didn't have the energy to focus on holding my phone well in a cruise video. Majority of my videos on hive didn't really need to show my face, the only one that did I had to borrow my cousin's tripod to do it. So in order to not need to borrow anymore I decided I'd get a mini tripod. I hopped on Jumia to see the type I could get. I initially wanted the gorilla pod like that of my cousin, but I saw a couple reviews saying it was easy to break the legs so I decided to go for something else. This was when I came across this mini tripod. It was priced at approximately 4 dollars which is really cheap, so I decided to buy it from here immediately. It came in yesterday (a day ahead of the agreed date) much to my satisfaction. I've done some observations and inspections and I'd like to share my thoughts on the product.
---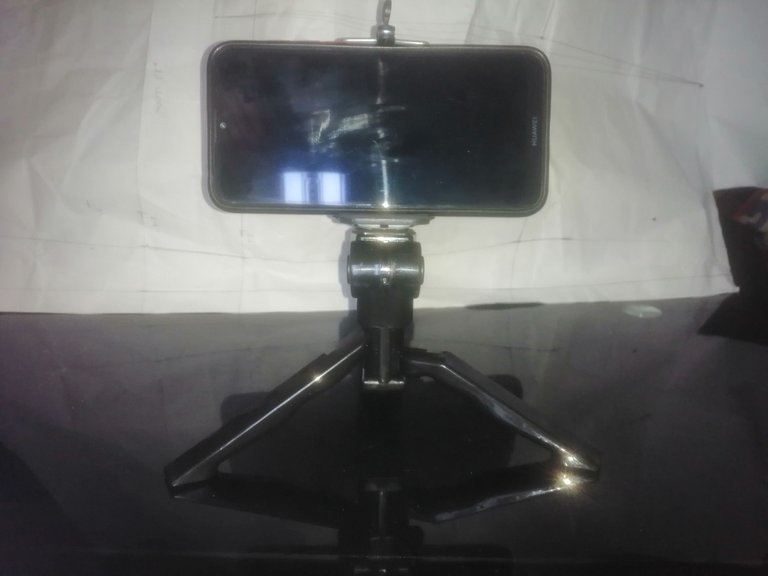 ---
The only things in the box are the tripod stand itself and the phone holder. It didn't come in the company pack, so I'm assuming it was repackaged. In the designs I've seen online it's supposed to come with a bluetooth remote for stopping and starting videos and taking pictures. I suppose this was taken away by the sellers.

Pros
The first thing I like about this is its design. I like the design a lot because it looks like a three legged spider of some sort. And when it folds it looks like some kind of futuristic gun.
---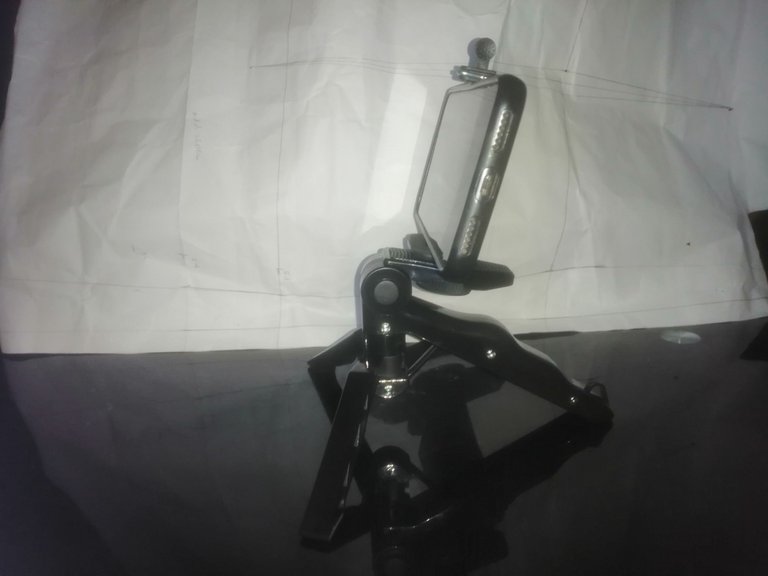 A three legged spider
---
When I received the box I was a bit scared that I received the wrong package. Why? Because it was so light. The mini tripod is made of plastic so of course it's light. But I wasn't expecting to be as light as it is. I like the fact it's light though, that way you can hold it for a long time without your hands hurting.
The angle in which the phone is positioned can easily be changed by pushing the button at the side and moving the seat up or down. This way one can get better angles.
It's pretty small and compact, it can't fit in my pocket though.

Cons
The major thing I don't like about the product is that it can't change height. It can go left, right, up and down, but there's no way for one to lower the height or increase it just a little bit. This is something that can be done by the gorilla pod by simply bending its legs a bit. I'm not too pissed though because it's at an optimal height for a normal scenario. But once in a while one might want to lower it a bit.
The second thing is its plastic. This is both a pro and a con actually. Being plastic means it is very light, but then again it also means it's liable to break easily. For this reason I'm extra careful with it. It may or may not snap as easily as the gorilla pod, but I'm pretty sure with proper care I should be able to use it for quite some time.

Conclusion
Overall, I think this mini tripod is pretty good, and for the price of 4 dollars it's worth every penny. Do watch me unbox it. Thanks for stopping by.
---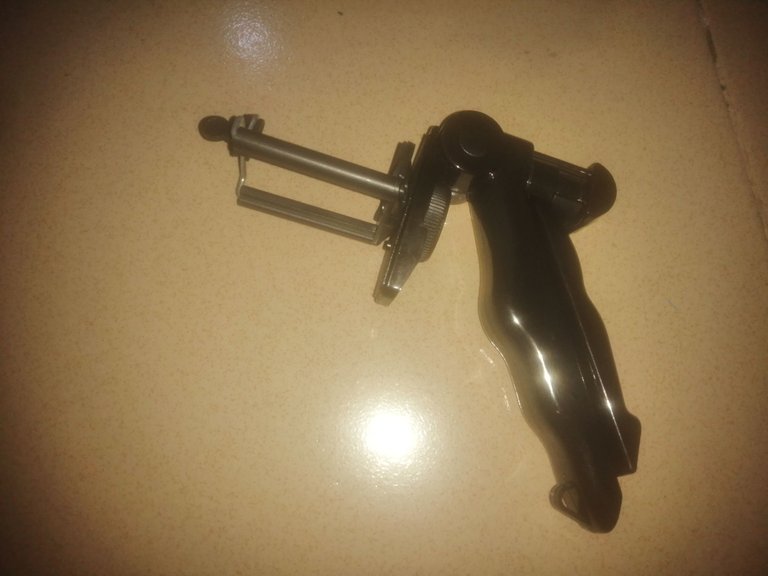 A futuristic gun
---

---
Spanish version

Photo created using canva
---
Hace un par de días [el domingo] estaba trasteando y me apetecía hacer un pequeño vlog de broma. No lo hice porque no tenía la energía para concentrarme en sostener bien mi teléfono en un video de crucero. La mayoría de mis vídeos en hive no necesitaban realmente mostrar mi cara, el único que lo hacía tuve que pedirle prestado a mi primo el trípode para hacerlo. Así que para no tener que pedir más prestado decidí comprar un mini trípode. Entré en Jumia para ver qué tipo de trípode podía conseguir. Inicialmente quería el trípode gorila como el de mi primo, pero vi un par de reseñas que decían que era fácil romper las patas así que decidí ir por otra cosa. Fue entonces cuando me encontré con este mini trípode. Su precio era de aproximadamente 4 dólares, lo cual es realmente barato, así que decidí comprarlo en aquí inmediatamente. Llegó ayer (un día antes de la fecha acordada) para mi satisfacción. He hecho algunas observaciones e inspecciones y me gustaría compartir mis opiniones sobre el producto.
---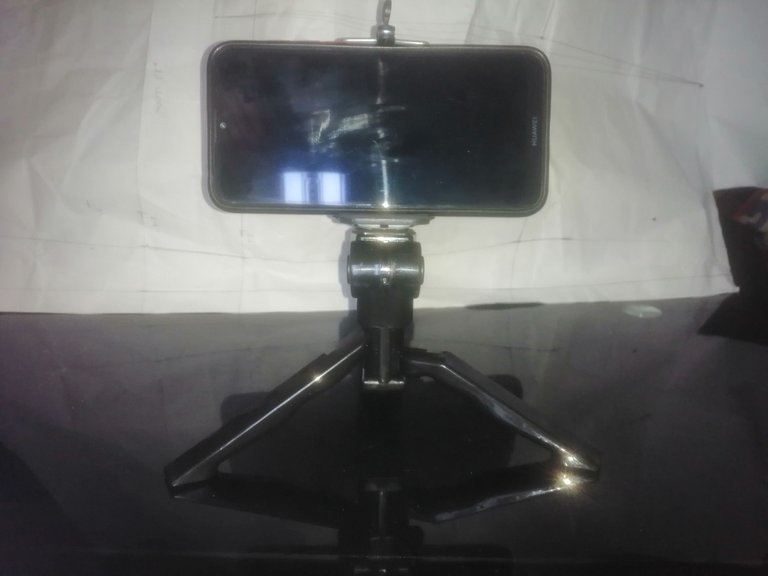 ---
Lo único que hay en la caja es el propio soporte del trípode y el soporte del teléfono. No venía en el paquete de la empresa, así que supongo que fue reempaquetado. En los diseños que he visto en internet se supone que viene con un mando bluetooth para parar e iniciar vídeos y hacer fotos. Supongo que esto lo quitaron los vendedores.

Pros
Lo primero que me gusta es su diseño. Me gusta mucho el diseño porque parece una especie de araña de tres patas. Y cuando se pliega parece una especie de arma futurista.
---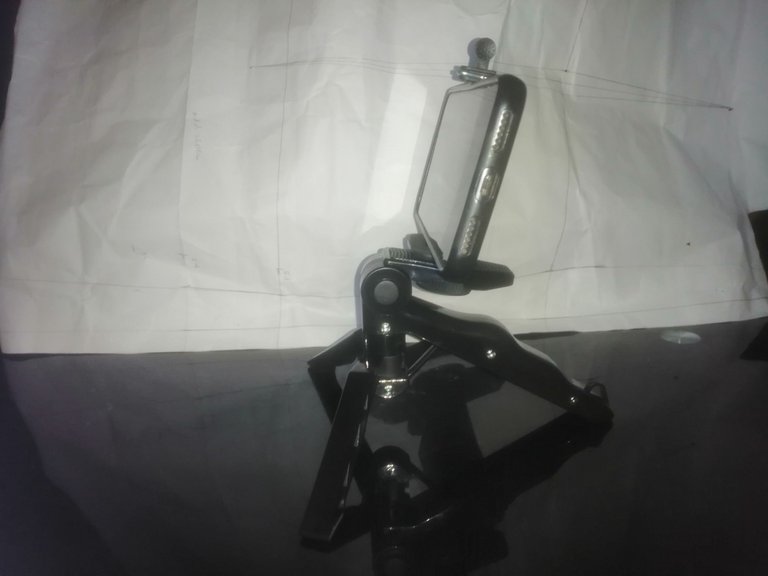 Una araña de tres patas
---
Cuando recibí la caja me asusté un poco al pensar que me había equivocado de paquete. ¿Por qué? Porque era muy ligero. El mini trípode está hecho de plástico, así que por supuesto es ligero. Pero no esperaba que fuera tan ligero como lo es. Sin embargo, me gusta que sea ligero, ya que así puedes sostenerlo durante mucho tiempo sin que te duelan las manos.
El ángulo en el que se coloca el teléfono puede cambiarse fácilmente pulsando el botón del lateral y moviendo el asiento hacia arriba o hacia abajo. De esta manera se pueden conseguir mejores ángulos.
Es bastante pequeño y compacto, aunque no cabe en mi bolsillo.

Cons
Lo que menos me gusta del producto es que no puede cambiar de altura. Puede ir a la izquierda, a la derecha, hacia arriba y hacia abajo, pero no hay forma de bajar la altura o aumentarla un poco. Esto es algo que puede hacer la vaina de gorila simplemente doblando un poco las patas. No me molesta demasiado porque está a una altura óptima para un escenario normal. Pero de vez en cuando uno puede querer bajarla un poco.
Lo segundo es su plástico. En realidad, esto es una ventaja y una desventaja. El hecho de ser de plástico significa que es muy ligero, pero también significa que puede romperse fácilmente. Por esta razón tengo mucho cuidado con él. Puede que se rompa o no tan fácilmente como el gorilla pod, pero estoy bastante seguro de que con el cuidado adecuado podré utilizarlo durante bastante tiempo.

Conclusión
En general, creo que este mini trípode es bastante bueno, y por el precio de 4 dólares vale cada centavo. Mirad cómo lo saco de la caja. Gracias por visitarme.
---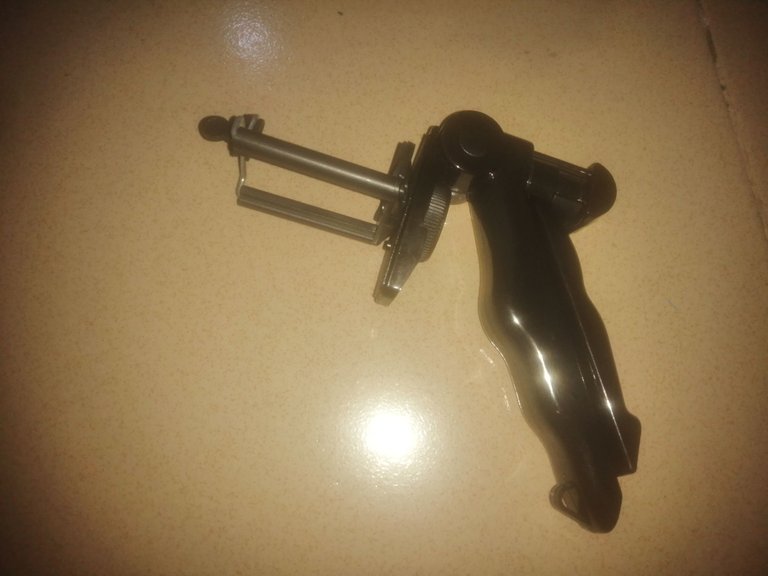 Una pistola futurista
---

Translated using deepl
▶️ 3Speak