---
English version
A couple days ago, my country's national power grid collapsed. Somehow some places still had electricity, but unfortunately for me I wasn't so lucky. For three straight days I had to rely on our generator for electricity, and we only switch it on by 7pm in the evening till 12am or 1am sometimes. My phone kept dying towards the end of the day, because I use it a lot. For this reason I was advised to purchase a power bank. Initially I was advised to purchase a solar power bank, but the majority of the one's I saw did not look trustworthy, so I decided I'd go with something with a reputable brand name. That's when I came across the Oraimo Pilot. For those who don't know, Oraimo is a very popular gadget brand in Nigeria. The usual price is 24 dollars (13,000 naira), but I got it at a discount price of 16.5 dollars (9,100 naira) including delivery fees from oraimo's official page
---

My order arrived three days ago, I've tested it, and I'd like to share my thoughts with you.

In the box
---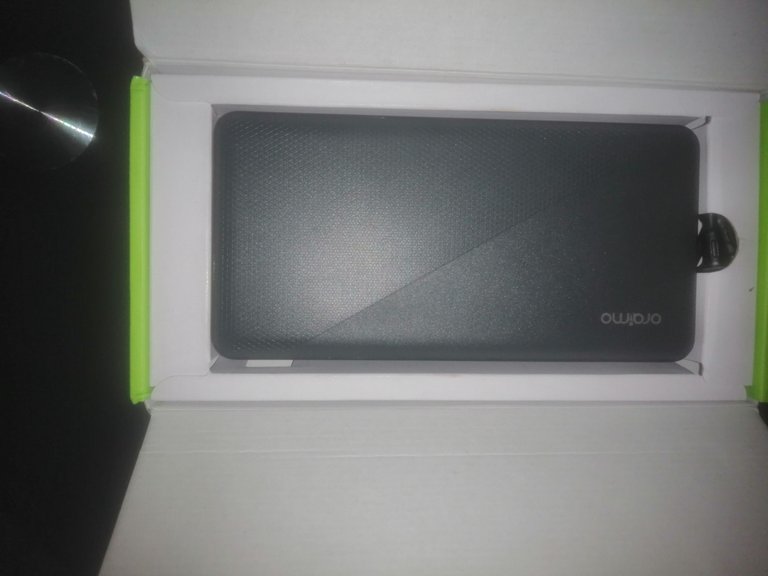 ---
In the box, you have the 20,000mah power bank, a black micro-usb type B power cord, and a warranty certificate. The manual is written in a compartment of the box.

Specs
---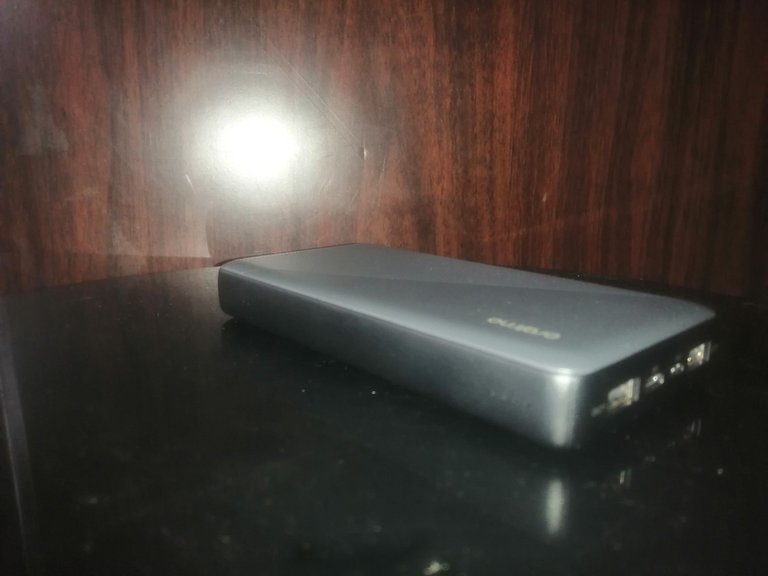 ---
The power bank has a 20,000 mAh lithium battery(72wh), it has two inputs,both 5v=2A, one type c and one micro USB, two USB outputs, both 5v=2.1A and an led indicator to tell the battery percentage. It's dimension is 157x78.5x22mm, and it weighs about 0.3kg (a rough guess).

Pros
I really like the design very much. The Gray and black design makes it stand out from other power banks.
Another thing I like is the fact that it has two inputs and outputs. With the two inputs I don't have to worry about the type of cord I want to use to charge it, per adventure I misplace the cord or forget it somewhere. Note that you can't charge it with both ports at the same time (I actually thought of this xd). But with the two outputs you can charge more than one device at a time, and it doesn't sacrifice speed.
It also has this cool feature where it decreases the amount of current when you plug a device that doesn't require too much current (e.g Bluetooth earpods). When it does this, the indicator light doesn't show.
And how can I forget the 20,000mAh battery, since It arrived I don't worry about the lack of electricity anymore,because I know it can last me at least 3-4 days. Yesterday night I forgot to charge till the light went out. My phone was 10%, I charged my phone overnight, and this evening, before they finally brought the light, my phone was 15%, I charged it full, I also charged my earpods, and all that only took a bar from it. With this, I doubt I'll be running out of power any time soon.


Cons
The first thing I wasn't too satisfied with was the charging speed. It says it's 5v=2.1A which is supposed to be fast, but to me it's pretty average speed. My normal charger which also says the same seems quicker than it when charging my phone. Now in terms of charging the device itself. It's expected to be slower, since the input 5v=2A instead of 5=2.1A, and it has a big battery, but I didn't expect it to be so slow to charge. Its first charge took almost 12 hrs, even though only a bar was down. Now I expected this, but I didn't expect it to still be taking 5 hrs to fill a bar after that.
Another thing I'm not too satisfied with is the fact that it doesn't have a digital led indicator. Now since it's just bars, I can never be completely sure what percent it is. Maybe I'm just overreacting listing this as a con, but I feel it would have been so much better if they'd made the indicator digital


Conclusion
So far, I'd say the Oraimo Pilot Powerbank is a good buy, all things considered. It has good battery life, reasonable charging speed, a nice design, and it's pretty affordable.

Ps:I apologize for the quality of my unboxing video, it's my first time, I didn't have a tripod, and I was too excited. Also all photos and video were taken by me on my huawei y9

Versión en Español
Hace un par de días, la red eléctrica nacional de mi país se colapsó. De alguna manera, algunos lugares seguían teniendo electricidad, pero, por desgracia, yo no tuve tanta suerte. Durante tres días seguidos tuve que depender de nuestro generador de electricidad, y sólo lo encendíamos a las 7 de la tarde hasta las 12 o la 1 de la mañana a veces. Mi teléfono se apagaba al final del día, porque lo utilizo mucho. Por eso me aconsejaron que comprara un banco de energía. Al principio me aconsejaron que comprara un banco de energía solar, pero la mayoría de los que vi no parecían fiables, así que decidí que me decantaría por algo con una marca de renombre. Fue entonces cuando me encontré con el Oraimo Pilot. Para los que no lo sepan, Oraimo es una marca de gadgets muy popular en Nigeria. El precio habitual es de 24 dólares (13.000 nairas), pero lo conseguí con un descuento de 16,5 dólares (9.100 nairas), incluidos los gastos de envío, en la página oficial de Oraimo
---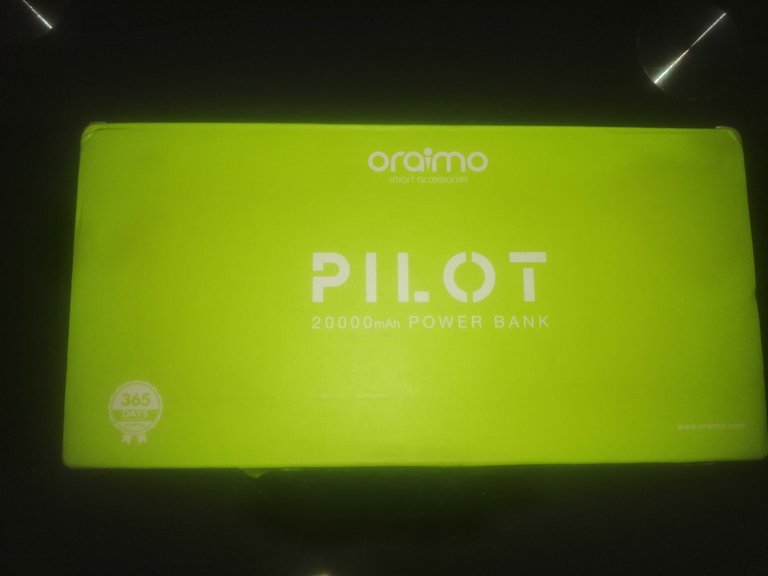 ---
Mi pedido llegó hace tres días, lo he probado y me gustaría compartir mis opiniones con vosotros.

En la caja
---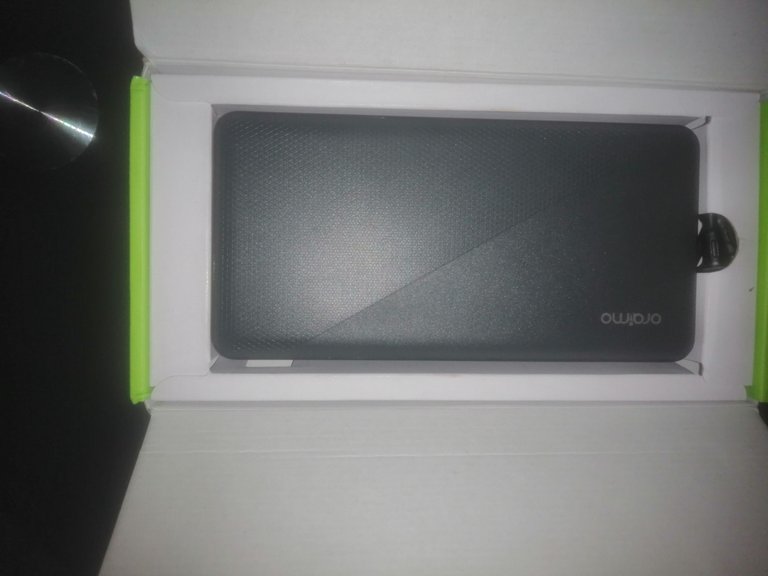 ---
En la caja, tienes el power bank de 20.000mah, un cable de alimentación micro-usb tipo B negro y un certificado de garantía. El manual está escrito en un compartimento de la caja.

Especificaciones
---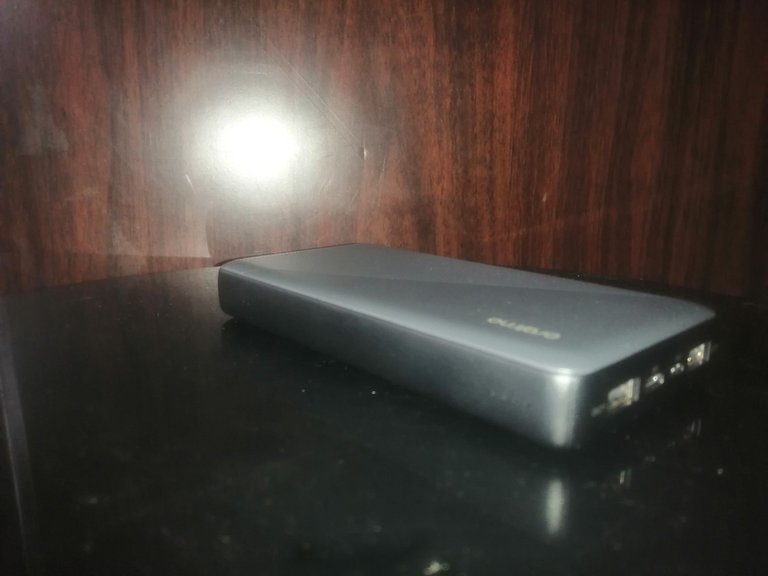 ---
El power bank tiene una batería de litio de 20.000 mAh(72wh), tiene dos entradas, ambas de 5v=2A, una tipo c y otra micro USB, dos salidas USB, ambas de 5v=2.1A y un indicador led para saber el porcentaje de batería. Sus dimensiones son 157x78.5x22mm, y pesa unos 0.3kg (una estimación aproximada).

Pros.
Me gusta mucho el diseño. El diseño gris y negro hace que se destaque de otros bancos de energía.
Otra cosa que me gusta es el hecho de que tiene dos entradas y salidas. Con las dos entradas no tengo que preocuparme por el tipo de cable que quiero usar para cargarlo, por aventura pierdo el cable o lo olvido en algún lugar. Hay que tener en cuenta que no se puede cargar con los dos puertos a la vez (de hecho se me ocurrió esto xd). Pero con las dos salidas puedes cargar más de un dispositivo a la vez, y no sacrifica la velocidad.
Además, tiene una función muy chula en la que disminuye la cantidad de corriente cuando conectas un dispositivo que no requiere demasiada corriente (por ejemplo, unos auriculares Bluetooth). Cuando lo hace, el indicador luminoso no se enciende.
Y cómo olvidar la batería de 20.000mAh, desde que llegó ya no me preocupa la falta de electricidad, porque sé que me puede durar al menos 3-4 días. Ayer por la noche me olvidé de cargar hasta que se fue la luz. Mi teléfono estaba al 10%, cargué el teléfono durante la noche, y esta tarde, antes de que por fin trajeran la luz, mi teléfono estaba al 15%, lo cargué a tope, también cargué mis auriculares, y todo eso sólo le quitó una barra. Con esto, dudo que me quede sin energía pronto.


Cons
Lo primero que no me satisfizo demasiado fue la velocidad de carga. Dice que es de 5v=2.1A que se supone que es rápida, pero para mí es una velocidad bastante media. Mi cargador normal, que también dice lo mismo, parece más rápido que éste al cargar mi teléfono. Ahora en cuanto a la carga del dispositivo en sí. Es de esperar que sea más lento, ya que la entrada 5v=2A en vez de 5=2.1A, y tiene una batería grande, pero no esperaba que fuera tan lento en cargar. La primera carga tardó casi 12 horas, a pesar de que sólo había bajado una barra. Ahora me lo esperaba, pero no esperaba que después de eso siguiera tardando 5 hrs en llenar una barra.
Otra cosa con la que no estoy muy satisfecho es el hecho de que no tenga un indicador led digital. Ahora bien, como sólo son barras, nunca puedo estar completamente seguro de qué porcentaje es. Tal vez estoy exagerando al enumerar esto como una estafa, pero siento que habría sido mucho mejor si hubieran hecho el indicador digital

Conclusión
Hasta ahora, yo diría que el Oraimo Pilot Powerbank es una buena compra, en general.Tiene una buena duración de la batería, una velocidad de carga razonable, un bonito diseño y es bastante asequible.

Ps:Me disculpo por la calidad de mi video de unboxing, es mi primera vez, no tenía trípode y estaba demasiado emocionado. También todas las fotos y el vídeo fueron tomadas por mí en mi huawei y9
Translated using DeepL Translator (free version)
---
▶️ 3Speak