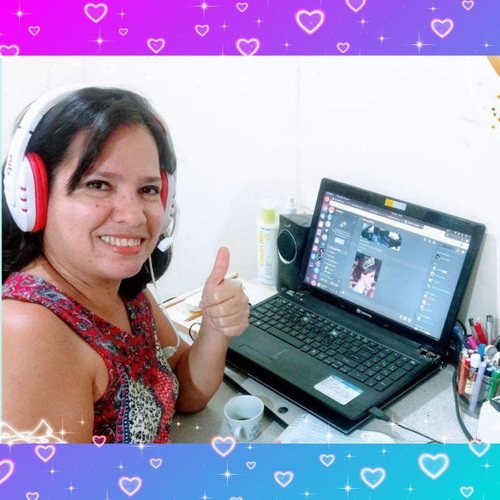 Hoy quiero compartir en esta comunidad un descubrimiento "asombroso", para mí, en mi teléfono celular Redmi9 y que me lo mostró mi hija @sofiaquino98. De repente, es algo que ya muchos saben y usan frecuentemente, pero me pareció magia porque era algo que necesitaba en mi vida ¡jajaja! A mí me encanta escuchar música, mientras trabajo en la computadora o en las labores de la casa. También, mientras maqueto una publicación para mi blog, una musiquita de fondo me pone creativa Así que para esto, me conecto, desde la Pc, a Youtube y allí selecciono algunas listas de reproducción favoritas y amenizo mis horas de trabajo. Pero, cuando quería escuchar música en mi celular y lo hacía desde la aplicación de Youtube, tenía que permanecer allí y no podía hacer ninguna otra acción con el dispositivo. Si debía abrir otra aplicación, significaba un problema, pues, por ejemplo para responder algún mensaje de Whatsapp, debía salir de Youtube, responder y volver a la aplicación para seguir escuchando lo que tenía en pausa. Realmente, era muy engorroso.
Con esto que mi hija me enseñó, ahora todo es mejor. En la aplicación Music que tengo en mi Xiaomi Redmi9A, puedo guardar y reproducir canciones cuando yo quiera y, además, aquí viene lo que me parece magia, puedo ir a Youtube cuando le doy click al botón que dice Ver y desde allí reproducir y escuchar mis canciones favoritas y no importa si tengo que salir de la aplicación o bloquear la pantalla porque puedo seguir escuchando sin problemas. En la pantalla aparece un botón flotante al que podemos acceder para pausar la música o para cerrar la aplicación si ya no queremos escuchar más.
Definitivamente, esto me pareció genial y por eso quise compartirlo hoy con mis amigos de Exprésate, aunque sé que son amantes de la tecnología y, por supuesto, unos Ases de la misma y con todos los que nos reunimos, cada lunes, para compartir de todo un poco. Espero que sea de utilidad para alguien que no sepa que se puede disfrutar de las canciones de Youtube en los Xiaomi, sin salir de la aplicación.


Today I want to share in this community an "amazing" discovery, for me, on my Redmi9 cell phone and that was shown to me by my daughter @sofiaquino98. Suddenly, it's something that many already know and use frequently, but it seemed like magic to me because it was something I needed in my life hahaha! I love to listen to music while working on the computer or doing chores around the house. Also, while I'm designing a post for my blog, a little music in the background makes me creative. So for this, I connect from my PC to Youtube and there I select some favorite playlists and liven up my working hours. But, when I wanted to listen to music on my cell phone and I did it from the Youtube application, I had to stay there and I could not do any other action with the device. If I had to open another application, it meant a problem, because, for example, to answer a Whatsapp message, I had to exit Youtube, answer and return to the application to continue listening to what I had paused. Really, it was very cumbersome.
With this that my daughter taught me, now everything is better. In the Music application that I have on my Xiaomi Redmi9A, I can save and play songs whenever I want and, in addition, here comes what I find magic, I can go to Youtube when I click on the button that says View and from there play and listen to my favorite songs and it does not matter if I have to exit the application or lock the screen because I can continue listening without problems. A floating button appears on the screen that we can access to pause the music or to close the app if we don't want to listen anymore.
Definitely, this seemed great to me and that's why I wanted to share it today with my friends of Exprésate, although I know they are technology lovers and, of course, some Aces of it and with all of us who get together, every Monday, to share a little bit of everything. I hope it is useful for someone who does not know that you can enjoy Youtube songs on Xiaomi, without leaving the application.

Las fotos que ilustran esta publicación son de mi archivo personal. Fuente del separador. El banner es mi diseño en Canva.
The photos illustrating this publication are from my personal archive. Separator source The banner is my design in Canva.