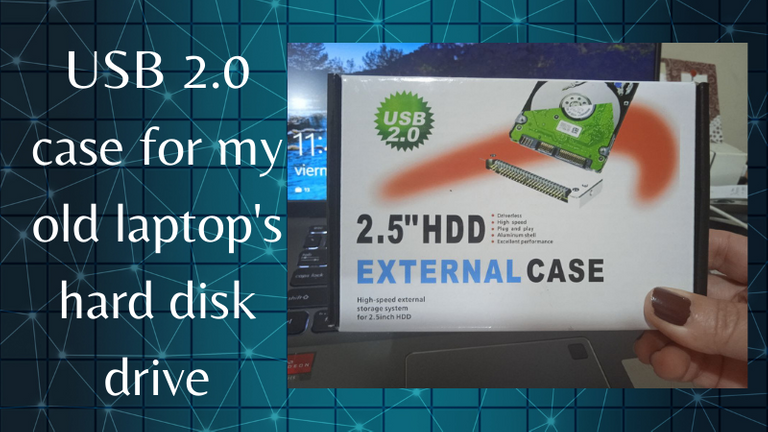 Saludos, queridos amigos de esta fabulosa comunidad. Hace casi un mes que los visité para mostrarles el unboxing de mi laptop ASUS VivoBook y contarles la emoción que me embargaba en el momento y que pueden leer aquí.
Ahora, vengo de nuevo por acá para mostrar este External Case que me compró mi esposo para convertir el disco duro de mi antigua laptop en una unidad de almacenamiento.
Greetings, dear friends of this fabulous community. It's been almost a month since I visited you to show you the unboxing of my ASUS VivoBook laptop and to tell you about the excitement I felt at the time, which you can read here.
Now, I'm here again to show this External Case that my husband bought me to convert the hard drive of my old laptop into a storage unit.
Como les conté en la publicación que hice sobre mi nueva laptop, antes de ella, había comprado una usada con la que pude trabajar durante poco tiempo, pues resultó que no estaba muy buena y se dañó antes de lo que pude imaginarme.
El técnico que la revisó, recuperó el disco duro de aquella laptop y yo lo guardé, pues allí tenía respaldada mucha información valiosa que quería conservar: trabajos, documentos importantes y muchas fotografías.
Hace unos días mi esposo compró para él un External Case y me dijo que me regalaría uno para que yo pudiera utilizar el disco duro que tenía guardado. Me pareció un regalo muy oportuno porque en estos días quise revisar ese disco duro, pero tan solo verlo sin protección, me preocupaba, no se sabe cuando puede pasar un accidente en una mesa de trabajo.
As I told you in the publication I made about my new laptop, before it, I had bought a used one that I could work with for a short time, as it turned out that it was not very good and was damaged sooner than I could imagine.
The technician who checked it, recovered the hard disk of that laptop and I kept it, because there I had backed up a lot of valuable information that I wanted to keep: work, important documents and many photographs.
A few days ago my husband bought him an External Case and told me that he would give me one so that I could use the hard drive I had saved. I thought it was a very timely gift because these days I wanted to check that hard drive, but just seeing it unprotected, I was worried, you never know when an accident can happen on a desk.

Así pues, les muestro este External Case de 2.5" en el que introdujimos el disco duro que había guardado.
So, I show you this 2.5" External Case in which we put the hard disk I had stored.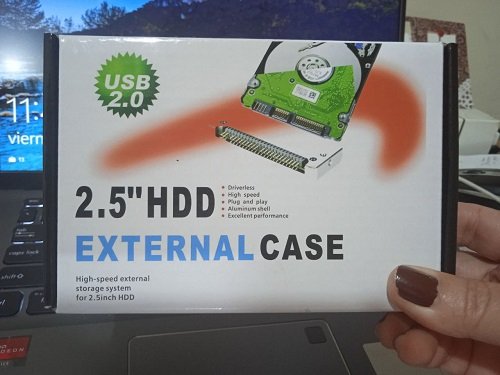 Contenido de la caja /Contents of the box
La caja contiene una carcasa de aluminio de color negro que me gustó mucho, un cable USB, un destornillador pequeño, dos tornillitos y un estuche protector para guardar el disco duro.
The box contains a black aluminum case that I really liked, a USB cable, a small screwdriver, two small screws and a protective case to store the hard drive.
Debo confesar que fue mi esposo quien lo armó, pues, aunque vi que es muy fácil hacerlo, no quise arriesgarme por temor a hacer algo de manera incorrecta.
I must confess that it was my husband who put it together, because, although I saw that it is very easy to do, I did not want to risk it for fear of doing something wrong.
Es un procedimiento realmente sencillo, lo que debemos hacer es conectar el disco duro al adaptador que trae el case internamente, ajustamos la tapa y aseguramos con los tornillos, uno de cada lado, y listo, ya está armado y resguardado el disco duro y toda la información que contiene.
It is a really simple procedure, what we must do is to connect the hard disk to the adapter that brings the case internally, we adjust the cover and secure it with the screws, one on each side, and ready, the hard disk and all the information it contains is already assembled and protected.
| | |
| --- | --- |
| | |
| --- | --- |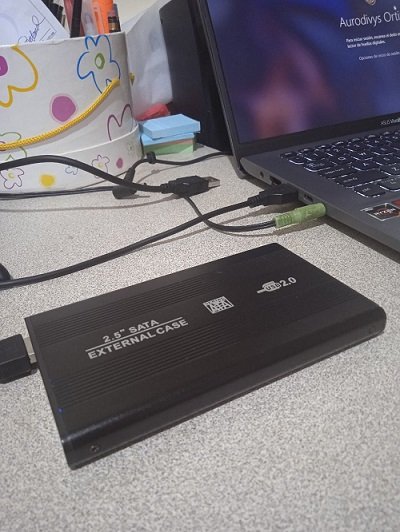 A la hora de usarlo para revisar toda la información respaldada allí, lo único que debemos hacer es conectar el cable USB de la siguiente manera: conectamos una de las puntas al case y la otra punta a la laptop.
When using it to review all the information backed up there, all we have to do is connect the USB cable as follows: we connect one end to the case and the other end to the laptop.
Es una gran ventaja para mi trabajo poder tener, a la mano, este otro disco duro con toda la información que por años he guardado de mi trabajo en la universidad, por ejemplo, sin tener que ocupar espacio en el disco duro de mi nueva laptop.
It is a great advantage for my work to be able to have, at hand, this other hard drive with all the information I have saved for years from my work at the university, for example, without having to take up space on the hard drive of my new laptop.

Así se ve en mi directorio el disco duro externo que era de mi antigua laptop y al que ya puedo accesar con un simple doble click a toda la información que tengo almacenada ahí y, además, puedo guardar en este disco duro lo que necesite, información nueva y que no hace falta que tenga en el disco duro de mi nueva laptop Assus Book.
This is how the external hard disk of my old laptop looks in my directory and I can now access with a simple double click to all the information I have stored there and, in addition, I can save in this hard disk what I need, new information that I don't need to have in the hard disk of my new Assus Book laptop.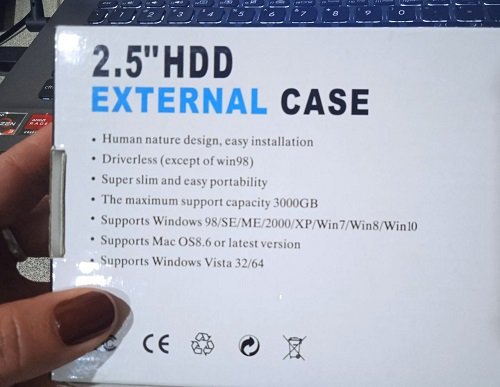 Características tomadas de la caja de este Case
Features taken from the box of this Case.
Diseño natural, fácil instalación
Sin conductor
Superliviano y de fácil portabilidad
La capacidad máxima de soporte 3000GB
Soporta Windows
98/SE/ME/2000/XP/Win7/
Win8/Win10
Soporta Mac OS8.6 o última versión
Soporta Windows Vista 32/64
Natural design, easy installation
Driverless
Super lightweight and easy portability
Maximum support 3000GB capacity
Supports Windows
98/SE/ME/2000/XP/Win7/
Win8/Win10
Support Mac OS8.6 or latest version
Support Windows Vista 32/64

Aunque no soy una experta en tecnología, la disfruto mucho me gusta aprender acerca de ella todos los días. Además, reconozco y valoro todos los avances de los cuales nos aprovechamos en cualquier ámbito de nuestras vidas.
Although I am not an expert in technology, I enjoy it very much and I like to learn about it every day. In addition, I recognize and appreciate all the advances that we take advantage of in any area of our lives.

Todo el contenido de esta publicación es contenido original y trabajo creativo personal. Los separadores y el banner son mis diseños en Canva. Las fotos son de mi propiedad, se pueden ver en mis redes o en otras publicaciones.
All the content of this publication is original content and personal creative work, the separators, and the banner are my designs in Canva. The photos are my property, you can see them in my networks or in other publications.