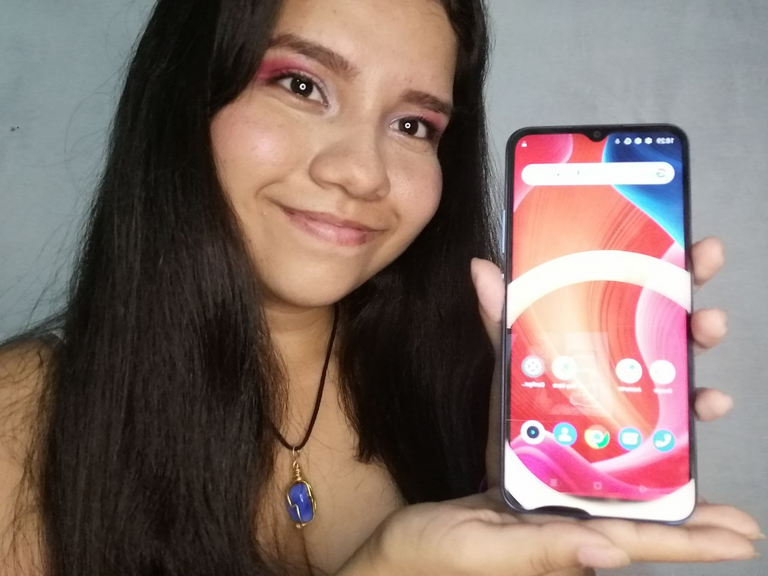 ---
Ladies and Gentlemen, the objectives were achieved!
---
Cuando entré en Hive, la única herramienta de trabajo que tenía era una laptop Samsung que tiene 15 años de uso, unas ganas inmensas de aprender, creatividad, mucha fe en mí misma y en Dios. Tengo mucha felicidad que no sé qué escribir, lo primero que se me ocurre en estos momentos es darle infinitas gracias a @lucianav , por haberme mencionado sobre Hive y por haberme hecho este favor. Admiro mucho a Luciana por todo lo que ha logrado, recuerdo las palabras de ella "No es fácil pero tampoco imposible" "Si todos lo logramos en Hive, tú también puedes" y así fue gracias a Dios.
When I joined Hive, the only work tool I had was a Samsung laptop that has 15 years of use, an immense desire to learn, creativity, a lot of faith in myself and in God. I have so much happiness that I don't know what to write, the first thing that comes to my mind right now is to give infinite thanks to @lucianav, for having mentioned to me about Hive and for having done me this favor. I admire Luciana a lot for everything she has achieved, I remember her words "It's not easy but not impossible" "If we all made it in Hive, you can too" and so it was thanks to God.
---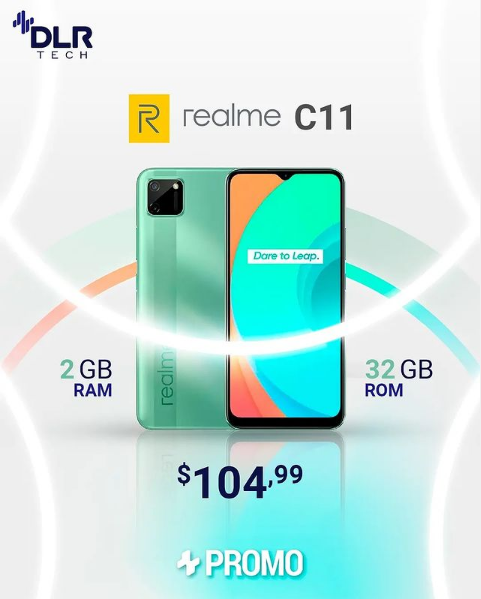 DLR Tech VE
---
Cuando la moneda bajó en junio del presente año, compre 90 Hive. Yo dejé guardado eso allí hasta el 3 de septiembre que la moneda subió a 1 dólar. Como no tenía teléfono de ningún tipo, no tenía una cuenta en Binance por lo mismo. Le transferí los Hive a @lucianav y ella me hizo el favor de venderlos. Tenía reunido 107.406 HIVE que dio el precio exacto 105$. Luciana me mencionó que en Cumaná había una agencia nueva que se llama DLR donde aceptan pagos por binance, tienen delivery gratis y tenía un teléfono en promoción que era el Realme C11 2021 que costaba exactamente 105 USDT. Les escribí, se le hizo el pago y me lo trajeron hasta mi casa. Lo súper recomiendo, excelente servicio.
When the currency went down in June of this year, I bought 90 Hive. I left that stored there until September 3 when the coin went up to $1. Since I didn't have a phone of any kind, I didn't have a Binance account for the same. I transferred the Hive to @lucianav and she did me the favor of selling them. I had 107,406 HIVE gathered which gave the exact price $105. Luciana mentioned to me that in Cumana there was a new agency called DLR where they accept Binance payments, have free delivery, and had a phone on promotion which was the Realme C11 2021 which cost exactly 105 USDT. I wrote to them, made the payment and they brought it to my house. I highly recommend it, excellent service.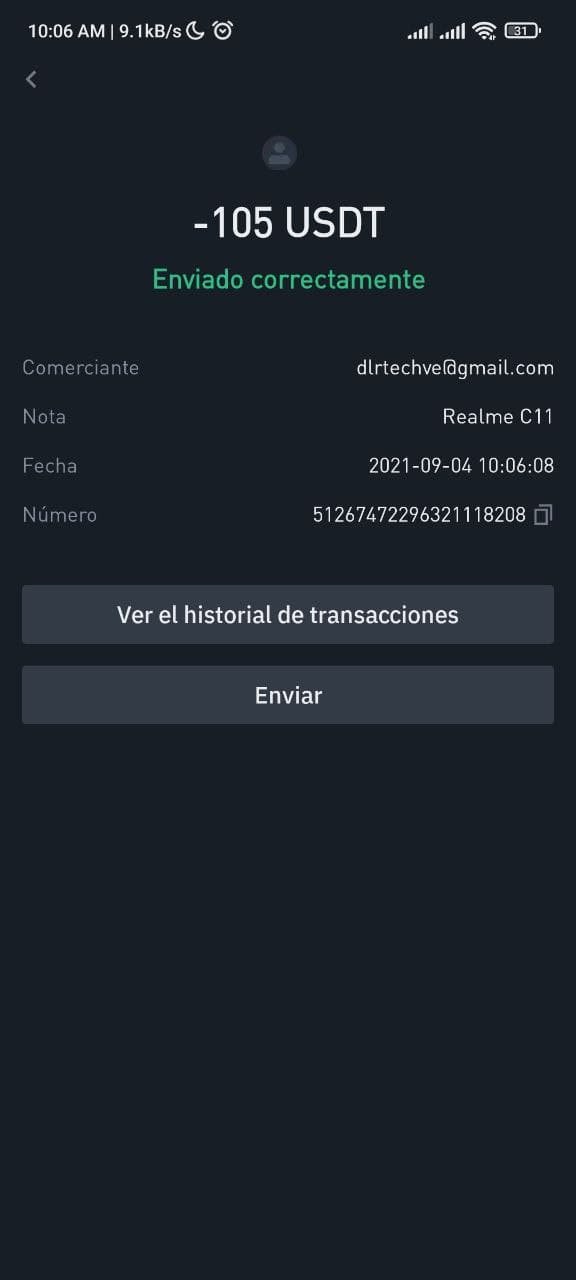 ---
Luciana ya me había mencionado sobre las características del teléfono, de hecho, al instante fui a investigarlo, así mismo, el asesor que me entregó el teléfono en mis manos me mencionó todo lo que tenía el teléfono y en mi opinión, es excelente para el precio que tiene.
Con la compra me obsequiaron un pop pop socket para aguantar el peso del celular, un reloj digital y me pusieron a elegir el color del celular, yo lo elegí azul.
Luciana had already told me about the features of the phone, in fact, I immediately went to investigate it, likewise, the consultant who gave me the phone in my hands mentioned everything that the phone had and in my opinion, it is excellent for the price it has.
With the purchase, I was given a pop pop socket to hold the weight of the phone, a digital clock and I was given the choice of the color of the phone, I chose blue.
---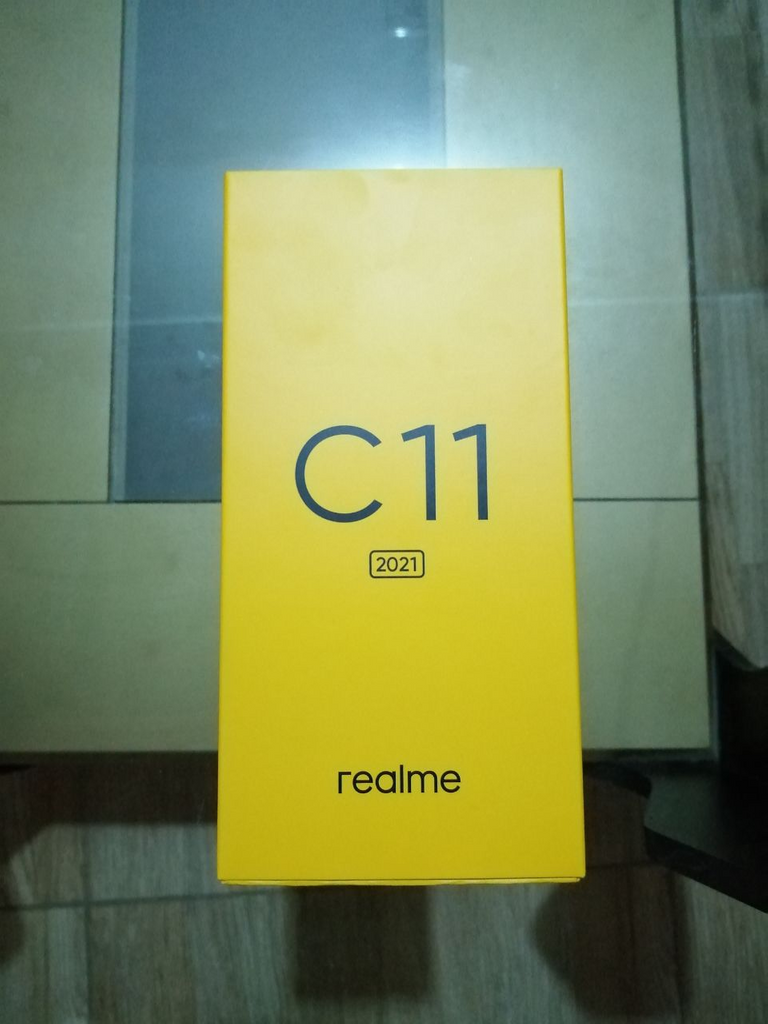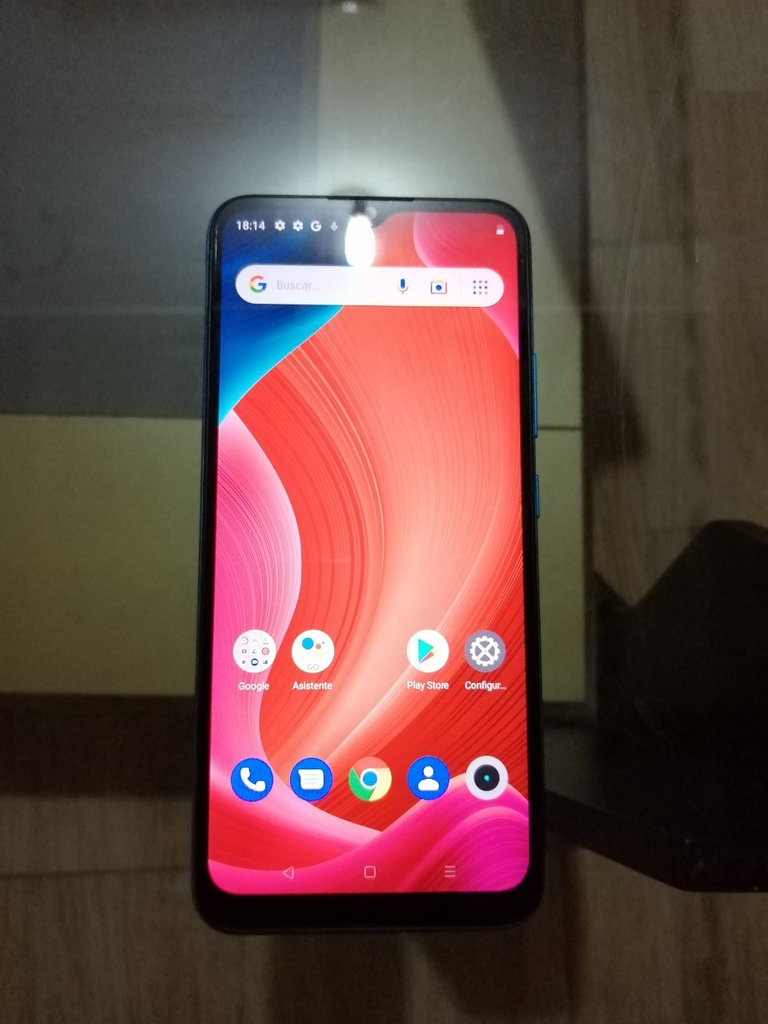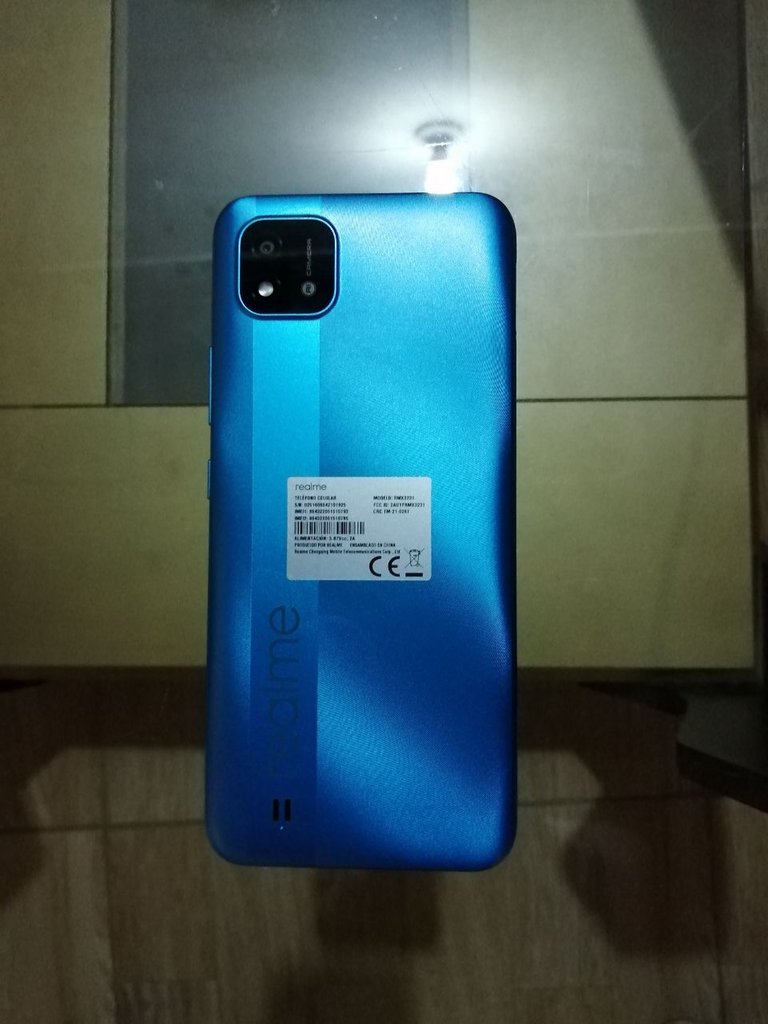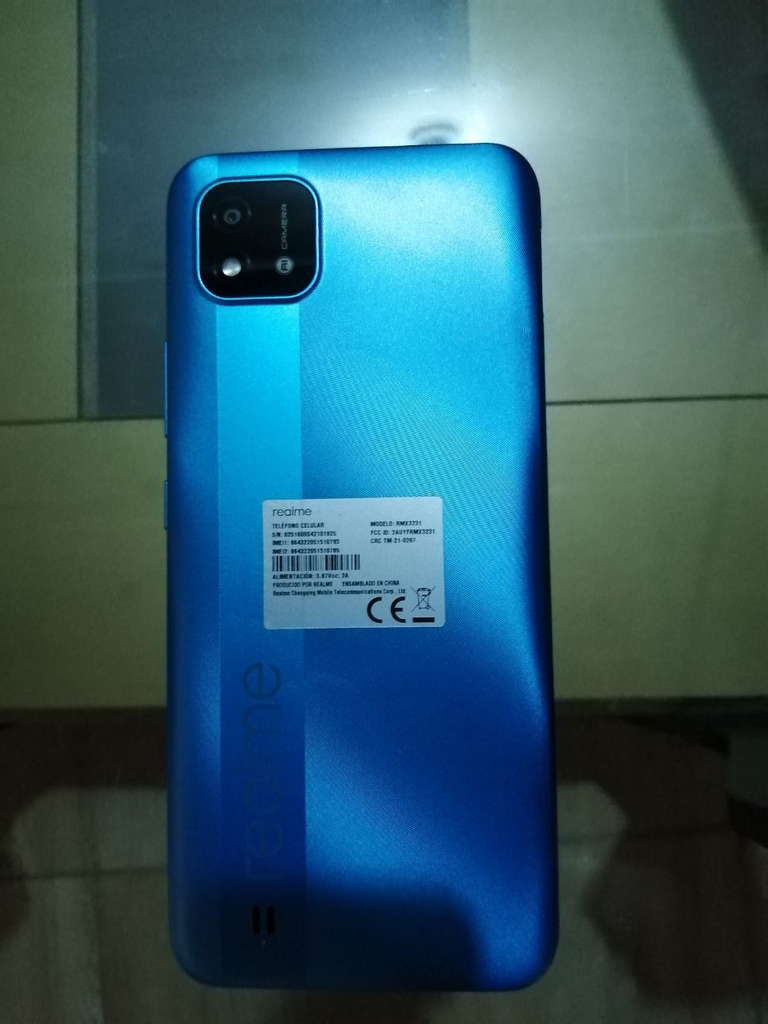 ---
ENGLISH
| DIMENSIONS | 165,2 x 76,4 x 9,1 mm |
| --- | --- |
| WEIGHT | 190 g. |
| DISPLAY | LCD 6,5"HD+ |
| PROCESSOR | Unisoc SC9863 |
| RAM | 2 GB |
| STORAGE | 32 GB MicroSD |
| REAR CAMERAS | 8 MP |
| FRONT CAMERA | 5 MP |
| BATTERY | 5.000 mAh Carga 10W |
| OPERATING SYSTEM | Android 10 + Realme UI 2.0 |
| CONNECTIVITY | 4G +Wi-Fi b/g/n Bluetooth 4.2 +Micro USB +Minijack+NFC |
| PRICE | 105$ |
---
SPANISH
| DIMENSIONES | 165,2 x 76,4 x 9,1 mm |
| --- | --- |
| PESO | 190 g. |
| PANTALLA | LCD 6,5 "HD+ |
| PROCESADOR | Unisoc SC9863 |
| RAM | 2 GB |
| ALMACENAMIENTO | 32 GB MicroSD |
| CÁMARAS TRASERAS | 8 MP |
| CÁMARA FRONTAL | 5 MP |
| BATERÍA | 5.000 mAh Carga 10W |
| SISTEMA OPERATIVO | Android 10 + Realme UI 2.0 |
| CONECTIVIDAD | 4G +Wi-Fi b/g/n Bluetooth 4.2 +Micro USB +Minijack+NFC |
| PRECIO | 105$. |
---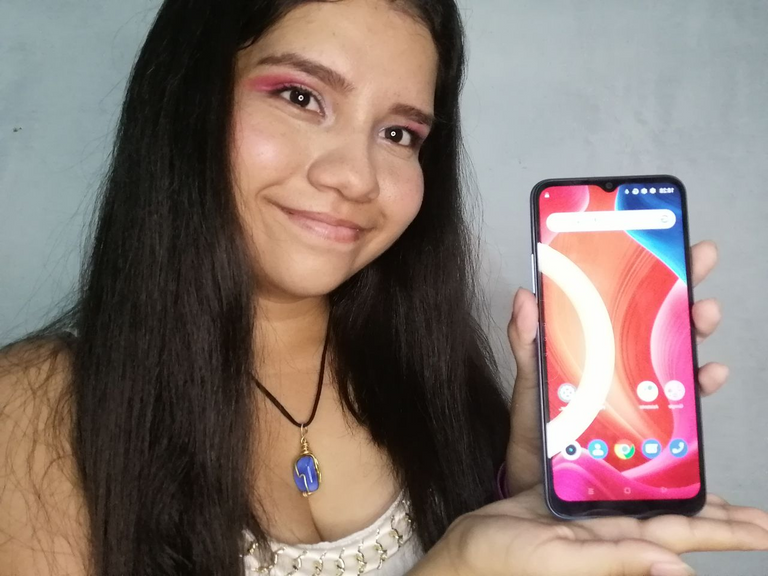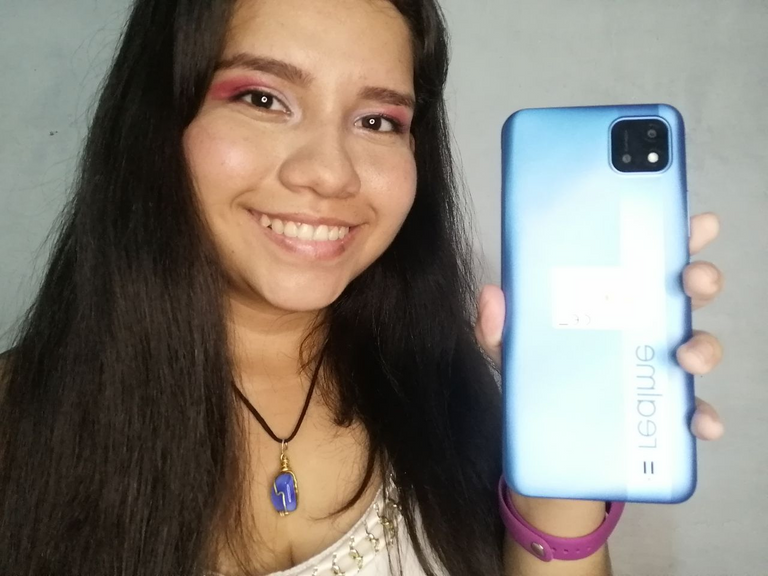 ---
¿Cómo lo logré? | How did I do it?
El asesor que me entregó el teléfono me pregunto ¿En que trabajas? Yo le respondí, "creando contenido de calidad" redacto contenido de calidad todos los días en un blog que se llama Hive.blog donde puedo publicar lo que sea y me pagan con criptomonedas HIVE que puedo venderlos por las Exchange como Binance para convertirlo en USDT o moneda fiat. Le dije que espere mucho porque mi criptomoneda subiera a 1 dólar porque tenía 5 años sin teléfono, ellos se sorprendieron. Claro, no les explique la tecnología blockchain que tiene hive porque quedan más asombrados. Señores, vivo en Venezuela un país con crisis que con un sueldo mínimo nunca iba a lograr comprar un teléfono, por eso, es un logro grandísimo para mí. ¡Mil gracias @lucianav y Hive!
The consultant who handed me the phone asked me what do you do for a living? I replied, "creating quality content," I write quality content every day on a blog called Hive.blog where I can post anything and get paid with HIVE cryptocurrencies that I can sell on exchanges like Binance to convert it into USDT or fiat currency. I told them that I waited a lot because my cryptocurrency went up to 1 dollar because I had 5 years without a phone, they were surprised. Of course, I didn't explain to them the blockchain technology that hive has because they are more amazed. Gentlemen, I live in Venezuela, a country with a crisis that with a minimum wage I would never be able to buy a phone, so this is a huge achievement for me. A thousand thanks @lucianav and Hive!
---
Foto tomada con la cámara frontal
Todo sucedió en el momento exacto, el hive subió a 1 dólar e inmediatamente lo vendí antes que bajara, lo que tenía reunido dio exactamente el precio para comprarlo, la agencia de teléfono hizo su apertura hace 1 mes, el teléfono se lanzó este mismo año y yo ingresé a Hive Blockchain este mismo año.
¿Ven cómo son las cosas de bonitas? Yo voy a pasar 2 semanas para asimilarlo.
Es un teléfono muy bueno para una persona que no tiene nada y quiere empezar a crear contenido de calidad, cero plagios, con mucha dedicación y esfuerzo. Le agradezco una vez más a @lucianav por asesorarme y por ayudarme mucho ¡TE QUIERO!
Everything happened at exactly the right time, hive went up to $1 and I immediately sold it before it went down, what I had gathered gave exactly the price to buy it, the phone agency did it's opening 1 month ago, the phone was launched this same year and I joined Hive Blockchain this same year.
See how nice things are? I'm going to spend 2 weeks digesting it.
It's a great phone for a person who has nothing and wants to start creating quality content, zero plagiarism, with a lot of dedication and effort. I thank once again @lucianav for advising me and for helping me a lot ¡I LOVE U!
---
Gracias también a ustedes porque fueron participes de este logro. Ustedes saben cuánto me costó.
---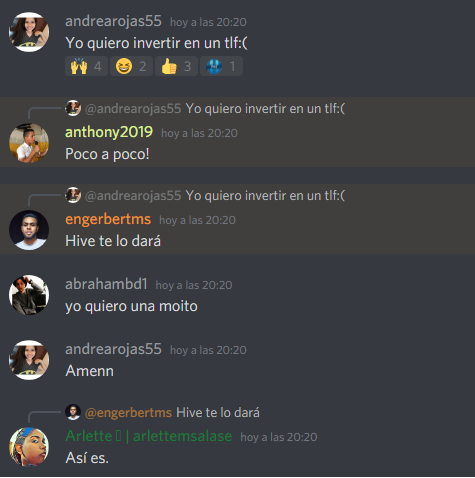 @arlettemsalase @elizabeths14 @laloretoyya @anthony2019 @ilazramusic @gabrielr29 @victoriabsb
---
Las fotos son de mi autoría.
---