Community supporters, I am writing to you as a person who buys renowned technology brands, but for budget reasons, I had to cut back my interests and start studying names from other houses to cover immediate needs. I decided in 2019 to risk my knowledge and buy Argentine manufacturing and discovered enough competition. Last Friday I made the purchase of father's day, I acquired a black headset Top House brand in the very renowned supermarket Coto that are the image said line of Chinese creation.
Simpatizantes de la comunidad, le escribe una persona que compra marcas tecnológicas renombradas, pero por razones de presupuesto, tuve que recortar mis intereses y comenzar a estudiar nombres de otras casas para cubrir necesidades inmediatas. Decidí en el 2019 arriesgar mis conocimientos y comprar fabricación Argentina y descubrí suficiente competencia. El viernes pasado hice la compra del día del padre, adquirí auriculares negros marca Top House Colors en el muy reconocido supermercado Coto que son la imagen dicha línea de creación china.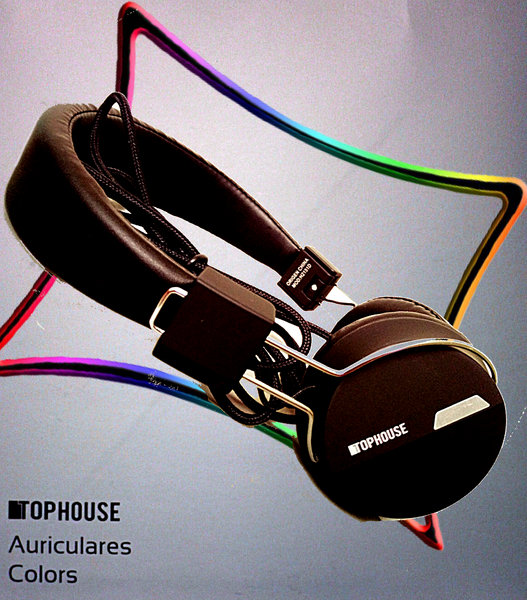 I confess that I was nervous when my husband received his gift on Sunday because he was so excited that he broke the box, and I thought he was going to break the headphones, so I slyly helped him. Now it was his turn to try it out and everything went great and my husband was happy to receive a technological gift that filled the need.
Les confieso que estuve nerviosa cuando mi esposo recibió el domingo su regalo porque de la emoción rompió la caja, y pensé va a romper los auriculares, así que disimuladamente le ayudé. Ahora era turno de probarlo y salió todo de maravilla y mi esposo feliz por recibir un regalo tecnológico que cubrió la necesidad.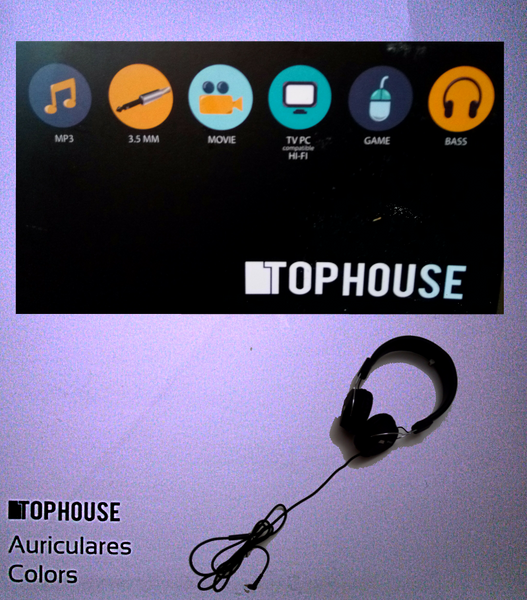 The device is basic, I did not buy it wireless because the person did not want to be charging the battery of the device and just wanted to be connected to the phone (3.5 MM). The cable is quite long (120 cm) and the image is presentable, so it met the expectations for the style of a person who refuses to use Bluetooth or USB because he says it is not the same.
El aparato es básico, no lo compré inalámbrico porque la persona no quería estar cargando la batería del aparato y solo deseaba estar conectado al teléfono (3.5 MM). El cable es bastante extenso (120 cm) y la imagen es presentable, así que cubría las expectativas para el estilo de persona que se niega al uso de Bluetooth o USB porque dice que no es lo mismo.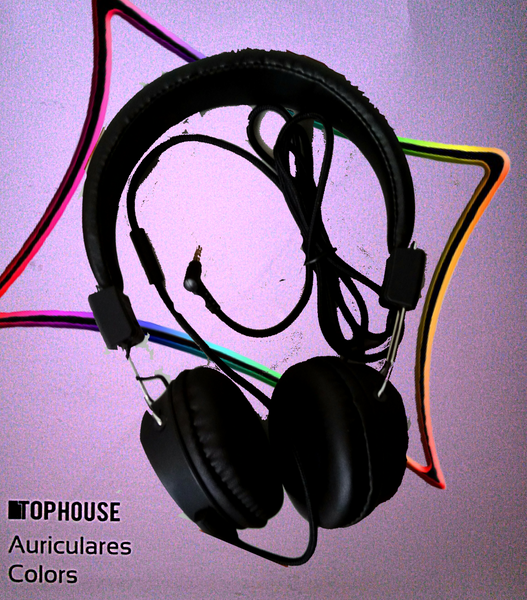 The Top House headphones model H2151d, have a stereo sound for what it was designed for; speakers without any distortion, also points out the proper placement (L) left and (R) right and correct adjustment to listen with quality. The headphones are OVER THE EAR model, where the pads are blocking the outside sound and the pressure on the ears is soft, all that is important to listen to a pleasant frequency. The microphone is hands-free and has no button to receive calls. The Top House Colors headset provides comfort for those who want to listen to music for a long time.
Los auriculares Top House modelo H2151d, pose un sonido estéreo para lo que fue diseñado; altavoces sin distorsión alguna, además señala la debida colocación (L) izquierda y (R) derecha y ajuste correcto para escuchar con calidad. Los cascos son modelo OVER THE EAR, las almohadillas bloquean el sonido exterior y la presión en las orejas es suave, todo eso es importante para escuchar una frecuencia agradable. El micrófono es manos libre y no tiene botón para recibir llamadas. El auricular Top House Colors brinda comodidad para quienes desean escuchar por un buen rato música.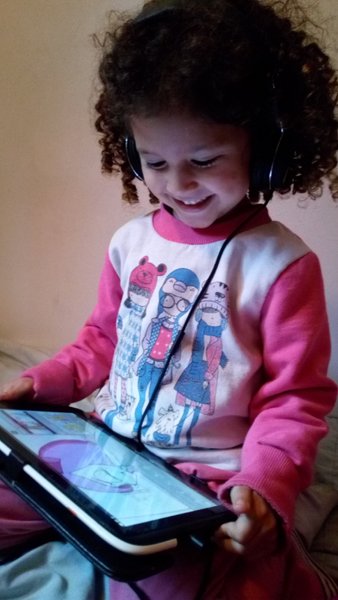 It only remains for me to recommend that it is necessary to control the volume of the music so as not to damage the sense of hearing vibrations and to value the quality of the technology by giving it the correct use and taking care of it. Until a future meeting on technological equipment.
Sólo me queda recomendar que es necesario controlar el volumen de la música para no perjudicar el sentido auditivo por las vibraciones y valorar la calidad de la tecnología dándole el uso correcto y cuidándolo. Hasta un próximo encuentro sobre equipos tecnológicos.

Thank you for visiting and leaving a comment

Photos taken with my noblex cell phone model 551.

First image created with the PhotoLayers application.




Soy miembro de @motherhood




[Fuente]

Somos un club con derecho de admisión reservado que reúne a los mejores y más destacados miembros de la comunidad hispana, dándoles voz y voto, ya que nuestra estructura es democrática.

Visita y forma parte de nuestra comunidad The Talent Club

Visítanos en nuestro servidor de Discord




[Spanish City]

La Ciudad donde todos brillan.

Visita Discord




Diseño realizado en Canva

@AntonietaGonzl7 Twitter

Las publicaciones elaboradas en mi blog son realizadas desde un móvil Noblex modelo 551.