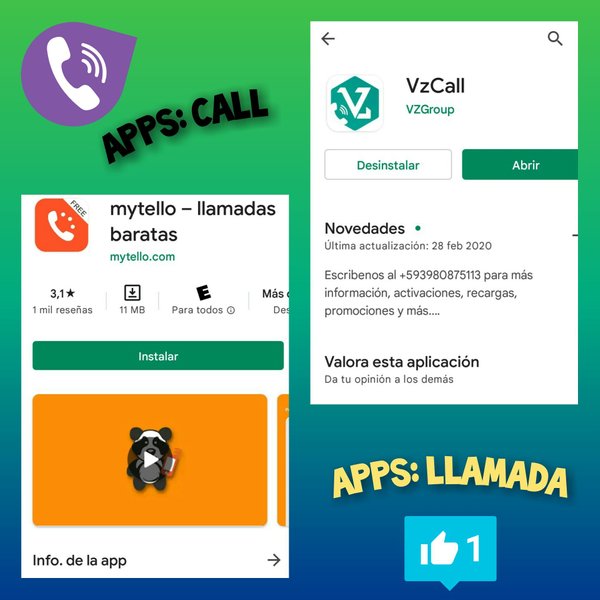 Las aplicaciones son programas que están constituidos de herramientas (software) para facilitar la vida del sujeto moderno. Es un servicio empresarial micro o amplio para generar disfrute, solventar problemas, potenciar producción o establecer relación con otras apps; y todo esto a través del uso de la aplicación desde dispositivos inteligentes (móvil, tablet, computadora); la instalación permite ahorrar tiempo y beneficia al usuario y a los responsables del software corregir para mejorar el servicio.
Applications are programs that are made up of tools (software) to facilitate the life of the modern subject. It is a micro or broad business service to generate enjoyment, solve, enhance production or relate to other apps through the application of the program on a smart device (mobile, tablet, computer); the installation saves time and benefits the user and those responsible for the software corrections to improve the service.
---
Existen una gama amplia de aplicaciones en lineas o web, cada una se específica en algo, es decir se categorizan para cubrir una necesidad, algunas poseen un valor monetario o son libres de uso. En esta oportunidad les hablaré de mi experiencia sobre dos aplicaciones para comunicarme con mi familia en Venezuela; ahora por qué accedí a ellas, porque mi familia ha tenido problemas con el servicio de internet o de telefonía, he tenido que recurrir a realizar llamadas a dispositivos móviles o fijos para tener noticias.
There is a wide range of online or web applications, each one is specific in something, that is to say they are categorized to cover a need and can have a price or be free to use. In this opportunity I will talk about my experience of two applications that I use to communicate with my family in Venezuela; now why I accessed them, because my family has had problems with the internet or telephone service, I have had to resort to making calls to mobile or fixed devices to have news.
---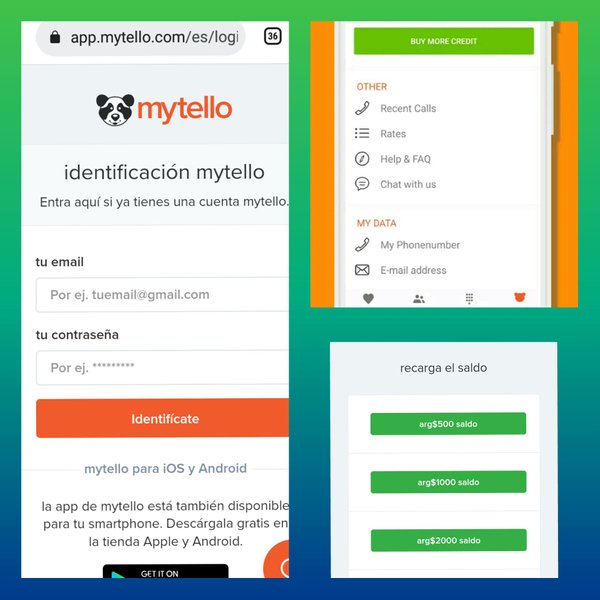 La primera app que instalé en mi teléfono fue Mytello, la cual posee una promoción atractiva en la adquisición y es que te regalan una llamada de prueba, me resultó buenísima y consolidé el registro colocando un correo para generar una clave, el proceso realmente es muy fácil. El menú es sencillo de utilizar, tiene en agenda los números registrados en el móvil porque permites el acceso, también el registro de contactos frecuentes y la opción de recarga que ofrece precios desde un mínimo a otros elevados; además que la manipulación del servicio es bastante fácil, posee buena recepción, el saldo no vence, tiene la caja de contacto con algún operador y puede ser usada desde la
web
que es una ventaja. Mytello funciona sin contrato para hacer llamadas que es genial; otro asunto que fue desfavorable y limitante es recargar a través de tarjetas de créditos, lo cual carezco o transferencia por otro sistema que tampoco disponía, así que desistí el uso de esta aplicación.
The first app I installed on my phone was Mytello, which has an attractive promotion in the acquisition and is that they give you a test call, I found it very good and I consolidated the registration by placing an email to generate a key, the process is really very easy. The menu is simple to use, it has in agenda the numbers registered with the mobile because you are allowed access, also the registration of frequent contacts and the recharge option that offers prices from a minimum to other high; besides that the handling of the service is quite easy, it has good reception, the balance does not expire, it has the contact box with some operator and can be used from the
web which is an advantage. Mytello works without contract to make calls which is great; another issue that was unfavorable and limiting is to recharge through credit cards, which I lack or transfer by another system which I also did not have, so I gave up the use of this application.
---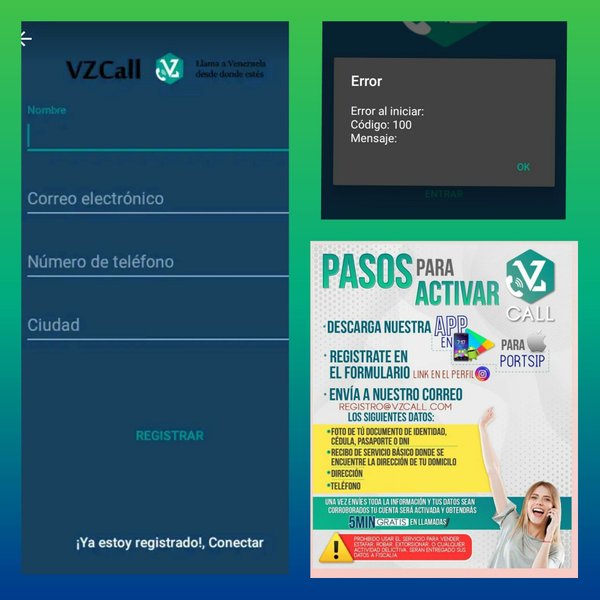 Después me topé con una aplicación que posee un software diferente, una amiga que atraviesa por situaciones parecidas en obtener noticias sobre la familia, me recomendó la app Vzcall. En este no hay llamadas gratuitas de prueba, pero te obsequian 5 minutos; luego que te registras, los pasos no están claros y arroja un error, así que me fui para Play Store y ahí encontré las orientaciones para su uso, las ausencia de los pasos en la aplicación genera a muchos usuarios molestia porque no leen la reseña en el anuncio. Una de ella, es que luego de estar registrado, debes comunicarte con ellos a otra red social
por dm para informar que estás registrado. El equipo de Vzcall te pide el correo y de inmediato te envían usuario y clave, simultáneamente te adjuntan los costos dependiendo el país y la forma de pago que es por medio de transferencia (bancaria, mercado o PayPal).
Then I came across an application that has a different software, a friend who goes through similar situations in getting news about the family, recommended me the app Vzcall. In this there are no free trial calls, but they give you 5 minutes; after you register, the steps are not clear and throws an error, so I went to Play Store and there I found the guidelines for use, the absence of the steps in the application generates many users annoyance because they do not read the review in the ad. One of it, is that after being registered, you must communicate with them to another social network
by dm to inform that you are registered. The Vzcall team asks for your email and immediately send you username and password, simultaneously they attach the costs depending on the country and the method of payment which is by bank transfer (bank, market or PayPal).
---
La app es simple y básica para usar posee la lista de contactos, la cual acceden al directorio del móvil, tiene la opción de llamadas recientes, también cuenta con visualizar el monto en minutos, la recepción es buena, no caduca el saldo y funciona con el servicio de internet, no depende de operadora. No obstante a veces la llamada se desconecta o surge una operadora durante la conversación, desconozco a qué se debe, podría ser fallas del sistema de la app o del servicio de Venezuela.
The app is simple to use, has the contact list, which access the cell phone directory, has the option of recent calls, also displays the amount in minutes, the reception is good, the balance does not expire and works with internet service, does not depend on operators. However, sometimes the call is disconnected or an operator appears during the conversation, I do not know why, it could be systematic failures of the app or the service of Venezuela.
---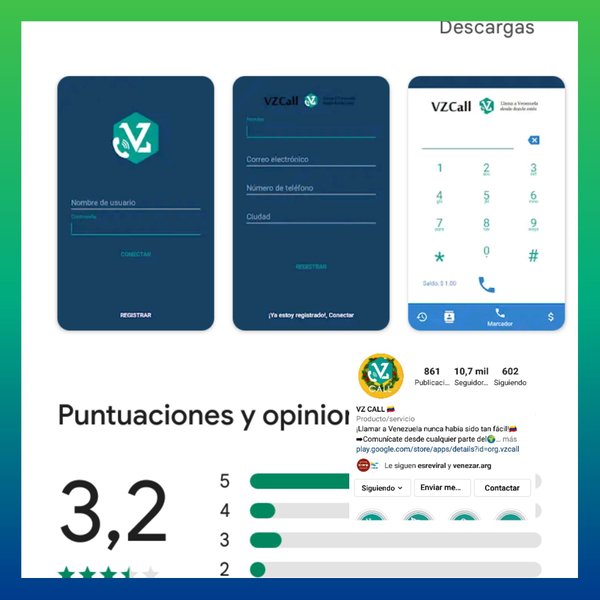 Cabe destacar que las apps en comunicación están creadas para responder a un problema; una idea bien ejecutada arropa la circunstancia para tener una buena función y calificación del usuario; no obstante, cada persona tiene una realidad social y tecnológica diferente así que surgirán opiniones encontradas sobre los resultados en cuanto al uso de la app. La satisfacción dependerá de la experiencia, necesidad, interés, objetivo, proyecto y demás tanto del usuario como del creador de la plataforma. El mundo sigue evolucionando en cuanto a las aplicaciones y el cliente está experimentando hasta lograr encontrar aquella aplicación ajustada a las expectativas, así que no se desanimen en encontrar la aplicación con la que se sientan a gusto, por lo momentos estoy complacida con la app de comunicación Vzcall, creada por venezolanos.
It should be noted that apps in communication are created to respond to a problem; a well-executed idea covers the circumstance to have a good function and user rating; however, each person has a different social and technological reality so there will be conflicting opinions about the results in terms of the use of the app. Satisfaction will depend on the experience, need, interest, objectives, project and so on of both the user and the platform creator. The world continues to evolve in terms of applications and customers are experimenting until they find the application that meets their expectations, so do not be discouraged in finding the application that you feel comfortable with, at the moment I am pleased with the communication app Vzcall, created by Venezuelans.
Agradezco la visita y el apoyo a mi producción

Imágenes creadas con la aplicación PhotoCollages Maker. Capturas tomadas con mi teléfono móvil noblex modelo 551.


Soy miembro de @motherhood

Diseño realizado en Canva
@AntonietaGonzl7
Twitter

Las publicaciones elaboradas en mi blog son realizadas desde un móvil Noblex modelo 551.