---
Unboxing de teclado gamer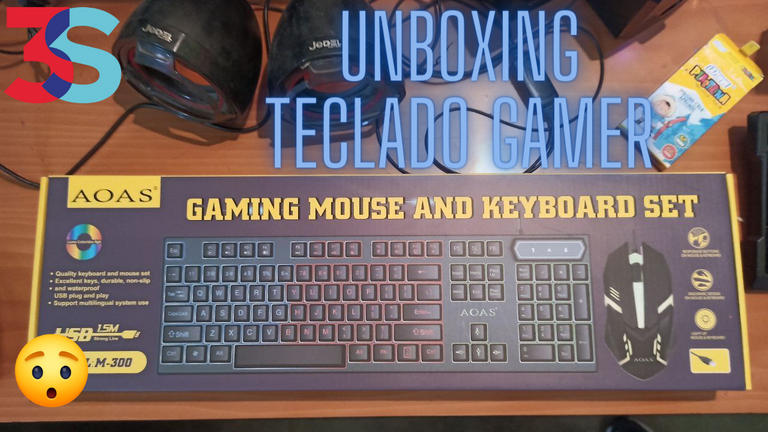 muy buenas mi gente bella de hive, aquí AlexBit en un nuevo video para el canal y en esta ocasión les traigo mi primer unboxing del canal, este unboxisng se trata de un teclado gamer que hace ya un tiempo que me quiero comprar ya que el antiguo teclado que tenia ya me estaba empezando a incomodar un poco a la hora de jugar ya que como era un teclado de membrana y ese tipo de teclado es bastante débil comparado con uno mecánico, el teclado de membrana se daña con mas frecuencia que uno mecánico ya que las membranas se rompen con el constante uso de ellas y para alguien que pulsa los botones de manera fuerte como yo eso hace que la membrana se gaste con mas velocidad.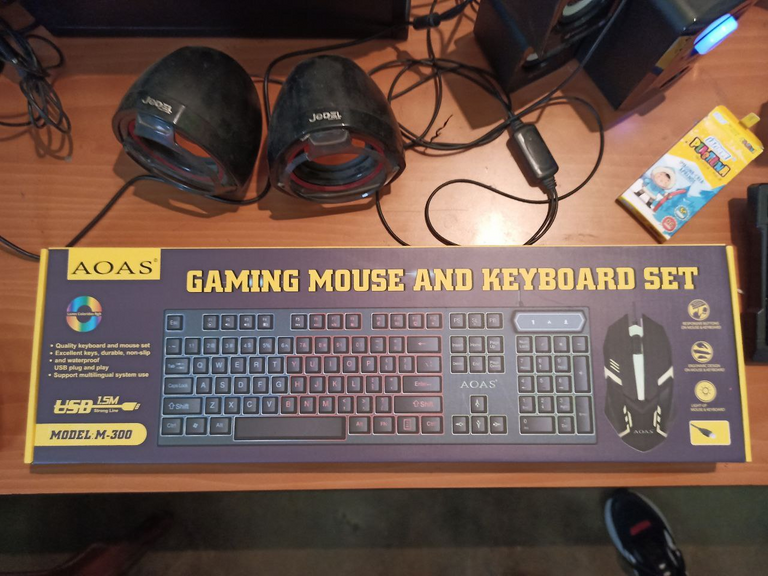 este teclado es de la marca AOAS una marca bastante nueva por lo que estado investigando, el modelo es M-300, en la caja viene con un mause RGB bastante bonito, pero el raton no es gamer ya que le faltan los botones secundarios que tiene cualquier raton gamer, pero no se va a negar que las luces están chulísimas. El teclado biene en una bolsa protectora de plástico, nada del otro mundo el tieclado tiene incorporados unas luces led que se le ven bastante mamalonas 😎, no hacen ninguna diferencia a la hora de jugar pero le da estilo y del bueno.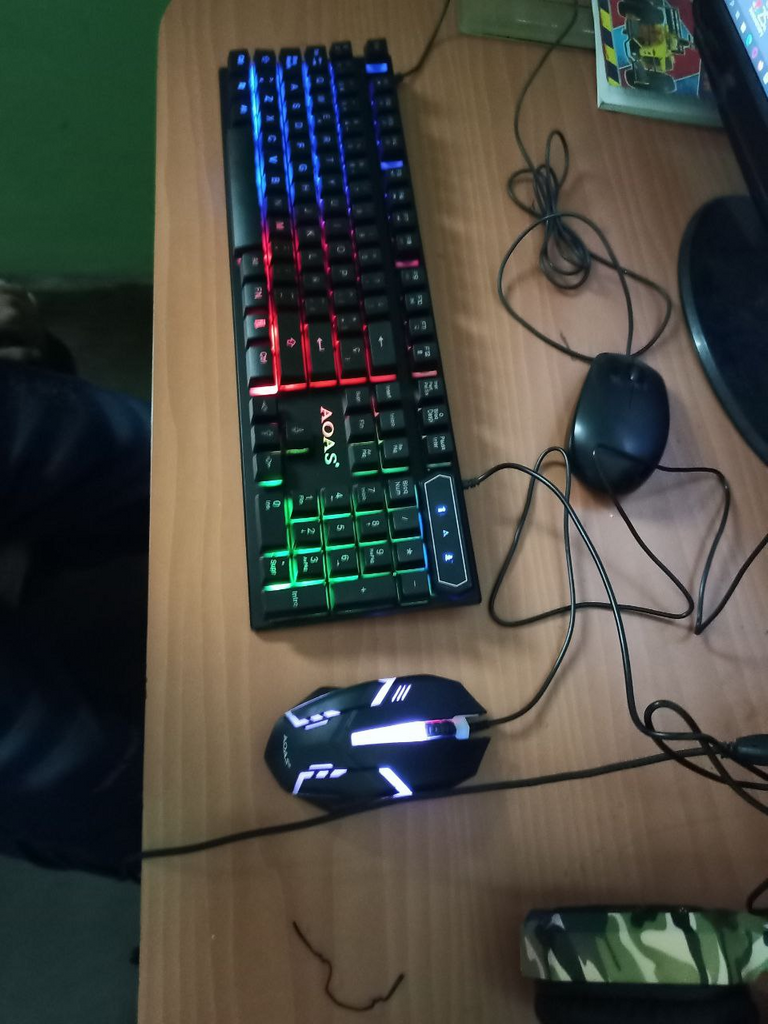 el teclado tiene la particularidad de poder apagar y encender las luces cuando uno quiera asi cuando te canses de las luces (aunque nadie se cansaría de ellas) se pueden desactivar cuando uno lo prefiera, el teclado esta fabricando con un plástico al rustico pero nada estorboso, el tacto es agradable y no cansa los dedos des pues de un tiempo de estar escribiendo con el, en la parte de los juego es bastante cómodo ya que las teclas esta posicionas a la altura correcta para presionar.
ya para finalizar les daré mi opinión personal, no se va a negar que es un teclado barato ya que solo me costo 15$ y por ende no se compara con un teclado gamer profesional pero si nos vamos a la comparación con un teclado de oficina la diferencia es considerable, sobre todo en la comodidad a la hora de jugar juegos que requieran una constante precien en los botones, asi que a mi parecer es una buena compra para las personas que no tengan mucho dinero a la hora de conseguir periféricos gamer para una pc, pero si te sobra el dinero te recomiendo que compres un teclado gamer para que tengas una experiencia bastante satisfactorias pero de momento este cumple muy bien con su función de brindar una grata experiencia de juego para las personas que presionan las teclas con fuerza como yo.
si te gusta mi contenido no olvide dejar tu ❤️ así que ya saben like suscríbanse y nos vemos asta la siguiente un saludo y adiós y nos vemos en el próximo video.
Gamer Keyboard Unboxing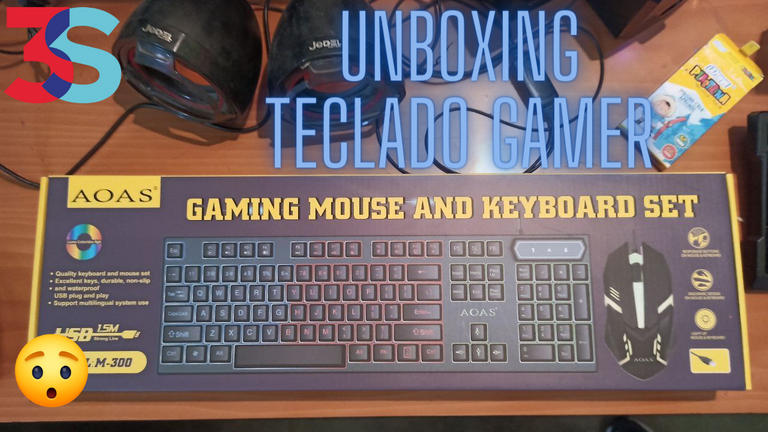 very good my beautiful people from hive, here AlexBit in a new video for the channel and this time I bring you my first unboxing of the channel, this unboxing is about a gamer keyboard that I wanted to buy for a while since the old one keyboard that I had was starting to bother me a bit when playing because since it was a membrane keyboard and that type of keyboard is quite weak compared to a mechanical one, the membrane keyboard is damaged more frequently than a mechanical one since that the membranes break with the constant use of them and for someone who presses the buttons hard like me that causes the membrane to wear out more quickly.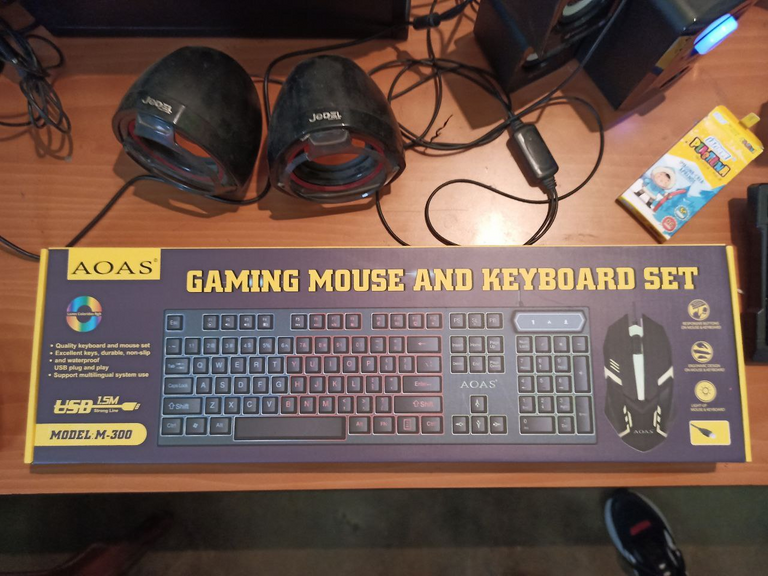 This keyboard is from the AOAS brand, a fairly new brand for what I have been investigating, the model is M-300, in the box it comes with a rather nice RGB mouse, but the mouse is not a gamer since it lacks the secondary buttons it has any gamer mouse, but it will not be denied that the lights are very cool. The keyboard comes in a protective plastic bag, nothing special, the keyboard has built-in LED lights that look pretty naughty 😎, they don't make any difference when playing but it gives it style and a good one.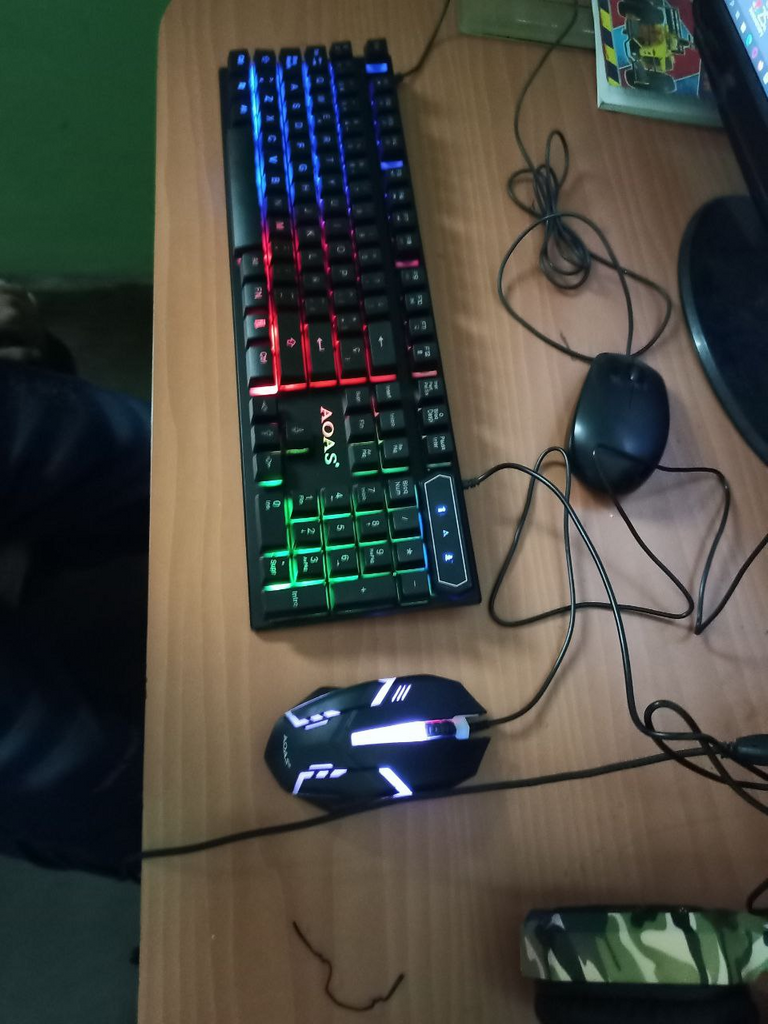 The keyboard has the particularity of being able to turn the lights on and off whenever you want, so when you get tired of the lights (although no one would get tired of them) they can be deactivated when you prefer, the keyboard is made of rustic plastic but nothing cumbersome The touch is pleasant and does not tire the fingers after writing with it for a while, in the gaming part it is quite comfortable since the keys are positioned at the correct height to press.
Now to finish I will give you my personal opinion, it will not be denied that it is a cheap keyboard since it only cost me $15 and therefore it does not compare with a professional gamer keyboard but if we go to the comparison with an office keyboard the The difference is considerable, especially in terms of comfort when playing games that require a constant pressure on the buttons, so in my opinion it is a good purchase for people who do not have much money when it comes to getting gamer peripherals for a PC, but if you have money to spare, I recommend that you buy a gaming keyboard so that you have a fairly satisfactory experience, but for now it does its job of providing a pleasant gaming experience very well for people who press the keys hard like me .
If you like my content, don't forget to leave your ❤️ so you know like, subscribe and see you until the next time, greetings and goodbye.
---
▶️ 3Speak