Buen día, amigos de Hive. Les extiendo un cordial saludo, acompañado de un deseo sincero de que se encuentren bien. Hoy, les cuento mi experiencia con una maravillosa aplicación llamada ShareMe. Espero que les guste y que puedan beneficiarse de la misma.
Good morning, friends of Hive. I extend to you a cordial greeting, accompanied by a sincere wish that you are well. Today, I tell you about my experience with a wonderful application called ShareMe. I hope you like it and that you can benefit from it.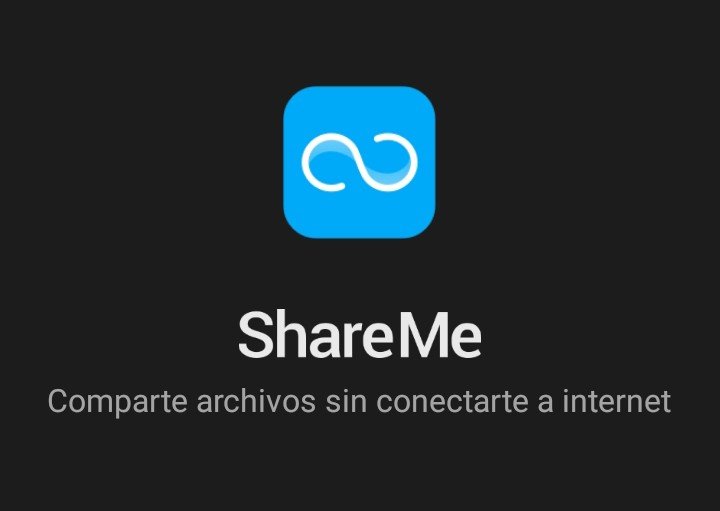 Esta aplicación la conocí hace poco por medio del esposo de mi hermana. Mi hermana y su esposo vinieron a casa a visitarme y entre una conversación y otra, comenzamos a hablar sobre películas. Mi hermana me comentó que tenía dos películas buenas en su teléfono, así que yo le pedí el favor de que me la pasaran por Telegram
Ante tal petición, mi cuñado me mencionó que había una forma más rápida de pasarlas utilizando una App llamada ShareMe. Como yo desconocía la aplicación, él comenzó a explicarle que mediante esta se pueden pasar archivos pesados de una forma muy rápida y sin usar internet.
Me llamó la atención la aplicación y enseguida la descargué por PlayStore. Una vez que la instalé, comenzamos el procedimiento para pasar las películas.
I was introduced to this app recently by my sister's husband. My sister and her husband came home to visit me and in between conversations, we started talking about movies. My sister told me that she had two good movies on her phone, so I asked her to pass them to me via Telegram.
Upon such a request, my brother-in-law mentioned to me that there was a faster way to pass them using an App called ShareMe. As I did not know the application, he began to explain that through this you can pass large files in a very fast way and without using the internet.
The application caught my attention and I immediately downloaded it from PlayStore. Once I installed it, we started the procedure to play the movies.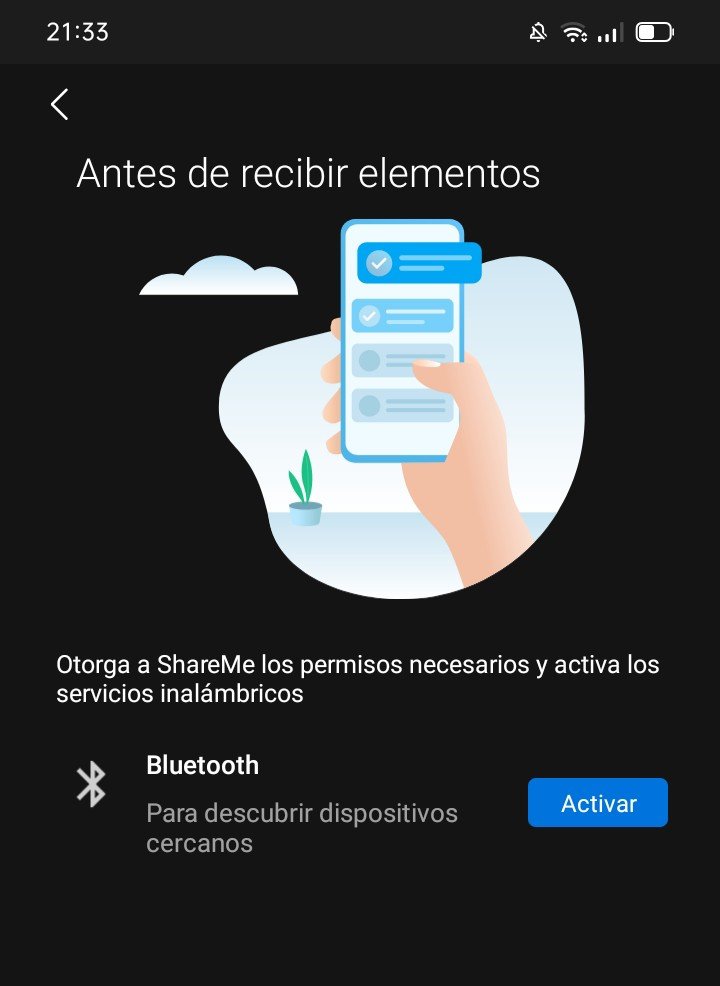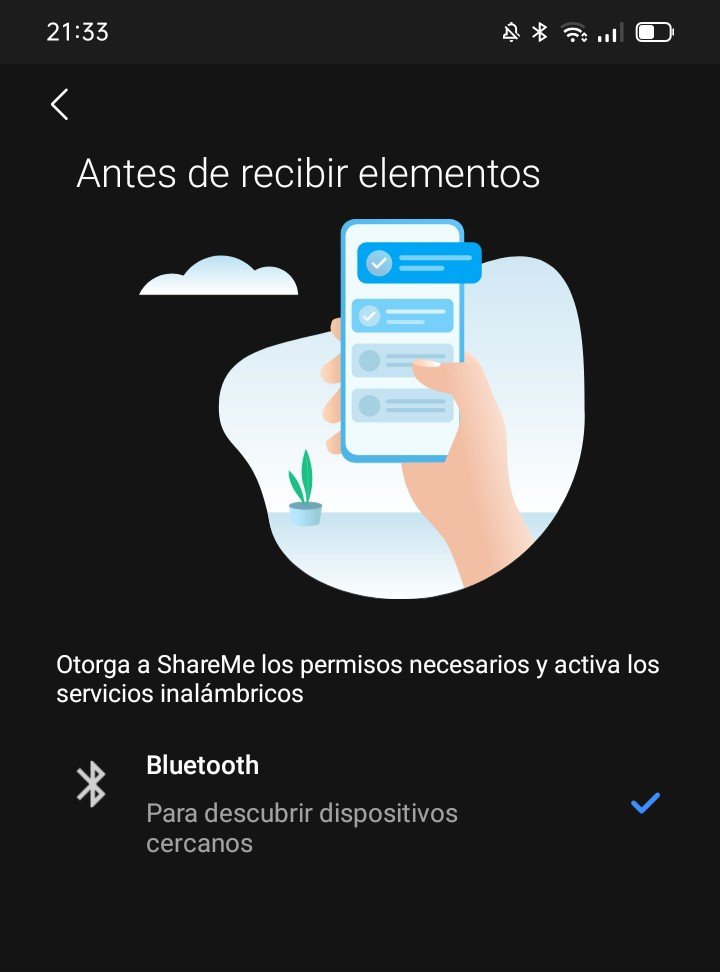 ---
Lo primero que se debe hacer es encender el bluetooth de ambos dispositivos, tanto del que va a enviar el archivo como el que la va a recibir. Posteriormente, debes activar la cámara para escanear un código que va a aparecer en el dispositivo que va a enviar el archivo. Estos pasos se deben llevar a cabo tanto si vas a enviar como recibir un archivo.
The first thing to do is to turn on the Bluetooth of both devices, the one that is going to send the file and the one that is going to receive it. Subsequently, you must activate the camera to scan a code that will appear on the device that will send the file. These steps must be carried out whether you are sending or receiving a file.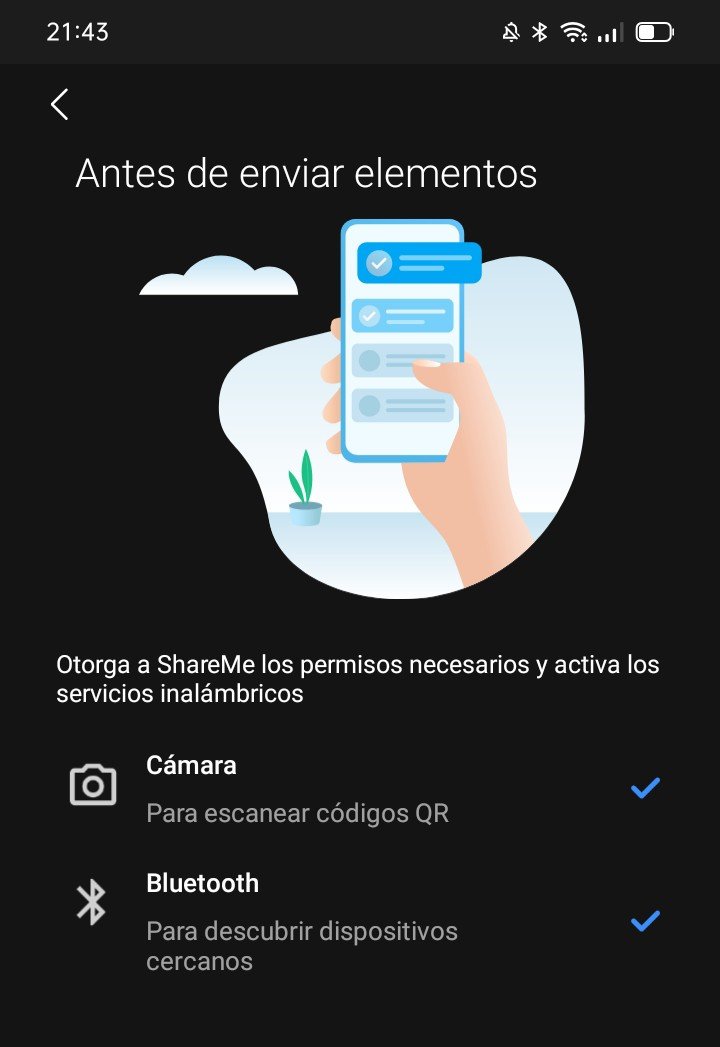 Una vez que tienes todo activado, seleccionas el archivo que deseas enviar, en caso de que seas tú quien lo va a enviar. Si eres quien va a recibir, obviamente no debes seleccionar nada. A través de esta aplicación, se pueden pasar videos, fotos, películas o cualquier otro archivo que tengas en tu teléfono.
Once you have everything activated, you select the file you want to send, in case you are the one who is going to send it. If you are the one who is going to receive it, obviously you should not select anything. Through this application, you can send videos, photos, movies or any other file you have on your phone.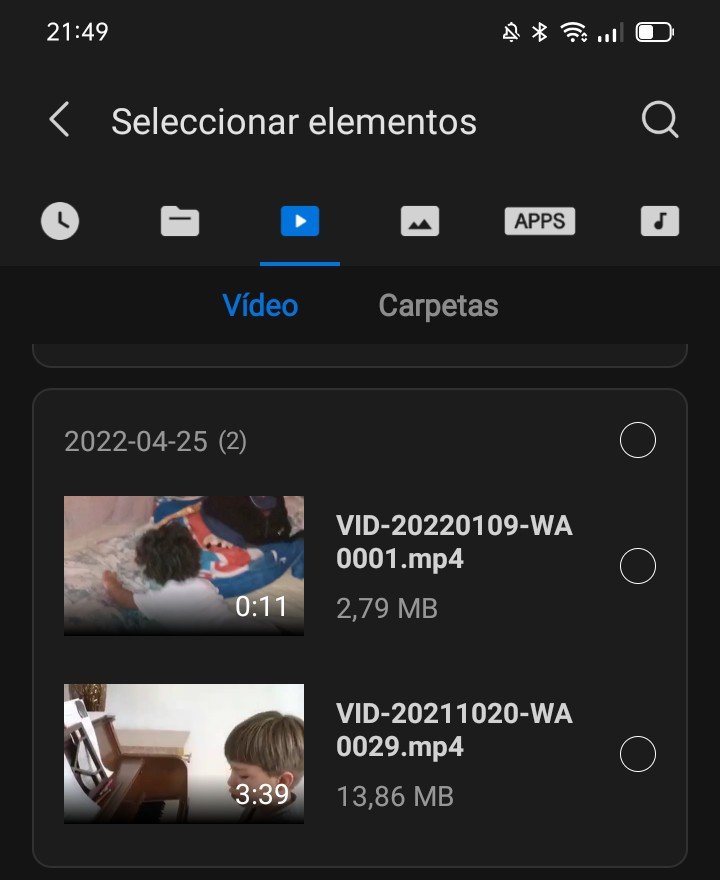 Después que selecciones el archivo que deseas enviar, van a aparecer dos opciones: enviar y recibir. Cada uno de los involucrados en esta transacción debe hacer click en el sitio correspondiente. Como yo era quien iba a recibir las películas, hice click en recibir, mientras que mi cuñado hizo click en enviar.
After you select the file you wish to send, two options will appear: send and receive. Everyone involved in this transaction must click on the corresponding site. Since I was the one who was going to receive the movies, I clicked on receive, while my brother-in-law clicked on send.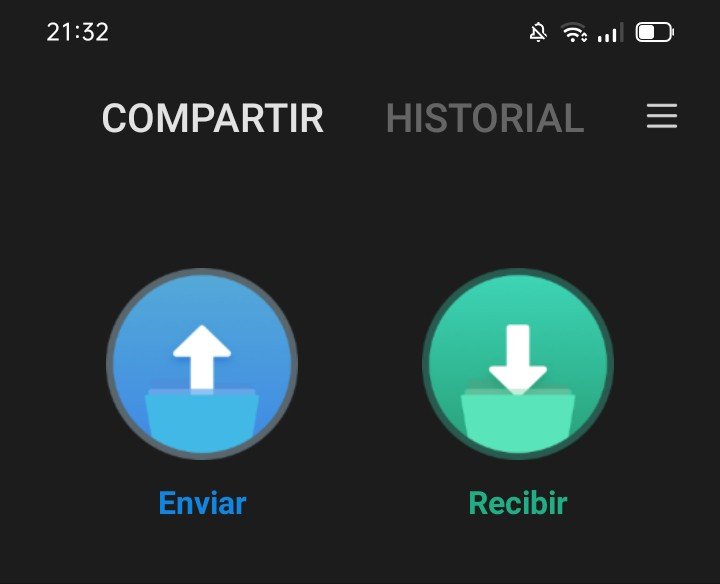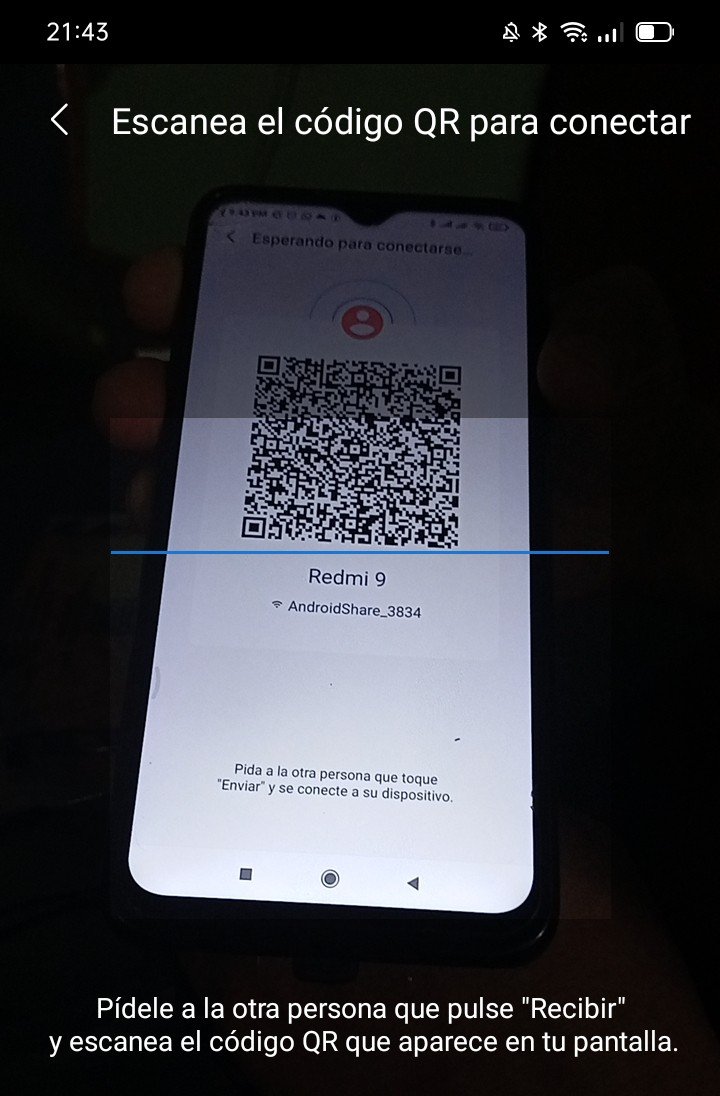 A la persona que está enviando el archivo le aparecerá un código QR en su dispositivo y la persona que va a recibir el archivo debe escanearlo. Yo escaneé el código que apareció en el teléfono de mi cuñado.
The person sending the file will get a QR code on their device and the person receiving the file must scan it. I scanned the code that appeared on my brother-in-law's phone.
---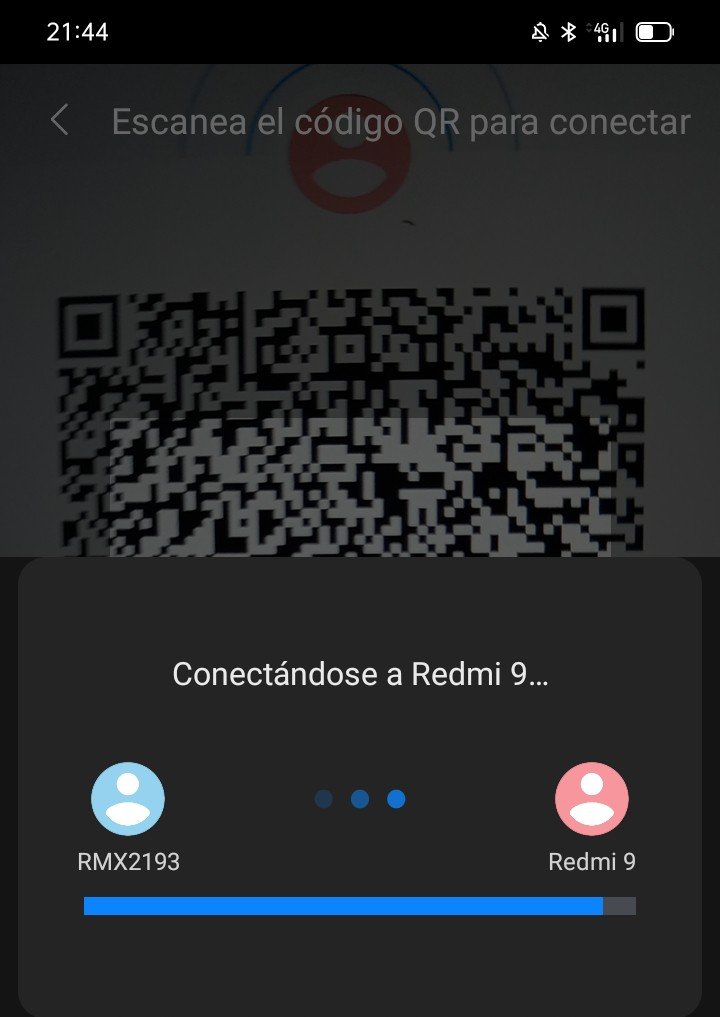 De esta manera, comienza a compartirse el archivo. En mi caso, comencé a recibir las dos películas.
In this way, the file begins to be shared. In my case, I started to receive both movies.
---
Se pueden seleccionar de una vez todos los archivos que desees enviar, no es necesario hacerlo uno por uno. La velocidad de esta aplicación es impresionante. Debo admitir que al principio me costó aprenderme los pasos, pero es que con la tecnología soy muy lenta. Me cuesta bastante aprender, sin embargo, al hacerlo varias veces me fui familiarizando con la aplicación. Claro, mi cuñado tuvo mucha paciencia al explicarme.
You can select all the files you want to send at once, it is not necessary to do it one by one. The speed of this application is impressive. I must admit that at the beginning I had a hard time learning the steps, but I am very slow with technology. It takes me quite a while to learn, however, by doing it several times I became familiar with the application. Of course, my brother-in-law was very patient in explaining it to me.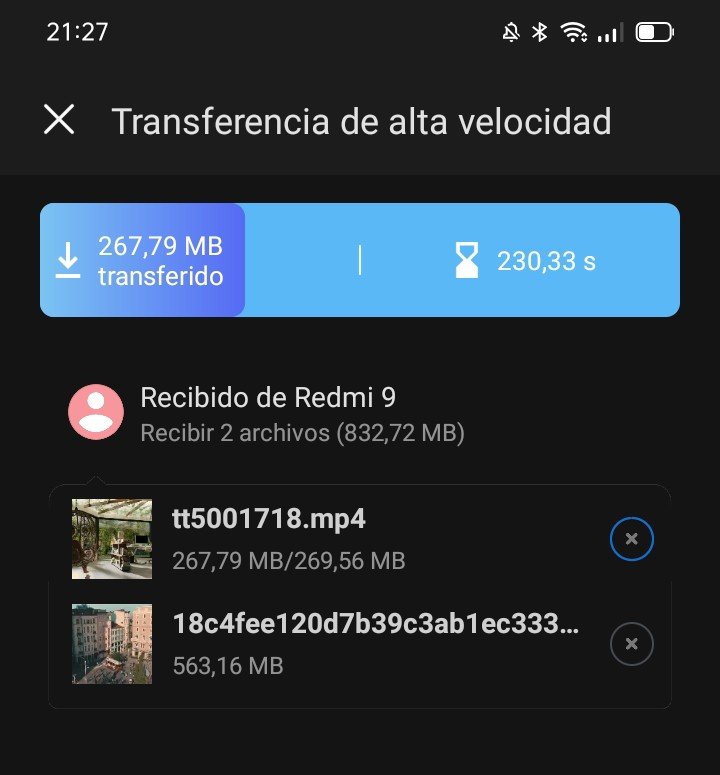 En tan solo tres minutos ya tenía las dos películas en mi teléfono. No hubo necesidad de que las descargara, así que me ahorré tiempo. Otra cosa que resulta ventajosa de esta aplicación, es que se usa sin internet. Por supuesto, es necesario que ambos dispositivos estén en el mismo sitio para poder llevar a cabo el procedimiento, esta si es una desventaja, porque generalmente no estamos en el mismo lugar con la persona que deseamos compartir algo. No obstante, me parece genial tener esta aplicación descargada en mi teléfono.
No vi las películas el mismo día, porque no tenía tiempo. A los días fue que pude verlas sin ningún problema.
In just three minutes I had both movies on my phone. There was no need for me to download them, so I saved time. Another advantage of this application is that it can be used without internet.Of course, it is necessary that both devices are in the same place to be able to carry out the procedure, this is a disadvantage, because usually we are not in the same place with the person we want to share something. Nevertheless, I find it great to have this application downloaded on my phone.
I didn't watch the movies the same day, because I didn't have time. After a few days I was able to watch them without any problem.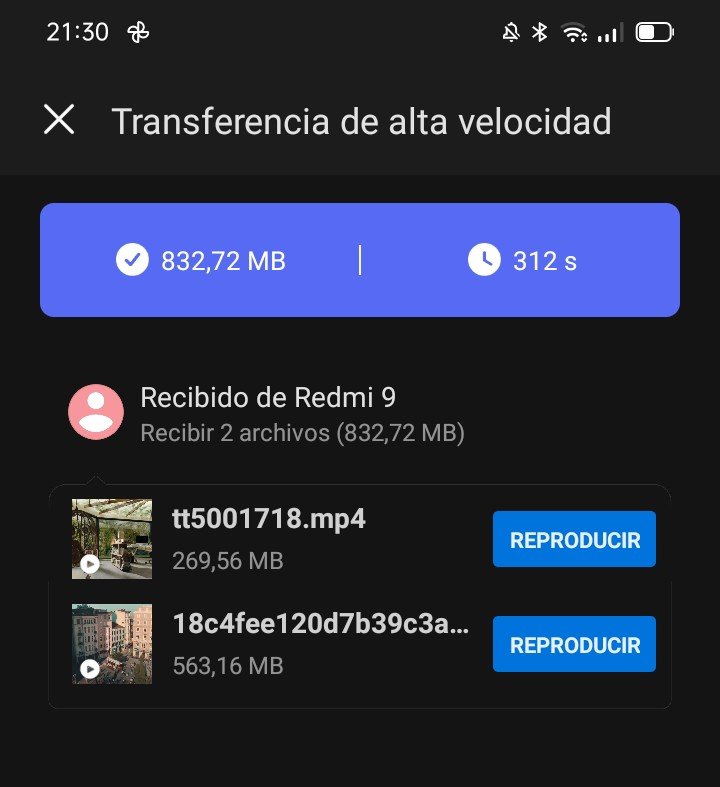 Todos los captures fueron tomados con mi teléfono, el cual es un Realme 7i.
All captures were taken with my phone, which is a Realme 7i.