As the world has lost its collective sanity due to non-stop fear propaganda about an invisible particle, it is important to remind ourselves of the depths of this insanity. This is exemplified in the push against the freedom to breathe air without a muzzle. While the forced masking of the world is an insult to humanity on its own, the following "study" promoting the masking of infants is a level of depraved delusion I did not expect to ever come across....
Title: Assessment of Respiratory Function in Infants and Young Children Wearing Face Masks During the COVID-19 Pandemic
Authors: Riccardo Lubrano, Silvia Bloise, Alessia Testa et al.
Date: 2 March 2021
URL: https://jamanetwork.com/journals/jamanetworkopen/fullarticle/2776928
Archive: https://web.archive.org/web/20220331204612/https://jamanetwork.com/journals/jamanetworkopen/fullarticle/2776928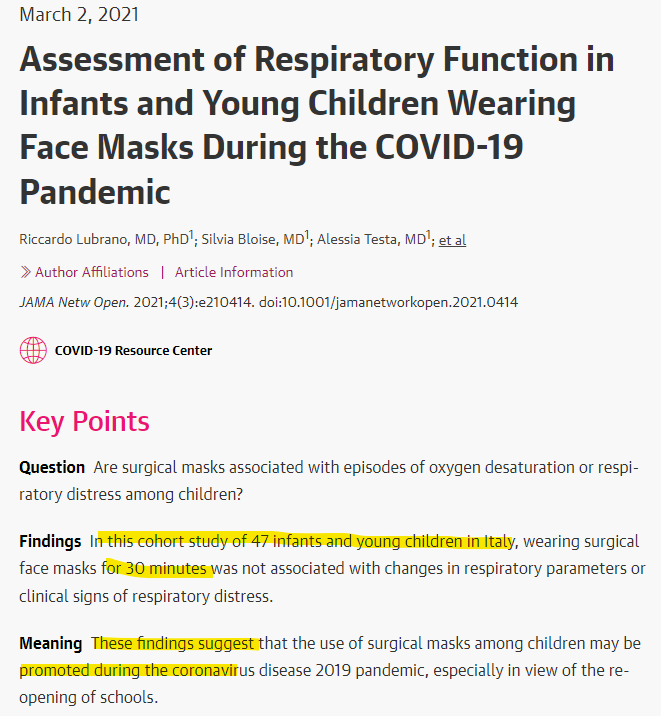 The "study" by these "doctors" involved masking 47 children, aged 4 months to 144 months (12 years) for 30 minutes. Breathing was monitored and compared with 30 minutes unmasked. The children older than 24 months or 2 years were monitored while walking for 12 minutes. As expected from such a limited sample size, dealing with healthy kids, a short duration of masking, and very little physical activity, it (supposedly) didn't make that big of a difference.
This "study" concludes that kids around the world should be masked up, including infants as young as 4 MONTHS old. And this masking up of the world essentially means:
Hours per day of masking.
Social interactions while masking.
Physical exercise while masking.
Unhealthy kids are affected more than already healthy kids.
Social and psychological impermeant.
Long term lung and breathing problems.
Fear of breathing air unhindered.
A warped view of reality.
While such papers getting published in any medium, let alone a "scientific" journal, is bad enough, but the mainstream media outlets then promote the bogus conclusions to the public. One example, is the Canadian propaganda outlet CTV News, which did a public release of the "study" on the same day it was published.
https://www.ctvnews.ca/health/coronavirus/children-as-young-as-four-months-can-wear-masks-without-respiratory-distress-study-suggests-1.5329594
Archive: https://archive.ph/fNpHi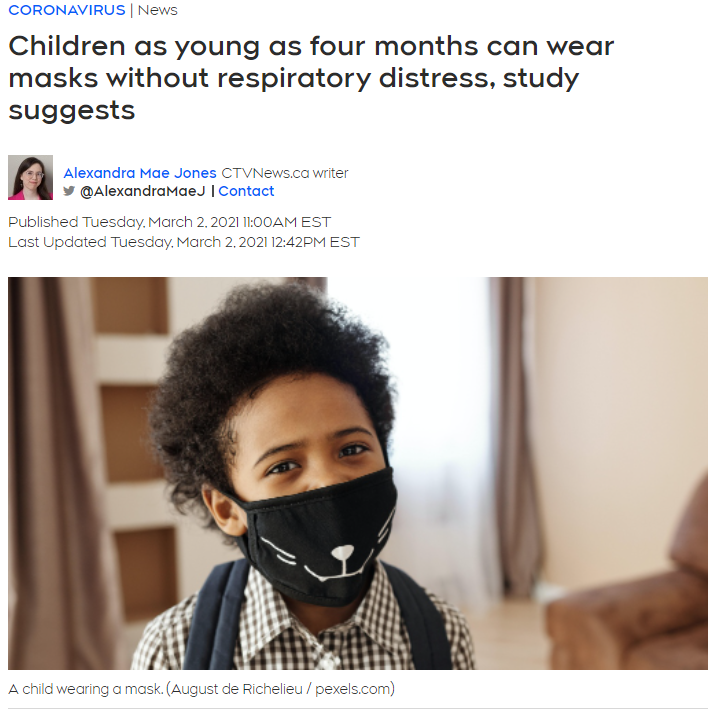 Note the headline and imagery used. A mask child is evil enough, but that is not what a 4 MONTH old looks like. The image below is more like it.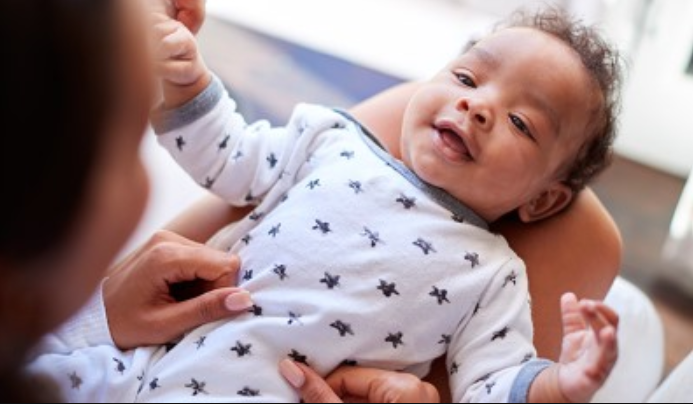 How anyone can think that an infant should be masked up for any reason, is beyond me...