The first casualty in a psychological operation is the truth. And this is no more evident than today in which the entire world is suddenly afraid to breathe air unhindered.
When people speak out about the obvious, their voices are usually muzzled by the established system of control and cheered on by an unthinking public.
Here are two papers that have been censored by The ScienceTM establishment. The first is an Israeli Clinical Exercise Physiologist Baruch Vainshelboim. The second is a retired Canadian Professor of Physics Denis G. Rancourt.
Baruch had his paper "retracted" after 8 months from being published in the US National Institutes of Health (NIH) website. The paper hypothesizes the negative health impacts that prolonged masking would have on the population, both psychologically and physiologically.
Denis had his paper literally deleted from the Research Gate website within a month after it got "too many views". The paper was a summary of scientific reports of the harm caused by face masks. Research Gate also deleted his author profile page as well.
The links to both papers are listed below.
https://www.ncbi.nlm.nih.gov/pmc/articles/PMC7680614/
Archive: https://web.archive.org/web/20220218135340/https://www.ncbi.nlm.nih.gov/pmc/articles/PMC7680614/
Title: Facemasks in the COVID-19 era: A health hypothesis
Author: Baruch Vainshelboim, PhD
Published: 22 November 2020
Retracted: July 2021
Author Profile: https://www.researchgate.net/profile/Baruch-Vainshelboim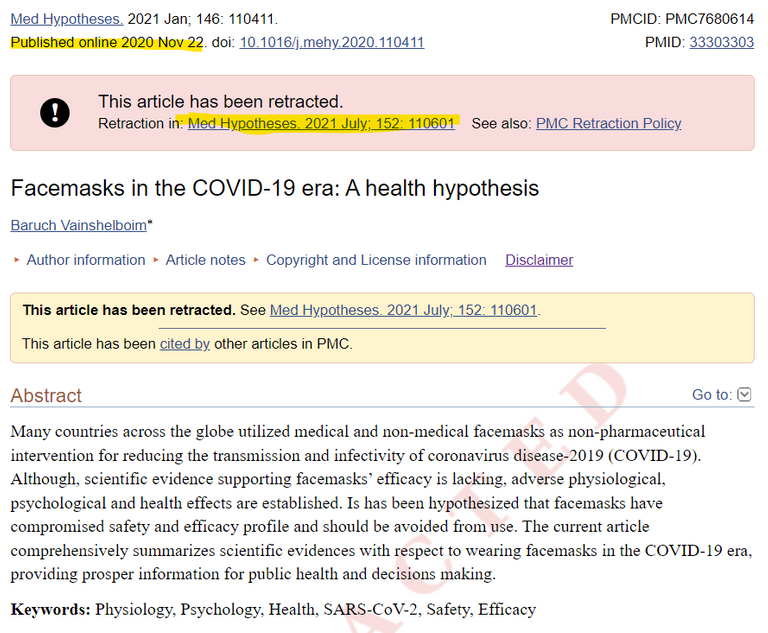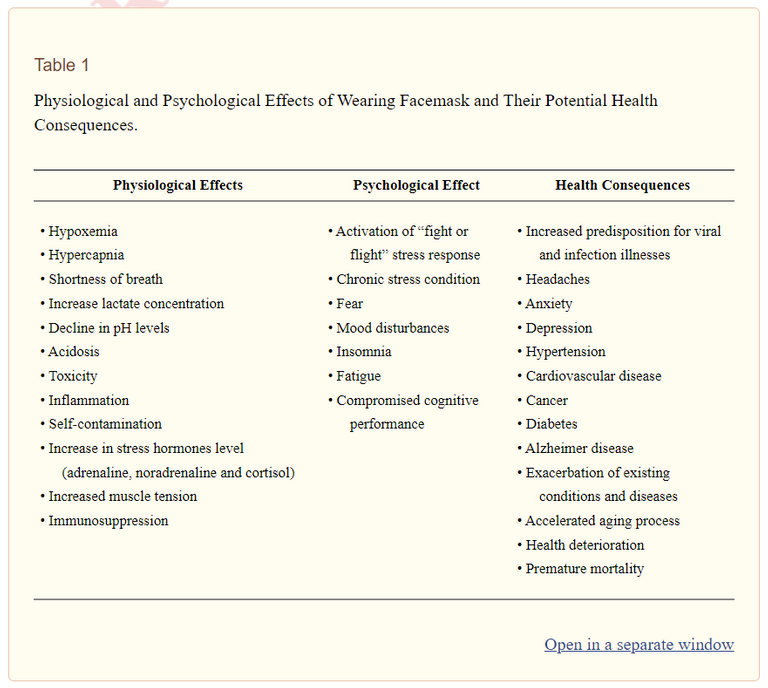 https://www.researchgate.net/profile/D-Rancourt/publication/349518677_Review_of_scientific_reports_of_harms_caused_by_face_masks_up_to_February_2021/links/60348181299bf1cc26e45fe6/Review-of-scientific-reports-of-harms-caused-by-face-masks-up-to-February-2021.pdf
Archive: https://web.archive.org/web/20210321161825/https://www.researchgate.net/profile/D-Rancourt/publication/349518677_Review_of_scientific_reports_of_harms_caused_by_face_masks_up_to_February_2021/links/60348181299bf1cc26e45fe6/Review-of-scientific-reports-of-harms-caused-by-face-masks-up-to-February-2021.pdf
MES local PDF download: https://1drv.ms/b/s!As32ynv0LoaIiOsdG39WCx0PJ-GxbQ?e=0dKR9L
Author: Denis G. Rancourt, PhD
Published: 22 February 2021
Deleted: March 2021
Author's profile was also deleted: https://web.archive.org/web/20200910140306/https://www.researchgate.net/profile/D_Rancourt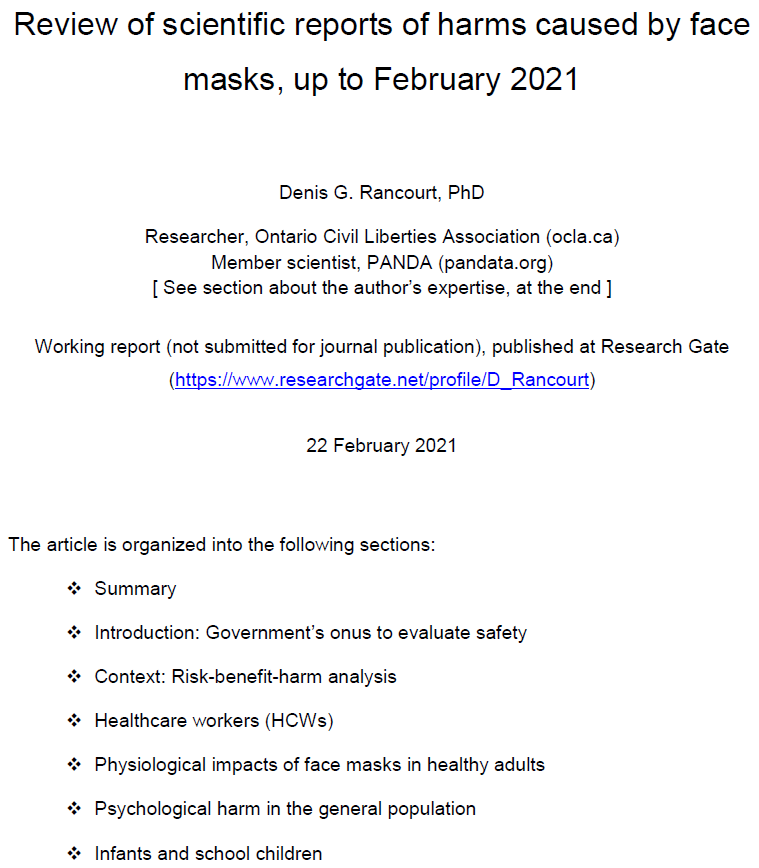 Denis Rancourt spoke out about getting censored by Research Gate in the following interview with Canadian researcher David Whitehead:
At the 37:33 mark: Cult of the Medics: Chapter One: https://vimeo.com/595746021
Full Interview: Corona Chronicles: Denis Rancourt https://rokfin.com/post/36757/CORONA-CHRONICLES-Denis-Rancourt--