How often we see an eagle hunt at close range? That Kung-Fu movie title seemed apt when I saw this great eagle sitting and waiting for a snake ... There is a story here for sure!😄
This time, since the theme of #SMAP challenge is 'Free theme', I thought I will share this interesting sequence of images that I got, totally unexpectedly.
Rains are mostly mood dampeners for photographers in general. Unless one is a photographer who shoots 'wet babe' scenes for movies in the rain or something.. LOL
Since I have no such fortune, I was returning home rather disappointedly, with an empty memory card in the camera on a rainy morning. Though dejected and without any hopes of sighting any birds I was still scanning fields on both sides of the road as I headed home. To my surprise, I saw something brown and large on a fencing pole in the middle of the field. Must be some gunny sack or something left behind by farmers, thought I but when I stopped the car and focused my lens - here is what I saw...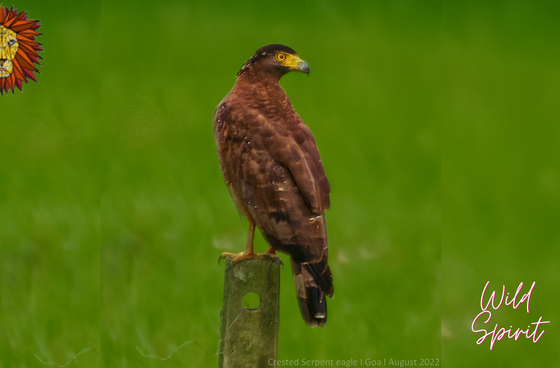 A Crested Serpent eagle watching a snake
My own click

A Crested Serpent eagle! What was this majestic forest bird doing in a paddy field? I followed it's gaze and saw some movement in the paddy crop. The crop was low height and the field was full of muddy water so I could not actually see what was causing the movement but it was clear from the rhythmic movements of the crops that a snake was crawling there - keeping low and well hidden
The Eagle, very patiently waited for it. Watching the crop movement keenly. It changed it's position to get a better view. In the process, it ended up facing me... I was sitting absolutely still on the bund in my car - at the edge of the field. Afraid to even breathe loundly...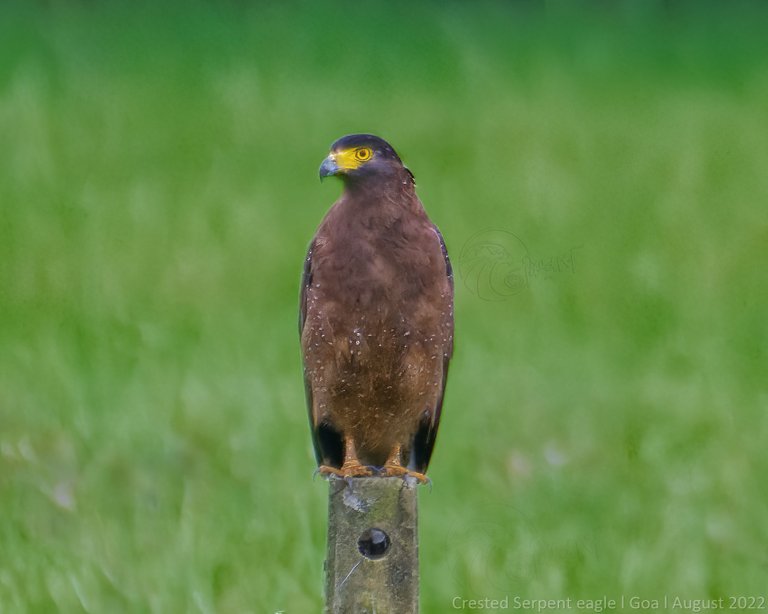 Change of observing position - the front view
My own click

The eagle watched the snake and let it cross its own position. Probably it wanted to swoop in from the back on the snake. Unfortunately, I had no view of the prey as the predator gazed upon it intently.
The all of a sudden, the Eagle spread it's mighty wings and swooped! I almost dropped my camera in excitement. It was so sudden that I had to struggle to get the bird in focus as it swooped down and flew low over the paddy crop. I managed to do it though and captured this shot...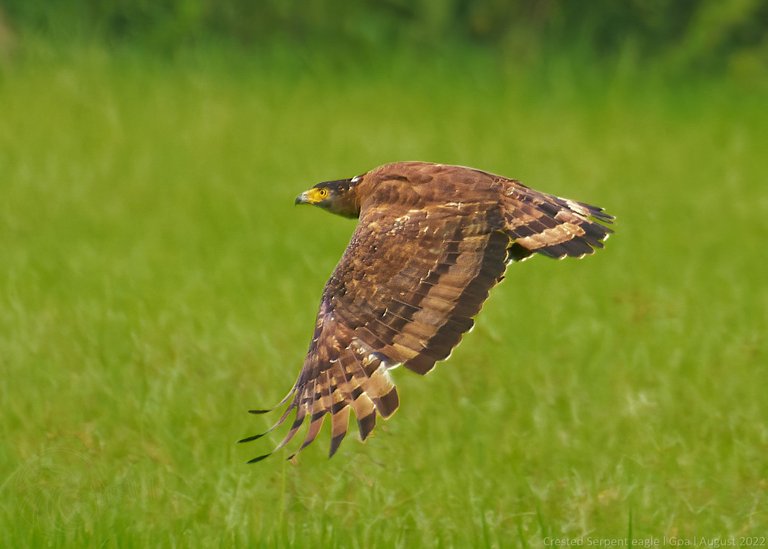 The Swoop !
My own click

Wow - just look at that wing span. Also - notice the gaze locked straight ahead on target...
The snake is about to become breakfast, I thought and kept my camera locked in on the action.
Unfortunately, the slithery snake, sank lower in the mud ( it is hard to imagine snakes sinking any lower isn't it? Ha ha ha). It probably had some sixth sense that warned it of the 'angel of death' swooping on it from behind and it dived into mud and slithered away at lightening speed.
Poor eagle came up empty handed.. (empty clawed I mean..)
With a disappointing cry, it flew away - claws still extended ...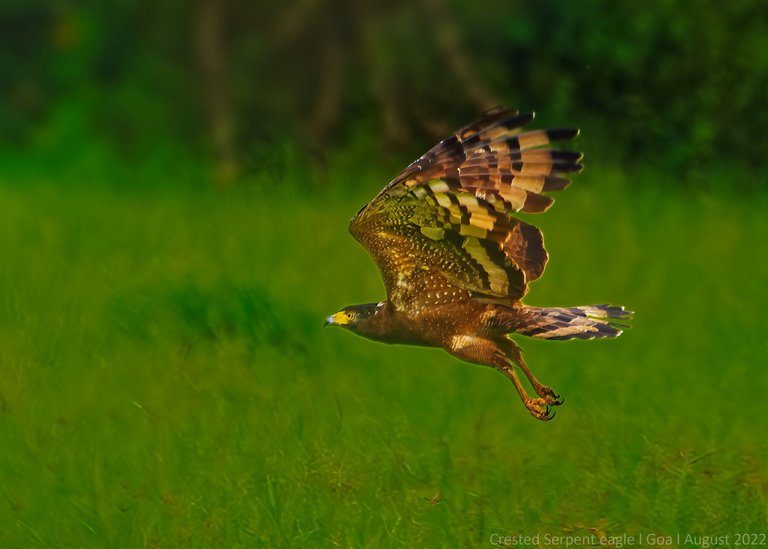 Alas - empty handed!
My own click

The eagle missed it's breakfast and I missed taking a shot of it's breakfast.
HOWEVER - IT WAS A GREAT HUNT. I CONSIDER MYSELF LUCKY TO HAVE WITNESSED THE ATTEMPT. AGAIN - HOW OFTEN DO WE GET TO SEE AN EAGLE HUNTING.. That too at close range!
Therefore, my entry for #SMAP 84 is this picture of the eagle in it's original form, since I will always remember the hunt story that goes with it...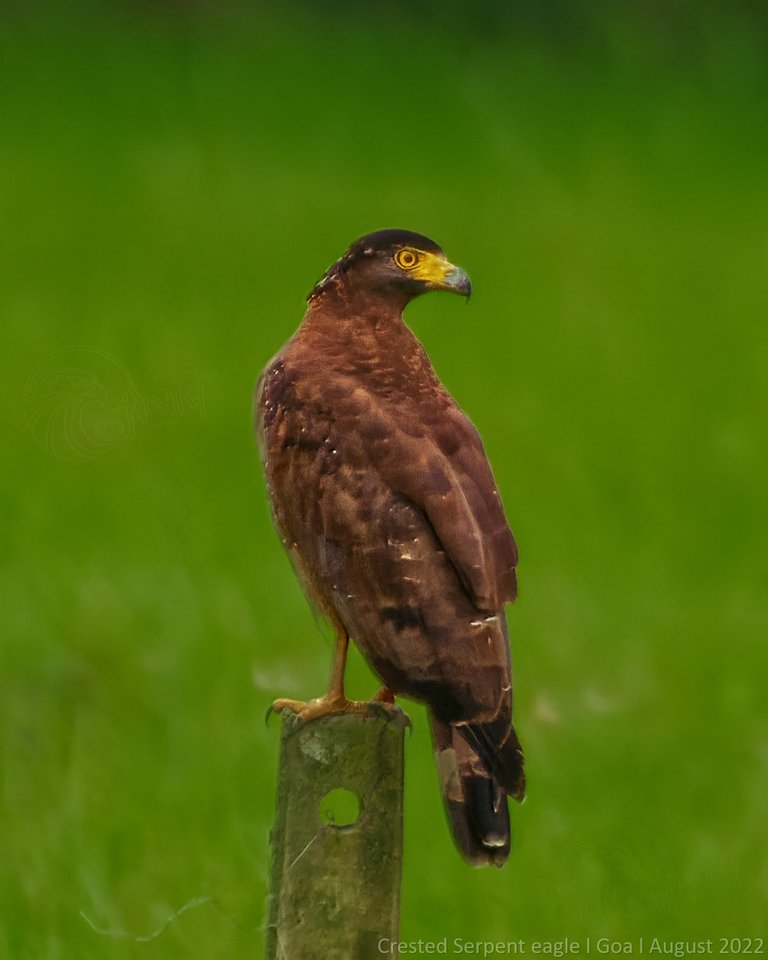 Crested Serpent Eagle waiting for hunt - My entry for #SMAP 84
Hope you enjoyed the pictures and the story 😀 Please feel free to comment and let me know your views ...
A big thank you for support
Thanks to c/hive-106444 (Feathered friends community) for providing this wonderful opportunity to present my experience and photographs. Thanks to @barbara-orenya and @melinda010100 for all the support and encouragement to this community. Special thanks to @nelinoeva also for starting the Species hunt initiative. My posts are not exactly in that format but have all the necessary info and Good original Photos. Further guidance will be very much welcome.
Thanks to HIVE for this wonderful platform. Thanks also to @adalger and @dna.org for encouraging me by recognizing some of my posts as worthy of Densifying nature project.
Further, thanks to Amazing nature community for welcoming me and showing me their love on some of my posts.
---
Note: All images and collages in this blog are created by me, based on photos clicked by me personally and/or free vector images from Pixabay. Any other sources, if used, are indicated as image credits below the picture.
Quotes used, if not credited, are either from unknown authors or are proverbial old sayings.
---