Hello hello my feathered friends !! I was not lost ... I was creating a magnificent post for you, today I present to you my baby, a beautiful Roseicollis, with only 30 days I accepted the great responsibility of bringing my family together a baby bird which I will raise by hand! and we will create fantastic post to learn everything about birds! In this post we are going to know the story of Cookie my baby bird! I will also teach you what you need to know if you want to raise a bird from baby! get comfortable it's time to fly!😍🤩💥💖
Olá, olá, meus amigos de penas !! Eu não estava perdido ... Estava criando um post magnífico para vocês, hoje apresento-lhes meu bebê, um lindo Roseicollis, com apenas 30 dias aceitei a grande responsabilidade de reunir minha família um filhote de passarinho que irei criar por mão! e vamos criar um post fantástico para aprender tudo sobre pássaros! Nesse post vamos conhecer a história do Cookie my baby bird! Eu também vou te ensinar o que você precisa saber se quiser criar um pássaro desde bebê! fique confortável, é hora de voar!🤗👨🦆👩
ARRIVAL OF COOKIE👶👨💖🦜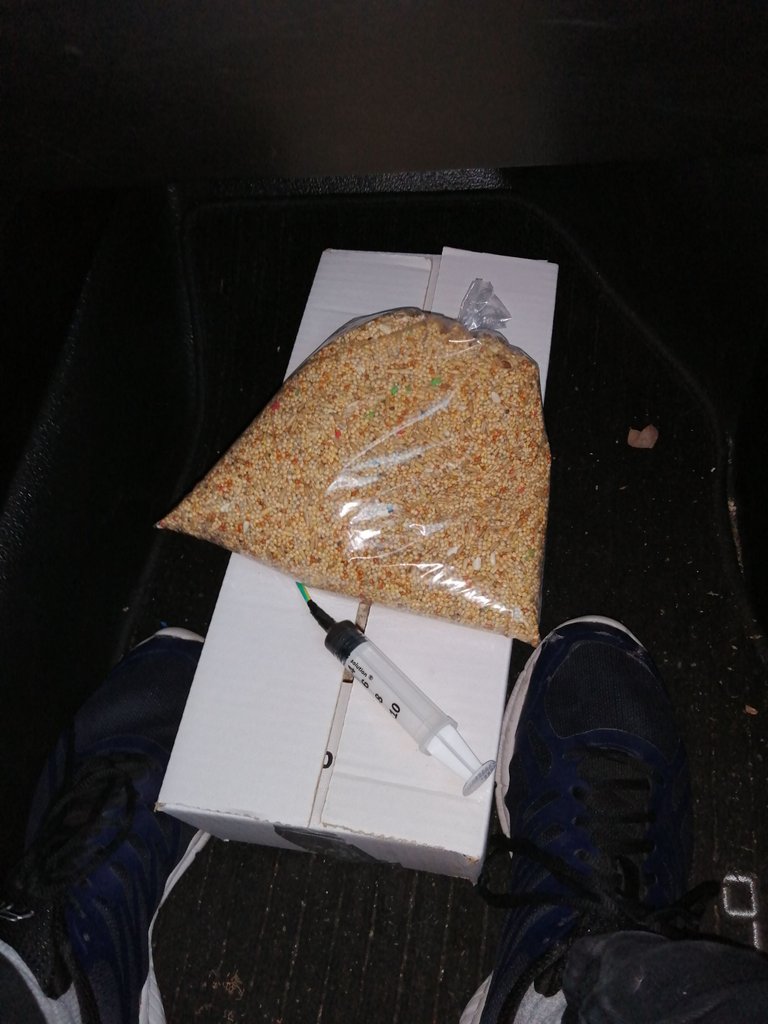 I have a friend who has a roseicollis house, they had about 4 babies and he offered me one! Discuss the subject with my wife because it is a great responsibility to raise a baby bird by hand! After both agree we went to look for our baby, we have baptized him as Cookie, there are certain advantages when we adopt a bird to raise by hand and that is that they are not aggressive, they create a strong bond with us because they will see us as their mother! the bond is formed when we feed it and give it our warmth! but a lot of attention is a great responsibility!😍😍🤩🤩
Eu tenho um amigo que tem uma casa de roseicollis, eles tiveram cerca de 4 bebês e ele me ofereceu um! Discuta o assunto com minha esposa porque é uma grande responsabilidade criar um filhote de passarinho com as mãos! Depois de ambos concordarem, fomos procurar nosso bebê, batizamos ele de Cookie, existem certas vantagens quando adotamos um pássaro para criar manualmente e que é que eles não são agressivos, eles criam um forte vínculo conosco porque eles vão nos veja como sua mãe! o vínculo se forma quando o alimentamos e lhe damos nosso calor! mas muita atenção é uma grande responsabilidade!👶👶🥚🥛🍼🍼

HOW TO PREPARE👶👨📕💖🦜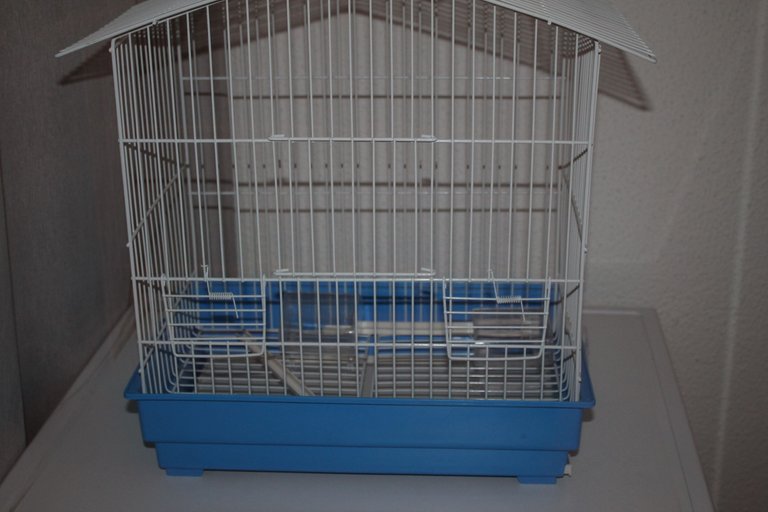 These are the things you buy to receive Cookie, we must be prepared, let's imagine it is like a baby! our son can't miss anything right? buy a bird cage! As it is a bird raised by hand, it will not be aggressive so my intention is to leave it free in my house and it will only be inside the cage when it is not under my supervision! I do not recommend leaving a bird alone without supervision, it can bite on anything that could hurt it such as electrical cables, plastic! As Cookie is a baby, she needs a dark and warm space, let's imagine that she is like in nature inside a log! you need privacy, security place it in a place free from noise and without much clarity!🎁🎁🕶🔊🅾⛔📛
Essas são as coisas que você compra para receber o Cookie, temos que estar preparados, vamos imaginar que é como um bebê! nosso filho não pode perder nada certo? compre uma gaiola de passarinho! Por se tratar de um pássaro criado à mão, não será agressivo pelo que pretendo deixá-lo solto na minha casa e só ficará dentro da gaiola quando não estiver sob a minha supervisão! Não recomendo deixar um pássaro sozinho sem supervisão, ele pode picar qualquer coisa que possa machucá-lo, como cabos elétricos, plástico! Como Cookie é um bebê, ela precisa de um espaço escuro e quente, vamos imaginar que ela seja como a natureza dentro de um tronco! você precisa de privacidade, segurança coloque-o em um local livre de barulho e sem muita clareza!❗❗⛔⛔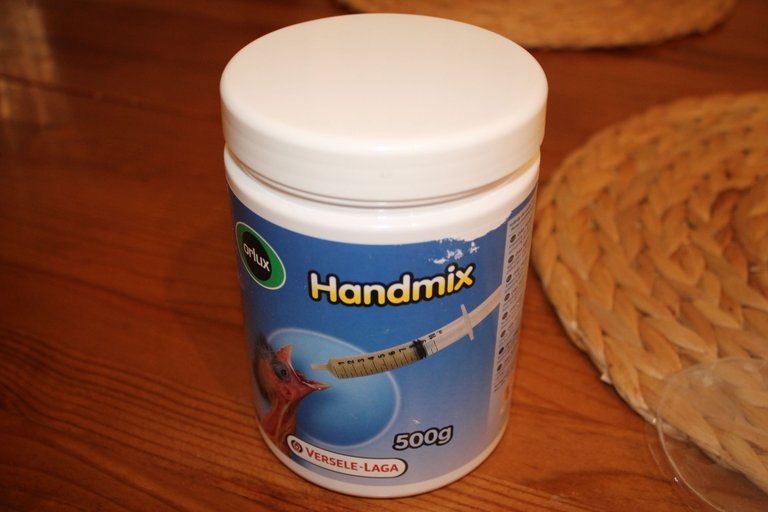 I bought a special porridge for baby birds! There are many brands, here I recommend looking for a good quality one, you must pay around 15-25 euros! Of course for our baby there is no price limit, I bought this one because I have experience and a good reference, for me Cookie deserves a good diet to grow without deficiencies and strong to reach adulthood! You should always have everything sanitized, I always change the paper or the bottom of the cage or box so as not to step on your own excrement, we must avoid bacteria! YOU KNOW A GOOD PORRIDGE!👶👶
Comprei uma papa especial para passarinhos! Existem muitas marcas, aqui recomendo procurar uma de boa qualidade, deve pagar cerca de 15-25 euros! Claro que para o nosso bebê não tem limite de preço, comprei este porque tenho experiência e uma boa referência, pra mim o Cookie merece uma boa alimentação para crescer sem deficiências e forte para chegar à idade adulta! Você deve sempre ter tudo higienizado, sempre troco o papel ou o fundo da gaiola ou caixa para não pisar nos próprios excrementos, temos que evitar bactérias! VOCÊ CONHECE UMA BOA PAPA!🍜🍼🥛🍵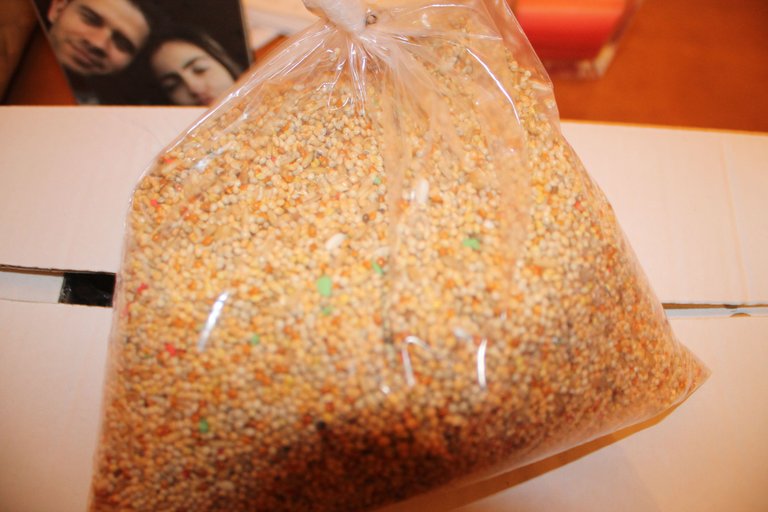 Buy a mix of seeds for psittacus, I plan to change them for grains that are healthier and help us extend the life expectancy of our feathered baby! Cookie should start testing seeds after a month and a half, so at this age we must leave a little seed and water at the bottom of the cage to try and browse! There is no exact rule. Many birds leave the porridge early, others take longer! each bird has its own personality like us! MUCH PATIENCE😍😍😮
Compre uma mistura de sementes para psitacus, pretendo trocá-las por grãos mais saudáveis ​​e nos ajudar a estender a expectativa de vida de nosso bebê de penas! O Cookie deve começar a testar as sementes depois de um mês e meio, então nessa idade devemos deixar um pouco de semente e água no fundo da gaiola para tentar navegar! Não existe uma regra exata, muitos pássaros saem do mingau cedo, outros demoram mais! cada pássaro tem sua própria personalidade como nós! PACIÊNCIA🤔😏🤩💥💖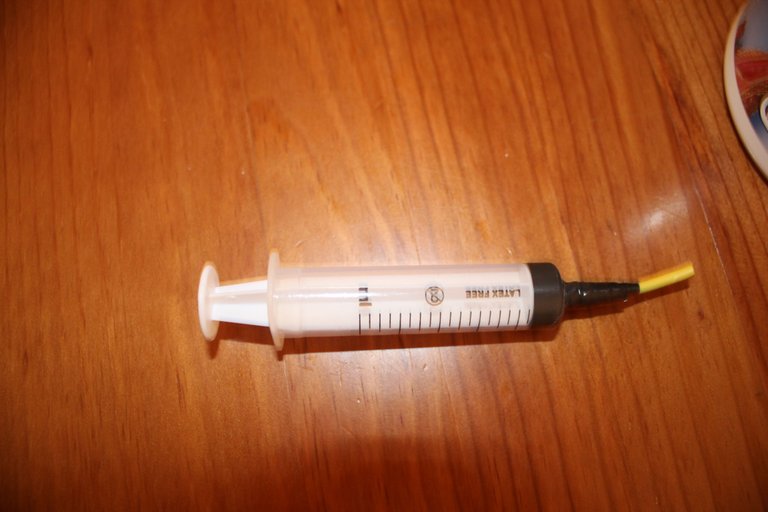 This is important, it is a syringe to feed our baby, you can buy one in a pet store or you can make one just by cutting a piece of very thin hollow plastic tube, the porridges have an indication of how we should feed our rosicollies , with a month we must feed it 3 times later I will explain how you should do it!1️⃣2️⃣3️⃣
Isso é importante, é uma seringa para alimentar nosso bebê, você pode comprar uma em uma pet shop ou pode fazer apenas cortando um pedaço de tubo plástico oco bem fino, os mingaus têm uma indicação de como devemos alimentar nossos rosicollies , com um mês devemos alimentá-lo 3 vezes depois irei explicar como você deve fazer isso!1️⃣2️⃣3️⃣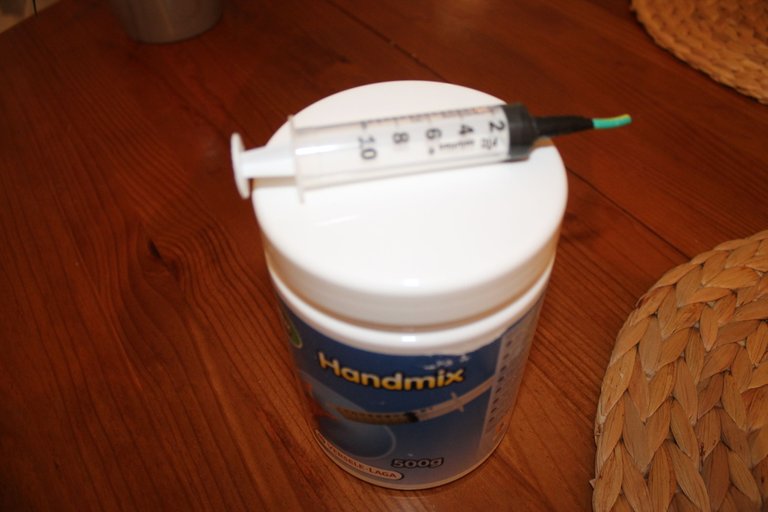 OUR FIRST CONTACT👶👨💥💖🦜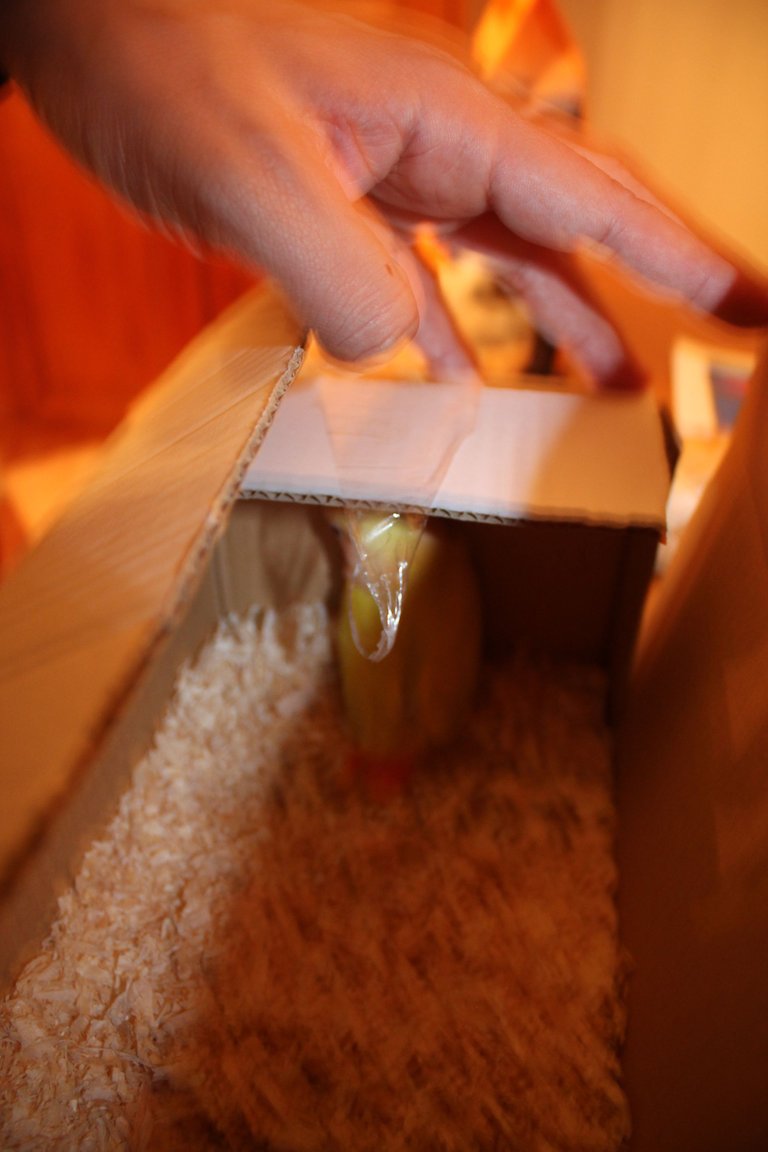 My first contact with Cookie was short and very calm! I did not make much noise or pressured him to go with me, he just passed from a very different environment than he was used to, he was with his brothers receiving heat and being fed by another person so he had to be calm and patient with him! don't disturb it! BUT WE MUST FEED IT FOR THE FIRST TIME!💥💖💖😍
Meu primeiro contato com o Cookie foi curto e muito tranquilo! Não fiz muito barulho nem o pressionei para ir comigo, ele só passou de um ambiente bem diferente do que estava acostumado, ele estava com seus irmãos recebendo calor e sendo alimentado por outra pessoa então ele tinha que ter calma e paciência com dele! não perturbe! MAS DEVEMOS ALIMENTAR PELA PRIMEIRA VEZ!👶
Our first impression is important so I speak using a very low tone, and that's it! We are going to call him by his name, at this age it is important to teach him all the tricks you want! they are intelligent birds that can learn many tricks and sounds! do not expect words like a parrot but they will surprise you! my baby Cookie has a life expectancy of up to 15 years! that is why she will live with me for many many years!🤩🦜🐦🦉🦩
Nossa primeira impressão é importante, então falo em um tom bem baixo, e é isso! Vamos chamá-lo pelo nome, nessa idade é importante ensinar todos os truques que você quiser! são pássaros inteligentes que podem aprender muitos truques e sons! não espere palavras como um papagaio, mas elas o surpreenderão! Meu bebê Cookie tem uma expectativa de vida de até 15 anos! é por isso que ele viverá comigo por muitos, muitos anos!😋🐾🐾

YOUR FIRST MEAL👶👨🍼🥛🍵🦜
We are going to take the special syringe, and we are going to fill it with warm water, neither cold nor very hot! He must feel like he's coming out of his breast's peak! If it is cold, it will not take the porridge if it is too hot you can burn it! therefore put a little in your hand to feel! we are going to fill it with 4ml of water!🧊🧊
Vamos tirar a seringa especial, e vamos enchê-la com água morna, nem fria nem muito quente! Ele deve se sentir como se estivesse saindo do bico do peito! Se estiver frio, não vai levar o mingau, se estiver muito quente pode queimá-lo! por isso coloque um pouco na mão para sentir! vamos encher com 4ml de água!🛑📛4️⃣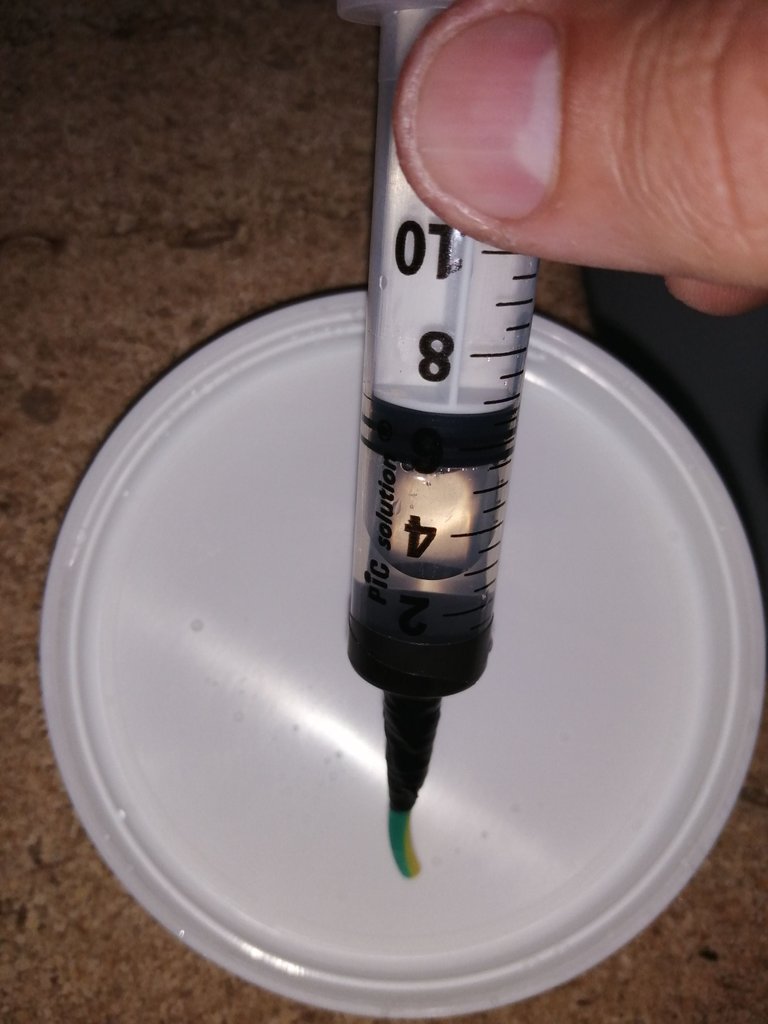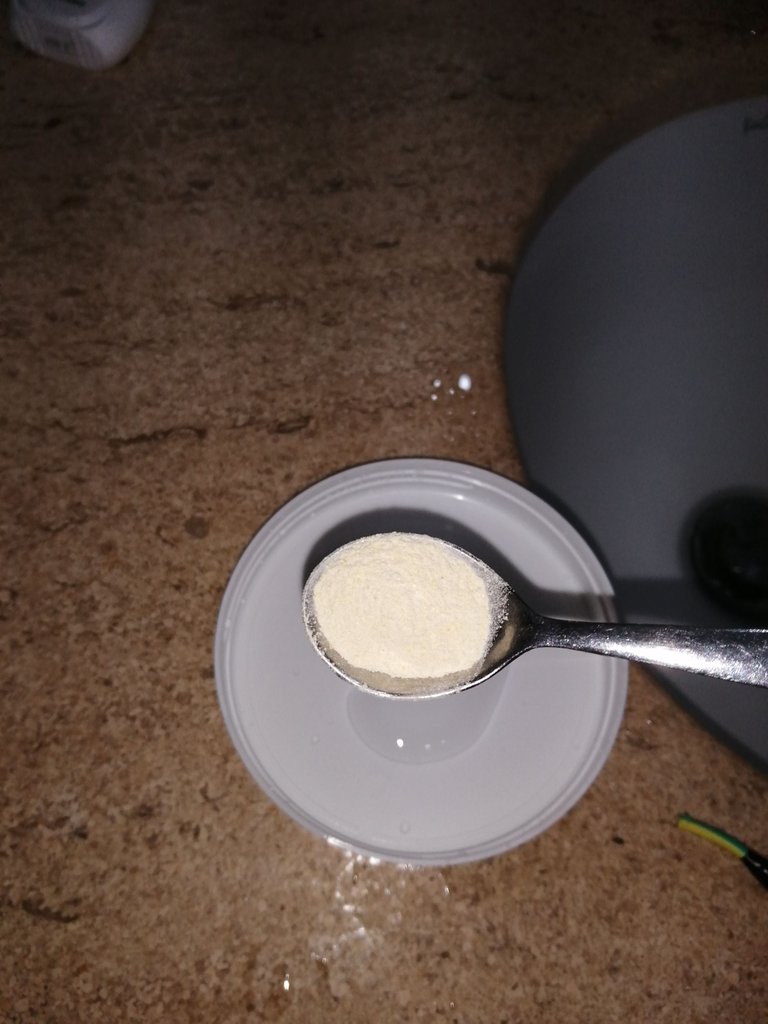 We are going to take a measuring spoon of coffee, and we are going to mix it with the 4ml of water, our porridge should not have grains, so we are going to stir it very well! It should have a texture as if it were a yogurt, neither too liquid nor too thick! and we are going to give this age ONLY 2ML 3 times a day! morning, noon and night before going to sleep!
Vamos pegar uma colher medida de café, e vamos misturar com os 4ml de água, nosso mingau não deve ter grãos, então vamos mexer muito bem! Deve ter uma textura como se fosse um iogurte, nem muito líquida nem muito grossa! e vamos dar a esta idade APENAS 2ML, 3 vezes ao dia! manhã, meio-dia e noite antes de dormir!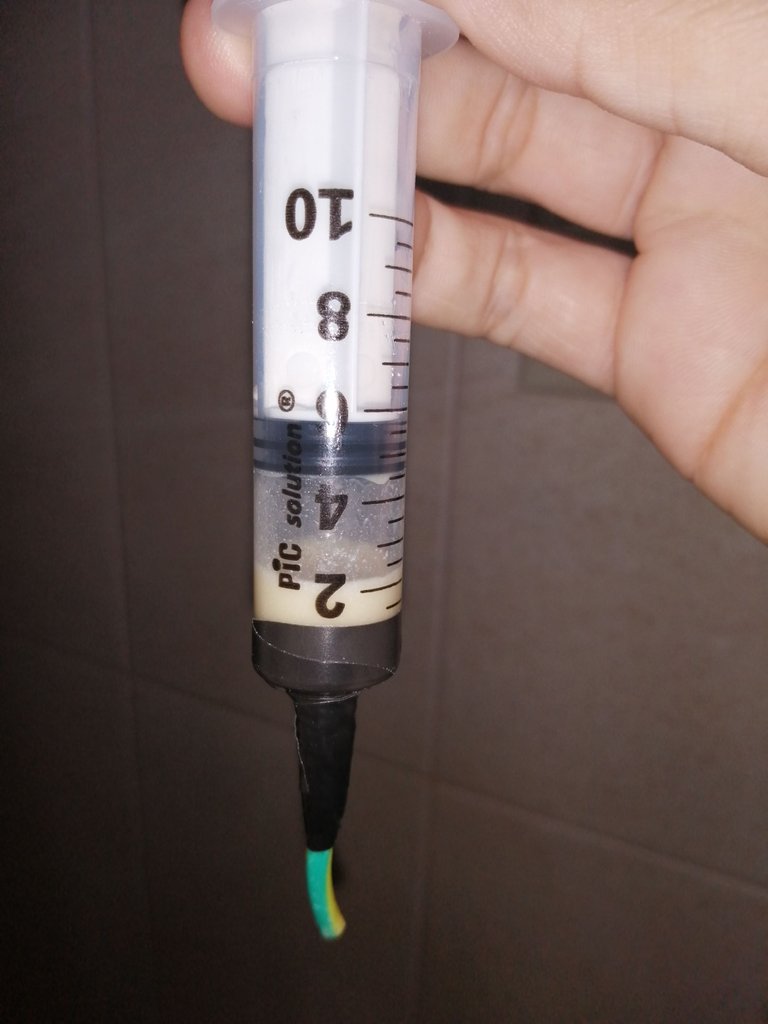 Every time I feed Cookie I feel her crop to see if it is full, half or empty! these birds store food in their crop and consume when they want! So if it is full you do not need to give it food, this technique is important because you can feel some small grains that says that they already feed on seed and at this point we are withdrawing their food from 3 times a day to only 2, and then only 1 ! even rejecting the porridge! he is when he decides to leave the porridge we will not pressure him to leave it!💥💥💨💫😊😊
Cada vez que alimento Cookie eu sinto sua colheita para ver se está cheia, meio ou vazia! essas aves armazenam comida em sua plantação e consomem quando querem! Então se estiver cheio você não precisa dar comida, essa técnica é importante porque você pode sentir alguns pequenos grãos que dizem que já se alimentam de semente e neste momento estamos retirando a comida de 3 vezes ao dia para apenas 2 , e então apenas 1! até rejeitando o mingau! ele é quando ele decidir deixar o mingau não vamos pressioná-lo a deixar!😶😮😛👶🍼

The important thing when we give them food is that we must be patient xD many are complicated to feed them, you can open their beak and place the syringe a little inside above their tongue always! and we are giving him little by little and he is drinking! we clean it a bit and return it to its box! the first and second day I recommend you be like this! little by little we are talking to him and we socialize with him!😁😁
O importante quando damos comida é que temos que ter paciência xD muitos são complicados de alimentá-los, você pode abrir o bico e colocar a seringa um pouco dentro acima da língua sempre! e vamos dando a ele aos poucos e ele está bebendo! limpamos um pouco e colocamos de volta na caixa! o primeiro e o segundo dia eu recomendo que você seja assim! aos poucos vamos conversando com ele e nos socializando com ele!🤣😂😅

FIRST DAY IN THE CAGE👶👨🏡🏡🦜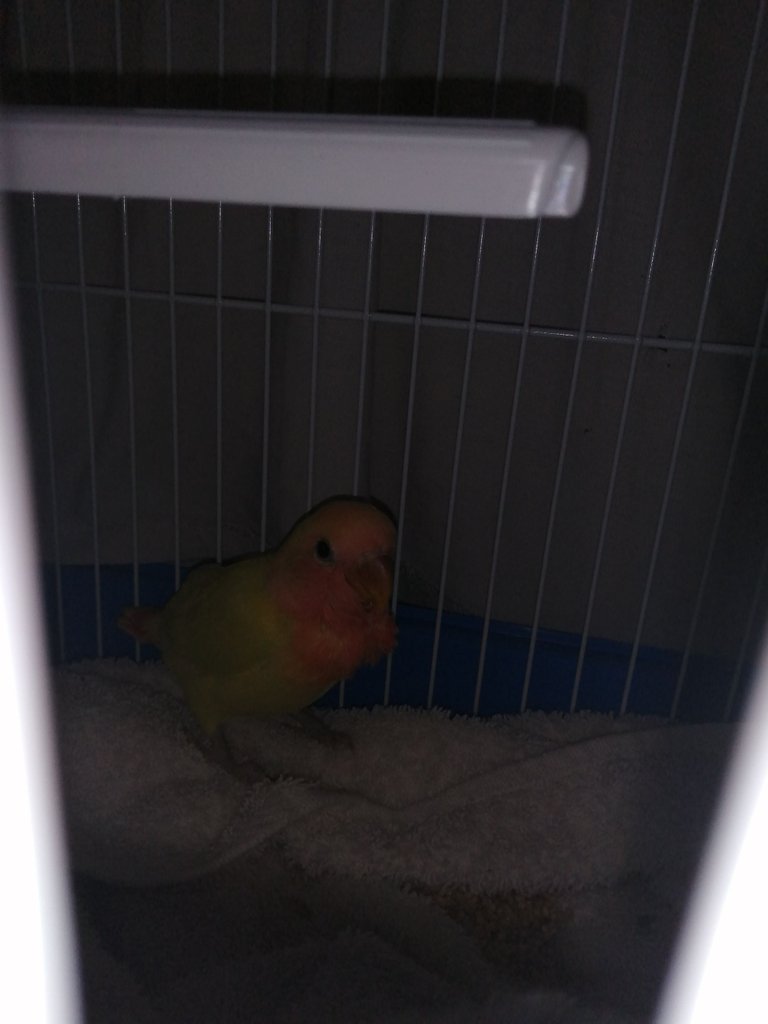 Cookie this is your temporary home, your place of privacy and rest! here you will be when your parents are working! it is important that he familiarize himself with the cage, with the accessories, the feeding site, shower and hydration! very shy Cookie, he just stood there without moving! you can tell he's scared😯😯
Cookie esta é a sua casa temporária, o seu lugar de privacidade e descanso! aqui você estará quando seus pais estiverem trabalhando! É importante que ele se familiarize com a gaiola, com os acessórios, com o local da alimentação, banho e hidratação! Cookie muito tímido, ele só ficou lá sem se mexer! você pode dizer que ele está com medo😮🤔🤔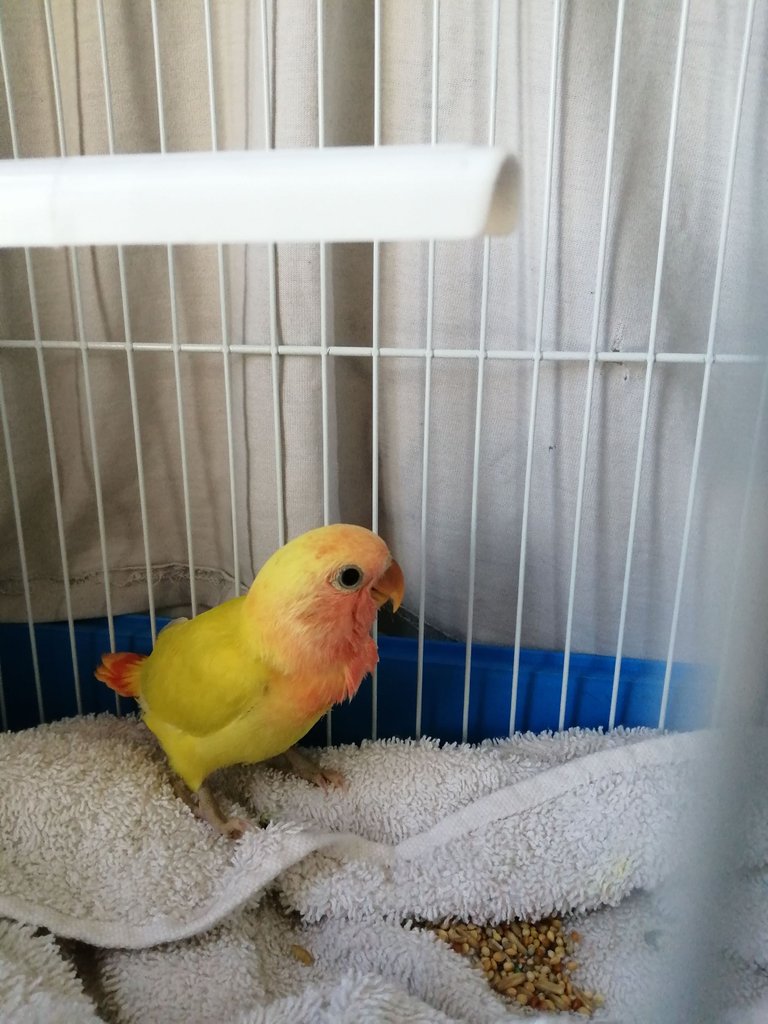 AWWWWWWWWWWW COOKIE IS SO BEAUTIFUL !!!😍😍😍

MORE INTERACTIVE COOKIE👶👨🤭👀🦜
xD I have taken Cookie for the first time to my bed to get acquainted with me and my wife! and to get used to common noises! very cute and shy right?😉😊
xD Levei Cookie pela primeira vez para a minha cama para me conhecer e conhecer minha esposa! e se acostumar com ruídos comuns! muito fofo e tímido né?😅😅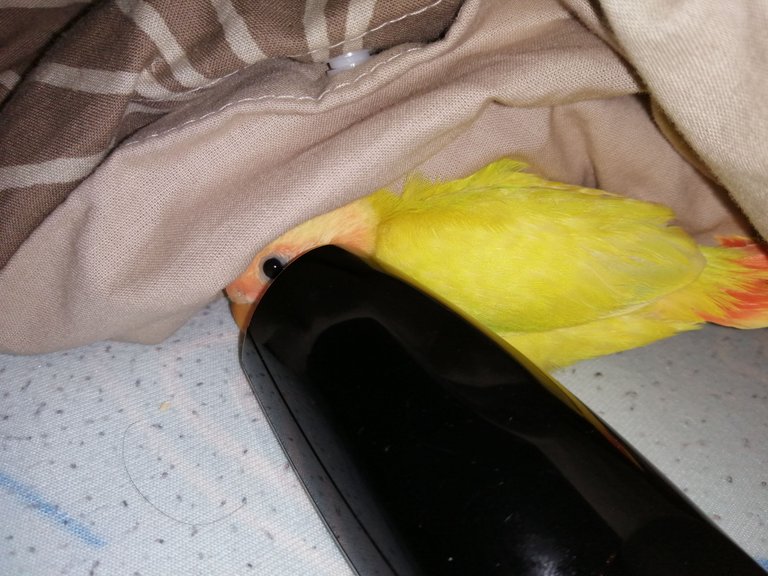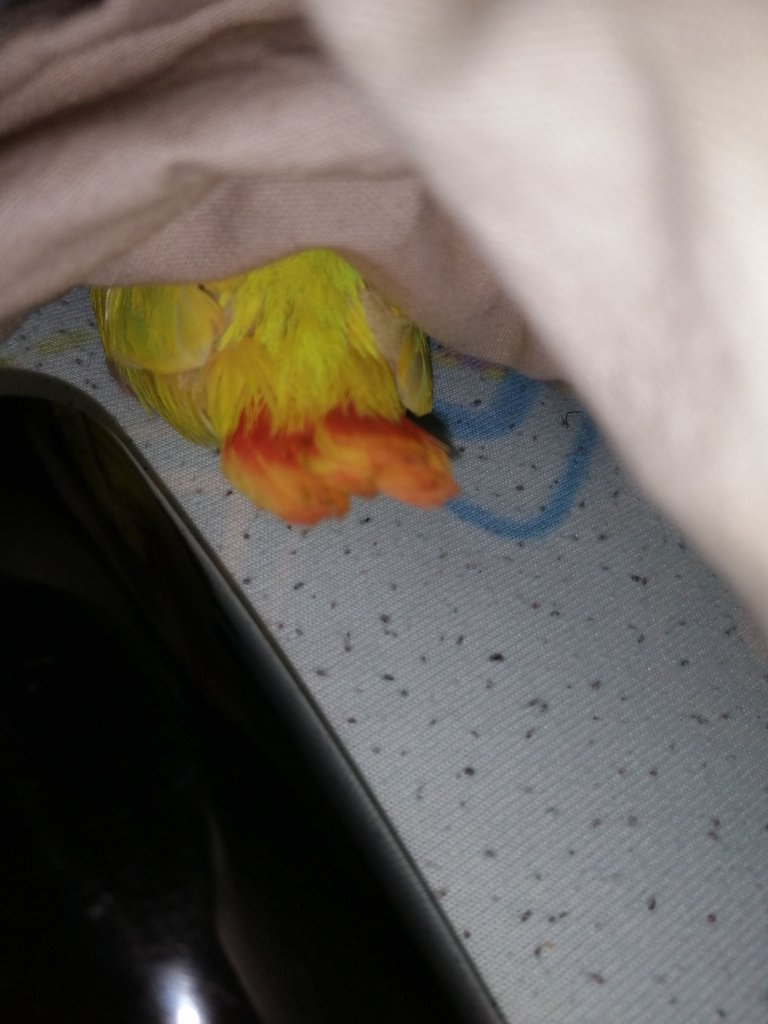 DON'T BE AFRAID COOKIE I'M YOUR DAD😊😊🤩🤗

COOKIE BEGINS TO EXPLORE👶👨🤭👀🦜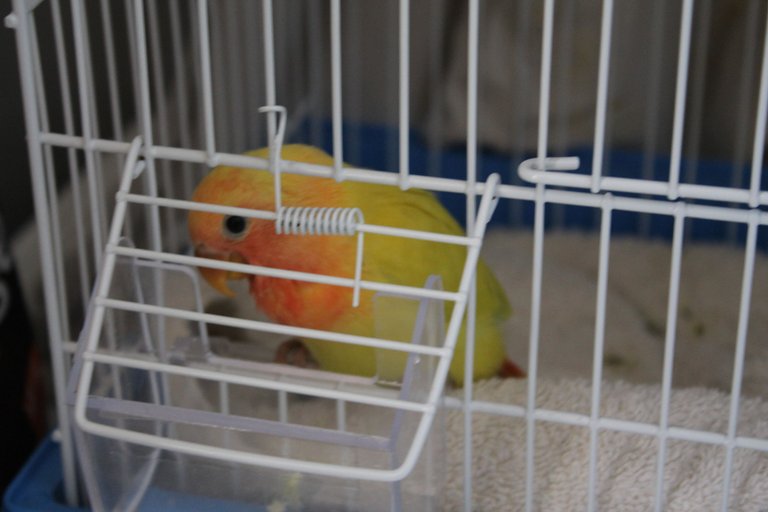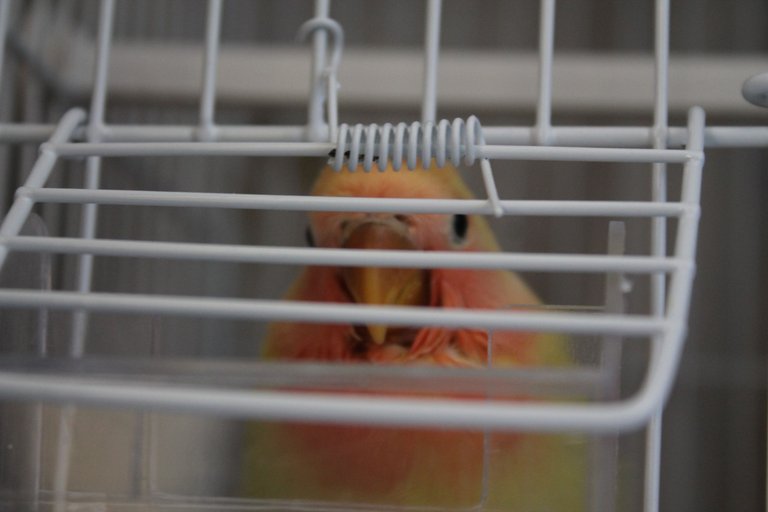 It is a normal stage in Cookie to gradually lose his fear for us, and begin to explore the territory, his cage! She he she observes where the water is, the food, it moves more in the bottom of the cage!🤗🤗
É uma fase normal em Cookie perder gradualmente o medo por nós e começar a explorar o território, a sua jaula! Ele observa onde está a água, a comida, mexe mais no fundo da gaiola!👀👀

HELLO COOKIE😍😍🤩👶👶🐦🦉

xD🤣🤣😂😂😍😍😍😍😍

Cookie is more patient with me, he no longer makes noises and gets scared when I take it! he he he knows that I am not a threat and that I am his father! I feed him, socialize with him, and go exploring with me!😊😊
O Cookie é mais paciente comigo, já não faz barulho e fica assustado quando o pego! Ele sabe que não sou uma ameaça e que sou seu pai! Eu o alimento, socializo com ele e vou explorar comigo!👨👶💖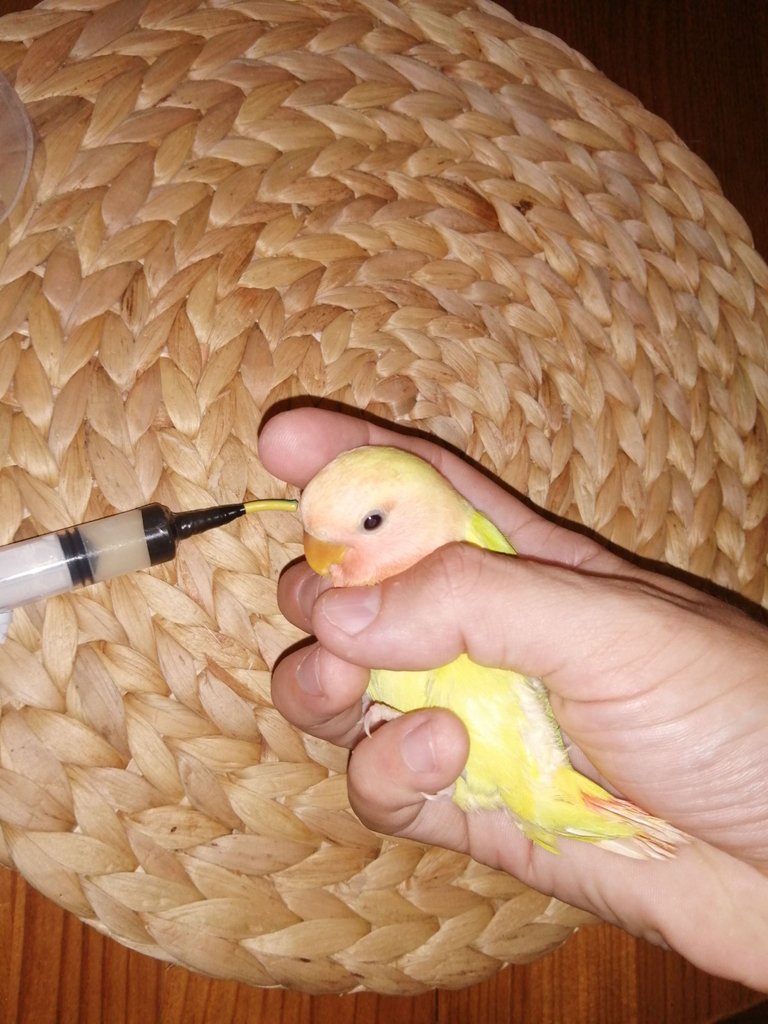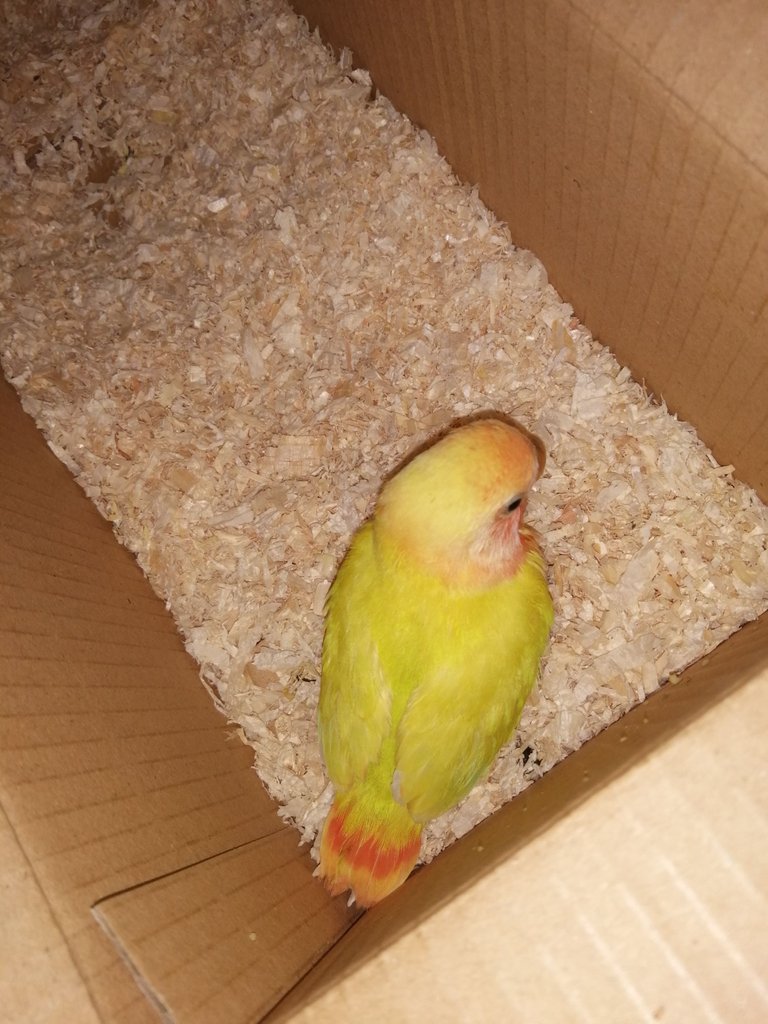 SUPER COOKIE👶👨🤭👀🦜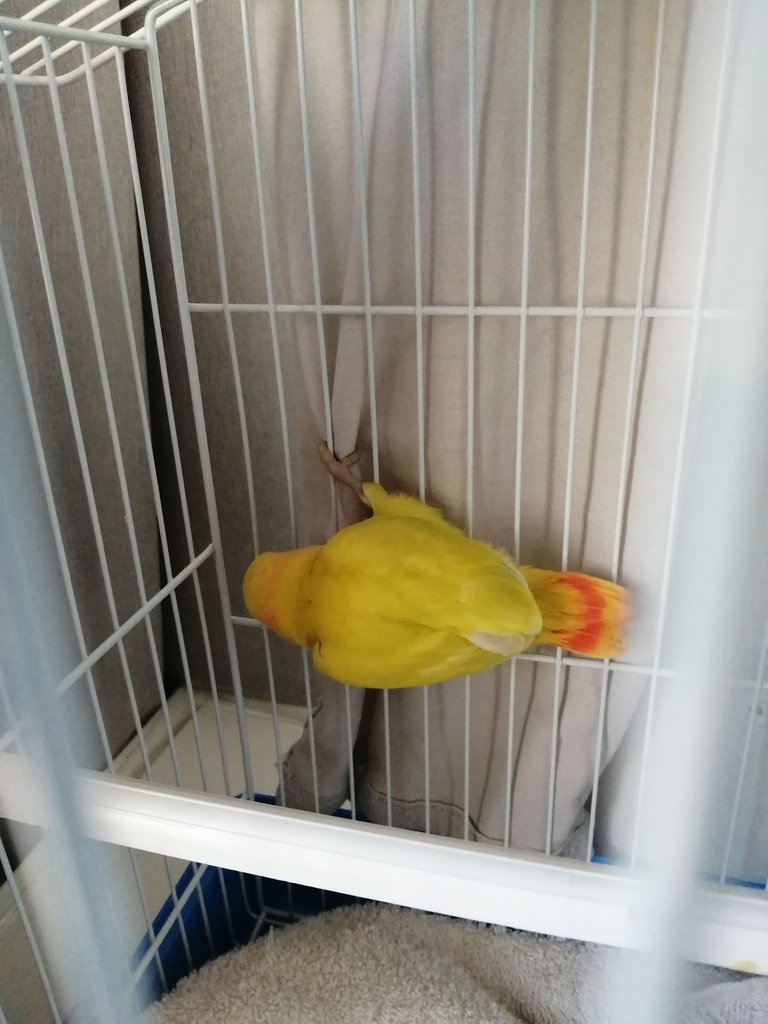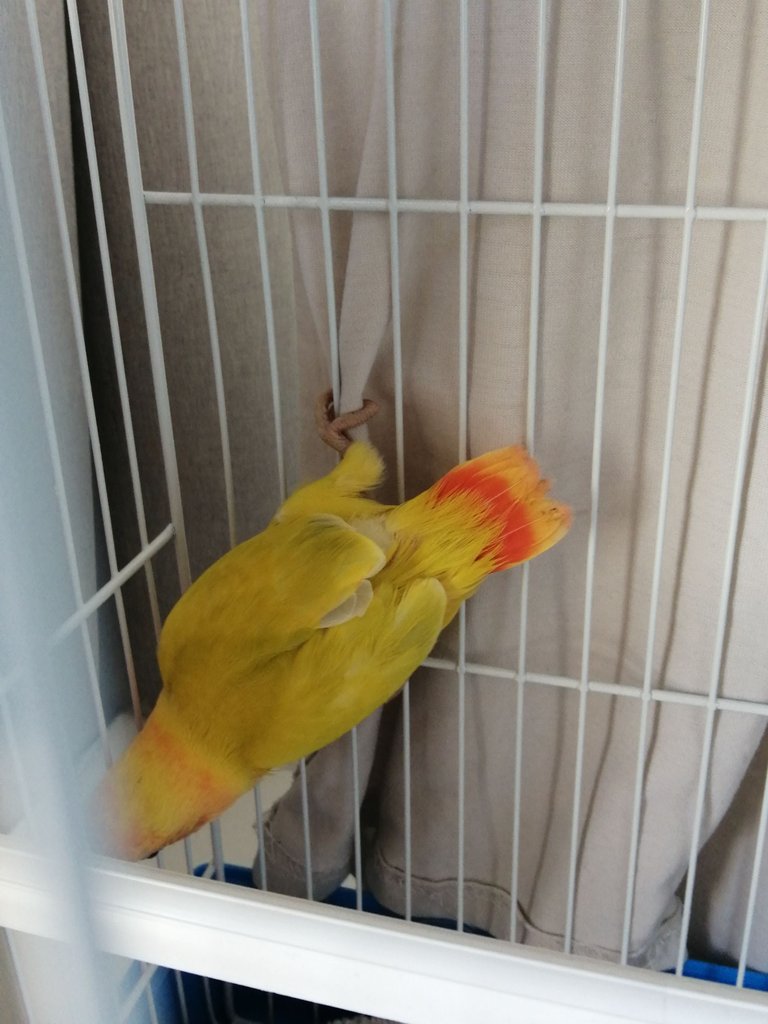 I have noticed that Cookie with 3 days already begins to be more active, to begin to climb in the cage, to climb on the sticks! I've noticed some seeds are eaten so he's already starting to explore food! That tells me I should cut down on a porridge feed and give it only 2 times!😅😅
Notei que o Cookie com 3 dias já começa a ficar mais ativo, a começar a subir na gaiola, a subir nos palitos! Percebi que algumas sementes são comidas, então já estou começando a explorar os alimentos! Isso me diz que devo reduzir a alimentação com mingau e dar apenas 2 vezes!😮😮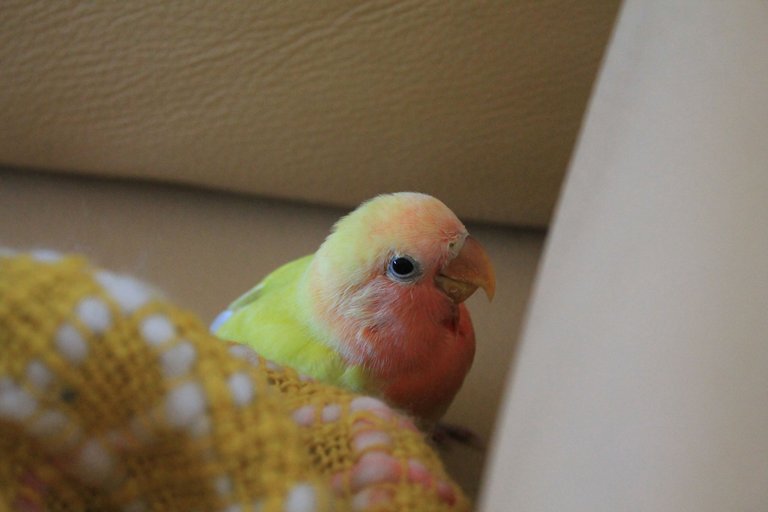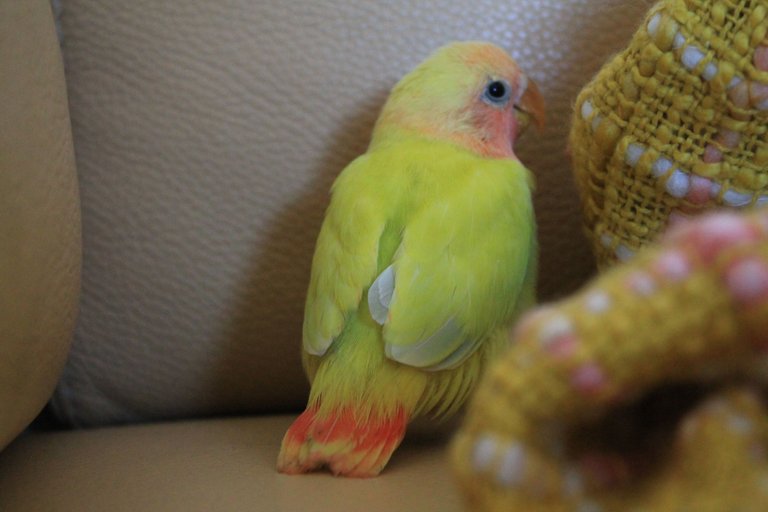 ULTRA COOKIE👶👨😫😲🤭👀🦜
MY GOD!!! COOKIE ... I've gone from being a shy and scared baby to making noises, jumping, running around the house! hahaha like dad already leaves me exhausted!🤣🤣
MEU DEUS!!! COOKIE ... Deixei de ser um bebê tímido e assustado para fazer barulho, pular, correr pela casa! hahaha como se papai já me deixasse exausto!😂😂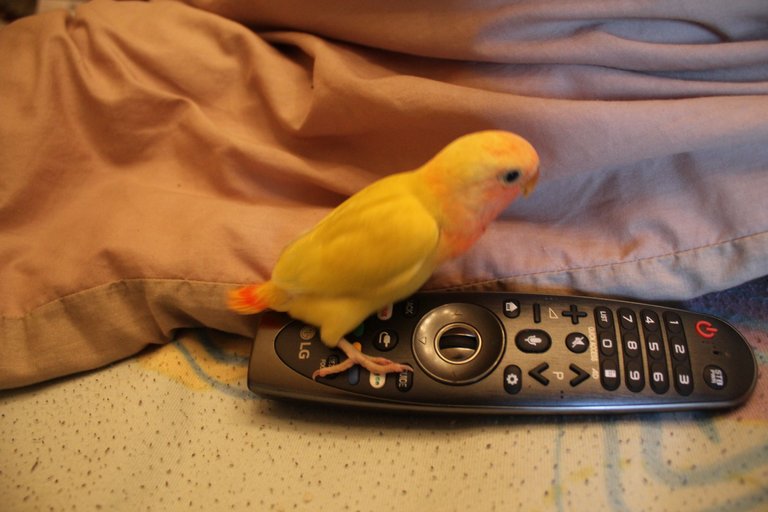 COOKIE DO NOT CHANGE ME CHANNEL!😥😭😰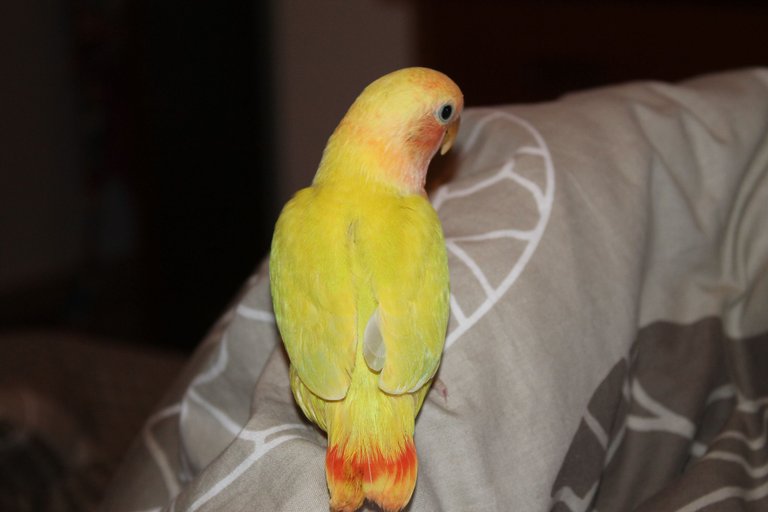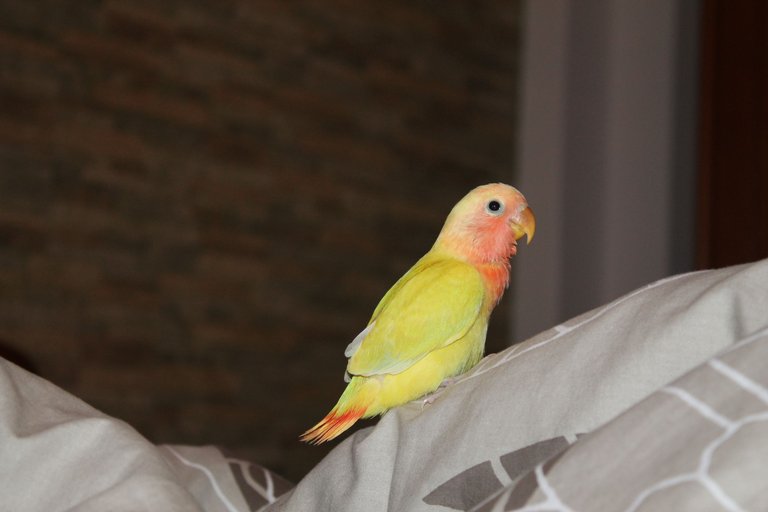 COOKIE LOWER FROM THERE YOU ARE NOT SUPER MAN!😥😭😰

COOKIE LOWER FROM THERE YOU ARE NOT SUPER MAN!😥😭😰

SUPER MEGA COOKIE (HELP)👨😫😲🤭🦜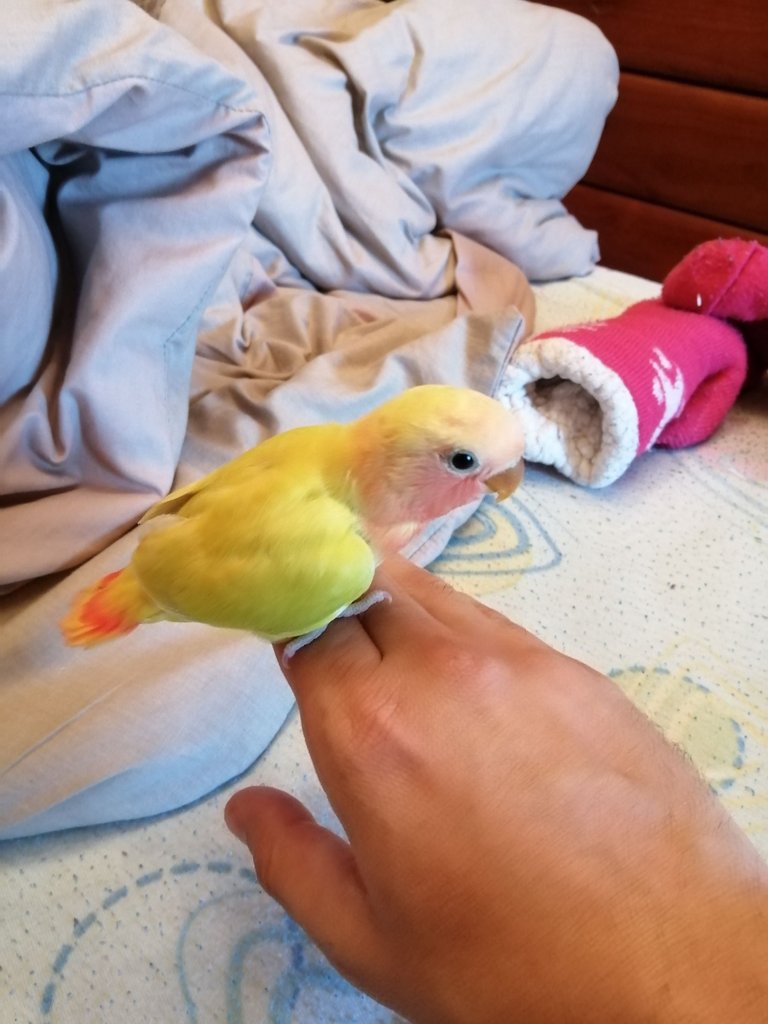 Wow! I knew being a dad is exhausting but ... COOKIE ... MY GOD !! xD good Cookie in just a few days they already have great confidence in me! and it never bites me! when I scold him for doing something wrong he looks at me ... and ... he continues to do it -.-😑😑
Uau! Eu sabia que ser pai é exaustivo, mas ... COOKIE ... MEU DEUS !! xD Good Cookie em poucos dias eles já têm uma grande confiança em mim! e nunca me morde! Quando eu o repreendo por fazer algo errado, ele olha para mim ... e ... Ele continua a fazer isso -.-😑🤣😅

LOOK DAD I CAN CLIMB !!!😒🤣🤩

COOKIE FILLS US WITH LOVE👨👩🤭🎁💞🦜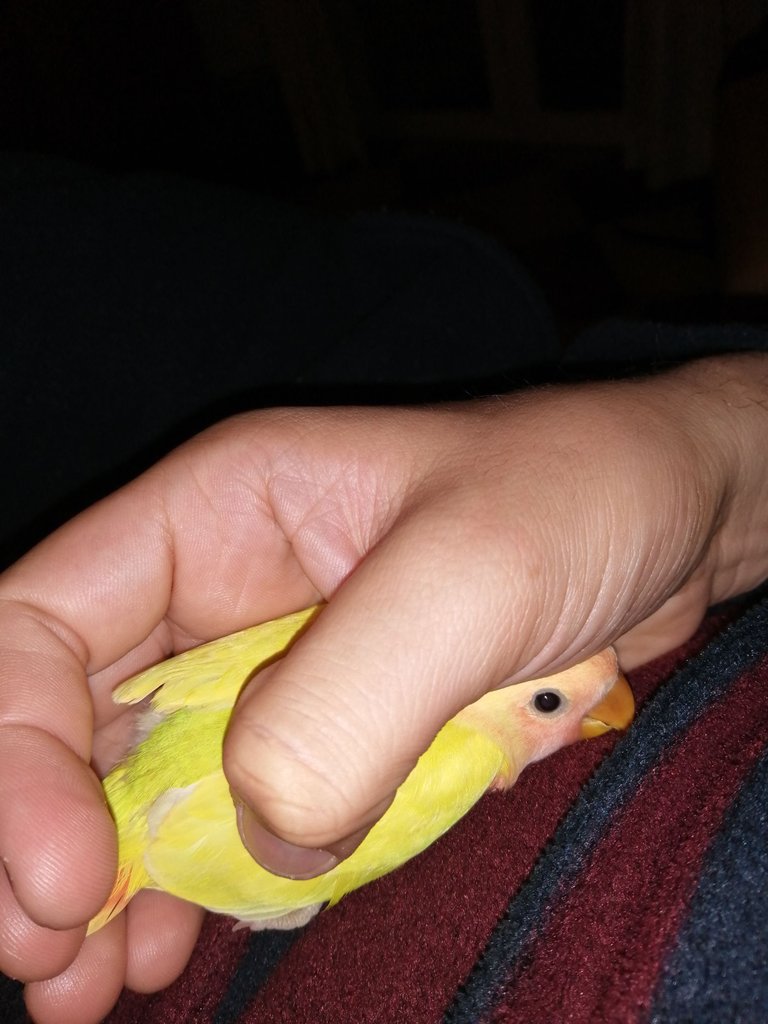 Cookie is my life! my love! my baby! I have a lot of affection for him in a few days! my wife and I are always going to check that everything is okay with him! One of the things that Cookie has taught me is that a baby bird can bond with your family, work as a team with your partner! He always has love to give!💥💥💖💖
Cookie é minha vida! meu amor! meu bebê! Tenho muito carinho por ele daqui a alguns dias! minha esposa e eu sempre vamos verificar se está tudo bem com ele! Uma das coisas que Cookie me ensinou é que um passarinho pode se relacionar com sua família, trabalhar em equipe com seu parceiro! Ele sempre tem amor para dar!👩👨👶💞🦜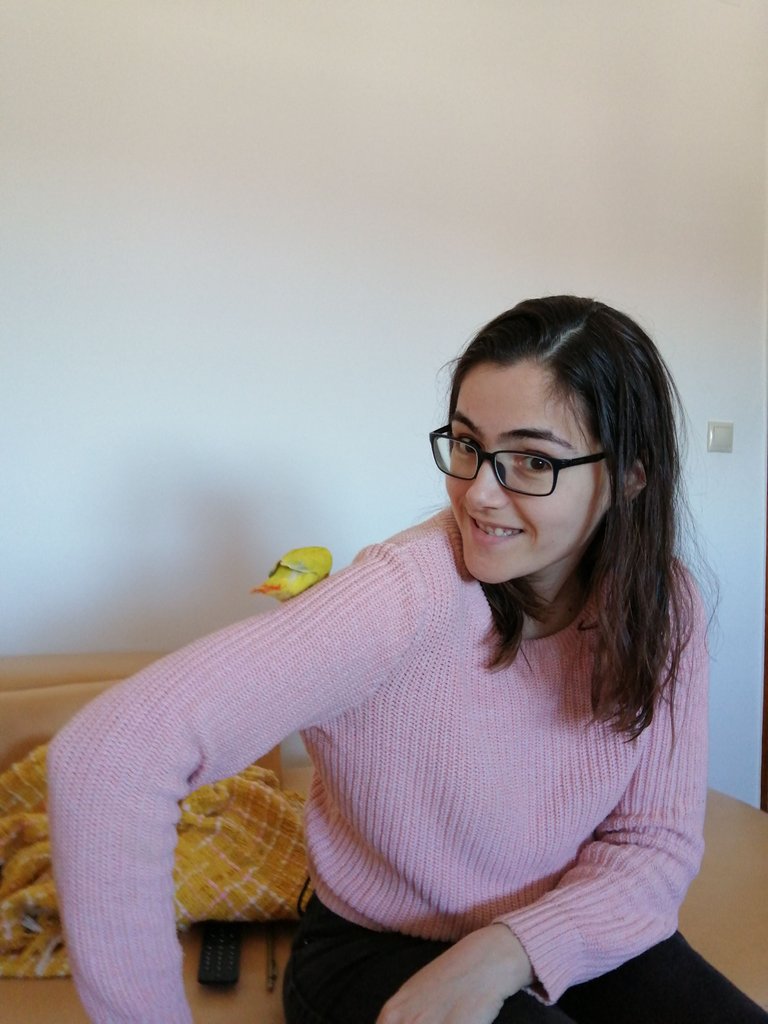 We lost count of how many times Cookie has shit on us! hahahahahahaha but I know it's for love!😋🤣😂🤩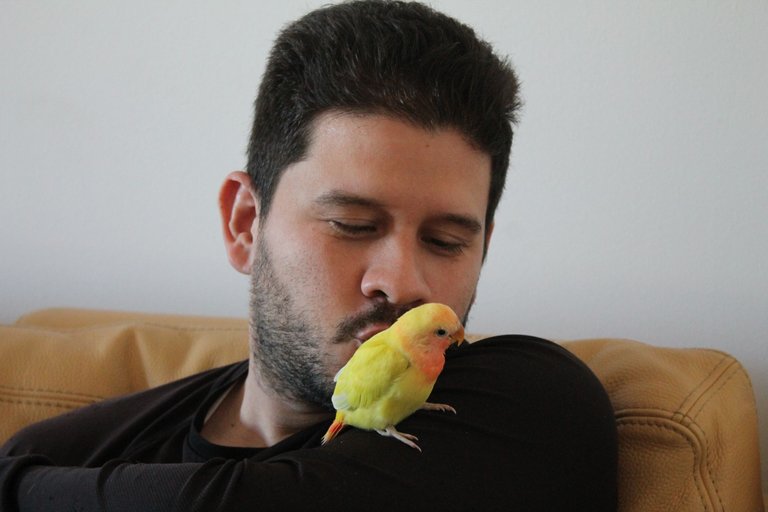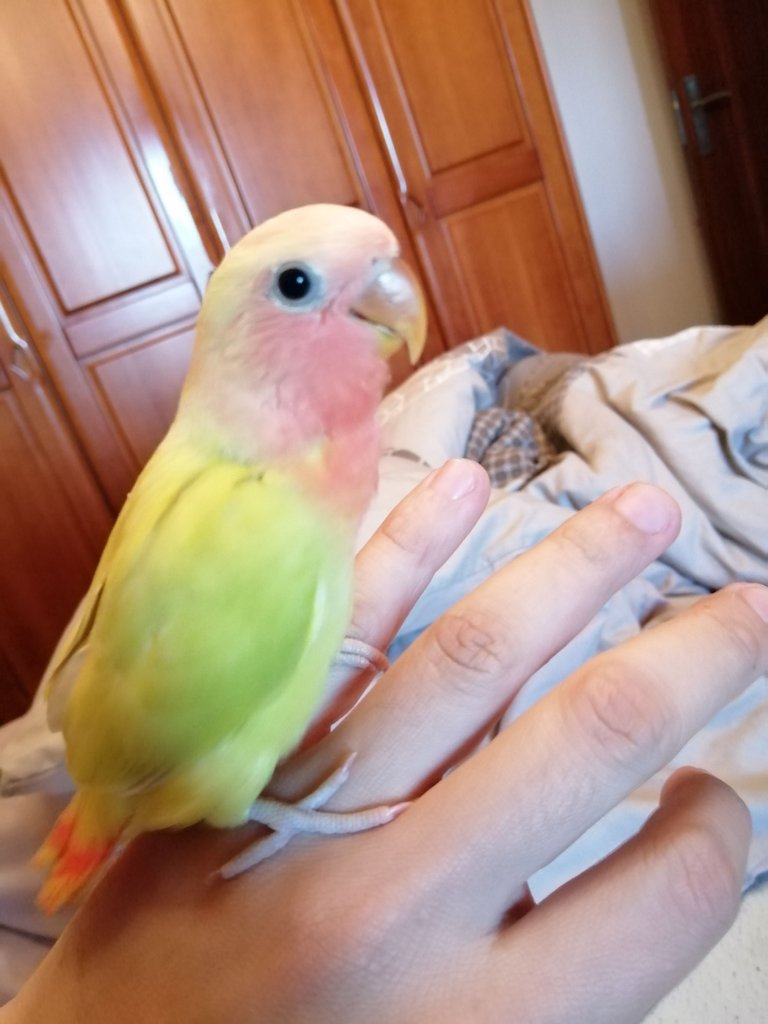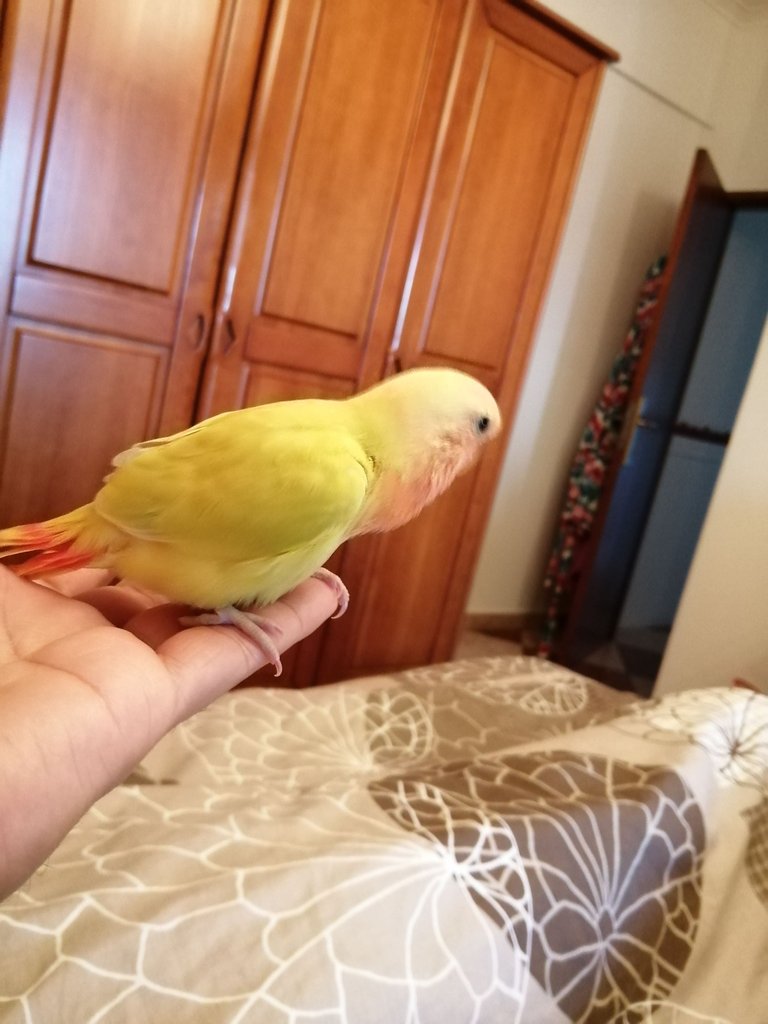 Cookie starts, flapping! He is eager to learn to fly, many people cut the wings of their birds, this practice is painless so the bird does not escape, my intention is not to cut them I hope to train him to come when I call him and thus be able to keep him so that he cannot escape! let's wait and see how it goes ...😍😍😊
Cookie começa, batendo as asas! Ele está ansioso para aprender a voar, muitas pessoas cortam as asas de seus pássaros, essa prática é indolor para que o pássaro não escape, minha intenção não é cortá-los, espero treiná-lo para vir quando eu chamá-lo e assim poder para mantê-lo para que ele não possa escapar! vamos esperar para ver como vai ...😅😅😮

PHOTOCOOKIE👨👩🤭📸🦜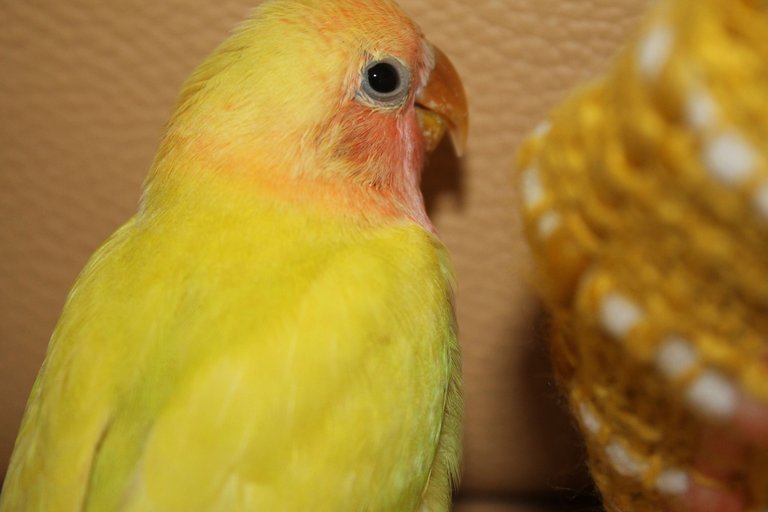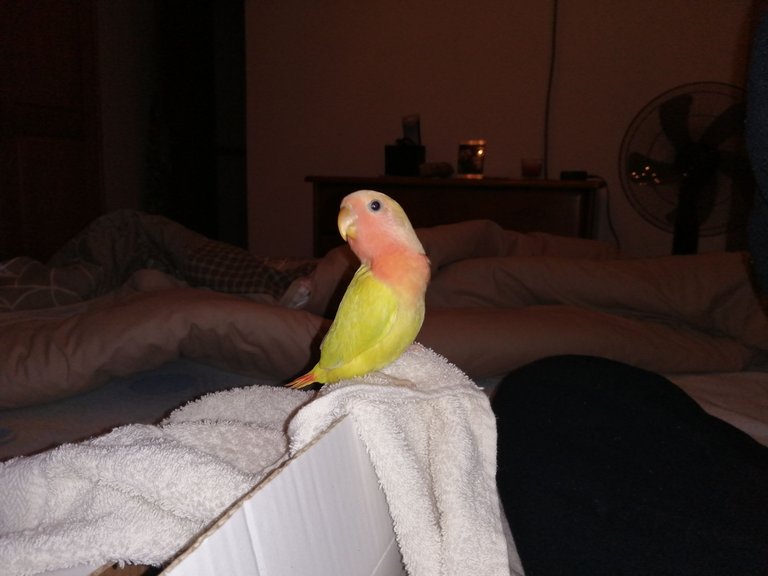 AND FINALLY..,👨👩🤭📸🦜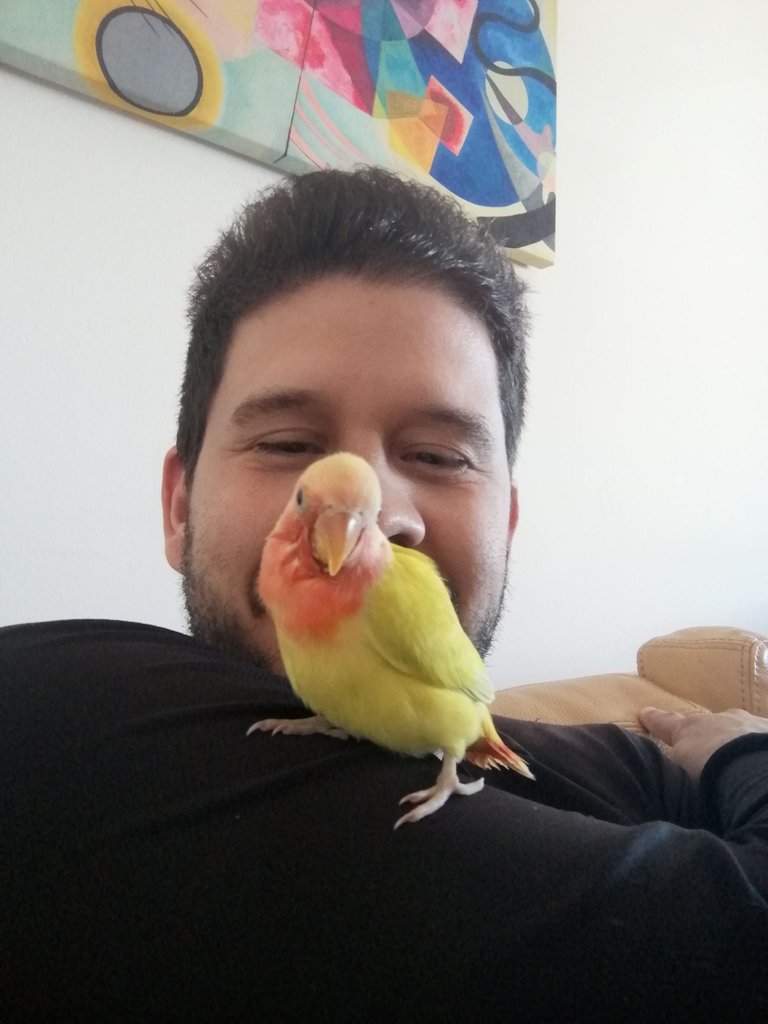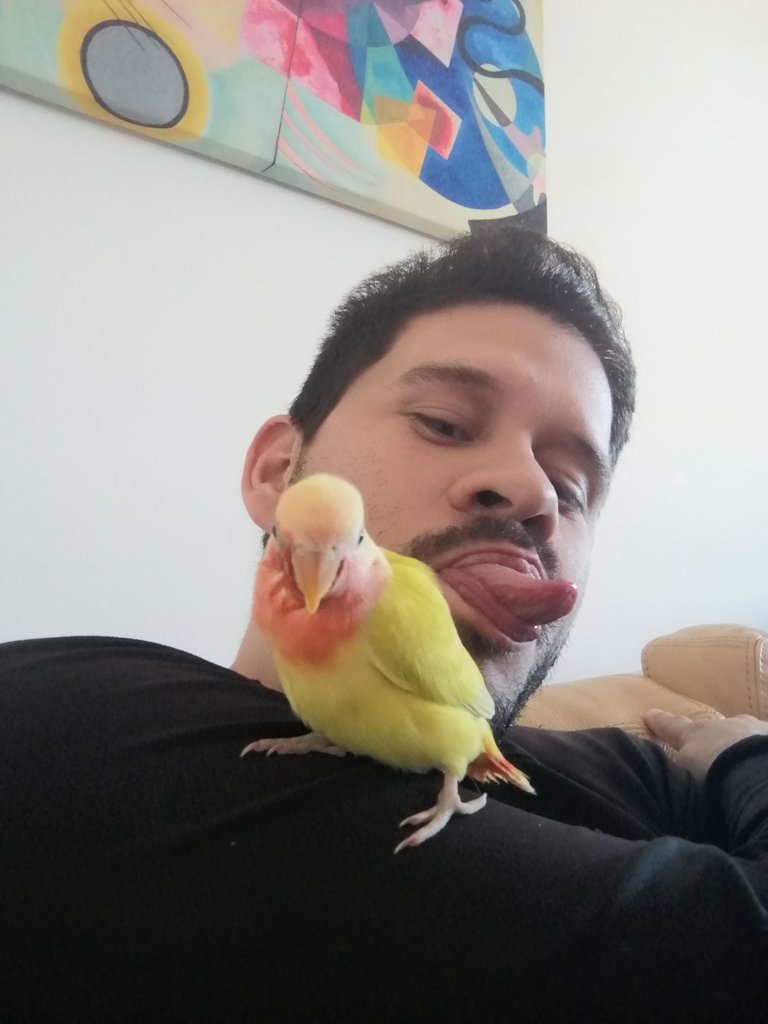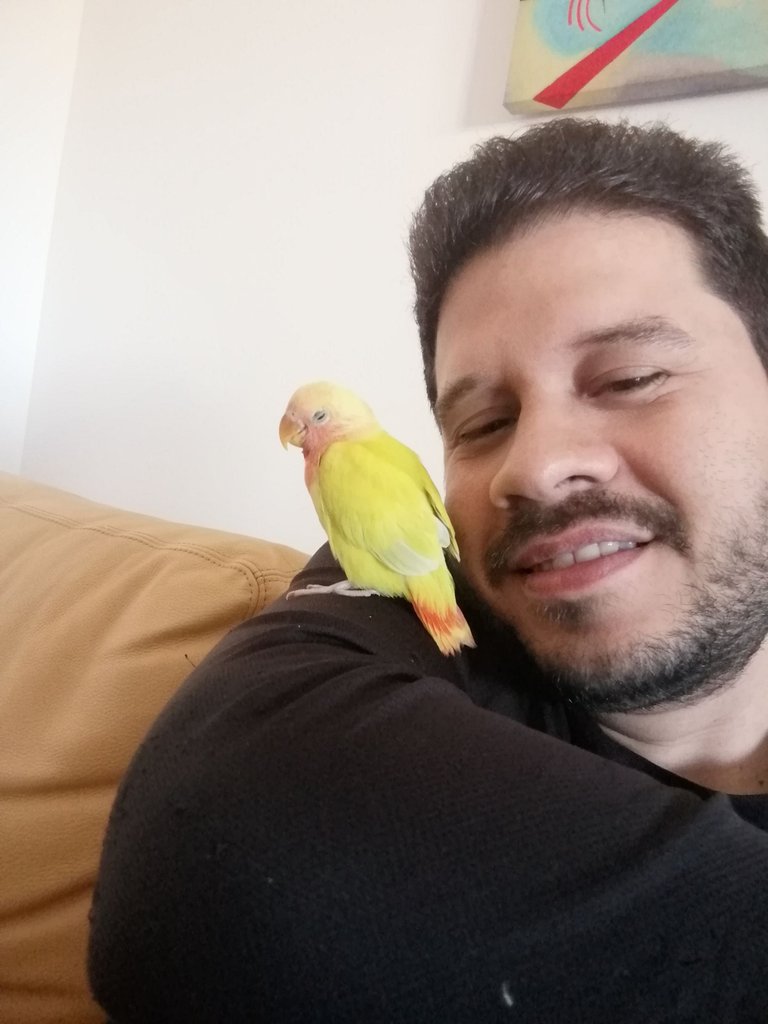 My goal is to teach Cookie tricks to share with you, like cool sounds and tricks with objects! wait for more post about Cookie! wish me luck!😁😁😁😅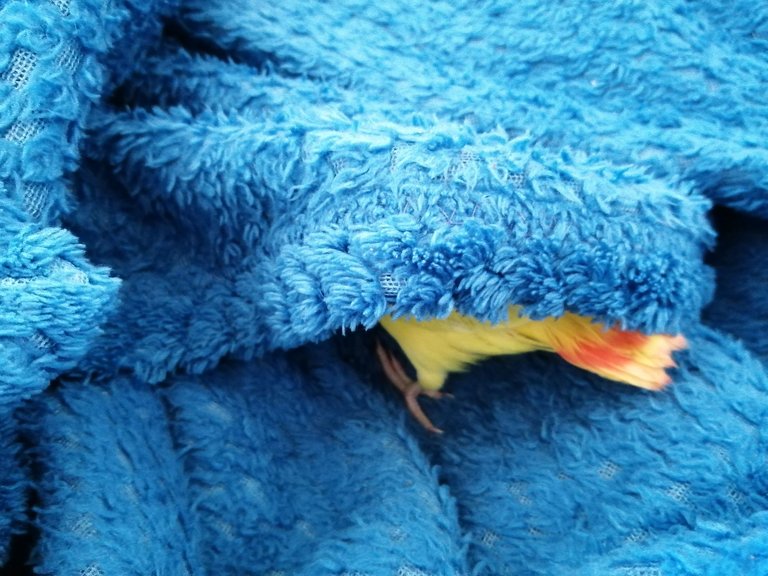 Bedtime, vote and reblog he sends you to say Cookie xD ... And see you tomorrow!😅🤣😂
THE BEST THINGS IN LIFE IS WHEN WE ENJOY AS A FAMILY😊😊👨👩🧓👧👶👵
THANKS🎈🎋🎄🎍
OBRIGADO🧡💥💞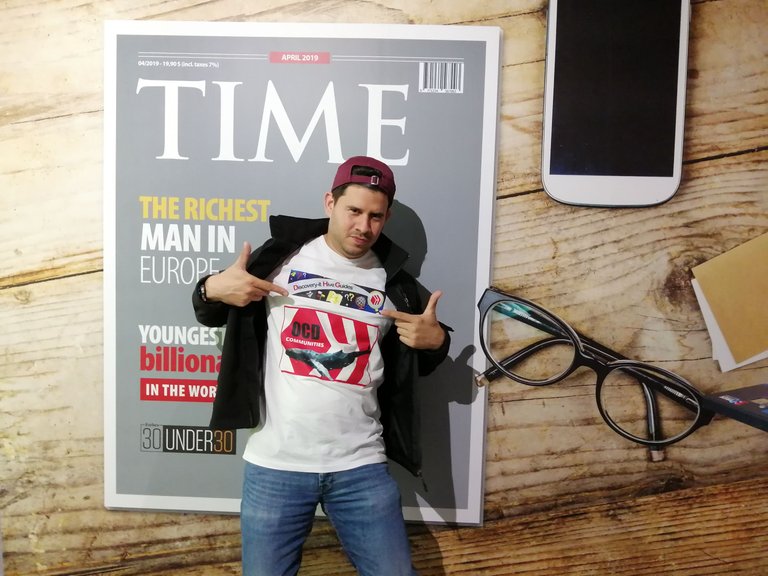 I would like to invite you to follow the @discovery-it community, supporting us together also means growing!