In the order Charadriiformes we find the family Burhinidae, this family groups the birds known as the Thick-knees (Stone-curlews or Dikkops). This family includes 4 genera: Burhinus, Esacus, Genucrassum and Oedicnemus. The photographs I show are of the species Burhinus bistriatus. This bird measures between 43 and 48 centimeters in height, and can weigh 780 grams.
En el orden Charadriiformes se encuentra la familia Burhinidae, esta familia agrupa a las aves conocidas como Alcaravanes. Esta familia incluye 4 géneros: Burhinus, Esacus, Genucrassum y Oedicnemus. Las fotografías que muestro son de la especie Burhinus bistriatus. Esta ave mide entre 43 y 48 centímetros de altura, y puede pesar 780 gramos.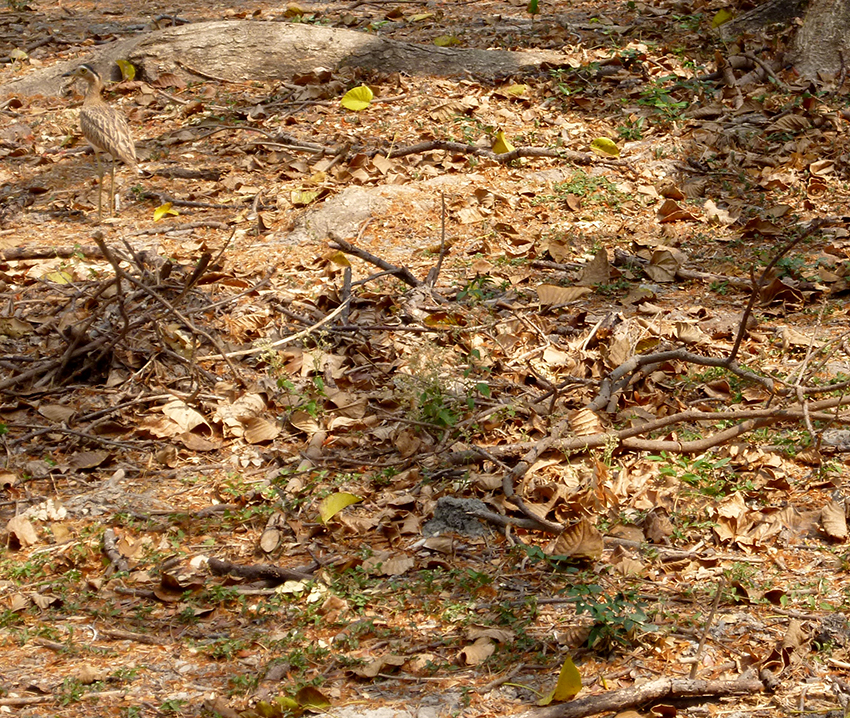 In Venezuela they are widespread up to 200 meters above sea level but are less numerous and local in arid scrub near the coast. Thick-knees live in dry, open country usually away from water habitats.
En Venezuela están muy extendidos hasta los 200 metros sobre el nivel del mar pero son menos numerosos y locales en los matorrales áridos cerca de la costa. Los Alcaravanes viven en zonas secas y abiertas, normalmente lejos de los hábitats acuáticos.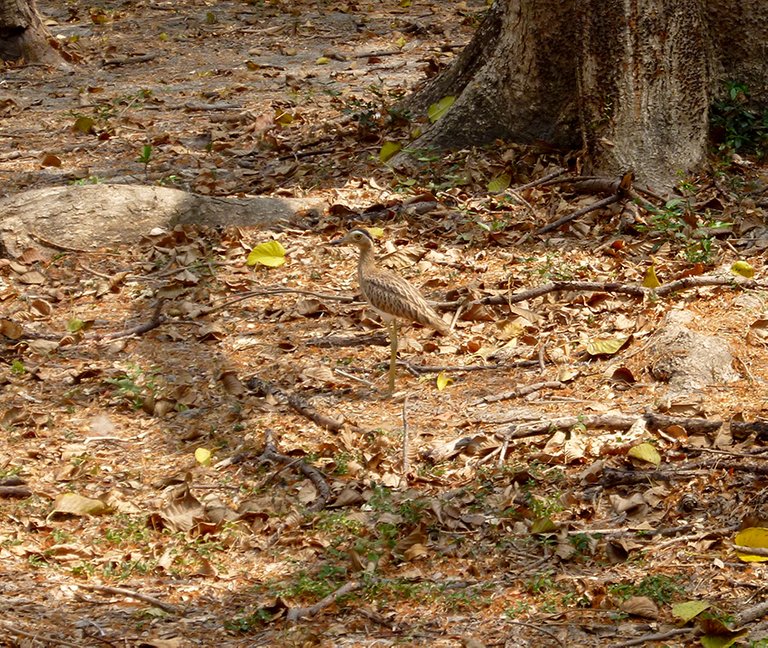 Double-stripped Thick-knees are sometimes fairly common but difficult to locate; during daytime, they rest in the sun or in a shady place and crouch to avoid detection. Double-striped Thick-knees seem to have foraging activities exclusively at dusk and night; and exceptionally during cloudy and rainy days.
Los Alcaravanes Dara son a veces bastante comunes pero difíciles de localizar; durante el día, descansan en el sol o en un lugar sombreado y se agachan para evitar ser detectados. Los Alcaravanes Dara parecen tener actividades de forrajeo exclusivamente al atardecer y de noche; y excepcionalmente durante los días nublados y lluviosos.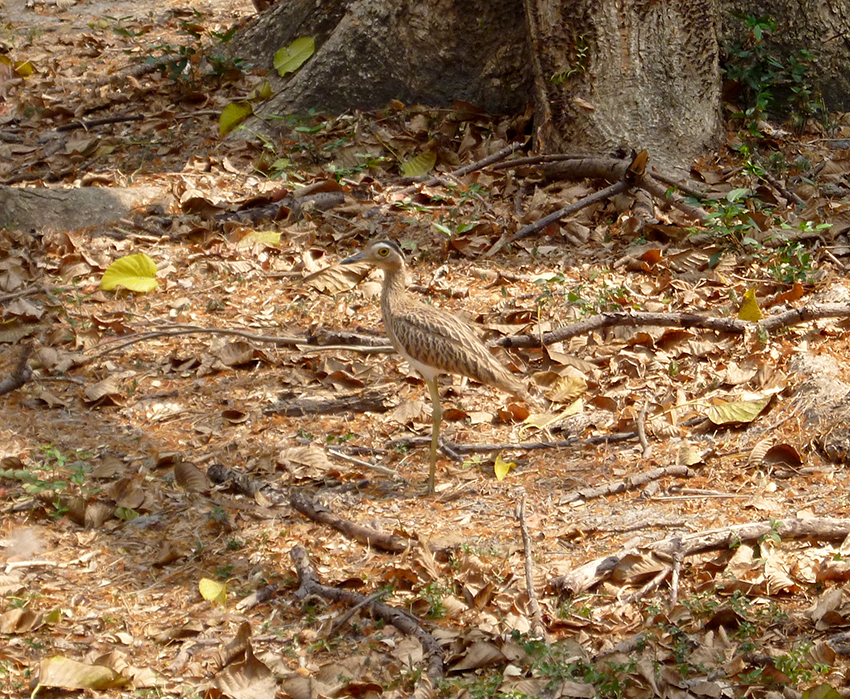 Because Double-stripped Thick-knees are birds whose nocturnal activities have been documented by direct observation only on rare occasions and because they have relatively large eyes, a study analyzed their visual capacities by evaluating morphological and electrophysiological aspects of the birds' retinas. Among the results of the study, it was found that they have a very sensitive retina under low light intensity, concluding that these Thick-knees present visual adaptations that enable them to function in nocturnal as well as in diurnal conditions. The huge eyes are an adaptation for seeing and feeding at night.
Como los Alcaravanes Dara son aves cuyas actividades nocturnas se han documentado mediante observación directa solo en raras ocasiones y como tienen los ojos relativamente grandes, en un estudio se analizaron sus capacidades visuales evaluando aspectos morfológicos y electrofisiológicos de las retinas de las aves. Entre los resultados del estudio se encontró que tienen una retina muy sensible bajo una baja intensidad de luz, concluyendo que estos alcaravanes presentan adaptaciones visuales que los capacitan para funcionar tanto en condiciones diurnas como nocturnas. Los enormes ojos son una adaptación para ver y alimentarse de noche.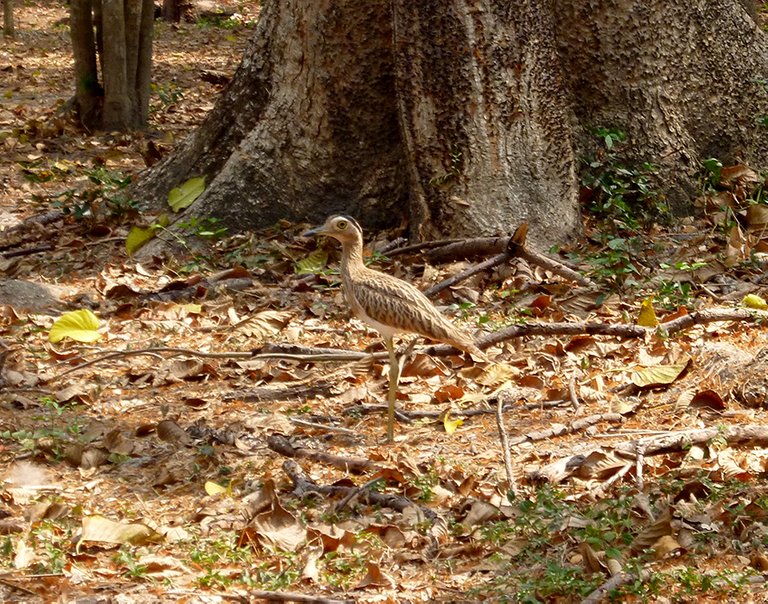 The short, thick bill is adapted for capturing insects, small lizards, frogs, snails, worms and mollusks on the ground.
El pico corto y grueso está adaptado para capturar insectos, pequeñas lagartijas, ranas, caracoles, gusanos y moluscos en el suelo.
They are noisy birds, usually found in pairbonds, families or seasonally in groups in open and short pastures, and occasionally in marsh areas. They are usually encountered as pairs, because they are monogamous and have strong pair bonds. Dozens of birds may sometimes be seen on disked fields where recent cultivation has exposed invertebrates.
Son aves ruidosas, generalmente encontradas en parejas, familias o estacionalmente en grupos en pastizales abiertos y cortos, y ocasionalmente en áreas de pantanos. Suelen encontrarse en parejas, ya que son monógamas y tienen fuertes vínculos de pareja. A veces pueden verse docenas de aves en los campos diseminadas en los que el cultivo reciente ha dejado expuestos a los invertebrados.
The Double-striped Thick-knee is a well-camouflaged bird and because of the birds' medium brown color and the tendency of pairs to sit on the ground, the best search technique for spotting them is to look for pairs in pastures.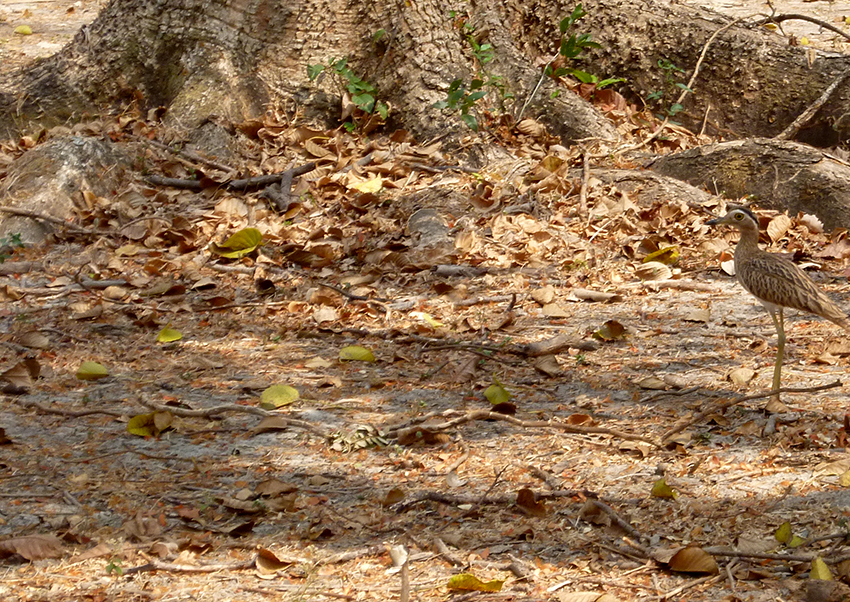 El Alcaraván Dara es un ave bien camuflada y debido al color marrón medio de los pájaros y a la tendencia de las parejas a sentarse en el suelo, la mejor técnica de búsqueda para avistarlas es buscar parejas en los pastos.
At night, Double-striped Thick-knees are quite vocal and create intriguing trills, cackles and piping calls that carry for great distances.
Por la noche, los Alcaravanes Dara son bastante vocales y crean intrigantes trinos, cacareos y cantos que se transmiten a grandes distancias.
It should be noted that many birds of the order Charadriiformes nest in places without vegetation cover, so that they can quickly detect approaching predators. In these sites, the lack of shade may cause heat stress to the incubating bird, and this can be especially critical for species nesting in tropical environments because of intense solar radiation. This can lead to situations in which the thermal needs of the adults conflict with those of the eggs. To breed successfully in hot environments, these adult birds have several strategies to protect the eggs from overheating, such as egg shading or belly soaking.
Es de hacer notar que muchas aves del orden Charadriiformes anidan en lugares sin cobertura vegetal, para poder detectar rápidamente a los depredadores que se acercan. En estos lugares, la falta de sombra podría provocar un estrés térmico al ave en incubación, y esto puede ser especialmente crítico para las especies que anidan en ambientes tropicales debido a la intensa radiación solar. Esto puede llevar a situaciones en las que las necesidades térmicas de los adultos entren en conflicto con las de los huevos. Para criar con éxito en entornos calurosos, estas aves adultas disponen de varias estrategias para proteger los huevos del sobrecalentamiento, como el sombreado de los huevos o el remojo del vientre.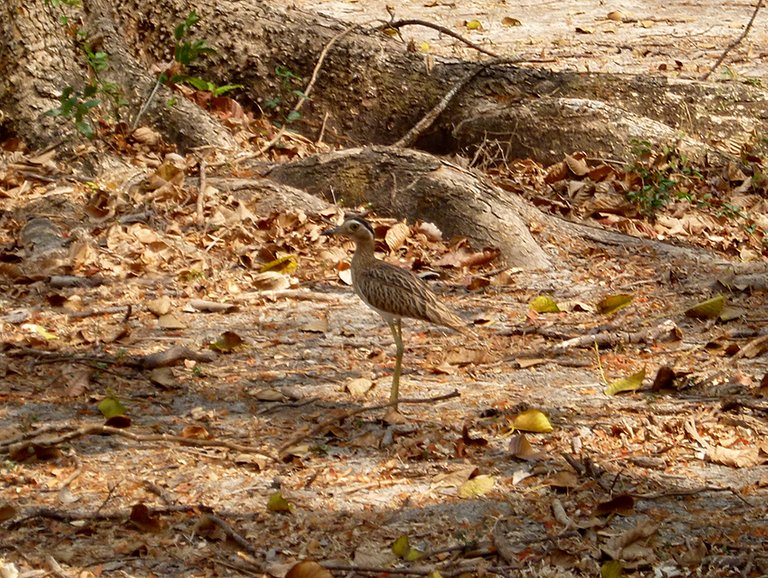 Because incubating birds normally depart from nests when predators approach them, leaving eggs exposed to solar radiation while the nest is unattended can be critical for embryos under hot conditions. The thermal environment may affect the distance at which the incubating adult moves away from the nest, or the time to return to the nest after a disturbance, so that birds will remain longer in the nests when approached by a predator and will return faster to the nests after a disturbance at temperatures above 30 °C. Thus, to protect their eggs from overheating, incubating adults may expose themselves to greater risks of predation when ambient temperatures are above 30 ºC. However, the short distances that incubating adults travel to get away from predators may facilitate nest finding by predators. Therefore, the decision of incubating adults to depart from nests during a disturbance may depend on the thermal risks incurred by embryos when nests are left unattended. Consequently, ambient temperature may determine the flushing behavior of incubating adults.
Dado que las aves que incuban normalmente se alejan de los nidos cuando los depredadores se acercan a ellos, dejar los huevos expuestos a la radiación solar mientras el nido está desatendido puede ser crítico para los embriones en condiciones de calor. El ambiente térmico puede afectar a la distancia a la que el adulto incubador se aleja del nido, o al tiempo de regreso al nido tras una perturbación, de modo que las aves permanecerán más tiempo en los nidos cuando se les acerque un depredador y regresarán más rápidamente a los nidos tras una perturbación a temperaturas superiores a 30 ºC. Así, para proteger sus huevos del sobrecalentamiento, los adultos que incuban pueden exponerse a mayores riesgos de depredación cuando las temperaturas ambientales son superiores a 30 ºC. Sin embargo, las cortas distancias que recorren los adultos incubadores para alejarse de los depredadores pueden facilitar la búsqueda del nido por parte de éstos. Por lo tanto, la decisión de los adultos incubadores de alejarse de los nidos durante una perturbación puede depender de los riesgos térmicos en los que incurren los embriones cuando los nidos quedan desatendidos. En consecuencia, la temperatura ambiental puede determinar el comportamiento de huida de los adultos en incubación.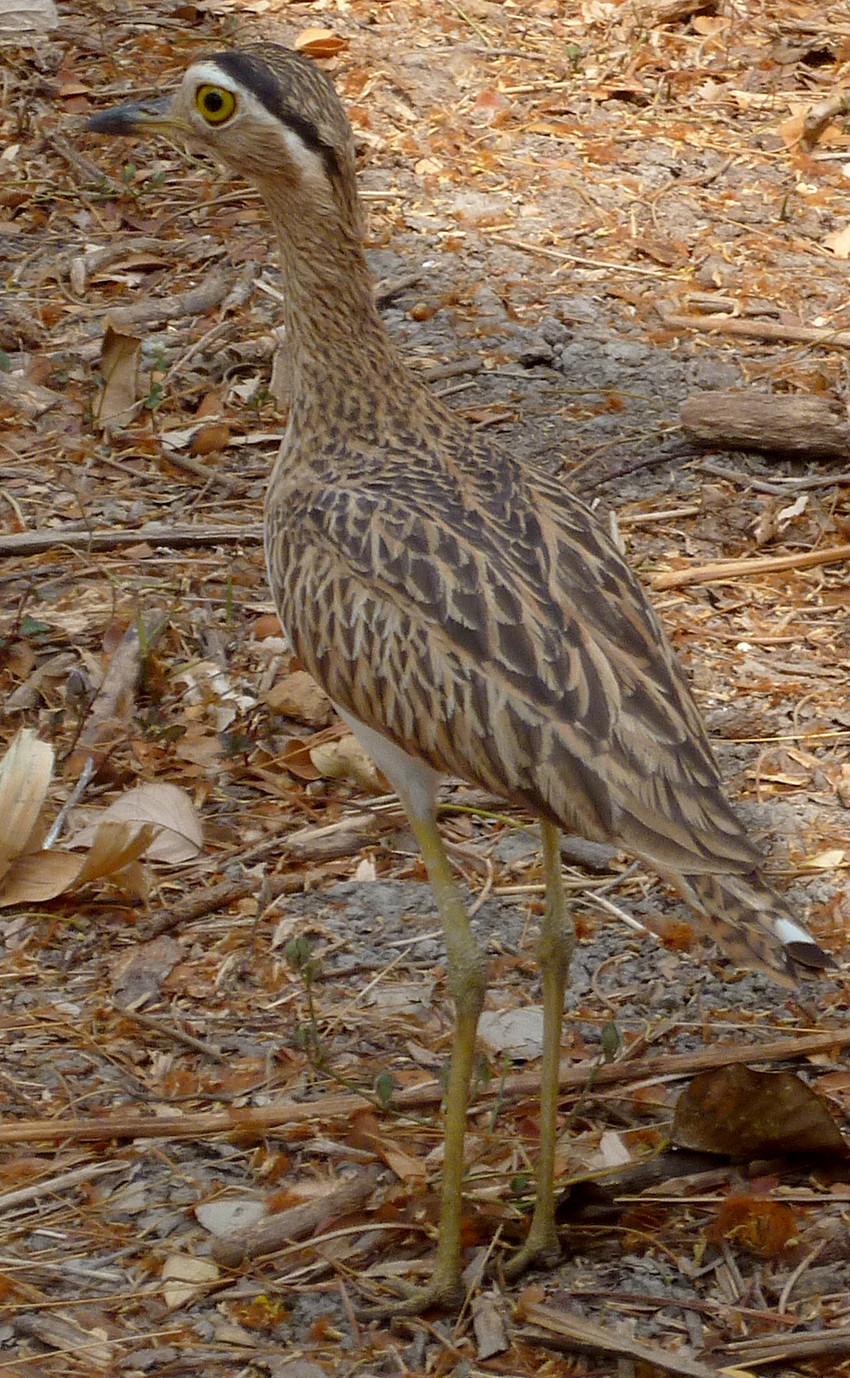 More specifically, in the case of the bird in the photographs, high ambient temperatures greater than 35°C may limit the ability of the incubating bird in exposed sites to maintain homeostasis. Lack of bodies of water near nests may preclude regulation of adult body temperature by belly soaking, and this predisposes incubating birds to desert their nests under thermal stressful conditions. Thus, nesting near trees or shrubs probably facilitates the off-duty parent being able to stay under shade, and can quickly approach the nest when its mate stops incubating, so that the eggs would be almost continuously attended during stressful conditions. Occasionally nests are found unattended in the early morning. This has also been found in other species of birds of the order Charadriiformes in hot environments when the temperature is between 20 ºC and 30 ºC. When there are variations in the temperature near the nests, this affects the distance at which the incubating birds move away from predators.
Más específicamente, en el caso del ave en las fotografías, las altas temperaturas ambientales, mayores a 35 ºC, pueden limitar la capacidad del ave en incubación en lugares expuestos para mantener la homeostasis. La falta de masas de agua cerca de los nidos puede impedir la regulación de la temperatura corporal de los adultos mediante el remojo del vientre, y esto predispone a las aves incubadoras a abandonar sus nidos en condiciones térmicas estresantes. Por lo tanto, anidar cerca de árboles o matorrales probablemente facilita que el progenitor fuera de servicio pueda permanecer bajo la sombra, y pueda acercarse rápidamente al nido cuando su pareja deja de incubar, de modo que los huevos estarían casi continuamente atendidos durante las condiciones de estrés. En ocasiones los nidos se encuentran desatendidos a primera hora de la mañana. Esto también se ha encontrado en otras especies de aves del orden Charadriiformes en ambientes cálidos cuando la temperatura está entre 20 ºC y 30 ºC. Cuando hay variaciones en la temperatura junto a los nidos, esto afecta la distancia a la que las aves incubadoras se alejan de los depredadores.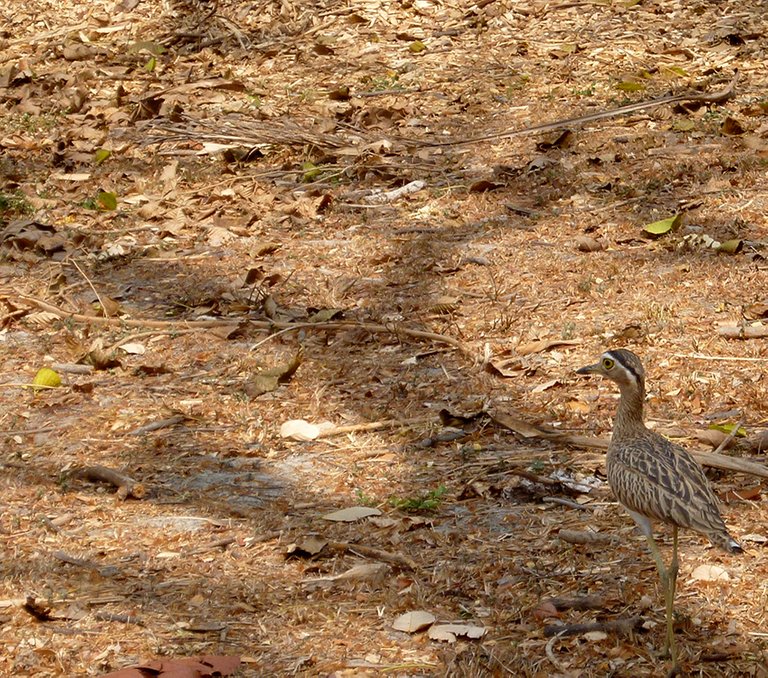 References - Referencias

Images captured with Panasonic DMC-FH4 digital camera.
Imágenes capturadas con cámara digital Panasonic DMC-FH4.