Five subspecies of Sicalis flaveola are known to occur in South America and are taxonomically divided into two groups. The first group is Pelzeni, which includes Sicalis flaveola pelzeni found in Argentina, Bolivia, Brazil, Paraguay, Uruguay and Chile; Sicalis flaveola brasiliensis found in Brazil; and Sicalis flaveola koenigi found in Argentina. The second group is Flaveola, which includes Sicalis flaveola valida found in Ecuador and Peru and Sicalis flaveola flaveola found in Colombia and Venezuela. Because of its presence in Venezuela I assume that the species in the photographs corresponds to Sicalis flaveola flaveola.
Se conocen cinco subespecies de Sicalis flaveola que se distribuyen en Suramérica y están divididas taxonómicamente en dos grupos. El primer grupo es Pelzeni, que incluye a Sicalis flaveola pelzeni que se encuentra en Argentina, Bolivia, Brasil, Paraguay, Uruguay y Chile; Sicalis flaveola brasiliensis que se encuentra en Brasil; y Sicalis flaveola koenigi que se encuentra en Argentina. El segundo grupo es Flaveola, que incluye a Sicalis flaveola valida que se encuentra en Ecuador y Perú y Sicalis flaveola flaveola que se encuentra en Colombia y Venezuela. Por su presencia en Venezuela asumo que la especie en las fotografías corresponde a Sicalis flaveola flaveola.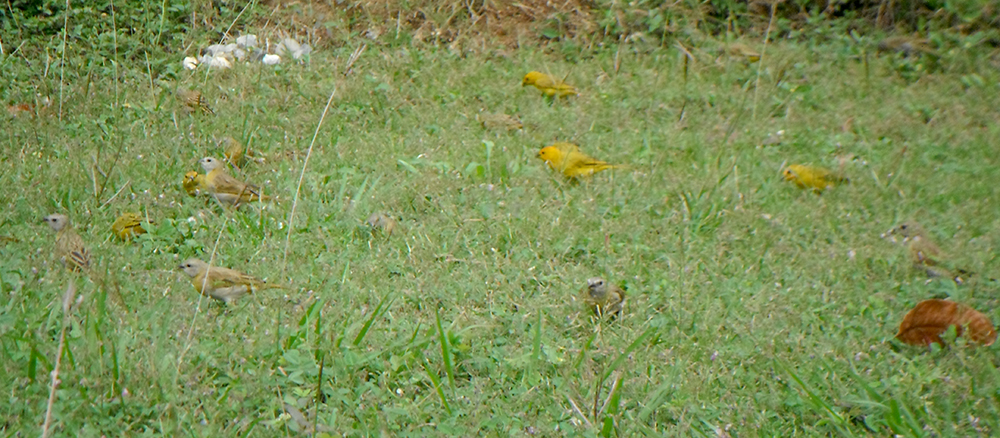 In the Pelzeni group there are differences in the plumage coloration pattern between males and females, while in the Flaveola group, there are not. The male of the Flaveola group has an orange crown and a general yellow coloration with olive tones on the back, wings and tail, and the female is similar to the male with an apparently less bright crown, but this difference is not always noticeable in the field. However, the subspecies Sicalis flaveola flaveola, has small morphological differences between sexes. Males have slightly larger wings than females and the longer tail feathers are also larger, although these differences are not easy to detect with the naked eye.
En el grupo Pelzeni hay diferencias en el patrón de coloración del plumaje entre machos y hembras, mientras que en el grupo Flaveola, no. El macho de grupo Flaveola tiene la coronilla de color anaranjado y una coloración general amarilla con tonos oliváceos en el dorso, alas y cola, y la hembra es similar al macho con la coronilla aparentemente menos brillante, pero esta diferencia no es siempre apreciable en campo. No obstante, la subespecie Sicalis flaveola flaveola, presenta diferencias morfológicas pequeñas entre sexos. Los machos tienen alas un poco más grandes que las hembras y las plumas más largas de las colas también son más grandes, aunque estas diferencias no son fáciles de detectar a la vista.

Sicalis flaveola is a species of the family Thraupidae, a monogamous and social bird that usually feeds in groups in open habitats. It is abundant in urban and suburban areas. The photographs were taken in an area adjacent to an avenue where many motor vehicles circulate.
Sicalis flaveola es una especie de la familia Thraupidae, es un ave monógama y social que suele alimentarse en grupos en hábitats abiertos. Es abundante en zonas urbanas y suburbanas. Las fotografías las capturé en área colindante con una avenida por la que circulan muchos vehículos automotores.
These birds measure between 13 and 15 centimeters and weigh between 12 and 23 grams. They are mainly granivorous in their diet, but in addition to seeds they also feed on insects and grass shoots that they generally find on the ground. These birds spend more time in activities such as displacement by walking, which is an activity associated with the search for food, and vehicular noise affects this displacement. The photographs where the birds are not on the ground are a consequence of vehicle traffic. When they were on the ground it was because there were no vehicles passing by due to a traffic light that stopped them.
Estas aves miden entre 13 y 15 centímetros y pesan entre 12 y 23 gramos. En la alimentación son principalmente granívoras, pero además de semillas también se alimentan de insectos y brotes de pastos que generalmente encuentran en el suelo. Estas aves invierten más tiempo en actividades como el desplazamiento por caminatas que es una actividad que se asocia con la búsqueda de alimento y el ruido vehicular afecta ese desplazamiento. Las fotografías donde las aves no se encuentran en el suelo son consecuencia del tránsito de vehículos. Cuando estaban en el suelo es porque no transitaban vehículos por causa de un semáforo que los detenía.

As it is very common in urban areas, it nests on the roofs of houses using abandoned nests of other species, in structures such as lamps and also in cavities in trees building their nests in the form of cups. In the nest, the females lay 3 to 4 cream-colored eggs with brown streaks to which they dedicate more than 50 % of the time to incubate them, the other 50 % the nest remains alone. The male accompanies the female during incubation, vocalizing near the nest, and also during the flights that she performs when arriving or leaving the nest. The female is the only incubator, but both feed the chicks. The chicks remain in the nest for 15 to 19 days.
Como es muy común en zonas urbanas, anida en los techos de las casas usando nidos abandonados de otras especies, en estructuras como lámparas y también en cavidades en árboles construyendo sus nidos en forma de tazas. En el nido, las hembras ponen de 3 a 4 huevos de color crema con vetas marrones a los cuales les dedica más del 50 % del tiempo para incubarlos, el otro 50 % el nido permanece solo. El macho acompaña a la hembra durante la incubación, vocalizando cerca del nido, y también durante los vuelos que ella ejecuta al llegar o salir del mismo. La hembra es la única que incuba pero ambos alimentan a los polluelos. Los polluelos permanecen en el nido entre 15 y 19 días.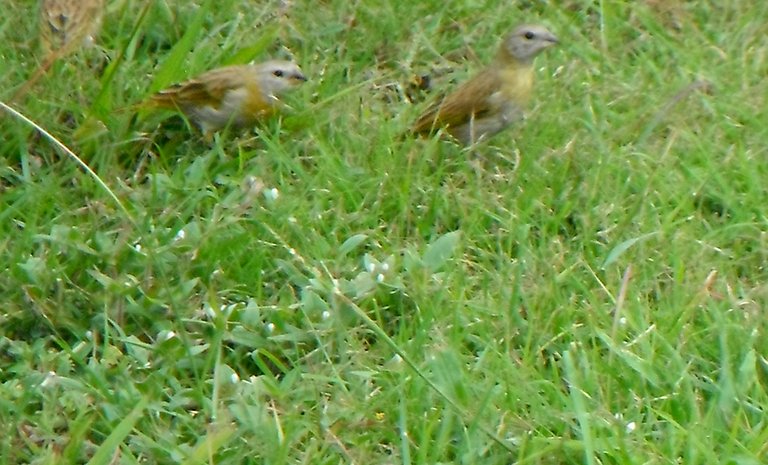 It is known that communication between birds is acoustic and takes place at a distance. Since these birds live in urban environments, when communicating, the signal that reaches the receiver may differ considerably from the one produced by the transmitter, due to its degradation, because the signal is intermingled with other signals, some irrelevant such as those generated by the wind or those modified by colliding with objects in their path, but if we add to this the noise generated in the cities, phenomena of differential absorption of frequencies, addition of echoes and amplitude fluctuations, among others, are generated. These alterations make it difficult for the receiver to respond to the signal. Vocalizations are essential for the life of birds, since they are used in the recognition of their partners and conspecifics. If the vocalizations do not reach the receiver correctly, in these birds they can cause a drop in reproductive efficiency, with the consequent reduction in the number of individuals and endangering the stability of the populations.
Es conocido que la comunicación entre las aves es de forma acústica y se realiza a distancia. Estas aves por vivir en ambientes urbanos, al comunicarse la señal que llega al receptor puede diferir considerablemente de la producida por el emisor, debido a la degradación de la misma, porque la señal se entremezcla con otras señales, algunas irrelevantes como las generadas por el viento o las modificadas al chocar con objetos en su camino, pero si a esto se le suman los ruidos generados en las ciudades, se generan fenómenos de absorción diferencial de frecuencias, adición de ecos y fluctuaciones de amplitud, entre otros. Estas alteraciones dificultan el desempeño del receptor respondiendo a la señal. Las vocalizaciones son esenciales para la vida de las aves, ya que son utilizadas en el reconocimiento de su pareja y congéneres. Si las vocalizaciones no alcanzan al receptor de manera correcta, en estas aves pueden causar una baja en la eficiencia reproductiva, con la consecuente reducción del número de individuos y poniendo en riesgo la estabilidad de las poblaciones.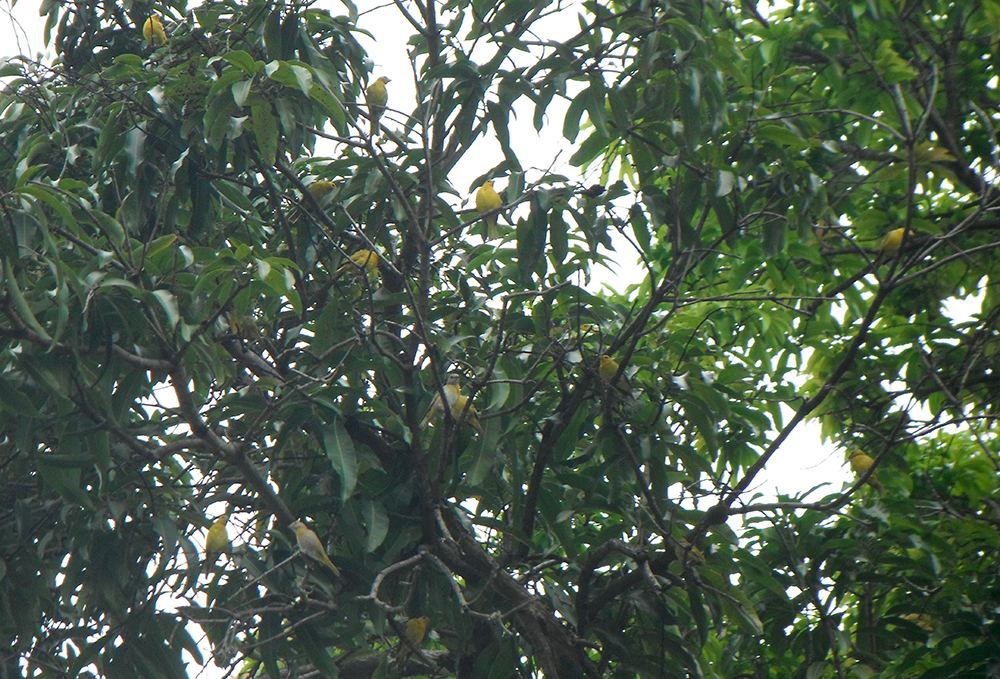 In response to these alterations, these birds have modified the structure of their vocalizations in order to ensure communication with their conspecifics according to the characteristics of the environment in which they live. One of the strategies is to reduce the duration of the vocalization and the number of notes emitted. These changes in their vocalizations represent a general adaptation mechanism that allows them to reproduce despite high noise levels.
Como respuesta a estas alteraciones, estas aves han modificado la estructura de sus vocalizaciones, con el fin de asegurar la comunicación con sus congéneres según las características del ambiente donde habitan. Una de las estrategias es reducir la duración de la vocalización y el número de notas emitidas. Estos cambios en sus vocalizaciones representan un mecanismo general de adaptación que les permite que puedan reproducirse a pesar de los altos niveles de ruido.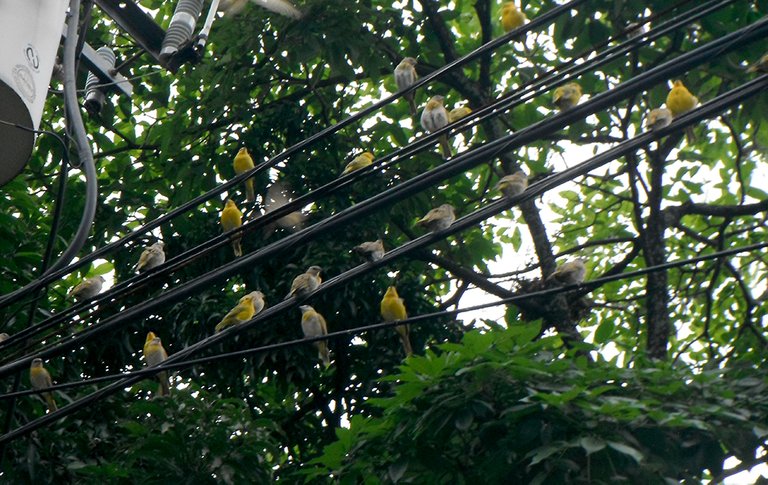 The bird is often confused with the wild canary (Serinus canaria) but is not a canary as such because it is not genetically associated with the wild canary.
El ave es muchas veces confundida con el canario silvestre (Serinus canaria) pero no es un canario como tal porque no está asociado geneticamente con el canario silvestre.
References - Referencias

Images captured with Fujifilm FinePix Z90 digital camera.
Imágenes capturadas con cámara digital Fujifilm FinePix Z90.