Hello dear Hivers and Silver Bloggers !
Yesterday I spent the afternoon watching a four-part documentary about the famous Portuguese explorer, Ferdinand de Magellan who went to work for the Spanish. I hadn't watched a documentary for a long time, let alone so many episodes in one sitting ! A few years ago, I used to watch 4 or 7 documentaries a day without any problems. I must have grown old, or matured, and that's fine :) I rely more on what I feel, on my instinct and much less on what I think I know...
What was also interesting was that it was raining outside, so I stayed at home, in the warmth, sewing damaged leather gloves and the eyelet of a shoe. In almost three hours I didn't move around much, but I went around the world staying in one place...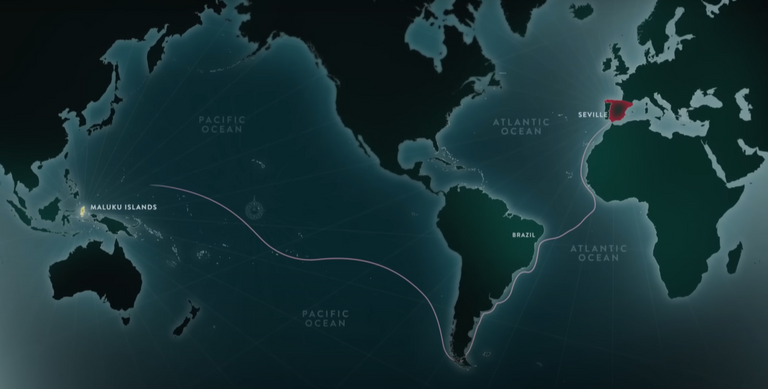 A screenshot of the ARTE documentary - the expedition's journey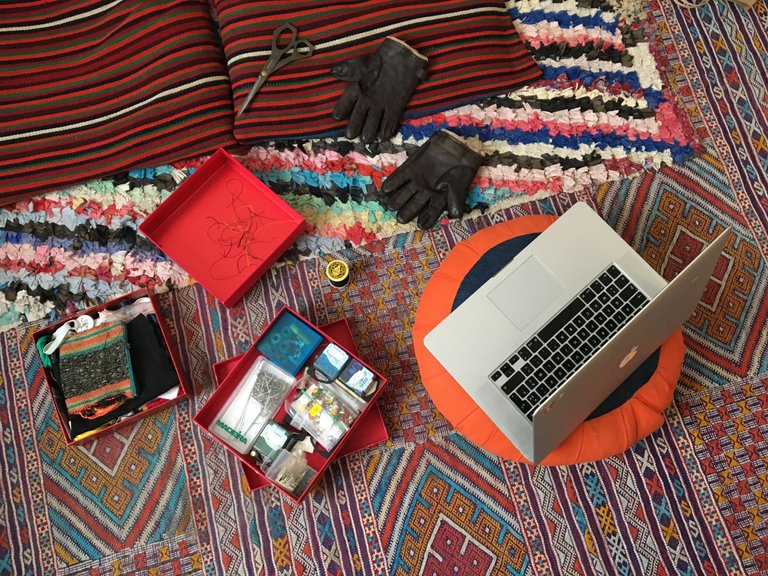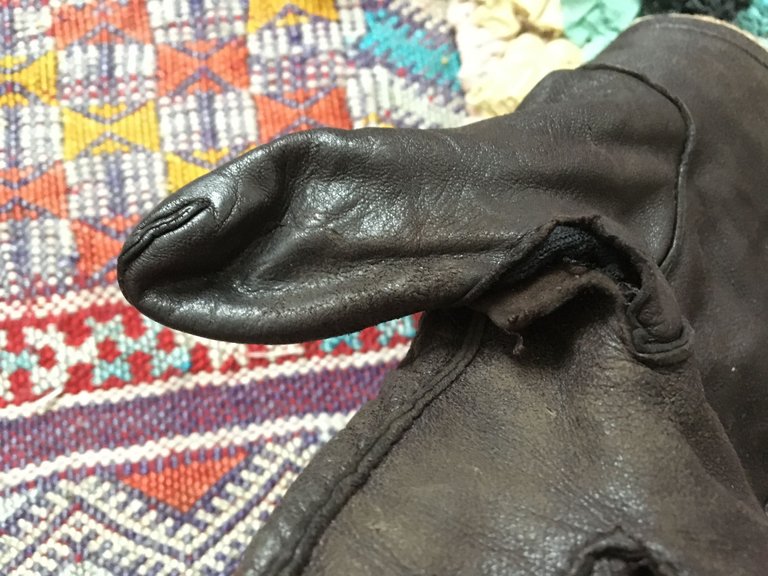 My afternoon set and a detail of one of these famous gloves with holes...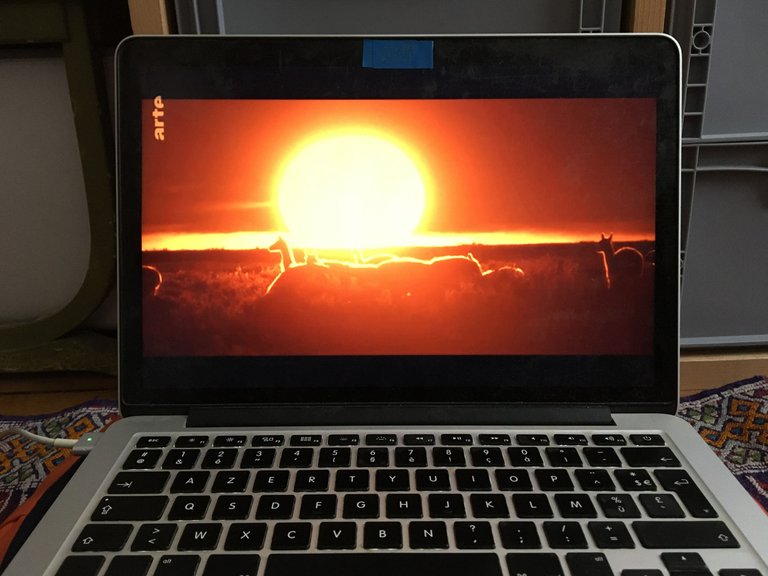 Screenshot, lamas at sunset, the documentary begins...


Short biography of Magellan and sequence of the documentary.
Ferdinand de Magellan was born around 1480 in Porto, Portugal. This was the time of the first expeditions to the Americas and the Indies. Initially in the service of the king in the Indies, Magellan distinguished himself in several feats of arms, but was not or hardly rewarded. He soon became resentful of this and was denied advances and raises.
Most of the voyages ended in failure. Only a quarter were successful. Explorations, the first scholarships and capitalisms in Europe. "Paying in cash" meant paying in spices. One could exchange goods and real estate for spices.
The historian José Manuel Nunez de la Fuente prefers to quote the 19th century economist Adam Smith: "The two historical events that economics considers to be the most important in all of history are: the discovery of the Straits of Magellan and the crossing of the Pacific. Half a millennium ago, globalisation raised the mainsail.
Disappointed by the King of Portugal, Magellan left to offer his services to the King of Spain, the future Charles V. He promised to conquer for him the Moluccan Islands, where spices, including cloves, came from.
In 1518, Magellan went to Valladolid to try to convince the king to undertake a similar expedition. He promised to find the southern passage to the American continent and to succeed where Columbus had failed. The king accepted and gave him one year to prepare his expedition.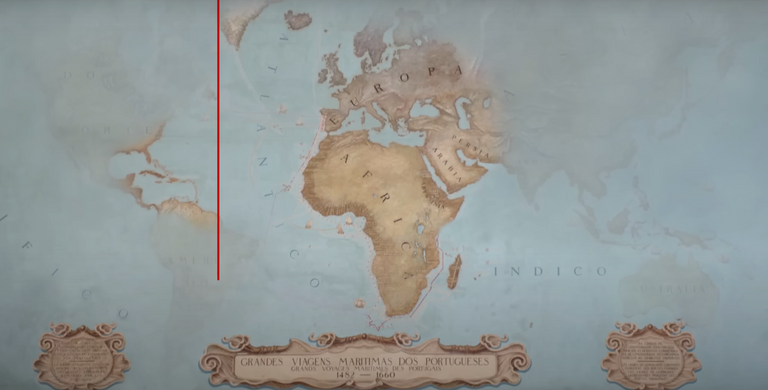 The dividing line between the Spanish and Portuguese


Dividing the world according to a line, but where is the one opposite, the anti-meridian... ? This is the question that drives the documentary !


Map of the Voyage of Magellan and his crew


Long extracted from the inventory list for the two years of the voyage and for the five chartered vessels :
7000 litres of olive oil
4000 litres of chickpeas
600 kilograms of honey
1500 kilograms of smoked fish
2500 kilograms of smoked bacon
2000 litres of beans
640 litres d'amandes
250 braids of garlic
100 cords of onions
3 pigs and 6 cows cut into pieces
70 tins of marmalade
3 jars of capers
2200 litres of flour
984 cheeses soaked in oil
53 litres of mustard
862 kilograms of sultanas
736 kilograms of figs
92 kilograms of prunes
100 kilograms of rice
3000 litres of vinegar
1 litre of wine, per day and per person !


The weapons :
100 full suits of armor
50 harquebuses
200 shields
60 crossbows
4000 arrows
6 blades of swords for the captain
1000 spears
200 pikes
powder


Items to barter for food on the road and spices on arrival :
1 ton of silver ingot
2 tons of vermilion pigment
5 tons of lead
10 tons of copper
1000 combs
1000 miroirs
500 pairs of scissors
4000 German knives
20.000 bells
10.000 hooks
200 tissues and 200 red caps
250 kilograms of glass beads
2000 brass and copper bracelets
10.000 metal mallets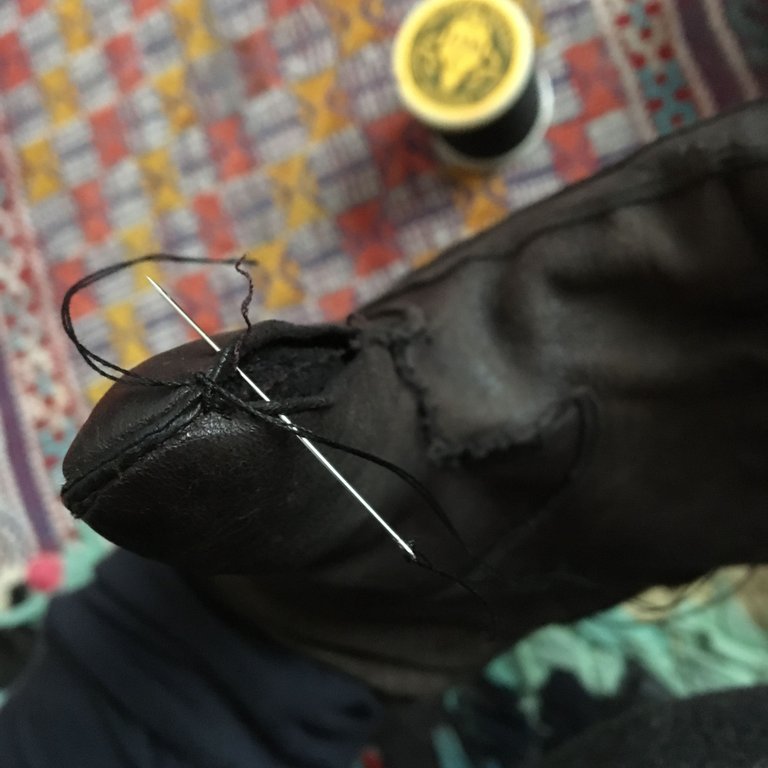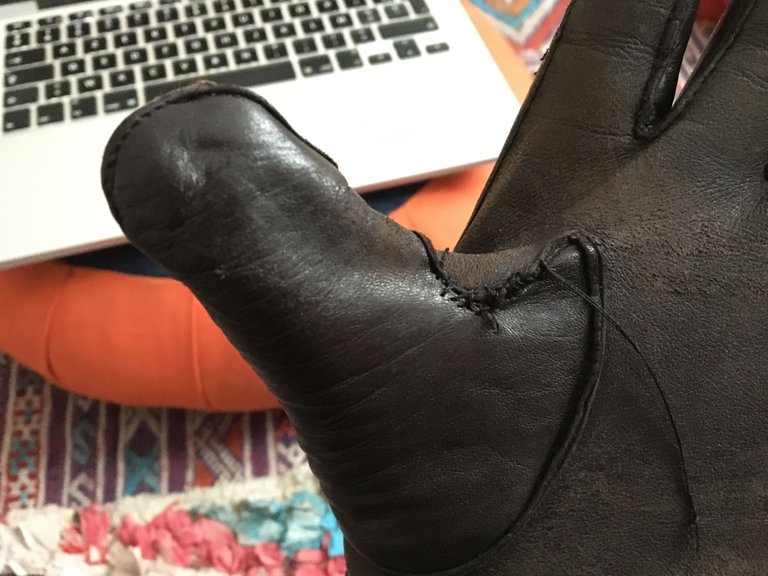 The first glove is sewn up...


Magellan struggled to convince people of his project and to recruit a crew. He was considered a traitor by both the Portuguese and the Spanish. His five ships were all different and all, apart from his own, were commanded by Spanish captains. They are obviously suspected of having the role of watching the Portuguese navigator, but above all of taking over his power on the way...
The chronicles of Magellan's voyage are written by the Italian Antonio Pigafetta. At the time of his departure, he was already aware of the plots that were being made against him. On the other hand, the king of Portugal had chartered a fleet to destroy his armada and thus prevent the voyage. The only way out is by sea...
When they arrived in Brazil, the sailors stayed in Rio for a fortnight and Captain General Magellan forbade any abuse of the natives. They set off again along the west coast of South America and got lost in the Rio de la Plata, where the town of Bueno Ares is located today... After emerging from the river, they continued southwards. The time is calculated by means of 18 hourglasses that are emptied in half an hour. By this time, one of the four Spanish captains had already been put in irons for disrespecting Magellan.
The more the ships entered unfamiliar territory, the more some of the crew members began to have doubts and criticisms and to want to return to Spain. The winter in the far south of Patagonia caught them in a bay called St Julien. A mutiny broke out, but Magellan managed to recover the ships and put the mutineers in irons. The leaders were executed as an example and the leader of the movement was left on an islet with a priest, also a leader... The explorer could not afford to have the blood of this high-ranking man. One of the caravels sets off to explore the south, but a storm destroys the ship. At the end of the winter, with only four ships left, the ships set sail again.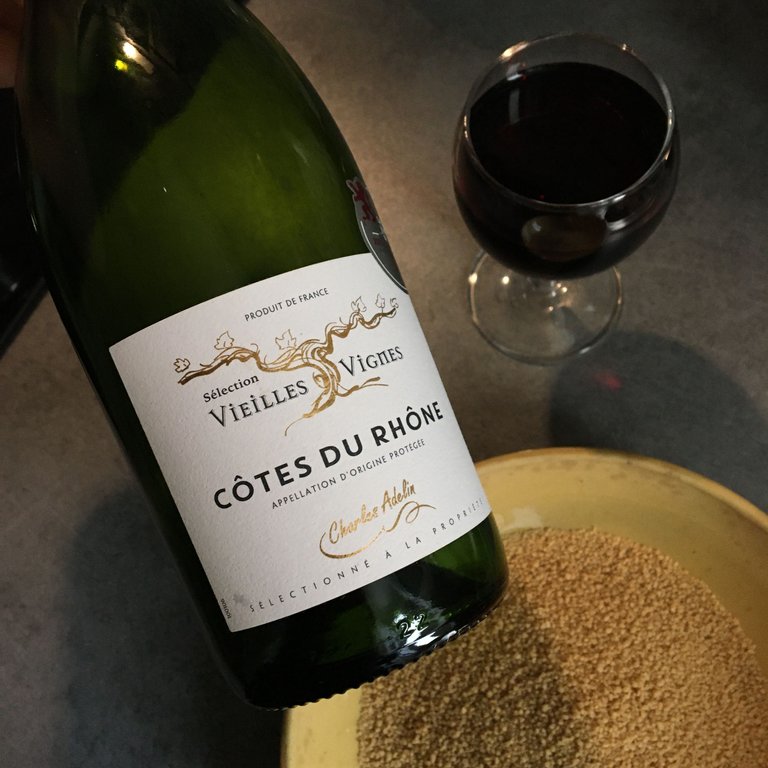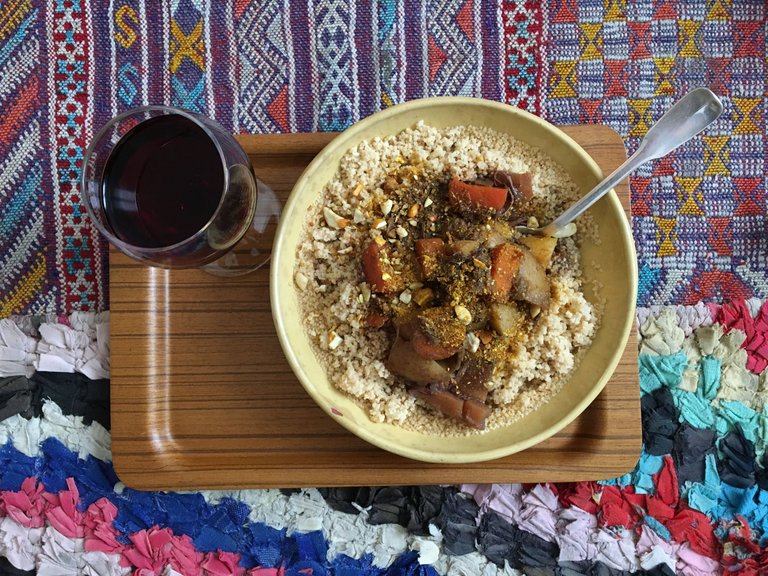 The passage through Tierra del Fuego in Patagonia between the Atlantic and Pacific Oceans has just been discovered, I need a little break. In this case, a glass of wine, the remains of the beef bourguignon with a bit of couscous.


Continuation and end of the trips...
Magellan never saw the end of the voyage. When he arrived in the Moluccas, another navigator assured him that the islands were Portuguese. In the end, he died in a fight with a local tribal chief that looked like a suicide in disguise. Indeed, from the point of view of the expedition's objectives, it was a failure because the Moluccan islands belonged to the Portuguese, according to the meridian and anti-meridian line, the opposite line on the other side of the globe. But from the point of view of discovery and achievement, it was a real revolution! However, this was not enough at the time to return home with honors, far from it !
Of the two hundred or so crew members, only 18 returned to Seville from where they had set off almost three years earlier. Surprisingly, the chronicler Antonio Pigafetta was one of them. Magellan never received the honors, or very late, as he could not be honored either on the Spanish side or on the side of his homeland, Portugal.
This had an impact on the emerging idea of globalisation, and for good reason, it was the first experience of it. For the first time, the physical world appeared 'finished' and connected by this circumnavigation, perhaps not connected in its entirety, but a human journey had circumnavigated it. It is only a short step from mapping the smallest corners of the world as satellites do... and only 500 years !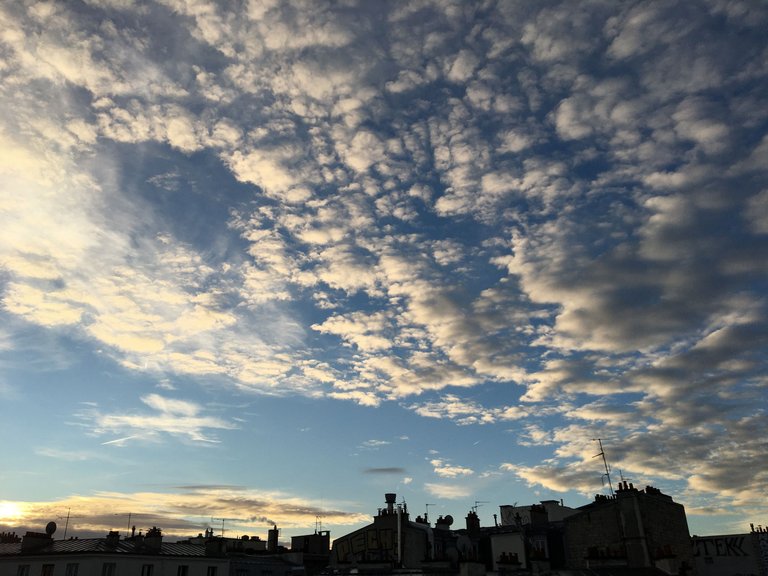 The day is coming to an end... The sewing boxes are put away and I start to prepare the dinner.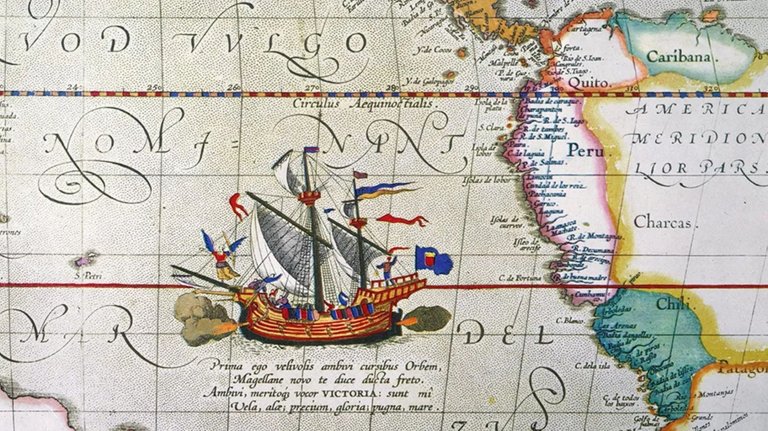 From the coast of the Andes to the Moluccas islands...


I hope you enjoyed the ride with me !
Good Christmas preparations to all,
<3
---
---
---
Bonjour chers Hivers et Silver Bloggers !
Hier j'ai passé l'après-midi à regarder un documentaire en quatre parties sur le célèbre explorateur portugais, Ferdinand de Magellan qui s'était mis au service des Espagnols. Cela faisait longtemps que je n'avais pas regardé de documentaire et d'autant plus autant d'épisodes en une seule session ! Il y a quelques années, cela m'arrivait d'en regarder entre 4 ou 7 par jour sans aucun problèmes. Je dois avoir vieilli, ou bien mûrit, et c'est très bien comme cela ! Je me fis d'avantage à ce que je sens, à mon instinct et bien moins à ce que je crois savoir...
Ce qui était intéressant aussi, c'était qu'il pleuvait dehors et que je suis donc resté chez moi, au chaud à coudre des gants en cuir abîmés et l'oeillet d'une chaussures. En presque trois heures, je n'as beaucoup bougé, mais j'ai fait le tour de la terre en restant au même endroit...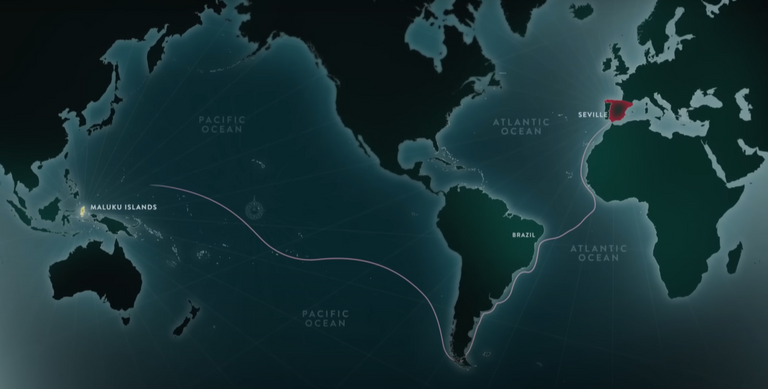 Une capture d'écran du documentaire ARTE - le trajet de l'expédition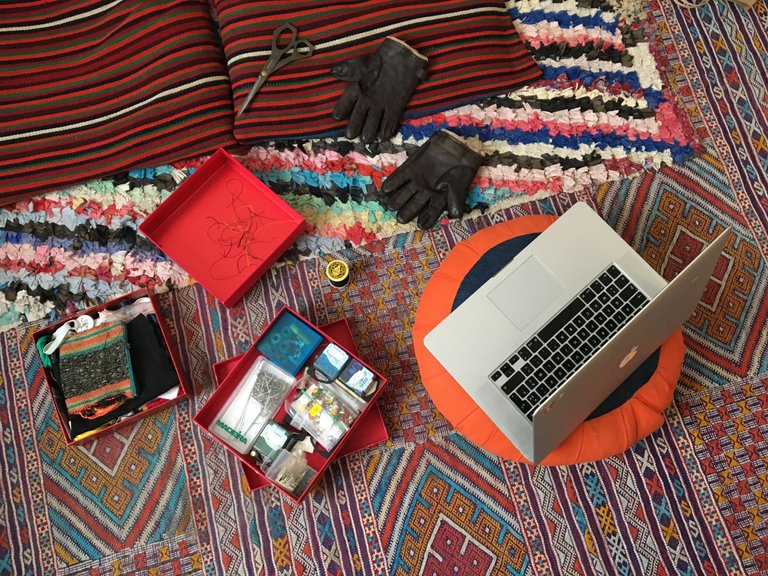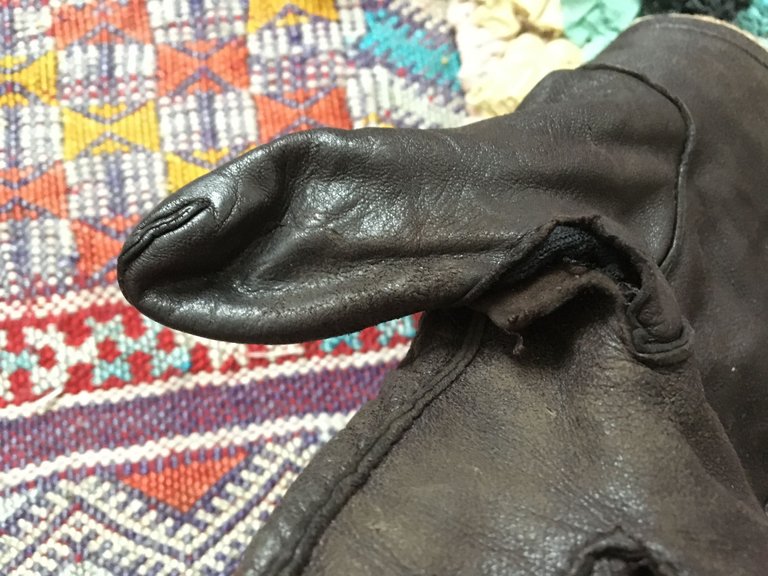 Mon set de l'après-midi et un détail d'un de ces fameux gants troués...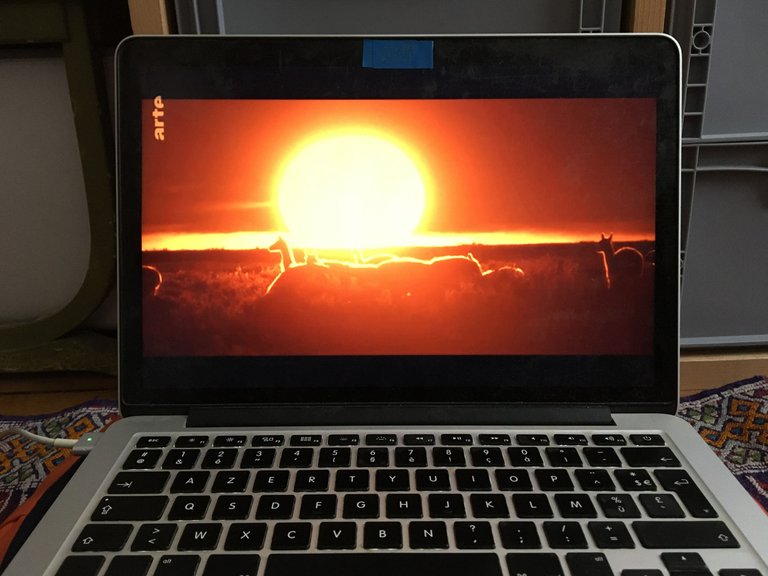 Capture d'écran, lamas au soleil couchant, le documentaire commence...


Courte biographie de Magellan et déroulé du documentaire.
Ferdinand de Magellan naît vers 1480 à Porto au Portugal. C'est l'époque des premières expéditions aux Amériques et vers les Indes. D'abord au service du roi aux Indes, Magellan s'illustre dans plusieurs faits d'armes, mais n'est pas ou peu récompensé. Il en prend vite ombrage alors qu'on lui refuse des avancements et augmentations.
La plupart des traversées se soldent par des échecs. Seul un quart reviennent fructueuses. Les explorations, premières bourses et capitalismes en Europe. « Payer en espèces », c'était payer en épices. On pouvait échanger des biens, des propriétés immobilières contre des épices.
L'historien José Manuel Nunez de la Fuente préfère, lui, citer l'économiste du XIXe siècle Adam Smith : « Les deux événements historiques que l'économie considère comme les plus importants de toute l'histoire sont : la découverte du détroit de Magellan et la traversée du Pacifique. » Voici un demi-millénaire, la mondialisation a hissé la grand-voile.
Déçu par le roi du Portugal, Magellan part proposer ses services au roi d'Espagne, le futur Charles Quint. Il promet de conquérir pour lui, les îles Moluques, celles d'où provenaient les épices, dont les clous de girofle.
1518, Magellan part à Valladolid afin de tenter de convaincre le roi d'engager une pareille expédition. Il lui promet de trouver le passage au sud du continent américain et de réussir là où Christophe Colomb a échoué. Le roi accepte et lui donne un an pour préparer son expédition.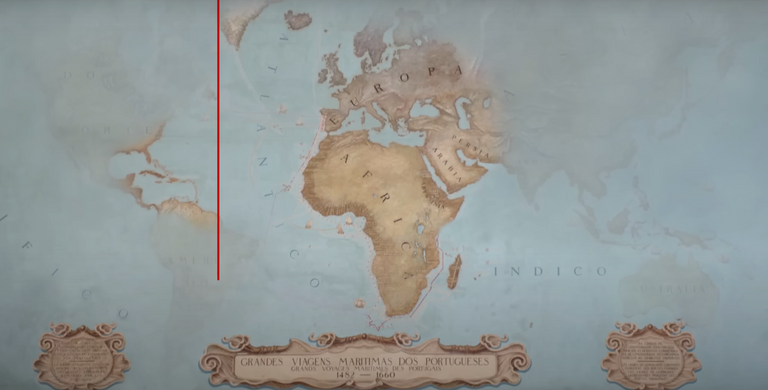 La ligne de démarcation du partage du monde entre Espagnols et Portugais
Ligne de partage du monde, mais où est celle d'en face, l'anti-méridien ? Voilà la question qui anime tout le documentaire..!


Carte du Voyage de Magellan et de son équipage


Long extrait de la liste d'inventaire pour les deux ans de traversée et pour les cinq navires affrétés :
7000 litres d'huile d'olive
4000 litres de pois chiche
600 kilogrammes de miel
1500 kilogrammes de poisson fumé
2500 kilogrammes de lard fumé
2000 litres de fèves
640 litres d'amandes
250 tresses d'ail
100 cordes d'oignons
3 cochons et 6 vaches coupés en morceaux
70 boîtes de marmelades
3 jarres de câpres
2200 litres de farine
984 fromages trempés dans l'huile
53 litres de moutarde
862 kilogrammes de raisins secs
736 kilogrammes de figues
92 kilogrammes de pruneaux
100 kilogrammes de riz
3000 litres de vinaigre
1 litre de vin, par jour et par personne !


Les armes :
100 armures complètes
50 arquebuses
200 boucliers
60 arbalètes
4000 flèches
6 lames d'épées pour le capitaine
1000 lances
200 piques
poudre, cordes, toiles


Les objets à troquer pour acheter des vivres sur la route et les épices à l'arrivée :
1 tonne d'argent en lingot
2 tonnes de pigment vermillon
5 tonnes de plomb
10 tonnes de cuivre
1000 peignes
1000 miroirs
500 paires de ciseaux
4000 couteaux d'Allemagne
20.000 grelots
10.000 hameçons
200 mouchoirs et 200 bonnets rouges
250 kilogrammes de perles de verre
2000 bracelets de laiton et autant de cuivre
10.000 maillets en métal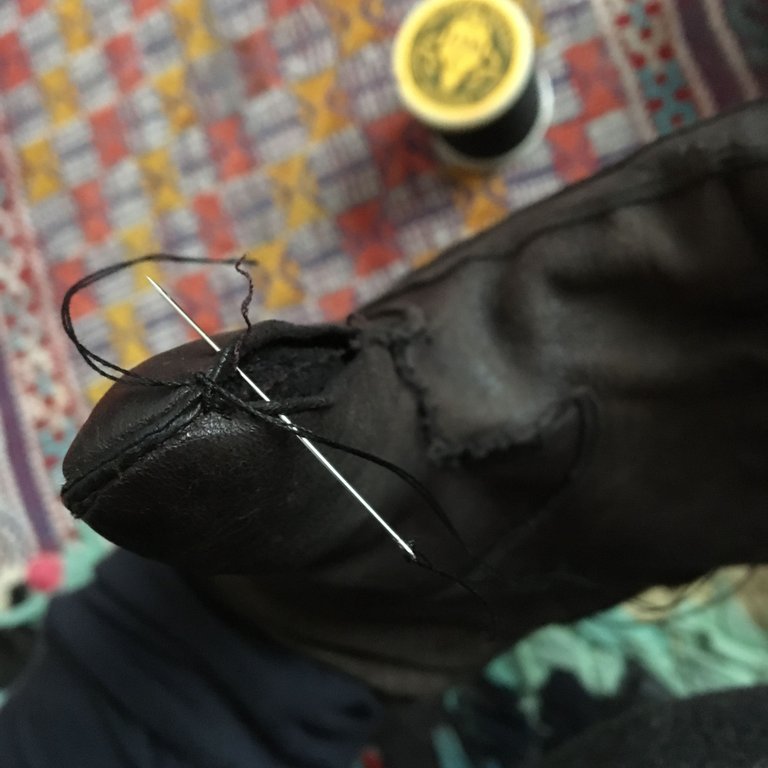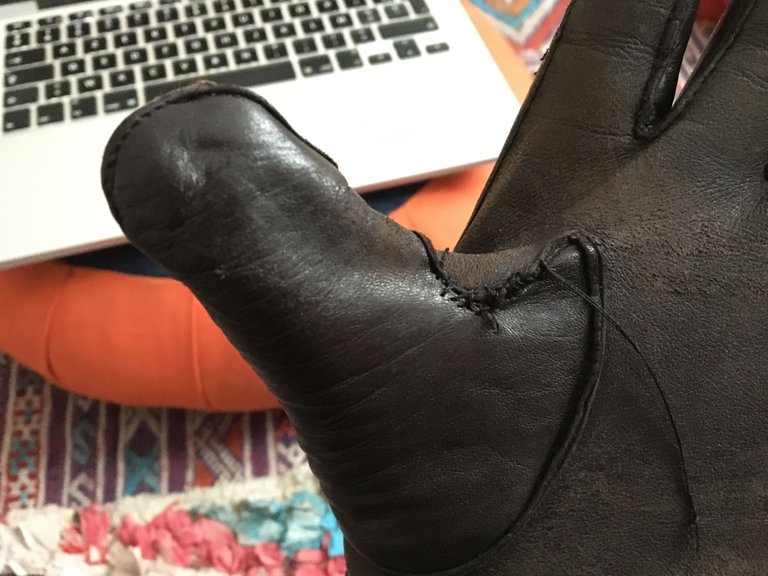 Le premier gant recousu...


Magellan peine à convaincre de son projet et à recruter un équipage. Il est alors considéré comme un traître autant par les Portugais que par les Espagnols. Ses cinq navires sont tous différents et tous, hormis le sien, sont commandés par des capitaines espagnols. Ceux-ci sont évidemment soupçonnés d'avoir comme roles de surveiller le navigateur portugais, mais surtout de lui reprendre le pouvoir en chemin…
C'est à l'Italien, Antonio Pigafetta que l'on doit les chroniques du voyage de Magellan. Au moment de partir, il connaît déjà les complots que l'on commentent contre lui. D'un autre côté, le roi du Portugal a affrété une flotte pour détruire son armada et ainsi empêcher le voyage. Sa seule issue, c'est donc la mer…
Arrivés au Brésil, les marins restent deux semaines à Rio et le capitaine général Magellan interdit tout abus sur les indigènes. Ils repartent en suivant la côte Ouest de l'Amérique du Sud et se perdent dans le Rio de la Plata, là où se situe la ville de Bueno Ares de nos jours… Après être ressortis du rio, ils continuent vers le sud. Le calcul du temps se fait grâce à 18 sabliers qui se vident en une demi-heure. À ce moment-là, un des quatre capitaines espagnols est déjà mis aux fers après avoir manqué de respect à Magellan.
Plus les navires pénètrent dans des contrées inconnues, plus certains membres de l'équipage commencent à douter et à émettre des critiques, à vouloir rentrer en Espagne. L'hiver de l'extrême sud de la Patagonie les surprend dans une baie que l'on nomme celle de St Julien. Une mutinerie éclate, mais Magellan parvient à récupérer les navires et mets aux fers les mutins. Les meneurs sont exécutés pour l'exemple et le chef du mouvement est abandonné sur un îlot avec un prêtre, lui aussi meneur… L'explorateur ne pouvait se permettre d'avoir le sang de cet homme de haut rang. Une des caravelles part explorer le sud, mais une tempête détruit le navire. À la fin de l'hiver, désormais plus que quatre, les navires repartent.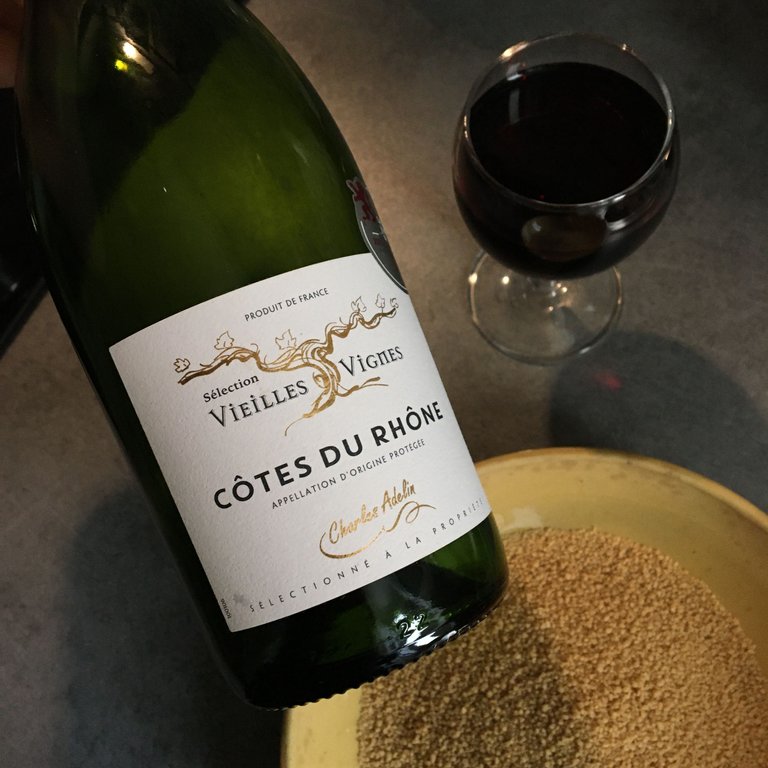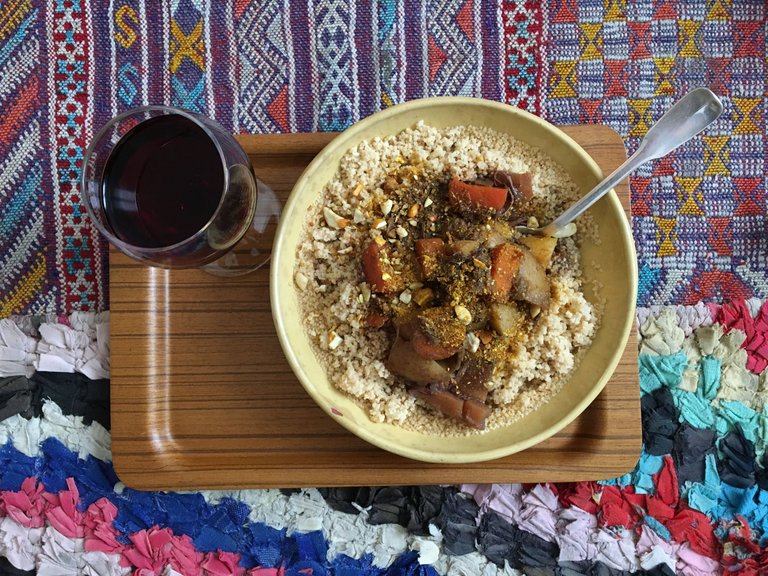 Le passage par la Terre de Feu en Patagonie entre lOcéan Atlantique et le Pacifique bient d'être découvert, j'ai besoin d'une petite pause. En l'occurence, un verre de vin, les restes du boeuf bourguignon avec un peu de couscous complet.


Suite et fin des voyages...
Magellan ne verra jamais la fin du voyage. Arrivé aux îles Moluques, un autre navigateur lui certifie que celles-ci sont bien portugaises. Il finira par mourrir dans un combat contre un chef de tribu local qui ressemble à s'y méprendre à un suicide déguisé. En effet, au point de vue des objectifs de l'expédition, c'est un échec car les îles Moluques appartiennent bien aux Portugais, selon le tracé du méridien et de l'anti-méridien, la ligne opposée de l'autre côté du globe. Mais au point de vue des découvertes et de l'exploit, c'est une véritable révolution ! Cela ne suffisait toutefois pas à l'époque pour rentrer la tête haute et avec les honneurs, loin de là..!
Sur les quelques deux cents membres d'équipages, seulement 18 reviennent à Séville d'où ils sont partis presque 3 ans plus tôt. Chose étonnante, le chroniqueur Antonio Pigafetta fait partie de ceux-là. Magellan ne recevra jamais les honneurs, ou bien très tardivement, ne pouvant être honoré ni du côté espagnol ni de celui de sa patrie d'origine, le Portugal.
Cela a notamment eu un impact quant de l'idée naissante de mondialisation, et pour cause, cela en fut la première expérience. Pour la première fois, le monde physique apparu comme « fini » et connecté par cette circumnavigation, peut-être pas connecté dans son entièreté, mais un trajet humain en avait fait le tour. Delà à cartographier les moindres recoins comme le fond les satellites, il n'y a qu'un pas… et 500 petites années !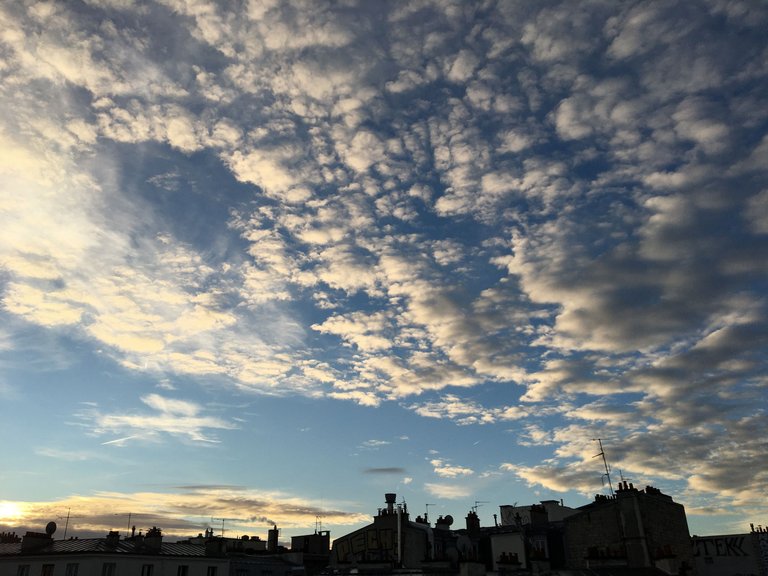 La journée touche à sa fin... Les boîtes à coutures sont rangés et je m'attaque à la préparation du dîner.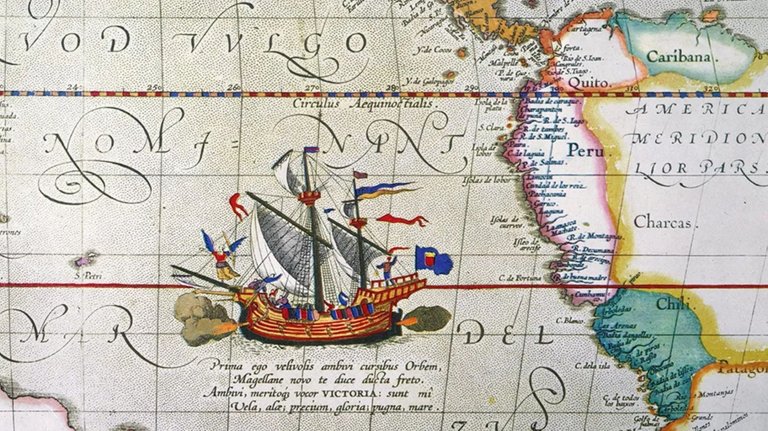 Des cotes andines aux îles Moluques...


J'espère que la route en ma compagnie vous aura plût !
Bons préparatifs de Noël à tous,
<3