Only one post yesterday?!?
WTF.
I have a good reason though - kind of.
This year (unlike last), I managed to make it to virtual HiveFest, which is being held in the AltSpaceVR environment. Honestly, I didn't have high hopes for this, but I have to say, it was better than I expected it to be, even though I was plebbing it on 2D without immersive goggles. What I liked the most, was being able to catch up with a few people I normally only get to chat with in discord or on-chain and it was great to put some voices to the names.
Getting group selfies was a bit of a challenge, but I managed to snap one with this hottie - @m31. I don't know if she even remembers, but it was back in mid 2017 and only a month or two after she had joined herself, that she invited me into a chat with a lot of other people who are often still lurking about this platform, witnessing, developing and creating initiatives and the like. I think it was in that chat I really started my journey into understanding the blockchain and community.
Relationships matter.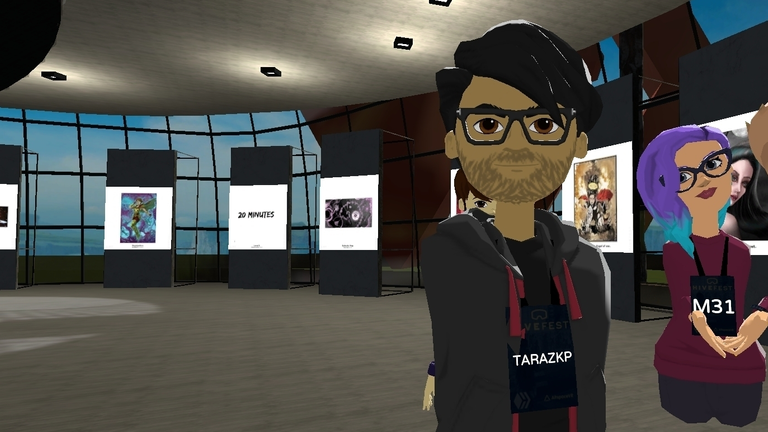 Speaking of people from that chat, here is one of @themarkymark, but I had to take it from the waist up as he was wearing ass-less chaps to match his hat. As you an see, @meesterboom was standing behind and due to the sight from that angle, even he was speechless. I would have liked to have chatted to Marky a bit, but he was AFK, probably counting his HIVE after the release of https://punks.usehive.com/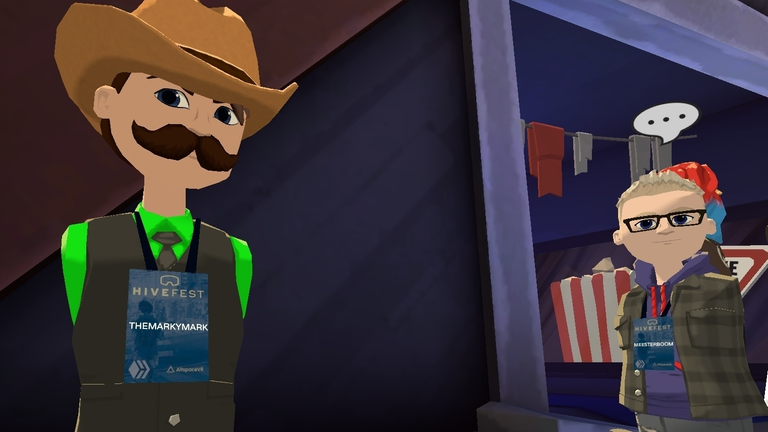 I got scammed into buying 10 of them too.


I don't even know anything about them, but followed the link and bought. I suspect they will be worthless, but still, oh well - at least they are on Hive. I wonder if people are actually going to trade them, but at least here, there aren't the exorbitant transfer fees, so perhaps people can have a little fun with them. I am not sure what the "rarity" means, but I don't think mine qualify as valuable.
I think most of this NFT stuff is going to die in the ass, unless they are able to add significant utility or value to them in some way. I prefer the NFTs I can use, like the ones on Splinterlands and my Hive account, though the latter might not be as "tradeable" in the same way, but technically are NFTs that are ownable and protected by the decentralized blockchain.
There are a couple things that I would like to listen in on today, but I don't have that much space free to do so, which means catching the recorded stream later. However, I am planning on heading into the space in a few hours to see if I can catch up with some people. so for those who are around, please hit me up for a conversation.
I had a couple interesting discussions with people last night, but what stood out was how there are still a lot of people who don't understand the Hive ecosystem or the blockchain itself - as they still think it is about earning on posts. That is only a fragment of the usecase now and whilst still important, it is less so than it was. There was one who was talking about downvotes being evil or some such, yet had no idea how the blockchain actually works. Oh well... some people are always going to misunderstand (often on purpose) as they believe their expectations and assumptions are the reality. They will miss out on the future value, because they do not adapt their processes for the changing environment. This isn't 2017.
This world of crypto is changing and what a lot of people are yet to realize is that once it hits a critical mass point, it is going to shift parabolically in usage and value capture, in much the same way the mobile phone technology moved, the internet uptake moved, the digital camera tech moved, the electric vehicle development moved, the social media growth moved.... except faster.
The reason it is going to move faster is that crypto is able to service all of those things in some way, without too much hassle. And, it isn't going to enable them in singular fashion, it is going to have multi-faceted approaches for each, which will not only compound within the individual industry, but will connect across these industries in ways that have not even been thought of yet.
Talking to one random person who joined a conversation I was in last night, it was obvious that there are still lots of "price" people who don't think further than the buy low and sell high mentality. The line was something like, "the future is whatever token Elon Musk Tweets about".
No.
The future is millions of blockchains and tokens interacting together in many ways. We talk about Blockchain projects, but perhaps they should be seen more like businesses. Many people are still looking for the "winner" without realizing that there is space for tens of millions of businesses around the world as it is. Yes, some might leverage a single blockchain like Hive and use it as the infrastructure to support and enable the growth like Splinterlands has done, but some might use dedicated chains or, leverage single tokens across several chains, depending on how they are going to set up their models in the future. Through interoperability solutions, many things are going to become possible that are not yet in the mix.
One thing I am a bit disappointed about with HiveFest is, there aren't more people in the world there. This was a brilliant opportunity for many people to meet "face to face" and get to be part of discussions and get to be known, but many people seem to have missed it. As I have said many times before (including above), relationships matter on Hive and no matter who you are on the platform, with so few opportunities to "meet" even virtually, I think it is important to take them.
Before I end, one thing I would like to apologize for to those talking to me is, yes, I talk a lot, but I am still struggling to get my thoughts in order after the stroke, especially on the fly. Also, I want to say sorry for the people who could hear me typing like a crazy person as well... my headset seems to pick it up more than I have been told before - so now I feel sorry for my colleagues in Teams meetings! I wonder if they would be interested in having some AltSpaceVR meetings instead.
Right - in a few hours, if you see me at HiveFest, come say hi :)
Taraz
[ Gen1: Hive ]