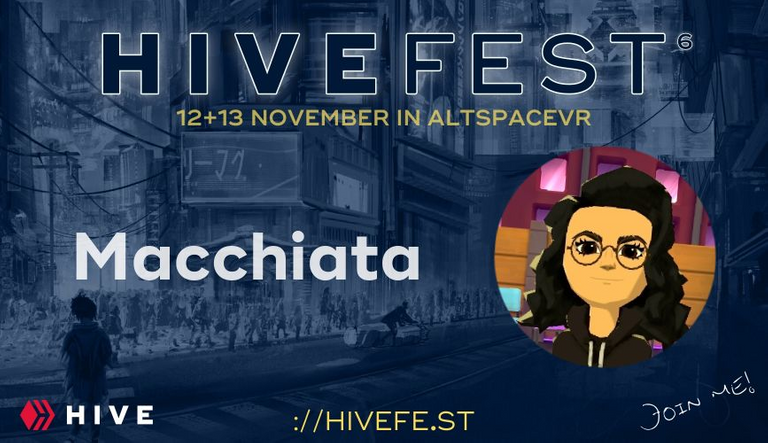 Have you registered to attend Hive Fest?
HiveFest is only a week away, have you registered and set up your avatar? If not, register yourself at https://hivefe.st/ and it's free until the 5th november.
Here's the confirmation if you have entered your username and e-mail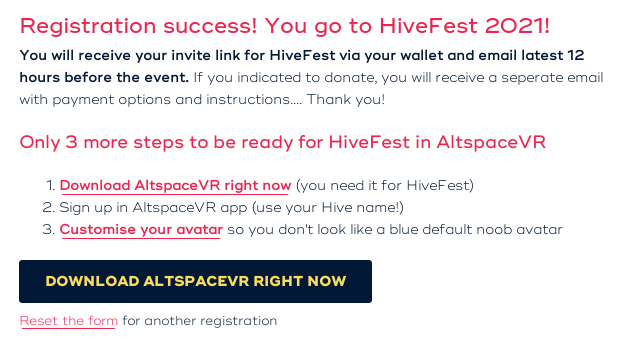 After registering yourself, go download ALTSPACEVR, a virtual reality space to host events, meetings, and more. Then set up the account and test it out!. That part was something that I enjoyed and I promised, you'll be too!
This is going to be my first year attending the event. Last year, I was occupied with other matters and only this year, I am free. Not to mention, now I have a better device to attend it. So, as soon as I heard about Hive Fest in VR, I was ecstatic. I wanted to attend it this year but unfortunately I don't use windows. I refrain from using windows for personal reasons and I was about to do anything just so I could attend it, including giving up gnu/linux for a while and using windows when the time comes!
With such background and even the page it was mentioned that ALTSPACEVR is only available for windows and mac. I was slightly discouraged but you know, when there is a will, there is a way!
Thanks to my recent discovery of Proton!
How I found Proton and setting it up
Linux isn't known for its gaming ability but I like to play games once in a while and test things out. Some of the games I purchased on Steam aren't compatible with linux but SteamOS linux has the option to make them compatible so that you can still play the game though using Linux. As for the experience itself, I would say it's quite decent.
Okay now, we already have Proton, the magic tool on SteamOS linux that lets us play games. To explain this sorcery, Proton is actually a new tool released by Valve Software that has been integrated with Steam Play to make playing Windows games on Linux as simple as hitting the play button though according to Protondb, altspacevr is marked silver which means it is able to run but with minor issues. However, from my experience, I didn't run into any issues other than I was not using a dedicated headphone and was just using regular earphones that cause background noise.
To give you a better picture my system so you can create an estimation how this will work in your PC/notebook:
Memory : 4GB
Processor : Intel® Core™ i3-6006U CPU @ 2.00GHz × 4
Graphics : Mesa Intel® HD Graphics 520 (SKL GT2)
HDD : 1 TB

So, if you use linux, here's what you can do after downloading SteamOS linux.
First You can go to settings and you will find the option of steam play where you need to tick on both options as you see in the picture below. Then it will ask you to restart your SteamOS linux.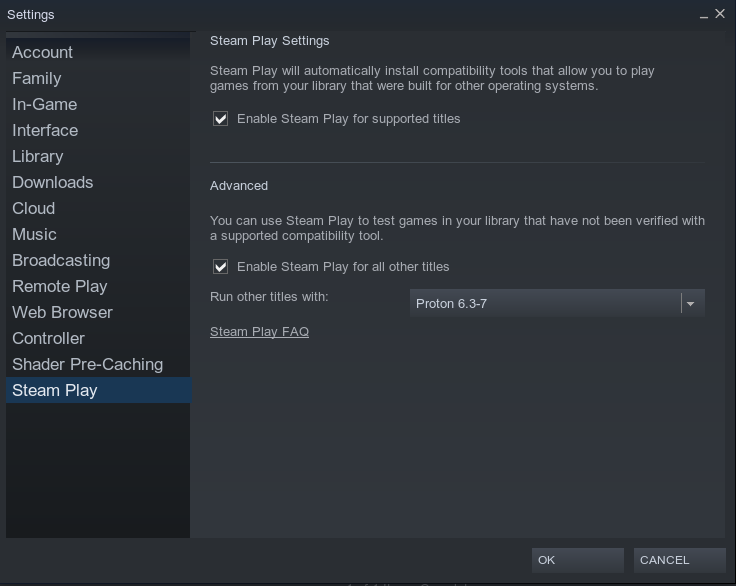 Second, to give you a picture of how it works. The game below, "fishing planet" was not playable before I enabled the options on steam play. I got stuck on the connection page but after enabling the steam play, I can play the game just fine.

Third, however, even when you have the steamplay enabled, you will still need to check if they are already properly set up. You can do this by going to manage then click on properties then choose the compatibility tab. It should have the proton version and a ticked box.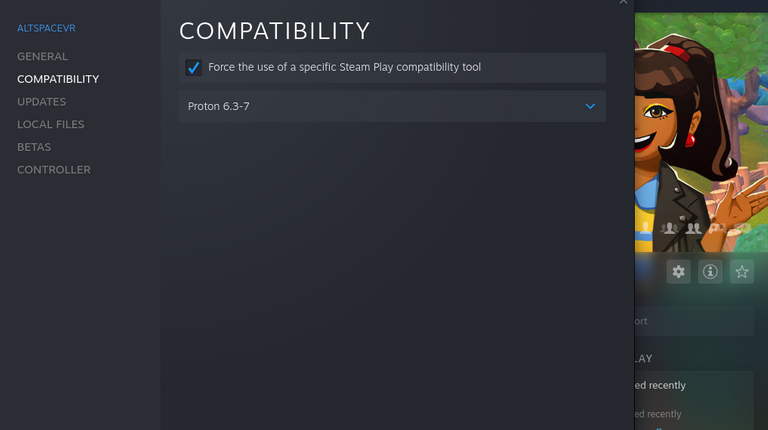 Fourth, click on play and have a look around AltspaceVR

Setting up AltspaceVR
If you don't have a microsoft account, you can create one and create an altspace vr account. This process should not take long. Then, you will be given some options to customize your avatar. It took me a while to set up the altspace. But once I get the hang of it, the whole process should be easy enough. Here are some pictures while I explored AltspaceVR with @perceval. Oh yeah, I later explored it with @nathanpieters and we got to check out the campfire. It was fun.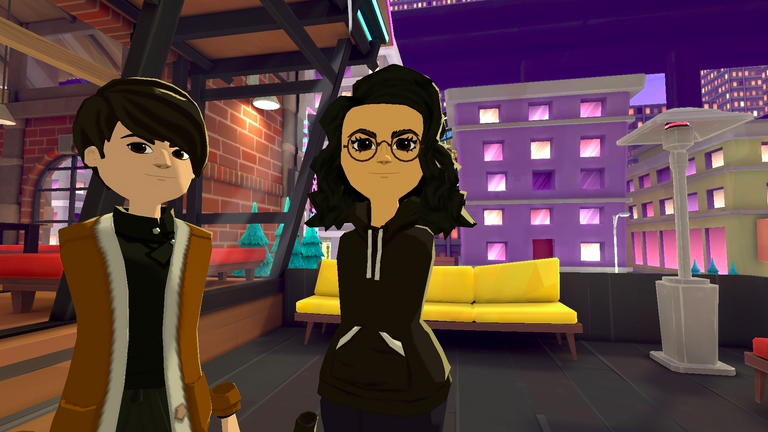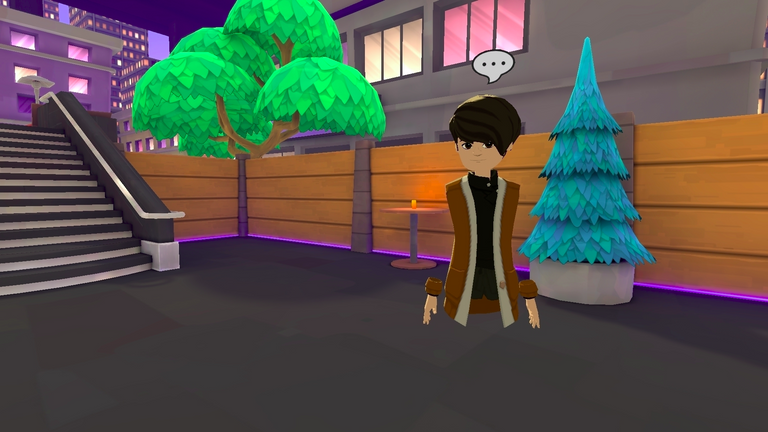 This was me at the altspace general room or they call it the campfire.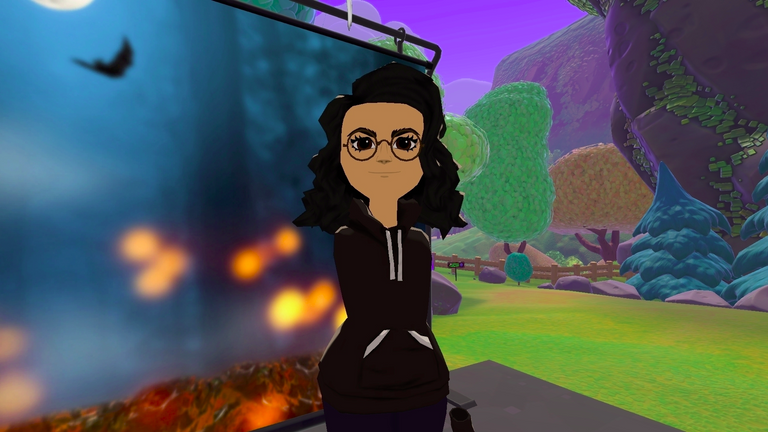 The feedback I received from @perceval was that there was background noise when I talked. My condition was that I was at the co-working space and it was crowded. I was also using a regular cheap earphone. And my advice would be ;
Pick a quiet place with little background noise
Have a dedicated headphone if you are going in 2D experience like me.
Also, I think it's more convenient to download it from STEAM.
I wish to go with a VR headset but yeah for now 2D is fine.
Finally, when are you getting your avatar and the identity hivefest card? See you there!

Don't hesitate to upvote for more content like this !

---
| | |
| --- | --- |
| | Mac is a jack of all trades. A typical introvert in love with literature, books, technology and philosophy. She is also so into nootropics, productivity, minimalist lifestyle, cybersecurity, and languages. Other than that, she is passionate about cooking and traveling. In her free time, she enjoys learning various things. If you like her content, don't hesitate to upvote, leave a comment or a feedback. A re-blog is also appreciated. |