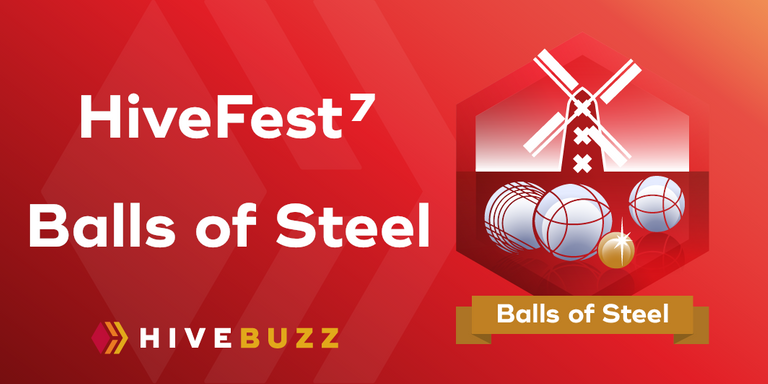 HiveFest⁷ has been over for a few days and we hope that all participants have returned home healthy and invigorated by this extraordinary experience.
Wow, these few days of the event went by at lightning speed, the atmosphere was so great. On Friday evening, after Conference Day 1, we all gathered at MooieBoules for an unforgettable "Balls of Steel" petanque tournament.
@roelandp had prepared magnificent trophies for the first two teams in the tournament ranking.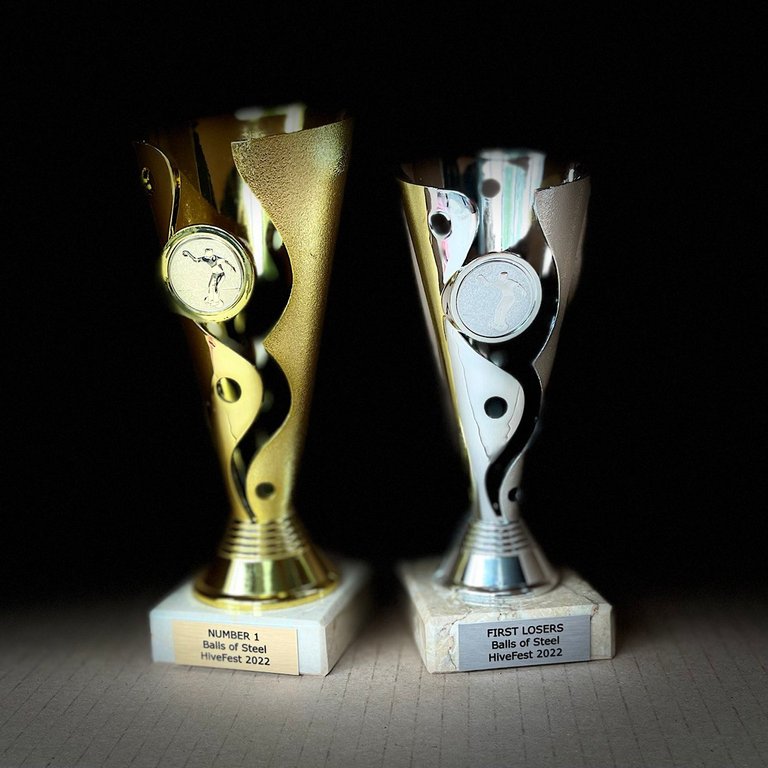 As we mentioned in our previous post about the tournament, our team has also made a new dedicated badge for all participants and additonal badges for the tournament winners.
So let's get straight to the point, here are the tournament results:
The Peakd team has absolutely smashed all their opponents. Congratulations to them for getting Winners Trophy and the Gold Badges!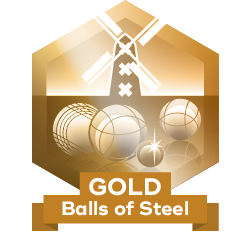 Congratulations to @asgarth, @jarvie, @sjarvie5 and @yozen

The Crazy team held on but unfortunately had to give in to the superiority of their opponents. They won the 1st Losers Trophy and the silver badges!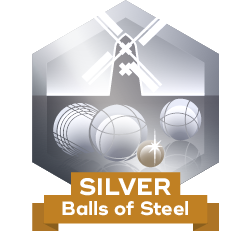 Congratulations to @apshamilton, @brianoflondon, @crimsonclad and @starkerz

They had to defend their "Winner" title after their exploits of the previous years. Unfortunately, the German team did not make it through to the semi-final. They did not receive a trophy either but still got the Bronze badges from us!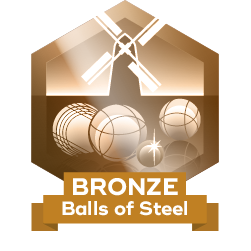 Congratulations to @lizanomadsoul, @louis88, @manncpt, @rivalzzz and @solarwarrior

There was a fourth team participating in the semi-final but, in the heat of the night, we lost track of them. Please, if you are part of it or know who they are leave a comment with the team name and its members on this post and we will update it and upgrade your badge.
Thank you to all those who participated in the party and see you next year. We are sure that @roelandp will concoct for us one of those extraordinary after-conference parties of which he has the secret.
Thank you for attending HiveFest⁷
The Hivebuzz Team


---
HiveBuzz is a project created by @arcange