I created another new NFT for sale at the https://www.hiveme.me/nfts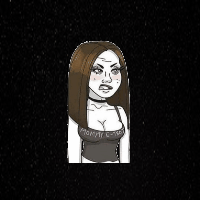 https://www.hiveme.me/@ianmcg/collection/ianmcg_wojaks_mommy-e-thot-wojak-series-9-20
This is Wojak 9 of 20. There are 10 editions avaliable for sale as low as 600 MEME!
Mommy E-Thot refers to refers a female Wojak with an angry smirk on her face, wearing a choker and dressed in a dark crop top labeled "Mommy E-Thot" across the chest. The Wojak has been used to illustrate such qualities as promiscuity and disregard for traditional values and has also appeared in Yes Chad comics and other Wojak Comics formats since late 2019. ---- Wojaks are crudely drawn meme people (usually just heads). They are used in internet jokes to convey different stereotypes and emotions. This NFT is part of a series of 20 NFTs that can be used as avatars. Each file has been cropped and sized to the perfect dimensions for a HIVE profile picture, 512x512 pixels.
---
NFT Games/Crypto Exchanges I Enjoy
---
---
Watch My Videos and Visit my Store!
---
---
Come Game with me!
---
Posted using MemeHive
Posted using MemeHive
Posted using MemeHive