I created another new NFT for sale at the https://www.hiveme.me/nfts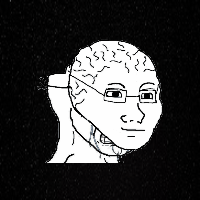 https://www.hiveme.me/nfts/ianmcg_wojaks_brainlet-wojak-series-11-20
This is Wojak 11 of 20. There are 10 editions avaliable for sale as low as 600 MEME!
Brainlet is an internet slang term primarily used as a pejorative on 4chan when referring to those with limited intelligence, implying they have a small brain. Illustrations of brainlets are often depicted as the character Wojack with an incredibly small head, as opposed to "tfw too intelligent" drawings. ---- Wojaks are crudely drawn meme people (usually just heads). They are used in internet jokes to convey different stereotypes and emotions. This NFT is part of a series of 20 NFTs that can be used as avatars. Each file has been cropped and sized to the perfect dimensions for a HIVE profile picture, 512x512 pixels.
---
NFT Games/Crypto Exchanges I Enjoy
---
---
Watch My Videos and Visit my Store!
---
---
Come Game with me!
---