I created another new NFT for sale at the https://www.hiveme.me/nfts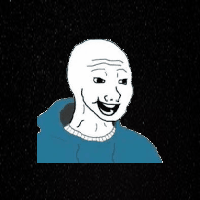 https://www.hiveme.me/nfts/ianmcg_wojaks_bloomer-wojak-series-7-20
This is Wojak 7 of 20. There are 10 editions avaliable for sale as low as 600 MEME!
Bloomer is a character spread on 4chan which represents a person with a highly optimistic outlook on life and a go-getter attitude, usually in their late 20s. The character is often used in contrast to Doomer as an example of a person who moved past an unhealthy lifestyle and depressed state by learning to love and accept themselves and finding motivation. ---- Wojaks are crudely drawn meme people (usually just heads). They are used in internet jokes to convey different stereotypes and emotions. This NFT is part of a series of 20 NFTs that can be used as avatars. Each file has been cropped and sized to the perfect dimensions for a HIVE profile picture, 512x512 pixels.
---
NFT Games/Crypto Exchanges I Enjoy
---
---
Watch My Videos and Visit my Store!
---
---
Come Game with me!
---
Posted using MemeHive