Hola queridos Makers de Hive, soy Nitsu, espero que estén teniendo un buen cierre de año con sus familiares, amigos y maquinas. En estos últimos años imprimiendo en 3D me di cuenta que los makers seguimos ciertas tendencias de impresiones como macetas, mates, barquitos y el famoso personaje Groot de guardianes de la galaxia, no digo que este mal, sino que es una observación curiosa que puedo hacer.
Hello dear Hive Makers, I'm Nitsu, I hope you are having a good end of the year with your family, friends and machines. In these last years printing in 3D I realized that the makers follow certain trends of prints such as pots, gourds, boats and the famous character Groot from Guardians of the Galaxy, I'm not saying that this is wrong, but it is a curious observation that I can make.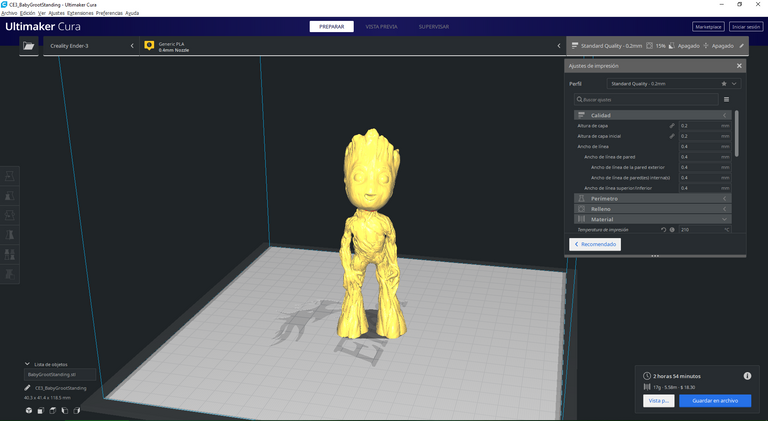 Me animaría a decir que si no imprimiste un baby Groot no podes considerarte maker así que aprovechando el pedido de un cliente hoy vengo a mostrarles con que configuración lo imprimí y a explicar un poco el post procesado que le di.
I would dare to say that if you haven't printed a baby Groot you can't consider yourself a maker, so taking advantage of a customer's request today I come to show you with what configuration I printed it and to explain a little bit the post processing I did.
Para empezar, conseguí el archivo STL de forma gratuita en Thinguiverse, lo descargue y lo puse en mi laminador Cura, los parámetros que utilice son los siguientes:
To start, I got the STL file for free from Thinguiverse, downloaded it and put it into my Cura laminator, the parameters I used are as follows:
Altura de capa 0.2
Relleno 15%
Patrón de relleno giroide
Temperatura del nozzle 210º
Temperatura de la cama 50º
Velocidad 40 mm/s
Patrón del soporte tipo árbol
Layer height 0.2
15% fill
Gyroid fill pattern
Nozzle temperature 210
Bed temperature 50
Speed 40 mm/s
Tree type holder pattern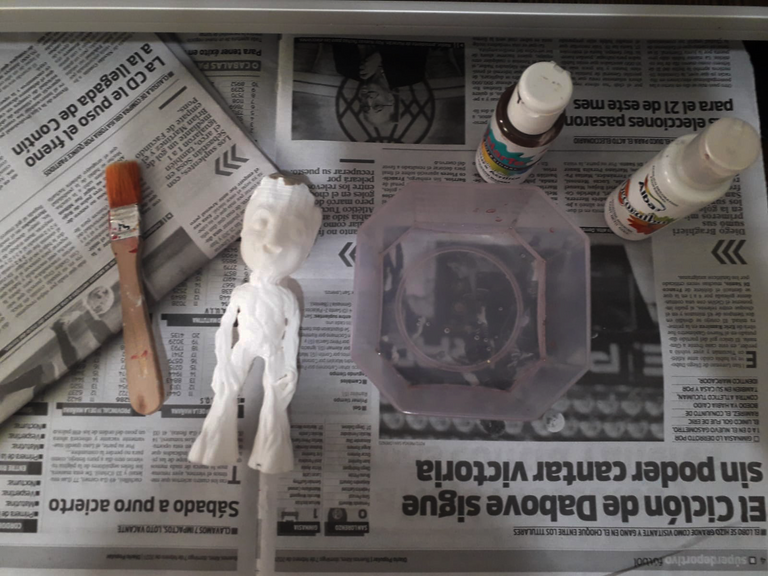 Luego de tener impresa la figura tome mis materiales de pintura, en este caso considere que no era necesario lijarlo ya que con una altura de capa 0.2 iba a quedar bien, pero a opinión propia aconsejaría lijar un poco la superficie.
After having printed the figure I took my painting materials, in this case I considered that it was not necessary to sand it since with a layer height of 0.2 it would be fine, but in my opinion I would advise sanding the surface a little.
Coloque diarios para no manchar mi zona de trabajo y comencé con una primera capa de acrílico blanco para que los posteriores colores se unieran bien, espere a que seque y empecé con una capa de marrón claro para más tarde ir colocando algunas capas y zonas mas oscuras especialmente en las zonas con detalles como raíces
I placed newspapers so as not to stain my work area and started with a first coat of white acrylic so that the subsequent colors would blend well, waited for it to dry and started with a layer of light brown to later place some layers and darker areas especially in areas with details such as roots.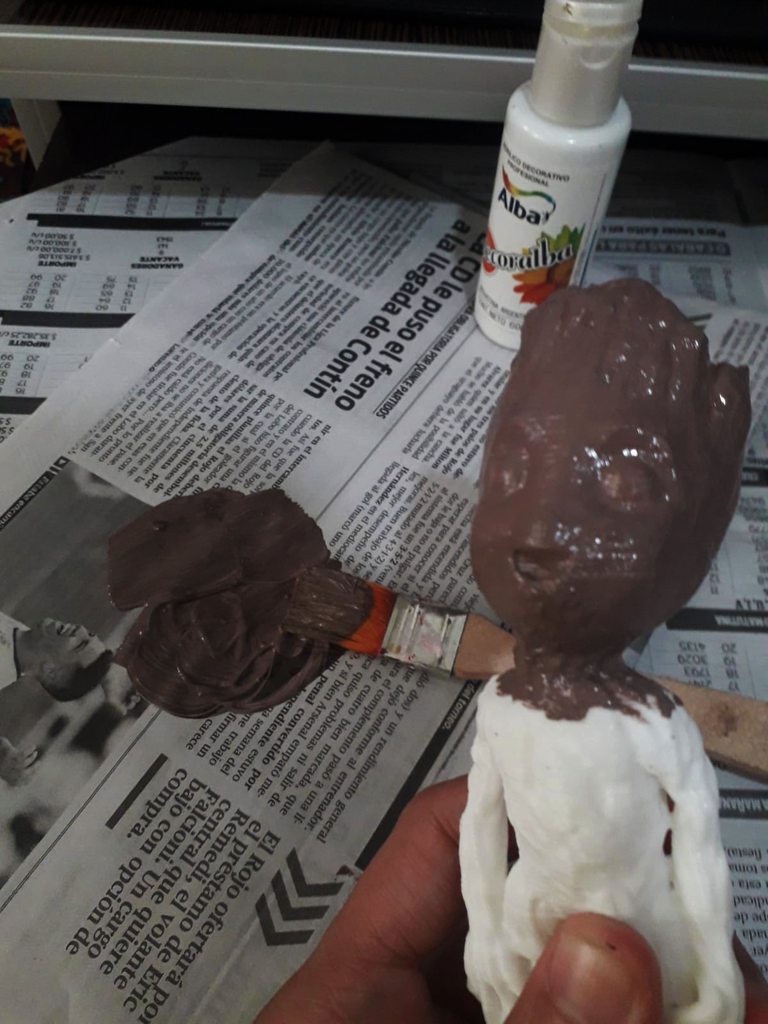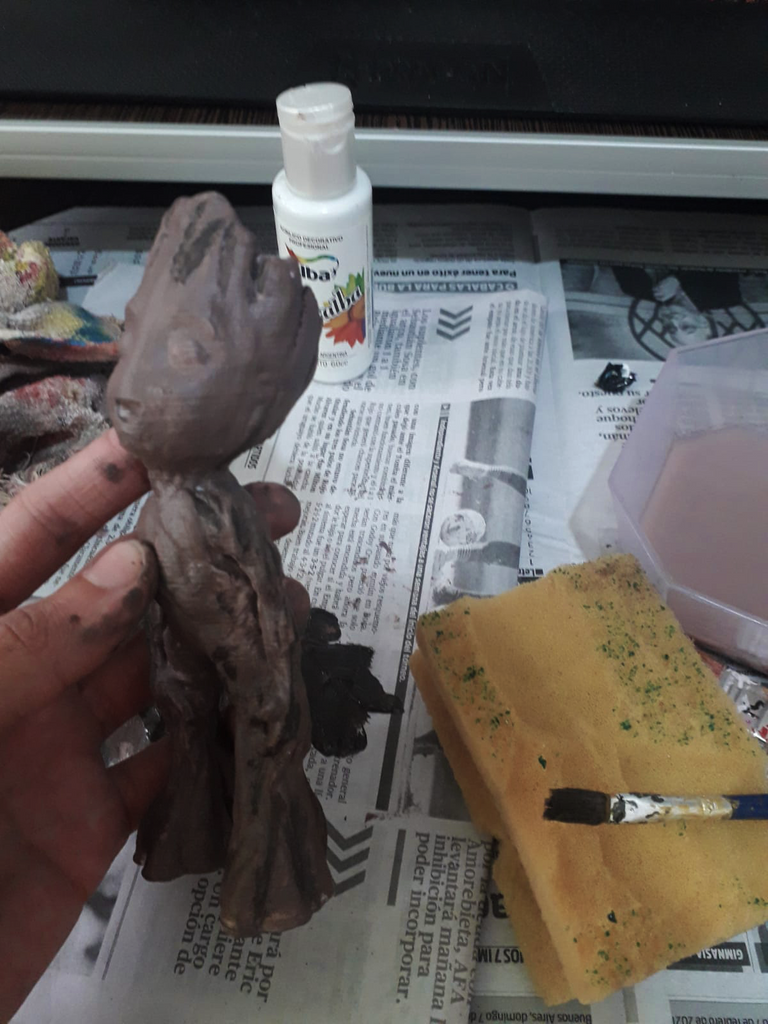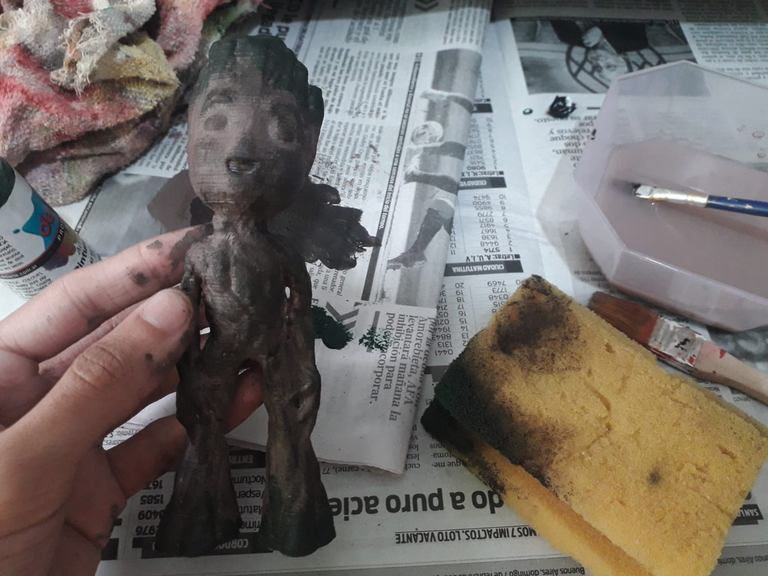 Posteriormente tome color verde y empecé a hacer los detalles de brotes y hojas, fui combinando el verde con otros tonos para que quede más lindo y realista. Utilice una esponja vieja para que la pintura quede difuminada logrando generar un mejor efecto. Para finalizar pinte los ojos de negro y cuando se seco puse los detalles en ojos de color blanco con un pincel fino.
Then I took green color and started to make the details of buds and leaves, combining the green with other tones to make it more beautiful and realistic. I used an old sponge so that the paint would be blurred to generate a better effect. To finish I painted the eyes in black and when it was dry I put the details in white eyes with a fine brush.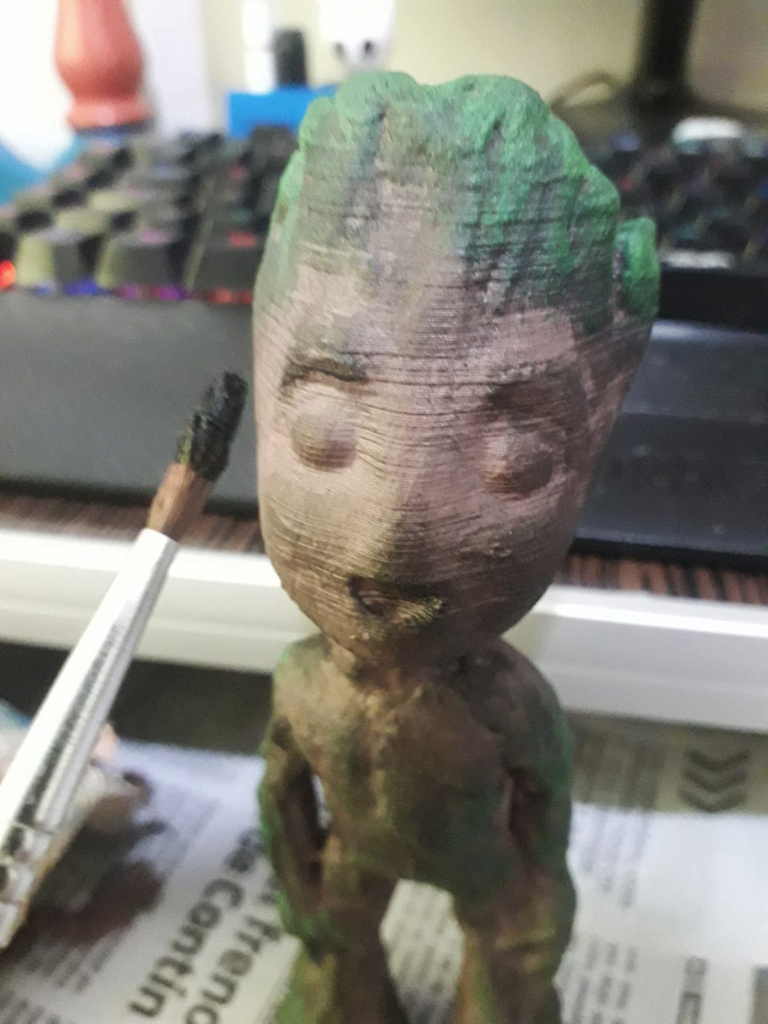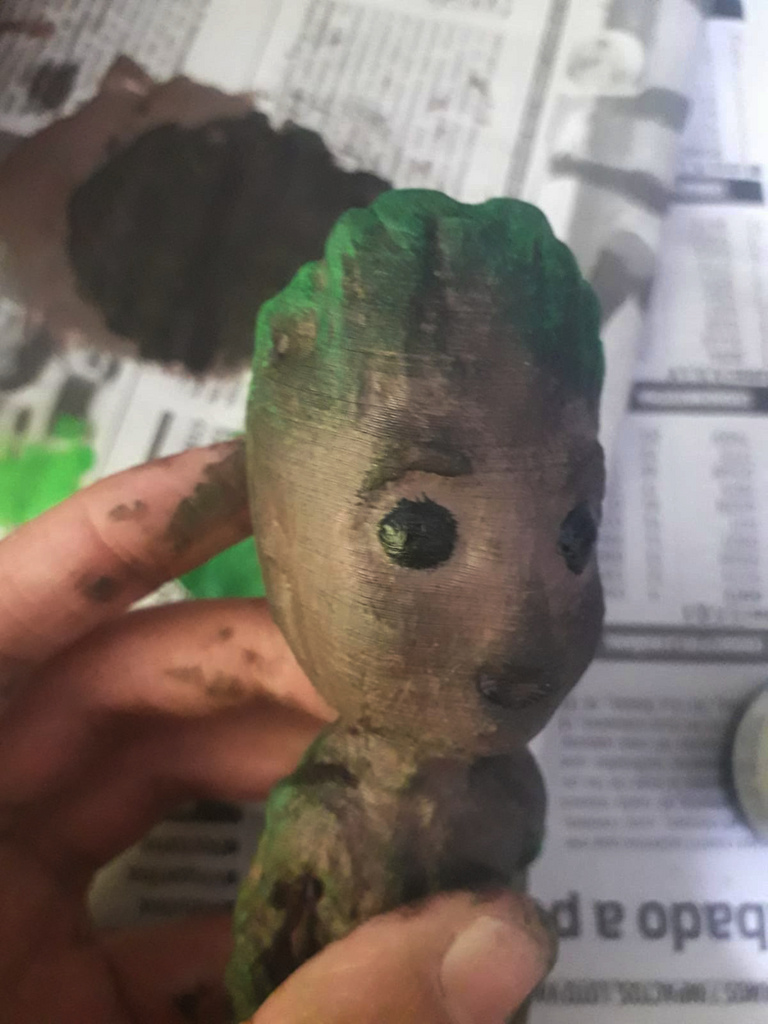 El cliente quedo muy feliz con su figura de Groot, es el segundo Groot que hago desde que tengo la impresora, el primero fue para mí y me sirvió para practicar como hacer el post procesado.
The customer was very happy with his Groot figure, this is the second Groot I have made since I got the printer, the first one was for me and it was useful to practice how to do the post processing.
¿Ustedes ya tuvieron la oportunidad de imprimir Groots o alguna otra cosa típica que imprimimos los makers? Me gustaría conocer y leer sus experiencias en los comentarios.
The customer was very happy with his Groot figure, this is the second Groot I have made since I got the printer, the first one was for me and it was useful to practice how to do the post processing.
Notas
El texto fue traducido con DeepL
Notes The text was translated with DeepL.