The library network for which I work has several Dremel 3D printers, one of which has again rotated to my branch. Here's a look at a couple recent projects!
---

---
The Cute Octopus file on Thingiverse is a popular model frequently requested by our patrons, but one little girl wanted the body and the tentacles to be different colors. I found a replacement tentacle project, which linked in turn to a body only file, so I was able to make it happen. It was greatly appreciated. However, this also set off a chain reaction. A sister also wanted one with a rainbow of different-colored tentacles, and another wanted a different two-tone version, and finally a teenage boy requested the color combo pictured here.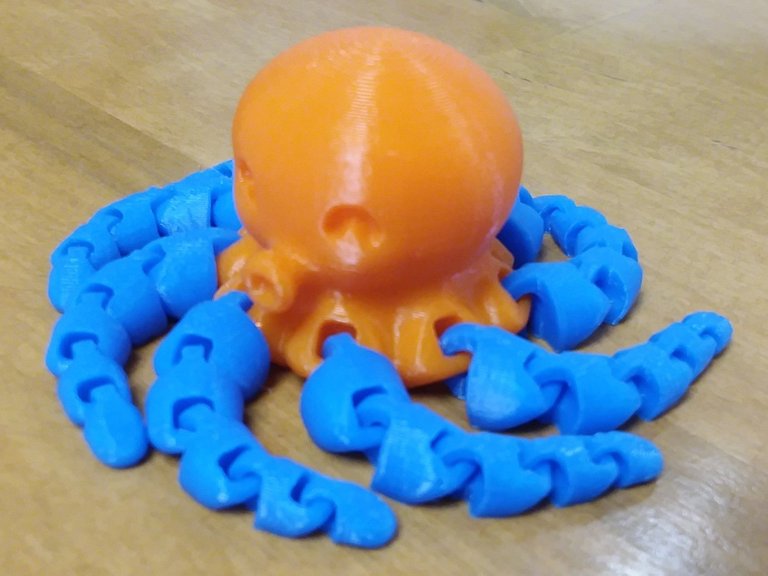 I had to tweak the print settings to make this work, and there were a few failed tentacle prints as I adjusted the g-code, layer height, etc. but once it was dialed in, I was able to mass produce these easily enough. The key is to make sure the tab of plastic closing off the clip opening for one layer remains intact. It keeps the clip tip stable during printing, and can be trimmed away when complete.
A little care is needed when snapping the tentacles in place, but none broke. A few replacements had to be made due to rough play by the kids who got them, but I already had everything dialed in, and it costs less than 20¢ apiece to print those.
---

---
Last year, I posted about printing Baby's First Mace for my niece. It's her favorite toy now. This year, I was asked to make another for a future baby shower.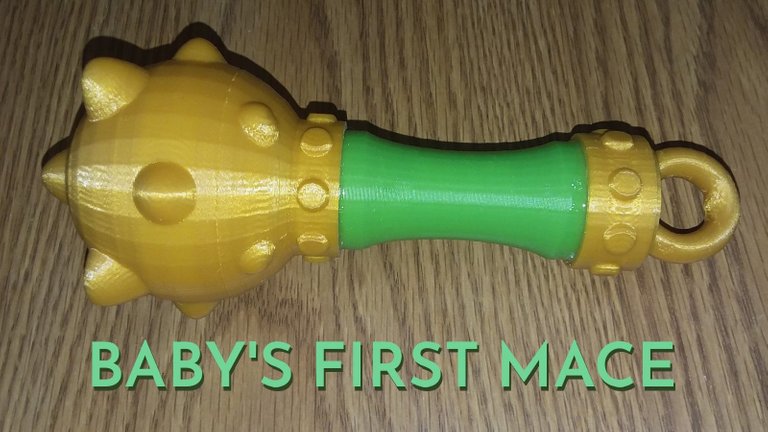 A line is visible where I paused the print to add 3D-printed "peas" to make it rattle inside the enclosed mace head. See that prior post for a picture of what I used. The settings were better this time around, and the overhangs didn't sag like last time aside from a bit of a bulge in the pommel ring.
Here's a glimpse at the print process. I experimented with using OpenShot to make a low-resolution image series from a cell phone video clip, and then Gimp to convert that image sequence into a GIF. I had to re-run this at a smaller resolution again to keep it small enough to upload here at all.
It does this over and over, melting PLA plastic and depositing it one layer at a time as the print bed lowers, until the job is done. It's basically a very sophisticated and precise hot glue gun, if that makes sense.
This print actually failed when it was 90% done, which was quite frustrating. A snarl somewhere deep inside the filament spool bound up the feed process, and the tension dragged the print head off its proper coordinates. Unfortunately, there isn't really a way to clean up the bad layer and resume. Instead, I had to start from scratch after salvaging the "peas." Then I printed the new mace head, the pommel, changed filament colors, and finally printed the handle.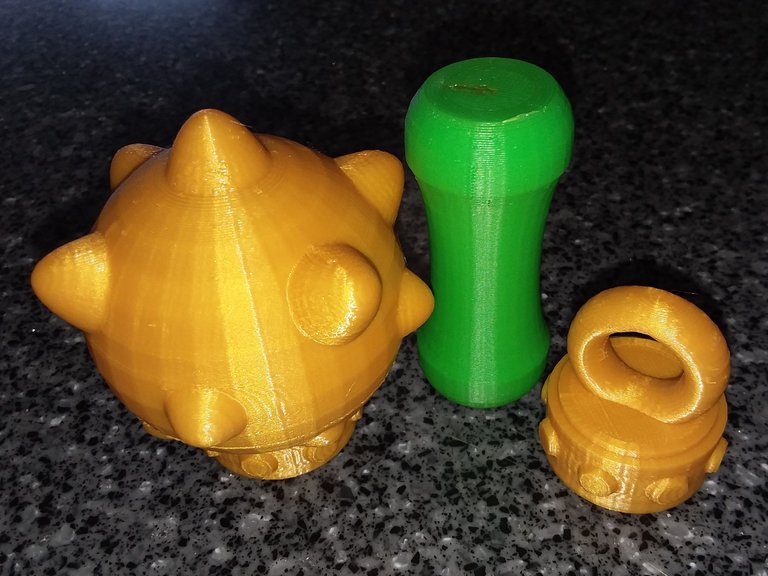 After that last post asking about adhesives, I tried using model glue that melts and welds plastic pieces. It's common in the plastic model world. It works great on styrene, but not PLA. Lessons learned from the old mace were applied here, and I used Loctite 2-part epoxy to glue this one. It'll hold forever now, or as near to as makes no difference for a toddler.
---

---
What do you think? What new projects have you been printing, or at least pondering? Does your library have a 3D printer, or is there a local makerspace you might want to explore? Chime in with a comment!

HIVE | PeakD | Ecency
If you're not on Hive yet, I invite you to join through PeakD. If you use my referral link, I'll even delegate some Hive Power to help you get started.