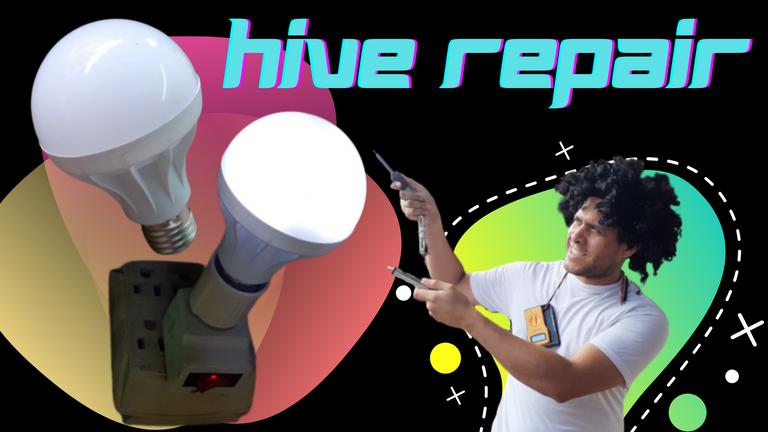 Bienvenidos todos a mi blog queridos y apreciados Hivers, espero que estén muy bien, deseándoles que encuentren siempre la inspiración y la creatividad necesaria y fundamental para crear contenido de calidad en esta increíble plataforma.
Welcome everyone to my blog dear and appreciated Hivers, I hope you are doing great, wishing you always find the inspiration and creativity necessary and fundamental to create quality content on this amazing platform.
El día de hoy les traigo un sencillo tutorial, con el cual podrán reparar fácilmente un foco LED dañado.
Today I bring you a simple tutorial, with which you can easily repair a damaged LED bulb.
Muchas veces damos por perdidos estos focos una vez que dejan de funcionar, así como pasaba con los focos incandescentes o los tubos fluorescentes, los cuales efectivamente no tenían ni tienen reparación.
Many times we consider these bulbs as lost once they stop working, just as it happened with incandescent bulbs or fluorescent tubes, which effectively had and have no repair.
Este tipo de tecnología ha revolucionado el mercado de los focos, ya que consumen mucha menos energía e iluminan muy bien los espacios y la ventaja indiscutible es que pueden ser reparados, pidiéndoles dar una segunda vida.
This type of technology has revolutionized the market of light bulbs, since they consume much less energy and illuminate very well the spaces and the indisputable advantage is that they can be repaired, asking them to give a second life.
Entonces, manos a la obra apreciados Hivers...
So, let's get to work, dear Hivers...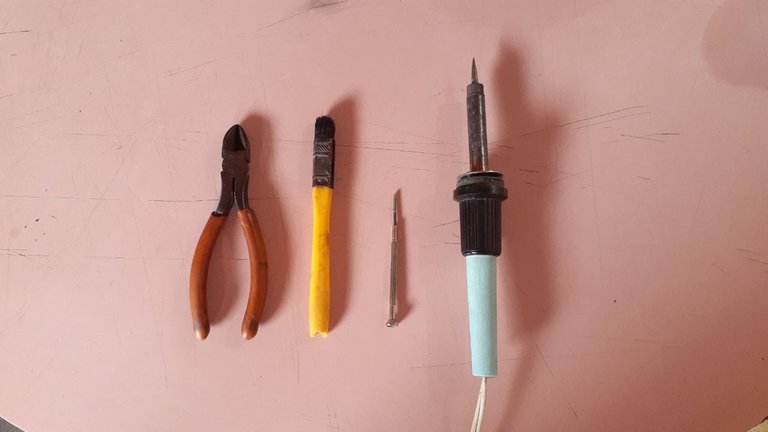 Para esta reparación solo se precisa de unas pocas herramientas, lasa que ven en la foto aquí arriba, una pinza de corte, una pequeña brocha para limpiar la placa electrónica, un desarmador pequeño y el soldador de estaño.
For this repair only a few tools are needed, the ones you see in the picture above, a cutting pliers, a small brush to clean the electronic board, a small screwdriver and the soldering iron.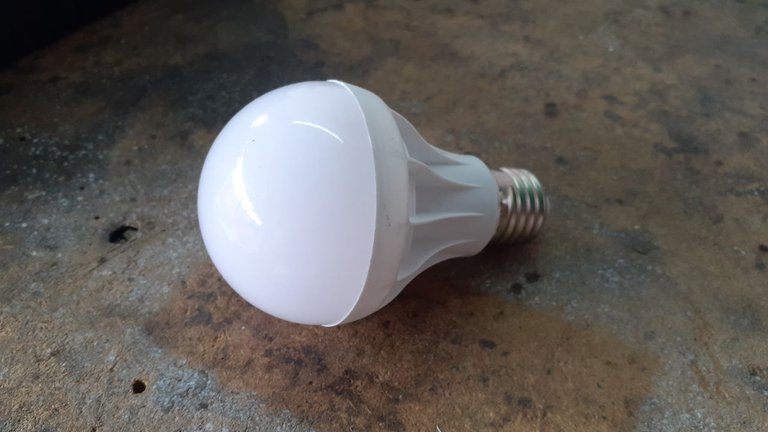 Este es el foco que repararé, se trata de un foco LED de la marca LightCare, de luz blanca, cuenta con 9 LED, se alimenta con 110VCA y tiene una potencia de 9W, fabricado en el año 2020.
This is the spotlight I will be repairing, it is a LightCare brand LED spotlight, white light, has 9 LEDs, is powered by 110VAC and has a power of 9W, manufactured in 2020.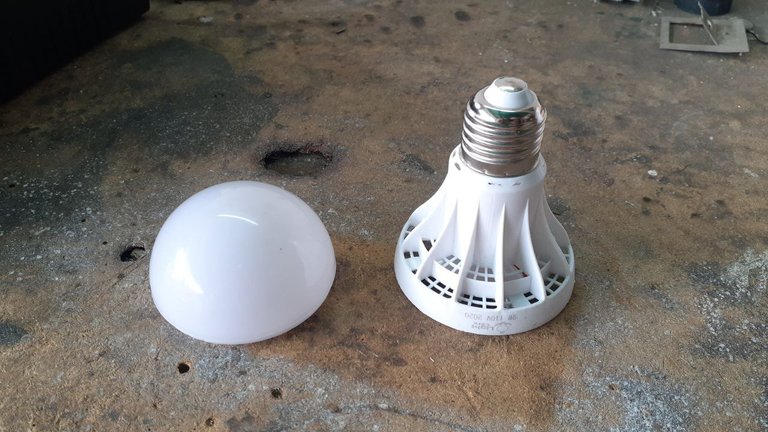 Lo primero que haré será retirar la cubierta superior con ambas manos, para poder realizar una inspección visual a la placa electrónica y a los LEDs en si, para determinar en que estado se encuentran.
The first thing I will do is remove the top cover with both hands, so that I can perform a visual inspection of the electronics board and the LEDs themselves to determine what condition they are in.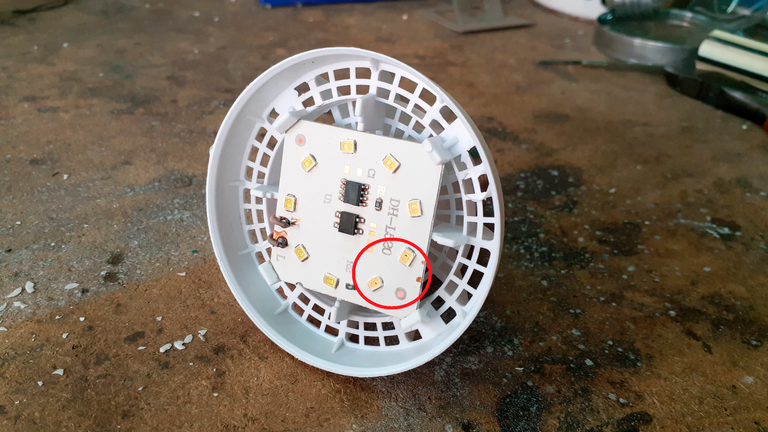 Al realizar la inspección visual lo primero que pude notar fue que dos LEDs tenían un punto negro dentro de ellos, lo cual en la mayoría de los casos es indicativo de que están quemados. En este caso efectivamente ambos LEDs estan dañados, lo que nos deja dos opciones para repararlo, la primera opción es sustituir dichos LEDs si contamos con su reemplazo y la segunda opción, que es mediante la se llevará a cabo la reparación, será puentear los contactos sobre los que están soldados ambos LEDs en la placa electrónica.
Upon visual inspection the first thing I noticed was that two LEDs had a black dot inside them, which in most cases is indicative that they are burned out. In this case effectively both LEDs are damaged, which leaves us two options to repair it, the first option is to replace these LEDs if we have their replacement and the second option, which is through which the repair will be carried out, will be to bridge the contacts on which both LEDs are soldered on the electronic board.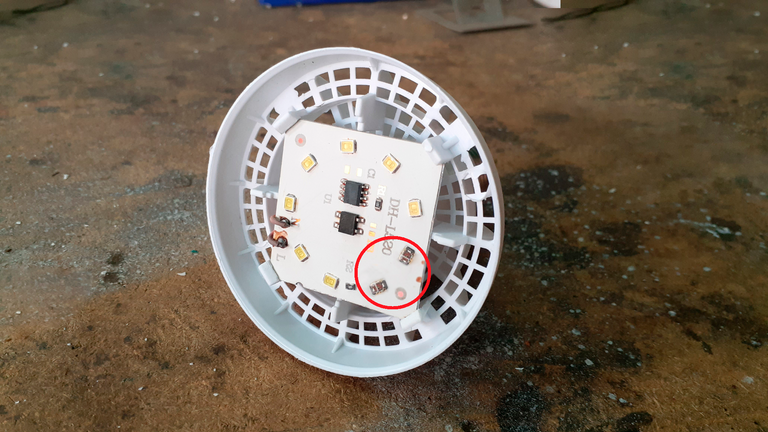 Para llevar a cabo la reparación a través de la opción planteada en el apartado anterior, retiraré los LEDs defectuosos, destruyéndolos con la ayuda de la pinza de corte y así es como quedará, allí observamos los contactos sobre los cuales estaban soldados los LEDs.
To carry out the repair through the option described in the previous section, I will remove the defective LEDs, destroying them with the help of the cutting pliers and this is how it will be, there we observe the contacts on which the LEDs were soldered.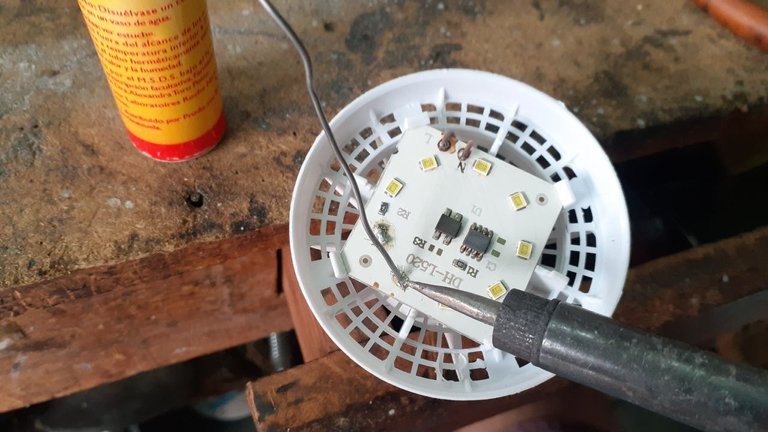 Una vez realizado el paso anterior procederé a crear un puente eléctrico entre los contactos donde estaban los LEDs en la placa electrónica con la ayuda del soldador de estaño, un poco de estaño y otro poco de paciencia, ya que la placa electrónica al ser de aluminio, absorbe gran parte del calor de la punta del soldador, lo que deriva en que el estaño tarda un poco mas en derretirse y cubrir la superficie deseada.
Once the previous step is done, I will proceed to create an electrical bridge between the contacts where the LEDs were on the electronic board with the help of the tin soldering iron, a little tin and a little patience, since the electronic board being aluminum, absorbs much of the heat from the tip of the soldering iron, which results in the tin takes a little longer to melt and cover the desired surface.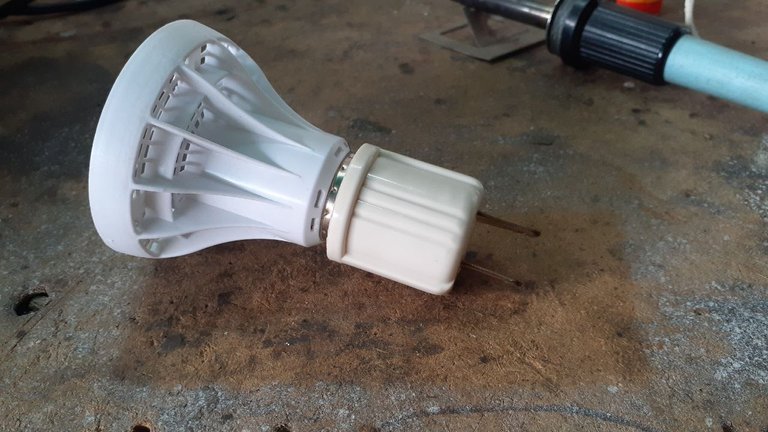 Para comprobar que el foco LED haya sido reparado satisfactoriamente debemos alimentarlo con energía eléctrica alterna, en este caso utilizaré un adaptador para conectarlo a un tomacorriente, también puede conectarse a una extensión eléctrica que cuente con un sócate o simplemente instalarlo en donde estaba.
To verify that the LED spotlight has been repaired satisfactorily we must feed it with alternating electrical energy, in this case I will use an adapter to connect it to an electrical outlet, it can also be connected to an electrical extension that has a socket or simply install it where it was.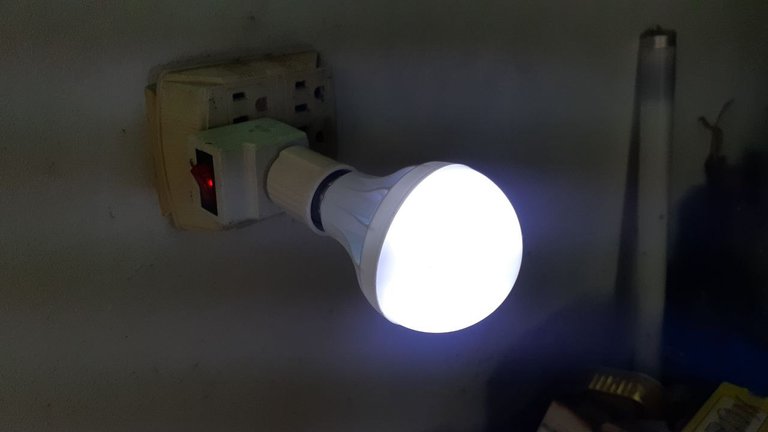 Finalmente volvemos a ensamblar el foco LED y lo conectamos al tomacorriente como ya les había mencionado. El resultado es satisfactorio, pues la reparación ha sido todo un éxito.
Finally we reassemble the LED spotlight and connect it to the socket as I mentioned before. The result is satisfactory, as the repair has been a success.
Es así como en un corto tiempo, contando con las herramientas y las habilidades adecuadas podremos darle a estos focos LEDs que consideramos dañados pueden volver a la vida para seguir iluminando nuestros espacios. Un punto importante a considerar es que el hecho de que ahora trabaje con menos LEDs, tendremos como resultado una pequeña disminución de la potencia, pero que en muchas ocasiones no se llega a percibir.
This is how in a short time, counting with the right tools and skills we can give these LED bulbs that we consider damaged can come back to life to continue illuminating our spaces. An important point to consider is that the fact that it now works with fewer LEDs, we will have as a result a small decrease in power, but in many occasions it is not perceived.

Hasta la siguiente publicación!
Until the next post!
Todas las fotografías fueron tomadas con un celular SAMSUNG Galaxy A20.
All photographs were taken with a SAMSUNG Galaxy A20 cell phone.
El separador de texto y las demás imágenes son de mi autoría.
The text separator and other images are of my authorship.
Translated with www.DeepL.com/Translator (free version)